The bentwood rocking chair is a strange piece of furniture in many ways. It's a nice-looking piece of furniture that looks like it's moving even though it's not.
Its shapes are not just functional from a design point of view because they dynamically evoke the movement function for which it was made. It has been popular with middle-class people for decades, which shows that it is a nice and comfortable piece of furniture.
The Thonet Brothers, who made bentwood furniture in Vienna, made the first bentwood rocking chair in 1860. It was number one in their catalogs. They got their ideas from designs for iron rocking chairs, especially those made by the English company R. Winfield.
In 1862, the Thonet Brothers showed off their first rocking chair at the Universal Exhibition in London. After that, they started to make more types of chairs, adapting to what people wanted while keeping their core values.
Other companies in Austria-Hungary, like Jacob & Josef Kohn (Moravia) and DG Fischel Hijos (Bohemia), copied the Thonet Brothers' rocking chairs in their catalogs and came up with their designs.
In what we can call the "Viennese link," the rocking chairs made in Valencia at the beginning of the 20th century were influenced by those made in Vienna. Salvador Albacar y Gil, Luis Suay Bonora, Ventura Feliu e Hijos, Joaquin Lleó e Hijos, and Julio Benedito Verdet were some of the best makers in Valencia at the time.
From a business point of view, the variety of Valencian rocking chairs comes from a desire to be unique and stand out from other manufacturers in a market that is getting increasingly competitive.
Rocking chairs with a spiral shape and their variations can be set apart from those with rings, continuous sides, packed shapes, and those for kids.
Some rocking chairs are modernist because of how they are made or look. It looks like an art nouveau because of how it is put together, especially when the wood is straight or has curves.
They might use decorations from art nouveau or the Vienna Secession that are more geometric or abstract. From a technical point of view, the communication's main goal is to show a sample of the rocking chairs made in Valencia between 1900 and 1936.
Images of copies of the rocking chairs from the Fundació Caixa Vinars's Espai corbat collection will be made for this purpose.
There will be a focus on what makes each manufacturer unique and recognizable, the aesthetics of the rocking chairs they made, and how other styles influenced them.
The Thonet chair and its influence on the history of trade
Did you think IKEA was the first company to make cheap packaging? Well no. Michael Thonet came up with the design used on the packaging that is easy to move and brings down the product's price.
He was a German industrialist and furniture maker who invented ways to bend wood, make things easy to package and make things in large quantities.
THONET looked into new ways to bend and laminate wood so that expensive chiseling and jointing would not be needed. In 1841, he met the imperial family of Vienna. They hired him to decorate the inside of the Liechtenstein palace for them.
In 1841, Thonet got a patent for bending wood while it was hot. He got a patent that let him improve his business on a large scale. Steam was used to heat and dampen sheets of wood coated with glue. This was how the invention was made.
This makes a dense, elastic, and flexible mass that has to be pressed and shaped into different shapes.
Once the wood had cooled to the right temperature, the molds were taken off, and the wood was cut to the right size and shape for each piece of furniture. Screws were then used to put the pieces together.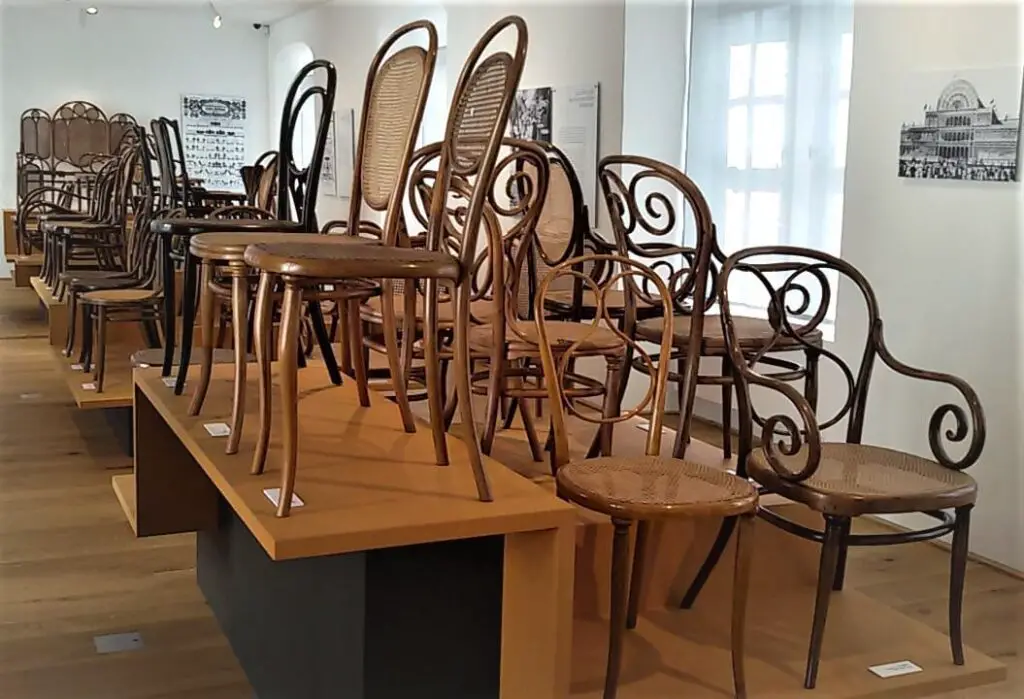 In 1849, he started his business near Vienna. From there, he made his first designs, the No. 1 and the Bentwood, which won awards and made him known worldwide.
But without a doubt, the "café chair No. 14" will be his most famous chair worldwide and the one that would sell the most until 1930.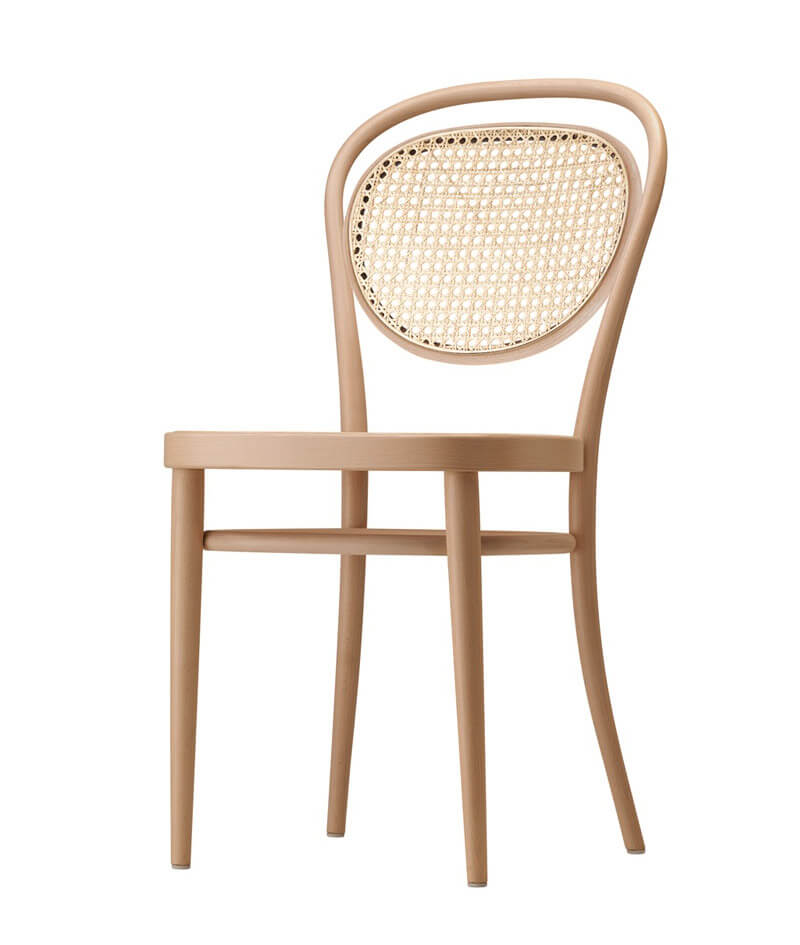 This chair was made from six pieces with steam-bent edges, two screws, and two nuts. It was made on a large scale and didn't need workers with special skills.
It was taken apart like Ikea furniture to make it easier to move. We're used to it now, but when it was first thought of, it was a completely new idea.
Around 1870, THONET's cheapest chair cost three Austrian guilders. This chair won an award for design at the 1867 World's Fair in Paris. Le Corbusier liked it.
The "Arts and Crafts" movement brought back interest in rocking chairs, which led THONET to design a rocking chair. This model, which sold a lot, has since been copied by many people.
At the end of the 19th century, Michael THONET decided to make a strong, durable, and inexpensive model for offices.
Le Corbusier chose Chair No. 9 for the pavilion he set up at the 1925 Paris Design Fair. He said, "This chair that millions of people use is a noble creation."
You've probably sat in one of these chairs at home or in a cafeteria. They are right on trend.
The industry has copied and made these models because they have a comfortable and strong design that will last and is both new and old simultaneously.
The current trend is to give these old pieces a new look by painting or reupholstering them. Also, take off any old varnish and wax the wood.
They will look great painted in different colors, with some of the wood showing through. When you mix colors, you get a casual and fun atmosphere that is great for modern kitchens or dining rooms.
It is a model often used for parties and weddings in the country, with a romantic and vintage feel.
And they will look great too, giving children's rooms a bright color. At home, my daughter still has the one that belonged to my mother when she was a child. It would look great on a desk or by a bed.
The next time you sit at a THONET, you'll know that you're sitting on a piece of industrial design history. So, if you're in a bar or party, raise a glass to their story.
Thonet chairs – icons made of curved solid wood
Michael Thonet (1796–1871) was the first to bend wood. His historic coffee house chair 214 and other seating furniture are still made using the same old methods.
Original chairs have the Thonet seal, and the year they were made burned into the bottom of the seat. Bentwood started the time when chairs were made in factories.
One cubic meter of space could hold 36 coffee shop chairs, but they would have to be shipped in pieces and put together on site.
By 1930, the famous coffee house chair from 1859 had been sold 50 million times. It was sold as far away as the Far East, making it a world bestseller.
The bentwood chair can now be bought with a wicker seat and in a wide range of other materials, colors, and fabric or leather upholstery.
In addition to the coffee house chair, there are other design classics like the THONET S 209 with implied armrests and the THONET 118 made of beech, based on the famous Frankfurt kitchen chair. Thonet is still a global company run by a family and makes things in Germany.
Bentwood Furniture – a modern invention from the 19th century
Michael Thonet came up with a way to bend wood. It involves bending the wood with steam and then letting it dry in a metal mold.
The size of the bent wood stays the same after this process. The bentwood chairs and other items made by Thonet can be seen in design museums worldwide.
Wooden chairs from the Bauhaus
Almost 100 years later, from 1902 to 1981, Marcel Breuer made wooden chairs. Breuer was known for his furniture made out of tubular steel. In fact, at the age of 22, he was already making a lot of fancy wooden chairs.
The "lady's toilet table" for the model house Am Horn is the "journeyman's piece" of the Dessau carpenter's apprentice. Breuer also made modern wooden furniture like the African Chair and ran a furniture workshop in Dessau from 1925 to 1928.
They also made the well-known cantilever chair and the B3 Club armchair, better known as the Wassily Chair, in 1925. Breuer ensured that new shapes, simple functions, and unusual materials had a place in the history of 20th-century design.
By hook or crook, in the United States.
People tried new things with mid-century design in Germany and the United States. In the years after World War II, Charles (1907–1988) and Ray (1912–1988) Eames made cheap chairs for many people to buy.
Even though the two designers mostly worked with plastic and made a series of Eames Fiberglass Chairs for the Vitra company, the luxurious swivel chair Vitra Lounge Chair from 1956 is a design classic in wood and leather.
It also has shock mounts developed by the Eames, which are rubber-metal connections that make sitting more comfortable. Bentwood is also used for the legs of the famous Vitra La Chaise and the Rocking Armchair Rod Base.
Wood with format
Each piece of furniture built from wood is distinctive and can be made from a natural resource that can be used repeatedly. Because of this, furniture is made from types of wood that are good for wood bending and is very popular.
Getting wood into the shape you want requires a lot of experience because each piece of wood is unique and acts in its way.
The material can be bent, just like the bow with the same name. Water and steam are often used, like with the famous bentwood chairs, whose name comes from how the wood is bent. Steam can also be used to shape plywood that has been laminated and shaped.
The wood from a beech tree works well because it is strong and has short fibers. Beechwood works grow and then shrink. So, a 300-ton stack of veneer that has been glued together is pressed.