Wooden furniture appliques (pronounced "ap-lee-kays") are intricate ornamental designs made of wood that can be affixed to furniture to enhance and beautify it. More than just decorative elements, appliques are an artistic way to showcase craftsmanship and add elegance and style to any furniture piece.
This comprehensive guide will explore everything you need to know about these ornate wooden embellishments – from the history and different types of appliques to instructions on applying them yourself. Whether you're an avid DIYer looking to transform lackluster furniture or a professional designer seeking inspiration, read on to learn how this decorative art form can lend a touch of class and creativity.
A Brief History of Furniture Appliques
The practice of ornamenting furniture with carved decorative elements dates back centuries. In the 17th and 18th centuries, French and English furniture makers incorporated ornate carvings and appliques into their designs. The Rococo and Neoclassical periods were especially known for extravagant applications of wooden appliques on furnishings.
Furniture from these eras, like Louis XV and Georgian styles, exhibited the remarkable craftsmanship of carvers who hand-sculpted intricate details and shapes from wood. Appliques included floral motifs, scrolls, corners, wreaths, and architectural elements.
While less common in modern minimalist design schemes, the tradition of embellishing furniture with appliques is still alive today. Woodworkers create custom appliques to adorn vintage, romantic, and ornate furniture. Appliques lend furnishings a depth of detail that elevates them into true works of art.
What Are Wooden Furniture Appliques?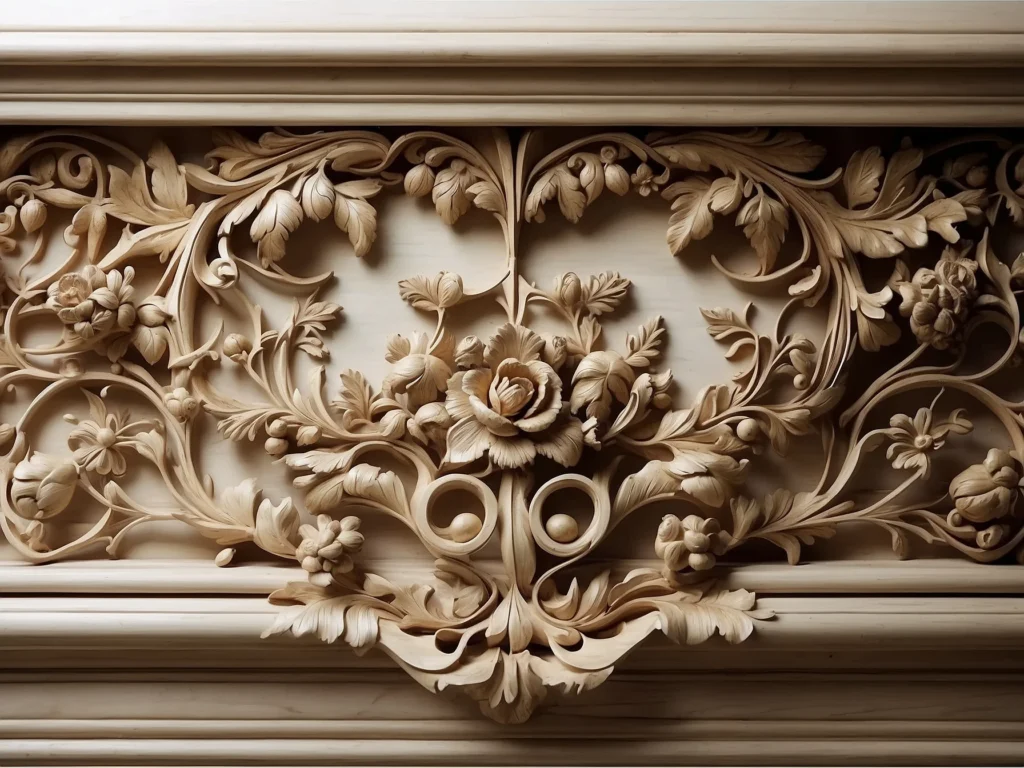 Wooden furniture appliques refer to ornamental pieces of wood that can be affixed to furniture using adhesive, nails, or screws to embellish and enhance their appearance. Appliques come in an endless variety of shapes, sizes, and designs.
Common motifs and elements include:
Floral shapes like roses, acanthus leaves, and vines
Architectural designs like columns, pediments, and crowns
Geometric elements like octagons, circles, and stars
Corners and edgings with ornate scrollwork and curves
Wreaths, swags, ribbons, and garlands
Appliques can be three-dimensional, almost freestanding, or relatively flat depending on the desired look. The level of detail carved into them also varies significantly – from simple shapes to intricately complex patterns and textures.
When incorporated thoughtfully, these wooden embellishments transform simple furniture into decorative showstoppers. They demonstrate fine craftsmanship and allow furniture makers to show off their skill in carving and sculpting wood.
Types of Wooden Furniture Appliques
Wooden furniture appliques come in diverse styles to suit any design aesthetic. Here are some of the most common types and their characteristics:
Traditional Wood Appliques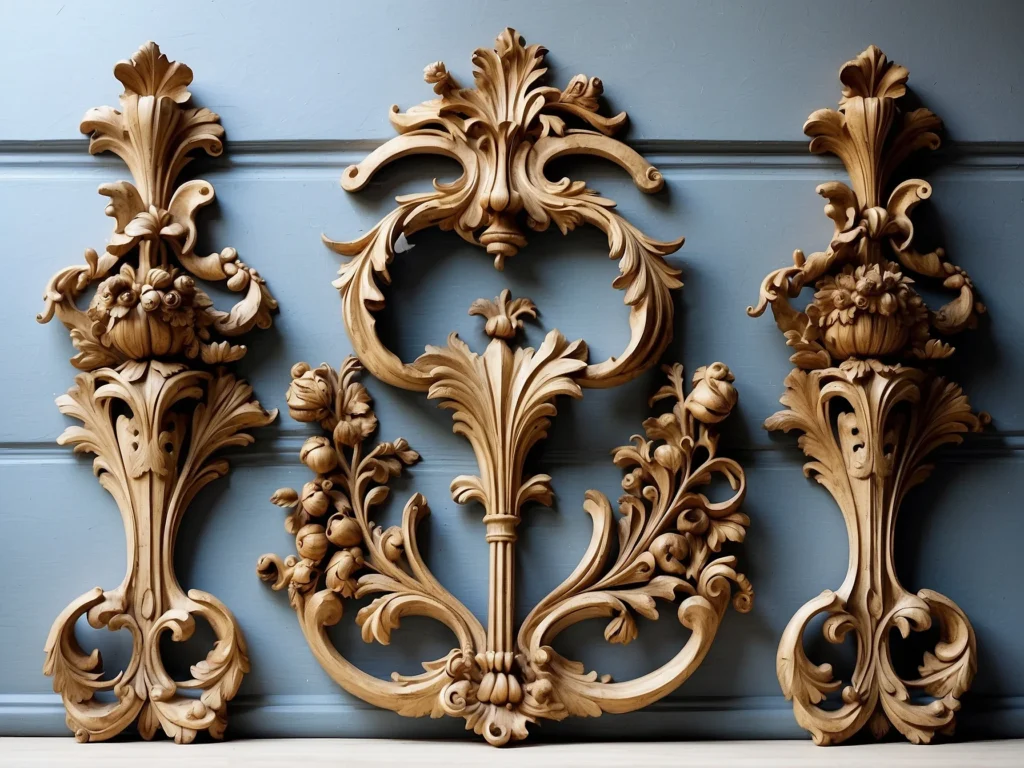 These classic appliques employ designs passed down through the centuries and associated with historical furniture styles like Queen Anne, Chippendale, and French Provincial. Traditional applique motifs include:
Shells
Acanthus leaves
Lions heads
Urns, vases, and amphoras
Rococo scrollwork and curls
Traditional appliques have an elegant and ornate look perfect for period furniture or adding a touch of timeless sophistication.
Modern Geometric Appliques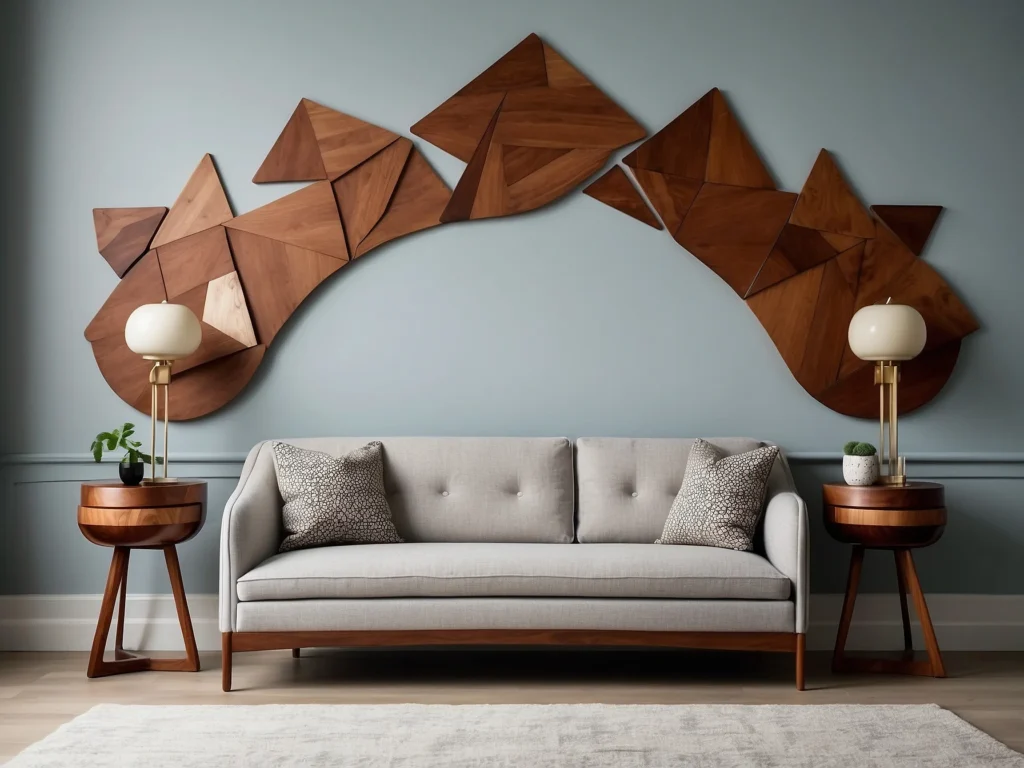 For contemporary, sleek furnishings, geometric appliques with clean lines and shapes create interest while remaining minimalist. Modern applique designs include:
Circles, arcs, and semi-circles
Triangles and zigzags
Hexagons and octagons
Stars and concave polygons
Simple bands and architectural moldings
These angular appliques pair well with mid-century, postmodern, and contemporary furniture styles.
Bendable Appliques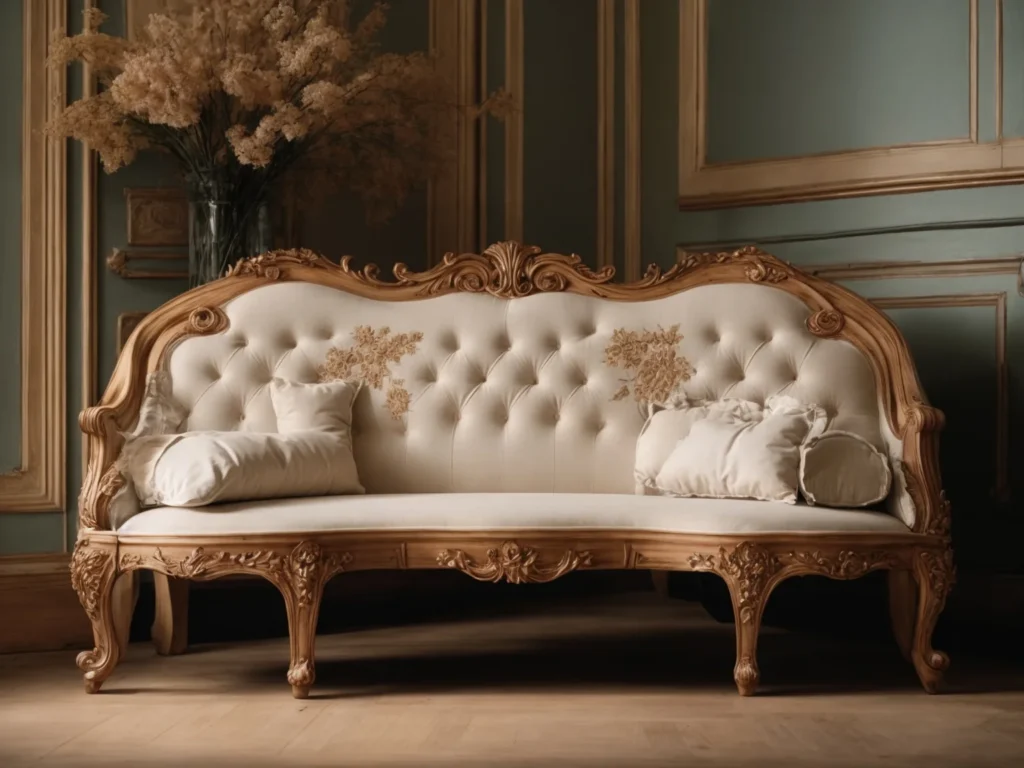 Some appliques are crafted using thin layers of wood that allow them to flex slightly. These bendable appliques can adapt to curved surfaces like domed chests and cabriole legs. They offer more versatility for embellishing contoured furniture of any style.
Floral Appliques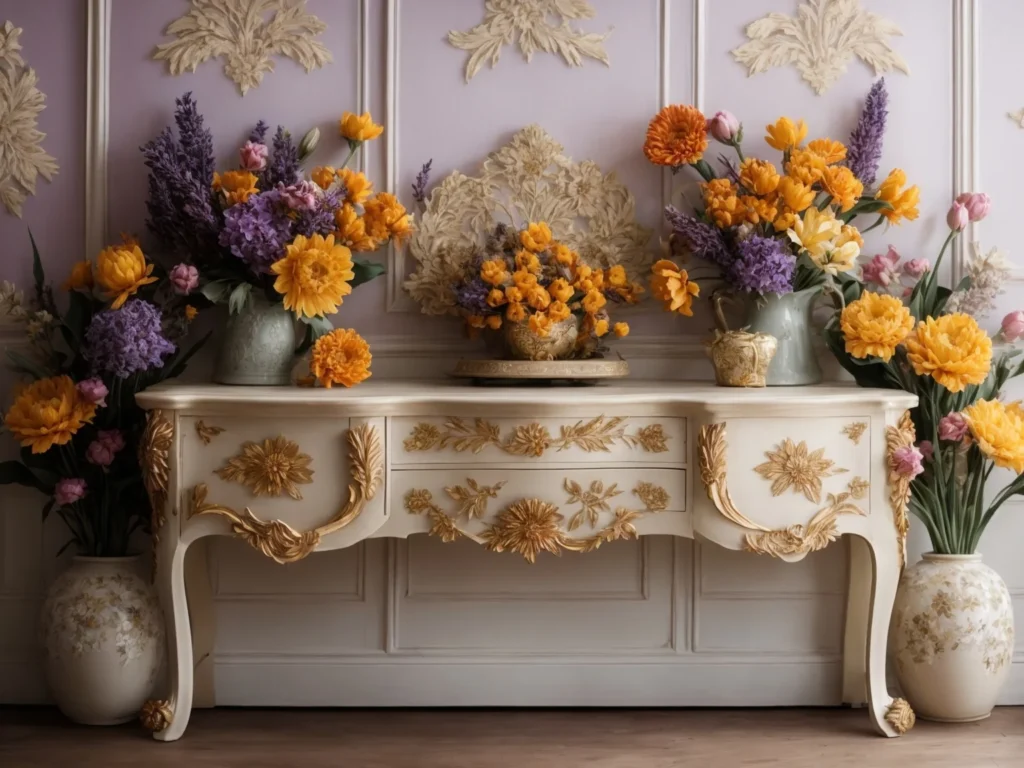 Floral motifs never go out of style when it comes to furniture appliques. Delicate carved flower shapes like roses, tulips, and lavender sprigs can lend a soft, romantic essence. Bold sunflower and chrysanthemum designs make a dramatic statement.
Fruit Appliques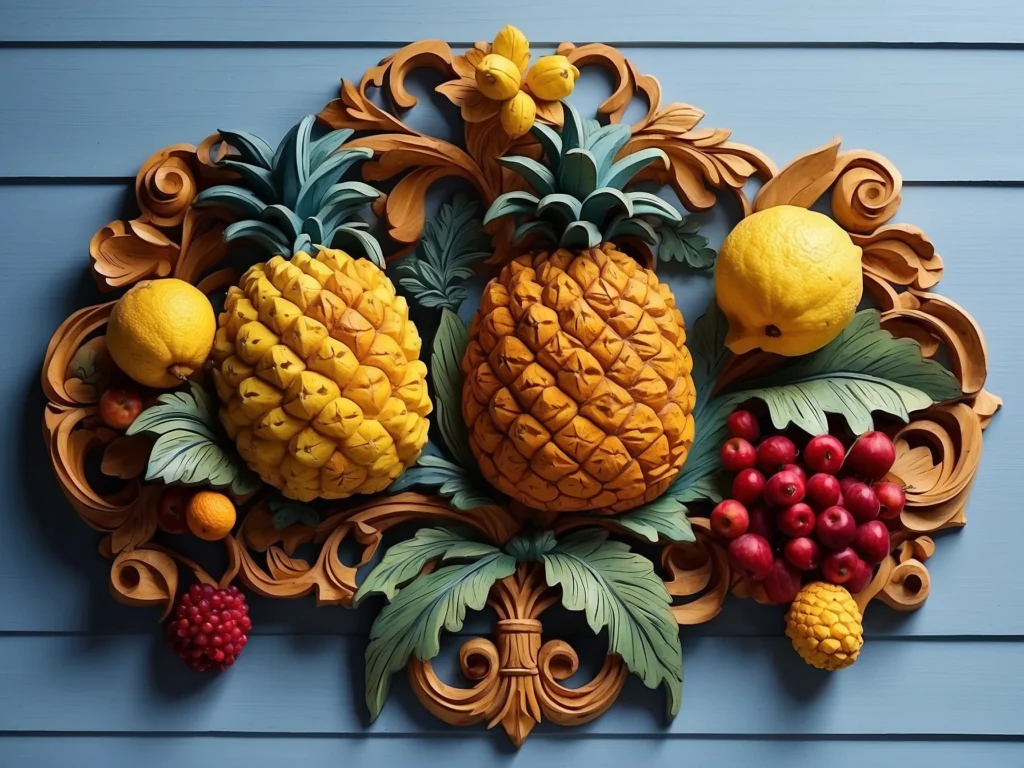 Fruit-inspired carvings like pineapples, grapes, lemons, and pomegranates infuse a sense of vitality and abundance. They've decorated furniture since the colonial American era and remain popular today.
Animal Appliques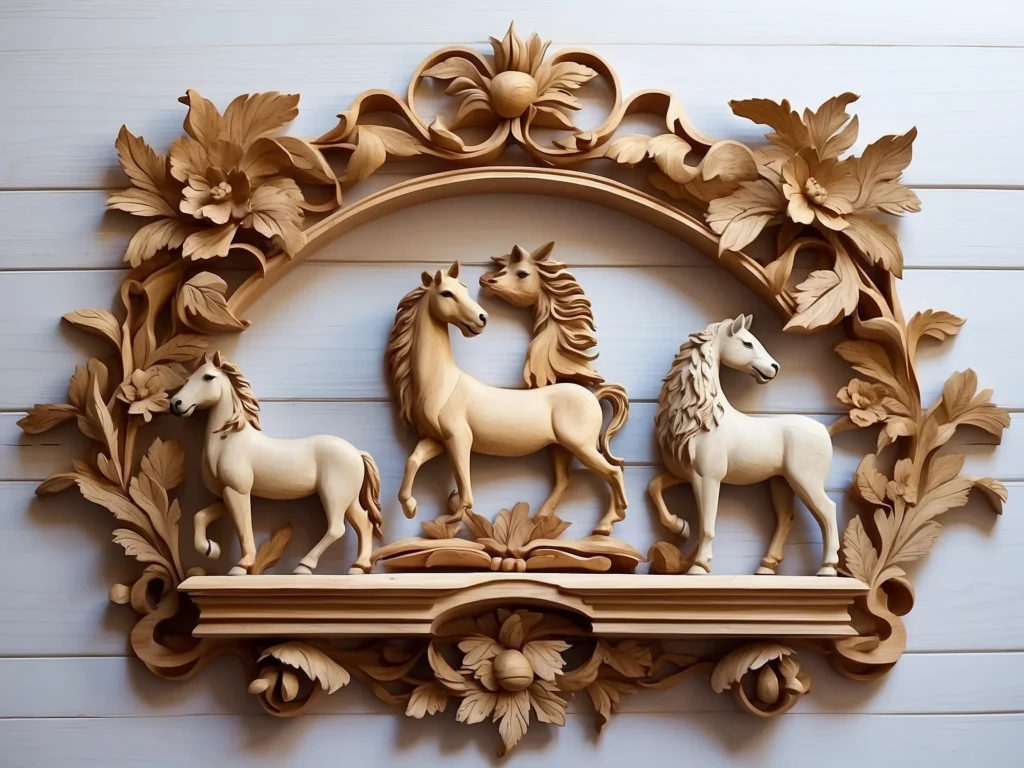 Animal motifs demonstrate great artistic prowess in capturing lifelike qualities. Common animal appliques include horses, lions, eagles, swans, and songbirds.
Child Appliques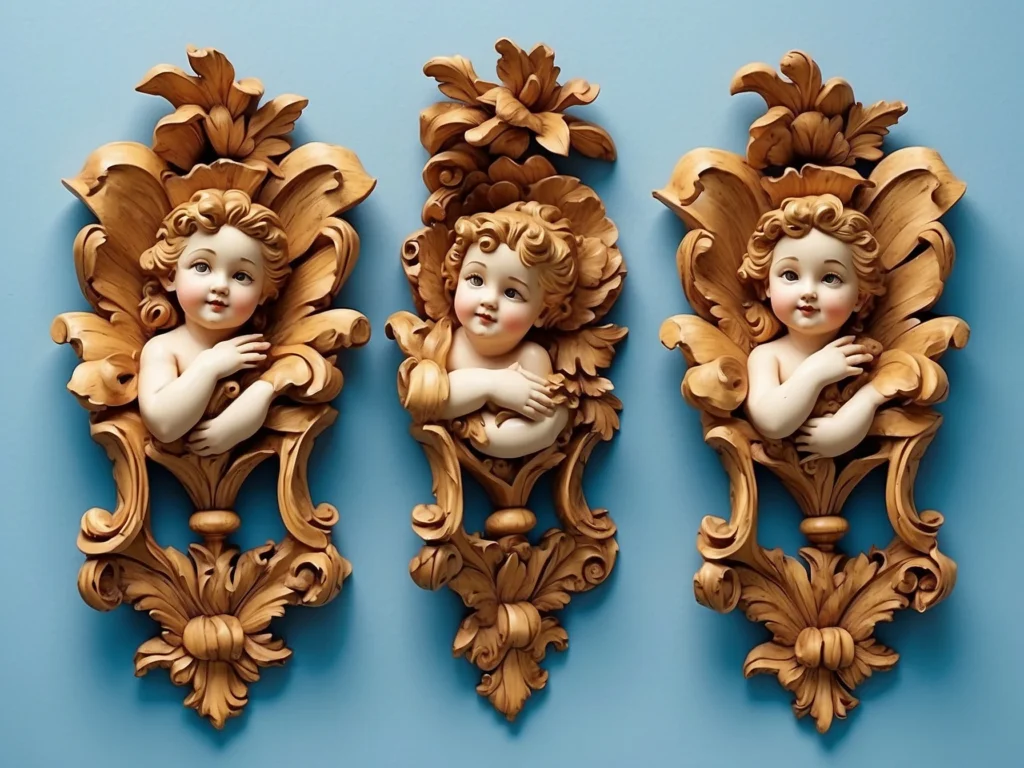 Cherubs, putti, and infant faces symbolize innocence and joy. These playful appliques adorned Rococo-era furnishings.
Asian Inspired Appliques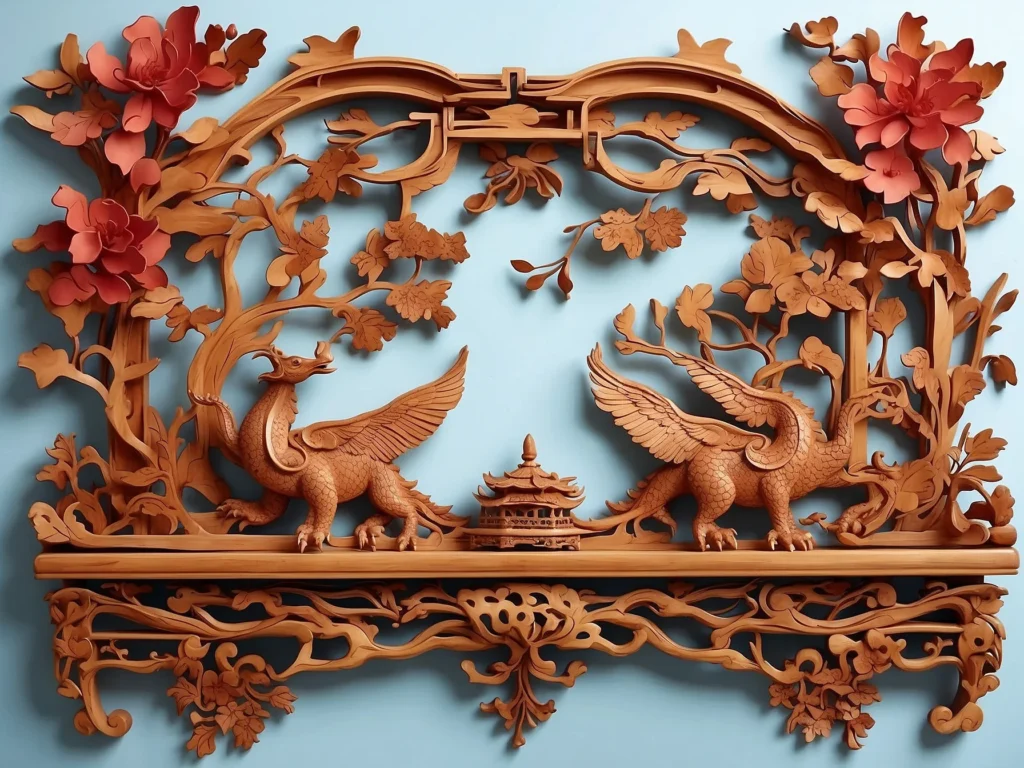 Eastern flourishes like bamboo shoots, cherry blossoms, and dragons can lend an exotic flair. Chinoiserie furniture is traditionally decorated with such Far East-inspired appliques.
Nautical Appliques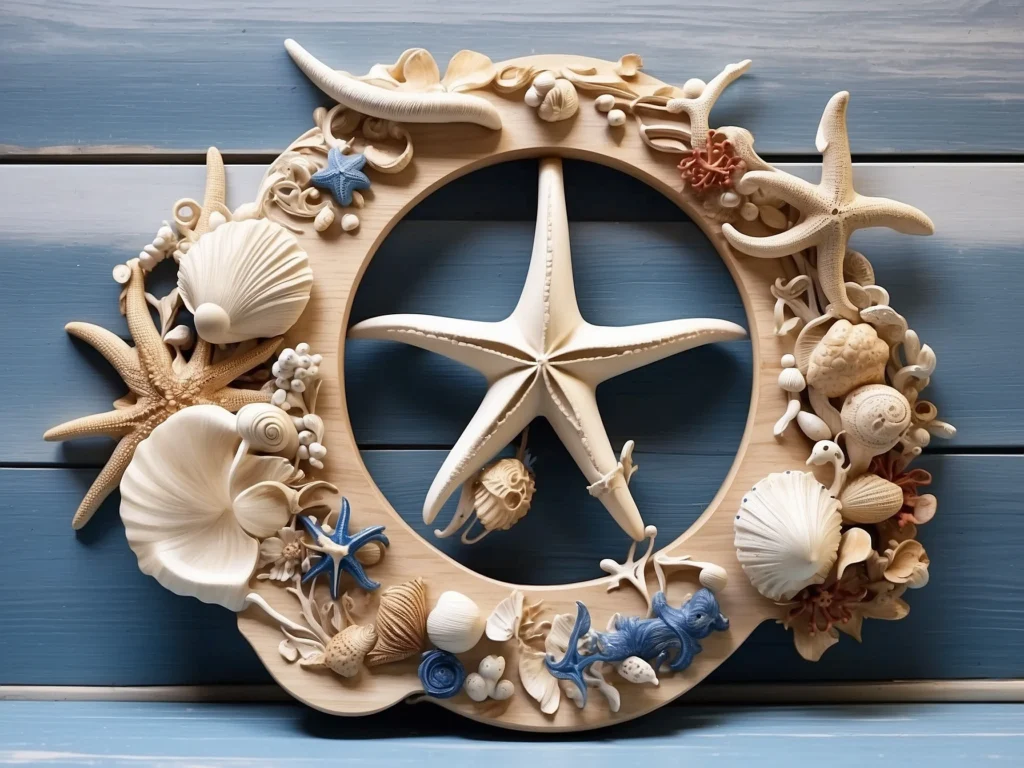 For furniture with a coastal or nautical twist, maritime elements like seashells, starfish, anchors, and ships' wheels make fitting appliques.
The options are truly endless when selecting wooden appliques. The proper motif can enhance any furniture piece, whether aiming for an ornate Victorian aesthetic or sleek modern style.
Materials Used for Wooden Furniture Appliques
Wooden furniture appliques are sculpted from various types of wood selected for texture, density, ease of carving, and overall appearance. Some appliques consist of a mix of different woods to combine qualities. Here are some top woods used:
Basswood
A popular choice due to its fine grain, light color, and exceptional carve-ability. Basswood is affordable and takes detail well. Its low density provides a more delicate applique. It can dent if subjected to heavy impacts. Staining is required as the wood lacks natural coloring.
Butternut
It has a coarse grain similar to walnut that looks striking when stained. It carves well but is prone to splitting. The wood is soft and lightweight.
Poplar
An economical hardwood with creamy white coloring when unfinished. Takes both paint and stain evenly. Easy to work with and carve intricate shapes. Softer density allows for shaping appliques by hand. Can be brittle if too thin.
Mahogany
Prized for its rich reddish-brown patina but more expensive and challenging to carve. Offers a smooth finish and resistance to splitting during shaping. Durable and resistant to dents/scratches.
Walnut
Provides gorgeous chocolate brown coloring and straight grain. Carves cleanly but can be difficult to sculpt elaborate details without splitting. Higher density creates substantial thickness and weight.
Oak
Offers nice grain patterns and variation in oak species like red, white, or burr. It's very strong and resists dents and knocks once carved. The dense grain can cause splintering if not sharpened properly.
Cherry
Ages beautifully from yellowish hue to deep reddish-brown. Finely grained for smooth carved look. Strong and stable wood, yet not too hard to work. Requires sharp tools to avoid tearing grain.
Pine
Affordable softwood that's easy to carve by hand or machine. Lacks ornate grain patterns. Best for painted appliques versus stained ones due to inconsistencies in absorption.
Cedar
Lightweight and aromatic softwood suitable for appliques. It has a coarser grain that may telegraph through paint but takes stain well. Naturally resistant to decay and insects.
A skilled woodworker selects wood types suited to the applique design's style, size, and complexity. As a general rule, finer-grained dense hardwoods are preferred for intricate details.
Where to Buy Wooden Furniture Appliques
For those who don't have woodcarving skills, purchasing pre-made appliques is the way to go. Here are some top places to buy appliques:
Online Retailers
Many online stores offer various pre-carved appliques in various styles and sizes. While shipping costs may be higher, the online marketplace provides convenient access to a vast inventory. Top sites include:
Hobby Lobby – Carries a massive collection of appliques from traditional motifs to painted finishes. They are offered in affordable multipacks.
Wayfair – Stocks thousands of appliques across various categories like flowers, animals, nautical themes, and architectural designs.
Etsy – A marketplace for handmade and vintage appliques from independent artisans. Great for finding unique, custom-designed pieces.
eBay – Listings for antique, salvaged, and used appliques. Also find discounted overstock/closeout items.
Amazon – Convenient for package deals and mass-produced appliques. Prime shipping provides quick delivery.
Craft and Hobby Stores
Shopping in person allows you to view quality and size. Top national chains include:
Michaels – Carry a diverse selection of appliques, plus DIY clay and molding supplies to make your own.
Hobby Lobby – One of the largest in-store selections of appliques in various materials like wood, polyresin, and plaster.
Jo-Ann Fabrics – Great for floral appliques in wood and faux materials. Also find small wood shapes for DIY projects.
Specialty Woodworking Stores
Stores focused on woodcraft and carpentry tools may also stock appliques or offer custom services. These include:
Woodcraft – Services include custom wood carving and engraving. Also find applique blanks for DIY projects.
Rockler – Sells unfinished wood appliques for staining/painting, woodworking tools, and DIY project ideas.
Lee Valley – Specializes in woodworking hardware. Carries a unique selection of appliques, moldings, and specialty carving tools.
Etsy Artisans
Skilled woodworkers on Etsy create made-to-order appliques and take custom requests. Benefits include getting exactly what you want and supporting independent craftspeople. Be sure to review shop feedback and policies.
How to Apply Wooden Appliques to Furniture
Installing wooden appliques requires careful planning and execution to achieve a seamless finished look. Follow these steps for proper application:
Step 1: Surface Preparation
Ensure the surface area is clean, dry, and smooth. Sand to remove any debris or imperfections. Wipe away dust. This allows maximum adhesive contact.
Step 2: Adhesive Selection
Choose an appropriate adhesive for the applique material and your furniture finish:
Wood glue – For unfinished wood-on-wood applications. It provides a strong bond and can be clamped.
Construction adhesive – Heavy duty option for porous materials like wood, plaster, and MDF. Long curing time.
Epoxy – Great for heavier metal, glass, stone, ceramic, and plastics appliques.
Polyurethane glue – Expands as it dries to fill gaps. Good for irregular surfaces.
Super glue – Quick drying and best for lightweight appliques. Not suitable for porous surfaces.
Step 3: Adhesive Application
Spread a uniform layer of adhesive over the back of the applique, keeping away from edges to prevent squeeze out. Follow product instructions for open time and working duration.
Step 4: Positioning the Applique
Carefully place the applique in the desired position on the furniture. Tweezers or applicator sticks help when positioning small or delicate appliques. Ensure proper alignment before pressing down firmly.
Step 5: Securing the Applique
Use spring clamps, braces, or weights to apply even pressure as the adhesive sets. This prevents shifting and ensures maximum contact and bond strength. Allow adequate curing time based on adhesive specifications. Remove any adhesive squeeze-out right away with a damp cloth.
Step 6: Finish Distressing
Once secured, use small chisels or scrapers to distress or accent the applique edges if desired for an authentic aged appearance.
Step 7: Final Finish
Seal, paint, or stain the applique to match the surrounding furniture. Allow all finishes to cure before use fully.
Proper applique application techniques prevent lifting, peeling, and breakage while ensuring your furniture embellishments stay securely fixed for years of enjoyment!
How to Paint Wooden Furniture Appliques
Painting wooden appliques opens up countless design options for coordinating with your furniture finish. Follow these tips for flawless painted appliques:
Use a Primer
Priming seals the wood grain and provides a uniform base to help paint adhere evenly. Opt for lightweight spray primers or brush-on wood primer.
Select the Right Paint
Look for interior paints formulated for wood projects. Consider sheen – flat hides imperfections while gloss pops with shine. Enamels offer a smooth, durable finish. Chalk and milk paints provide a distressed patina.
Apply Multiple Thin Coats
Resist the urge to glop on paint – numerous thin coats provide better coverage and a smoother finish. Lightly sand between coats for a level surface.
Consider Decorative Finishes
Add interest with accent colors in recessed areas, faux wood graining, metallic accents, or even faux marbling and lime-washing.
Protect with Clear Coat
Seal painted appliques with polyurethane or acrylic varnish to protect the finish from scratches, fading, and water damage. Apply multiple layers for better durability.
With the right prep and products, painted appliques can make your furniture pop! Don't be afraid to get creative with unique color combinations and finishing techniques.
DIY Projects Incorporating Wooden Appliques
Looking for inspiration for your furniture applique project? Here are some creative DIY ideas to embellish lackluster furniture pieces with beautiful custom details:
Dresser Makeover
Transform a plain dresser by adding appliques to drawer fronts, legs, and side panels. Opt for painted finishes, distressed edges, and mismatched motifs for a chic vintage look.
Mirror Frame Embellishment
Adorn a basic mirror frame using appliques like flowers, vines, scrolls, and corners to create a one-of-a-kind antique style statement piece.
Headboard Accent
Make a headboard special by affixing appliques like laurel wreaths, crowns, or monograms towards the center. Paint or gild them for extra pop.
Nightstand Redo
Use appliques to disguise dings, damages, or an outdated look. Try corner flourishes, pulls, feet, and edging to modernize flea market finds.
Tabletop Statement
Create interest on a tabletop by applying a central applique like a floral medallion, starburst, or geometric motif. Coordinate with table base embellishments.
Bookshelf Transformation
Replace boring stock shelves with custom side, top, and bottom appliques for a built-in look. Go for stained wood or daring paint colors.
The design options are limitless! Appliques allow you to add personality and custom flair to flea market bargains or lackluster furniture.
Key Differences Between Appliques and Onlays
While the terms "applique" and "onlays" are sometimes used interchangeably when it comes to embellishing furniture, there are distinct differences between the two decorative elements:
Appliques
Flat-backed for adhering flush to surfaces
Typically smaller in scale
Can be 2D or have minor surface relief
Often made of thinner, pliable woods
Painted finishes common
Attached with adhesive or nails/brads
Onlays
Have dimensional, sculptural quality
Applied in overlay fashion, not flush
Made of thicker, solid wood
Tend to be larger scale features
Usually stained or natural wood tones
Often set into surface with inlaid grooves
In summary: Appliques decorate surfaces while onlays are more three-dimensional, attached overlays. Appliques emphasize ornate detail and paint options while onlays showcase natural wood.
Conclusion
The decorative tradition of embellishing furniture with ornate wooden appliques offers endless avenues for adding artistry, interest, and elegance. With the variety of applique designs, materials, application methods, and finishing techniques, these details can transform any furniture piece into a personalized work of art.
Whether aiming to spruce up flea market finds or add custom flair to handcrafted designs, wooden appliques are an easy yet dramatic way to showcase creativity. So don't settle for boring, flat furniture. Adorning your furnishings with appliques creates texture, nuance, and sophistication.
Let this comprehensive guide inspire you to explore the world of wooden appliques and find novel ways to introduce their beauty into your furniture projects. The only limit is your imagination!