Chalk paint has become popular as a versatile DIY and furniture refinishing product in recent years. Known for its matte finish and ability to adhere to many surfaces, chalk paint is beloved for giving old pieces a trendy, vintage look with minimal prep work. But can you use it on lacquered furniture?
The short answer is yes—with proper preparation and finishing, chalk paint can transform lacquered furniture into a weathered, chippy masterpiece. In this comprehensive guide, we'll explore everything you need to know to successfully chalk paint lacquer furniture, from prepping to painting techniques and topcoat options.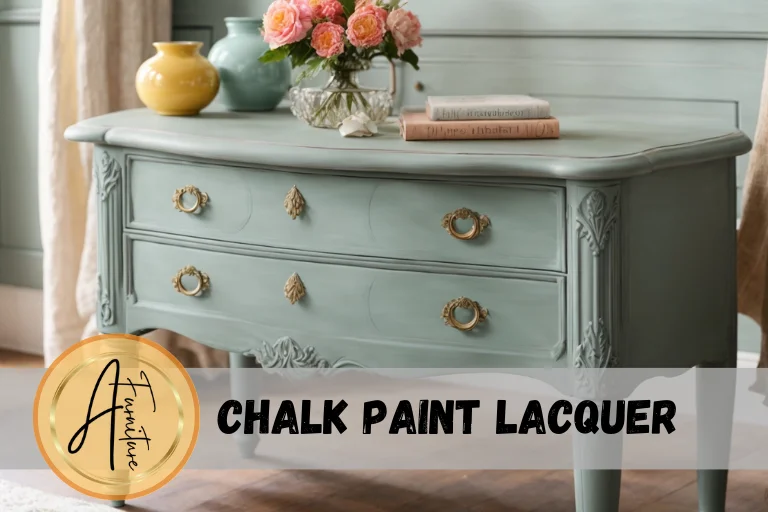 Why Choose Chalk Paint?
Before diving into the nitty-gritty, let's look at why chalk paint has become such a phenomenon for refinishing furniture:
Minimal Prep Work
Unlike many paints, chalk paint adheres to slick surfaces like lacquer without intensive sanding or priming. This makes preparation quick and easy. A light scuff sanding is all you need before painting.
Versatile Finish Options
From a matte, velvety look to a chippy, distressed style, chalk paint can be tailored to your desired finish. There's a technique, whether you want a vintage feel or a more modern look.
Adheres to Many Surfaces
In addition to lacquer, chalk paint can stick to challenging surfaces like glass, metal, concrete, and laminate without requiring special primers. This versatility makes it usable on almost any furniture you're refinishing.
Wide Color Selection
Available from several popular brands like Annie Sloan and Rust-Oleum, chalk paint comes in a rainbow of colors from neutrals to bright, bold hues. Finding the perfect shade for your project is easy.
User-Friendly Application
Chalk paint applies smoothly and easily with a brush or roller. No special tools or techniques required! It's great for DIY beginners and experienced painters alike.
With minimal fussiness and maximum versatility, it's easy to see why chalk paint is so popular for refinishing lacquered furniture. Now let's look at how to prep lacquer for success.
Preparing Lacquered Furniture for Chalk Paint
While chalk paint adheres better to slick surfaces than many other paints, proper prep is still key to achieving ideal results on lacquered furniture. Here are two simple steps to get your piece ready for a stunning chalk paint makeover:
Lightly Sand the Surface
Giving the lacquer a quick scuff sanding helps the paint grip even better for a long-lasting finish. Use a coarse sandpaper (220 grit or higher) to rough the surface gently. Focus on exceptionally smooth areas.
Be sure to sand lightly and evenly—you don't need to strip the finish completely or expose the wood beneath. The goal is to take the "slick" off.
After sanding, wipe away any dust with a dry cloth. Now you've got the ideal paint prep in just a few minutes.
Apply a Bonding Primer
For super slick lacquer that needs extra insurance against flaking or peeling, a bonding primer is advised before painting. Priming gives the chalk paint an additional layer of adhesion power.
Look for a primer specifically formulated for slick surfaces, like Zinsser's Bulls Eye 1-2-3 Water-Based Primer. Apply an even coat per the manufacturer's instructions, then let it fully dry before painting.
And that's it! With a quick scuff sanding and/or primer, your lacquered furniture is prepped and ready for a gorgeous chalk painted makeover.
Painting Lacquered Furniture with Chalk Paint
Once your lacquer furniture is prepped, it's time to break out the brushes and start painting! Follow these tips for flawless application and coverage:
Choose Your Color
Selecting a color can be tough with so many hues to pick from. Neutrals like cream and gray are always classic. For a vintage look, try French Linen or Duck Egg Blue. Or go bold with a rich emerald green or fiery red.
Some top chalk paint brands include:
Annie Sloan – Known for luxury, pigmented paint, and wide color selection. Their Old White and French Linen are two of the most popular shades.
Rust-Oleum – Offers affordable chalk paint at most hardware stores. Their Linen White and Heirloom White are great light neutrals.
Amy Howard – Features a retail line and DIY home kit. Their Hydrangea and Rustic are stylish lighter colors.
Once you settle on a hue, stir the paint before applying. Chalk paint often separates in the can and needs mixing.
Thin, Even Layers
Chalk paint coverage can vary based on application technique. Multiple thin, even coats generally produce the smoothest finish on lacquer.
Dip your brush in the paint, then wipe off excess on the rim of the can before starting. Use long, light strokes to apply the paint, being careful not to overload the brush. Allow each layer to dry fully before adding the next.
Three to four thin coats typically provides ideal coverage over lacquer. Take your time with layers for best results.
Primer-Paint Combos
Some brands like Amy Howard Atelier offer primer-chalk paint combos made to work together seamlessly. Their system streamlines the process since the primer is formulated specifically for their paint.
Apply two coats of the primer, then follow with two coats of the coordinating chalk paint color for a perfectly prepped and painted finish.
Painting Technique
How you apply the chalk paint affects the final look. Here are some techniques to try:
Smooth finish – Use long, overlapping strokes and avoid overbrushing. Let layers dry between coats.
Textured finish – Dry brush or use a paintbrush roller for texture.
Distressed finish – Once fully dry, lightly sand paint to reveal some of the lacquer below. Focus on edges and corners.
Experiment to find what works best for your project. The beauty of chalk paint is that it's so customizable!
Sealing Chalk Painted Lacquer Furniture
Once your lacquered piece has its fresh chalk painted finish, you'll need to seal it for protection and durability. Here are some top coat options to consider:
Chalk Paint Lacquer
Like Annie Sloan's, a dedicated chalk paint lacquer is formulated to adhere to and seal chalk paint. It dries to a matte or subtle sheen for a classic look.
Apply at least 2-3 thin, even coats following the manufacturer's instructions for best protection. Lightly sand between coats for smoothness.
Pros
Made for chalk paint adhesion
Durable, water-resistant finish
Matte or light sheen finish
Can use indoors and outdoors
Cons
Limited finish options – only matte or light sheen
Wax
Applying a wax top coat over chalk paint is popular for a natural, matte look. It allows the paint to show through beautifully.
Choose a wax for painted furniture, like dark or clear soft wax. Apply a thin coat following the wood grain using a lint-free cloth or foam applicator. Buff to an even sheen.
Pros
Enhances depth of color
Easy antique look
Natural matte finish
Cons
Not as durable as lacquer
Needs occasional reapplication
Polyurethane
Polyurethane provides a protective seal with a high-gloss, shiny finish. Use an oil-based formula for best adherence and be sure to let the chalk paint cure fully before applying.
Thin coats and adequate drying time between layers are key for smooth results. Lightly sand with fine grit sandpaper between coats.
Pros
Very durable, moisture-resistant
High shine finish
Enhances vibrancy of colors
Cons
Not ideal for a matte look
Fumes require proper ventilation
Comparison of Topcoat Options
| | | | |
| --- | --- | --- | --- |
| Topcoat | Finish | Durability | Best For |
| Chalk Paint Lacquer | Matte or subtle sheen | High | Indoor and outdoor furniture |
| Wax | Matte | Moderate | Indoor furniture |
| Polyurethane | Glossy | High | Indoor furniture |
As you can see, polyurethane is an excellent choice for a shiny, durable finish for indoor chalk painted lacquer furniture. It provides superb protection while enhancing the rich colors. Just be sure to work in a well-ventilated area due to fumes.
Wax Paste and Sealant Combo
For added protection, apply wax first to seal the chalk painted surface, followed by a sealant topcoat. This gives you the look of wax with added durability.
Use a clear, matte sealant like Polycrylic Protective Finish. Allow the wax to cure fully before adding the sealant finish. This combo ensures your lacquered furniture stays beautifully chalk painted for years.
Maintaining Chalk Painted Lacquer Furniture
Once your lacquered piece has its fresh chalk painted makeover, some simple maintenance steps will keep it looking its best:
Avoid placing very hot items directly on the surface. Use trivets and coasters.
Dust regularly with a soft cloth to prevent buildup.
Clean spills immediately with a damp, lint-free cloth. Avoid abrasive cleaners.
Reapply protective topcoats as needed. Pay attention to high-wear areas.
Spot repair any nicks or scratches quickly to prevent further damage.
With proper care, your chalk painted lacquer furniture will stay gorgeously refreshed for years of use and enjoyment!
Frequently Asked Questions
Let's look at some common questions about using chalk paint on lacquered furniture:
Does Lacquer Need to Be Removed Before Chalk Painting?
In most cases, the lacquer finish does not need to be stripped or sanded down to bare wood before painting. The key is light surface prep, like a quick scuff sand. As long as the lacquer isn't cracked or peeling, chalk paint can successfully adhere to the slick finish.
Can Chalk Paint Be Used Outdoors?
Chalk paint is not inherently outdoor-safe, but can be made durable enough for outdoor use with the proper protective topcoat. A marine varnish or exterior-grade polyurethane makes an ideal sealer for outdoor chalk painted furniture. Maintain the finish by reapplying topcoat every 1-2 years.
How Long Does It Take for Chalk Paint to Cure?
Allow chalk paint to cure for at least 30 days before applying a topcoat finish or wax. This allows time for the paint to harden fully. Cooler, more humid environments may require longer cure times upwards of 60+ days. Patience leads to better adhesion and durability.
Can I Paint Over Waxed Chalk Paint Later On?
Painting over properly waxed chalk paint is not advised, as new paint will have poor adhesion. If you want to change the paint color down the road, you'll need to remove the wax finish first via cleaning with mineral spirits or another wax stripping product. Then you can paint a new color.
What Sheen Options Are Available with Chalk Paint?
Chalk paint has an inherently matte, velvety finish. The sheen depends on the type of topcoat used:
Matte: Wax topcoat
Satin/Eggshell: Chalk paint lacquer, polycrylic
Semi-Gloss/Gloss: Polyurethane
So you can tailor the final sheen through your choice of sealing product.
Transforming Lacquer Furniture with Chalk Paint: Before and After
To see the dramatic transformations chalk paint can bring to lacquered furniture, check out these stunning before-and-after photos:
Kitchen Table Set
A dated 90s kitchen table set gets a breath of fresh, vintage farmhouse life with cream and navy chalk paint. The distressed finish allows some oak woodgrain to peek through for dimension.
BEFORE: Oak lacquer kitchen table and chairs looking outdated and worn.
AFTER: Same table and chairs painted cream and navy with a lightly distressed finish. It looks completely refreshed and trendy!
Midcentury Buffet
Drab brown retro buffet glows with vivid teal chalk paint and new brass hardware. Crisp white wax polish seals the deal for a mod yet classic look.
BEFORE: Boring medium brown wood buffet with very simple brass pulls.
AFTER: Buffet painted in bold, bright teal chalk paint. New statement brass handles and white wax finish give it a glam new look.
Lacquer Nightstands
A pair of 80s mahogany nightstands get a colorful update with sherbet hues. The matte finish highlights the dimension of the decorative carvings.
BEFORE: Mahogany lacquer nightstands looking dated with shiny brass hardware.
AFTER: Nightstands painted in playful lavender and peach chalk paint colors for a whimsical, modern feel. Matte topcoat plays up the carved details beautifully.
As you can see, chalk paint can take lacquered furniture from drab and dated to colorful showstoppers! You can give tired lacquer pieces fresh life with a little time and effort.
Conclusion
Despite its hardy, slick coating, lacquer furniture poses no problems for transformation with versatile chalk paint. With simple prep like light sanding and primer, chalk paint adheres readily to create any look you desire from distressed to sleek modern. And a variety of topcoat options, from wax to polyurethane, provide the ideal durable, decorative finish.
So don't let the lacquer limit you—there's a new world of color and creative possibilities waiting through the magic of chalk paint. With the techniques explored here, you can turn lacquered flea market finds or family heirlooms into one-of-a-kind showstoppers. Chalk it up to your creativity and some paint and you'll breathe new life into lacquer.