Drylok is a well-known brand of masonry waterproofing products used for sealing and protecting concrete, brick, block and other masonry surfaces. But an important question often arises: is Drylok water- or oil-based? Let's take a detailed look.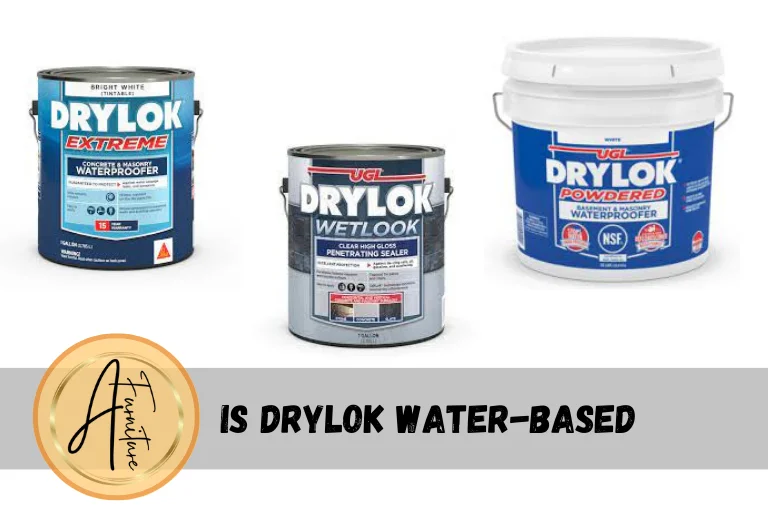 Overview of Drylok
Drylok offers a range of formulations under its brand name for waterproofing interior and exterior masonry surfaces like basements, foundations, retaining walls, crawl spaces and more.
Some of the popular Drylok products include:
Drylok Original – The original Drylok formula is a thick, white latex waterproofing paint. It can be used on interior or exterior above-grade masonry and provides a low-sheen matte finish.
Drylok Extreme – A newer and more advanced formula than original Drylok, offers greater water resistance of up to 15 psi of hydrostatic pressure. It has a smoother finish and provides better protection.
Drylok Concrete Floor Paint – Formulated for use on garage floors, basement floors, walkways and other concrete surfaces. It is slip-resistant and available in gray and tan colors.
Drylok Fast Plug – A fast-setting hydraulic cement compound that plugs leaks and seals cracks and holes in masonry surfaces.
Drylok Clear Waterproofer – A water-based clear sealer for interior or exterior masonry floors and walls. It penetrates and seals pores while allowing the surface texture to show through.
The Water-Based Advantage
The key point to note about Drylok's range of masonry waterproofers and sealers is that they are water-based products.
This means they use water as the carrier and solvent rather than oil, petroleum or other chemical solvents. Being water-based offers some useful advantages:
Lower VOCs – Volatile organic compounds (VOCs) are reduced compared to oil-based paints and solvents. This makes Drylok products lower in odor and less harmful to human and environmental health.
Easy Cleanup – Water-based Drylok products can be cleaned with soap and water. No harsh chemical thinners or solvents are needed. This makes cleanup fast and convenient.
Better Adhesion – Drylok bonds exceptionally well to masonry materials like concrete, stucco, brick and stone. Oil-based coatings do not penetrate and grip these surfaces nearly as effectively.
Soap and Water Washable – Surfaces coated with Drylok can be easily washed with mild soap and water for convenient maintenance and cleaning.
Environmentally Friendly – Reduced VOCs and water cleanup makes Drylok more eco-friendly than traditional oil-based masonry coatings.
Is Drylok Formulations are Water-Based
Now that we know the advantages of Drylok being water-based, let's look at some of their key product formulations:
Drylok Original
This is the original white-colored heavy duty masonry waterproofer from Drylok. According to the manufacturer, it contains a "latex base, " indicating it is a water-based coating. It can be used on the interior or exterior above grade surfaces of masonry walls and ceilings.
The technical specification sheet defines Drylok Original as a "White, flat latex base masonry waterproofer". In this context, latex refers to the water-based acrylic resin binder used in the formula.
The product is also advertised as solvent-free and low odor, further confirming its water-based nature. Drylok Original relies on its thick, heavy-bodied formula to physically bridge cracks and pores in masonry rather than oils or waxes.
Drylok Extreme
Drylok Extreme represents the newest generation of masonry waterproofing technology from Drylok. It uses a proprietary hydraulic cement polymer formula to provide even greater water resistance than the original.
According to the product specifications from the manufacturer, Drylok Extreme has a "latex base" and "soapy water clean-up". This indicates it is also a water-based masonry coating, just like the original Drylok.
Drylok Extreme has low VOC and low odor, which are the hallmarks of a water-based paint. It is also advertised as non-flammable, which makes sense given its water-based formulation.
Drylok Concrete Floor Paint
In addition to masonry wall paints and sealers, Drylok offers a protective coating formulated specifically for concrete garage floors, basement floors, walkways and pathways.
This product is known as Drylok Concrete Floor Paint. It uses a water-based acrylic latex formulation to penetrate, seal and protect concrete floors from moisture, deicing salts, and household chemicals.
The technical specifications list soap and water clean-up, low odor/VOC, and non-flammability – all indicators that this floor coating is also water-based. It is available in gray and tan colors.
Drylok Fast Plug
To quickly stop active water leaks before applying their masonry waterproofing paints, Drylok offers a rapid-setting hydraulic cement product called Fast Plug.
This putty-like plugging compound uses a water-based hydraulic cement formula. When mixed with water, it sets hard in just 3-5 minutes to instantly seal cracks and holes in masonry and concrete. This lets you repair active leaks quickly so the surface can then be coated with Drylok's masonry waterproofing paints.
Drylok Oil-Based Formulations
While most of Drylok's offerings are water-based, they also offer oil-based masonry paints. These include:
Drylok Latex-Based Masonry Waterproofer – This oil-based masonry primer and sealer is designed for use under Drylok latex topcoats. It contains petroleum solvents rather than water.
Drylok Fast Plug® All-Weather – A fast-setting, oil-based leak plugging compound. It uses flammable solvents and is primarily designed for external use.
However, it is worth noting that these oil-based products have been discontinued or relegated to niche external applications only. Drylok's main interior/exterior masonry waterproofing paints and sealers all use more eco-friendly water-based formulas.
Applying Drylok for Best Results
Now that we've established Drylok masonry coatings are water-based, let's discuss some tips for applying them successfully:
Surface Prep – Surfaces should be clean, dry and free of loose debris and flaking paint. Efflorescence, mold and previous coatings must be removed so Drylok can bond directly to the masonry.
Cracks and Holes – Fill actively leaking cracks and holes with Drylok Fast Plug before coating. This provides a permanent seal.
Priming – For best results, prime very porous masonry first with a coat of Drylok Latex Basecoat. This allows the topcoat to go on more evenly.
Topcoat – Apply two coats of the selected Drylok masonry waterproofer, allowing 2-4 hours drying time between coats. Use a brush, roller or sprayer.
Coverage – Drylok Original and Extreme provide 60-100 sq.ft. per gallon coverage on smooth masonry. More textured surfaces require additional product.
Drying Time – Both original Drylok and Drylok Extreme fully cure and dry in 7 days at 70°F. Colder temperatures lengthen the curing time.
Cleanup – As water-based products, Drylok brushes and tools can be cleaned with soap and water before the paint dries. No harsh solvents are needed.
Drylok vs. Competitor Products
How does Drylok compare to competitor masonry waterproofing products in terms of being water-based? Here's a quick overview:
UGL Drylok 
UGL® Drylok® is the original oil-based masonry paint formula that Drylok later replaced with their superior latex/acrylic-based versions. The UGL product contains strong petroleum solvents.
Kilz Basement Paint 
Kilz® Basement Paint is a water-based acrylic formula very similar to Drylok Original. It relies on its thick, bridging formula rather than oils or waxes.
RadonSeal Deep-Penetrating Sealer
RadonSeal is a low VOC water-based acrylic sealer for concrete floors and walls. It deeply penetrates the masonry and makes an excellent primer under Drylok paints.
GhostShield Siloxane 7500
Ghostshield Siloxane 7500 is a premium penetrating concrete and masonry sealer. It uses a water-based silicone formula to provide invisible protection against moisture intrusion.
Like other quality concrete sealers, it is low VOC and allows vapor transmission while sealing pores. It makes an ideal primer under Drylok paints for increased water resistance.
Behr Basement & Masonry Waterproofer
Behr Premium Basement & Masonry Waterproofer is a competitive water-based acrylic paint from Behr Paint. It is designed to waterproof interior or exterior above-grade masonry surfaces.
The Behr product relies on acrylic resins for its binding and waterproofing properties. It is lower in solids content than Drylok and may require more coats to achieve the same moisture resistance.
Zinsser Watertite Masonry Waterproofer
Another competitor product is Zinsser Watertite Masonry Waterproofer. It uses a water-based latex-acrylic formula to waterproof foundations, retaining walls, and other above-grade concrete and masonry.
Similar to Drylok, it is low odor, low VOC, and cleans up with water. Watertite relies more on acrylic films versus Denseal's combination of acrylic and hydraulic cements.
Quikrete Concrete & Masonry Water Repellent
Quikrete Concrete & Masonry Water Repellent is a water-based silicone emulsion sealer for driveways, patios, brick, stucco and other masonry.
It penetrates like Ghostshield Siloxane to resist moisture intrusion but leaves a clear, breathable water-repellent finish. Quikrete Water Repellent makes a good primer under Drylok paints.
Here is more of the article:
Drylok Concrete Protector
This water-based acrylic coating is designed for outdoor concrete surfaces like patios, walkways, driveways and pool decks. It penetrates and seals the concrete to protect it from freeze-thaw damage, deicing salts and other exposure.
Drylok Concrete Protector uses a "water-based formula, " allowing soap and water cleanup. It is formulated to resist yellowing from UV exposure. The sealer is available in a natural translucent sheen.
Drylok Floor Paint
In addition to their concrete floor paint already discussed, Drylok makes a separate floor coating designed specifically for garage floors, basements, laundry rooms and other interior floors.
This product provides a durable, protective finish that resists hot tire pickup, foot traffic, and household chemicals. It features an acrylic water-based formula with soap and water washability. The low-sheen satin finish is skid-resistant for safety.
Drylok E1 Epoxy Floor Paint
Drylok offers this advanced two-part epoxy coating for the ultimate in durable floor protection. It is formulated to resist even the harshest commercial and industrial environments.
Drylok E1 contains 100% solids epoxy resins in a water-based formula. It applies easily with a roller and dries to an abrasion, impact and chemical resistant finish. This heavy-duty coating suits garage floors, basements, workshops and more.
Frequently Asked Questions About Drylok
Here are answers to some common questions about the water-based Drylok brand of masonry waterproofers:
Is Drylok waterproof?
Drylok masonry paints and sealers are specially formulated to waterproof concrete, stucco, brick, and other materials. When applied properly, Drylok forms an effective moisture barrier to prevent water intrusion into the substrate.
Can Drylok be used on the exterior?
Yes, Drylok can be used on above-grade exterior surfaces. Drylok Extreme provides the best exterior performance. Make sure to follow surface prep and application instructions carefully when using outside.
Is Drylok safe for interior use?
Definitely. Drylok was originally designed as an interior basement waterproofer. All Drylok formulations are low odor and non-toxic when fully cured, making them safe for interior use in basements, crawlspaces and more.
Can Drylok be applied to damp surfaces?
Drylok can be applied to slightly damp surfaces with no standing water or active leaks. The surface must be prepared and free of loose material. Drylok Fast Plug seals active leaks.
Does Drylok have an odor?
Drylok is low odor compared to traditional solvent-based paints. Some mild latex-type odor is noticeable during application. This dissipates as Drylok dries completely. Proper ventilation is recommended.
How long does Drylok take to cure?
Drylok fully cures in 7 days at 70°F and 50% relative humidity. Colder temperatures or higher humidity lengthen Drylok's curing time. The surface can be used normally after 24 hours drying.
How should Drylok be applied?
Drylok can be applied with a brush, roller or airless sprayer. Make sure to work it into the masonry pores fully. Apply two uniform coats allowing 2-4 hours between coats. Follow all listed application instructions.
How much Drylok is needed?
On smooth masonry, Drylok Original and Extreme cover 60-100 sq.ft. per gallon per coat. More textured or porous surfaces require additional product. Order product accordingly for the project size.
Conclusion
Drylok's water-based masonry paints and sealers provide an efficient and eco-friendly solution for residential and commercial waterproofing projects. Drylok can permanently stop moisture penetration into concrete and masonry surfaces above or below grade when used properly. Contact their technical support for assistance if you have any other questions about Drylok's water-based formulations.