Outdoor furniture can be exposed to the elements – sun, rain, snow, and humidity. Choosing the right fabrics is key to durability and longevity. The ideal outdoor furniture fabrics are weather resistant, quick drying, mold/mildew resistant, and UV stabilized.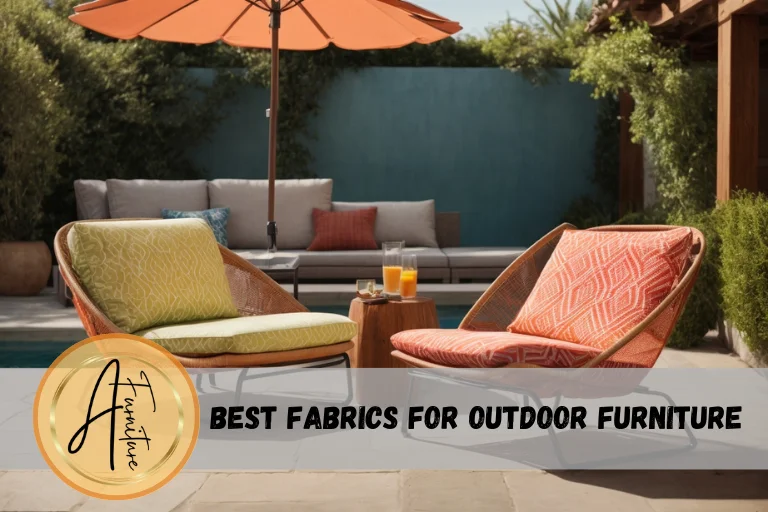 Key Factors to Consider
When selecting an outdoor furniture fabric, here are some important considerations:
Durability – Outdoor fabrics need to stand up to sun, rain, snow and regular use. Abrasion resistance is also important. Look for sturdy, tightly woven fabrics.
Water resistance – Outdoor cushions need a water-repellent coating to resist moisture. Performance fabrics will bead water and prevent absorption.
Mold/Mildew resistance – Outdoor fabrics should have antimicrobial treatments to inhibit mold and mildew growth.
UV resistance – Fabrics need to be stabilized to resist fading and degradation from sun exposure. Solution-dyed fabrics have the best colorfastness.
Breathability – Airflow is important to minimize condensation that can lead to mold growth. Many outdoor fabrics are engineered with breathable coatings.
Easy care – Outdoor cushions and furniture covers should be easy to clean by simply wiping or hosing off dirt and debris.
Aesthetics – While performance is important, you'll also want an attractive fabric that enhances your outdoor space. Look for rich colors and interesting textures.
Best Bets for Outdoor Furniture Fabrics
With a dizzying array of fabric options on the market, here are some of the most popular and best performing choices:
Solution-Dyed Acrylic
Sunbrella is one of the most recognized brand names for outdoor fabrics. Made of 100% solution-dyed acrylic, it offers vibrant fade-resistant colors with excellent longevity. The dense, breathable weave resists water, stains, mildew and UV rays. Sunbrella is easy to clean by hosing off or using bleach. It's ideal for outdoor cushions, upholstery and awnings.
Olefin
Olefin fabrics like Spradling's Live Smart and Cast's Skai have excellent mold, mildew and stain resistance. The woven polyolefin fibers create a quick-drying, breathable performance fabric. Olefin stands up well to sun, rain and humidity. Machine washable olefin cushion covers make cleaning a breeze.
Polyester
Polyester fibers are extremely durable and resistant to stretching. Outdoor polyester fabric is coated for water repellency and treated to resist UV degradation. Brands like Outdura and Shore offer printed and solid polyester outdoor fabrics in beautiful colors and patterns. They can withstand regular use alongside the elements.
Vinyl
Marine vinyl is essentially outdoor vinyl fabric created for boats. With a durable UV-resistant vinyl coating over a polyester backing, marine vinyl is completely waterproof and easy to clean. The supple, leather-like vinyl weathers well outdoors. Marine vinyl is perfect for patio cushions, pool floats, and outdoor canopies. Watch for potential cracking over time.
Polypropylene
Polypropylene outdoor fabric is a very affordable option. The colorfast spun polypropylene fibers create a moisture-wicking, breathable fabric. Polypropylene holds up well to outdoor conditions with good fade resistance. It's easy to clean and quick drying. While not as soft as other fabrics, polypropylene is a great choice for outdoor rug backing.
Fabric Comparisons
Here's an overview of how some of the top outdoor fabric contenders stack up:
| | | | | | |
| --- | --- | --- | --- | --- | --- |
| Fabric | Waterproof | Mold Resistant | UV Resistant | Easy to Clean | Price Range |
| Sunbrella | Water-repellent coating | Yes | Yes | Bleach cleanable | $$$ |
| Olefin | Water-repellent coating | Yes | Yes | Machine washable | $$ |
| Polyester | Water-repellent coating | With antimicrobial treatment | Yes | Spot clean | $-$$ |
| Marine Vinyl | Yes | Yes | Yes | Wipe clean | $$ |
| Polypropylene | Water-repellent coating | No | Yes | Spot clean | $ |
Popular Outdoor Fabric Types
Beyond brand names, here's an overview of the fiber compositions used in many outdoor fabrics:
Acrylic
Acrylic fabric contains synthetic acrylic fibers that resist fading, mildew and sun damage. Solution-dyed acrylics like Sunbrella have excellent UV stability. Acrylic material is also highly water-repellent. It's great for outdoor cushions and umbrella covers.
Polyester
Polyester fabric is extremely durable and resistant to stretching. Outdoor polyester fabric is treated to be water-repellent and resist UV rays. It provides good resistance to mildew and staining. An affordable option for outdoor use.
Olefin
Developed specifically for outdoor use, olefin fabric contains weather-resistant polyolefin fibers like polyethylene. Brands like Spradling's Live Smart feature woven olefin with optimal durability, breathability, stain resistance and fade resistance.
Vinyl
Polyvinyl chloride (PVC) coated fabrics contain a vinyl top coating. Marine vinyl has a durable UV-resistant vinyl surface over polyester backing. The waterproof construction holds up to outdoor conditions but can crack over time.
Polypropylene
Polypropylene is a synthetic olefin fiber used to create water-repellent, breathable outdoor fabric. The colorfast construction resists fading and stands up well to sun, rain and humidity. An extremely affordable outdoor fabric option.
Performance Fabric Technologies
Technical innovations in fabric engineering have created high performance outdoor fabrics that can withstand the elements:
Breathable coatings – Acrylic, polyester and olefin fabrics feature coatings that allow airflow while maintaining water resistance. This breathability minimizes condensation.
Waterproof laminates – Performance fabrics like GORE-TEX use breathable laminates under the fabric face to provide durable waterproofing that prevents moisture absorption.
UV stabilizers – Chemical stabilizers are added during production to maximize colorfastness and resistance to sun damage. Solution-dyeing has the best UV stability.
Fluorochemicals – Special finishes containing fluorine help fabrics repel oil and water for optimal stain resistance. They preserve the fabric's breathability.
Antimicrobials – Agents like Microban are added to inhibit bacterial and fungal growth on fabrics. This prevents mildew, mold and odors.
Popular Outdoor Furniture Fabric Brands
When shopping for outdoor furniture fabrics, look for certain features like fade resistance, mold/mildew resistance, stain repellency, and high durability.
Brand name matters too. Reputable manufacturers invest in fabric innovation and performance testing. Their fabrics are engineered to maintain their beauty and resist deterioration in outdoor environments.
Sunbrella: The Gold Standard
Sunbrella is one of the most widely recognized names in performance fabrics. They specialize in beautiful, durable fabrics for outdoor living.
Sunbrella fabrics are made from 100% solution-dyed acrylic. The pigment is injected into the acrylic fibers before the yarn is even spun. This creates a permanent, fade-resistant color that lasts for years outdoors.
Sunbrella fabrics have a 5 year warranty. They are water repellent, stain resistant, and mildew resistant. While Sunbrella fabrics can develop mold/mildew in consistently wet environments, it's easy to clean and remove.
Sunbrella offers over 150 styles and colors to choose from. They have solids, stripes, textures and bold patterns. Sunbrella fabrics feature a nice, tight weave and smooth feel.
Sunbrella Fabric Pros
Fade resistant colors (5 year warranty)
Mold and mildew resistant
Water repellent and quick drying
Stain resistant for easy cleaning
Durable and rip resistant
Beautiful textures and patterns
Outdura: The Polyester Pro
California-based brand Outdura makes high-performing outdoor polyester fabrics. These fabrics feature maximum fade resistance, even in intense sunlight.
Outdura fabrics also repel water, block stains, and resist mildew and pilling. They are soft with a nice drape and come in a wide selection of colors and patterns.
Outdura provides a 3 year warranty on their outdoor polyester fabrics. While less than Sunbrella's 5 year warranty, 3 years is still generous for a polyester fabric.
Outdura Fabric Pros:
Fade resistant for 3 years
Water repellent
Mold and mildew resistant
Stain resistant and easy to clean
Soft hand with beautiful drape
Great pattern and color selection
Spradling: The Olefin Option
Spradling International makes outdoor-safe fabrics under their Live Smart brand. These fabrics are constructed from an advanced olefin fiber technology.
Live Smart fabrics contain zero acrylics. Olefin fibers are extremely strong, durable plastics that resist deterioration from sun exposure.
Spradling's Live Smart fabrics have built-in stain resistance and repel oil, water, and other liquids. They inhibit the growth of mold, mildew and bacterial odors.
A 5 year limited warranty covers these fabrics. Over 500 vivid colors and patterns are available.
Spradling Live Smart Fabric Pros:
Made of colorfast olefin fibers
5 year limited warranty
Mold, mildew and bacteria resistant
Naturally stain and water repellent
Highly durable and abrasion resistant
Vibrant colors and fun patterns
Shore: The Canadian Choice
Shore is a leader in beautifully designed outdoor polyester fabrics. Based in Canada, Shore ships their fabric worldwide.
Shore fabrics contain UV stabilizers for fade resistance and antimicrobials to inhibit mold/mildew growth. These fabrics have a nice soft hand and brilliant colors that bring outdoor furniture to life.
Shore fabrics have built-in stain resistance and repel liquid. However, compared to other brands, Shore has a shorter 2 year warranty.
Shore Fabric Pros:
UV fade stabilizers
Mold and mildew resistant
Naturally stain and water repellent
Beautiful colors and vivid patterns
Soft, smooth hand and drape
Glen Raven
Glen Raven manufactures Sunbrella brand acrylic fabrics. They also produce custom printed acrylic and polyester fabrics under the Dickson name.
Dickson fabrics are designed for outdoor use on casual furnishings. These fabrics have a soft hand and nice drape.
Dickson uses advanced digital printing technology to apply any custom design or pattern. This allows complete creative freedom.
These printed fabrics retain their color and resist stains, water, and UV rays for 2 years. They inhibit the growth of mold and mildew.
Dickson Fabric Pros:
Digitally printed custom designs
Fade resistant for 2 years
Water repellent and quick drying
Mold and mildew resistant
Soft hand with beautiful drape
Herculite: The American Vinyl
Herculite is a premium vinyl brand made in the USA. These commercial grade vinyls are designed to withstand harsh outdoor environments.
Herculite fabrics are completely waterproof, stain proof, and resistant to UV rays. They contain mildew inhibitors and antimicrobials for odor control.
These durable, flexible vinyls maintain their color fastness for many years. Herculite offers a 10 year limited warranty on their marine grade vinyls.
Herculite vinyl is easy to clean with soap and water. It stands up well to chemicals, abrasion, tearing, punctures, and friction wear.
Herculite Vinyl Pros:
Made in USA
10 year limited warranty
Completely waterproof
Stainproof and easy to clean
Antimicrobial and mildew resistant
Extremely durable and tear resistant
Carver: The Marine Marvel
Based in the US, Carver specializes in heavy duty marine vinyls. Their fabrics are coated with a durable finish that withstands sun, salt water, and abrasion.
Carver vinyls maintain their color and resist stains, even after prolonged sun and saltwater exposure. These fabrics will not crack, peel, or delaminate for years.
All Carver vinyls have an antimicrobial finish that prevents mold and mildew growth. They are easy to wipe clean with mild soap and water.
A 3 year limited warranty backs these flexible vinyls. Over 150 colors are available, many with coordinating piping.
Carver Marine Vinyl Pros:
Durable marine grade vinyl
3 year limited warranty
Mold and mildew resistant
Colorfast even in sun and saltwater
Stain resistant and easy to clean
Withstands abrasion and friction
Over 150 colors and patterns
How to Choose the Best Fabric
With so many outdoor fabric options on the market, it can be tricky to select the best material for your needs. Here are a few tips on choosing an outdoor furniture fabric:
Consider the location – Fabrics used in shaded settings can differ from those in full sun. Make sure to choose a fade resistant fabric if in direct sun.
Check fabric content – Acrylics, polyesters and polyolefins are best for outdoor use. Be sure to avoid cotton, linen and other natural fibers.
Review warranties – Look for generous 3-5 year or longer warranties that guarantee colorfastness and fabric performance.
Assess your lifestyle – Active families with kids and pets may want highly stain resistant, durable fabrics. While hotel or restaurant settings need commercial grade materials.
Touch fabrics – Look for a tight weave and smooth, comfortable hand. Make sure the fabric has enough weight and drape for your project.
Visualize patterns – If using a pattern, view samples to ensure the scale and colors suit your furniture style and decor.
Following these tips will help narrow your fabric search. Once you've selected a few suitable options, request swatches to make a final decision you'll enjoy for years to come.
How to Clean Outdoor Furniture Fabrics
Regular cleaning is important to prolong the life of outdoor cushions and furniture. Here are some tips:
Check manufacturer instructions for specific cleaning methods
Rinse off dirt and debris with a hose
Use mild soap and warm water. Avoid harsh detergents.
For mildew stains, use bleach mixtures sparingly
Allow cushions to fully air dry before replacing covers
Use fabric protectants to repel stains and water
Take advantage of removable, washable cushion covers
Wipe spills promptly before they set
Spot clean stains with a soft brush and mild cleaner
Steam clean upholstered furniture every few seasons
Consider professional deep cleaning for hard-to-remove stains
Proper cleaning and care will help outdoor fabric withstand the effects of sun, rain, dirt and regular use. Be sure to inspect furniture regularly for any wear and address issues promptly.
DIY vs Professional Re-Upholstery
Over time, outdoor cushions and furniture may need to be re-upholstered or recovered. Here are some things to consider when deciding whether to DIY or hire a professional:
DIY
More budget-friendly option
Allows customization and creativity
Relatively easy for cushions with removable covers
Good option for basic square or rectangular cushions
Handy homeowners can tackle with some patience
Consider hiring a professional for:
Complex cushion shapes like curves or box cushions
Furniture with cushioning integrated into frame
Intricate tufting or piping detail
Precise tailoring of fitted covers
Unique patio furniture frames and styles
Time constraints if large amount of furniture needs upholstering
If attempting DIY upholstery, ensure you have the proper tools – staple gun, scissors, fabric cutter, pliers, foam cutter, etc. Watch online tutorials. Taking pictures of furniture before dismantling helps tremendously for reassembly. Remove old fabric completely before adding new material. Plan patterns carefully to maximize use of new fabric.
Popular Outdoor Fabric Patterns & Textures
Fabric patterns and color combinations provide endless possibilities to complement your outdoor space:
Solids – Choose from a wide spectrum of color options like bright citrus shades or nautical blues. Acrylic and polyester solids have the most fade-resistance.
Stripes – Classic vertical or horizontal stripes in neutral or bold colors effortlessly match any decor. Use different scale stripes together.
Checks and plaids – Crisp ginghams and tartan plaids add a fun pop of pattern especially in contrasting colors.
Patterns – From geometrics to global inspired motifs, printed outdoor fabrics create interest. Use patterns selectively.
Tone-on-tone – Maintain a cohesive look with fabrics woven from different tonal color yarns for subtle pattern effects.
Textures – Look for outdoor fabrics with unique textural qualities like boucle, high-low variations, ribs and basketweaves.
Mixing patterns and textures adds visual appeal but coordinate colors carefully for a harmonious look. Scale down large patterns on bigger furniture like daybeds. Anchor busy patterns with solid colors. Arrange patterned and textured fabrics symmetrically for a polished look.
Caring for Outdoor Fabrics in Winter
Outdoor furniture and fabrics require some seasonal care and maintenance. Here are tips for winter:
Clean fabrics thoroughly before storing to remove dirt and debris that can abrade and shorten lifespan
Ensure cushions and fabrics are completely dry before placing covers or storing furniture away
Store cushions upright on shelves in a dry spot protected from moisture
For furniture frames, carefully check for any cracks in wood, rust on metal or hardware loosening over the season and address any issues
Lubricate and tighten any hardware needed to ensure proper function come springtime
Purchase water resistant furniture covers for added protection from moisture and dust
If feasible, move very heavy furniture like sofas or dining sets into a covered area like a garage, shed or covered patio for the winter
Remove and discard any remaining leaves, dirt or bird droppings
With proper seasonal maintenance and storage, your outdoor furniture can re-emerge next spring looking like new for many years of enjoyment.
Frequently Asked Questions
What are the most durable outdoor fabric brands?
Sunbrella, Spradling's Live Smart, Herculite, and Carver vinyls are among the most durable outdoor fabrics. They resist fading, stains, mold, and deterioration for years.
Should I look for a warranty when choosing an outdoor fabric?
Absolutely. A good warranty ensures the fabric will retain its colorfastness and perform as advertised. Sunbrella, Spradling, Herculite and Carver offer 5+ year warranties while Outdura and Dickson offer 2-3 years. The longer the warranty coverage the better.
What fabric is best for outdoor furniture cushions?
For cushions, look for fabric with some stretch and flexibility like Sunbrella, Outdura or Shore fabrics. These will have a nice smooth hand and drape nicely over cushions. Performance polyesters and polyolefins are ideal cushion materials.
Should I use acrylic or polyester fabric for outdoors?
Both acrylic and polyester make excellent outdoor fabrics but they have slightly different properties. Acrylics like Sunbrella are more expensive but the most colorfast. Polyesters cost less, offer great UV resistance, and come in vibrant colors.
How do I clean mold and mildew from outdoor fabrics?
Most outdoor fabric brands are mold and mildew resistant. But sometimes mold still occurs in shady or damp areas. First brush off loose spores. Then use a mild bleach solution to kill and remove remaining mold and mildew.
Can outdoor fabric go in the washing machine?
Some light outdoor fabrics may be machine washed but check label instructions. In general, hand washing with a gentle soap and water is best. Rinse thoroughly and air dry. For stubborn stains, use a diluted bleach solution.
How much outdoor fabric do I need?
The yardage needed depends on furniture dimensions, pattern repeats and fabric width. To estimate, measure furniture and add 15-20% for pattern matching and seam allowances. Or consult an upholstery calculator online for exact yardage.
Where can I buy outdoor furniture fabric?
Online sites like Sunbrella.com, Sailrite.com, and Fabric.com have a huge selection. Or visit local upholstery and fabric shops. Many brands also offer free fabric swatches to help you find the perfect outdoor material.
Key Takeaways
Select outdoor furniture fabrics that offer durability, water and stain resistance, breathability and UV protection.
Performance fabrics like solution-dyed acrylics, polyester, olefin and marine vinyl withstand outdoor elements well.
Regular cleaning with mild detergent helps maintain outdoor cushions and fabric.
Re-upholstering or replacing fabric covers periodically renews worn furniture.
Choose fabrics with attractive colors, prints and textures that enhance your outdoor space.
Proper seasonal storage protects furniture and extends the lifespan of outdoor fabrics.
Investing in weather-resistant outdoor fabrics designed for high performance will provide lasting beauty, comfort and enjoyment of your patio and garden spaces.
Final Thoughts
Choosing the right outdoor furniture fabric involves considering durability, performance, lifestyle needs and style preferences. Take time to research different fabric brands, features, warranties and reviews.
Focus on fade and stain resistant fabrics with long warranties. And be sure to order samples to see the quality and colors in person. Investing in a high quality outdoor fabric will extend the life of your furniture and ensure you can enjoy it for years of alfresco living.