Knotty pine wood evokes images of cozy cabins and rustic furnishings. With its distinctive knots, varied grain patterns, and golden hue, knotty pine brings a unique warmth and casual elegance to any space. While associated with traditional rustic aesthetics, knotty pine works beautifully when finished and styled appropriately in contemporary spaces.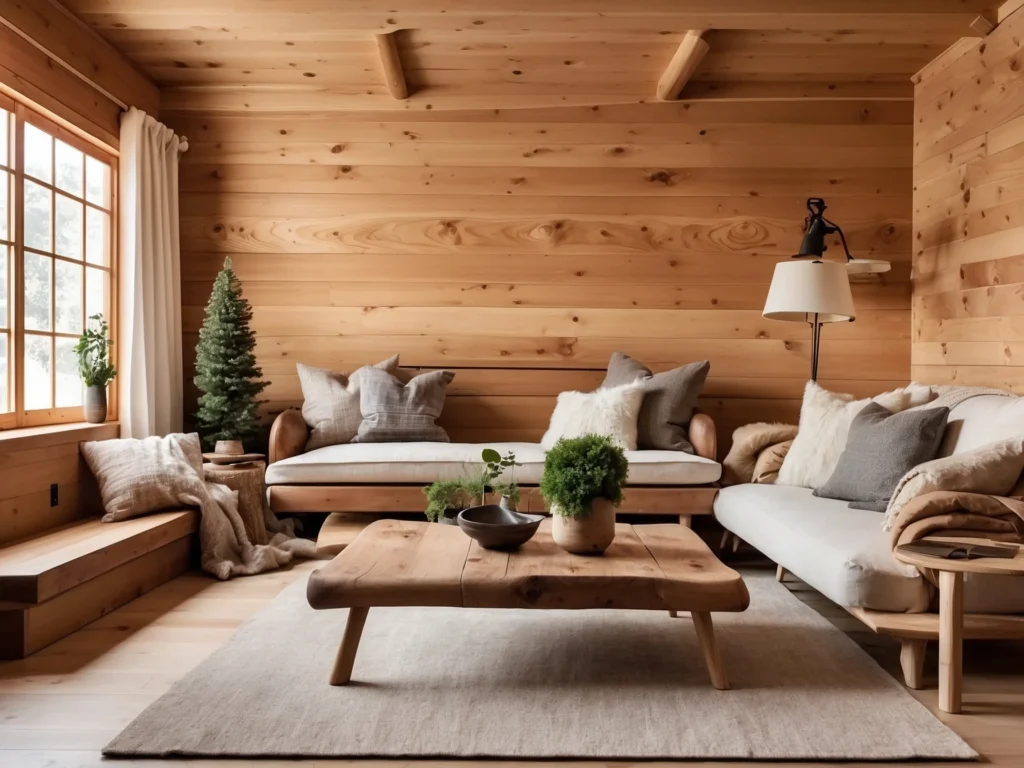 Beyond its decorative merits, knotty pine is an affordable, durable, and versatile softwood. It's easier to work with than many hardwoods, making it an approachable DIY choice. Knotty pine has decorative and structural applications throughout the home.
Here's an in-depth look at everything you need to know about this distinctive wood.
What is Knotty Pine Wood?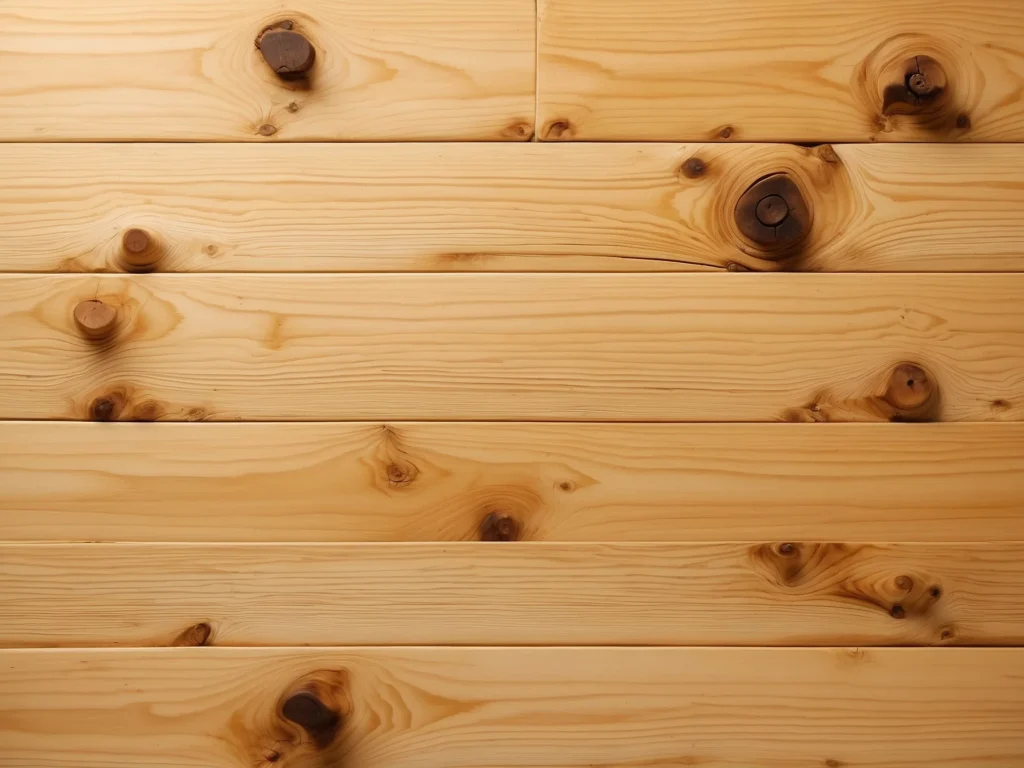 Knotty pine belongs to the softwood category, which comes from coniferous or evergreen trees. It's sourced primarily from pine tree varieties like Ponderosa, Southern Yellow, Loblolly, and Lodgepole Pine. The "knotty" descriptor refers to the abundant knots and gnarls that give the wood its characteristic rustic texture.
The knots form when branches grow out from the trunk of the tree. When the tree is harvested and cut into boards, these areas appear as knobs on the cut wood surface. The knots can vary in size from tiny pinholes to large protruding sections. This natural variation contributes to the wood's informal, organic look.
In addition to knots, knotty pine exhibits color variations from sapwood (lighter wood near the outside of the tree) to heartwood (inner reddish-brown wood). The contrasting colors and grain patterns are part of knotty pine's rustic appeal.
Knotty pine is significantly less expensive than clear pine or knot-free pine lumber. The knots and irregularities reduce the usable yield obtained from a log, decreasing the wood's cost. So homeowners and woodworkers gain cost savings by embracing the knots rather than avoiding them.
Pros and Cons of Knotty Pine
Knotty pine offers several benefits that explain its popularity:
Pros:
Affordable compared to clear pine or hardwoods
Abundant knots add rustic character
Easy to work with hand or power tools
Lightweight yet durable
Takes stain well to customize color
Varying grain patterns create visual interest
Cons:
Softer than many hardwoods
Can warp or swell if improperly sealed
Knots and sap pockets create natural defects
Resinous scent may require sealing
Not suitable for all applications like flooring
While prone to defects, the knots do not significantly compromise knotty pine's strength and structural integrity. When properly finished and cared for, the wood can be used in furniture, cabinetry, and home construction.
Availability and Pricing
Knotty pine is available at most major home improvement stores and lumber suppliers. It comes in different forms including:
Boards: Sold in various widths and lengths in the dimensional lumber section. Prices range from $1-3 per board foot.
Paneling: Pre-cut tongue and groove planks designed for easy installation on walls/ceilings. Approximately $1-2 per square foot.
Plywood: Budget-friendly sheets made by gluing together layers of knotty pine veneer. Prices start around $30 per 4×8 sheet.
Trim/Molding: For window/door surrounds, baseboards, etc. Linear pricing per foot based on dimensions.
Veneer: Thin sheets for surfacing projects like cabinets and furniture. Sold in 4×8 sheets, starting around $70.
Beams: Large dimensional timbers for structural applications. Priced per linear foot based on size.
More intricate wood millwork like shiplap, barn siding, and accent planks often demand a small premium. But knotty pine is one of the most economical wood choices. It offers great value for money on a per square foot basis.
Applications and Uses
The rustic styling and affordability of knotty pine make it a popular choice for many residential applications:
Log Homes and Cabins
Knotty pine feels right at home in cozy cabins and lodge-inspired spaces. Use it to embrace the rustic theme for interior paneling on walls and ceilings. Knotty pine also works for furniture, cabinets, shelving, trim, and exterior siding in log homes. Its durability and weather-resistance allow it to withstand the elements while providing a handsome facade.
Consider whitewashing or pickling exterior knotty pine siding and trim to lighten the wood's tone. Blocking with stone or other exterior materials can provide a more cohesive look.
Tongue and Groove Paneling
Installing tongue and groove knotty pine planks is an easy DIY project for transforming ordinary walls and ceilings. Nail up the interlocking planks over furring strips or existing drywall. You can install the planks over exposed beams or rafters for a truly rustic look.
Paneling allows the beauty of knotty pine to become a decorative feature in the home. It's most common in dens, family rooms, bedrooms, and vacation homes to cultivate a cozy, welcoming ambiance.
Kitchen Cabinetry
The pleasing grain patterns and golden hues of knotty pine give it broad appeal for kitchens. Choose a medium or darker stain to downplay the knots while allowing the wood grain to shine through. Combine with natural stone or butcher block countertops and antique-inspired hardware for a timeless farmhouse aesthetic.
Opt for minimal hardware, painted cabinets, and sleek surfaces like quartz for a more refined contemporary look. This proves that knotty pine can extend beyond strictly rustic contexts with the right design choices.
Furniture
Knotty pine has long been valued in furniture like beds, dressers, armoires, tables, and chairs. It brings a handsome, yet informal warmth to bedroom collections, dining sets, and living room furnishings. Use a clear finish to showcase the wood's natural characteristics or pick a bold paint color for added flair.
For a DIY project, knotty pine's softness makes it easy to work using simple tools. The cost savings allow you to affordably build everything from a basic workbench to striking statement pieces.
Architectural Accents
Beyond large surfaces, consider knotty pine for architectural accents like:
Exposed beams and rafters
Custom mantels over fireplaces
Rustic window or door trim
Wainscoting and plank accent walls
Wood hoods over stoves and ranges
Basement wet bars or coffee station hutches
Backsplashes in kitchens
Knotty pine adds charming rustic texture when thoughtfully incorporated throughout a space.
Children's Spaces
The whimsical, informal qualities of knotty pine make it a wonderful design choice for kids' rooms, playrooms, and nurseries. Use it in furniture, shelving, paneled walls, and ceiling planks. Painting the wood in bright colors adds playful personality. The resulting spaces feel fun, durable, and full of character.
How to Finish Knotty Pine
Knotty pine presents a unique canvas for experimenting with different finishes to alter its color, sheen, and protection:
Stain
Penetrating stains are popular for enriching the wood's tone while allowing the grain and knots to show through. Light brown, golden, and reddish hues help accentuate knotty pine's natural beauty. Condition first with a wood prep solution so the soft porous wood absorbs stain evenly.
Paint
For a bolder look, paint knotty pine any color you desire. Primer formulated for pine ensures proper adhesion. A satin or semi-gloss sheen offers subtle luster and durability. Painting allows knotty pine to adapt into both traditional farmhouse or modern aesthetics.
Whitewash Pickling
A whitewash or pickled finish lightens knotty pine. After cleaning and light sanding, apply a watered-down white paint using a brush or rag. Then immediately wipe it off to leave a thin, translucent white coating with wood grain showing through. This technique adds a coastal or Scandinavian look.
Clear Finishes
Consider a clear varnish, lacquer, or oil to showcase the wood's raw beauty. These seal the surface while allowing the color and grain to take center stage. Opt for a matte or satin sheen for protection without excessive gloss. Condition first and apply multiple coats for best results.
Wax
Wax finishes provide minimal protection but saturate the wood with a pleasant luster. They also allow the surface to age naturally. Use a paste wax to give projects like furniture a soft patina. Reapply wax periodically to maintain the finish over time.
No matter your aesthetic preference, knotty pine offers a superb canvas for experimenting with various finishes. Sample boards help you preview options before tackling an entire project.
Working With Knotty Pine: Tips and Tricks
Here are some additional tips for working with knotty pine wood successfully:
Sanding and Prepping
Knotty pine sands easily with fine grit sandpaper. Sand with the grain direction to avoid scratching the soft wood.
Fill any holes, cracks or defects with wood filler before finishing to smooth the surface. Let filler dry completely.
Before staining, use a primer or conditioner to help the wood absorb stain evenly. Softwoods are prone to blotchiness.
When painting, prime all surfaces first for proper adhesion. Opt for an oil-based primer for best results.
Consider using a sealer like shellac to isolate trouble areas like sap and knots before finishing. This prevents discoloration from bleeding through.
Cutting and Drilling
Carbide-tipped blades and drill bits stay sharp longer when cutting pine. The soft wood can quickly dull standard steel tools.
Pre-drill holes for nails and screws to prevent splitting, especially near knots and board ends. The wood's softness allows fasteners to sink in easily.
Make end cuts and rip cuts across the wood grain rather than parallel to minimize tear-out when possible.
Installation and Joinery
Space out studs 16 inches on center for paneling to allow adequate support. Thinner 3/8-1/2 inch panels are more prone to warping without enough fastening points.
Use construction adhesive when fastening tongue and groove panels to strengthen connections. Nail through the panel tongues for extra holding power.
Pocket screws or biscuits help reinforce joints in pine furniture and cabinetry. The soft wood demands extra care when joining pieces.
For clean results, ensure blade and bit heights are properly set to avoid cutting into surfaces below the wood when sawing or routing. The softness of pine allows this to happen easily if tools are set too deep.
Sealing and Protection
Seal all surfaces of exterior projects like siding, trim, and furniture to protect from moisture damage. Use marine varnish or other weather-resistant sealers.
Protect tabletops and other surfaces prone to spills with a durable finish like polyurethane. Water can easily stain untreated pine.
Renew clear finishes annually to keep wood sealed. Reapply exterior sealants every 2-3 years for optimal weather resistance.
Use felt pads and coasters under decor to prevent scratches and dents in soft knotty pine furniture and floors.
With proper prep and care, knotty pine performs well for many residential applications while bringing natural rustic beauty.
Knotty Pine vs. Knotty Alder
Knotty alder is another popular knotty wood with some similarities to pine. But there are also notable differences in terms of appearance, characteristics, and uses:
Appearance
Knotty pine has a straight, even grain pattern compared to alder's wavy, irregular grain.
Pine has a more uniform light brown color. Alder exhibits a wider range of cream, reddish-brown, and tan hues.
Pine knots are darker, more abrupt, and protruding. Alder knots blend in more smoothly.
Overall, pine has a more distinctly rustic, boldly-grained look. Alder appears slightly more subdued.
Characteristics
Pine is softer and more lightweight than alder.
Unfinished pine has a faint resinous odor while alder has little smell.
Pine costs less than alder. It's one of the most affordable knotty wood options.
Pine can be more susceptible to expansion/contraction and warping. Alder has better dimensional stability.
Uses
Pine's softness makes it easier to cut and work with hand tools.
Pine works for paneling, trim, and furniture. Alder is better for cabinetry and flooring.
Pine suits rustic cabins and country homes. Alder transitions into more modern spaces.
Exterior applications favor pine for its weather resistance at a value price.
While both add charming, knotty character, pine excels when a bold, traditional wood grain aesthetic is desired. It's best suited for interior paneling, furniture, and accent applications rather than high wear areas.
FAQs About Knotty Pine Wood
Is knotty pine expensive?
No, knotty pine is valued as an inexpensive, budget-friendly softwood. Thanks to abundant availability from pine tree plantations, it costs significantly less than premium woods. Expect to pay $1-3 per board foot for knotty pine lumber. It's one of the most cost-effective knotty wood options.
What are the pros and cons of knotty pine?
Pros: affordable, abundant, easy to work, takes stain well, rustic character, durable for a softwood.
Cons: prone to swelling/shrinking, not as hard as some woods, knots and defects, can be resinous.
What is the difference between knotty and clear pine?
Clear pine comes from the outer sapwood area of the tree trunk and is free of knots. Knotty pine contains the inner heartwood with knots left intact, giving it a rustic appearance. Knotty costs much less than clear.
Does Home Depot sell knotty pine?
Yes, Home Depot is a convenient and affordable source for knotty pine. They stock lumber, paneling, plywood, trim/molding, and other products. You can also order knotty pine boards and siding through their online delivery services.
How do you finish knotty pine?
Common knotty pine finish options include stain, paint/primer, whitewash, wax, varnish, and oil. Always prepare the wood first and test finishes on scrap wood. Multiple coats provide the best protection.
Conclusion
With its alluring mix of knots, sap pockets, and varying grain, knotty pine captivates with rustic beauty and charm. This versatile, eco-friendly softwood brings decorative character and benefits like affordability, ease of use, and durability. Whether building a country cabin or putting the final touches on a craft room, knotty pine can create spaces rich with texture and cozy natural style. Properly prep, prime, and seal this distinctive wood to enhance and protect its beauty for years.