A glass backsplash for new or existing kitchens
A kitchen backsplash made of glass can be installed in a completely new kitchen and an existing kitchen.
A glass backsplash for the kitchen is also often chosen for the appearance it gives, and it can easily combine a luxurious, modern, and sleek design with other styles.
By placing the backsplash, you give the old kitchen a whole new look. You can choose to provide only part of the kitchen with glass, such as the part where the cooking is done to absorb the splashes or the entire back wall.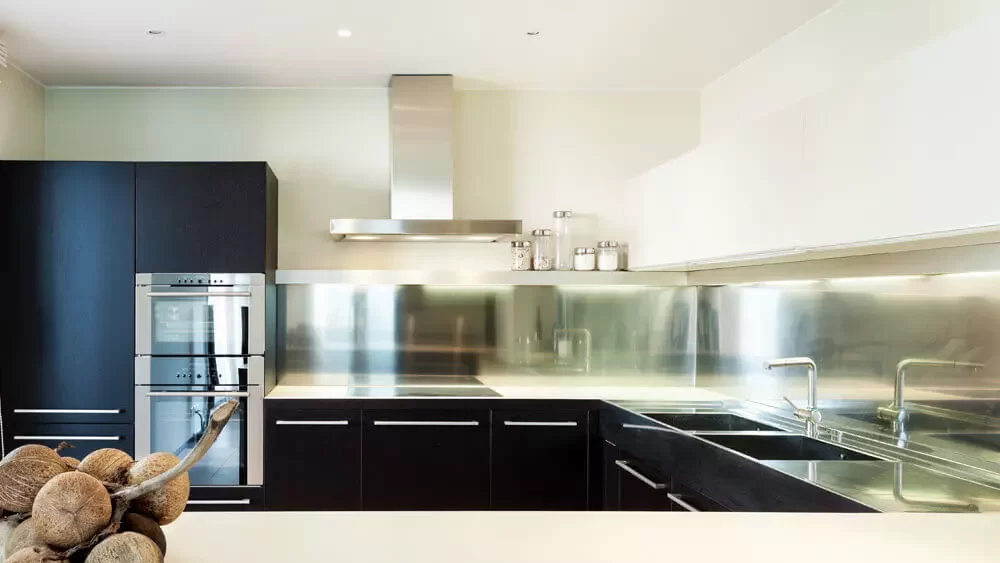 The many advantages of a glass back wall in the kitchen
A glass kitchen backsplash has many benefits: it is durable, practical, and gives a perfect look to your kitchen. That's not all:
A glass kitchen back wall is very resistant to the heat from the stove, and it makes your kitchen look more prominent because the glass reflects the light.
A glass backsplash is easy to keep clean because of the lack of joints. A cloth over it with some detergent, and it's clean.
Available in any color. You can even give your existing kitchen a completely new look.
The most significant advantage of glass backsplash, of course, is the ease with which you can keep it clean. Like any other glass surface, a glass kitchen back wall is just as easy to clean.
In addition, it can sometimes be the most beautiful solution in everyday situations.  A kitchen back wall in glass can be a hard and a (cheaper) standard variant.
The kitchen back wall where the glass is glued must be tightly finished. Considering the height of a glass back wall, it can appear massive if it gets too high, detracting from your new splash wall.
The choice of a matte or transparent version can be an essential one. If you choose transparent glass, you should think carefully about the color behind the glass. A handy solution is only for a white wall because a (pronounced) color is not timeless.
Nowadays, there are also possibilities to provide glass with a personal photo or a beautiful adaptation. It also offers the chance to make a remarkable statement in a neutral kitchen!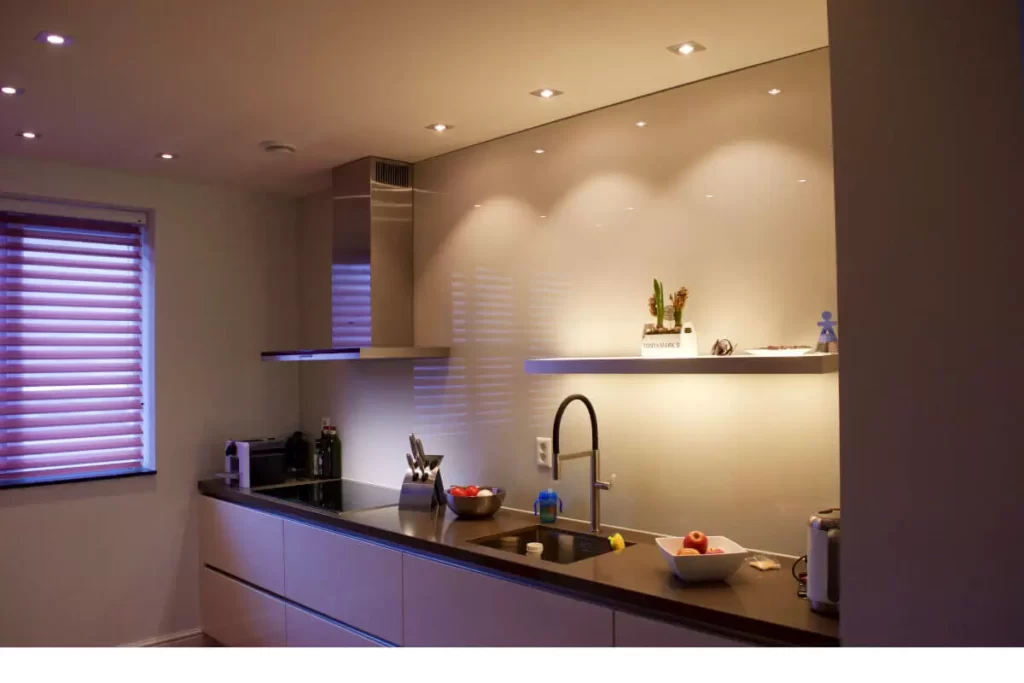 Does a glass backsplash also have disadvantages?
A glass backsplash is custom-made. The panels are made to measure, and it is just a matter of measuring and fitting.
All around, 3 mm must be allowed for clearance during assembly. Anyone who does not take this into account will be disappointed.
A glass backsplash is heavy, and the assembly cannot always be done alone. Removing the glass backsplash also involves the necessary work.
Different types of glass for backsplash
It is not always easy to choose because there is much different glass backsplash for the kitchen. For behind the stove (gas, induction, or electric), tempered glass is always chosen that is heat-resistant.
Standard glass can crack due to voltage differences, and that must be prevented. So it is certainly important to pay attention to this.
Crystal glass is used in many cases. This purified glass is clear and gives correct colorfastness. You can also opt for other glass, including mirror glass or float glass.
Embossed glass gives a unique structure to the rear wall, which creates an effect with depth, making the kitchen seem to come to life.
Glass backsplash behind a gas stove
Please note that you cannot use all types of glass as a back wall behind a gas hob; this has to do with the heat.
The only type of glass that can be used behind the cooking area is a glass back wall made of tempered glass.
Tempered glass is made in a special way that makes it heat-resistant. Pay attention! Some kitchen suppliers claim that all types of glass can be used. So that's nonsense!
Colors and images on glass backsplash
The standard glass backsplash can be placed against any wall, white or painted in a bright color. In addition to the regular glass backsplash in the kitchen, we also see many colors and designs.
Colors can be adapted to the kitchen itself. The color must fit well with the whole. Bright colors can be separate but should not be used in combination with a brightly colored kitchen.
An orange kitchen and a red back wall? You have to be very firm about that. Bright colors in the kitchen can be softened using the colored back wall, for example, a white back wall on an orange kitchen.
Dark kitchens can light up with a lighter back wall; Black with white or gray. Test samples can give a better picture of the whole. It is always recommended to do this first. You can also play a lot with colors online.
The glass backsplash for the kitchen with an image or design is unique, and this can be, for example, graffiti glass, where stripes, lines, circles, or other shapes adorn the glass.
Artistic and modern graphic designs can also be printed on the glass. In addition, it is even possible to choose an image or photo, also from your collection or private sphere.
Excellent printing techniques and high resolution are used, guaranteeing the quality of the image on the glass.
Cleaning and maintenance glass backsplash
A smooth surface is ideal in a kitchen. Grease stains are the biggest annoyance in the kitchen, but finger stains and moisture can also disfigure a wall.
Around the stove, we see the dirtiest stains that are often difficult to remove.
The regular glass back wall in the kitchen can easily be cleaned with a degreaser or warm water and washing up liquid. Please leave it in for a while, and the grease will automatically dissolve in the cleaning agent.
Kitchen backsplash with pictures sometimes needs a different treatment. Sometimes caution is advised; otherwise, the image will be damaged too quickly.
In general, the photo is printed on the back of the glass, so it is well protected. It is always important to follow the supplier's guidelines when cleaning the glass wall.
The glass backsplash must be well sealed on the sides or where it makes contact with other material. If not, moisture or dirt can get behind the wall.
Sometimes small insects also crawl behind the glass wall. The sealant edges must be well maintained because they tend to get moldy. In this case, they can also be replaced, especially when the sealants are old and worn.
When the glass plate is placed with screws and spacers, dirt and other material can easily get behind it.
Can you remove or replace the glass back wall?
It is possible to replace or remove the glass wall. The sealant edges are first removed, and the plate can be removed easily or more difficult, depending on the attachment method.
The kit is the most challenging way to remove. Mounting using screws and possibly spacers is the easiest way for both mounting and removal.
Mounting with acid-free sealant does give the best and tightest result. It just depends on what you choose.
Gloss or matte glass backsplash?
When you have determined which color or print you want to be printed on your glass kitchen backsplash, you can choose glossy or matt glass.
The glossy glass looks very different from frosted glass. You provide more peace of mind with a matt glass plate, while a radiantly glossy plate makes your kitchen shine.
For example, a frosted/matte glass wall is usually easier to clean. But there are also many more differences between the two options.
To give you a clearer idea of ​​the differences between matte and glossy glass, we've highlighted the key points for you:
Frosted/matte glass      
Sandblasted (with light relief)    
Glossy glass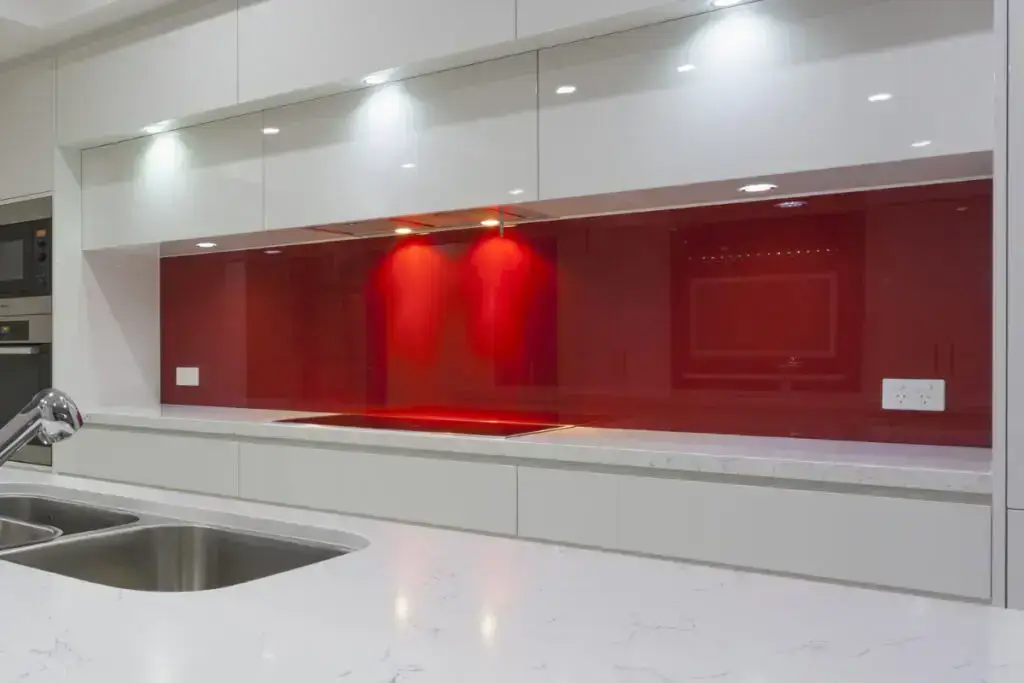 Glass kitchen backsplash price
A glass back wall for your kitchen is gorgeous and offers many advantages, but it is not cheap.
The price of a glass kitchen back wall depends on several factors, such as the number of meters, type of glass, number of meters of grinding work, the condition of the surface, and the number of recesses for sockets.
Fixing glash backsplash
Glass backsplash can be fixed in different ways. The most common are:
mounting using screws and spacers.
Assembly using kit:
The glass kitchen backsplash is mounted on the wall, and this must be done with acid-free sealant to prevent discoloration and stains in the coating.
This way of mounting ensures the sleekest look of your kitchen. Mounting with screws: If you prefer mounting with screws, this is no problem.
Several holes are drilled in the glass, and the screws used are covered with special cover caps so that the screw head is neatly hidden.
These cover caps are available in different models and finishes. The benefit of this method is that the glass can easily be removed and taken to the next home.
Mounting using screws and spacers: Using spacers between the wall and the glass creates a gap that gives a 3D optical effect. The disadvantage of this mounting method is that dirt and grease can get into the interspace.
In Summary, what makes a glass kitchen splashback so ideal
Luxurious look and sleek design
Timeless and beautiful in many kitchen styles
Choice of many glass kitchen backsplash colors
The reflection makes the room appear larger and brighter
Scratch-resistant and heat-resistant up to 250 degrees
Hygienic, easy to clean, and practical to maintain
Due to the long lifespan, the glass kitchen backsplash becomes cheap = sustainable