These 20 tips will help you furnish a small house or apartment
1. Choose light colors palette
To furnish a small house, white makes your room look bigger. Therefore, use a lot of white or light gray in your home.
Do you have rather dark floors? Place a large rug in light colors on top.
Are you afraid that you can no longer create an excellent impression with many light colors? No worries! Feel free to choose a sturdy metal cabinet, but opt ​​for white, light green, or cream.
Do you want extra color? Then choose significant contrasts such as white-black or white-red.
However, please limit yourself to a specific part of the room; otherwise, you will get an overkill of colors and impressions, causing the room to lose its structure. Sober shades can also create a lot of atmospheres:
Light colors reflect light, and dark colors absorb it. Light colors quickly make a room appear larger. This applies to colors on the wall and ceiling, but also the floor.
2. Use the walls
The walls are there, so you might as well use them. In this case, use the walls to create as much storage space as possible. An example is a beautiful wall shelf or wall rack.
By combining this well, you provide a nice look and at the same time create a handy place to put down or lay books, for example.
In addition, a coat rack that hangs on the wall is highly recommended. This way, you ensure a greater sense of space. The more you let your floor run through, the bigger the room appears.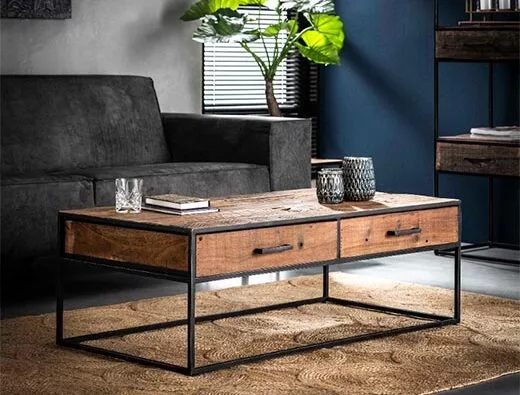 3. Storage space in a creative way
In an apartment or a small house, too little storage space is a common problem. That's why the tip is to be creative with storage space.
Create storage spaces where you wouldn't expect it at first. Go for a coffee table with drawers or storage compartments, or place a cool industrial storage cabinet.
4. Furniture with multiple functions
Nowadays, more and more furniture is available that has multiple functions. In a small apartment, every inch is again. That is why furniture that can be used multi-functionally is efficient.
By using multifunctional furniture, you can store more things without putting down an extra cupboard. Practical doesn't mean ugly. Even multifunctional furniture is a lot more stylish these days.     
An extendable dining table, which you can expand when guests come, is also convenient. There are many good high-quality designs on the market that are both practical and stylish.
also read: choosing the right wooden vanity set
5. Seamless Transitions
In addition to letting in as much light as possible, avoiding breakage is also a must. These are the three interventions with the greatest effect.
If you don't want the room to look smaller than it really is, you need to make sure that the wall and floor merge almost seamlessly. Use approximately the same color for walls and floors.
6. Take to the skies
It is going into the air also helps when furnishing an apartment or small house. Choose furniture that stands on legs.
This creates a more spatial effect optically because the flow is visible. This is common in the Scandinavian style, for example. A sideboard or sofa on legs is enough to create this spatial effect.
In addition, floating furniture is also highly recommended. For example, you immediately create more space and openness in your home by using a floating TV cabinet.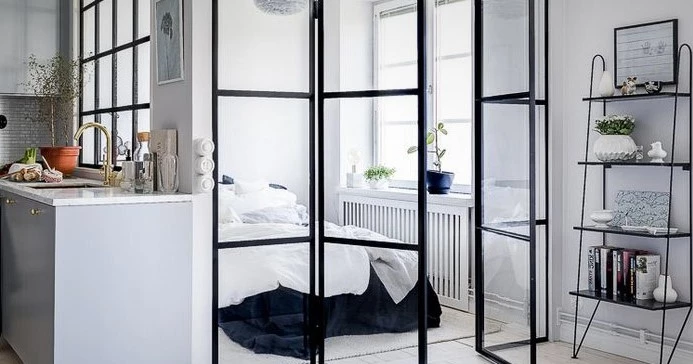 7. Placing mirrors
This will be a well-known trick for many, and this is not for nothing because it works. Placing a mirror makes the room appear many times larger.
For example, by placing a round or long mirror on the floor, you ensure that the base continues as it were. This automatically creates a spacious feeling. The way you position the mirror also influences the effect.
Want to make the room look longer? Then place a mirror against a narrow wall. For room look a bit wider, then go in front of a mirror against a vast wall.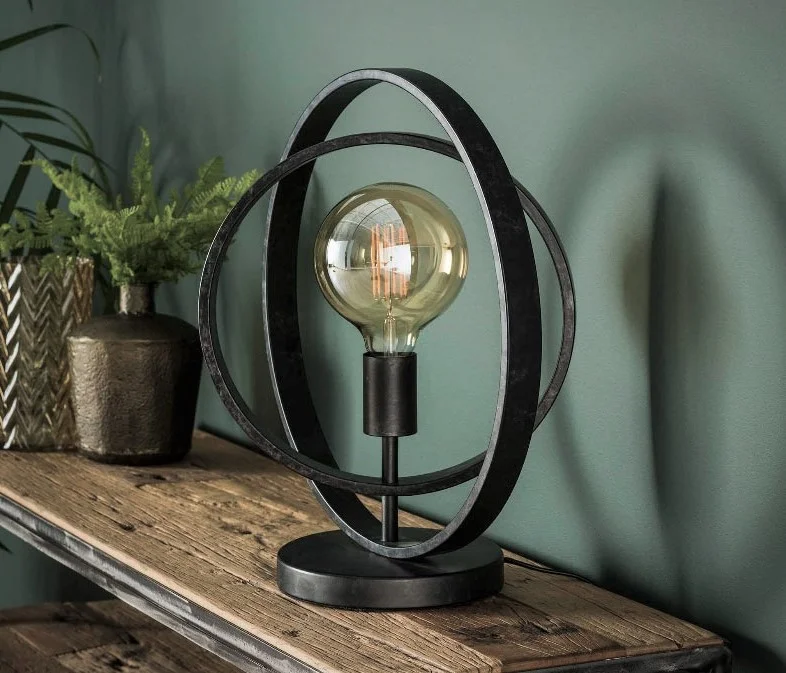 8. Choose the proper lighting
You might not expect it at first, but the proper lighting is essential, especially when furnishing an apartment or a small house.
A tip we want to give is to choose lighting at different levels.
Think of a ceiling lamp and a wall lamp, in combination with a floor lamp. It is the variation that makes the space appear larger.
9. Discover unused spaces
Opt for narrow high cabinets against your wall instead of wide low cabinets.
Floating cupboards or a coat rack hanging on the wall create a more incredible feeling of space. The more you see your floor continue, the larger the room appears.
And why not hang your bicycle on the wall as a decorative element, for example? In the kitchen, hang your kitchen utensils, cooking pots, spatulas, and spoons on the wall or even on the ceiling.
Sometimes the most creative ideas can arise with a brainstorming session. Built-in cupboards, for example, ensure that you can make optimum use of the space under a sloping wall.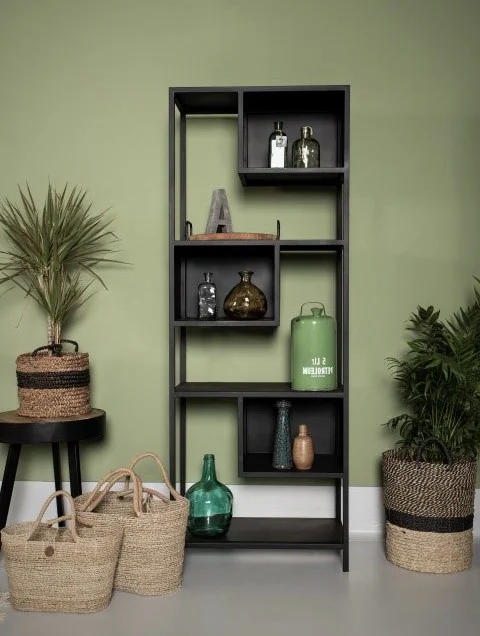 10. Vertical storage spaces
It is wise to think 'vertical' when furnishing a small apartment, just like an architect who has to place a new building in a busy city.
If not in width, then in height. Narrow high storage cabinets are your friend when furnishing a somewhat smaller interior.
Due to their narrow appearance, do not immediately take up the entire wall and offer many storage spaces.
Nowadays, there are also lovely shelf and cabinet systems with which you can make your storage system entirely at your discretion.
also read: Types of storage benches
11. Work organized
In a small space, it is sometimes difficult to get everything neatly stored, let alone organized. Still, with the right storage tools and organizers, you can create some order out of chaos.
Small baskets hanging on the wall on a shelving system can hide a lot of clutter.
There are plenty of organizers available for papers, documents, and magazines with which you can add structure.
Once we are used to something, we don't like to do it differently. But don't let this discourage you; many have gone before you!
12. Curves with furniture and decoration
Most apartments are square and can therefore seem a bit boring. By applying curved lines, you can make a room a lot more exciting.
A round dining table or sofa with rounded or oblique corners can differentiate between a boring and a creative 'out of the box' design. Don't forget to include the round shapes in your accessories.
For example, instead of a standard rectangular mirror, you can opt for a mirror with a somewhat rounded or oval shape.
Also, please take a look at the lighting because it can also make a world of difference. A beautiful design lamp can be a real eye-catcher, diverting attention from a perhaps less beautiful object.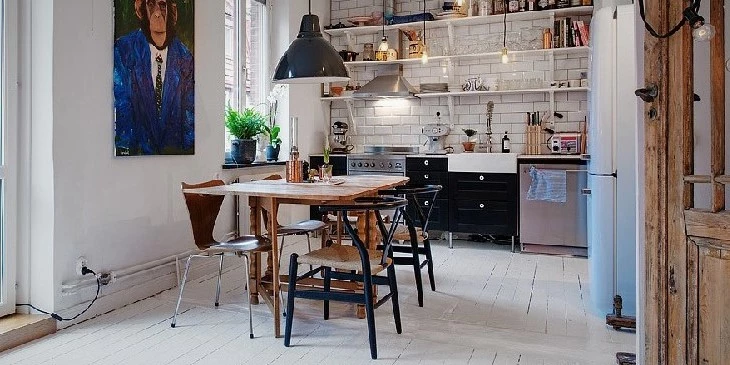 13. Add depth with layers
Smaller apartments often lack depth. That makes sense because space is simply limited. So you will have to play visual tricks to create some sense of depth.
One of the ways you can do this is by working with layers and contrasts. For example, if your sofa is neutral in color, put cushions on it with a fun pattern and a bold contrasting color.
Use rugs of a different structure than the surface and put some extra pillows on the bed. When you do this playfully and stylishly, you will notice that the room gets more depth visually.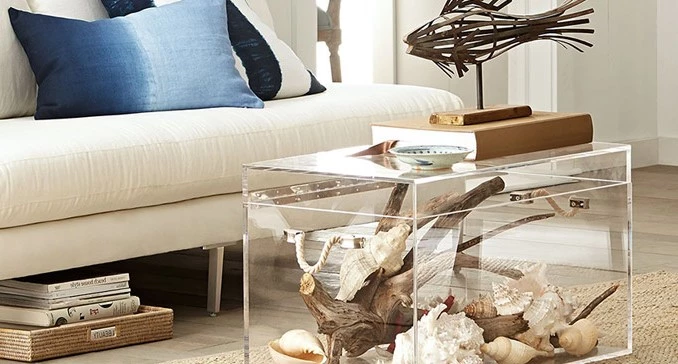 14. Transparent elements
Transparent furniture and elements are the tricks for a spacious-looking interior. The more you see, the bigger the space seems.
In addition to light colors and optimum incidence of light, transparency is a means of making your room appear larger.
For example, think of a dining room table, dining room chairs, and coffee tables with a lovely yet sturdy base that you can see through.
Opt for industrial display cabinets instead of closed cabinets. For example, use an open bookshelf as a room divider. This allows you to create separate living areas and your 'wall' also serves as storage space.
also read: Solving small space mistake
15. Floating elements
Thanks to floating shelves, you have more space to store books or decorative material without losing space.
Cabinets are large, robust, and usually take up a lot of space. Not ideal in a small apartment!
How can you provide some more storage space without investing in a heavy bookcase? By hanging floating shelves!
They take up a lot less space, do not create a break in the area, and add value to your interior.
And to store clothes, it is best to choose a custom closet or a built-in closet. Especially if you have sloping walls, this saves the most significant space.
There are several excellent modular systems on the market with which you can get creative yourself.
Floating systems are the future, especially in a smaller apartment, so check it out and go for a floating design!
16. Clean regularly
human is not only a creature of habit but also a collector. Therefore, it is logical that you have collected a lot of stuff that you no longer need over time.
So go once a year to have a big clean-up and then consciously check whether you need everything.
It's a tedious job, but one that pays off: cleaning up! A tidy room not only looks neat, but it also appears much larger!
No clothes, books, or bags lying around that obstruct the view. Moreover, the floor also remains free, and you have much more room to move.
If you have trouble getting rid of something permanently, put it aside in a box that you keep elsewhere.
A year later, you will see that it is much easier to get rid of the box of stuff or put it up for sale second-hand. In any case, the living space remains tidy in this way.
As you can see, even a tiny apartment can be stylishly furnished.
You may sometimes have to think a bit 'out of the box, but that is the great thing about interior design: everything is possible with a bit of knowledge, inspiration, and creativity.
also read: Modern design furniture
17. General storage tips
Furnishing a small house without doors is, of course, impossible. However, try to opt for a sliding door where possible.
With a revolving door, you would lose valuable space behind the door due to the turning circle. In short: sliding doors = more space for your things!
Make most of all the space, take a look around your house and find out where you leave space unused: the place under your bed, on top of the cupboards, the windowsill.
There are a lot of storage and decoration options that you may not have in mind at first.
Leave the corners open as much as possible. So don't put large furniture there, such as a full cupboard. By not obstructing your corners, your apartment will quickly appear larger.
Think vertically: work in height instead of width. This way you have more space.
18. Your personal touch
Put your personal touch on your interior by adding characteristics and your objects. As a real interior lover, you count on a beautiful wall gallery.
From photos of your loved one to beautiful postcards or places, you've been. The perfect balance in color, frames, and shapes makes the gallery wall a problematic interior.
In addition to frames, the current trend is to attach your records or photos to the wall using tape.
19. Playing with form
Dull, straight-forward furniture can sometimes look dull in a small apartment.
So play with different shapes to make the interior more exciting and playful. Think of a lovely round lamp or a cabinet with different layers and materials.
A round table in a square space immediately makes the whole thing more playful and exciting. A sofa with rounded corners may also suffice.
20. Do's And Don'ts
Don'ts:
– Choose furniture that is too large
– Fill the corners in the rooms
– Use pieces of furniture that are too rectangular
– Too many unnecessary accessories
– Use too dark colors for floors or walls
– Go in width instead of height
Do's:
+ Go for round elements in your home
+ Clean up regularly
+ Limits the use of accessories
+ Play with lighting on multiple levels
+ Create depth with different layers
+ Keep it light and airy
+ Provide multifunctional furniture pieces
+ Go for transparent elements