A kitchen tile backsplash can add beauty and style to your kitchen and make it easier to maintain
In addition, you can showcase your creativity and add spice to your kitchen design with your chosen tile. If you're leaning towards a tile backsplash, there are several choices to choose from.
Wall tiles as a back wall in the kitchen are real eye-catchers or, on the contrary, bring peace to the kitchen. The kitchen backsplash made of tiles is also efficient and maintenance-friendly.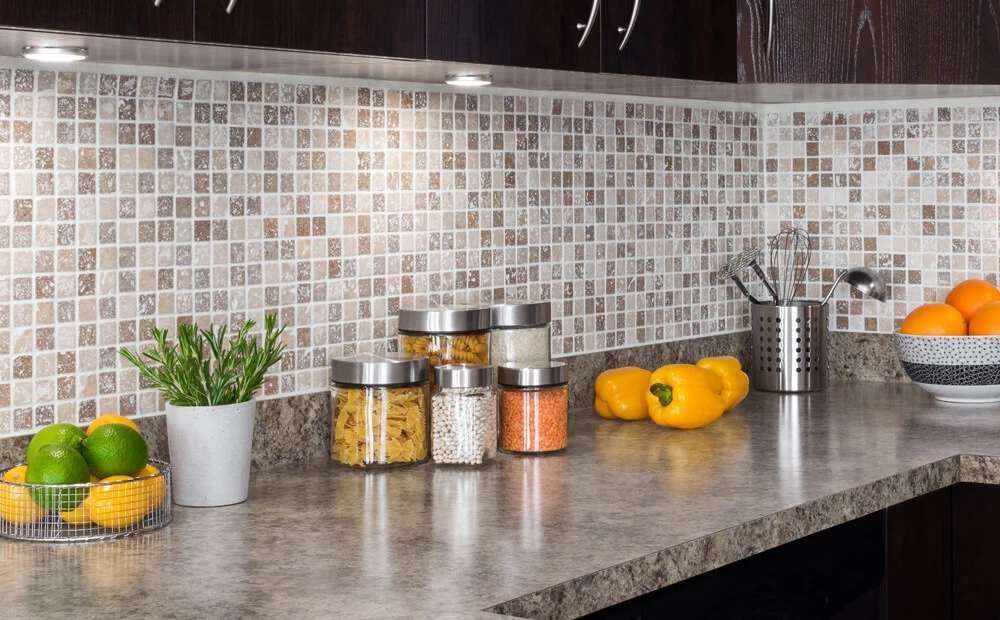 Glazed ceramic tiles in the kitchens backsplash
In the kitchen, you often work with water or other liquid products. It is therefore wise to choose water-resistant tiles when laying.
The glazed layer makes them water and stain-resistant, and easy to wash, keeping your kitchen a hygienic place.
Cleaning agents and acidic liquids such as soft drinks can therefore splash against the wall with confidence.
Small kitchen tiles are trendy, especially for the tiles placed against the wall above the kitchen worktop, and this creates a beautiful and playful appearance.
Tips for choosing the right tile for the kitchen backsplash:
– Set a budget. Setting a budget makes it easier for yourself to choose and is better for us to give the right advice
– Choose a tile Depending on the style of your kitchen
– Choose a tile for the kitchen that is easy to clean.
– Choose a tile that you like.
– Choose a ceramic tile.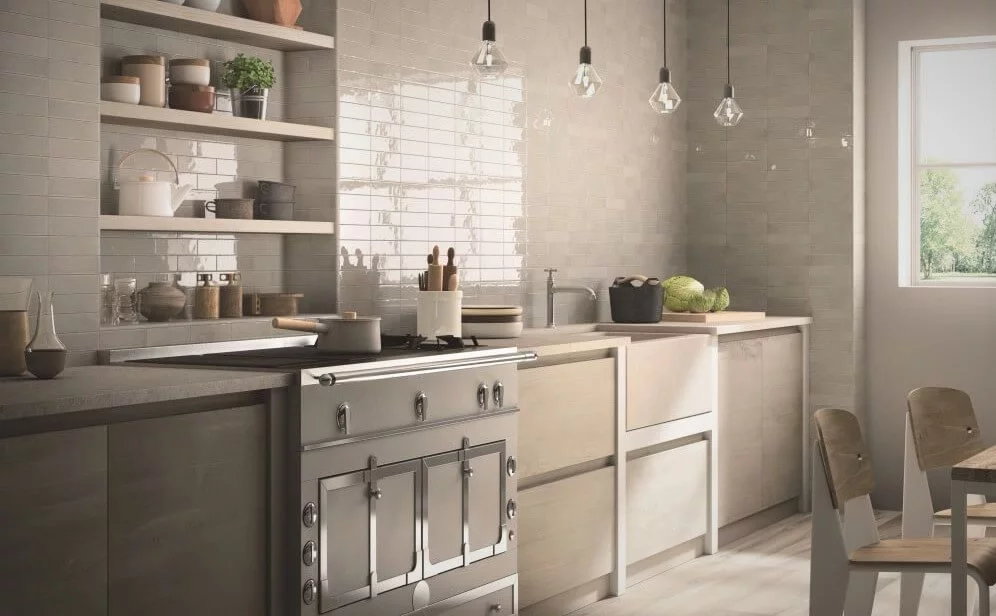 Tiles that fit every kitchen backsplash
In addition to a beautiful appearance, kitchen tiles must also have several properties of great value. For example, these tiles for the kitchen backsplash must be easy to clean and must be grease-resistant.
When you choose natural stone kitchen tiles, make sure that they are impregnated to remain beautiful for a long time and are dirt-repellent!
Sleek kitchen tiles
a large ceramic back wall kitchen tile gives your kitchen an elegant look; for example, a white-grey color is an excellent choice. Such a tile is nice and essential, and suitable for combining with other decorative elements in your kitchen. Or you can keep it simple with this elegant tile.
Gold veins backsplash
Then choose a ceramic tile in a dark gray color and a 'touch of gold' due to the shiny gold veins.
With these dark tiles with golden details, your kitchen doesn't need much more. With this chic look in your kitchen, you will feel like a real star chef
Glossy tiles backsplash
kitchen tiles, such as the beautiful glossy herringbone tile in a copper color that you see in the image below. These tiles are very cool but with a 'classy' look.
The copper color immediately gives your kitchen a warm look. Glossy kitchen tiles can also be combined very well with matt kitchen doors for a nice contrast.
Marble look tiles backsplash for a luxurious look
These ceramic tiles feature a print that mimics actual marble. This allows you to easily bring the luxurious look into your home that you often see inexpensive hotels and restaurants
Moroccan tiles backsplash
These are often colorful square tiles but are also available in various shapes and patterns. These vibrant tiles have their origin in Morocco, which is why they are sometimes called Moroccan tiles.
The clay is kneaded into the right shape, and it is dried out and provided with the right color. Then they go into a wood oven where the tiles are fired, and beautiful color shades are created. Ultimately, the tiles are cut to size, which provides even more character.
Hexagon or Honeycomb tiles kitchen backsplash
Hexagon Tiles are a good choice. These tiles are also called Honeycomb Tiles and have a luxurious and dynamic appearance.
Hexagon Kitchen Tiles are perfect for a quirky, contemporary back wall. These six-sided tiles are versatile in design – making them a welcome addition to any kitchen back wall.
Honeycomb tiles as a kitchen backsplash are something that is increasingly seen in luxury kitchen stores. The honeycomb tiles are easy to install over existing tiles and very easy to clean.
Backsplash tiles with a metallic look
Metallic tiles fit perfectly with high-tech, industrial, minimalist, and modern interior styles. Use the tiles as wall coverings in any urban retro vintage interior project.
Tiles with a metal look can be beautifully combined with, for example, bronze or copper accessories and accents.
3D effects and tactile structures
Tiles with a 3D effect give a room that extra look or make the kitchen appear more prominent. We will, therefore, often see this in small spaces. A small piece of wall with a 3D effect looks great.
Terrazzo tiles backsplash
Terrazzo tiles have a colorful and decorative character. With these tiles, you bring an authentic Mediterranean atmosphere into your home.
The terrazzo tiles are often made by machines nowadays, which means that they are usually ceramic tiles with a terrazzo print.
Ceramic parquet and wood look tiles
Ceramic parquet is the ideal replacement for wood, Ceramic parquet is scratch-resistant and colorfast, so these tiles hardly wear out.
Wood-look tiles and ceramic parquet are increasingly difficult to distinguish from natural wood. The tiles are provided with the same structure as wood, including grains and knots. The prints themselves are also getting better and better.
Concrete look tiles backsplash
The industrial interior is trendy, and of course, the concrete look tiles fit perfectly—large sleek tiles with the appearance of concrete in combination with steel, wood, and stone.
Concrete look tiles are available in increasingly larger sizes.
Herringbone pattern on a kitchen back wall
you can also make a herringbone pattern on the wall; this is not necessary with wood-look tiles but can also be done perfectly with metro tiles!
Textured tiles are an excellent solution for decorating a wall panel in a kitchen, this is possible with natural stone wall strips, but many ceramic tiles are available with a structure.
Mosaic tiles kitchen backsplash
Mosaic is available in many color combinations, but the modern mosaic for the kitchen consists of combinations of stainless steel and stones.
Use self-adhesive mosaic tiles to pimp up your kitchen immediately. You can easily cut these mosaic tiles to size, and they are also easy to clean!
Combine different types of tiles for kitchen backsplash
Think of an open kitchen as an extension of the living room. Use a wood-look tile in the operating room and a beautiful natural stone-look tile in the remaining space.
Also lovely and trendy are tiles in neutral tones with highly decorated tiles such as cement tiles.
Can any floor tile be placed in the kitchen back wall?
Yes, any ceramic tile can be placed in the kitchen. Some tiles are easier to maintain than others. For example, consider a tile with an uneven structure.
Dirt can quickly get stuck behind this than a smooth tile. Don't just look at the color and tile size, but also see whether the tile is practical for the kitchen.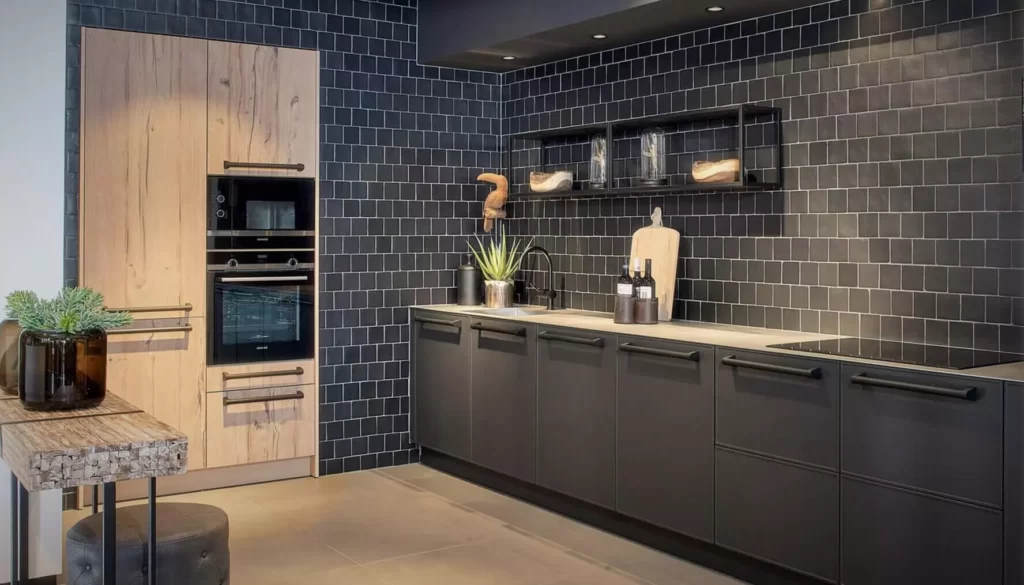 Which tile looks are available for the kitchen backsplash?
Think, for example, of Concrete/cement look, Metal look, Wood look,  Slate look, or a Marble look.
The choice of the face of the tile is, of course, entirely dependent on the style of the kitchen.
Of course, combinations are always possible.
Is it possible to place a mosaic on the back wall of my kitchen?
Yes, you can use mosaic as kitchen tile, but this is not our advice. A lot of grout often accompanies mosaic tiles.
A lot of grout in a room where you can sometimes make a mess is not useful because the dirt settles in the grout.
This provides extra cleaning work. Of course, you could tile a particular part of the wall next to the kitchen with mosaic.
What is the significant advantage of kitchen tiles on the back wall of the kitchen?
Tiles on the back wall of the kitchen make the kitchen backsplash material very practical to maintain. Especially if you opt for a slightly larger tile size, for example, process a  30x60cm tile on the kitchen's back wall.
This way, you only get vertical joints. Ceramic tiles can withstand the heat well, which is, of course, important.
Furthermore, tiles are often quite affordable, and therefore, the price-quality ratio is excellent. In addition, you have tiles in all colors, types, and sizes.
This allows you to create a back wall that suits you. And so there is something for everyone. The advantages of ceramics are very durable because they are scratch-resistant and colorfast.
The tiles are made in a factory and baked in very hot ovens, making them very hard. In addition, the tiles are provided with a protective top layer so that ceramic tiles are not sensitive to stains, moisture, and acids.
The only drawback to using tiles is the joints. Joints are a lot less dirt-repellent than the tile itself, so dirt and moisture will remain there a little faster.
Also read: Glass for kitchen backsplash
Alternative to tile backsplash
New titles may be beautiful, but they don't come cheap—both in purchase and labor. You can quickly lose hundreds of euros for a small space.
Fortunately, another option is a tile sticker, which you can easily apply yourself to the existing tiles. And adhesive tile can also be an excellent idea.
What are tile stickers?
Tile stickers are just stickers that you can stick on tiles. They are often made of high-quality PVC foil, printed with UV ink, and finished with a glossy UV lacquer.
This makes tile stickers water-resistant, so they can also be used on the tiles in wet areas, such as the kitchen.
Tile stickers are available in different sizes. Popular sizes are, for example, 15x15cm, 20x20cm and 25x25cm. If you have a different size of tiles, you can sometimes have the tile stickers made to measure.
How to apply tile stickers
Before applying the tile to the kitchen back wall, make sure the surface is clean from all traces of dust, grease, or oil. Remove any traces of detergent with a damp sponge and allow to dry thoroughly.
Flip one corner of the tile back from the back, pull it off and place it on the existing tile. Use a dry cloth and a smooth motion to push any air bubbles to the edges until the decal is secure. Pay extra attention to the sticker edges.
All four sides should not protrude past the tile edge or bend over rounded edges, as this could cause the decal to peel off. Scrubbing and the use of abrasive chemicals are not recommended.
The benefits of tile stickers
The big advantage of tile stickers is that you can easily and quickly change the appearance of existing tiles in a room, thus also the room's appearance. In addition, tile stickers also have other advantages as below:
Cheap to buy;
Easy to apply yourself;
You don't need any special tools;
Easy to clean;
Available in many different colors and patterns.
tile stickers kitchen floor
Self-adhesive tile backsplash
Installing ceramic tiles on any vertical surface can be tricky, and backsplashes are no exception. Whether individual tiles or sheets of mosaic tiles, wall tiles are generally installed with the same thinly cured glue used on floors and other horizontal surfaces.
Vertical tiles sometimes refuse to adhere to the wall long enough for the thinly cured glue to dry, leading to a small amount of frustration.
Self-adhesive mats are similar to large sheets of double-sided adhesive tape. The mats are sold in rolls and are glued on both sides, with peeling paper that protects both surfaces.
Self-adhesive mats are significantly more expensive than thin curing adhesive, and while they can be used for full-wall tiles, it is more common to use them for limited applications, such as backsplashes.
Easy installation of tile frames with self-adhesive tile mats
in practice; self-adhesive mats offer less durable adhesion than traditional thin curing adhesives. They are not good for applying large tiles or installing mesh-backed mosaic tile sheets, which tend to detach from the mats over time.
Is a self-adhesive tile mat backsplash right for you?
Self-adhesive tile mats are recommended for anyone who has trouble installing ceramic tiles on vertical surfaces.
This is a straightforward method of installing backsplash tiles, especially for novice DIYers.
But keep in mind that this method is usually avoided by professionals who prefer the more proven method of placing tiles using thin adhesives.
Self-adhesive tile mat cost
The convenience of self-adhesive tile mats has a price, as they cost you about four times as expensive as traditional thin curing adhesives.
This isn't a high price compared to the cost of the tile itself, but price-conscious DIYers may want to consider this.
Maintenance and repair
Joint lines should be kept sealed, and the joints may need to be re-joined periodically. Re-grouting can be complicated, as scraping away old joints can cause the tiles to detach from the adhesive mat.
If tiles come off the wall, the best strategy is to clean the wall where the tile was located thoroughly and then place a replacement tile with a small piece of a new self-adhesive mat or traditional thin curing glue.
Design
Self-adhesive mats work well enough for many ceramic tiles, but you are somewhat limited in your choice.
Self-adhesive mats have an adhesive force of about 3 kg per m2, which means large, heavy tiles are usually not practical.
Self-adhesive mats do not work well with mosaic sheets with mesh back; because so many great glass and porcelain tiles are popular for backsplash mosaics, this can significantly limit your design choices.
Self-adhesive tile mat installation
The process of installing backsplash tiles with self-adhesive tile mats is quite simple.
Roll out the self-adhesive mat and cut it off using scissors or a hobby knife to fit into the space of the splash edge.
Remove the protective from one side and stick the mat off the wall; press and smooth the surface to obtain good adhesion. Then pull away from the outer protective film and start placing the tile.
The actual tile application is pretty much the same as when applying thin curing glue, but with self-adhesive mats, you don't have to rush placement for fear that that thin curing glue will dry.
You also don't have to worry about tiles sliding over the walls; they usually stick where you press them against the mat. As with any tile installation, you need to use spacers to maintain uniform joints between tiles.
The tile's grouting is done precisely the same way as with any other installation of ceramic tiles.
Self-adhesive tile mats are very suitable for DIY. Professionals generally avoid this product due to concerns about callbacks to fix failed tile jobs.
Self-adhesive tile mats versus tile sheets with peeling and pasting
Another simple tile backsplash installation alternative is peelable mosaic tiles, which are now transported in dozens of styles in large-box home improvement centers, tile stores, and online retailers.
The installation is similar to the use of self-adhesive mats, except that in this case, the self-adhesive mat material is pre-attached to the mosaic sheets.
While the selection with peelable tile sheets is more limited (with self-adhesive mats, you can use almost any tile style you want), peelable mosaic sheets are even easier to use.
However, as with self-adhesive tile mats, some users report that peelable tile plates can also lose their adhesive strength over time.