Decorating shelves in your living room can be a fun and creative process. It's not just about filling empty spaces; it's about adding personality, functionality, and visual interest to your living space. Shelves provide the perfect opportunity to showcase your style.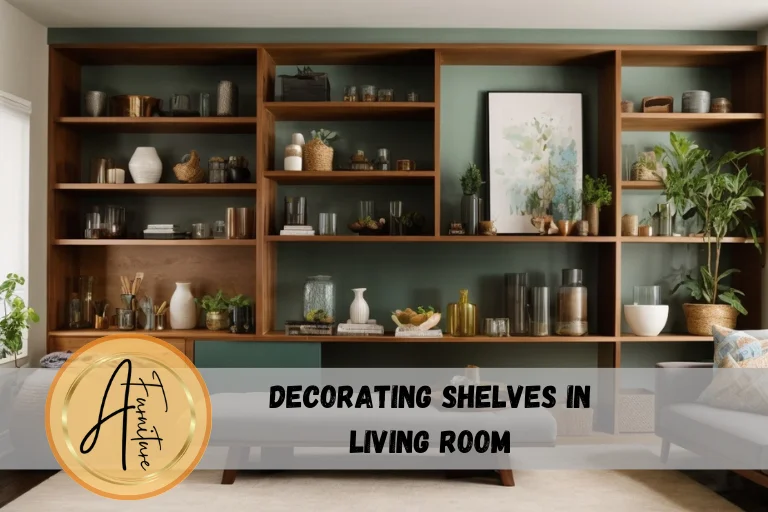 This comprehensive guide will provide innovative ideas, helpful tips, and clever tricks to make your shelves look stylish and organized. We'll explore different ways to decorate with books, plants, artwork, collections, etc. You'll also find guidance on creating cohesion through color themes and symmetry.
By the end, you'll be inspired to transform your plain old shelves into an artful display showcasing your flair.
Books: The Classic Choice
Books are a classic choice for shelf decor that never seems out of style. Not only do they add a scholarly vibe to your space, but they also provide the opportunity to play with color coordination. Stack books of varying heights, colors, and textures for maximum visual impact.
Mix up the look by stacking some books vertically and laying others horizontally. The horizontal stacks in particular, help break up the towering vertical lines for a more dynamic look. Don't forget bookends to keep your tomes from toppling over. Bookends come in all shapes, sizes and materials from brass to marble.
For a coordinated color scheme, arrange books by hue. Try all blue spines on one shelf and reds on another. You can also use white bookends as crisp dividers between color groupings. For extra flair, add decorative bookmarks or tassels hanging from select books.
With their neutral tones, books pair well with any style from modern to traditional. Make sure to dust jackets regularly since they tend to collect dust. To prevent moisture damage, avoid placing books underneath hanging plants.
How to Decorate Shelves Without Looking Cluttered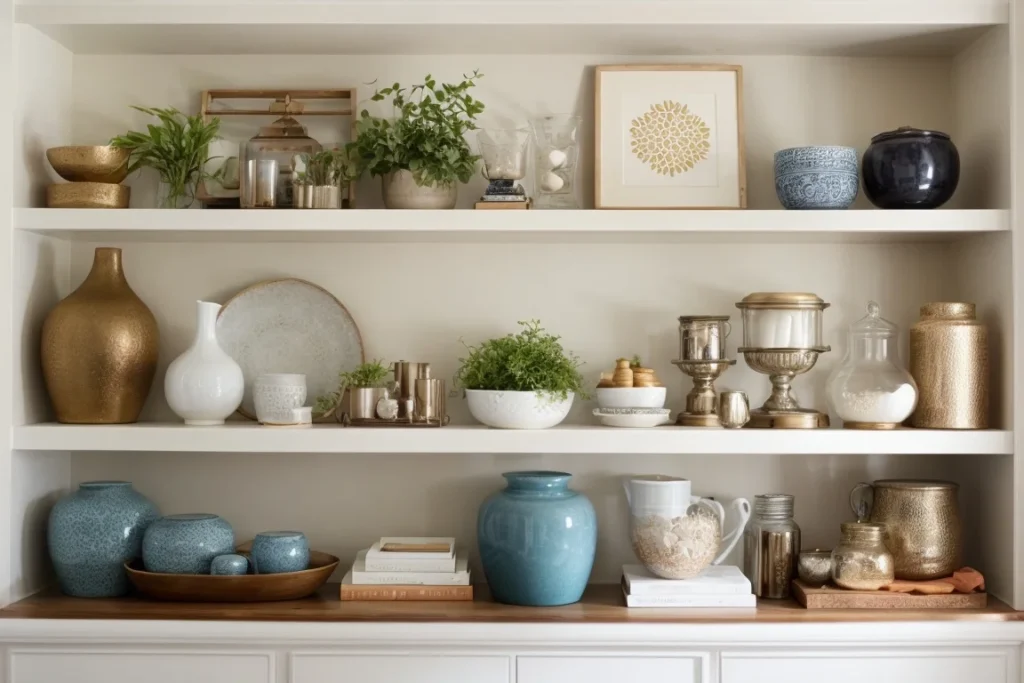 The key to decorating shelves without looking cluttered is to apply the principles of balance, scale and white space.
First, choose items with visual weight in mind. Larger accessories look best on the ends and bottom shelves while smaller objects should go near the top and middle.
Second, allow breathing room between objects. Don't overcrowd every inch. The negative space makes the filled areas pop.
Third, use symmetry and repetition to create order. Line up items so edges are flush and objects relate to each other in placement. Repeat colors for harmony.
Finally, keep heights varied. Mix tall and short items to avoid a monolithic wall of objects. With these tips, your shelves will look full but not stuffed.
Plants: A Breath of Fresh Air
No shelf is complete without a little greenery. Plants bring life and vibrancy to any space. Whether you choose leafy potted plants, mini succulents or faux branches, they add fresh air to your living room.
When choosing plants, consider the light conditions in your living room. Low light? Choose low-maintenance plants like pothos, Chinese evergreen or philodendrons. Bright light? Opt for sun lovers like succulents, spider plant or dracaena.
Vary heights by combining tall snake plants with low, trailing ivy or philodendrons. Place smaller pots on books or decorative risers for extra height. For safety, keep hanging plants out of reach of pets and children.
To prevent moisture damage on shelves, use plant saucers and avoid overwatering. Faux plants are also an option for a low maintenance alternative, just dust regularly.
What Decor Can I Put on Shelves?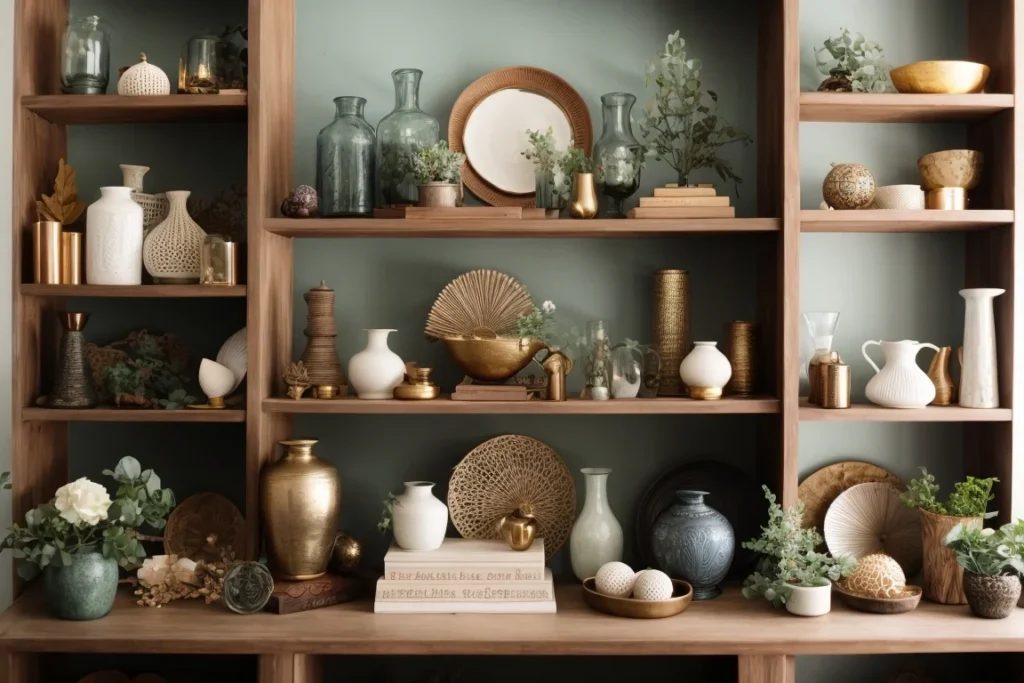 The possibilities for shelf decor are endless! Here are some top options beyond books and plants:
Artwork – Paintings, prints, framed photos
Collections – Shells, pottery, miniatures
Candles and candleholders
Vases and flower arrangements
Baskets – For storage and texture
Frames – For family photos or inspiration quotes
Small sculptures or figurines
Antique, vintage or decorative boxes
Petite furniture – Mini chests of drawers, letter writing desk
Globes or sand timers
Decorative bowls or trays
Lanterns or string lights for ambient lighting
The key is choosing items that reflect your personality and style. Shelves are a great way to display your travel souvenirs, hobbies and family memories. Follow your bliss!
Artwork: Aesthetic and Personal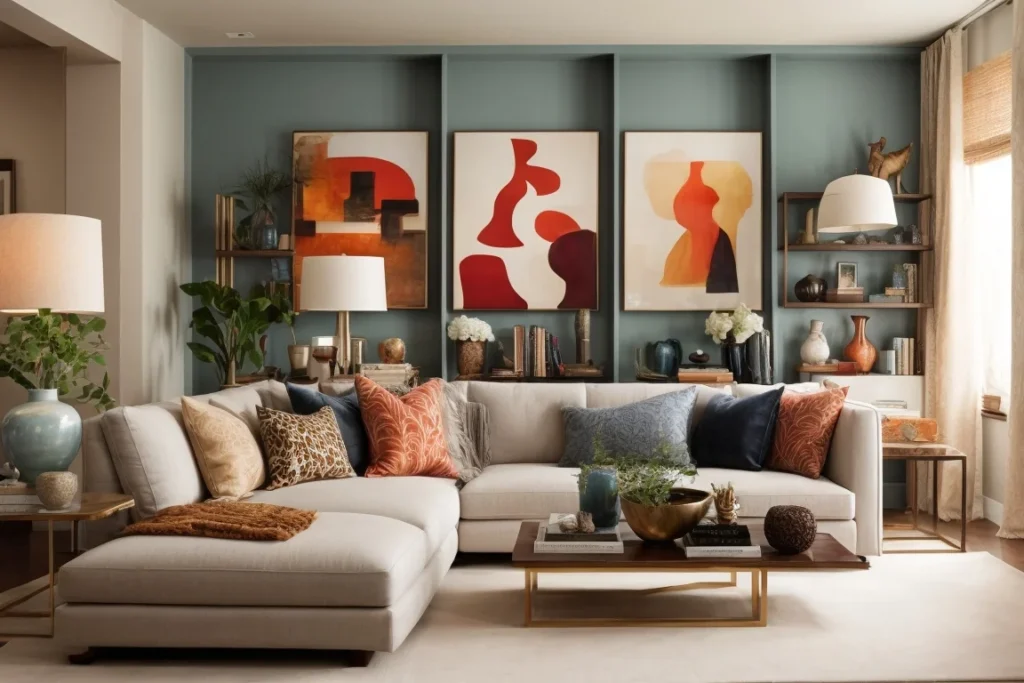 One of the best ways to decorate your shelves is with artwork. Whether you opt for wall-mounted shelves or free-standing units, artwork can make them look polished and sophisticated.
Canvas art, prints, photographs and even sculptures look right at home on shelves. For smaller spaces, lean canvases against the wall behind objects. The layered look adds depth and dimension.
To highlight 3D art, place sculptures on pedestals flanked by decorative objects. For a family focus, use frames to display favorite photos and memories. Arrange in asymmetrical groupings for visual interest.
Consider mounting picture ledges above your shelves if you frequently rotate pieces. That way you can easily swap out art without having to nail holes in the wall.
Most importantly, choose artwork that resonates with you on a personal level. Your shelves should reflect your interests, travels and aesthetic style.
Ideas for Decorating Shelves in Living Room
Pinterest is a treasure trove of shelf decorating inspiration. Here are some top ideas from Pinterest for livening up your living room shelves:
Floating shelves styled with colorful books and bright pops of accent decor
Asymmetrical groupings of white ceramics, gold frames and greenery
Wooden crates stacked and styled with blankets and candles
Rustic wood shelves with collections of framed botanical prints
Sleek black shelves with modern sculptures and vases
Built-in bookcases organized by color for a gradient effect
Narrow shelf above a sofa styled with travel souvenirs and photos
Display of antique books and geometrical glassware
Collections ofstacked white bowls and green succulents
Washed wood shelves with a bright gallery wall behind
Mirrored shelves reflecting light to make a small space feel bigger
The visual feast of Pinterest will spur many ideas for your next shelf decorating project. Enjoy the search for inspiration!
Decorative Objects: The Personal Touch
From family heirlooms to flea market finds, decorative objects are a great way to personalize your shelves. Your collections tell a story and reflect what you love.
When styling your shelves with decorative accessories, use these tips:
Group items in odd numbers – sets of 3, 5 or 7 are pleasing to the eye
Vary textures and materials – glass, wood ceramics, metal
Include different shapes and silhouettes
Allow breathing room around objects
Place larger items on lower shelves
Repeat colors for continuity
Some decorative objects that make great shelf accessories include:
Sculptures or statuettes
Vases, bowls, and urns
Candles and lanterns
Frames
Trinket boxes
Miniature furniture
Glasses, mugs or decanters
Antique scientific tools like scales and telescopes
Sand timers, globes or astrolabes
The options are endless! Display pieces that hold special meaning or appeal to your aesthetic. Let your shelves reflect the things you hold dear.
Baskets: Texture and Functionality
In interior design, texture is just as important as color. Baskets offer a beautiful way to add visual and tactile texture to shelves while also providing functional storage.
Incorporate baskets of varying sizes and materials for interest. Try combining cozy woven baskets with sleek metal wire baskets. Natural seagrass, rattan and wood bring organic warmth.
Use lidded baskets to neatly conceal items like remote controls, cozy blankets or electronics chords. Pretty woven baskets can hold magazines, craft supplies or sheet music. Rectangular baskets are perfect for stashing board games and puzzles out of sight.
Stack baskets of different shapes on each other for a casual look. Or, line up rows of same-sized baskets on shelves as decorative dividers.
Small hanging wall baskets are also handy for storing
Lighting: Setting the Mood
The right lighting can make or break a living room's ambiance. When decorating shelves, consider installing lighting to create the perfect mood.
Sconces work beautifully mounted on shelves or the wall above. Opt for down-facing sconces to spotlight your decor. Swing arm sconces allow you to adjust light as needed.
For soft, ambient lighting, install LED light strips along the undersides or backs of shelves. You can find self-adhesive LED light strips at most hardware stores.
Another option is to place small table lamps directly on shelves. Go for petite sizes that fit the scale of the shelf. Choose lamp bases like ceramic vases or mercury glass that contribute to the decor.
You can also highlight shelves with string lights. Opt for battery-operated versions rather than ones that need to be plugged in. Use clips to wind them along the edge of shelves for a sparkling effect.
Lighting is key for transforming shelves from simple storage to a gorgeous display.
Color Theme: Cohesion and Harmony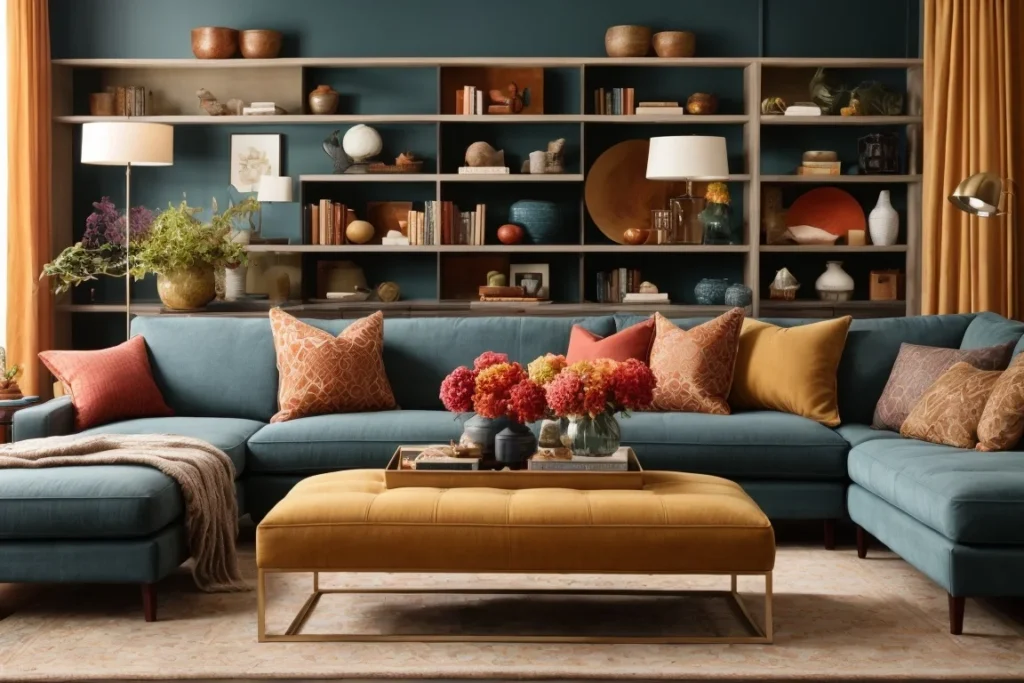 Picking a color palette is one of the best ways to make your shelves look curated. A coherent color theme helps tie the vignettes together for a polished and harmonious look.
First, consider the existing colors in your living room – upholstery, rugs, wall colors and artwork. Choose a shelf color scheme that complements the overall room.
Once you select 2-4 core colors, repeat them in your shelf decor. Try books with colored spines, throw blankets or pillows, frames and vases in coordinating hues.
You don't need to stick to an exact match. Tones within the same color family are great. For example, baby blue accessories look beautiful with navy blue books.
Beyond color, also repeat shapes, textures and materials. For instance, use all-white ceramic objects or natural wood elements to reinforce your theme.
A color scheme is the common thread to unify your shelving into a chic, designer look.
Collections: Your Museum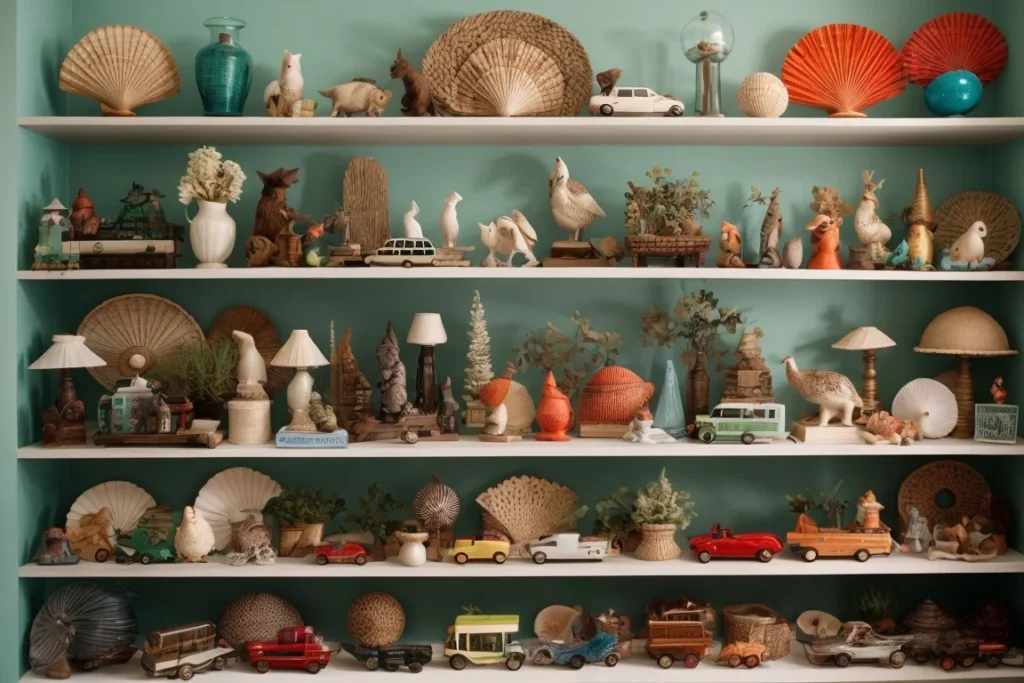 Displaying collections is one of the most enjoyable ways to decorate shelves. Your curated collections reveal your personality and interests to the world.
Almost anything can be collected and artfully arranged on shelves – seashells, pottery, snow globes, toy cars, etc. Even the everyday can become special when displayed, like spools of colorful thread or flower frogs.
Aim for unified displays by choosing one type of object to collect, rather than an assortment. For instance, use one shelving unit just for your owl figurine collection.
Arrange items in odd numbers for pleasing asymmetry. Angle objects slightly for a dynamic look rather than rigid rows. Provide breathing room around each piece.
Add interest by varying heights with risers like books or blocks of wood. Larger statement pieces look great on the ends with smaller objects in between.
Let your shelves tell the story of your travels and passions through artful displays of your most treasured collections. They serve as a rotating museum of your life.
Symmetry: The Rule of Balance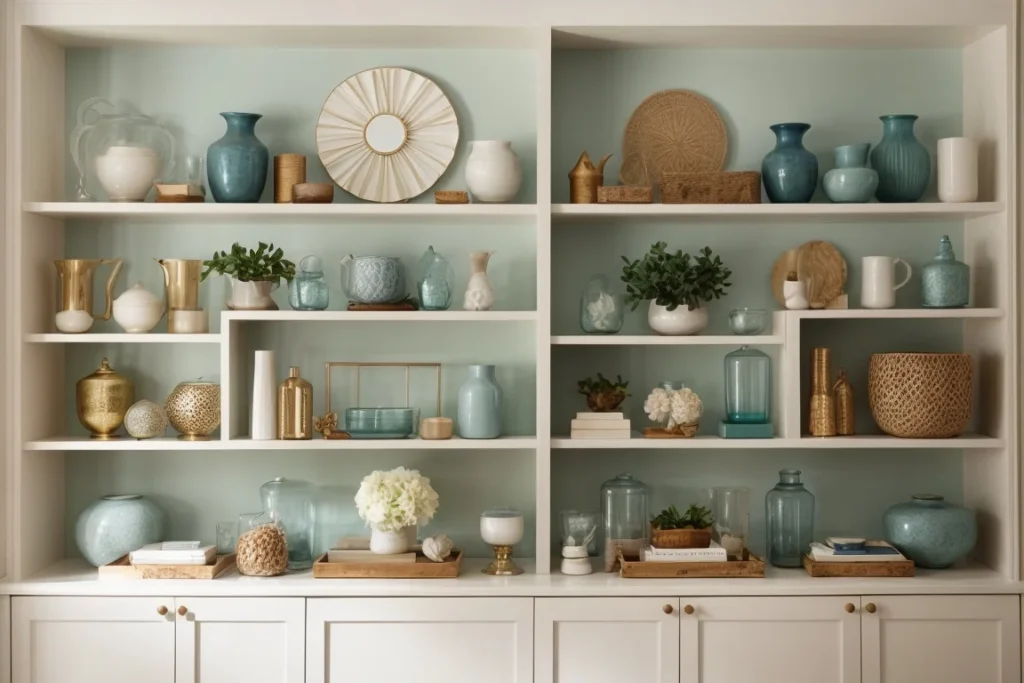 Symmetry and balance are key principles of design that also apply to shelf decor. A symmetrical arrangement creates order and stability.
There are a few guidelines to follow:
Place larger statement pieces on the outer edges and lower shelves
Use smaller accessories and dainty items in the center and higher shelves
Maintain even negative space between groupings
Line up edges of items so they are flush and balanced
Repeating color, shape and texture also enhances symmetry. For example, use all-white vessels in graduated sizes from large to small. Or a row of same-sized baskets.
That said, precise symmetry can look a bit boring. Break it up by layering a few items in an asymmetrical cluster. The contrast of structured symmetry and organic asymmetry creates visual tension.
Overall, symmetrical organization makes shelves appear well-edited rather than haphazard. But feel free to bend the rules when it suits your creative vision.
Layers: Depth and Dimension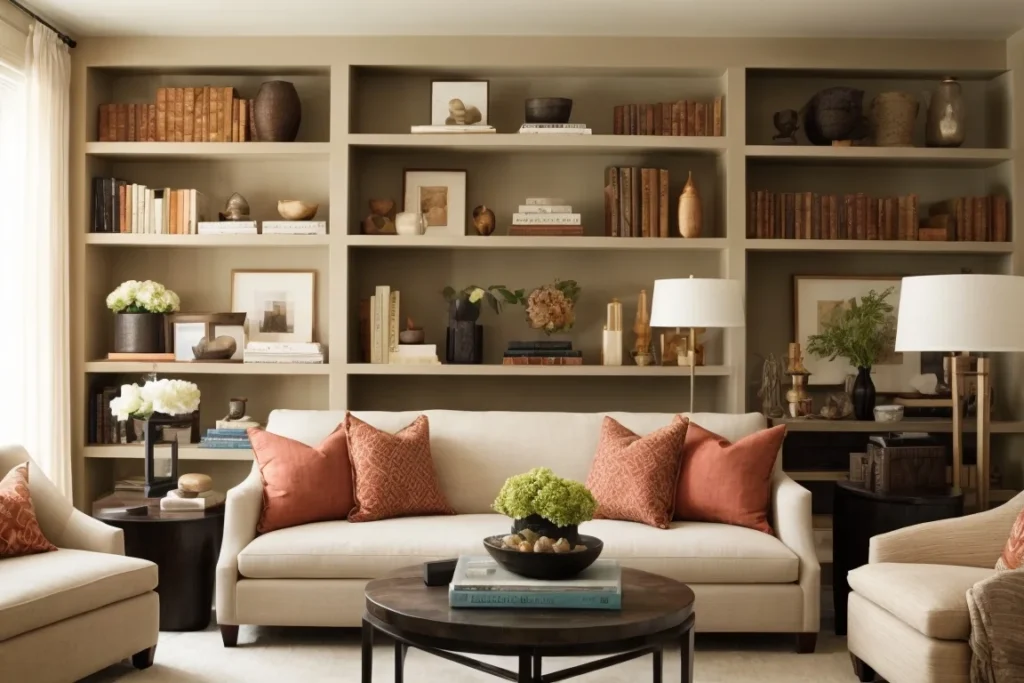 Simply lining up objects on shelves can create a flat, two-dimensional look. For added depth and dimension, embrace the power of layering.
Overlapping objects allows you to make use of vertical space. Stack books at different angles, pile decorative boxes, or lean artwork against walls.
Vary heights by placing sculptures on plinths or pedestals for added lift. You can find small pedestals at craft stores.
Leave some negative space between groupings to keep the look airy. Avoid cramming every inch of real estate.
In addition to layering objects themselves, you can also layer shelving. Hang a small ledge above a bookshelf for displaying favorite framed photos.
Multi-level étagères with staggered shelves are ideal for building dimension. Populate each layer with treasures and treasures.
Get creative with vertical and horizontal layering to make your shelves a feast for the eyes!
Floating Shelves: Minimalism and Function
Floating shelves offer a lightweight, minimalist alternative to bulky shelving units. Unencumbered by a frame, they seem to defy gravity with objects suspended midair.
Floating shelves are ideal for small spaces like apartments and condos. They provide function without dominating the room.
Match floating shelves to your wall color for them to visually blend in. Or make them pop by choosing a contrasting shade.
Style floating shelves with a minimalist touch. Avoid clutter by limiting yourself to 3-5 choice objects like:
Stack of colorful coffee table books
Small potted succulent or air plant
Candlestick and taper candle
Small globe or sand timer
Single piece of artwork or framed photo
Curated collection of sea shells or stones
The clean-lined look of floating shelves works especially well for modern and contemporary spaces. Let these stylish shelves lend their chic and minimalist vibe to your living room.
Small Shelf Decor Items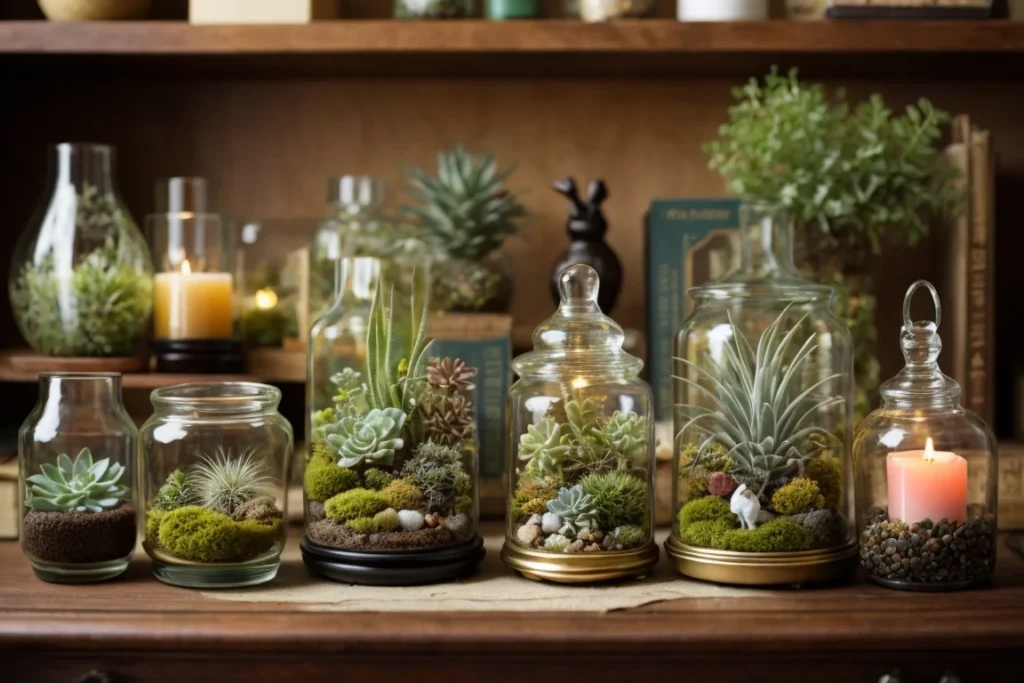 Small accessories can make a big impact when it comes to shelf decorating. Here are some ideas for pint-sized items that pack a decorative punch:
Botanicals – Mini terrariums, air plants, succulents
Candles – Votives, tapers, pillars
Figures – Tiny animals, children figurines
Boxes – Stash trinkets in decorative tins
Vases – Use diminutive bud vases
Art – Opt for petite prints and photos
Books – Display colorful series of small paperbacks
Globes – Old world maps or mini snow globes
Lighting – String lights, fairy lights, mini lamps
Trays – Perfect for holding collections of tiny things
The benefit of smalls? You can fit in more! Browse flea markets and antique shops which offer a treasure trove of wee wonders perfect for shelves. Just be sure to leave breathing room between groupings.
When it comes to shelf décor, sometimes the smallest touches make the biggest difference.
Wall Shelf Decorating Ideas
Wall shelves provide the perfect blank canvas for imaginative decorating in any room. Here are some ideas for stylishly decking out your wall shelves:
Arrange a collection of framed family photos. Mix different sizes and frames.
Create a pretty vignette with ceramic vases, candles and greenery.
Alternate stacks of decorative coffee table books with bookends.
Display a themed collection like sea shells, geodes, or miniatures.
Create a gallery wall with a mix of artwork behind the shelf.
Drape colorful textiles over ledges for bohemian flair.
Line up a series of colorful glassware.
Showcase travel mementos like statues, vases or snow globes.
Create a desk nook with shelves above to store office supplies.
Use wall shelves in the bathroom for rolled towels and self-care accessories.
Arrange collections of natural items like pinecones, sand dollars or driftwood.
Let your imagination run free when brainstorming ways to use wall shelves as captivating displays.
Conclusion
Decorating your living room shelves is an opportunity to express your style. Use the ideas in this guide to create dazzling displays that delight the eye.
Experiment with materials from natural rattan to sleek metal. Incorporate lighting to set a mood. Craft cohesive vignettes through color schemes and symmetrical organization.
Most importantly, choose items that spark joy and tell your unique story. Shelves decorated with care can transform a space into a showstopper. Let them reflect the very best of you.
With a little creativity, your shelves will transition from blank canvases to artful compositions that add character and warmth to your living room.