The mid-century modern design movement first emerged in the 1930s and flourished from the late 1940s to the 1960s. After World War II, there was an economic boom and a renewed optimism. People wanted furniture that expressed this forward-thinking mindset.
Mid-century modern furniture emphasized simplicity, functionality, and a minimalist aesthetic. The clean lines and absence of excessive decoration embodied the ideals of modernism. New manufacturing techniques also enabled mass production of this pared-down, affordable style.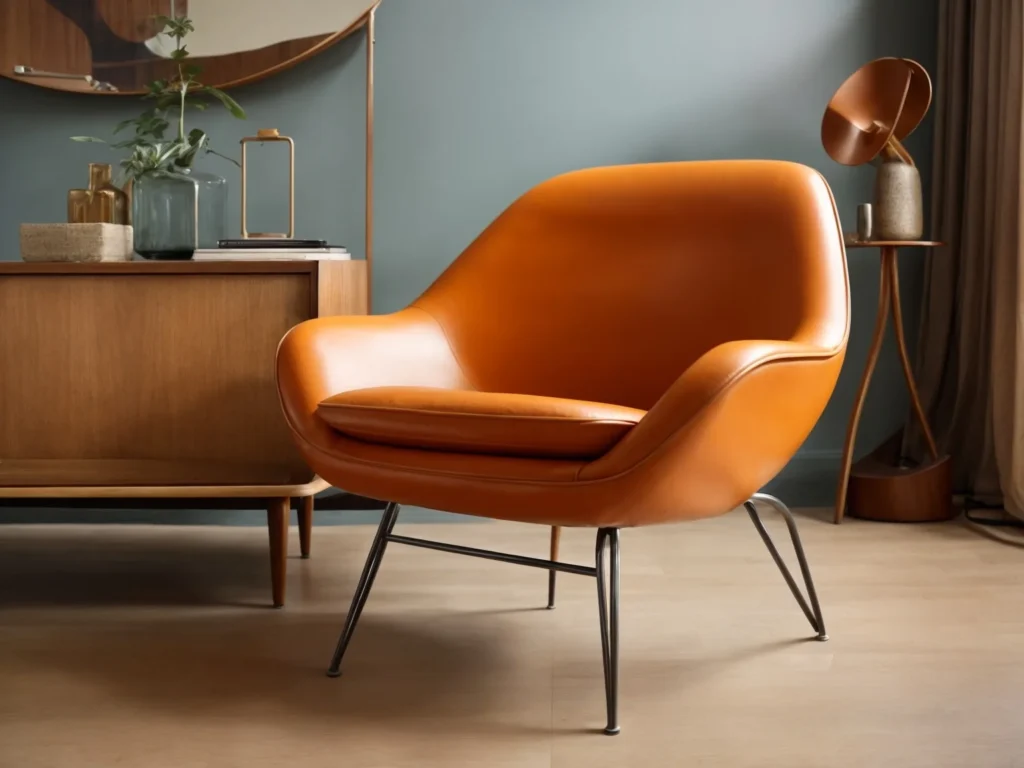 Early influences include the Bauhaus school and designers like Le Corbusier, Florence Knoll, Charles and Ray Eames, and Eero Saarinen. They pioneered the use of industrial materials in furniture, such as plastic, fiberglass, plywood, and bent metal.
Mid-century designers embraced new technology and materials. They discarded historical references and turned to organic, biomorphic shapes inspired by nature. Their sleek, forward-looking designs became a fixture of suburban homes across America.
Why Mid-Century Style Furniture Remains Popular Today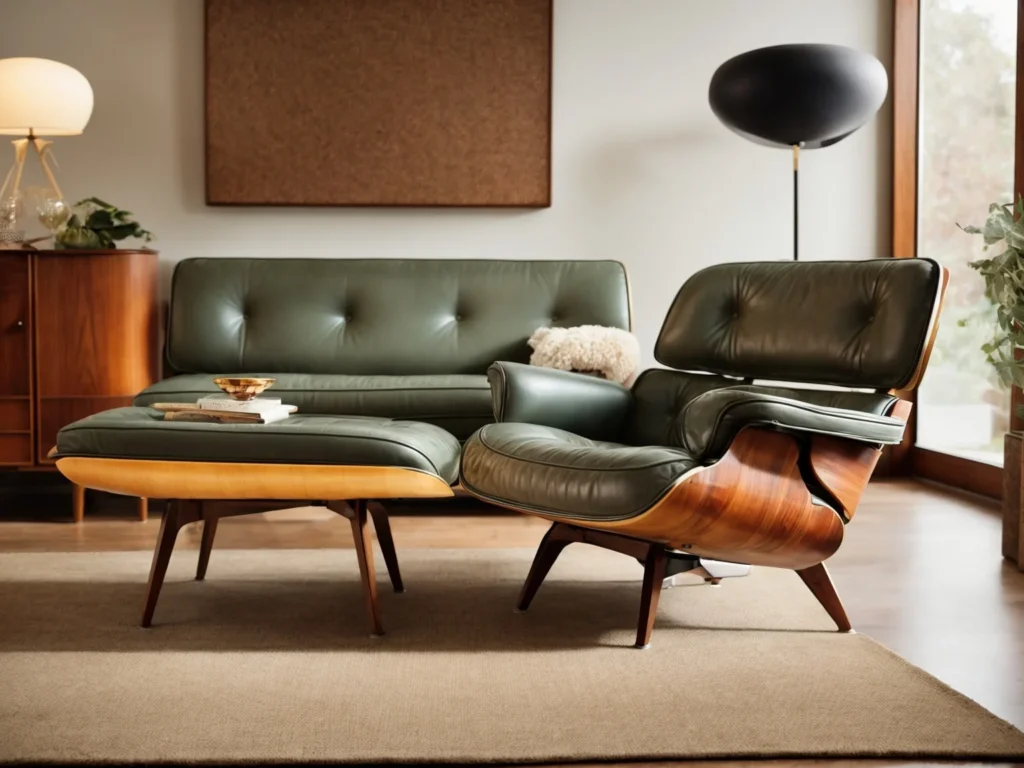 Mid-century modern furniture has enjoyed a revival in recent decades. Its clean lines and casual elegance feel fresh and relevant for 21st-century homes. The style appeals to eco-conscious consumers, thanks to its emphasis on quality construction and durability over excess.
Vintage mid-century pieces by famous designers are sought-after collector's items. Owning an iconic Eames lounge chair confers status as a design connoisseur. Even new reproductions allow more people to participate in the mid-century aesthetic.
Mid-century style also provides a warm, relaxed counterpoint to our increasingly high-tech world. Natural textures and gently curved shapes create a soothing retreat. This furniture stands the test of time with its timeless appeal.
What is Mid-Century Style Furniture?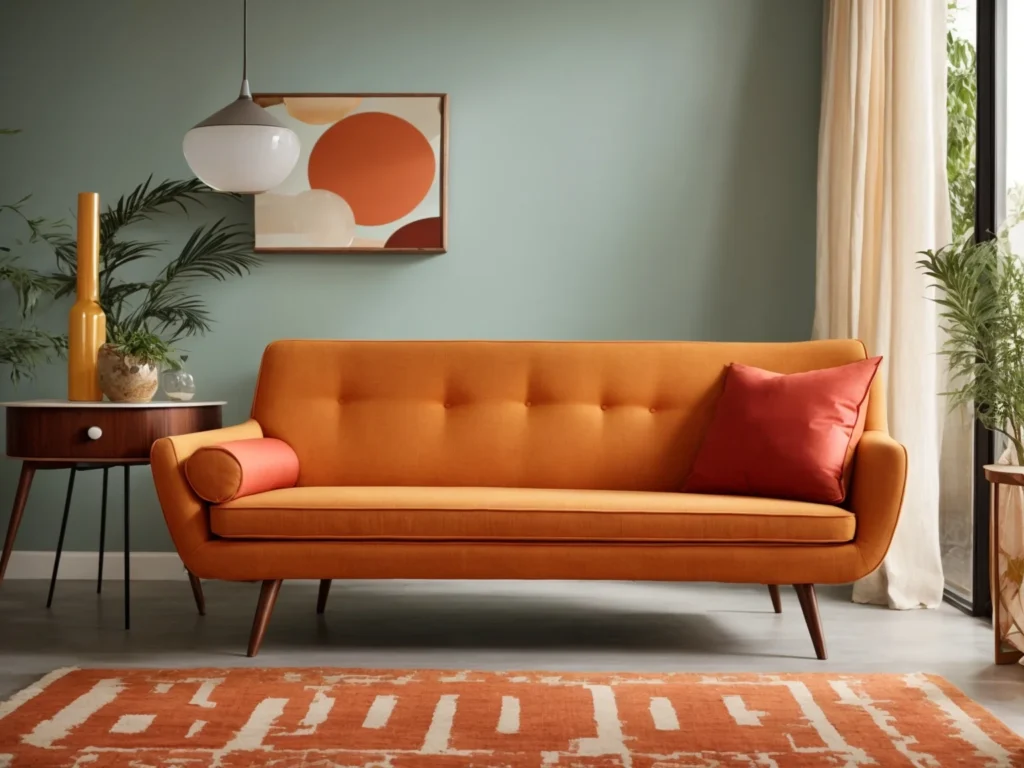 Definition and Characteristics, Mid-century modern furniture is recognized by its:
Clean, linear design with gently curved edges
Lack of ornamentation or unnecessary details
Simple, sometimes tapered, wooden legs
Low-profile, horizontal emphasis
Use of new man-made and industrial materials
Multifunctional or sectional pieces
Bright colors and eclectic patterns
The mid-century look creates a casual, organic feel using natural shapes and asymmetric lines. Pieces often have a space-saving, compact footprint. The informal, welcoming vibe of this furniture suited growing postwar suburbs.
Materials Used
Mid-century designers embraced new plastic laminates like Formica. Plywood became popular for its strength and affordability. Lightweight metals, especially steel and aluminum, enabled sleek cantilevered supports.
Iconic mid-century furniture often combines wood, metal, and molded plastic or fiberglass. Wood provides warmth, while synthetics represent innovation. Some signature materials include:
Teak, walnut, oak, acacia: Rich, natural-looking woods
Lucite, fiberglass: Molded into biomorphic shapes
Chrome, steel: Sleek tubular supports
Leather, vinyl: Upholstery options
Ceramic, stone: Used as decorative accents
Design Philosophy
Mid-century style rebelled against the ornamentation of previous eras. Designers prioritized minimalism, utility, and affordability over luxury. They stripped away formalism in favor of casual living for modern times.
This functionalist approach was meant to improve daily life through thoughtful design. Furniture of this era captured a spirit of optimism and futurism. It reflected new manufacturing capabilities and lifestyles.
What Qualifies as Mid-Century Modern Furniture?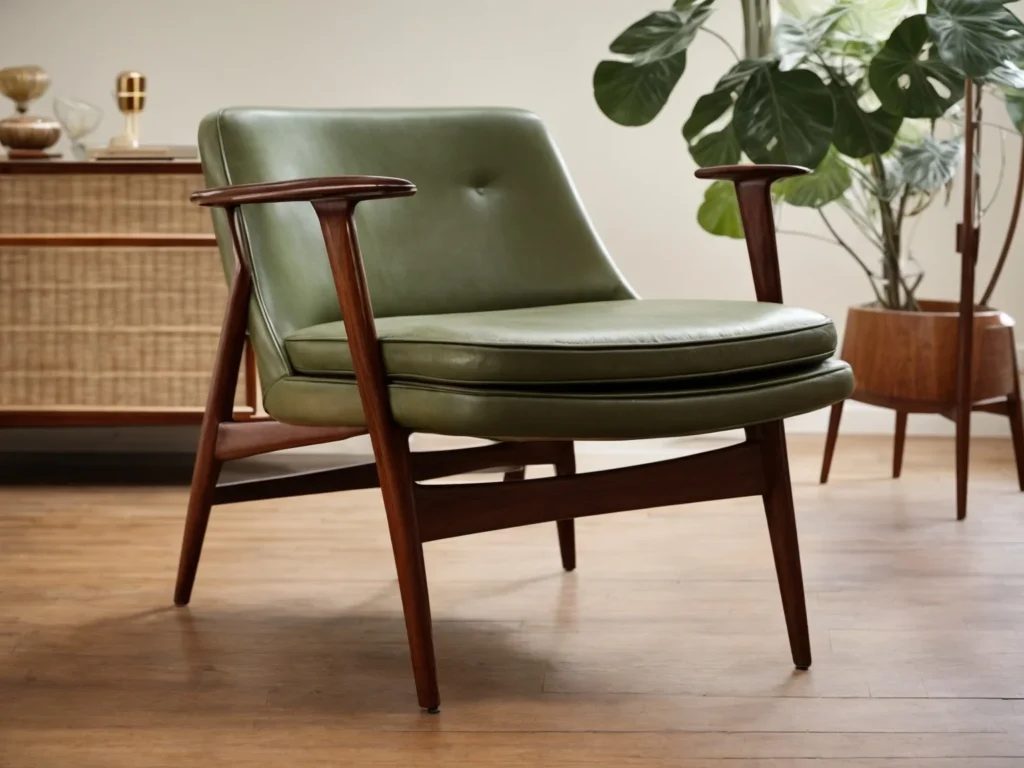 Authenticity Factors, Genuine mid-century modern furniture has these hallmarks of authenticity:
A label from a well-known designer or manufacturer
High-quality woods like teak or rosewood
Evidence of hand craftsmanship
Original upholstery and fittings
No visible plastic joins or staples
Marks, stamps, or signatures that date production
Patina consistent with 50+ years of age
Provenance from the 1940s to 1960s
Well-preserved vintage pieces with these attributes have the most value to collectors.
Key Designers and Brands
Some big names that define mid-century style include:
Charles and Ray Eames: Iconic for molded plywood and fiberglass chairs and their Eames lounge chair.
Eero Saarinen: Designed the Tulip chair with its futuristic molded pedestal base.
Harry Bertoia: Best known for the Bertoia Diamond chair made of welded steel.
Florence Knoll: Her designs for Knoll furniture emphasized functionality for offices.
Hans Wegner: Danish designer who pioneered mid-century Danish style, especially his Wishbone chair.
Arne Jacobsen: Danish architect and designer of the Egg and Swan chair.
George Nelson: Designed modernist furniture with Herman Miller, including the Coconut chair.
Noguchi: The Noguchi table features a solid wood base with two curved glass planes.
Adrian Pearsall: Crafted custom mid-century furniture for major retailers.
Heywood-Wakefield: Manufactured blonde wood furniture for public spaces.
Herman Miller: Mass-produced iconic mid-century designs.
Drexel: Quality furnishings popular in 1950s-60s homes.
Widdicomb: Maker of solid wood furniture for bedrooms and dining rooms.
How to Identify Genuine Pieces
Look for:
Label, stamp, or signature from designer
High-quality solid wood or molded synthetics
Evidence of hand craftsmanship
Original upholstery in good clean condition
No plastic joins or staples visible
Matching serial numbers on separated pieces
Overall patina consistent with 50+ years of age
Compare any markings to photos of authentic versions. Study the quality and build. Research the piece online for more authentication details. Consult an appraiser if unsure.
What Years are Considered Mid-Century Furniture?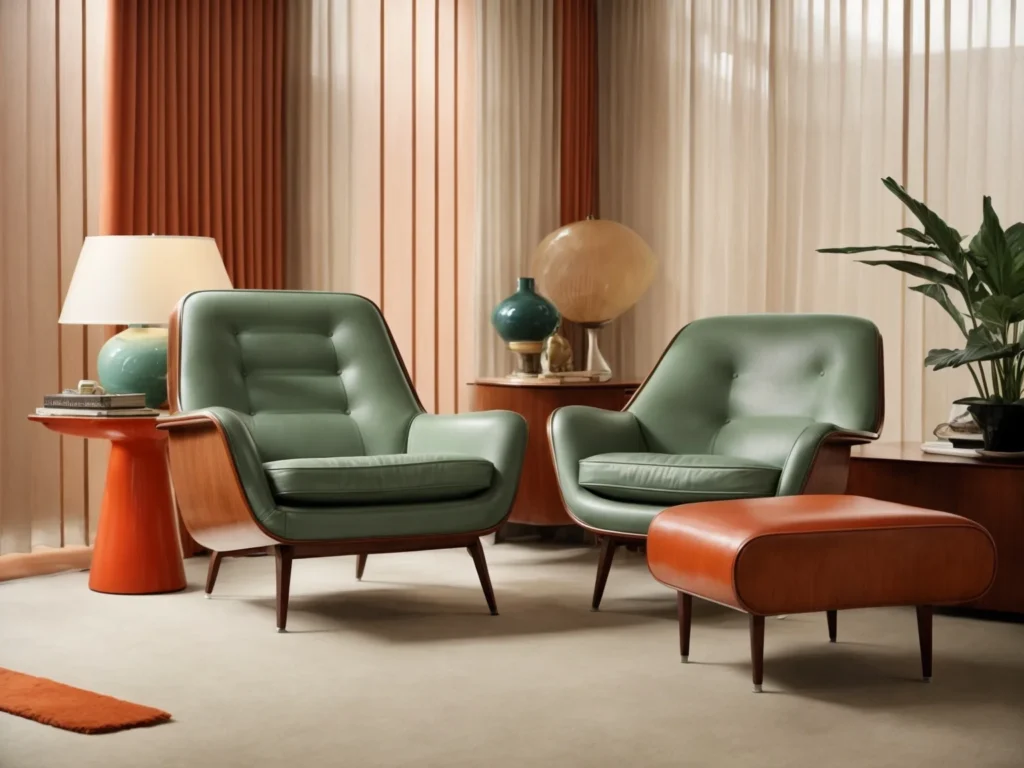 Timeframe
The mid-century period is generally defined as ranging from 1933 to 1965. Mid-century modern design peaked from 1947 to 1957. Some key events include:
1933: Chicago World's Fair showcased early modernist ideas
1938: MoMA sponsors first exhibit of Bauhaus designs
1946: Eames debuts molded plywood chairs
1948: Florence Knoll founds Knoll furniture company
1956: Eero Saarinen unveils Pedestal chair
1958: First Herman Miller office systems introduced
So mid-century furniture typically dates from the 1930s to the mid-1960s. But many designs had a lasting influence well into the 1970s and beyond.
Historical Context
Mid-century style emerged as a reaction to previous periods. The streamlined aesthetic rejected the ornamental excess of Victorian era furnishings. And it presented a more relaxed, egalitarian approach than the formalism of Art Deco in the 1920s and 30s.
The prosperity of postwar America enabled a focus on designing for the masses. Young families furnished first homes with this affordable, modern style.
Mid-century design fell out of fashion by the 70s in favor of more eclectic postmodern looks. But it was rediscovered in the 90s, and continues to feel fresh today.
Evolution Over Time
Early innovators like Paul Frankl introduced sleek, spare furniture in the 1930s using tubular steel. After WWII, use of new materials exploded, aided by power tools and plastic molding.
The 1950s saw mid-century design reach full flower. Now-classic pieces debuted from the major designers and manufacturers.
In the 1960s, the Space Age influence added brighter colors and more whimsical shapes like egg chairs. But eventually plastics came to replace quality woods and handicraft.
By the 1970s, the dominance of mid-century modern waned. But its timeless appeal endures, making this a lasting design movement.
Mid-Century Modern Coffee Tables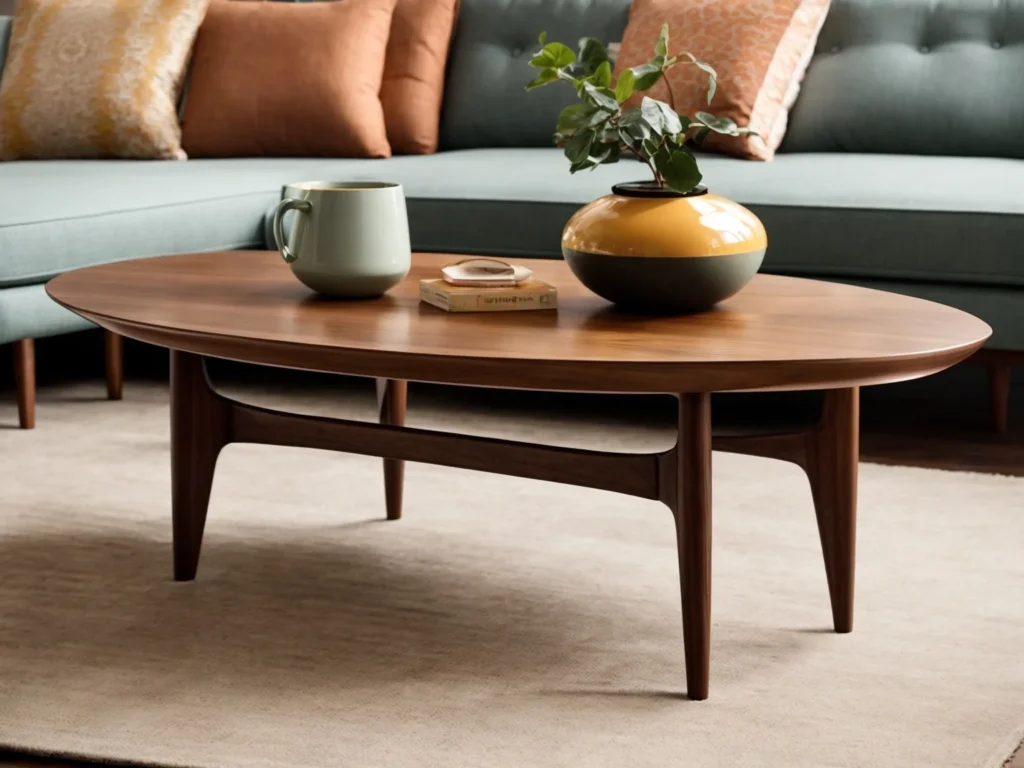 Coffee tables are a fun way to bring mid-century style into your living room. Vintage examples can cost a pretty penny, but reproductions make the look more affordable.
Design Elements
Look for these features in an iconic mid-century coffee table:
Simple and clean-lined
Elevated on tapered legs
Made of quality wood, glass, or marble
May have open shelving or storage
Often rectangular, oval, or circular
Teak and walnut are prime materials
May incorporate metal accents
They have an airy, floating effect thanks to uncluttered open space beneath. The warmth of wood also helps anchor seating.
Popular Brands
Some well-known mid-century coffee table brands include:
Noguchi table: Sculptural solid wood base with glass top
Eames tables: Molded plywood with
Eames tables: Molded plywood with metal or wood accents
Nelson pedestal table: Saucer-shaped top on slim pedestal
Bertoia side table: Welded wire base with glass top
Platner table: Intricate woven wire base
Knoll table: Simple and spare rectangular table
Saarinen table: Oval white marble floating on delicate rods
Lane side tables: Tapered legs with woood or rattan accents
Heywood-Wakefield: Blonde wood tables with charm
Florence Knoll: Perfectly proportioned table, often square
Pearsall: Custom crafted tables made of walnut or rosewood
Mid-century designs work well in pairs or clusters to create layers. Mix materials and shapes for an eclectic arranged look.
DIY Ideas
Add mid-century flair on a budget with these coffee table DIY ideas:
Refinish a solid wood thrift store find with tapered legs
Stain inexpensive wood legs and attach a large round of plyboard
Use hairpin legs with a polished concrete top
Try open metal storage cubes as a base
Attach castors to a square wood tabletop for industrial style
Use a slab of reclaimed barnwood on a basic frame
Arrange stacked vintage suitcases or storage chests as a base
The simple lines of mid-century style make it easy to recreate the look yourself. Focus on clean shapes, tapered legs, and mix-and-match materials.
Mid-Century Modern Couches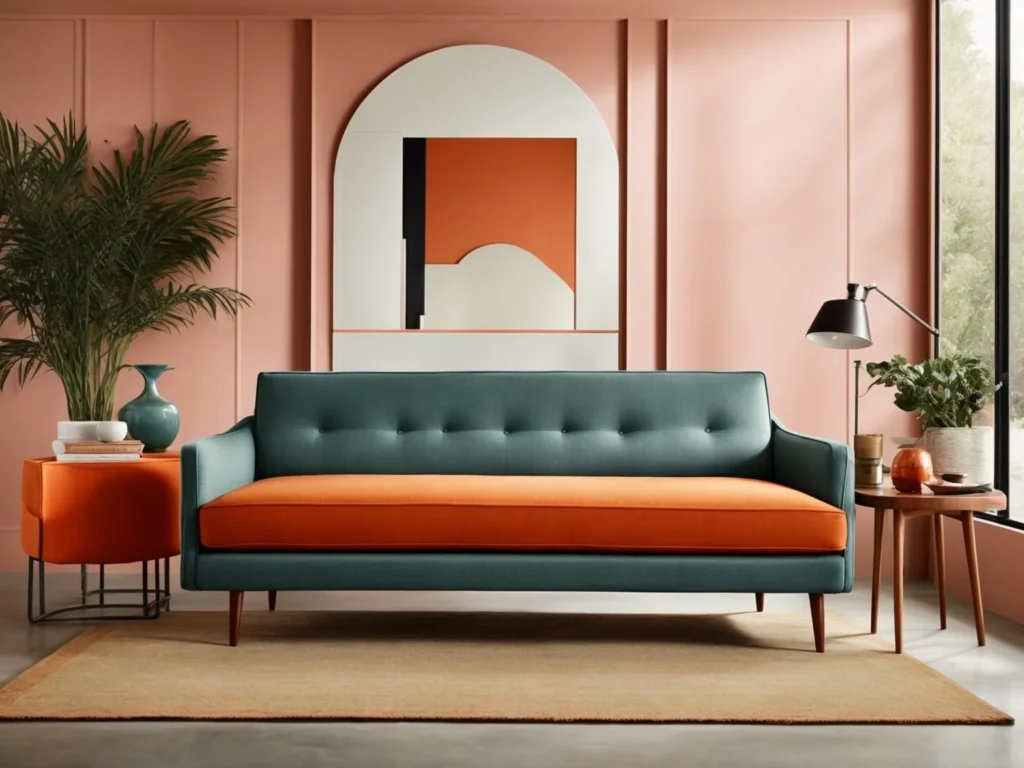 Mid-century couches feature spare, boxy shapes mixed with organic curves for a relaxed look. Quality vintage examples can be pricey, so affordable reproductions help capture the style.
Types and Styles
Some common mid-century modern couch styles:
Tuxedo – Boxy shape with tufting
Lawson – Deep seats and low back
Sectional – Multifunctional connected seating
Daybed – Can double as bed for guests
Sofa bed – Folds out into a bed
Loveseat – Compact two-person seats
Lounge – Low profile and deep cushioning
Many also include attached side tables or open shelving for storage. Oversize arms, tapered legs, and bright pops of color add flair.
Upholstery Choices
Leather: Timeless and durable
Wool: Naturally stain-resistant
Linen: Casual texture and feel
Polyester: Budget-friendly faux leather
Velvet: Plush and elegant
Cotton: Affordable and breathable
Bold patterns like plaid and graphic prints create a retro vibe. Tufted buttons and stitched detailing add interest.
Where to Buy
West Elm: Affordable new and reproductions
Joybird: Customizable couches
Apt2B: Trendy styles
AllModern: Reliable mid-tier selections
EQ3: Stylish Canadian brand
Castlery: Direct shipping available
Rejuvenation: Authentic reproductions
1stDibs: High-end vintage pieces
Measure your space carefully. When uncertain, size down – mid-century shapes tend to be oversized. Arrange seating to promote conversation.
Mid-Century Modern Dining Tables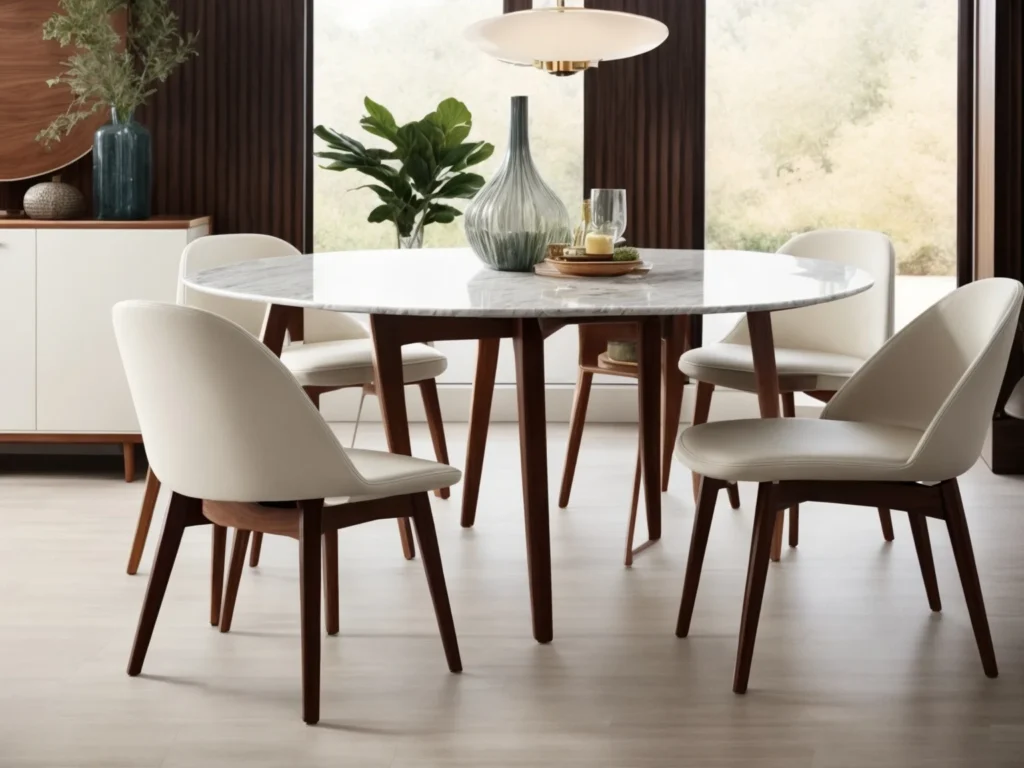 A mid-century dining table helps create a retro yet timeless dining area. Look for a showstopper table paired with iconic chairs.
Shapes and Sizes
Oval, ellipse – Elegant flowing shapes
Round – Creates intimate feel
Rectangular – Offers flexible seating
Square – Grounded, space-efficient
Octagonal – Angled design dynamic
Expandable – Accommodates gatherings
Mid-century tables are often compact with space-saving pedestal bases. Extendable leaves or drop-down sides allow flexibility.
Material Choices
Teak – Rich mid-century favorite
Walnut – Timeless warmth
Oak – Affordable, durable option
Marble – Elegant veining in white or black
Glass – Light and airy
Stone – Sophisticated aggregate patterns
Laminate – Budget retro click
Plywood – Iconic molded appearance
Mix materials, like walnut wood base with marble top for contrast.
Setting the Scene
Create a cohesive mid-century dining space:
Choose iconic chairs like Eames or Bertoia
Use an iconic buffet or hutch for storage
Add a sculptural pendant light overhead
Layer a graphic rug underfoot
Display art and ceramics in bright pops
Finish with botanical accents and plants
Mix eras and aesthetics for an eclectic, collected look.
Mid-Century Modern Dressers
The sleek silhouette of a mid-century dresser adds storage and style to any bedroom. Vintage pieces can be costly, but new reproductions capture the timeless look.
Functionality vs. Style
Mid-century dressers focus on:
Clean lines and minimal ornamentation
Woodgrain visible on drawer fronts
Slim tapered legs for light visual impact
Drawers have side grooves for easy opening
Often six to nine drawers for ample storage
May incorporate cabinet space or open shelving
Style retained even in bedroom storage pieces
While very functional, mid-century dressers also display the beauty of woodgrain and quality construction.
Popular Materials
Teak – Rich striated look
Walnut – Elegant mid-tone wood
Rosewood – Deep reddish-brown hue
Oak – Affordable option with grain
Rattan – Woven drawer fronts add texture
Lacquer – Durable glossy finish
Laminate – Colorful retro patterned accent
Natural wood finishes allow the beauty of the grain to show. Contrasting drawer colors create visual interest.
Buying Guide
When investing in a quality mid-century dresser, look for:
Solid hardwood construction
Visible hallmarks of craftsmanship
Sturdy, smooth drawer movement
Expected signs of wear given age
Marks or labels from designer/manufacturer
No odors, stains, damage, or repairs needed
Proportional size for space
Delivery and assembly often included
Return policy on new reproductions
Carefully measure your room to ensure a cohesive layout. Enjoy your dresser for years to come.
Mid-Century Modern Living Room Furniture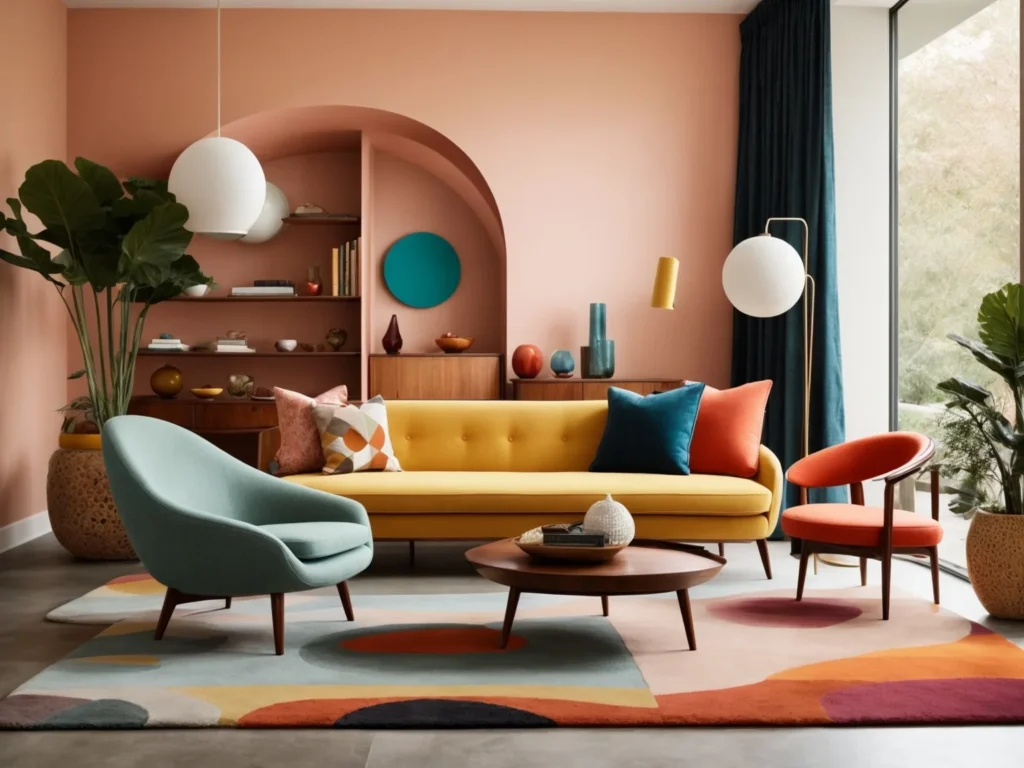 Creating a cohesive living room in mid-century style combines iconic seating, storage, and accents. Play with shape, texture, and color.
Creating a Cohesive Look
Choose a statement sofa, like an Egg chair or retro tuxedo couch
Add warmth with a long bench or pair of lounge chairs
Include a coffee table: oval, round bubble, or with open shelving
Layer colorful area rugs on the floor
Use side tables for sculptural lamps and houseplants
Incorporate bookshelves or media cabinets
Display art, ceramics, or decorative objects
Repeat woods, colors, and shapes. The spare style prevents clutter.
Furniture Placement Tips
Float furniture away from walls
Angle seating toward conversation areas
Allow open walkways through space
Place television discreetly or hide altogether
Use an area rug to define sitting zone
Maximize natural light with smart layout
Edit down to only essential, multipurpose furnishings. Let the beauty of the pieces shine.
Popular Retailers
Joybird – Customizable new sofas and chairs
Lumens – Iconic reproductions and originals
Rejuvenation – Authentic mid-century classics
Castlery – Direct shipping on quality pieces
RoveConcepts – Stylish selections at various budgets
Urban Outfitters – Fun, trendy takes on the style
AllModern – Reliable mid-tier options
1stDibs – High-end vintage from top dealers
Vintage Mid-Century Furniture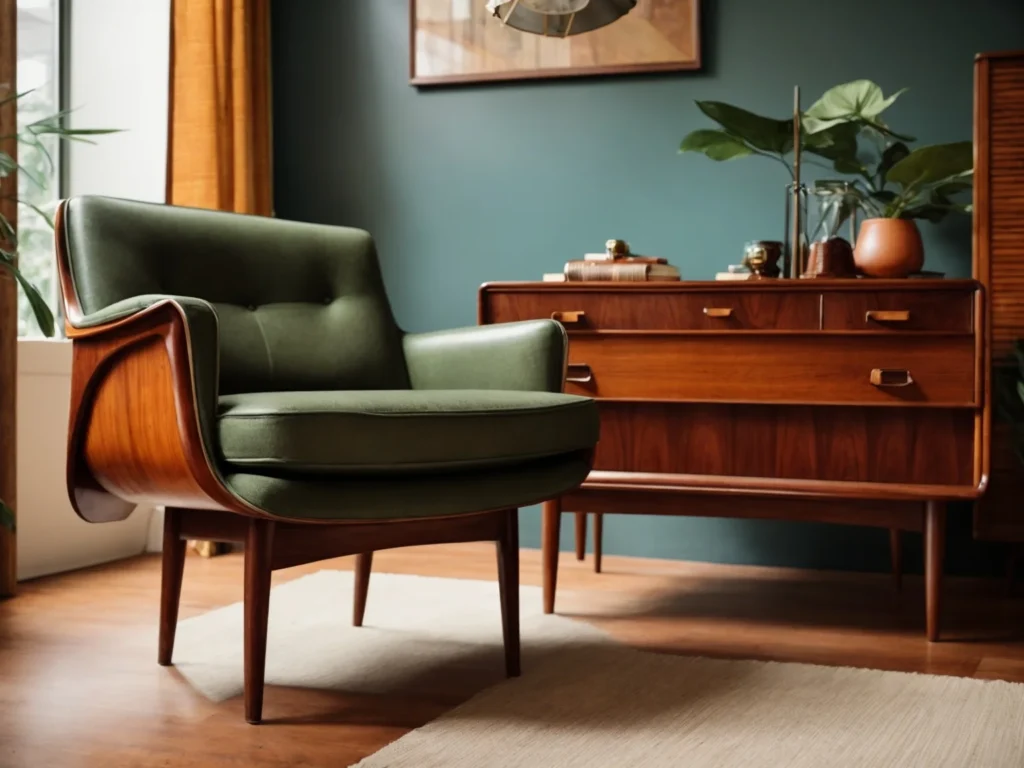 Seeking out authentic vintage mid-century furniture offers the allure of owning a true piece of history. But having an keen eye is key to avoid costly fakes and reproductions.
How to Spot Authentic Vintage Pieces
Look for:
Label, stamp, or signature from original designer/maker
High-quality woods like teak and rosewood
Evidence of hand craftsmanship
Original upholstery in good vintage condition
No plastic joins or staples visible
Matching serial numbers on separated pieces
Overall patina consistent with 50+ years of age
Study listings closely. Ask sellers detailed questions. Examine the furniture thoroughly upon delivery.
Where to Shop
1stDibs – Leading marketplace for verified vintage pieces from top dealers. Expect high prices for rarities.
Chairish – Mix of vintage and retro-style pieces. More accessible price points.
Etsy – Some genuine vintage mixed with reproductions. Be wary of condition and authenticity.
eBay – Similar to Etsy. Sort by nearest location to inspect before purchase.
Mid-century antique stores – Brick-and-mortar shops with an expert eye for curation. Try locales like Palm Springs, Portland, and Los Angeles.
Estate sales – Potential to uncover treasures, but time intensive hunting involved. Cash in hand helps negotiations.
Thrift stores – Rare finds possible, but unlikely. Check any markings against known brands.
Craigslist – Meet locally to examine item. Vet sellers thoroughly in advance.
Facebook Marketplace – Nearby vintage finds. Inspect before purchasing.
Auctions – Live or online auctions sometimes include mid-century lots. Be prepared for bidding war.
Restoration Tips
To spruce up true vintage finds, try:
Light sanding and oil treatment to rejuvenate wood
Reupholstering with era-appropriate fabrics
Replacing aged cushions and padding
Touch up scratches and nicks with matching wood putty
Polishing metal legs and accents
Repairing broken joins or stabilizing wobbly legs
Cleaning grime with wood cleaner and microfiber cloths
Take care not to refinish, which can decrease antique value. Honor the original patina.
Conclusion
Mid-century modern style continues to feel fresh, thanks to its emphasis on minimalism, functionality, and bringing warmth into sleek design. Vintage finds offer a glimpse into the period's optimism and craftsmanship, while new reproductions make the look more accessible.
When curating mid-century furniture in your home, opt for quality over quantity. Mix high-end investment pieces with budget finds to create an eclectic, collected look that spans eras. Use design elements like breezy fabrics, globe lighting, and sculptural greenery to enhance the aesthetic.
Most importantly, choose furniture that inspires you. Mid-century shapes and materials have influenced decades of subsequent design for good reason. The style's comfortable livability is a practical match for how we live today.