With its rich, earthy tones and subtle elegance, dark green has become an increasingly popular color choice for modern living rooms. Bold and dramatic yet still soothing and tranquil, the right shade of deep emerald or forest green can entirely transform the look and feel of a space. In this comprehensive guide, we'll explore the psychology behind dark green, look at inspirational spaces, and provide tips to help you create your stunning modern dark green living room.
Why Dark Green?
Dark green hues have been rising in popularity over the past few years, and for good reason. Unlike harsh black or stark white, rich greens feel grounding and natural. Designers and homeowners alike are moving toward deeper, moodier shades to create living rooms with vintage appeal or a cozy library aesthetic.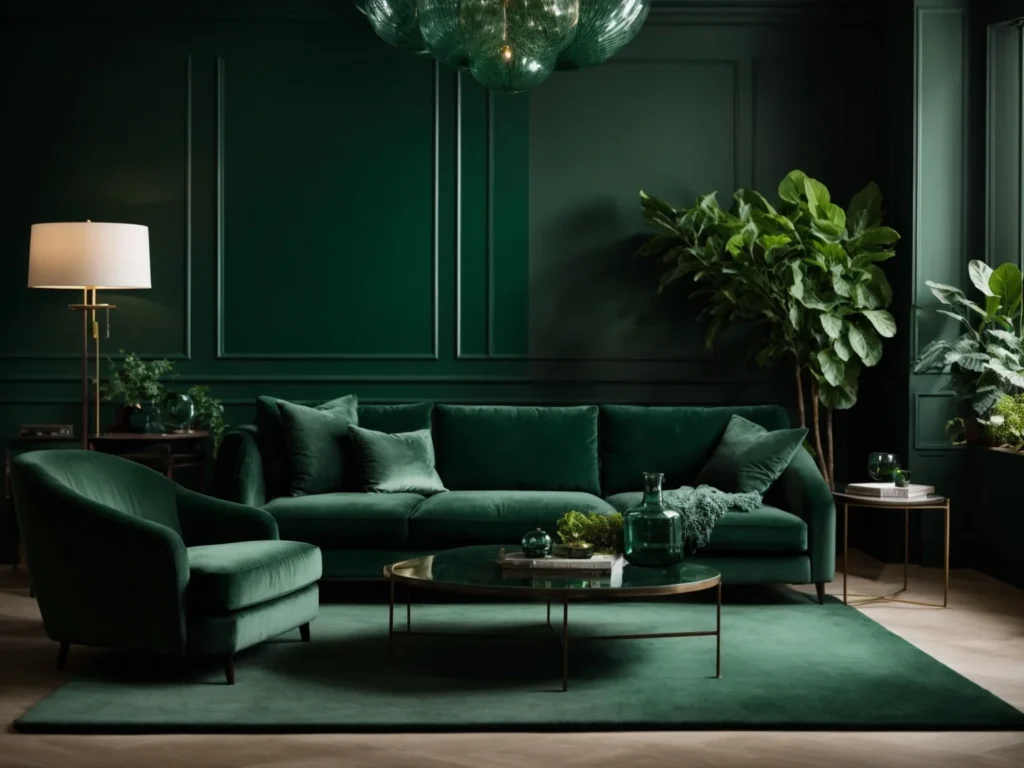 Green is associated with renewal, health, and the natural world. Dark greens retain these positive qualities while also feeling refined and sophisticated. They add a touch of drama without feeling cold. Deep green tones have an intrinsically peaceful, relaxing effect that encourages calmness and decompression. A dark green living room is perfect for unwinding after a long day.
The Power of Color
Color can have a significant impact on our emotions and energy levels. Dark green is thought to promote balance and stability. The color red stimulates the senses and raises blood pressure and respiration rates. Too much red can feel aggressive and draining over time. White can appear clinical and stark. Dark green avoids these downsides, creating an uplifting and refreshing environment.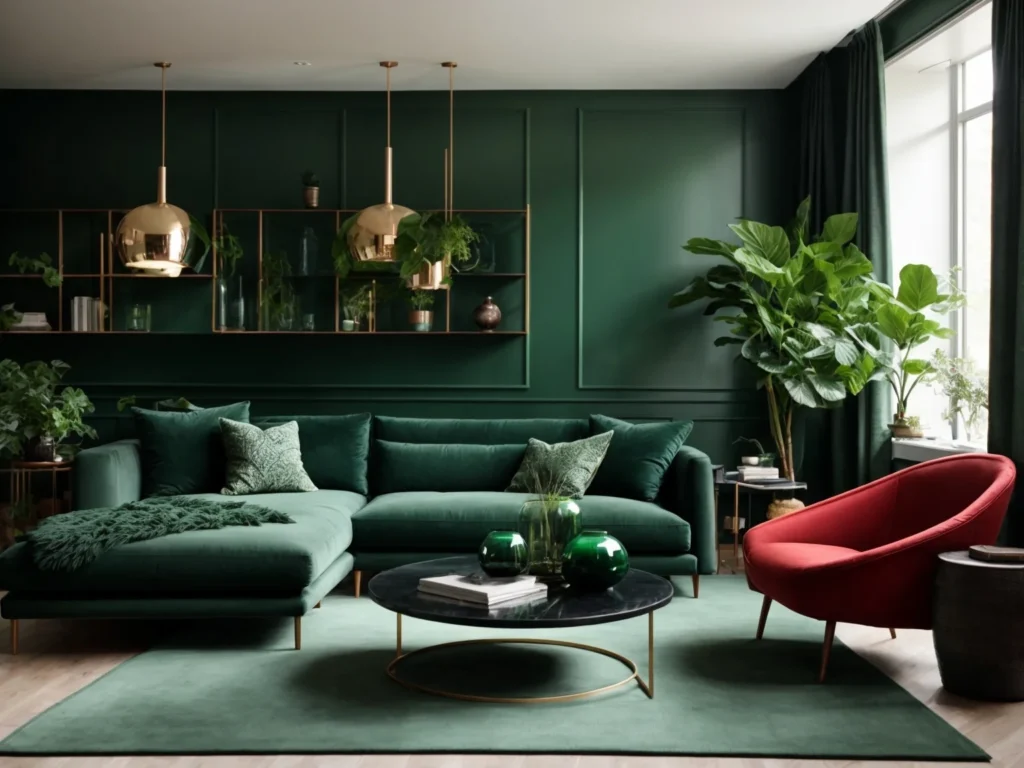 Rich green tones are the closest to nature we can get without being outside. They act as a bridge between indoor and outdoor living. Just looking at a shade like forest green can lower heart rate and reduce feelings of stress and anxiety. At the same time, dark greens provide a sophistication that invigorates the spirit. Designers often recommend dark green for spaces like home offices or libraries, where focus is important.
The key is choosing the right hue and tone for your needs. A lighter sage green will feel more casual and relaxed. Deep emerald green injects drama and luxury. With so many gorgeous shades of green, creating exactly the look and mood you want is easy.
The Eco-Friendly Choice: Mylands Paint
When designing a new dark green living room, choose paint brands that align with your modern, eco-conscious lifestyle. Mylands is a UK-based company offering a range of traditional oil paints and emulsions made from ethically-sourced and renewable ingredients.
Bio-Based Content
Mylands recently launched their Olive Stone Emulsion line of paints with a high bio-based content. Bio-based paints utilise plant-derived materials instead of relying solely on finite raw materials like crude oil. For example, Mylands' emulsions use olive stones left over from olive oil production as a filler ingredient. This approach decreases the paint's carbon footprint.
Versatility
Olive Stone Emulsion can be used to paint interior and exterior surfaces. With over 36 rich shades ranging from deep lichen green to muted blue-grays, you will surely find a distinctive color for your living room. The paint provides a durable satin finish that stands up well to scrubbing and regular wear and tear. Early reviewers praise the paint's quality and ease of application.
An eco-friendly option like Olive Stone Emulsion allows you to make an environmentally-responsible choice without sacrificing beautiful, long-lasting color. And the deep green shades are perfect for creating a dramatic yet peaceful living room aesthetic.
Design Inspirations: Melanie Jade Design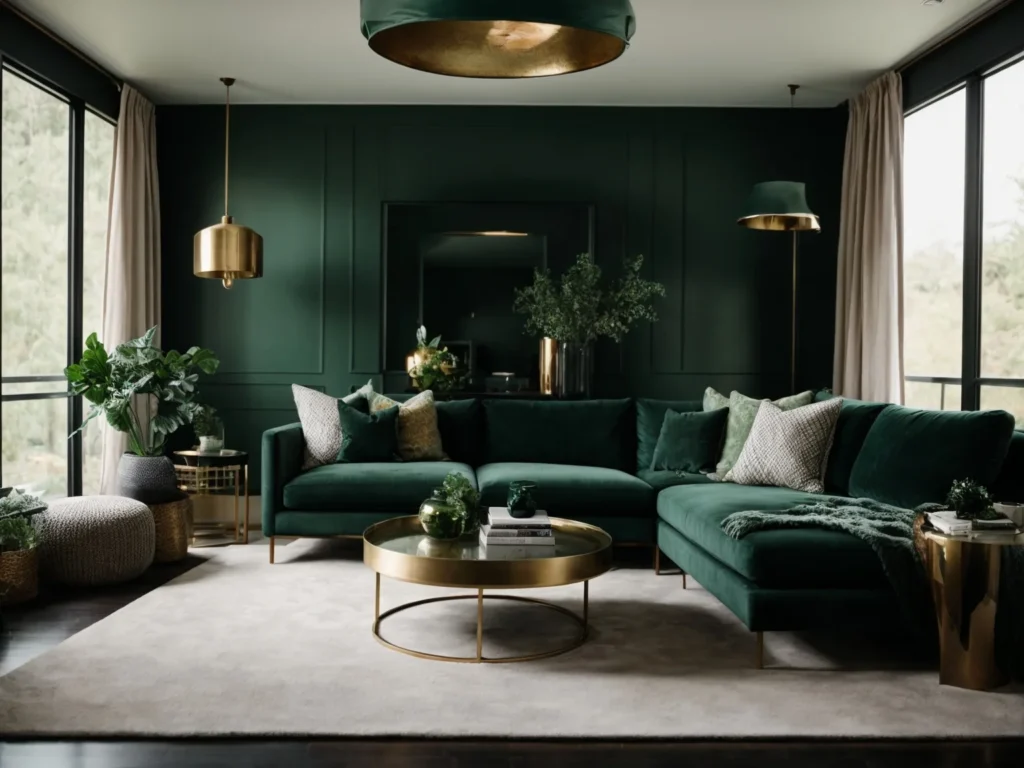 Melanie Jade is an interior designer and lifestyle blogger based in the Pacific Northwest. Her blog and Instagram showcase gorgeous dark green decor and DIY projects that can inspire your living room transformation.
DIY Projects
Melanie shares step-by-step tutorials for unique DIY pieces like a sculptural green side table made with wood rings and hairpin legs. She also posts easy hacks, like painting thrift store finds deep emerald green for a vintage feel. Her projects are achievable for the average homeowner and help bring one-of-a-kind personality into a space.
Increasing Property Value
In several posts, Melanie discusses how updating your home to reflect current color and decor trends can significantly increase your property value. While green has always been popular, the modern take on deep, dramatic shades gives rooms a sophisticated style. Painting an outdated living room or dated furniture pieces in rich green helps buyers see a home's potential.
Melanie's content proves that small DIY projects can make a big difference. Adding dark green accents is an easy, affordable way to elevate your living room's aesthetic.
Expert Reviews
The Spruce is a lifestyle website that provides extensive home decor and improvement content. Their detailed paint reviews help you decide which brand and finish work best for your next project.
Product Testing
The Spruce has an entire process for thoroughly evaluating paint. They analyze coverage, durability, application, and other criteria. Reviewers note how many coats are needed for full coverage over existing paint or primer. They comment on factors like consistency and smell that affect the painting experience. Finally, they evaluate how well the dried paint resists scuffs, stains, and wear.
The Spruce's dark green paint shades reviews provide unbiased first-hand perspectives you won't find on brand websites. This helps take the guesswork out of choosing a paint.
Fall Decor
In one review roundup, The Spruce focuses on the best green paint colors for fall. Shades like Backwoods by Behr and Stony Green by Clark+Kensington are perfect for creating cozy autumnal decor. The Spruce helps you think beyond typical fall colors like red and orange when looking for seasonal change.
These reviews offer practical insights you can trust. The Spruce's experienced evaluation process and focus on real-world use cases make their recommendations incredibly valuable.
DIY and Family Life: Bigger Than the Three of Us
Bigger Than the Three of Us blog covers home renovations and family-friendly DIY projects. Bloggers Leslie, Ben, and their three kids recently transformed their living room into a warm, welcoming space using dark green paint. They share budget-friendly updates perfect for family homes.
Hiding Cords
One of Leslie's biggest tips is using paintable cord covers to maintain a clean, streamlined look in a living room. Painting the cord covers the same deep green as the walls makes TV cables and power cords disappear. This prevents a tangle of black wires from disrupting the soothing vibe of the space.
Outdoor Projects
Leslie and Ben didn't stop their green makeover at the living room walls. They extended the color outside by spray painting their concrete porch steps in a matching green hue. Now the indoor and outdoor areas feel connected and cohesive. The blog's content inspires thinking beyond just the living room when decorating. A unified dark green theme creates harmony in a home.
DIY projects and budget-friendly solutions are essential for families with kids and pets. This blog proves a dramatic living room makeover is possible even in high-traffic family spaces.
Visual Inspirations
Pinterest is a top source for design inspiration and ideas. There are thousands of boards dedicated to dark and emerald green decor. Here are a few standouts worth browsing for living room inspiration.
Boards to Follow
Emily Henderson's "Dark Green Interiors" board features moody dining spaces, offices, and living rooms. She mixes rich shades like malachite green with lighter tones for contrast. Her finds from designers like Kelly Wearstler provide ultra-luxe inspiration.
Check out Amber Interiors' "Green Living Room Ideas" board for a cosier feel. Replete with indoor plants, sari fabrics, and natural textures, these spaces feel earthy and inviting. This is a great resource for boho or eclectic style.
Christina Calvet's "Sophisticated Green Interiors" includes dramatic emerald lacquered walls, sumptuous velvet sofas, and enviable antique rugs. The bold color choices make these designs truly unforgettable.
User Interactions
Pinterest lets you easily save inspirational pins to your boards. You can also comment on pins and message board creators to ask questions or get advice. Engage with pinners to learn the details behind a stunning space. Use Pinterest to gather ideas and connect with people decorating in your preferred style. The platform makes the design process collaborative and social.
Comprehensive Tips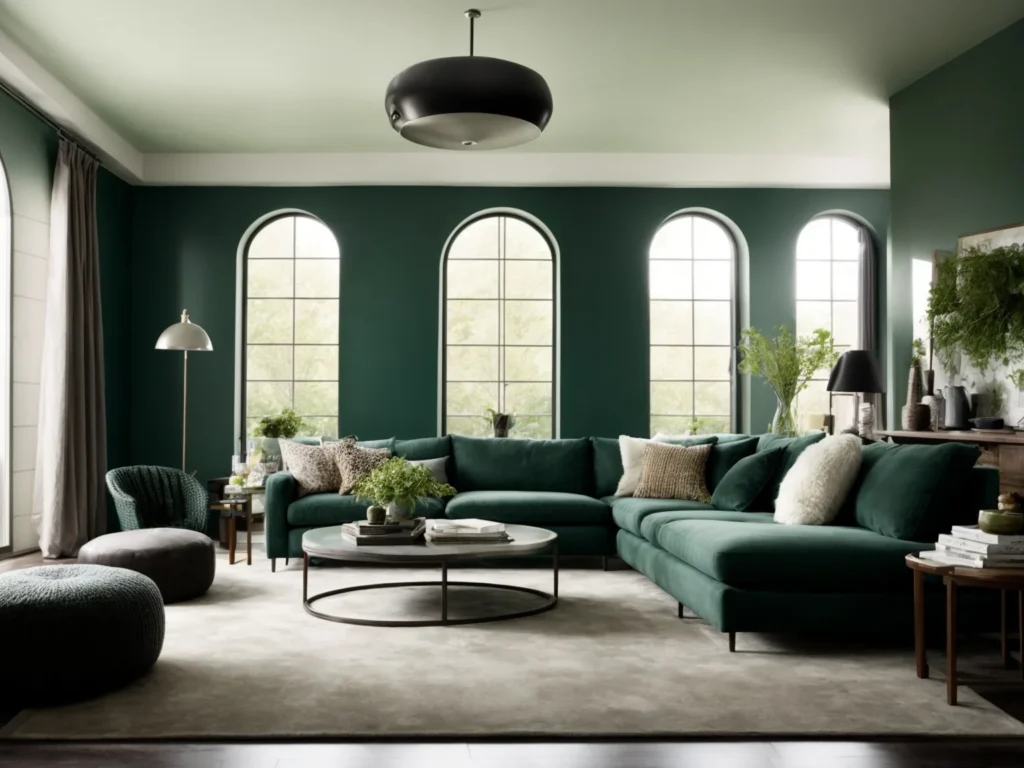 Good Housekeeping has been a trusted destination for home advice. Their decor tips help you pull off a living room makeover with elegance and confidence.
Cleaning Tips
Good Housekeeping provides specific product recommendations for keeping dark green furniture and walls looking their best. They suggest avoiding harsh bleach and ammonia-based cleaners, which can damage paint over time. Instead, they recommend special cleaners designed for painted surfaces, like Method All-Purpose Natural Surface Cleaner.
For walls, they suggest Simple Green Concentrated Cleaner, diluted per the instructions, then applied with a soft microfiber cloth
Product Reviews
Good Housekeeping extensively reviews green paint colors and brands in their decor section. They cover major retailers like Behr, Valspar, and Benjamin Moore. Experts evaluate application, coverage, finish, and more.
For example, the Behr's Night Watch paint reviewer appreciates its versatility. It has enough richness for an accent wall but also works well for an entire room. Valspar's Fossil Green gets called out for requiring three coats for full, even coverage.
These real-world tests reveal the subtleties between shades and performance. Good Housekeeping also suggests coordinating colors for your green, like warm antique whites or contrasting navy.
With their rigorously researched recommendations, Good Housekeeping helps ensure your living room vision becomes a reality. Their experts know which products perform best for major decor goals like yours.
Is Dark Green Good for a Living Room?
Dark green is an excellent paint color for living rooms. It creates an intimate, nature-inspired mood that encourages relaxation. The bold colour is still neutral enough to be a backdrop for your other furniture and decor. Dark green for living rooms can range from dramatic black-toned emerald to soft, inviting sage depending on your desired look. It provides just enough visual interest without becoming overwhelming.
Dark Green and Gold Living Room Ideas
Pairing rich green hues with metallic gold accents creates a glamorous, luxurious aesthetic. Dark green has an inherently elegant feel, and gold adds opulence. Use gold through small touches like throw pillows, frames, table lamps, or decor accessories. Dark green with gold is perfect for a formal living room or one meant to impress guests. It feels lush and sophisticated.
Emerald Green Living Room Ideas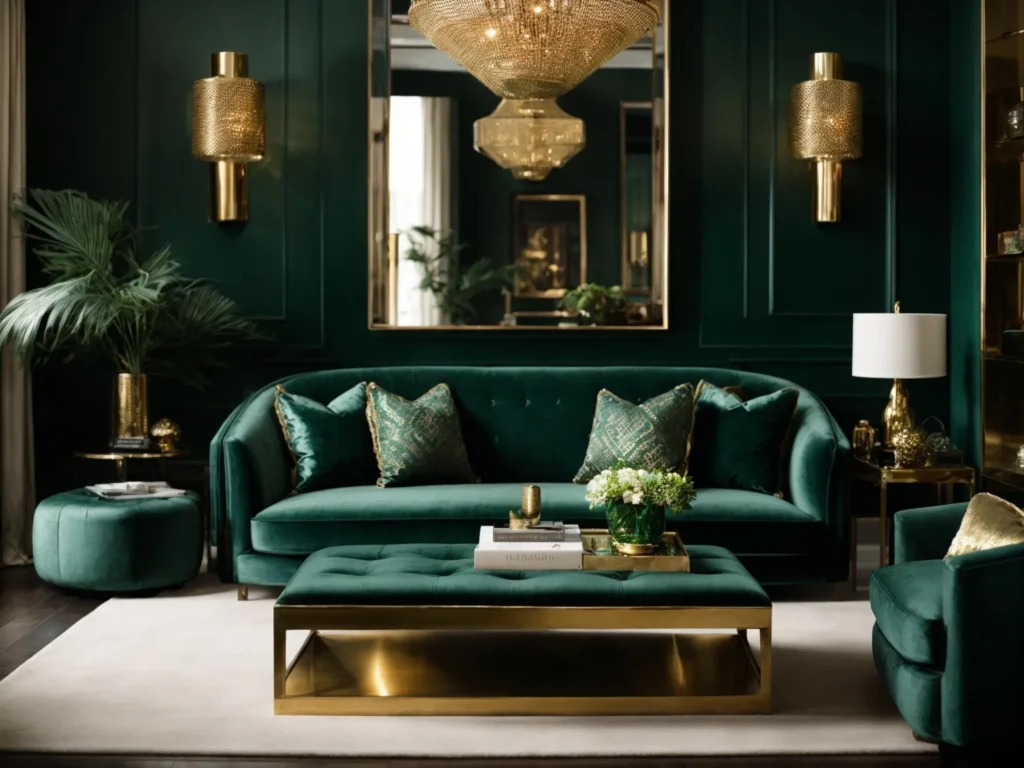 Emerald green is one of the most striking shades of green for a living room. It immediately conjures images of precious gems and jewelry. Use emerald green to make your living room feel like a jewel box. Contrast it with black accents and gilded frames for a dramatic old Hollywood vibe. Or pair it with warm metallics like brass for an elegant but inviting look.
Forest Green Living Room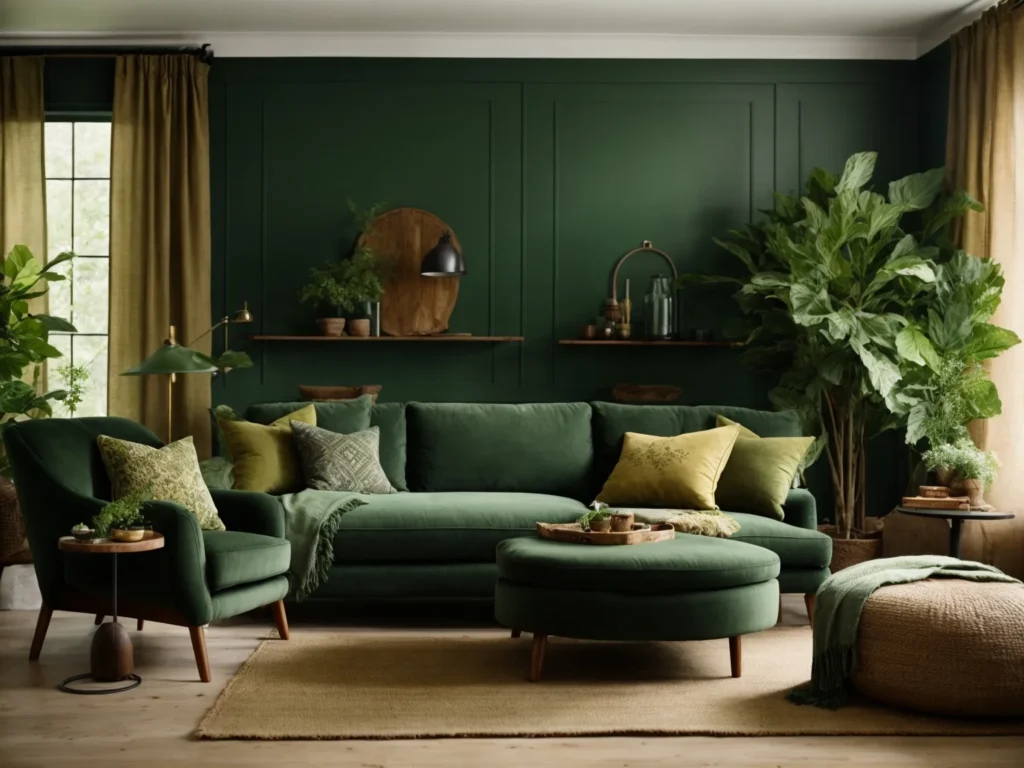 Forest green is a rich shade without feeling too cold. It has hints of yellow and brown that give it warmth. Use forest green paint, accent chairs, or a sectional to create a living room that feels like a cozy cabin retreat. Layer in wood accents and natural textures like jute rugs for a relaxed, organic look. Forest green is ideal if you want your living room to feel like a restorative escape.
What Colors Compliment Dark Green Walls?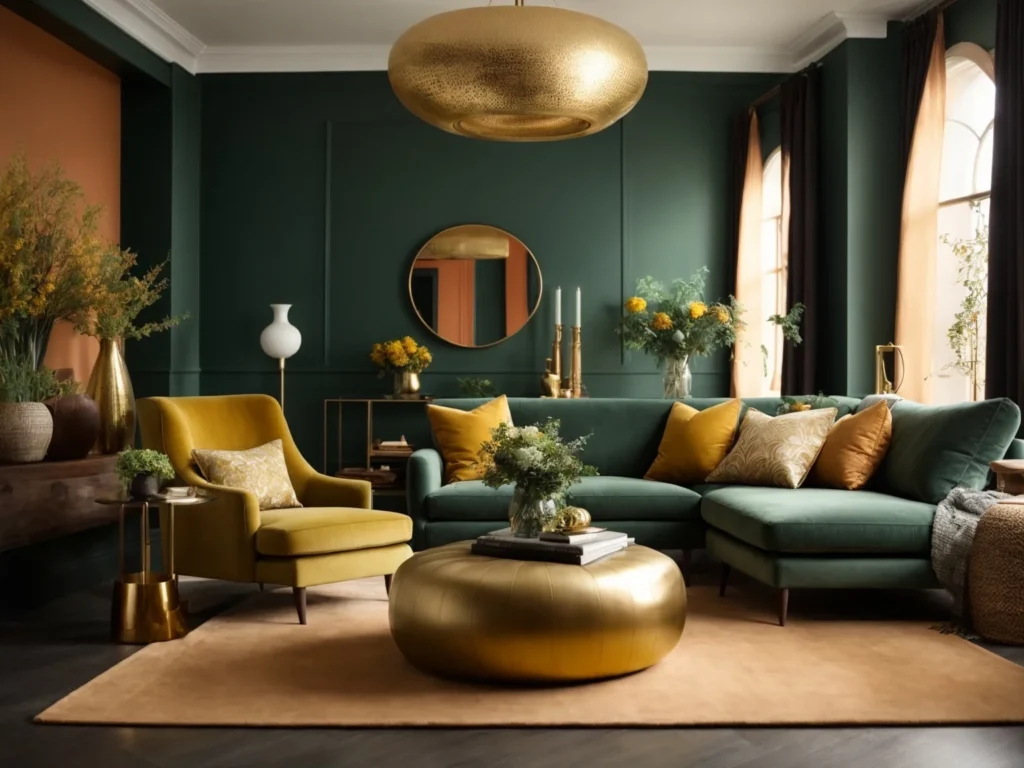 Popular paint colors to pair with dark green walls include:
Cream or antique white – Provides contrast and keeps the space feeling bright and airy
Light blue-gray – A calming neutral that lets the green pop
Navy – Striking and dramatic but still sophisticated
Charcoal – Heightens the moody, cozy atmosphere
Terracotta – Warms up the space and ties in nature themes
Metallic gold or brass – Glamorous and elegant
Any shade with yellow undertones will coordinate well with green to create a harmonious, inviting living room.
Summary
Dark green is having a major moment in interior design. The color manages to feel fresh and modern yet timeless. It brings natural beauty and tranquility into a space while providing enough saturation to feel exciting and envelope-pushing. From versatile paint like Mylands Olive Stone Emulsion to lifestyle inspiration from blogs like Bigger Than the Three of Us, there are endless possibilities to explore with dramatic green decor. Just make sure to utilize expert tips from trusted sources like The Spruce and Good Housekeeping as you put your spin on this rich, welcoming shade. Soon you'll have a living room that feels straight out of a magazine.