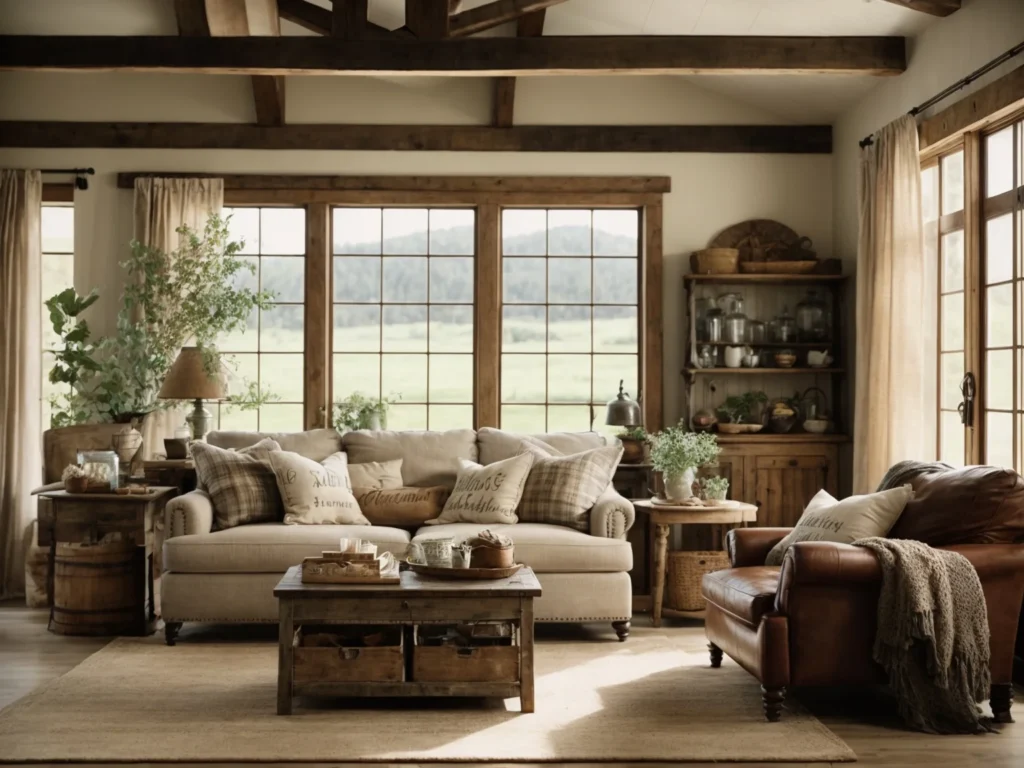 The rustic farmhouse style brings the simplicity and charm of pastoral living into the modern home. With its emphasis on natural materials, vintage finds, and cozy textures, a rustic farmhouse living room evokes a feeling of comfort and nostalgia. This enduringly popular design style blends traditional farmhouse elements with a rugged, rural charm.
Rustic Farmhouse Style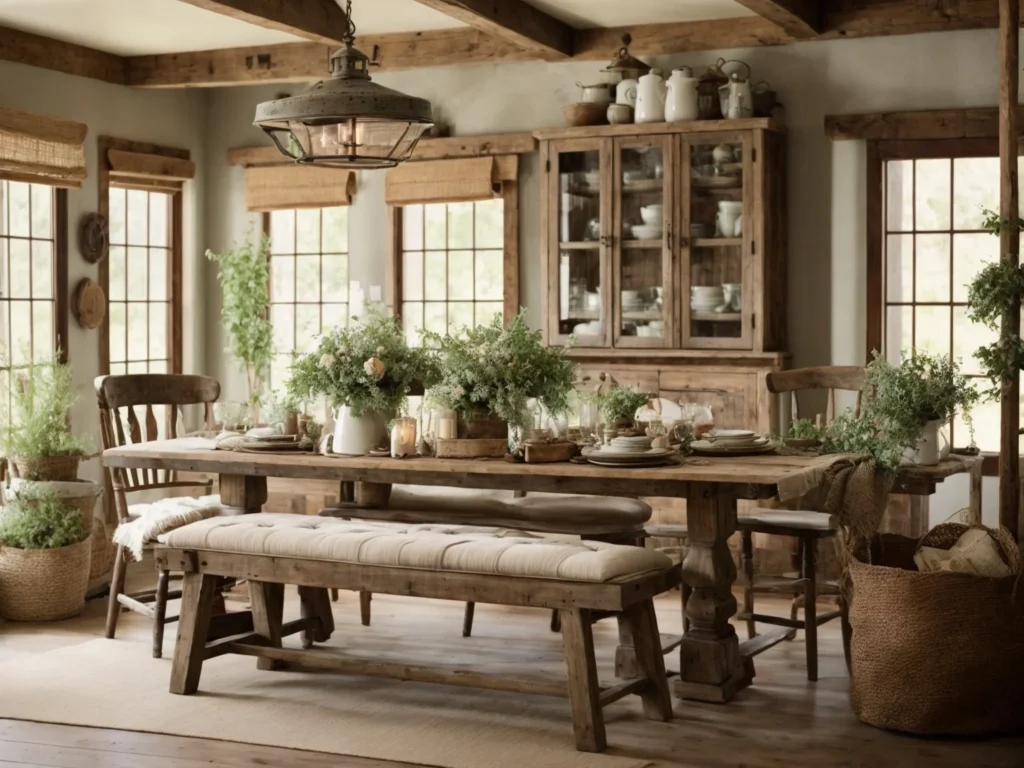 The rustic farmhouse look beautifully captures the essence of vintage Americana. It celebrates imperfections and cherishes timeworn items that display a rich patina. Unlike stark, modern interiors, the rustic farmhouse revels in warmth, nostalgia, and character. This welcoming style instantly makes guests feel at home.
At its core, rustic farmhouse decor utilizes natural, organic materials and a neutral color palette. The look brings nature indoors through reclaimed wood, galvanized metal, burlap textiles, and abundant plants. Touches of charming distressing and antique finds add cozy vintage appeal. Rustic farmhouse interiors feel connected to the land and anchored in tradition.
This enduring style remains widely popular for its timeless appeal and emphasis on comfort. In a fast-paced digital era, the rustic farmhouse provides a soothing retreat. It strips away modern distractions and unnecessary embellishments to focus on simplicity, quality craftsmanship, and heritage. Creating a rustic farmhouse living room brings us back to simpler times when families gathered around a crackling fireplace in a cozy, welcoming home.
The Core Elements of Farmhouse Style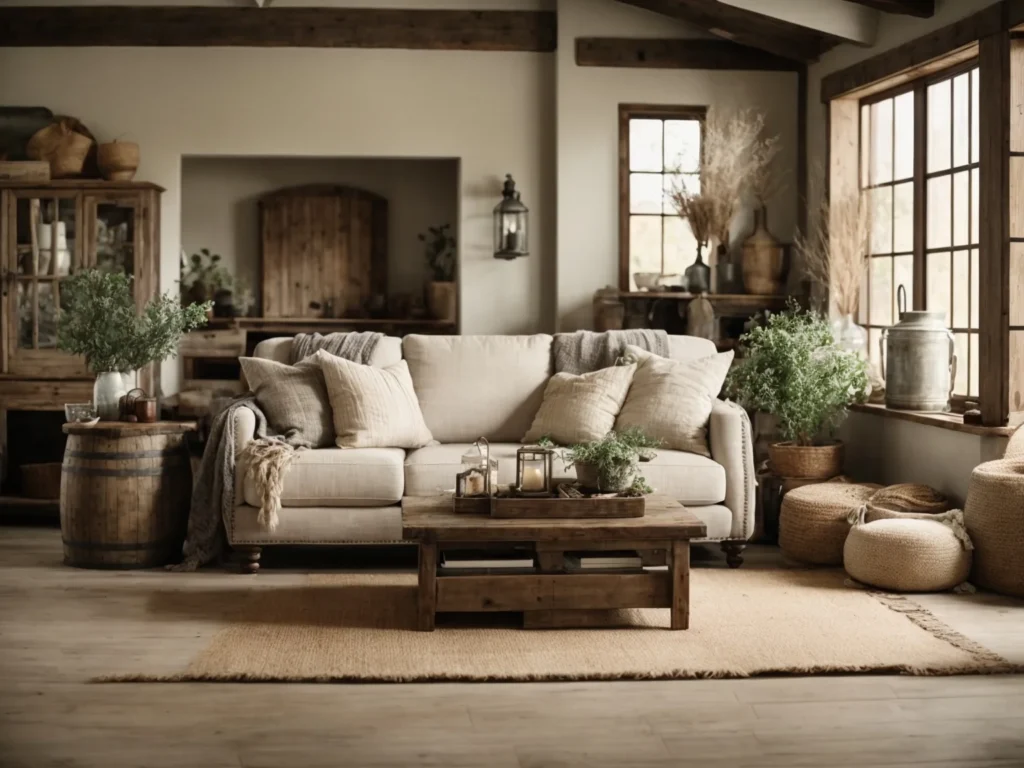 Certain key elements form the foundation of the farmhouse aesthetic. Keeping these core components in mind helps maintain the style's signature look and charm in a rustic living room design.
A Neutral Color Palette
A simple, muted color scheme sits at the heart of farmhouse style. Whites, creams, tans, and other soft earth tones emulate a sun-washed pastoral palette. These quiet, neutral backgrounds allow the textures, materials, and decorative accents to shine.
Crisp whites paired with warm wood tones create a quintessential farmhouse look. Off-whites like alabaster or ivory add subtle visual interest while remaining soft and neutral. Accent walls in deeper hues like navy, olive green, or charcoal inject more drama while retaining the style's muted essence.
Natural Materials
The farmhouse look finds beauty in imperfection and authenticity in raw materials from the land. Natural textures like wood, stone, metal, and woven fibers create a tactile, welcoming atmosphere.
Reclaimed wood with aged patina and rough-hewn beams add organic warmth. Natural woven fibers like jute and cotton in pillows, rugs, and baskets provide cozy textural contrast. Rustic touches like a stone fireplace or an earthy terracotta tile floor ground the space.
The farmhouse style celebrates artisanal craftsmanship and the patina of vintage materials. Selecting authentic furnishings and decor crafted from quality natural materials ensures an inviting, livable space.
Distressed and Vintage Decor
A charming distressing on furniture or decor immediately provides rustic farmhouse appeal. Weathered antique finds, timeworn leather and wood, and vintage accents capture the style's essence of age and worn beauty.
Search yard sales, antique stores, or your attic for unique vintage items like worn quilts, chipped china, or faded leather-bound books. Aged galvanized tin containers, chippy painted signs, and salvaged barnwood planks make charming accent pieces.
Distressing and antiquing new items provides an instant vintage look. Sand or paint edges and surfaces to mimic natural wear and tear signs. Incorporate tarnished metals, handmade ceramics, or engraved vintage jewelry to infuse age and tradition.
The Rustic Farmhouse Aesthetic
While farmhouse style provides the bones, incorporating a rustic twist amps up the cozy vintage vibe. Rustic elements add textural interest while emphasizing the beauty in imperfections. Here are some key ways to give a farmhouse living room a touch of rugged, rural charm.
Reclaimed Wood
Reclaimed or upcycled wood instantly provides authentic rustic appeal. Salvaged barn siding, floorboards, rafter beams, and furniture create worn natural textures full of character.
Whether painting, staining, or leaving the wood raw, opt for a distressed finish to embrace nicks, knots, stains, and imperfections. Use reclaimed wood for wall planks, ceiling beams, shelving, side tables, or statement furniture like a dining table or cabinet.
Exposed Beams and Brick
Exposing structural elements like wooden ceiling beams or interior brickwork adds vintage architectural charm. The organic shapes, aged wood, and rustic textures provide an irresistible farmhouse foundation.
Painted white beams pop against neutral walls, while stained wood accents matching floors or furniture. Exposed original or faux brick around a fireplace or accent wall adds raw, organic texture.
Wrought Iron and Galvanized Metal
Wrought iron and galvanized metals like tin or aluminum epitomize timeworn, handcrafted character. These materials develop a unique patina and rustic appeal when aged.
Incorporate galvanized tin containers, wrought iron light fixtures, vintage metal signs, or corrugated aluminum wall accents. Metal shelving, table legs, and industrial stools add an urban twist to rustic decor. The key is blending metal's industrial edge with cozy vintage softness.
Natural Textiles
Fabrics like cotton, wool, jute, and linen contrast rustically against wood, stone, and metal. Tactile pillows, throws, and upholstery bring in softer farmhouse textures.
Plaids, ticking stripes, and burlap add playful personality. Knitted blankets in natural hues and cozy woven rug accents enhance the welcoming atmosphere. Distressed leather and sheepskin add supple, timeworn contrast.
Modern Farmhouse vs. Rustic Farmhouse Style
The rise of modern farmhouse style provides a brighter, cleaner update to the more rugged original aesthetic. Blending the two looks creates a versatile, livable rustic living room. Understanding their distinctions helps strike the right balance.
Cleaner Lines and Silhouettes
Modern farmhouse opts for smoother finishes and refined silhouettes over heavily distressed wood and rough-hewn textures. Sleeker furnishings with squared legs and simple frames replace ornate carvings and turnings. Subtle weathered patina supersedes heavily aged rustic charm.
Incorporating a few sleeker modern-rustic furnishings creates balance within a vintage space. Metallic fixtures, woven chairs, and streamlined polished wood accents prevent rustic from becoming too heavy.
Black and White Color Contrasts
The rustic farmhouse heavily favors soft neutral and natural wood tones. Modern farmhouse intersperses sharp black and crisp white.
Painted shiplap, bright white trim, and lacquered black accents provide clean contrast to warm wood and aged patina. Black window frames, fireplace screens, and modern light fixtures pop against white walls.
Metal and Industrial Accents
While the traditional farmhouse focuses on wood, fabric, and stone; modern farmhouse embraces sleek metals. Stainless steel, black iron, brass, and chrome provide eye-catching contrast in fixtures, decor accents, legs, and hardware.
Aged bronze, copper, gold, and silver are metallic neutrals with a vintage edge. Industrial stools and shelving add subtle edge. Using metal sparingly prevents sterility.
Farmhouse Living Room Furniture Must-Haves
Furniture forms the foundation of any cohesive living room decor scheme. Choose versatile rustic farmhouse staples as investment pieces, then incorporate charming vintage or handmade accents.
Upholstered Furniture with Nailheads
Comfortably upholstered sofas or chairs provide plush contrast to rustic textures. Traditional skirted silhouettes and rolled arms capture classic farmhouse charm. Opt for durable, family-friendly cotton, linen, or hemp over delicate fabrics.
Antiqued leather or woven rattan provide natural, organic contrast. Nailhead trim adds handcrafted personality and definition to any silhouette from sleek modern to overstuffed traditional.
Popular affordable brands like L.L.Bean and Pottery Barn offer timeless styles to suit budgets and design needs. Invest in quality construction for longevity.
Wood Furniture with Turnings and Distressing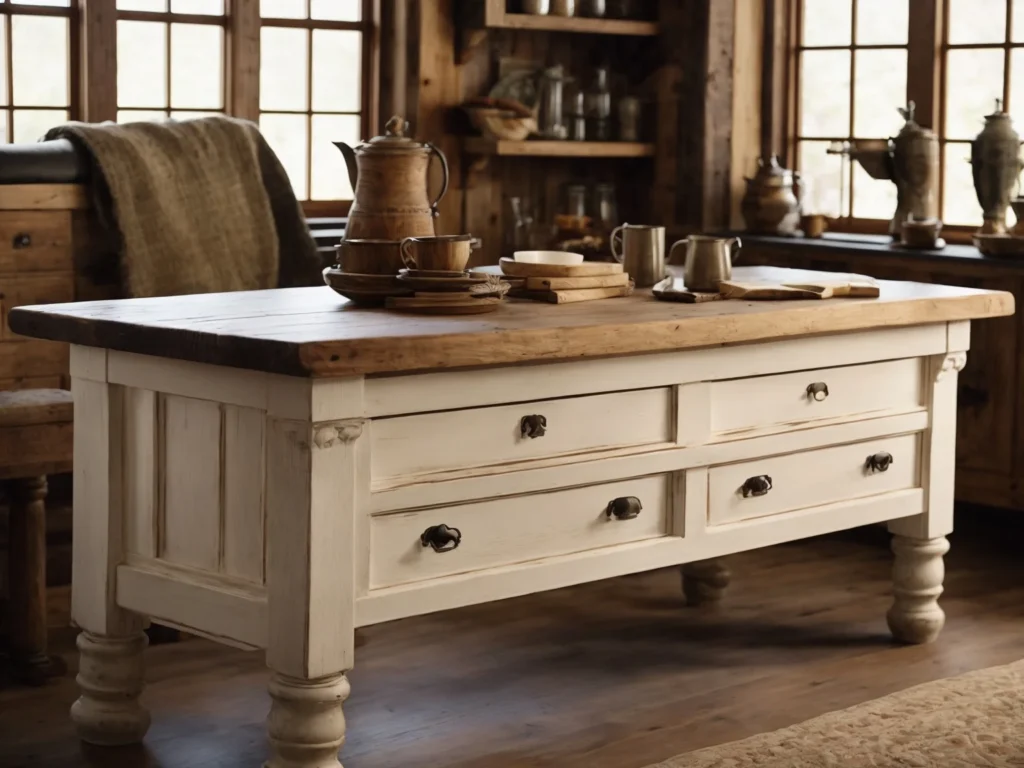 Wood furnishings like tables, shelving, cabinets, and beds form the backbone of the rugged farmhouse aesthetic. Turned legs, carvings, and distressed detailing add vintage character.
Salvaged and reclaimed wood offer ultimate rustic authenticity while supporting sustainability. Pine, oak, and fir provide affordable lumber options in various finishes from raw to whitewashed. Consider handcrafted Amish furniture for heirloom quality.
When choosing new rustic wood furniture, inspect joinery quality and opt for solid kiln-dried hardwoods over veneers. Seek out pieces with:
Hand-rubbed finishes that accentuate natural grain
Visible dovetail joinery showing quality craftsmanship
Turned legs, carved aprons, or decorative cutouts
Distressed detailing like rasping or wormholes
Popular and affordable farmhouse wood furniture brands include Homestead, Wildwood, and Montana Woodworks. Vintage finds offer budget-friendly character.
Multi-Purpose Coffee and Console Tables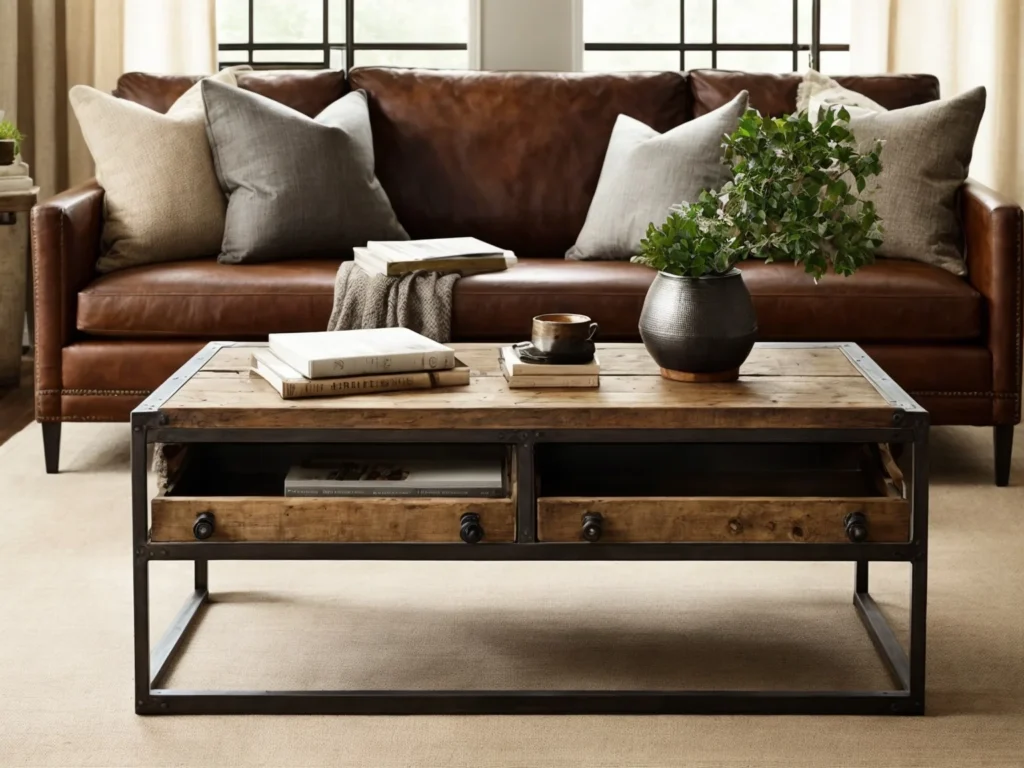 Every living room needs versatile surface space. Coffee tables anchor seating areas while consoles offer display space and storage.
Reclaimed wood, antique finds, or hand-crafted pieces make exceptional rustic statements. Repurposed vintage trunks, crates, or barnwood planks inject personality.
Wrought iron bases, hand-forged brackets, and galvanized metal accents add industrial edge. Look for tables with shelves, drawers, or baskets to maximize organization and surface space.
Console tables behind sofas provide display space for lamps, plants, and decor while hiding cords. Narrow entry tables offer drop zone storage. Nesting tables make flexible additions.
Creating Rustic Farmhouse Style on a Budget
Achieving the rustic farmhouse look does not require an expansive home decor budget. From thrifty upcycling to affordable accents, these tips help craft a cozy space while saving money.
Shop Yard Sales, Thrift Stores, and Salvage Yards
Secondhand shopping offers endless possibilities for uncovering unique vintage and antique finds. Seek out character-rich items like chipped crockery, worn quilts, distressed furniture, and repurposed crates or signage.
Dated finds gain new rustic life with sanding, paint, or new hardware. Take the time to comb through thrift stores, yard sales, auctions, flea markets, and architectural salvage yards to discover hidden gems.
Look to Affordable Natural Textiles
Burlap, cotton, jute, and linen offer budget-friendly ways to incorporate farmhouse fabrics. Use neutral jute or seagrass rugs rather than pricier wool.
Craft pillows or poufs from discount burlap bags stuffed with polyfill. Choose inexpensive natural cotton throws and blankets in classic plaids, stripes, or checks over cashmere or mohair.
Embrace the Power of Paint
A fresh coat of paint provides an instant farmhouse transformation for tired furnishings, walls, floors, and accessories. Bright white, soft cream, light blue, and cheery red evoke classic Americana charm.
Chalk paint lets you achieve the distressed farmhouse look without sanding. Use painter's tape, stencils, or stamps to add personality to wood surfaces. Painted faux beams, brick, and shiplap infuse character.
Display Vintage Books
Books lend a collected, well-loved feel to shelves and tables. Seek out classic novels, antique collections, and vintage cookbooks to create literary decor.
Leather-bound classics needn't be rare first editions. Visit used bookstores, yard sales, flea markets, or online auctions to curate an affordable library full of rustic charm.
Prioritize Statement Lighting
Big design impact comes from selecting showstopping rustic lighting fixtures. Vintage pendant lights, industrial metal lamps, woven pendants, and galvanized fixtures make affordable focal points.
Mix bulbs to create warm ambiance. Dimmer switches allow adjustable mood lighting. Layer table and floor lamps to provide flexibility. Quality lighting elevates any space.
Maximize Multifunctional Furnishings
Seek furniture that serves multiple purposes and replaces the need for separate pieces. Daybeds pull double-duty as sofas. Storage ottomans replace coffee tables. Cabinetry suits both display and concealed storage.
Multifunctional furnishings maximize valuable space while minimizing cost. Benches offer seating and shoe storage. Nesting tables provide flexible surfaces. Cubbies house books, blankets, and baskets.
Rustic Farmhouse Living Room Wall and Decor Ideas
The right wall finishes and decor selections help transform a space into a warm, welcoming rustic retreat. Creative treatments and carefully curated accents inject cozy farmhouse personality.
Wood Plank Walls and Shiplap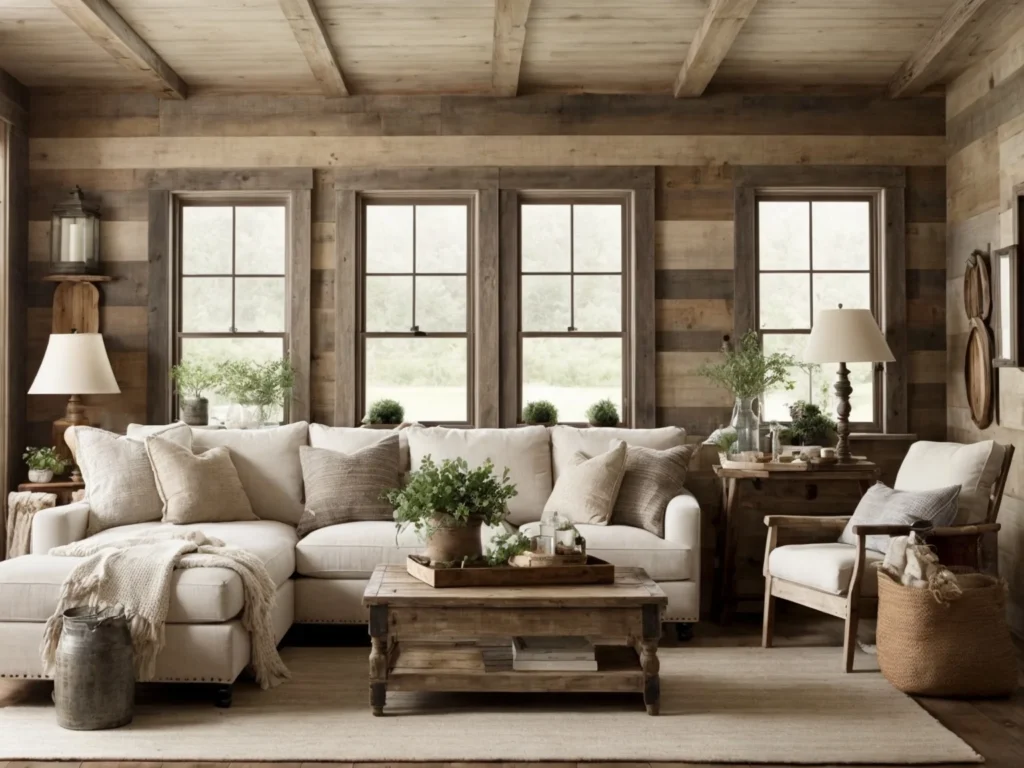 Wood-paneled walls instantly evoke rustic farmhouse character. Salvaged barnwood or reclaimed fence boards make charming accents. New pine, cedar, or oak planks create affordable wood walls.
Opt for faux planks using wallpaper, peel-and-stick, or snap-together panels for quick installation without nail holes. Whitewashed and natural gray variations add visual depth.
Crisp white shiplap paneling provides clean contrast to wood floors and beams. Paint panels, trim, and molding for a refined country look. Mix wood and shiplap boards for added dimension.
Exposed Brick Accent Walls
Rough exposed interior brick makes an organic rustic statement in historic homes or new spaces. Whitewash brick for a cottage feel or leave the original red and gray tones untouched.
Incorporate reclaimed salvaged bricks or faux panels for the textural look without costly masonry work. A charming brick fireplace creates the ultimate farmhouse anchor.
Hanging Plants and Woven Baskets
Incorporating organic greenery and handcrafted textural accents creates a living rustic space. Hang trailing vines, air plants, or wreaths in macrame hangers. Display succulents and potted herbs on the mantel or shelves.
Handwoven baskets in natural fibers make charming wall accents for greenery or candles. Grouped gallery-style, they create cozy ledges. Include a classic farmhouse ladder for additional visual interest.
Rustic Wall Art and Decor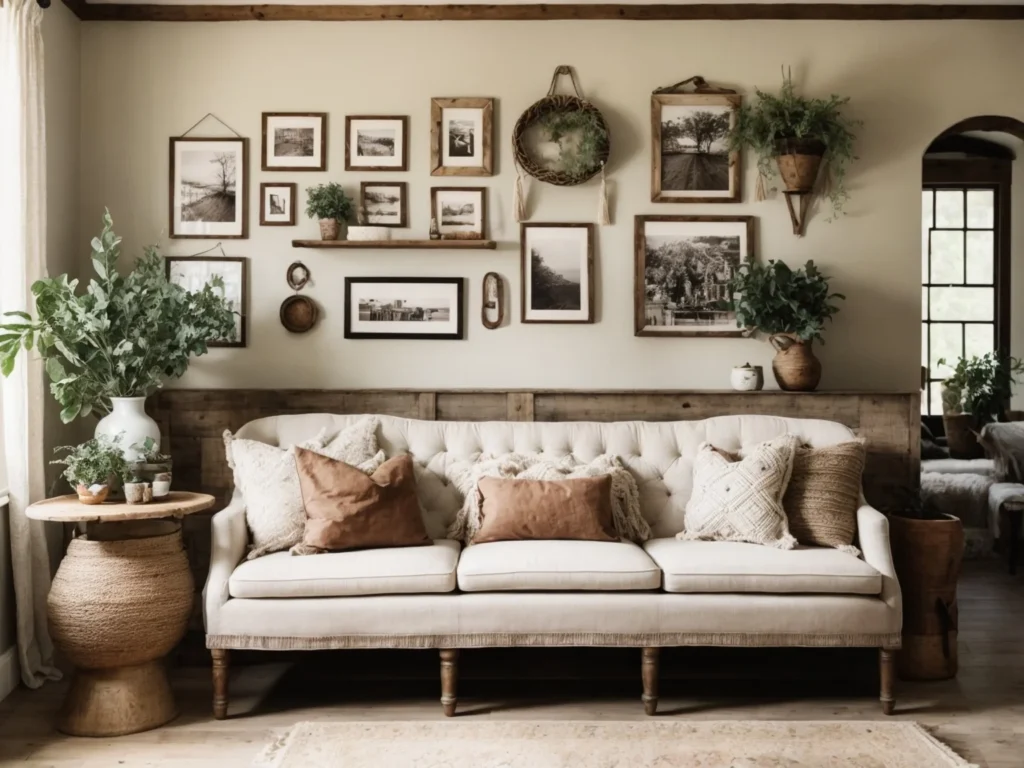 Make blank walls come alive with meaningful rustic decor. Framed botanical prints, vintage signage, and black-and-white family photos capture rural heritage. Floating shelves lined with collected antiques create vignettes.
An oversized rustic mirror expands the space while reflecting natural light. Handcrafted wood carvings, macrame wall hangings, and threaded embroidery hoops provide textural interest.
Practical Rustic Farmhouse Living Room Arrangement Tips
A rustic living room's furniture layout and spacing impacts aesthetics and function. Follow these tried-and-true tips for creating a stylish, welcoming, and practical farmhouse space.
Promote Natural Conversation
Arrange seating to promote socializing and conversation. Face chairs toward the fireplace or anchor furniture around a large coffee table. Floating furniture blocks traffic flow and divides spaces.
Place sofas across from wingback chairs or at right angles rather than lining them along the walls. Conversational clusters foster interaction and bring furniture into the room.
Coffee Table Anchors the Space
A sizable coffee table is the central anchor and focal point in living room seating arrangements. Rectangular, square, or oval shapes make smart use of space.
Look for a substantial wood or mixed media table that can withstand daily use. Include storage like baskets, shelves, and drawers to reduce clutter. Leave plenty of leg room around the table.
Incorporate Layers of Cozy Lighting
Proper lighting transforms a rustic living room from cave-like to cozy. Incorporate adjustable ambient lighting, task lighting, and accent lighting for flexibility.
Ambient fixtures like chandeliers and overhead pendants illuminate the entire space. Task and accent lamps provide directional brightness for sofas, reading nooks, and display surfaces. Dimmer switches allow customizable light levels.
Make the Most of Small Spaces
Avoid oversized furniture that overwhelms compact rooms. Narrow tuxedo sofas, apartment-sized recliners, and dainty occasional chairs maximize small square footage.
Multifunctional pieces like storage ottomans and nesting tables prevent a cluttered look. Suspended shelves, slim rolling carts, and wall-mounted ledges offer additional surface space. A few oversized rustic elements, like a cabinet, anchor the space.
Is Rustic Farmhouse Still In Style?
The rustic farmhouse look shows no signs of fading. Its timeless emphasis on comfort, quality craftsmanship, and natural materials remains appealing across generations of varying tastes.
Unlike fleeting trends, rustic farmhouse classics represent furniture and decor built to last through everyday wear and tear. As wood, leather, and metals develop patina, these sturdy investment pieces improve with age.
The welcoming, nostalgic style at its heart provides a soothing retreat from modern chaos. As life increasingly moves faster, the farmhouse remains a haven. Clever distressed accents and vintage infusions keep the style fresh and current.
Rustic farmhouse endures by celebrating heritage, simplicity, and craftsmanship. This look garners loyalty for its focus on family, comfort, and artisanal appeal. Farmhouse style will always be in vogue for those desiring a cozy, character-filled home. Its timeless charm and integrity remain rooted in tradition.
Crafting the Perfect Rustic Farmhouse Living Room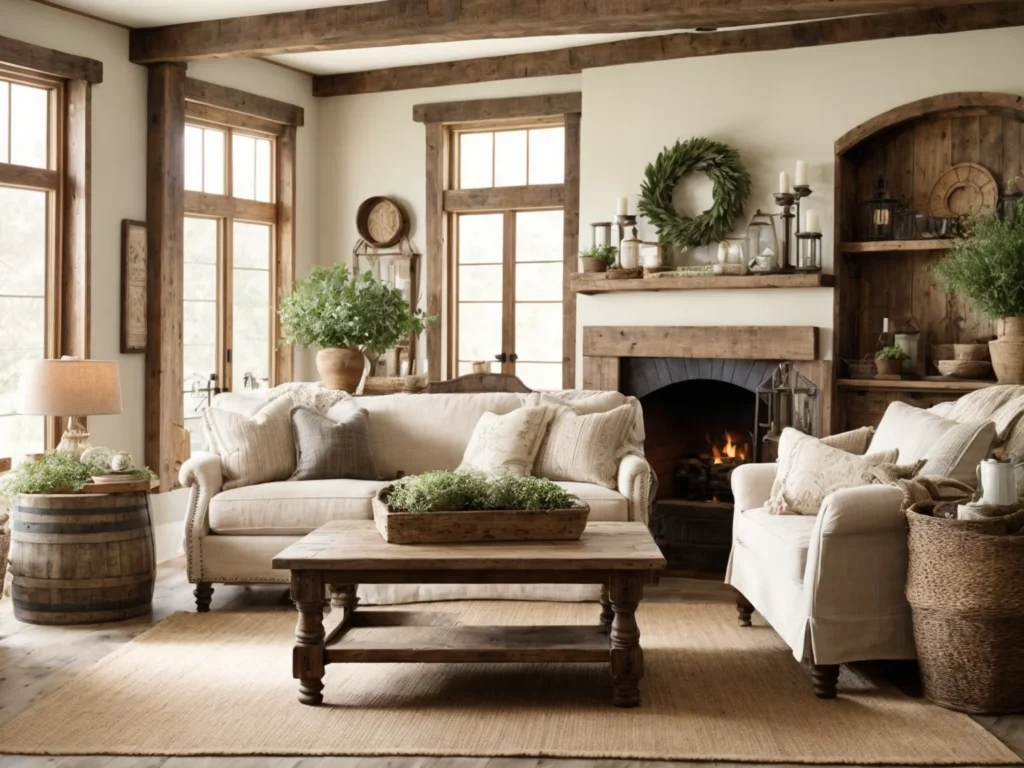 Creating a warm, welcoming rustic farmhouse living room brings cozy vintage style home. Begin by embracing the core elements of farmhouse decor- a neutral palette, natural materials, and distressed character. Incorporate reclaimed wood, galvanized metals, exposed beams, and textural fabrics to establish rustic appeal.
Seek out quality wood furniture with turned legs, carvings, and hand-rubbed finishes for an authentic, lasting look. Affordable thrifted treasures, architectural salvage, and natural fiber textiles help achieve the vintage vibe on a budget.
Display collected antiques, classic novels, woven baskets, and rustic wall accents to add personality. Arrange furnishings to encourage conversation and add ample lighting for an inviting glow. The farmhouse living room offers a soothing retreat, grounded in heritage and showcasing the beauty of imperfection.
This enduring style brings families together in a welcoming home with cozy nostalgia. Simple vintage finds, handcrafted pieces, and timeworn woods create a space imbued with cherished character. Rustic farmhouse style celebrates comfort, craftsmanship, and authenticity, which foster meaningful spaces and memories to last a lifetime.