Rustic wood tables are experiencing a surge in popularity, bringing the raw, organic beauty of natural wood grains and textures into home dining spaces. With their knotty, distressed woods and uneven plank shapes, rustic tables offer a wonderful contrast to sleek, modern designs. They provide a cozy, lived-in feel that instantly warms up any room.
Rustic dining tables come in many shapes, sizes, and styles to fit different aesthetics. From farmhouse to industrial, classic to contemporary, a rustic wood table meets any taste. Custom options allow for fully personalized pieces made from reclaimed woods that showcase the wood's unique history and character. With the right styling, rustic wood tables can be incorporated into almost any home decor theme.
The Allure of Rustic Wood
The appeal of rustic wood comes from its organic, natural beauty. The knots, cracks, nail holes, uneven surfaces, and varied colors and grains of the wood give each piece a depth of character and make every table unique. Rustic tables showcase the wood in its raw form, without excessive sanding or processing to remove its natural markings. This creates pieces brimming with texture, charm, and a cozy vibe.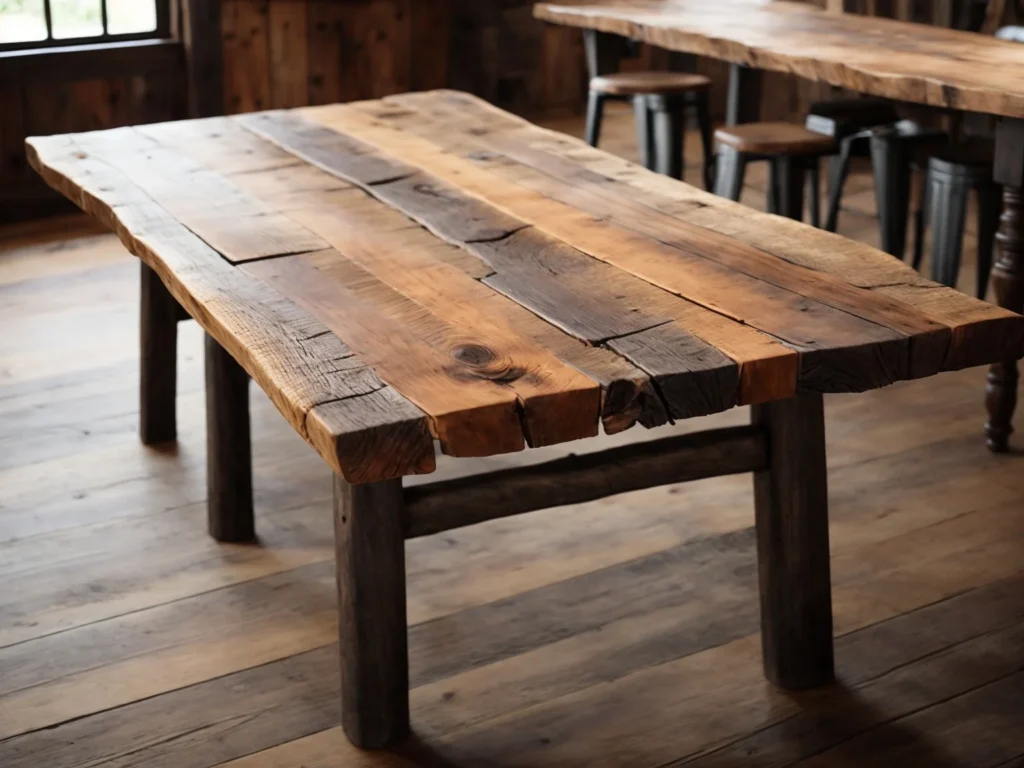 The imperfection of the wood speaks to the material's origins and gives it a sense of history. Many rustic tables incorporate reclaimed wood from old barns, fences, and factory floors. The dents, stains, and patina add to the wood's rustic charm and create conversation-starting pieces. The small imperfections make each table feel special, like a true original.
Beyond just aesthetics, rustic wood evokes an emotional response. The organic, eco-friendly materials provide a sense of warmth and comfort. A solid wood plank table feels substantial, grounded, and lasting. Rustic styles connect us to traditional craftsmanship and a simpler time. Their understated yet striking beauty fills a space with character.
Types of Wood for Rustic Tables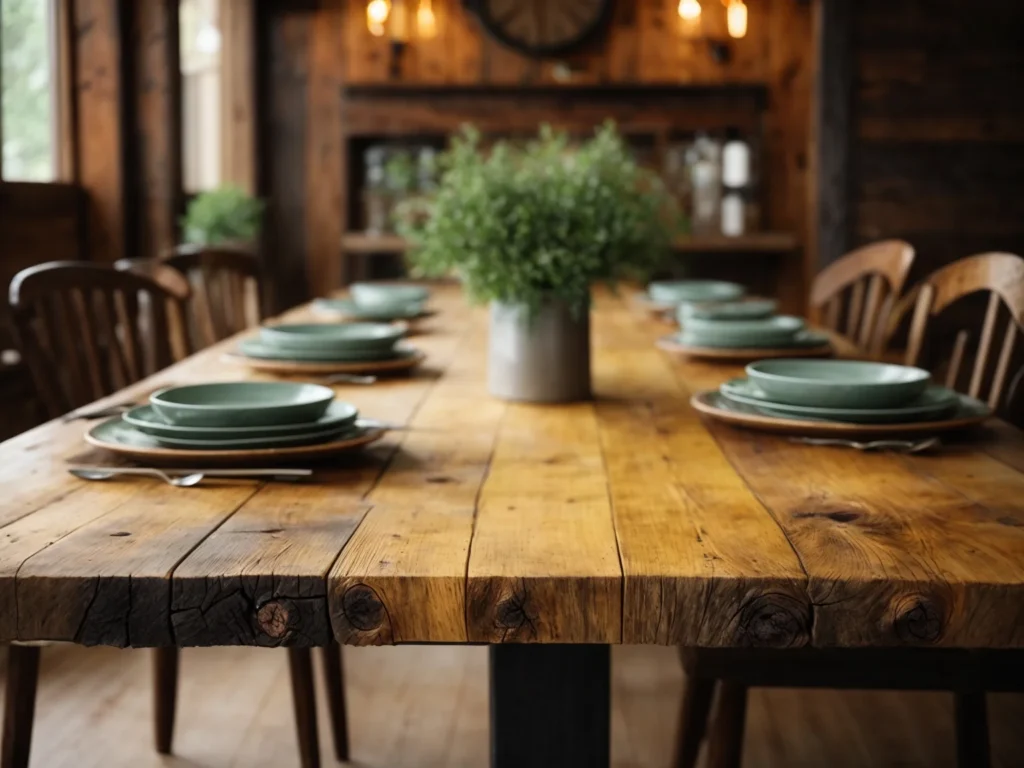 Rustic dining tables utilize a range of wood species, newly milled and reclaimed from previous uses. Here are some of the most popular types of wood used:
Pine – Affordable and widely available, pine offers rustic knots, grains, and yellow hues. New pine has a fresh, light appearance while reclaimed pine has more patina.
Oak – A classic choice, oak ranges from pale white to deep brown. Its prominent grains and solid durability make it perfect for farmhouse styles.
Maple – Hard Canadian maple displays attractive figuring and creamy hues. Its hardness makes an excellent table material.
Walnut – Prized for its rich chocolate colors and flowing grain patterns. American black walnut adds sophisticated rustic elegance.
Reclaimed Barnwood – Salvaged from old barns and buildings, barnwood has weathered surfaces that showcase its age. Each piece tells the wood's unique story.
Recycled Scrap Wood – Made by repurposing scrap wood, often from old furniture, into new tables. Mixes varied wood types for eclectic combinations.
Distressed Wood – New wood intentionally distressed through wire brushing or chiseling to mimic aged, timeworn character. It adds texture and charm.
Live Edge Wood – Tables incorporating the design's natural, irregular tree edge. Highlights unique organic shapes and bark textures.
Eucalyptus – Fast-growing eucalyptus has an interlocking grain and ranges from pale pink to reddish-brown hues for visual interest.
The type of wood affects the table's overall look and price point but all share that coveted rustic aesthetic. Many tables combine different woods for contrasting grains, colors, and feels.
Styles and Shapes for Any Decor
Rustic wood tables come in diverse shapes, sizes, and designs to match any decor. Here are some of the most popular styles:
Farmhouse – Classic farmhouse styles have turned leg bases and pedestals. Often painted or distressed for a timeworn look.
Modern Farmhouse – Combines traditional farmhouse shapes with cleaner lines and mixed materials for a contemporary vibe.
Industrial – With iron pipe or metal bar bases and original patinas. Ideal for urban lofts and modern spaces.
Lodge – Massive timbers and traditional cabin designs. Perfect for bringing cozy, wilderness vibes to a home.
Live Edge – Showcasing the organic contours and texture of the raw wood edge. Makes a striking natural statement.
Reclaimed Wood – Salvaged wood planks or barn siding repurposed into tables full of patina and history.
Tree Trunk – Utilizing whole tree trunk cross-sections as circular tables. Natural beauty embodied.
Custom Designs – Bespoke tables handmade to client specifications for a fully personalized centerpiece.
Rustic wood tables also come in many shapes beyond just rectangular. Some popular options include:
Round – Warm and inviting for smaller spaces. Available as both pedestal and leg tables.
Oval – Elegant oval shapes work well in longer rooms. Offer more seating capacity.
Square – Crisp, geometric squares and cubes lend bold style. Often mixed with metal bases.
Octagons and Hexagons – For a change from typical shapes, octagonal or hexagonal tables add visual punch.
Trestle – Long trestle tables are perfect for large gatherings and bench seating. Timeless rustic design.
Custom Shapes – Create your custom table shape with an artisan woodworker.
With so many shapes, sizes, and looks available, rustic tables can be incorporated into any decorating plan and tailored exactly to each space.
Customization for Personalized Rustic Style
One of the best aspects of rustic wood tables is the sheer variety of customization options. With so many styles and materials, you can create a unique piece tailored specifically for your home.
Size – Choose the perfect table dimensions for your space. Standard sizes are available or fully customized.
Wood Type – Select wood species based on color, grain, and overall look you want. Mix multiple woods for contrast.
Wood Finish – Keep the natural appearance or choose stains and paints to get your desired hues. Distressed finishes add character.
Base Style – From chunky wood legs to sleek metal hairpin options, the base dramatically affects the look.
Added Details – Consider unique accents like inlays, carvings, or mixed materials to make it your own.
Live Edge – Incorporate a live edge or bark inclusions along the table surface or edges for organic drama.
Reclaimed Materials – Use reclaimed barn boards or factory flooring for the ultimate in one-of-a-kind character.
Handcrafted Production – Work with artisan woodworkers for a completely bespoke, handmade table perfect for you.
With so many customization ways, creating the ideal rustic-chic dining centerpiece for your home is easy. Let your style shine through your design choices.
Costs: Budget Buys to Luxury Investments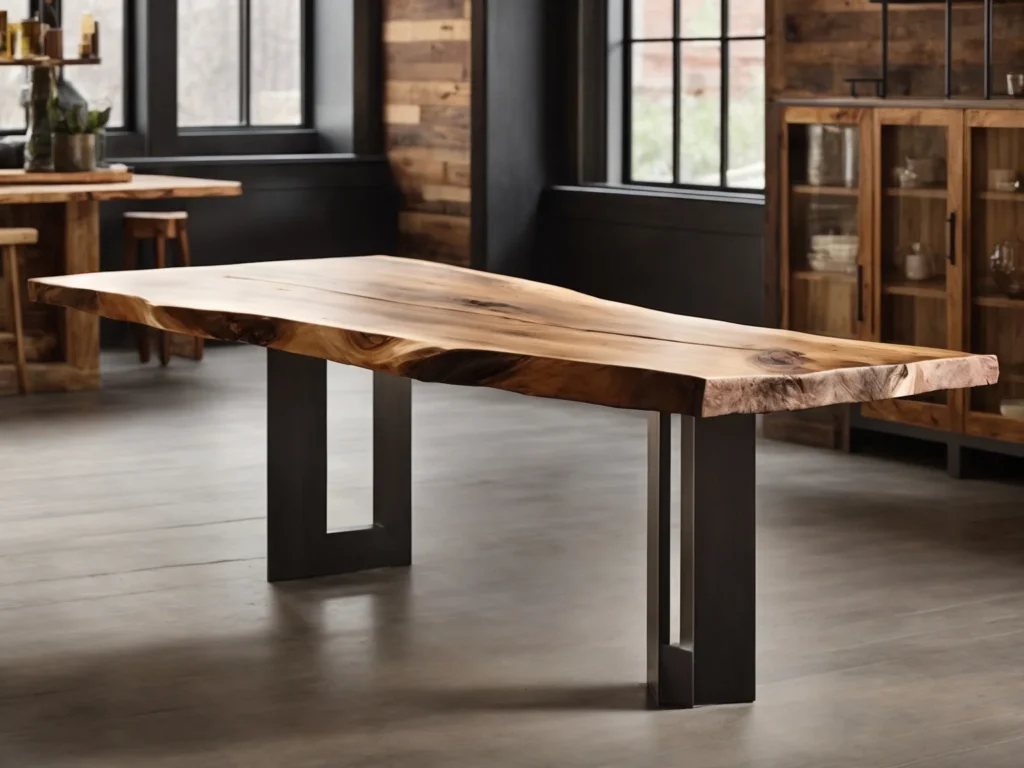 Rustic wood dining tables are available at various prices, from budget-friendly to high-end luxury investments. What affects the overall cost? Here are some of the key factors:
Wood Type – Common wood like pine is more affordable than premium wood like walnut or exotic imported species.
New vs. Reclaimed – Salvaged barnwoods and antiques with patinas carry higher price tags than new milled wood planks.
Simplicity of Design – Simple slab or plank tables are generally cheaper than intricate carpentry details.
Mass Produced vs. Handcrafted – Manufactured furniture is less expensive than handmade artisanal quality.
Customization Extent – Unique details, sizes, inlays, etc. increase costs for one-of-a-kind pieces.
Small Businesses vs. Big Retailers – Independent woodworkers charge higher prices than large mass retailers.
With all these variables, here is an approximate breakdown for what to budget for a rustic wood dining table:
Basic budget tables – $200 to $800 for new mass-produced pines and simple designs from big retailers.
Mid-range furniture store options – $800 to $2,500 for better woods and more detailing from establishments like Crate & Barrel.
High-end specialty retailers – $2,500 to $5,000+ for premium reclaimed woods and unique designs from Restoration Hardware.
Bespoke custom furniture – $5,000 to $15,000+ for one-of-a-kind designs from artisan woodworkers using exotic woods and extreme detailing.
Designer vintage – $10,000+ for truly rare antiques and name brand pedigree.
For those on a tight budget and abundant quality mass-produced rustic designs make achieving this style accessible. For big investments in heirloom-quality pieces, custom furniture with premium details and woods delivers lasting value, turning your dining table into a focal conversation piece for generations. With such a vast range, you can achieve any rustic style look at price points tailored to your budget.
Where to Shop for Quality Rustic Tables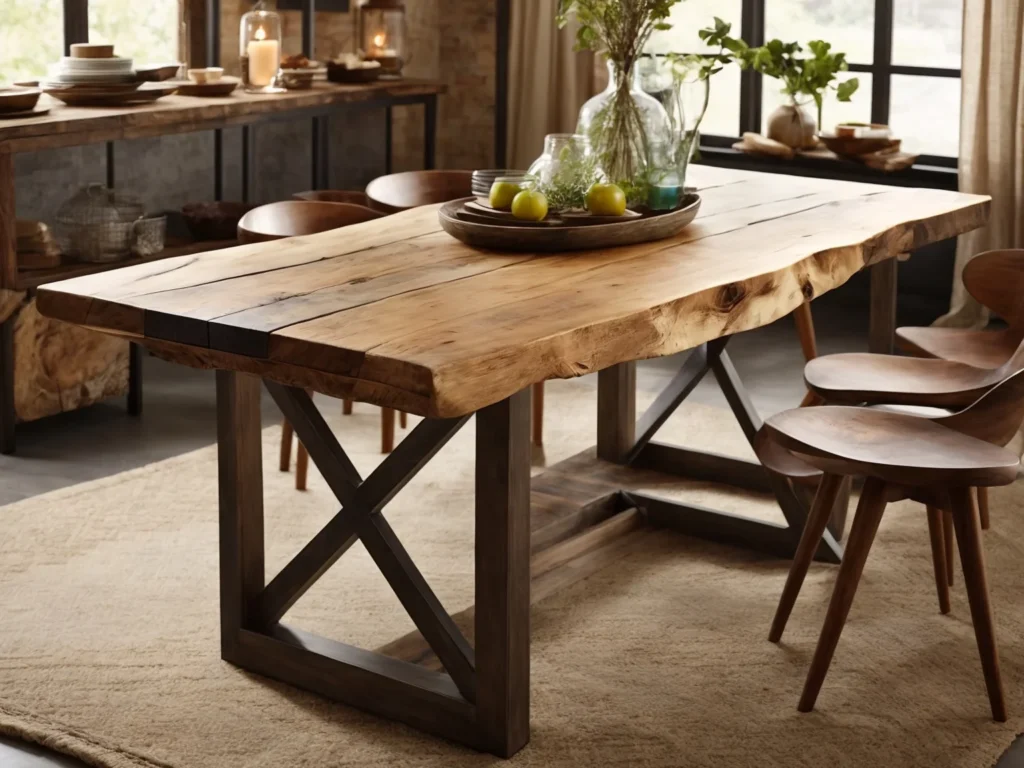 Fortunately, rustic dining tables have become widely available from various retailers, making finding your perfect table easier than ever. Here are some top places to shop:
West Elm – Offers a nice selection of farmhouse and modern rustic tables at reasonable mid-range price points. Mix of shapes and wood tones.
Crate & Barrel – From reclaimed wood to smooth cement bases, Crate and Barrel has contemporary rustic dining tables to suit any style.
Pottery Barn – Choose from various farmhouse, industrial, and recycled wood dining tables. Multiple sizes.
World Market – Affordable pricing for casual reclaimed plank tables. Lots of rectangular and round pedestal options perfect for kitchens.
Amazon – Searching Amazon reveals numerous rustic-style tables at budget-friendly prices under $500. Be sure to read reviews.
Anthropologie – Known for boho and eclectic furnishings, Anthropologie offers artisan crafted live edge and modern rustic tables.
Etsy – To buy directly from woodworkers, Etsy offers custom handmade tables in endless rustic designs, materials, and detailing.
Redford House – High-end custom furniture designer with options for farmhouse, Arts & Crafts, and Scandinavian rustic styles.
Grain Woodworking – Custom studio crafting bespoke reclaimed wood tables with unique details like butterfly joints and hand-forged bases.
ModFarm – Specializing in midcentury and modern furniture, ModFarm has select rustic and reclaimed wood dining tables.
This selection highlights the diversity of retailers carrying quality rustic wood tables suited for all budgets and tastes. With the popularity of rustic decor, your options abound online and in stores.
Design Styles that Welcome Rustic Tables
The flexibility of rustic wood dining tables lets them seamlessly blend into various interior design aesthetics. Their textural, eco-friendly materials beautifully complement many styles: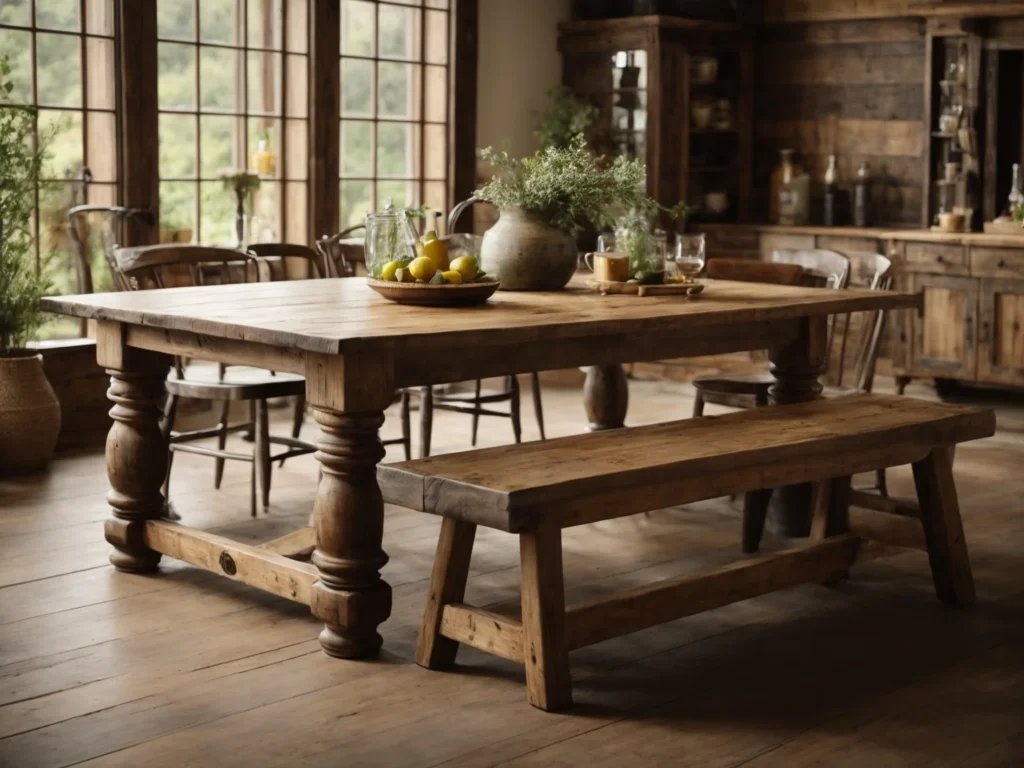 Farmhouse – Rustic wood tables are a quintessential farmhouse staple. choosing distressed finishes and turned legs to continue the traditional motifs.
Cottage – Cottage decor embraces rustic's cozy charm. Painted finishes in light hues keep the look breezy and beachy.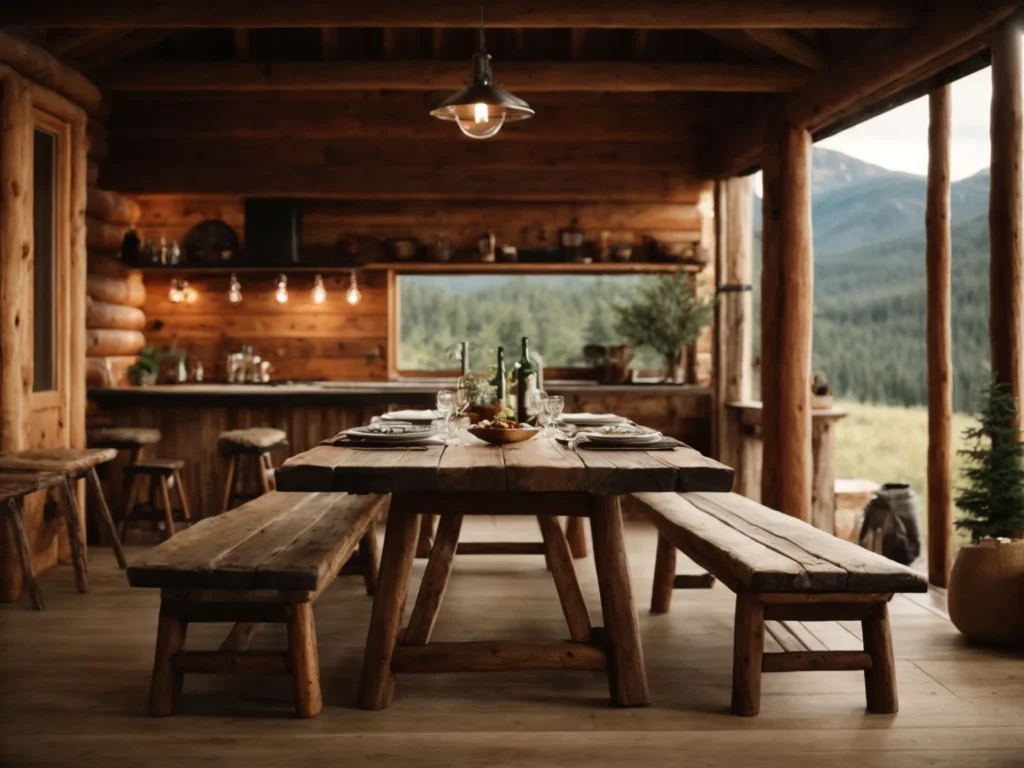 Cabin – Big bold solid wood planks are at home in a cozy cabin or lodge, matching the wilderness surroundings.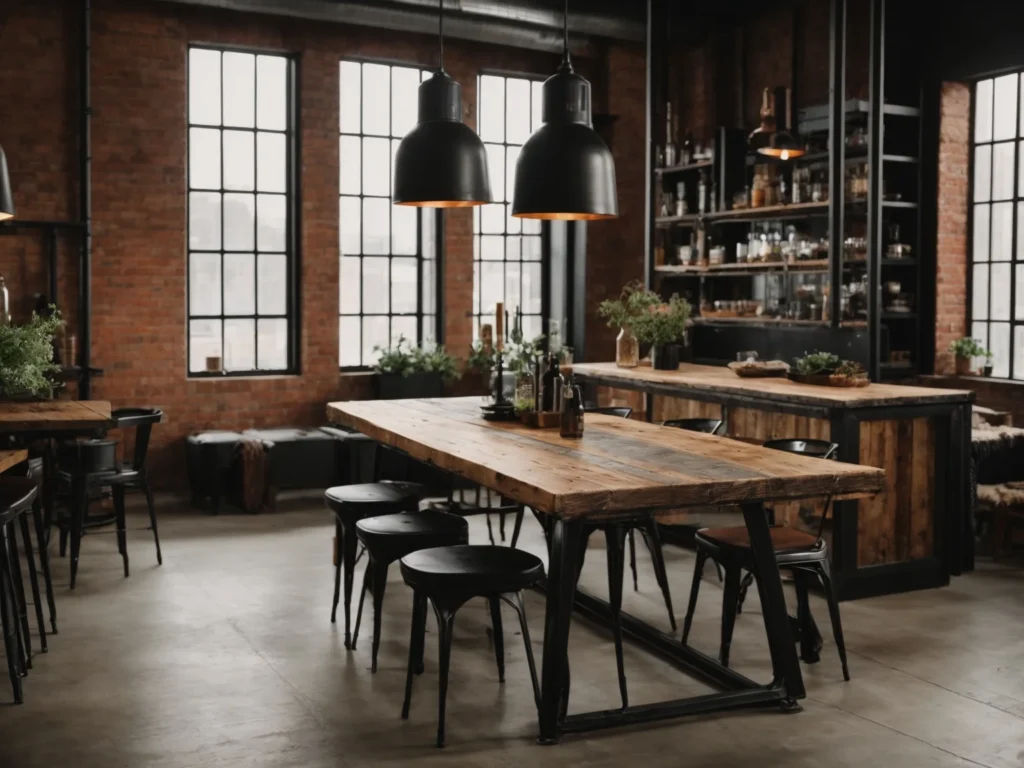 Industrial – Mixing reclaimed wood with black metal creates an on-trend industrial vibe, perfect for urban lofts.
Eclectic – Incorporate rustic tables into bohemian and eclectic spaces for an earthy, collected look. Feel free to mismatch with other furnishings.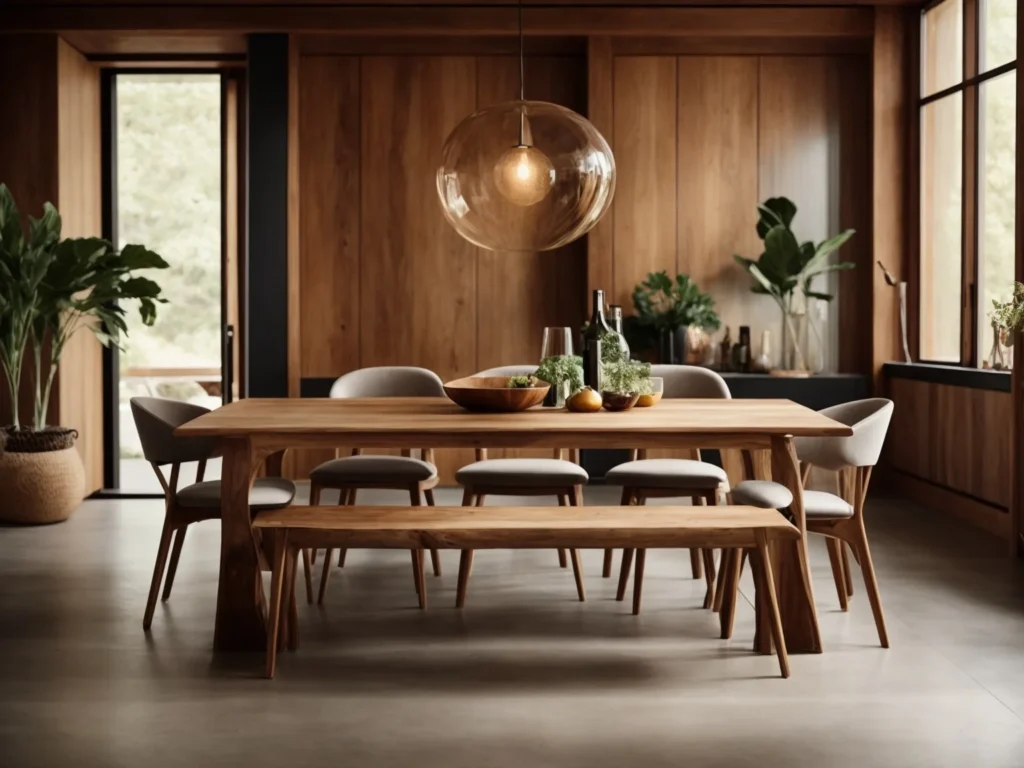 Modern – The rich grain of natural wood contrasts beautifully with sleek contemporary accents. A warm touch in modernism.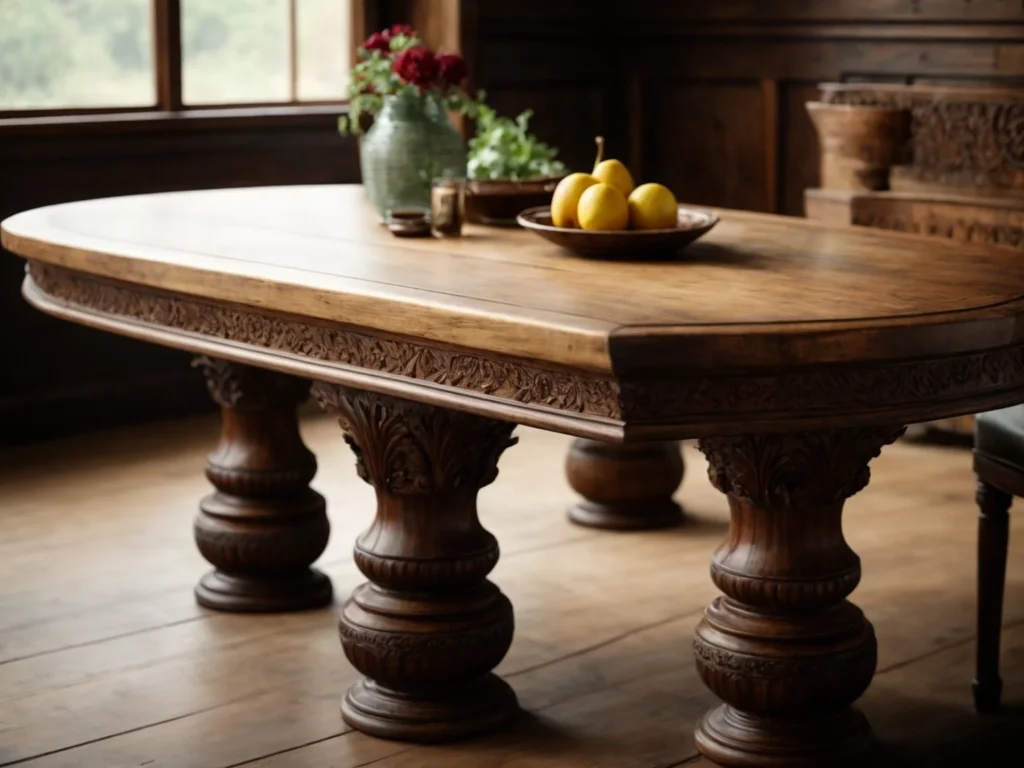 Traditional – Carve ornamental details into traditional rustic wood table bases and finishes for old-world appeal.
Contemporary – Soft shaped live edge slabs and refined metal bases lend rustic tables a polished contemporary edge.
Shabby Chic – Painted finishes in soft hues over distressed reclaimed wood embodies shabby chic's worn yet elegant vibe.
Rustic style transcends design labels, fitting seamlessly into spaces from ultra-modern to classically ornate. Let it bring warmth and texture to any room.
Tips for Styling Your Rustic Dining Space
To pull together a cohesive rustic dining space, incorporate these styling techniques:
Mix natural and industrial elements like iron, jute, greenery, and stone for textural contrast.
Add charm with candlestick holders, woven baskets, and floral centerpieces in vintage bottles or jugs.
Layer antique area rugs under the table to introduce faded colors and patterns.
Contrast the heavy table with light windsor or woven rattan chairs for airiness.
Hang a simple iron or raw wood chandelier low over the table for intimacy.
Display collected vintage silverware or ceramic dinnerware for a homey touch.
Anchor the space with an antique cabinet or buffet table for storage and visual depth.
Complement the table with rustic wood bench seating or farmhouse ladderback chairs.
Sheer linen curtains and woven shades filter in natural light for coziness.
Add equestrian touches like horseshoe accents and saddle leather chair pads.
Whitewashed brick or aged wood plank walls make the perfect rustic backdrop.
Blending natural materials like jute, greenery, wood, and stone with vintage details connects the entire space for harmonious design. Let each element complement your showstopping rustic wood dining table.
Rustic Wood Tables With Complementing Chairs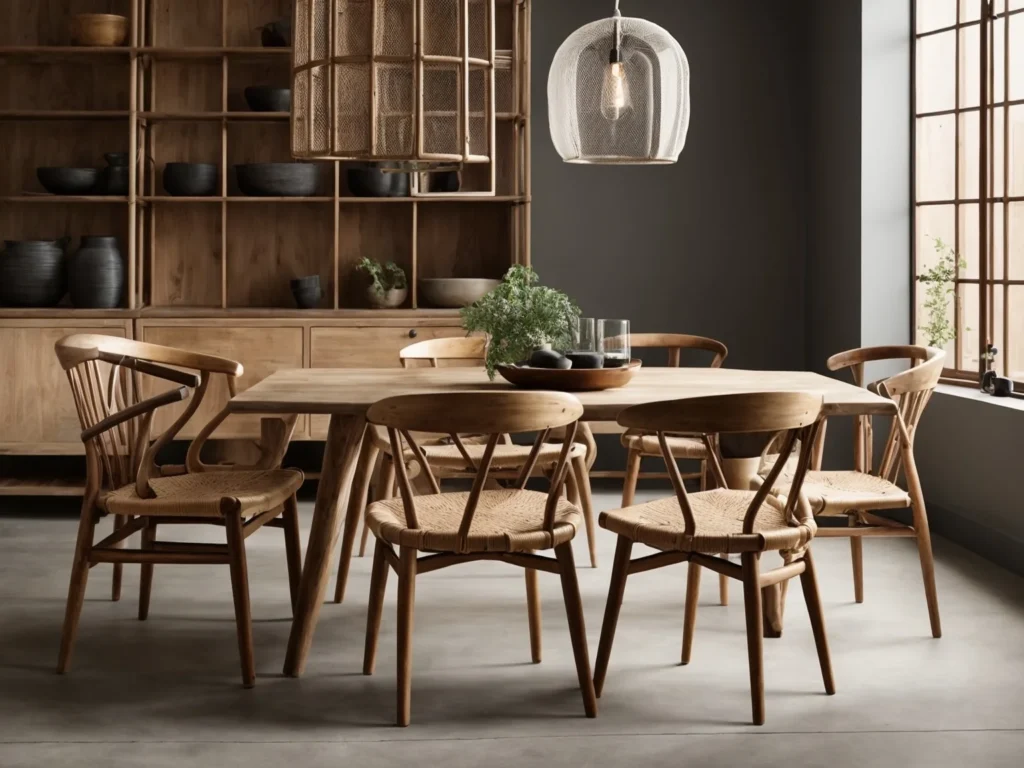 An equally important decision alongside choosing the perfect rustic wood table is selecting coordinating chairs that properly fit the style. Here are some chair options that beautifully match rustic dining tables:
Ladderback chairs – Timeless rustic choice with woven or wood seats, often in white wash or light tones
Windsor chairs – Classic spindle style chair with arched, hoop-shaped backrests
Farmhouse benches – Cozy built-in bench seating creates intimacy
Crossback chairs – Crisscross chair backs have a charming cottage feel
Hide leather chairs – For a touch of Western or Scandinavian flair
Woven rattan – Lightweight and airy, perfect for smaller spaces
Metal grid chairs – Industrial metal mesh or wire grid chairs contrast the wood
Midcentury modern – Complementary clean and sleek molded chair silhouettes
Mixing complementary chair styles and throwing in a rustic bench keeps the dining space eclectic and inviting. Sturdy wooden chairs also withstand the wear and tear of daily life. Choose chairs that reflect your taste while staying true to the rustic table design.
Rustic Wood Table Centerpieces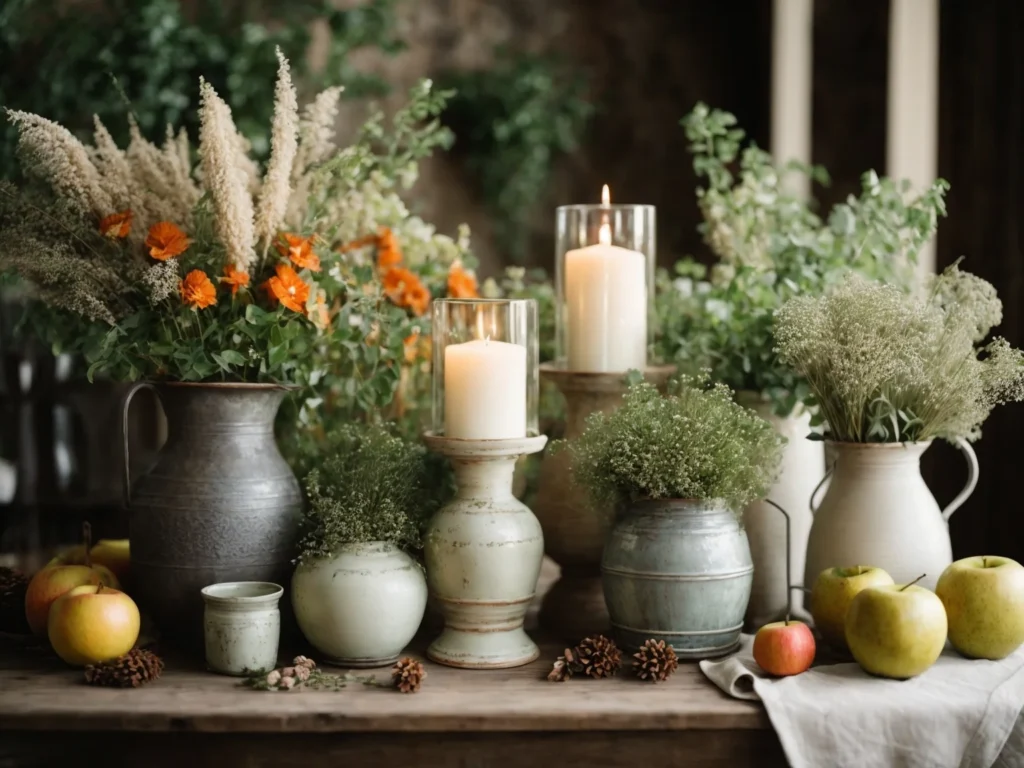 When selecting a centerpiece for your rustic wood dining table, think natural, seasonal, and collected over time. Here are some fitting rustic centerpiece ideas:
Vintage bottles, jugs, and pitchers with wildflower bouquets
Potted herbs or succulents planted in rustic ceramic pots
Whitewashed ceramic vases with pampas grass plumes or baby's breath
Wicker baskets overflowing with seasonal fruits like apples or citrus fruits
Collected canning jars filled with wildflowers and greenery
Weathered wooden cutting boards piled with whole fruits and vegetables
Aged metal pails or watering cans planted with trailing ivy or ferns
Eclectic mix of candlesticks, vases, and books for an collected look
Floating candles and loose flowers in a glass bowl or terrarium
Let your rustic centerpieces feel casual, collected, and brief to complement the wood table. The key is using natural elements and vintage or worn items that look gathered over the years.
Rustic Wood Table Lamps Set the Mood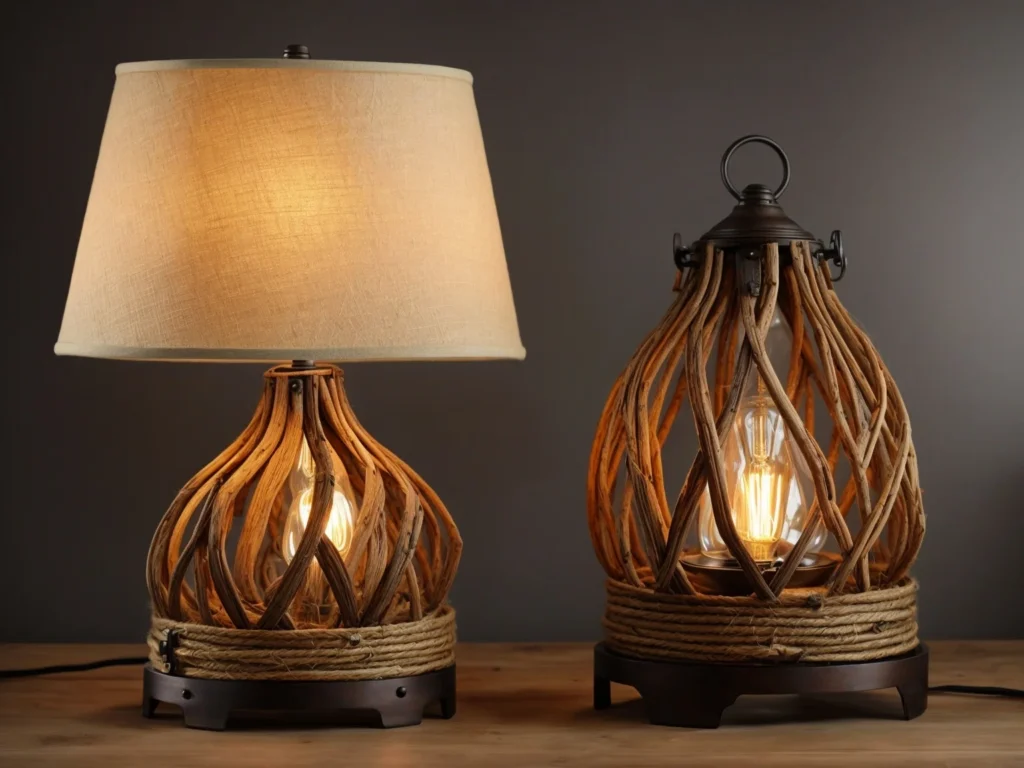 The right lighting enhances any dining space. For rustic tables, look for lamps with natural or industrial vibes. Ideas include:
Tabletop lanterns of glass, metal, or wood – emit a cozy glow
Cast iron candle chandeliers – industrial flair
Ceramic lamp bases with burlap lampshades – craftsman charm
Woven wicker and rattan pendant lights – organic textures
Vintage-style Edison bulbs in clear filament glass – nostalgic ambiance
Antler, twig, or driftwood lamps – literally natural
Stone table lamps – connect to earthen hues
Black wrought iron or brass lamps – farmyard or steampunk touches
Mixing lighting throughout the space at different heights adds visual interest while selected lamps with rustic and natural style sets the overall dining room mood. Lighting is crucial for making any space feel complete.
Dining Al Fresco with Rustic Outdoor Tables
The natural beauty of wood makes rustic dining tables perfectly at home outdoors for patio and porch dining. Choose outdoor-rated species like teak or naturally weather-resistant cedars and redwoods. Look for sustainably sourced tropical hardwoods like acacia, known for durability.
See if your favorite material like oak or maple is available in exterior-rated stains and sealants to withstand the elements. Most quality manufacturers specially treat woods for outdoor use.
Opt for thick planks and strong joinery like mortise and tenon that won't loosen over time. Check bases for materials like powder-coated steel that won't rust. Include an umbrella hole for shade coverage.
For easy maintenance, look for tables with recycled plastic or concrete composite tops that mimic real wood while resisting moisture, mildew and UV damage. Wipe down occasionally to keep clean.
Use heavy, weighted bases for stability or permanently mount legs into a patio base. Sturdy construction prevents wobbling or shifting.
Bring cushions inside during rain or strong storms. Use acrylic or vinyl seat cushions and keep an outdoor cover handy for protection when not in use.
With proper selection of durable, outdoor-friendly materials, rustic dining tables create the perfect focal point for alfresco dinners on the patio surrounded by nature.
The Timeless Beauty of Rustic Wood Tables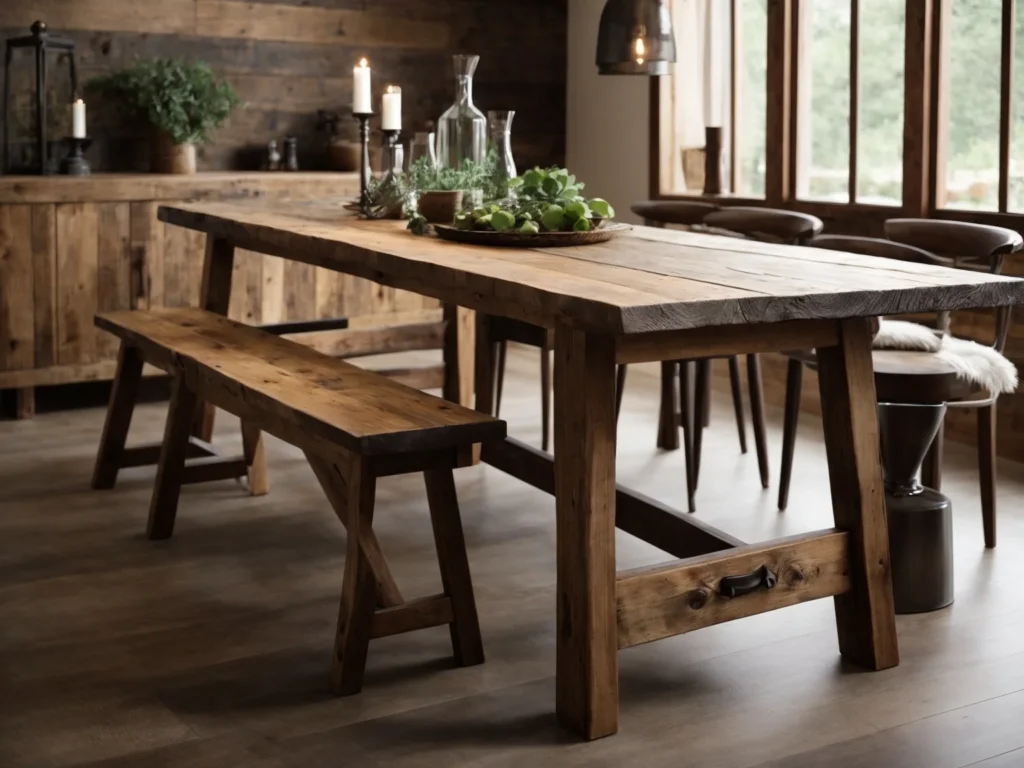 Rustic wood dining tables bring home warmth, character, and natural artistry. The organic textures and eco-friendly reclaimed woods create an inviting, cozy feel for gathering around and sharing meals. Rustic styles work seamlessly into today's most popular interior looks including farmhouse, industrial, cottage, and modern spaces while offering incredible versatility through customization.
With the wide range of budget-friendly to high-end bespoke designs now available from big box stores to specialized woodworkers, achieving your perfect rustic style is easier than ever. Let a handcrafted, timeworn wood table make dining a memorable experience and become a durable, sustainable showpiece passed down for generations. Embrace the unmatched beauty of rustic wood.