With its globally inspired, vintage-chic aesthetic, Anthropologie has become a go-to destination for bohemian home décor lovers. Walking into an Anthropologie store feels like stepping into an exotic bazaar filled with treasures from around the world. The brand's signature style encompasses an eclectic mix of patterns, textures, and era-spanning designs blended to create a relaxed yet put-together vibe.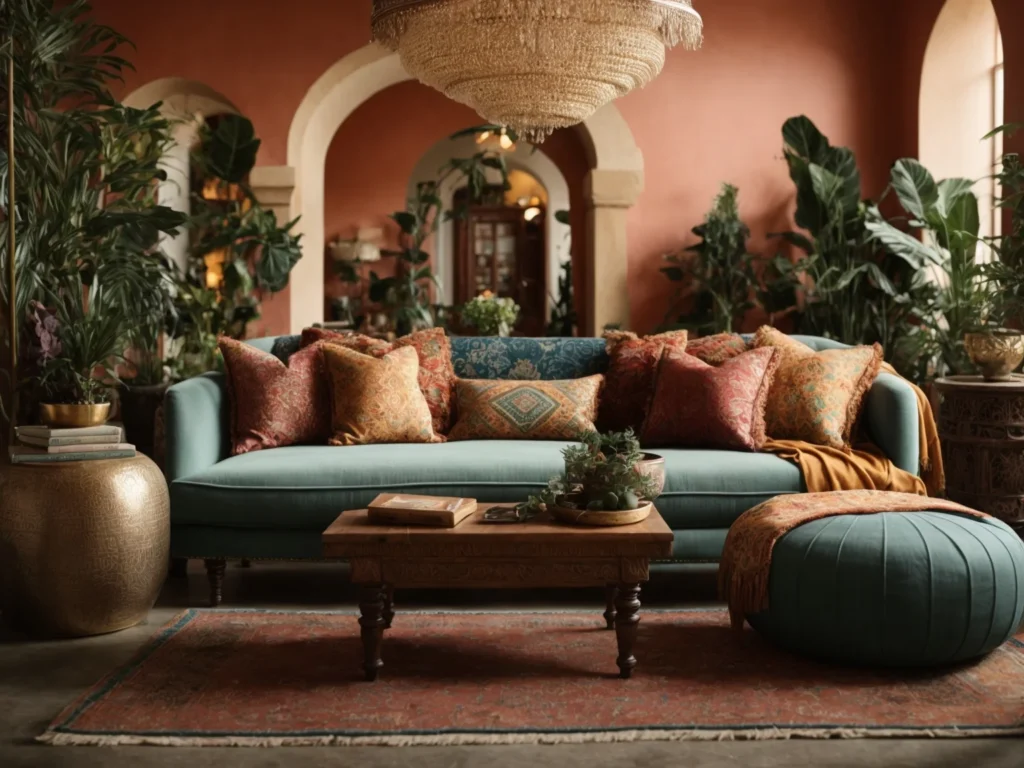 If you love the Anthropologie look and want to bring that free-spirited boho charm into your living room, you've come to the right place. This comprehensive guide will walk you through everything you need to know to design a living room that captures the Anthropologie essence. From statement furniture to luxurious textiles and accessories, we'll explore ideas and inspiration to craft a space that's wholly unique to you and your style sensibilities.
Defining the Anthropologie Aesthetic
Let's start by taking a deeper look at the core elements that make up the quintessential Anthropologie style:
A Global Bazaar
Anthropologie's living spaces exude a worldly, well-traveled vibe. You'll find furniture, accents, and artwork with design influences from Morocco, India, Turkey, and beyond. Don't be afraid to incorporate pieces that tell a cultural story and transport you to exotic locales.
Vintage and Antique Touches
There's a nostalgic quality to Anthropologie's style that's achieved through antique furnishings and vintage-inspired designs. Distressed wood finishes, carved details, and fabrics that look like relics from past eras are par for the course. Play up the old-world charm by blending new and old pieces.
Artisanal and Handcrafted
Many of Anthropologie's products are handmade using artisanal techniques by skilled craftspeople worldwide. These pieces' imperfections and hand-hewn touches add organic warmth and authenticity to a space. Bring in hand-loomed textiles, ceramic accents, and hand-carved furnishings.
Quirky and Whimsical
Anthropologie embraces playful personality. You'll find furnishings with animal motifs, vibrant patterns, and youthful whimsy. Incorporate conversational pieces that showcase your interests, travels, or hobbies to add character.
Layers Upon Layers
An Anthropologie room has depth created through tactile layers of rugs, pillows, drapes, and textures. Mix and match materials like wood, velvets, leather, linen, rattan, and metals to create cozy complexity.
Statement Furniture for an Anthropologie Living Room
The furniture forms the foundation for any living room, so let's start there. Your main seating and accent pieces will set the overall aesthetic, as anchors that tie the look together. Some quintessential Anthropologie furniture styles to consider:
Tufted Velvet Sofas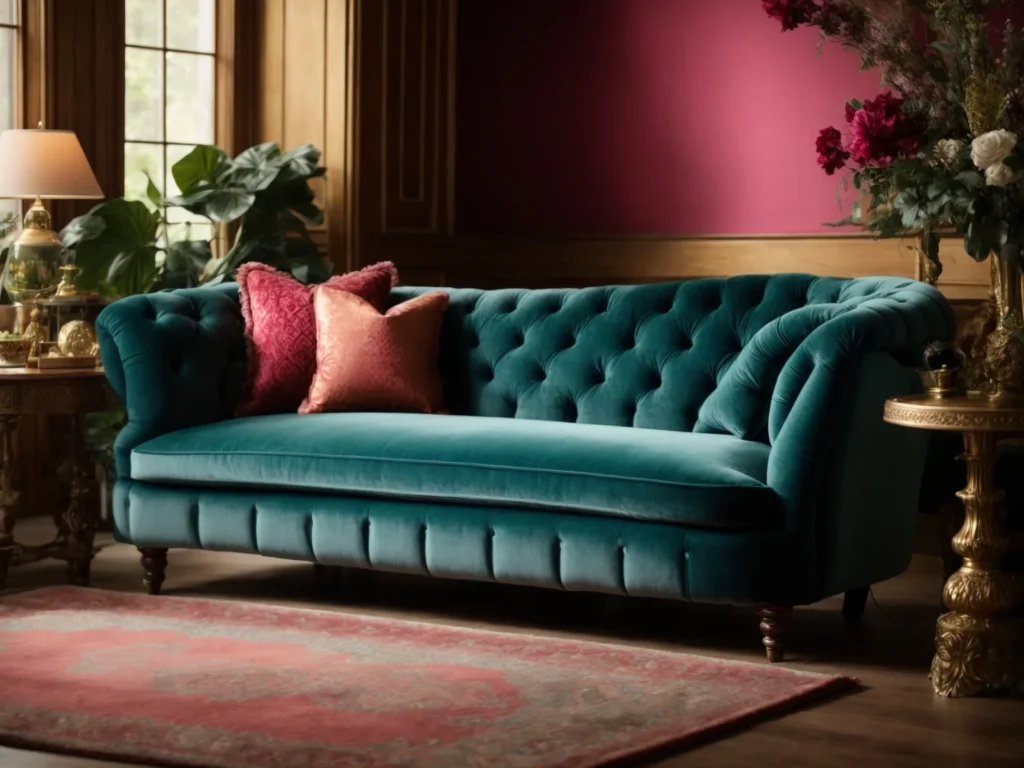 living space that echoes the sophisticated charm of Anthropologie can be an exciting venture, especially when incorporating the luxurious touch of tufted velvet sofas. Plush tufted sofas upholstered in jewel-toned velvets instantly create that lush, feminine boho vibe. Look for vintage shapes, like roll arms and camelbacks, detailed tufting and turned wood legs. The Kendall Tufted Sofa from Anthropologie's proprietary home line has the perfect silhouette.
Carved Wood Accent Chairs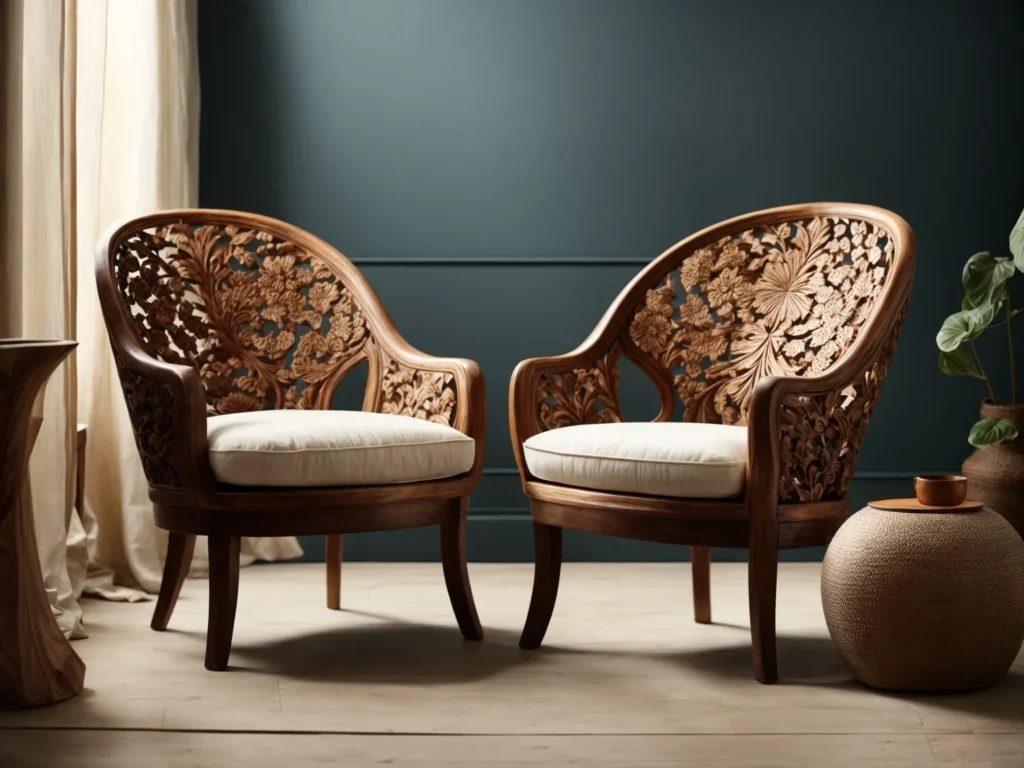 Merging the eclectic charm of Anthropologie with the intricate detail of carved wood accent chairs can create a living space that's both globally inspired and deeply personal. Hand-carved wooden chairs add organic texture and global appeal to a space. Opt for shapes like wingbacks, slipper chairs, and lounge chairs with visible wood frames, legs, and arms for that artisanal touch. Anthropologie's sculpted Alessandra Chair hits all the right notes.
Storage Ottomans and Poufs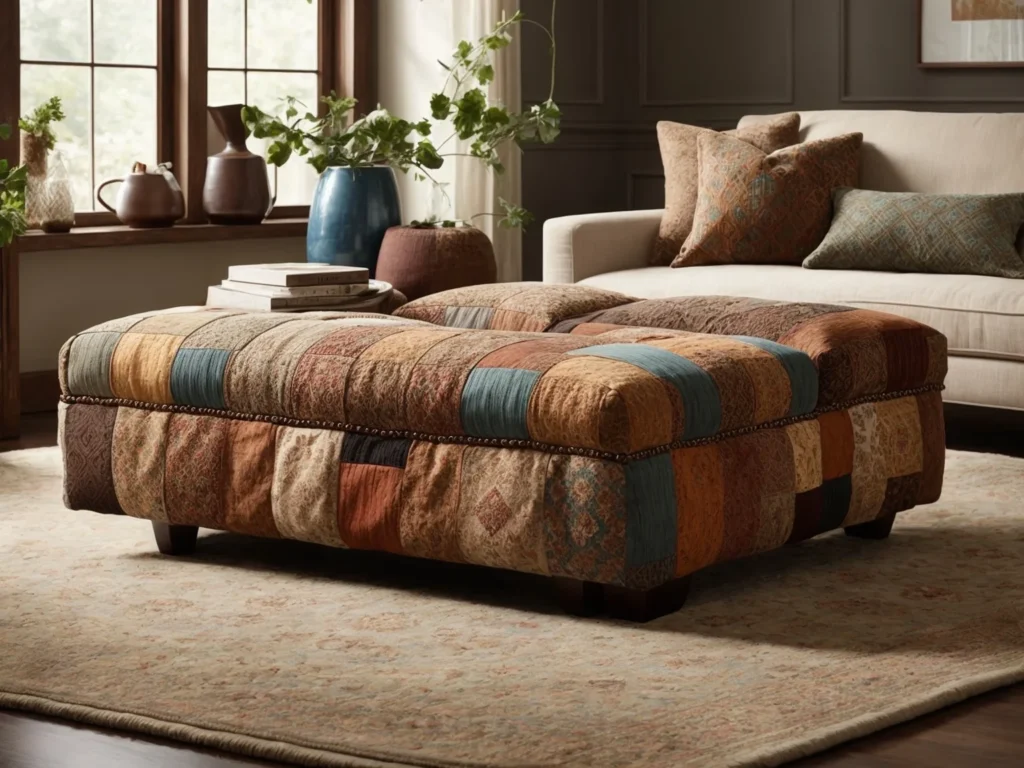 Combining the functional appeal of storage ottomans and poufs with the artistic and worldly sensibility of Anthropologie creates a living room that is both practical and infused with personality. Ottomans go hand-in-hand with bohemian style. They can provide extra seating, serve as coffee tables, and work as storage solutions. Try patchwork fabrics, embroidered patterns, and exotic shapes like moroccan poufs. The Arlo Patchwork Ottoman is a prime example.
Eclectic Coffee Tables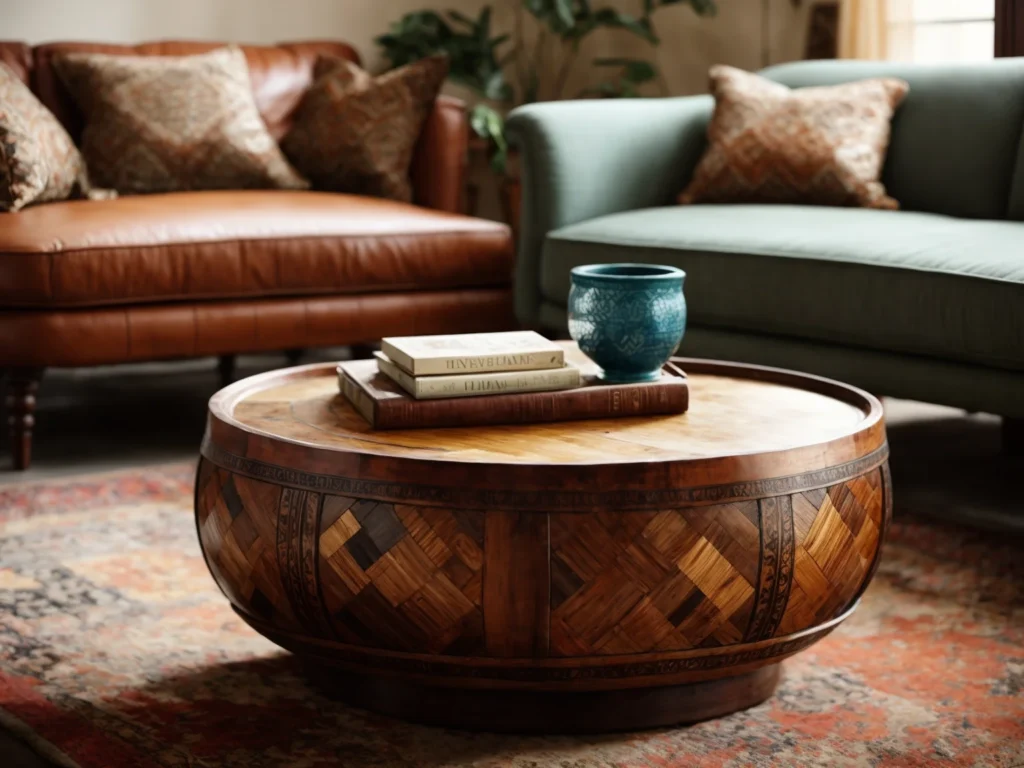 Blending the curated, artisanal vibe of an Anthropologie living room with eclectic coffee tables creates a space that is both charming and functional. Coffee tables with personality help create focal points in Anthropologie living rooms. Look for unique bases like hand-carved wood, rattan, or antique designs. Layer on trays and decor objects to display your treasures. This World Market Inlaid Drum Table captures that global bazaar spirit.
Bohemian Textiles to Cozy Up Your Space
You can't have a cozy bohemian oasis without plush textiles and layers of pattern. Here's how to add that Anthropologie charm with fabric:
Flowing Velvet and Cotton Drapes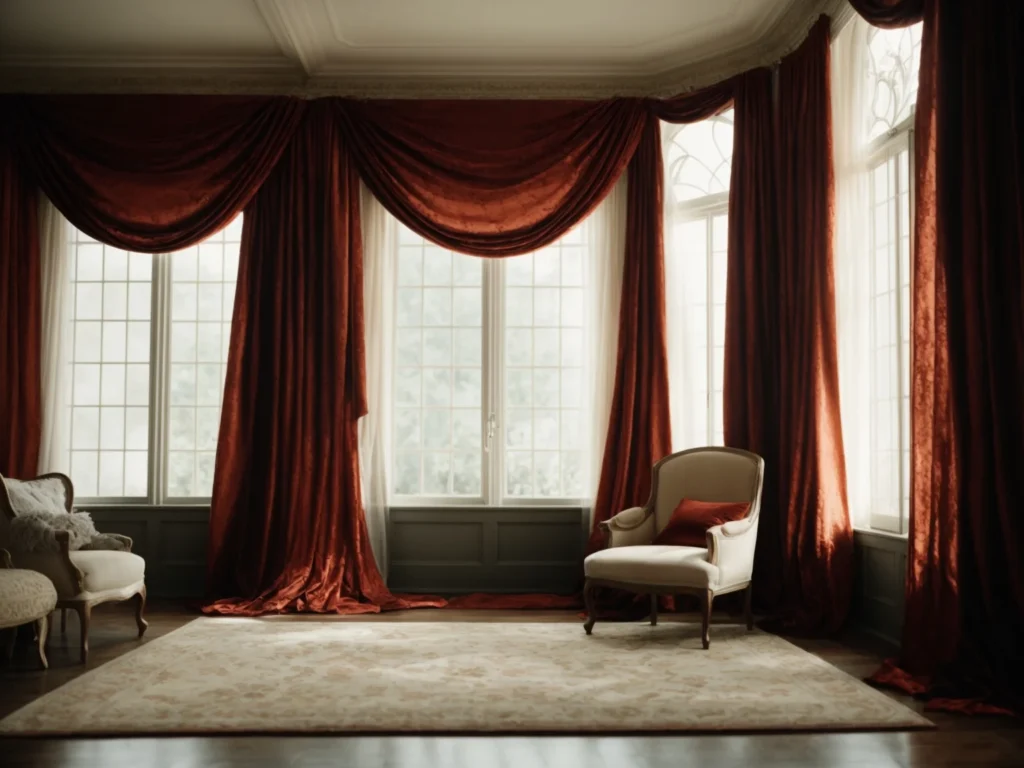 Integrating the distinctive Anthropologie style with flowing velvet and cotton drapes adds a layer of luxury and texture to your living room. Drape your windows in velvet or softly draping cottons. Look for textures like crushed or quilted velvet. Avoid stiff synthetics. Go for floor-length drapes around tall windows, and hang rod-pocket panels wider than the window to create an enveloping effect.
Handcrafted Pillows and Throws
Incorporating handcrafted pillows and throws into an Anthropologie-styled living room can create a space that is rich in texture and global influence. Pillows and throws in embroidered cottons, tribal prints, suzani patterns, and sheepskins create coziness while adding global flair. Look for hand-loomed, artisanal fabrics and traditional techniques like block printing and Oushak patterns. TheCompton Suzani Pillow has that throwback vibe.
Heirloom-Style Rugs
Vintage-inspired rugs pull everything together in an Anthropologie living room. Florals, global patterns, distressed textures, and vintage motifs are right at home. Layer them over hardwoods or supplement with fur pelts. Check out nuLOOM's Alayna Boho Rug for an intricate floral style.
Canopies and Tented Ceilings
Take textiles to the next level by draping billowy cotton canopy over your bed or using a light canopy over a sitting area. Or install a tented ceiling over your living room for an exotic feel. The possibilities are endless with fabric!
Accessories and Accents with Personality
The accessories you choose will give your Anthropologie-inspired space that final dose of character. Have fun with these small yet impactful touches:
Worldly Wall Art and Mirrors
Make at least one of your walls into a global art gallery displaying paintings, masks, mirrors and more collected from your travels. Or frame vintage scarves and textiles. Gallery walls create visual texture and interest.
Found Object Displays
Arrange artful vignettes displaying treasured flea market finds, nature specimens, or artwork around your living room. Cluster them atop accent tables, on bookshelves, mantels, or cabinets for an artfully curated look. Mix high and low.
Abundant Houseplants and Flowers
Plants instantly boost a room's bohemian vibes. Display trailing vines, ZZ plants, succulents and flowering plants throughout your space on plant stands, hanging macrame holders, or on accent shelves. Fresh cut flowers add liveliness.
Textured Ceramic Accents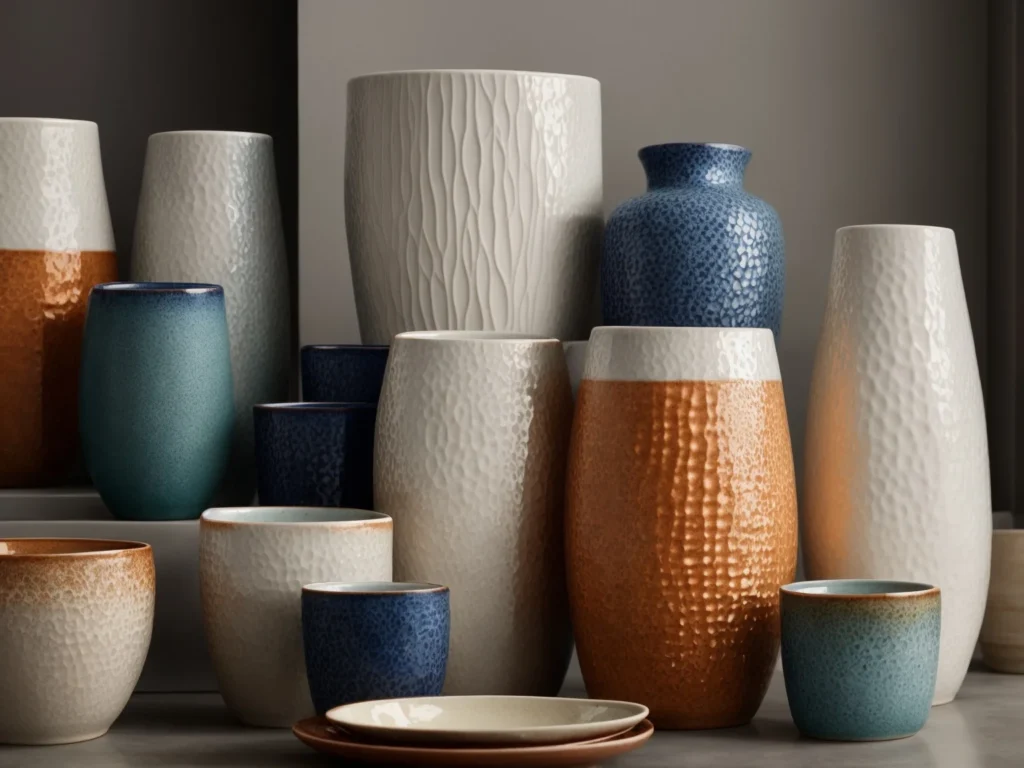 Bring in ceramic vases, trays, bowls, cups, and catchalls with visible hammered textures, hand-painted designs, or crackled glazing for organic warmth. Display them decoratively to add pops of color and visual interest everywhere.
Handcrafted Decor Objects
Incorporate decorative objects that reveal their handmade origins—think ribbon-tied clay pots, block printed cases, or hand-hammered baskets. The imperfections add rustic warmth and global artistry. Display them decoratively or let them hold blankets and accessories.
Lighting for Maximum Coziness
Proper lighting creates all the right moods in a living room. Play with these illuminating ideas:
Draped Tassel Lamps
For soft ambient lighting, look for whimsical tassel-trimmed lamps to place beside seating areas. Bonus if the lamp base has a hand-crafted shape or patterned ceramic base tying into global motifs. Tassel trim adds texture.
Candle Lanterns and Sconces
Cluster candle-lit lanterns and sconces around your living room for a cozy glow. Opt for hammered metal, perforated patterns, or colorful ceramic bases. Candles infuse spaces with warmth. Place lanterns on side tables, mantels, and shelves.
Textured Lampshades
Lampshades covered in raffia, hemp, or faux parchment instantly give lighting a handmade vibe. Consider textured natural linen or cotton shades with trims and ties for tabletop and floor lamps. It diffuses the light beautifully.
Statement Overhead Fixtures
Don't overlook overhead lighting! Look for antique-inspired chandeliers or pendant lights that capture the global bazaar aesthetic. Wrought iron, rattan, and colored glass are on point. Check Anthropologie's selection of worldly lighting.
Wallpaper and Paint Colors to Build On
Don't underestimate the power of paint and wallpaper in making a statement. Some top choices:
World Wallpapers
Choose mural-style wallpaper with exotic imagery, ornate patterns, or global motifs as a focal point wall. Botanical prints, Chinoiserie, or Moroccan tiles could look amazing behind a sofa or bed. Keep other walls neutral to let it stand out.
Neutral Walls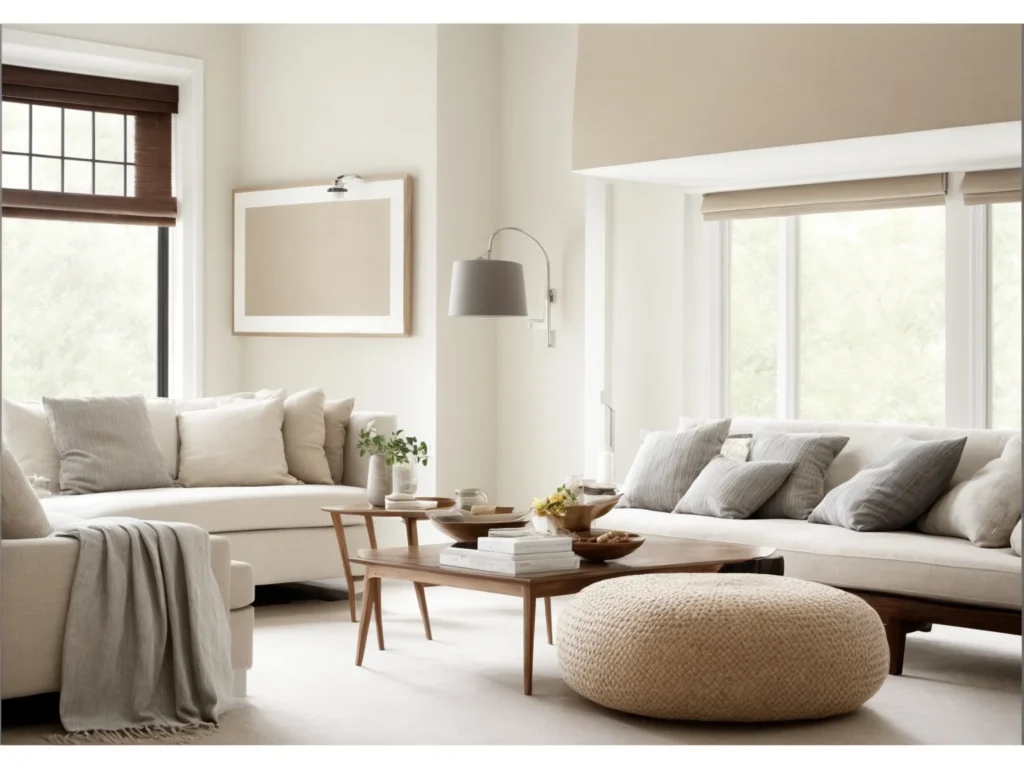 For most walls, stick to neutral background colors like soft whites, greys, and creamy tones. Neutrals make layers of texture, artwork, and your furniture pop. Benjamin Moore's Whitetint or Classic Gray are great options.
Accent Colors
Sprinkle in pops of color through lighting, accessories, art, and accents instead of bright walls. Deep jewel tones like emerald green, sapphire blue, and ruby red have that exotic flair. Use them sparingly for dramatic contrast.
Wood Finishes
Natural wood finishes like oak, walnut, and teak add organic warmth. Refinish flea market finds or distress new furniture using wood stains to get that well-worn patina. Let wood furniture be your accent.
Creating Specific Spaces Within Your Living Room
Now let's explore how to bring the Anthropologie look to life in specific living room spaces:
Bohemian Seating Areas
Your main seating area sets the tone. Choose furniture shapes and textiles that exude boho flair. Add layers of textural pillows and throws over chaises, sofas or sectionals. Drape the area with canopy or sheers. Include a handcrafted coffee table, ottoman, and artisan lamps.
Worldly Fireplace Nooks
Warm up a bare fireplace by flanking it with vintage armchairs or a tufted bench. Hang an embroidered tapestry above the mantel and decorate with ceramic vases, lanterns, and greenery. Add woodstorage boxes and woven baskets for organization.
Boho Bedroom Lounges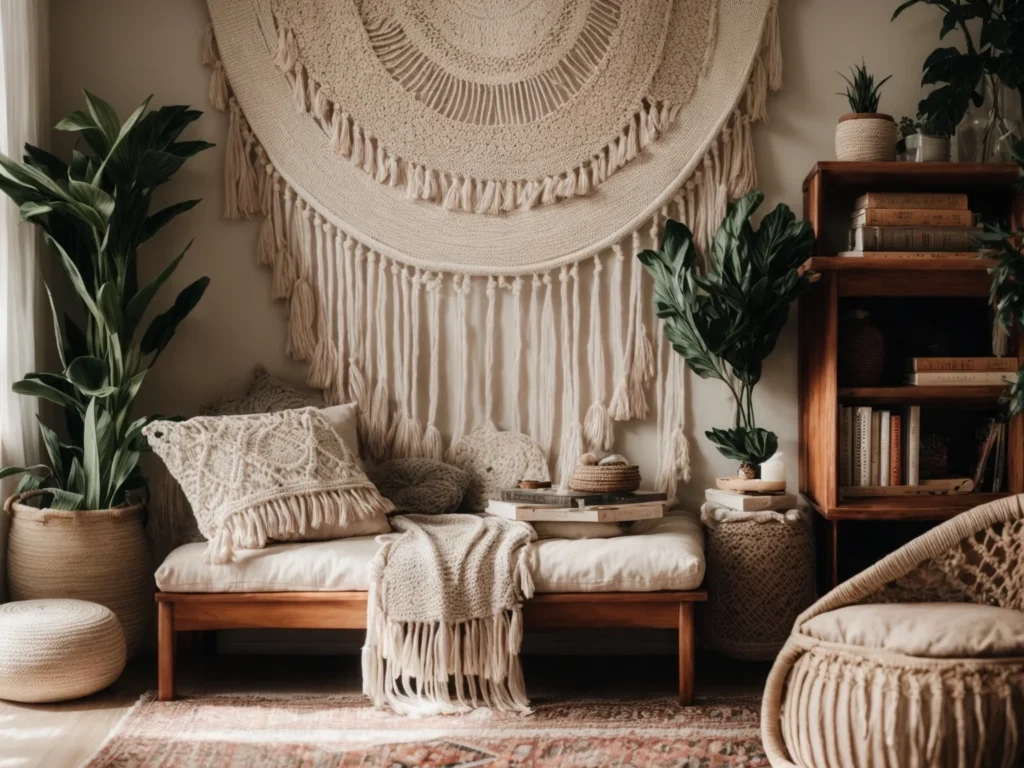 Carve out a small lounge space in your bedroom with a comfy chair and ottoman. Add a handmade dhurrie rug underneath and lean a macrame wall hanging on the wall. Style a handcrafted side table with books, flowers and candlelight. Pure relaxation!
Eclectic Media Rooms
Add worldly flair to your media room with a vibrant Turkish kilim rug, Moroccan poufs, and globally inspired wall hangings. Keep technology like TVs and speakers sleek. Add pops of chartreuse, magenta, or teal through pillows and ceramics.
Bringing the Look Together Seamlessly
When designing an Anthropologie-worthy living room, blend eras, styles, and motifs so it flows together beautifully:
Mix vintage, modern, traditional, and antique furniture silhouettes and materials. Eclecticism is key.
Combine formal shapes like chesterfields or cabriole chairs with casual elements like poufs and macrame.
Layer refined finishes like velvets with coarse ones like jute and rattan. Play with contrasts.
Include pieces from various cultures like Turkish kilims, Indian block prints, and Moroccan mirrors.
Incorporate feminine shapes and patterns with rugged woods and earthy textures.
Allow patinas and imperfections from age and handcrafting to show through. Don't over-polish.
The overall effect should feel curated yet uncontrived. Blend your personal travel mementos and flea market finds with store-bought boho décor for authenticity. The mix of old, new, refined, and rough gives Anthropologie living rooms depth and character.
Achieving the Look on a Budget
While Anthropologie home items don't come cheap, you can capture a similar look for less with savvy sourcing:
Check out World Market, West Elm, and Urban Outfitters for affordable boho furniture.
Search Etsy for handmade ceramics, pillows, and woven wall hangings full of artisan appeal.
Scour flea markets, Facebook Marketplace, thrift stores, and estate sales for charming vintage finds.
Invest in high-quality vintage rugs over pricier new ones. Vintage rugs have more character.
DIY upgrades like reupholstering thrifted chairs or stenciling accent tables go far.
Use small doses of key Anthropologie accessories like poufs or tassel lamps for an instant style boost.
With creativity and resourcefulness, you can craft a living room with all that exotic Anthropologie allure for a fraction of the cost. It just takes time and know-how.
Final Thoughts on Crafting Your Boho Oasis
Anthropologie's signature whimsy, texture, and worldly aesthetic can be replicated in your home's living room. By keeping those bohemian style elements in mind and taking inspiration from your favorite Anthropologie rooms, you can curate a space that's distinctly you.
Remember, this look develops over time, so have patience finding the perfect pieces. Source both new and vintage items. Layer them for maximum coziness. And most importantly, decorate fearlessly with pieces that make you smile. Bring in colors, relics, textures, and artwork that speak to you. With a bit of creativity and global hunting, your living room will soon be an Anthropologie-lover's dream!