Dining room chairs are an integral part of any dining space. While high-backed chairs can feel traditional and formal, low-backed chairs offer a more modern, minimalist aesthetic. This article will provide an in-depth look at low back dining room chairs – their benefits, popular styles and materials, what to look for when buying, price ranges, top brands, and where to shop.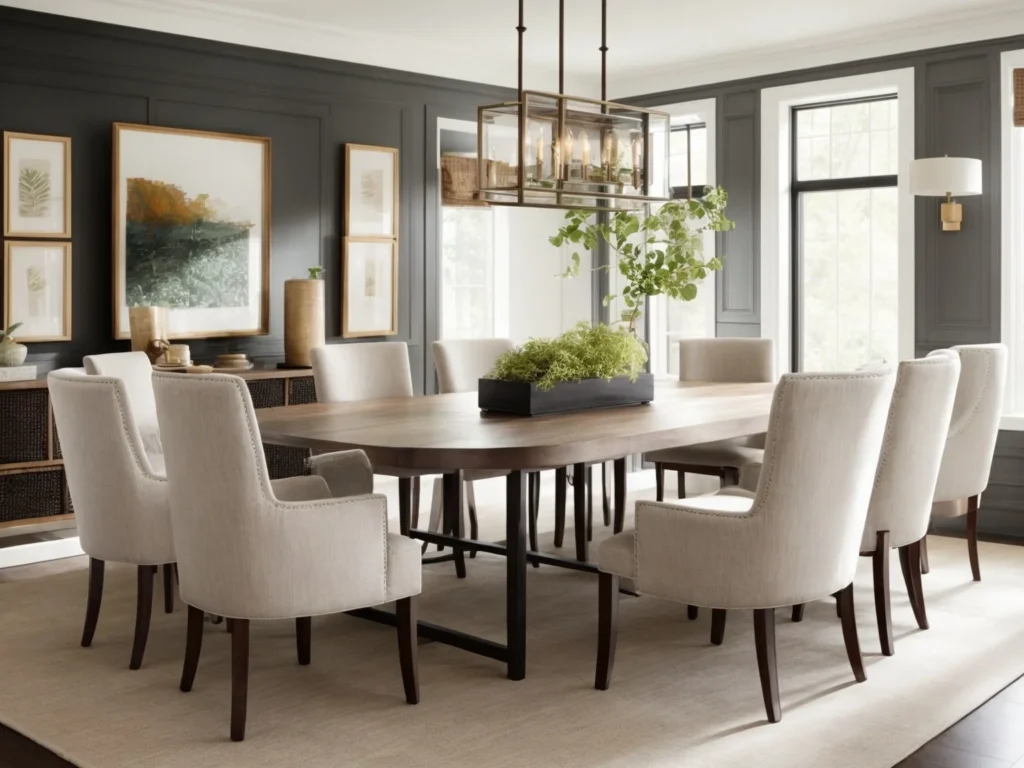 The Appeal of Low Back Dining Chairs
Low-back dining chairs have backs that rise just below or level with the necks of those sitting in them. This type of chair offers several advantages:
Contemporary, Minimalist Look
Chairs with low backs have a sleek, uncluttered appearance that provides a contemporary edge. The low back profile spotlights the dining table and allows wall art and decor to take center stage. Rooms feel more open without the visual bulk of high chair backs.
Greater Freedom of Movement
High, oversized chair backs can feel confining and restrictive during long meals. Low backs don't crowd the upper body, allowing for greater shoulder and neck mobility. This can increase comfort, especially for taller individuals.
Easy Communication
Lower chair backs facilitate better flow of conversation around the dining table. People can make eye contact and interact without leaning around and peer over chair backs.
Accommodate a Variety of Heights
Chairs with low backs tend to accommodate different heights better than high-backed versions. The lower back height doesn't dwarf shorter people or force tall people to slouch and hunch over. Proper spine alignment improves comfort.
Showcase Architectural Details
In dining rooms with beautiful moldings, wainscoting, or other architectural elements, low back chairs prevent these lovely details from getting lost behind bulky chair backs. The simplicity of the chairs highlights the room itself.
Popular Styles and Materials
Dining chairs with low backs come in various styles to match any decor. Here are some of the most popular designs and materials:
Side Chairs
Armless side chairs offer versatility. They can slide beneath tables to save space when not in use. Choose sleek wood or plastic side chairs with straight or subtly curved backs for contemporary edge. Upholstered side chairs with low profiles also abound.
Parsons Chairs
Parsons chairs come from the Parsons School of Design in New York. They showcase straight lines with square backs and seats. Upholstered fabric versions are widespread, but you can also find Parsons chairs made of wood, clear acrylic, and metal.
Sled Chairs
Sled chairs get their name from the sled-like metal or wood bases that support the seat. They often feature gently curved or completely straight backs of medium height. Materials range from plastic to wood to woven wicker.
Upholstered Chairs
For comfort and style, upholstered dining chairs offer endless options. Low backs let the fabric take the spotlight. Tufted, channel-stitched, and smooth upholstery choices in every color and pattern imaginable make a statement.
Materials
Wood, plastic, metal, and upholstered fabrics are go-to materials for low back dining chairs. Oak, ash, walnut, and other wood types offer durability and natural grain beauty. Synthetics like plastic and acrylic work well for inexpensive durable chairs. Metal mesh, aluminum, and steel provide support. Upholstered chairs can feature wood or metal frames with cushions covered in leather, microfiber, cotton, polyester blends, and more.
What to Look for When Buying
Several factors to keep in mind when shopping for low back dining chairs:
Quantity
How many chairs do you need? Standard dining sets come in groups of 4, 6, or 8 chairs. Make sure to purchase enough seating for your table size and the number of family members and guests you usually seat.
Size
Pay attention to chair dimensions, especially width and height. Chairs should tuck comfortably beneath the table without hitting the underside. Measure table height and consider chair height accordingly. Around 18 inches works well for most standard dining table heights.
Style
Opt for chairs that coordinate with your overall dining room decor and table style. Formal traditional rooms may lean toward tufted upholstered chairs while contemporary spaces can handle edgier plastic styles.
Comfort
Cushioned or upholstered seats provide more comfortable prolonged sitting than hard plastic or wood chairs. Try chairs out in person rather than relying on online photos if possible.
Durability
Look for chairs constructed from durable hardwoods like oak that resist scratches and wear. High-quality foam and upholstery materials also improve longevity. Check product weight as heavier chairs tend to last longer.
Color/Pattern
Neutral chairs like black, white, or tan offer versatility. Bold colored or printed chairs make a statement. Make sure patterns complement each other rather than compete when purchasing a chair set.
Budget
Inexpensive dining chairs start around $40-60 each but average $75-150 for mid-range wood, metal or basic upholstery options. High-end designer chairs run $300 on up. Set a realistic budget before falling in love with a pricey option.
Price Ranges
Expect to spend anywhere from $50 to over $1000 for high-end luxury brands. Here's a breakdown of general price ranges:
Budget: $50 – $150
Big box stores like Walmart and Target offer simple side chairs and Parsons chairs made of plastic, basic wood, or thin upholstery at the lowest end. Ikea's budget-friendly Jokkmokk chair falls around $79.
Moderate: $150 – $300
The mid-range marks a big jump in quality while still keeping prices reasonable. Chairs from stores like Wayfair and Overstock and brands like Ashley Furniture offer thicker cushions, higher-end upholstery, and durable wood frames with stylish design.
High-End: $300 – $600
This tier reaches the luxury end for many shoppers. Retailers like Crate and Barrel and West Elm, as do independent custom upholstery shops, enter at this level. Details like hand-crafted wood, premium leather, and custom fabrics come into play.
Designer: $600+
The sky's the limit when it comes to luxury designer dining chairs. Esteemed brands like the Italian Poliform and American companies Baker and McGuire can command prices starting in the thousands for their quality craftsmanship and elite reputations.
Top Brands for Low Back Dining Chairs
Many furniture brands carry their takes on low back dining chairs. Here are some of the most popular:
IKEA
The Swedish ready-to-assemble giant offers contemporary low-priced options like the wood Jokkmokk chair, slope-backed Ingatorp, and cushioned Bernhard.
Pottery Barn
This retailer brings mid-century modern appeal with acacia wood chairs like the Sinclair sled chair and the clean-lined Colette chair.
Crate & Barrel
Find contemporary styling with chairs like the wood Caine chair and the Lloyd chair with low sloped back and arms.
West Elm
The Eli mid-century chair sports an arched back while the Henry chair features square tufted faux leather.
Joybird
This direct-to-consumer brand offers unique chairs like the rustic wood Elijah and the retro Lenix with channeled back.
Ashley Furniture
The traditional Cumberland collection includes a no-frills Parsons chair while the Bridson chair has sloped arms and back.
Wayfair
Shop popular upholstered chairs like the cozy Andrea chair or the modern Langley plastic side chair.
Overstock
This retailer sells unique finds like the contemporary leather Christopher Knight armchair at affordable prices.
Home Depot
In addition to major brands, find budget-friendly in-house designs like the slatted Saskia dining chair.
The Best Places to Shop
Many online and brick-and-mortar retailers carry a wide selection of dining chairs with low backs. Here are some top places to shop:
Online Retailers
Big online marketplaces like Wayfair, Overstock, and Amazon offer the largest selection and easiest comparison shopping. You can filter by style, color, material and shop major brands and lesser known manufacturers.
Wayfair – Over 5,000 low back dining chairs across the style and budget spectrum
Overstock – Also over 5,000 options with a leaning toward mid-century modern
Amazon – Massive selection from ultra budget to luxury high-end chairs
Hayneedle – More than 2,500 choices from brands like Malvern and Charlton Home
Houzz – Curated modern chairs from retailers like Article and Langley Street
Joybird – Unique upholstered chairs perfect for mid-century inspired dining rooms
Brick-and-Mortar Retailers
For an in-person shopping experience, head to these retailers offering stylish dining chairs across a range of budgets:
IKEA – Inexpensive contemporary finds like the all-wood Ingatorp and cushioned Bernhard
Crate & Barrel – Trend-driven upholstered, wood and plastic chairs like the Lloyd and Caine
West Elm – Mid-century modern silhouettes including the acrylic Peggy and sloped Henry
Pottery Barn – Classics like the acacia Sinclair sled and the tufted Preston
Target – Wallet-friendly basics from brands like Threshold and Casper 360
World Market – Eclectic finds like the Mara mango wood chair and the retro teal Courtney
HomeGoods – Discount designer chairs, often upholstered, for hundreds less than full price
Independent Stores
Beyond the big chains, visit local furniture galleries, Amish furniture sellers, and custom upholstery workrooms. These shops offer personalized service to find or create the perfect chairs.
Secondhand
Search consignment shops, thrift stores, Facebook Marketplace, Craigslist, and garage sales to score quality secondhand chairs in like-new condition at reduced prices.
What to Consider When Choosing Low Back Dining Chairs
Keep the following tips in mind when selecting chairs for your dining space:
Measure table height and width to ensure chairs fit properly tucked beneath
Select a style that complements your table and overall room decor
Choose durable, high-quality materials and construction for longevity
Prioritize comfort with cushioned or upholstered seats
Decide on color/pattern – neutral for versatility or bold to make a statement
Set a budget and stick to it – extra details exponentially increase cost
Buy from reputable brands known for quality products
Read reviews and ask for advice to narrow down top contenders
Sit in floor models when possible to judge real-life comfort and appearance
Setting the Dining Room Mood with Low Back Chairs
The right chairs help create an enjoyable dining ambiance and experience. Consider how low back chairs can elevate your space:
Contemporary Style
Armless side chairs or Parsons chairs in glossy plastic or brightly hued upholstery bring modern edge to the room.
Minimalist Look
Clear acrylic or subtly curved wood chairs ensure the focus stays on the tablescape and dining companions.
Mid-Century Vibe
Splayed legs and molded plywood shapes on wood dining chairs evoke '50s/'60s retro flair.
Eclectic Mixing and Matching
Choose complementary chairs in different colors and silhouettes for quirky personality.
Visual Lightness
Compared to heavy ornate carvings, light and airy woven cane or metal mesh chairs brighten up moody spaces.
Space Savvy Design
Armless chairs slide beneath the table easily to maximize open floor area when not in use.
Unexpected Details
Unique touches like exposed wood grain, hairpin legs, or colorful patterns transform basic chairs into conversation pieces.
Caring for Low Back Dining Chairs
Low back dining chairs are built for everyday use. Follow these tips to help them look their best for years:
Add felt floor protectors to chair legs to prevent scratches
Avoid placing in direct sunlight which can fade some materials
For wood chairs, use coasters and placemats to prevent tabletop moisture damage
Dust regularly with soft dry cloth to prevent dirt buildup
Spot clean spills and messes immediately to prevent staining
Check screws/joints periodically and tighten as needed
Consider reupholstering fabric chairs when cushions wear thin or fabric appears tired
The Last Word on Low Back Dining Chairs
Dining chairs with low backs offer the best of both worlds – casual comfort and a refined streamlined aesthetic. The minimalist profile focuses on food, decor, and conversation partners for an intimate dining experience.
With the variety of high-quality styles and materials available today at multi-tier pricing, there's a low back dining chair out there to suit any home. Keep room decor and dimensions, personal preferences, chair quality, and budget in mind to choose low back seating to dine in stylish comfort for years to come.