Woodworkers and furniture makers have long prized cypress wood for its attractive appearance and natural durability. But is this versatile softwood ideal for furniture?
Cypress trees are conifers that grow across wet, swampy regions of North America. Two main species are used for lumber – bald cypress (Taxodium distichum) and pond cypress (Taxodium ascendens). The wood has a straight, fine grain pattern, varying from pale yellow to cinnamon or reddish-brown.
Cypress wood contains natural oils called cypressene that act as a preservative. This gives Cypress natural resistance to rot, decay, and insect damage. It also has good dimensional stability so it resists warping and shrinking. These qualities make Cypress suitable for exterior projects and applications where moisture resistance is important.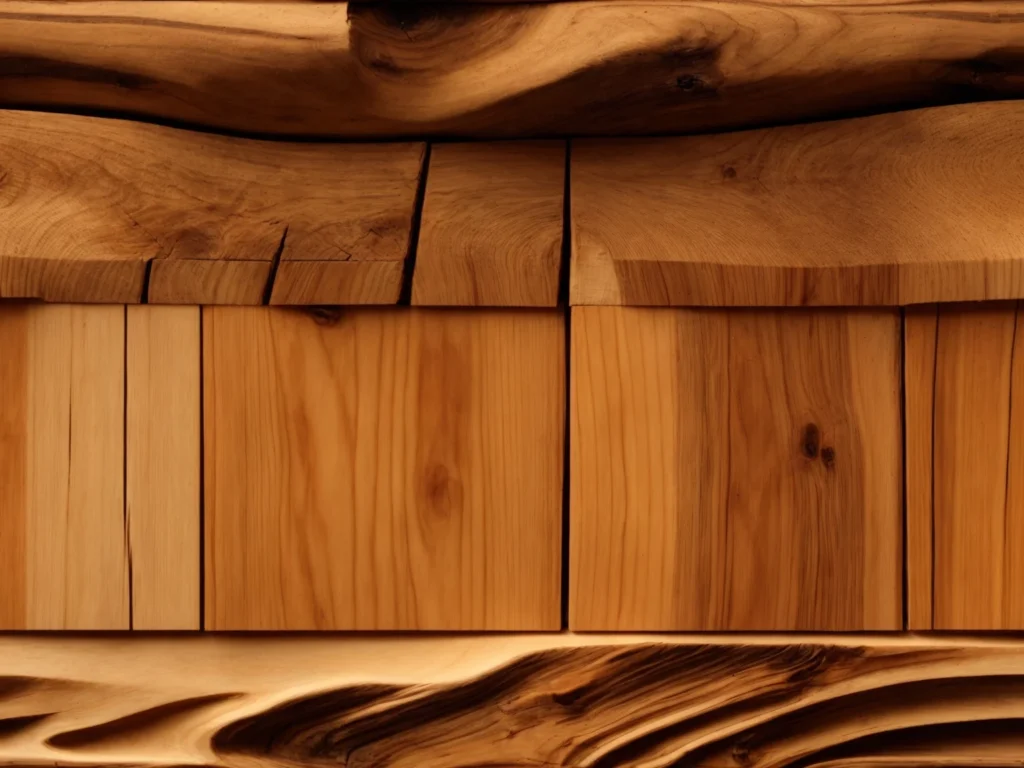 Historically, native tribes living in wetland areas used cypress wood to build houses, canoes, and other structures. Early European settlers quickly recognized Cypress as a versatile New World lumber species. It was soon used to construct waterfront buildings across the South.
Today, Cypress continues to be harvested from wetland forests in the Southern United States. About 75% of cypress lumber comes from Florida, followed by Louisiana and other Gulf Coast states. Professional foresters carefully manage cypress harvesting to protect these sensitive ecosystems.
Benefits of Using Cypress for Furniture
The qualities that make Cypress suitable for outdoor structures and marine applications also provide advantages when building furniture. Here are some of the top benefits of using cypress wood for furniture pieces:
Attractive, Distinctive Grain
Cypress has a naturally beautiful grain pattern sets it apart from other woods. Growth ring spacing varies from tight and straight to wide and wavy, creating a visually interesting grain pattern. The mix of light and dark shades within the grain adds depth. This gives cypress furniture and cabinetry a rustic, one-of-a-kind look.
Decay and Insect Resistant
The natural preservative oils in cypress wood make it resistant to fungi that cause rot and decay. It is also unappealing to insects like termites. You can feel confident using Cypress for furniture that will withstand the test of time. These natural protective oils allow cypress furniture to be used outdoors without treatment.
Dimensionally Stable
Cypress wood experiences very little shrinkage or distortion as it dries. Furniture pieces hold their shape well rather than warping or cracking with changes in moisture. Cypress furniture can withstand some expansion and contraction from humidity fluctuations.
Workability
Cypress is easy to work using both hand and power tools. It has a fairly straight grain and sands to a smooth finish. There is little gum or sap, so cypress machines cleanly. This makes Cypress suitable for detailed moldings, joinery, and other woodworking.
Lightweight Yet Strong
Cypress provides a good balance of strength and stability without excessive weight. It is lighter than many hardwoods at around 32 pounds per cubic foot. The moderately high bending strength allows Cypress to support weight in furniture frames, table tops, and other structural parts.
Comfort and Safety
When sanded, Cypress has a smooth surface that will not splinter with age and use like some woods. It does not have irritating or allergenic properties. This makes it a comfortable choice for furniture meant for relaxation and daily use.
Best Furniture Uses for Cypress Wood
Cypress can be used to build a wide range of furniture styles. It is well-suited for any application where its beauty, durability, and comfort will be appreciated. Some specific uses where Cypress excels include:
Outdoor Furniture
The natural rot, insect, and moisture resistance of Cypress makes it the ideal choice for outdoor furniture. It can withstand sun, rain, and weather fluctuations yearly with minimal maintenance. Cypress is commonly used for Adirondack chairs, patio tables, garden benches, and other outdoor furniture.
Porch Furniture
Cypress is perfect for covered porches and transitional spaces. Though not fully exposed, porch furniture still benefits from Cypress's decay resistance and stability. It's lightweight enough to rearrange seasonally. Cypress rocking chairs and benches are porch classics.
Restaurant Furniture
Cypress stands up to heavy commercial use in restaurants, bars, wineries, and breweries. Its resistance to spills, moisture, and sun exposure make it an ideal restaurant wood. Cypress can create a warm, welcoming ambiance in dining rooms.
Office Furniture
The subtle beauty and comfort of cypress wood creates productivity-boosting office spaces. In contemporary office designs, cypress pairs well with glass, metal, and other modern materials. It is also used for traditional executive desks and conference tables.
Bathroom Furniture
The moisture resistance of Cypress makes it a natural choice for bathroom furniture like vanities, cabinets, and shelving. Its ability to withstand humidity fluctuations helps cypress furniture retain its shape and finish.
Bedroom Furniture
Cypress can add light, relaxed style to bedrooms. Some popular uses include beds, armoires, nightstands, and dressers. Its smooth surface and lack of irritating oils make Cypress suitable for beds and bedroom furniture.
Entryway Furniture
Entryways and mudrooms require furniture that can withstand moisture, humidity, and wear and tear. Cypress console tables, storage benches, coat racks, and shoe cabinets are excellent choices.
Kitchen Furniture
Thanks to its water resistance and strength, Cypress works well for kitchen islands, carts, and storage units. The smooth sanded finish resists scattering crumbs and is easy to clean.
Nursery Furniture
Thanks to its non-toxic properties and smooth finish, parents love cypress furniture for babies' and kids' rooms. Cypress cribs, rockers, tables, and playroom storage are highly popular.
Tips for Working with Cypress Wood
Cypress is fairly easy to work with using common woodworking tools and techniques. Here are some tips for getting the best results when building cypress furniture:
Allow cypress lumber to acclimate to your shop's humidity levels before milling. This prevents excessive shrinking or cupping after shaping.
Pre-drill holes for screws and hardware to prevent splitting. Cypress ends are more prone to splitting if holes are undersized.
Choose plated deck screws, stainless steel hardware, or silicon bronze fasteners for longevity. The natural preservatives can corrode some metals over time.
Apply a sanding sealer before staining to reduce blotchiness. Test stains on scrap first to ensure the look you want.
Use cypress-specific finishes that allow the wood to breathe. Look for formulas containing mildewcides and UV blockers.
Distressed Cypress develops an attractive driftwood gray patina. Let it weather naturally or use chemical solutions to mimic aging.
Turn unique cypress knots, burls andReactionwood into decorative accents rather than cutting around them. The irregular grain patterns add interest.
Maintaining and Caring for Cypress Furniture
Its natural durability, cypress furniture typically requires less maintenance than other woods. But to keep it looking its best:
Clean regularly with mild soap and water. Avoid abrasive cleaners.
Rinse off spills promptly to reduce staining. Avoid letting water pool on surfaces.
Apply a fresh coat of cypress-approved sealer every 1-2 years to protect from UV damage.
Keep cypress furniture out of direct sun when possible to prevent bleaching.
Cover outdoor cypress furniture during extreme weather exposure.
Look for signs of wear like splintering or checking. Sand and refinish worn areas as needed.
Tighten any loose joinery or hardware as needed to prevent damage.
Monitor for mildew in damp climates. Control it with diluted bleach solution.
With proper care, cypress furniture will stay beautiful and functional for generations. The small amount of maintenance required is well worth it.
Is Cypress Worth the Investment?
Cypress furniture costs more than similar pieces made from pine, fir, or imported wood. But considering the benefits, it can be a worthwhile investment:
Long-lasting – Cypress wood's natural durability means furniture that stays beautiful with minimal upkeep. Families enjoy cypress pieces for generations.
Timeless style – The distinctive character of cypress wood creates furniture that doesn't go out of style.
Eco-friendly – Using Cypress supports sustainable forestry practices and keeps wetland ecosystems healthy.
Made in America – Most Cypress comes from well-managed forests in the Southern U.S., supporting local economies.
Strength and stability – Cypress furniture's resilient structure and comfortable feel improve with age.
Cypress is an excellent choice for furniture that will become a lasting family heirloom. Budget-conscious buyers can also enjoy Cypress for select statement pieces.
Finding the Right Cypress Furniture
Cypress furniture is available from many retailers. There are several places to find high quality cypress furniture for your home or business:
Local Woodworkers
Searching locally for cypress furniture made by small woodworking shops in your area is a great option. Many craftsmen work directly with cypress lumber suppliers to hand-make custom furniture. The benefit of local woodworkers is you can see examples of their work and custom order pieces made from Cypress.
Furniture Stores
Some furniture stores, especially those focused on outdoor living products or American-made goods, carry cypress furnishings. You may find cypress patio sets, dining tables, rocking chairs, and more. Visit furniture showrooms in your area to view cypress pieces in person. Staff can also help source custom cypress designs.
Online Retailers
Several online retailers specialize in cypress furniture. This gives you the most selection of styles and finishes. However, you won't be able to see the pieces in person before purchasing. Reputable online sellers will provide detailed product information and have generous return policies if you are not fully satisfied.
Some top online cypress furniture brands include:
Simply Cypress – Offers indoor, outdoor, and custom cypress furnishings including swings, arbors, beds, and dining sets.
Cypress Dreams – Focuses on handcrafted cypress furniture made in Florida including rockers, benches, lamps, chests, and chairs.
Creekvine Designs – Specializes in Cypress patio furniture sets and sells occasional indoor tables, storage benches, and lighting.
Cypress Supply – Besides furniture, they carry cypress lumber and accessories so you can build your cypress projects.
Direct from Manufacturers
Some cypress furniture manufacturers sell directly to consumers through online stores or catalog sales. This allows you to purchase directly from the source. Compare manufacturers' websites to view their cypress collections and get custom pieces.
Vintage and Used Cypress Furniture
Searching classified ads, consignment stores, and online auctions can yield beautiful vintage and antique cypress pieces. Reconditioned cypress furniture with natural patinas and timeless designs bring character to homes. Just inspect pre-owned pieces closely for condition and repairs needed.
Wherever you source it, choosing real cypress wood furniture ensures your purchase is natural, durable, and unique. Consult furniture experts if you need help identifying genuine cypress pieces. With the right care, cypress furniture graces homes for generations.
Design Styles for Cypress Furniture
The warm, rustic look of cypress wood adapts well to many popular interior design styles. Here are some of the top design aesthetics that complement furniture made from Cypress:
Farmhouse Style
The natural beauty of Cypress fits right in with farmhouse decor. Cypress dining tables and seating bring an authentic touch to casual rural spaces. Distressed cypress cabinets, beds, and benches add character to farmhouse rooms.
Rustic Style
Cypress has a cozy, cabin-like feel perfect for rustic rooms. Knotty cypress tabletops and rough-hewn benches enhance the unrefined look. Leave cypress furniture unvarnished or lightly whitewashed to increase the rustic appeal.
Lodge Style
Lodge-inspired spaces benefit from furniture made from honest, handcrafted cypress wood. Cypress trunk tables, beds with twig-style headboards, and frame sofas upholstered in outdoor fabrics complement the raw, masculine lodge aesthetic.
Coastal Style
Cypress was historically used along the Atlantic seaboard so it suits coastal decor perfectly. Weathered grey cypress dining sets used outdoors create a coastal vibe. Cypress storage benches and framed mirrors also feel right at home in breezy waterfront cottages.
Bohemian Style
Cypress furniture brings warmth and texture to eclectic boho spaces. Recycled cypress planks make cool tabletops while cypress daybeds and chairs make comfy bohemian lounging spots. Layer in colorful, global textiles and decor.
Traditional Style
Though it has a relaxed vibe, Cypress can also suit traditional dining rooms and studies. Formal cypress tables, bookcases, and executive desks crafted with quality joinery and classic lines adapt well to traditional style when finished more smoothly.
Cypress is versatile enough to use as an accent or to build entire furnishings collections. Talk to furniture designers about how Cypress can boost the look you want to achieve in any interior design style.
Building Your Own Cypress Furniture
Woodworkers who want to build their cypress creations can purchase cypress lumber from specialty suppliers. Here are some tips for tackling DIY cypress furniture projects:
Selecting Cypress Lumber
Choose straight, flat, and flat cypress boards free of significant knots, cracks, and other defects. Look for a mix of heartwood and sapwood for contrast. Purchase lumber that has been kiln dried for stability.
Recommended Cypress Cuts
The most common cypress cuts for furniture include:
4/4 lumber (1 inch thick) for chairs, tables, and cabinets
5/4 stock (1 1⁄4 inch) for outdoor furniture and tabletops
8/4 timber (2 inches thick) for benches, bed frames, and structural parts
Live edge slabs for tables
Turning blanks for spindles and legs
Working with Cypress
Follow these tips when milling and building with Cypress:
Cut Cypress carefully and minimize sanding to maintain its natural oils
Pre-drill before nailing and screwing to prevent splitting
Choose exterior-grade adhesives to assemble cypress furniture meant for outdoors
Use penetrating finishes that protect without forming a plastic-like film
Add protective pads to chair and table legs to prevent marring floors
Embrace small knots and imperfections to showcase cypress character
Building something meaningful from gorgeous cypress wood is deeply satisfying. You can create stunning cypress furniture for your home with practice and the right techniques.
Maintaining Cypress Furniture Outdoors
One of the appeals of cypress furniture is its ability to withstand outdoor exposure while retaining its beauty. With proper maintenance, cypress patio sets, benches, and other pieces last for decades outside. Here are some tips for caring for cypress furniture that lives outdoors:
Regular Cleaning
Wash outdoor cypress furniture with a mild soap and warm water using a soft cloth or brush every few months. This removes pollen, dirt, and other debris that can stain the wood if allowed to accumulate. Avoid abrasive cleaners.
Finish Protection
Reapply a cypress-specific sealer or finish annually or biannually to protect the wood from moisture and UV damage. Look for water-based penetrating finishes that contain UV blockers and mildewcides. Follow manufacturer application directions carefully.
Storage and Covering
During rough weather or when not used for extended periods, store cypress outdoor furniture in a garage, shed, or covered area to prevent excessive exposure. Alternatively, cover pieces with waterproof, breathable furniture covers.
Inspect for Damage
Check cypress furniture for splintering, cracking, rot, and insect damage before and after seasons of heavy use. Make any needed repairs promptly to prevent further deterioration. Addressing issues quickly preserves the furniture.
Comfort Considerations
Use chair cushions and patio umbrellas to make cypress furniture more comfortable in hot, sunny weather. Bring cushions indoors when not in use. Consider applying a wood conditioner if Cypress becomes rough.
Address Mildew
Mildew can grow on any outdoor wood given enough moisture. Control mildew on Cypress using a diluted bleach solution or commercial mildew cleaner. Limit moisture exposure and follow other preventive steps.
With proper placement and routine care, Cypress can grace patios, decks, and gardens year after year. Maintain its beauty so future generations can enjoy your cypress heirlooms.
Inspiring Examples of Cypress Furniture
Cypress wood furniture ranges from sleek contemporary to timeworn rustic. Here are some inspiring cypress pieces to fuel your furniture imagination:
Live-Edge Cypress Dining Table
A smooth cypress tabletop cut from a natural edge slab makes a centerpiece brimming with organic character. The irregular shape contrasts beautifully against clean metal legs.
Architectural Cypress Bed
Bascule joinery on this cypress bed creates visual intrigue. The crisply machined woodwork technique forms the floating supports using interlocking joints and tension.
Wrapped Cypress Lounge Chair
Steel cables wrapped around a curving cypress frame form the seat of this eye-catching lounge chair. The combination of materials results in a sculptural, conversation-starting piece.
Cypress Shelving Unit
Alternating cypress boards stacked in a ladder-like tower compose this storage shelf. The simplicity allows the wood grain to take center stage.
Floating Cypress Shelves
Strips of Cypress create these sleek wall-mounted floating shelves. The subtle grain pattern and color variations add visual interest against the crisp white walls.
Cypress Porch Swing
A classic American porch swing handcrafted from durable cypress wood invites relaxation. The generous proportions, built-in table, and comfortable cushions say "sit and stay awhile."
Linear Cypress Media Console
Clean lines and smooth surfaces blend this cypress media console with contemporary spaces. Touch latch doors and built-in cord management maintain the streamlined aesthetic.
Rustic Cypress Coffee Table
A simple cypress plank tabletop on black pipe legs makes an industrial-rustic statement. The prominent natural edges and knots highlight the wood's unique character.
Cypress Outdoor Bar
This movable cypress bar on casters provides cocktail service anywhere outdoors. A metal shou sugi ban finish adds contrast to the wood grain. The overhang keeps guests dry.
Cypress Planter Box
Perfect for decks and patios, these cypress planter boxes bring greenery to outdoor living areas. The angled cypress panel design is a unique take on standard deck boxes.
Reclaimed Cypress Bathtub Tray
Once part of a cypress barn, this wood was repurposed into a rustic bathtub caddy. The aged patina adds charm and provides the perfect perch for bath essentials.
Cypress furniture offers limitless possibilities, from sleek minimalism to organic modern styles. Woodworkers continue to find new and creative ways to celebrate the natural elegance of Cypress.
Unfinished vs. Finished Cypress Furniture
Cypress wood furniture available for purchase comes in two forms – unfinished or pre-finished by the manufacturer. Both have advantages depending on your goals and preferences:
Unfinished Cypress Furniture
Unfinished Cypress comes directly from the mill ready to sand, stain, paint, or finish as desired. Benefits of unfinished Cypress include:
Control – Apply your choice of finish color and sheen
Cost savings – Unfinished Cypress is often less expensive than pre-finished
Customization – Finish to complement your exact home decor
Repairability – Spot repairs or refinishing are simpler
Patina development – Unfinished cypress ages gracefully over time
Unfinished Cypress requires more time and effort but allows you to control the final look.
Finished Cypress Furniture
Prefinished Cypress has been sanded smooth and professionally finished with stains, oils, or paints. Advantages of pre-finished Cypress include:
Convenience – Arrives ready to use with no additional work
Protection – Finish helps guard against moisture and wear
Consistency – Uniform appearance since factory-applied
Reduced maintenance – May not need refinishing for years
Immediate enjoyment – Use right away with no wait time
Expert finishing – High-quality techniques from experienced finishers
If you prefer not to finish the wood yourself, pre-finished Cypress minimizes work while maximizing beauty and longevity.
The choice depends on your skills, time, and design preferences. Either way, Cypress provides a lifetime of use and enjoyment.
Conclusion
With its stunning grain patterns, natural durability, and comfortable feel, Cypress is an exceptional interior and exterior furniture choice. The warm, relaxed beauty of cypress wood furniture graces homes and businesses across America.
Centuries-old cypress pieces passed down through generations testify to the wood's longevity and timeless style. With proper care, new cypress furniture made today will become tomorrow's heirlooms.
Cypress furniture ranges from sleek contemporary to farmhouse rustic. It brings elegance and versatility to spaces of all kinds. Cypress is also an environmentally-friendly furniture material when produced using responsible forestry practices.
The next time you need furniture that will last, choose Cypress. Its natural strength, comfort, and character offer a lifetime of enjoyment. Allow Cypress's enduring beauty to make your home or business uniquely yours for decades.