The living room is often considered the heart of a home. It's a space to relax, entertain guests, and spend quality time with family. While living rooms can serve many functions, one universal goal is to make them as cute, cozy, and inviting as possible.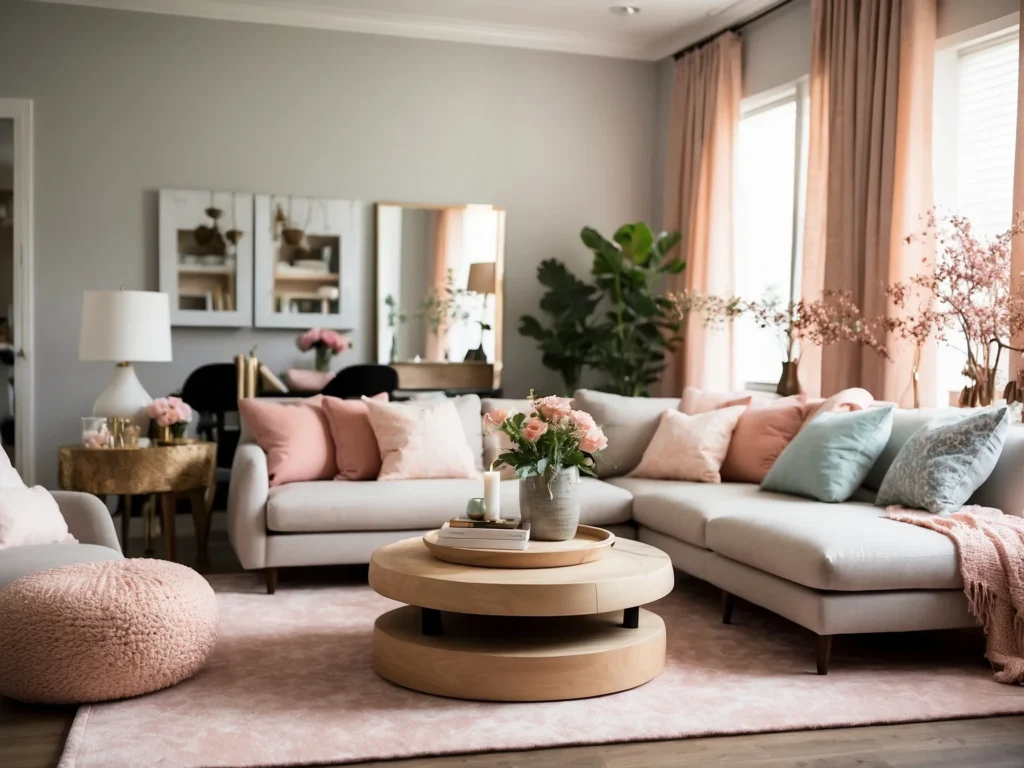 A "cute" living room has a certain warmth, charm and personality. The decor choices are aesthetically pleasing, with soft and comforting elements. Cuteness comes from adding personal touches and embracing imperfection. The overall vibe is happy, peaceful and full of joy.
There are many routes to take when cultivating a cute living room. Various design factors contribute to creating a cute space, from colors and textures to layouts and accents. Here are some tips and ideas to make your living room as cute as can be.
Using Soft Textures and Pastels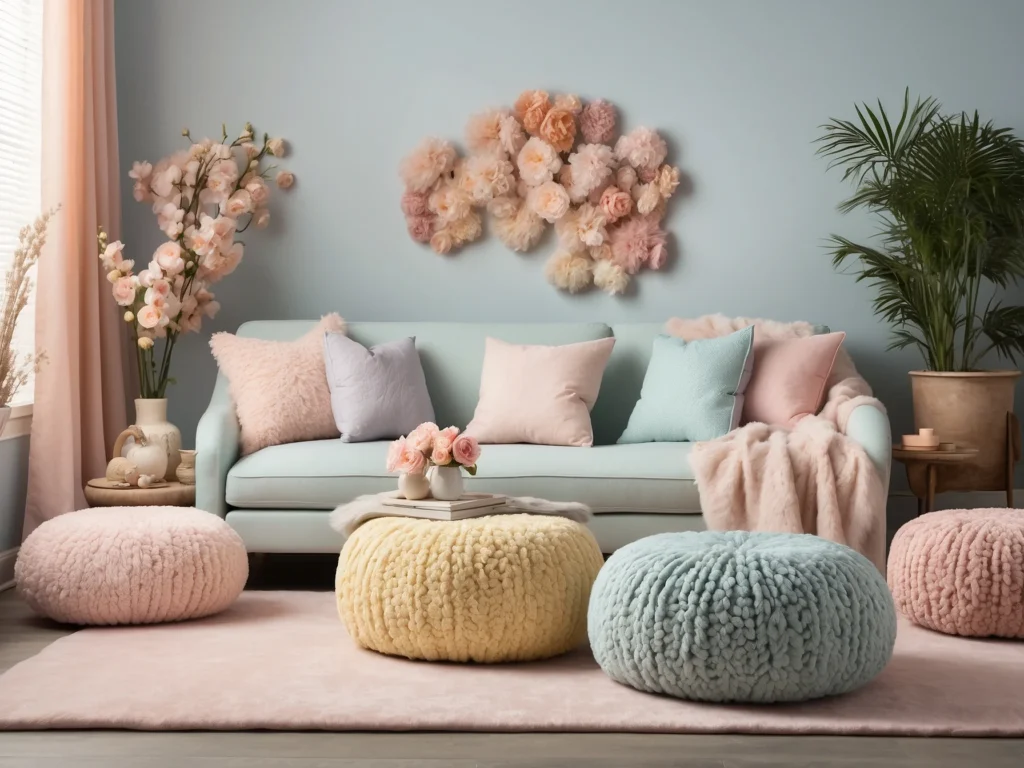 One of the quintessential ways to make a living room cute is through soft, cozy textures. Throws, pillows, rugs and ottomans covered in chenille, velvet, knits and faux fur bring both visual and tactile comfort. These lush fabrics make the room feel soft, warm and inviting.
Pair soft textures with pastel hues like blush pink, powder blue and pale yellow. Pastels add a sweet, dreamy quality to a space. Whether used on walls or furniture, these hushed tones create a delicate, cute aesthetic. Accessorize with pillows, throws, flowers, and other pastel touches for maximum cuteness.
Cute living room decorating ideas:
Pillows – Decorate sofas and chairs with abundant plush pastel pillows in different shapes and sizes.
Throws – Drape soft knit or faux fur throws over armchairs or sofas for extra coziness.
Rugs – Fluffy pastel rugs like sheepskins or shags add warmth underfoot.
Flowers – A vase or two of fresh pastel blooms brings a sweet pop of color.
Poufs – Pastel floor poufs provide extra seating and a cute accent.
Creating Intimate Seating Nooks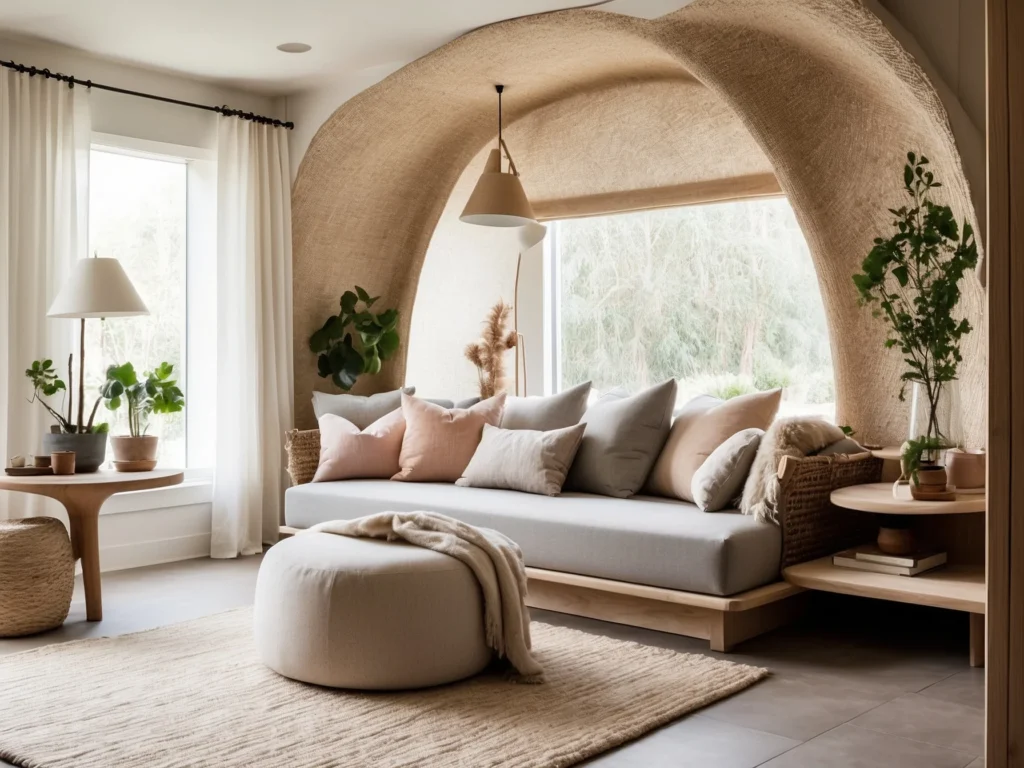 Sectioning off the living room into intimate seating nooks helps make the space feel cozier and cuter. These mini spaces within the room offer privacy and solitude, even when others are present.
To create living room nooks:
Float furniture away from walls to define spaces. Angle pieces inward toward each other to form cozy areas.
Add small end tables to anchor furniture arrangements into nooks.
Layer rugs under seating areas to delineate spaces.
Use shelving or partial walls to divide open floor plans. Built-in benches also afford separation.
Nooks don't have to be large to feel intimate. Even a pair of armchairs angled together imparts a sense of closeness.
Seating nooks allow for more personalized decor. For example, one nook could have rustic cottagecore vibes with woven textures. Another feels beachy and light with rattan and natural wood. When spaces have their distinct look, the room gains visual interest and becomes extra cute.
Incorporating Greenery and Flowers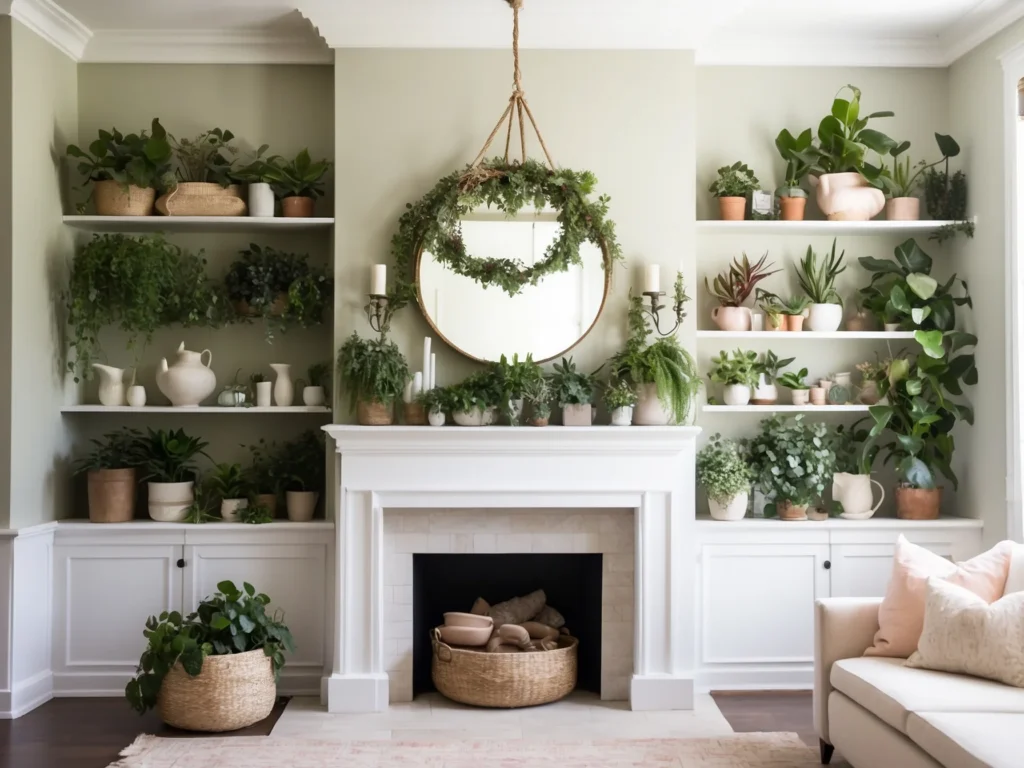 Nothing ushers in cuteness quite like fresh greenery and flowers. Something about plants and blooms feels happy and uplifting. They bring life and vitality wherever they're placed.
There are many ways to incorporate flowers and plants throughout a living room:
Flower Arrangements
Feature pretty floral bouquets and garlands on coffee tables, side tables, fireplace mantels and built-in shelves. Opt for eclectic vintage vessels like jugs and teapots for the arrangements.
Houseplants
Cluster an assortment of houseplants in plant stands near windows to form a cute indoor garden. Trailing vines and large leafy plants work especially well.
Plant Walls
Turn a blank wall into a vertical garden. Use wall-mounted planters or floating shelves to display a mix of cute succulents and trailing ivy.
Wreaths & Garlands
Adorn walls and doors with floral wreaths and garlands made from fresh or faux eucalyptus, palms or pink roses.
Greenery styled atop cabinets and bookshelves also heightens the room's cuteness quotient. Let plants delightfully take over the space for a lively indoor jungle vibe.
Embracing Imperfect Decor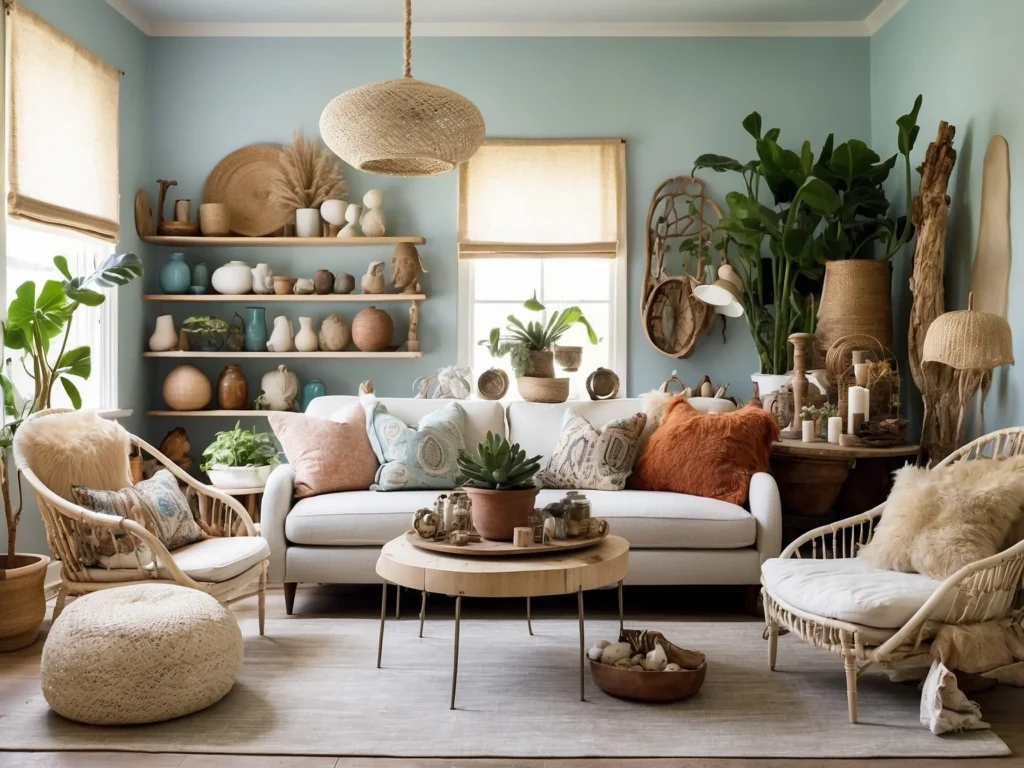 The perfectionism and matchiness of typical interior design does not lend itself to a cute aesthetic. Instead, embracing imperfection through eclectic, mismatching decor makes a space cuter and full of charm.
Here are ways to bring pleasing imperfection to a living room:
Mix and match furniture – Avoid buying all furnishings from one matching set. Combine vintage, modern and thrifted pieces for an eclectic look.
Display natural collections – Showcase interesting nature finds on shelves like seashells, stones, pinecones, and sand dollars.
Hang macrame wall hangings – Macrame's organic, handmade look provides visual texture.
Use mismatched pillows and throws – Layer on various pillows and throws in different colors, patterns and textures.
Add cute tchotchkes – Show off personal knickknacks, figurines and quirky flea market treasures.
The inherent imperfections of these decor details make a space feel well-loved, charming and full of personality. The mix of colors, patterns and objects please the eye asymmetrically.
Incorporating Personal Touches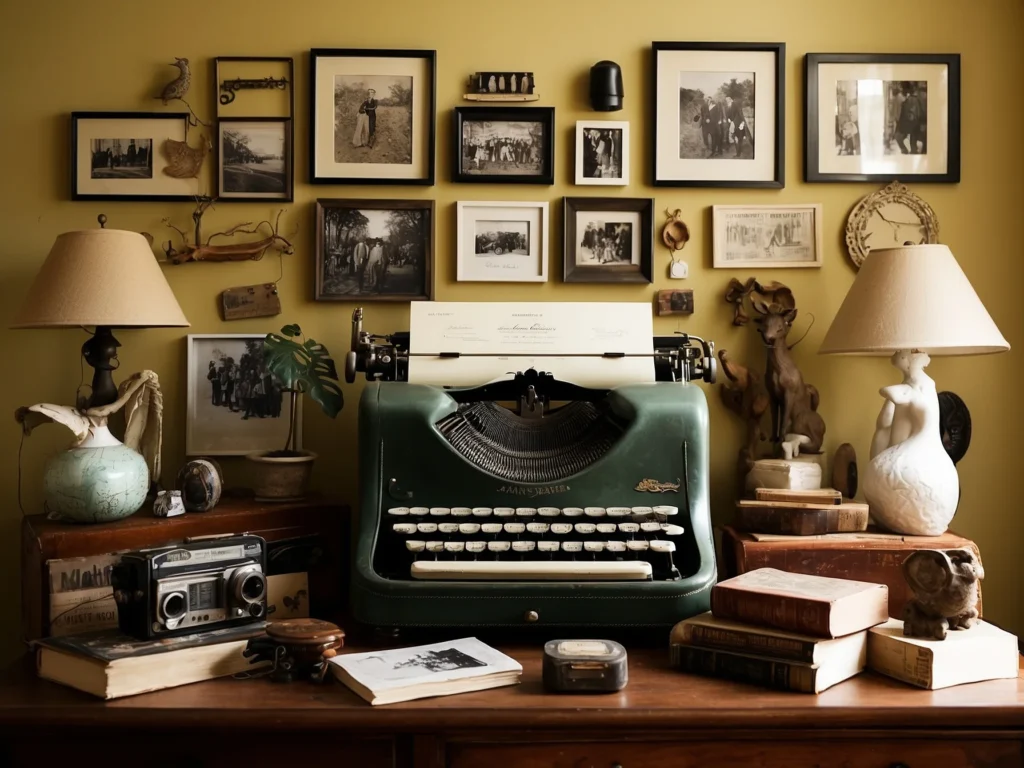 A living room filled with personal memorabilia, photos and mementos gains an abundance of cute character. These meaningful touches make the space feel like home.
Ideas for adding personal flair:
Display favorite photos in mix-matched frames on shelves and side tables.
Showcase quirky antique family heirlooms, like cameras, typewriters or musical instruments.
Group treasured travel souvenirs and found objects together in a shadowbox or on a wall.
Hang meaningful artwork or paintings gifted by loved ones.
Arrange framed concert tickets, postcards or maps collected from special places.
Showcase old childhood stuffed animals, dolls or blankies for a nostalgic accent.
When decor tells a story about the people who live there, it cultivates cuteness on a deeper level. Cherished objects carry memories and emotion, giving the room a heartfelt vibe.
Using Furniture to Delineate Space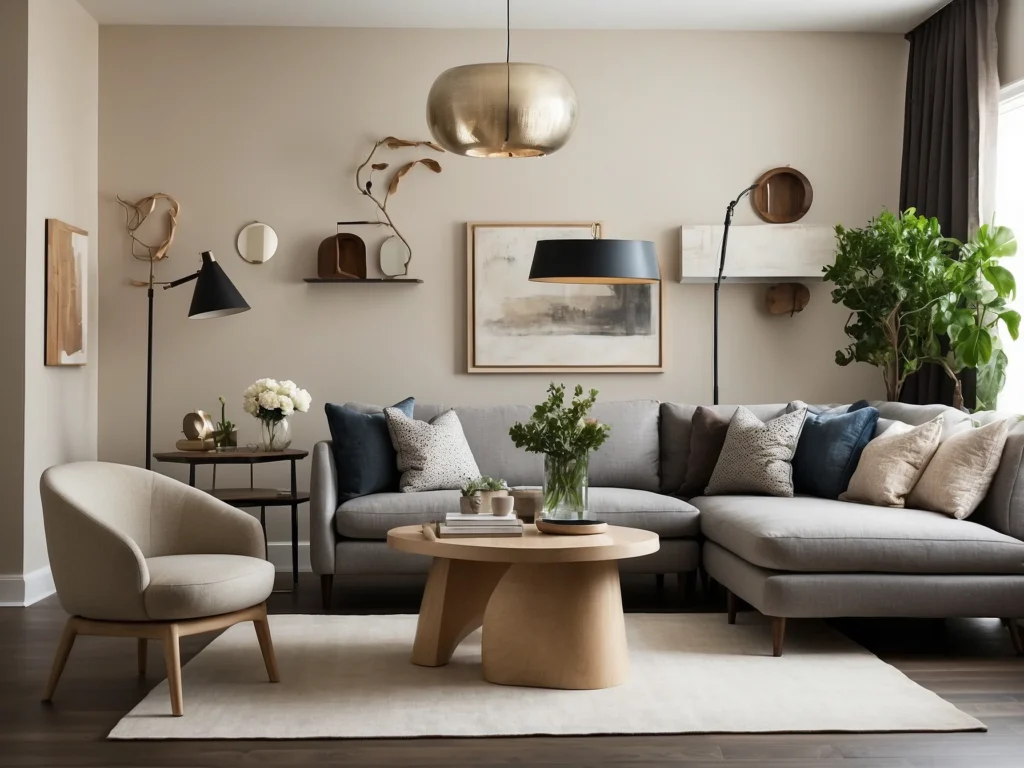 Cute living rooms tend to feel intimate and cocooning. Carefully arranging furniture helps break up an open floor plan into identifiable zones. These functional spaces foster coziness within a large, potentially echoey room.
Ideas for using furniture to define areas:
Conversation Area – Face two sofas or lounge chairs toward each other with a coffee table in between to create an area for chatting.
Media Zone – Angle furniture toward a TV or media console to designate an entertainment space.
Reading Nook – Tuck an armchair or loveseat in a corner, with an angled bookshelf and floor lamp nearby.
Dining Area – Delineate a dining zone with a round table and chairs floating in the room's open area.
Workstation – Set up a desk vignette along the wall, with a chair, table lamp and gallery wall.
Thoughtfully arranged furniture provides visual balance. It also guides movement through the room, drawing attention towards focal points. This makes the layout feel intentional.
Incorporating Whimsical Accents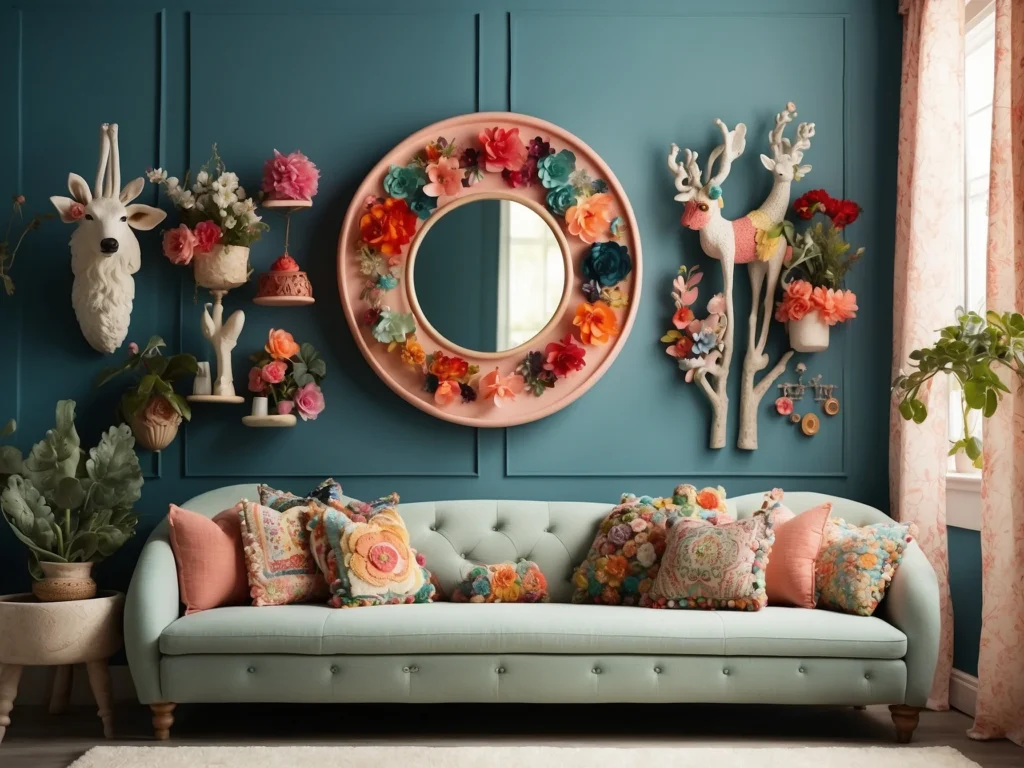 Whimsical decor that spark joy and imagination create a cute living room aesthetic. These playful touches add a dose of lightheartedness to a space.
Fun ways to work in whimsical accents:
Mirrors – Hang colorful, ornately shaped mirrors for retro flair. Circular mirrors with cutouts evoke a carnival feel.
Lighting – Chandeliers with dangling paper pompoms or fabric tassel pendants impart a playful vibe overhead.
Wall Decor – Mount ceramic animal heads or floral wreaths for an unexpected decorative boost.
Throws & Pillows – Choose throws and pillows embroidered with cheeky sayings, funky prints or cute critters.
Figurines – Display porcelain animals, fairytale creatures or quirky vintage toys atop shelves as dainty sculptures.
Faux Plants – Succulents, flowers and butterflies crafted from colorful felted wool provide a cute, faux touch.
Whimsy makes a living room more inviting. These sprightly accents add a dose of lightness to balance out larger furniture pieces. A touch of innocence and playfulness brings out the inner child.
Creating an Evening Ambiance with Lighting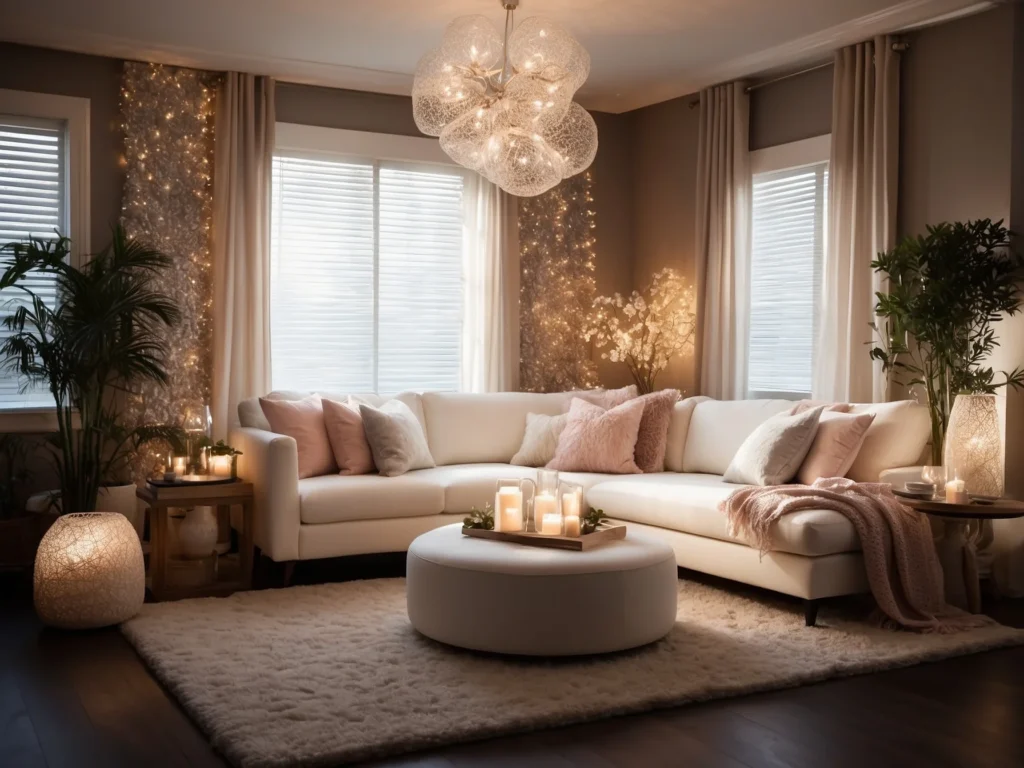 Proper lighting is key for setting a cute, cozy living room mood once the sun goes down. Lighting transforms a daytime space into a soft, intimate evening ambiance.
Layered Light Sources
Work in a mix of lighting for a warm, inviting glow after dark:
Overhead – Use dimmable hanging pendant lights or chandeliers as a soft general light source.
Table Lamps – Place table and floor lamps next to seating areas for more focused task lighting.
Sconces – Mount wall sconces above furniture to illuminate without taking up table space.
Accent Lighting – Add strands of fairy lights along shelves or picture rails to create a sparkling accent wall.
Dimmers
Install dimmer switches to control overhead and accent lighting. This allows you to set the right mood lighting brightness.
Warm Tones
Choose bulbs that emit a warmer, cozier light temperature instead of cool blue-toned lighting. Opt for amber, yellow or pink hues.
Candlelight
Group candles together throughout the living room to emit a delicate, flickering glow. Choose scented candles for added sensory appeal.
Smart Lighting
Use smart bulbs and lamps, like Philips Hue, for customizable lighting. Program cues like "Movie Night" and "Dinner Party" for instant ambiance.
Proper living room lighting provides both function and atmosphere. Thoughtfully layered light sources set the stage for cozy evenings at home.
Incorporating Sheer Curtains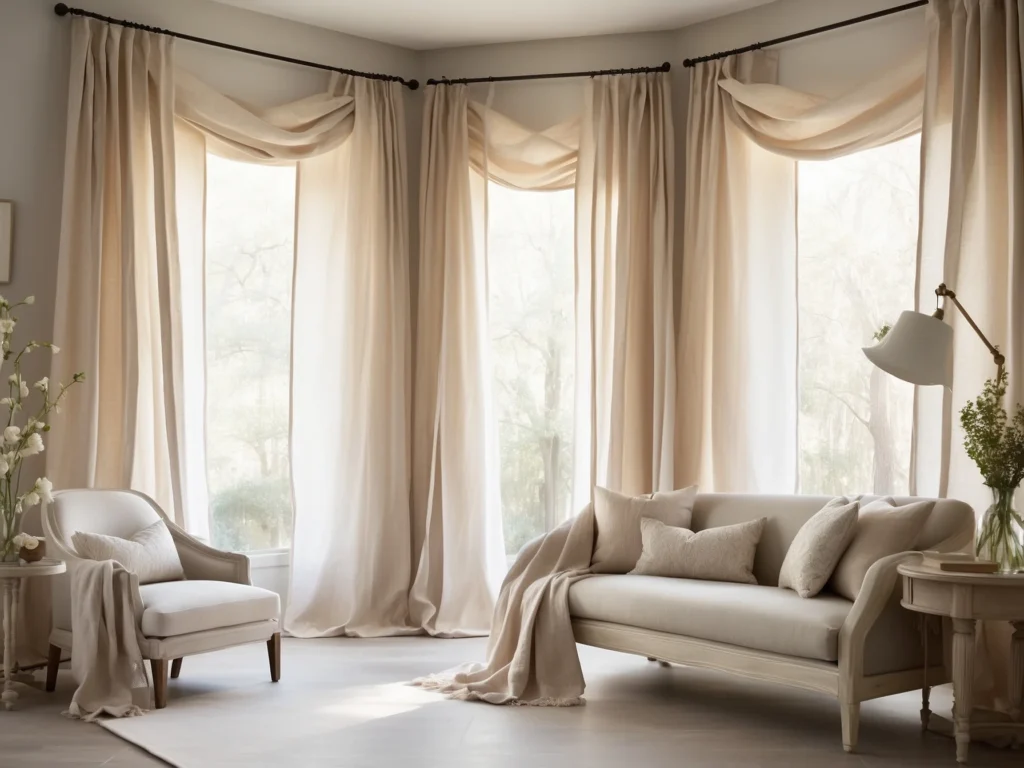 Sheer curtains instantly soften living room windows for an airy, delicate look. These lightweight see-through curtains filter natural light in a translucent, ethereal way.
Sheer curtain ideas:
For privacy at night, install double rod brackets. Hang sheer curtains on one rod, opaque curtains on the other.
Choose breezy, flowing fabrics like lace, voile, silk and linen in neutral hues or pastels.
Pair sheer curtains with textured blinds like wood slats or woven shades for light control.
To emphasize height, hang curtain panels wide and long, puddling onto the floor.
Add details like ruffles, embroidered patterns or contrasting bands for visual interest.
Draw back during the day with tiebacks or hold open with decorative rods to frame the window.
Sheer curtains, especially billowing linen or lace, impart romantic cottage vibes. Their lightweight fluidity provides an airy counterpoint to dense furniture and finishes.
Embracing Cozy Seating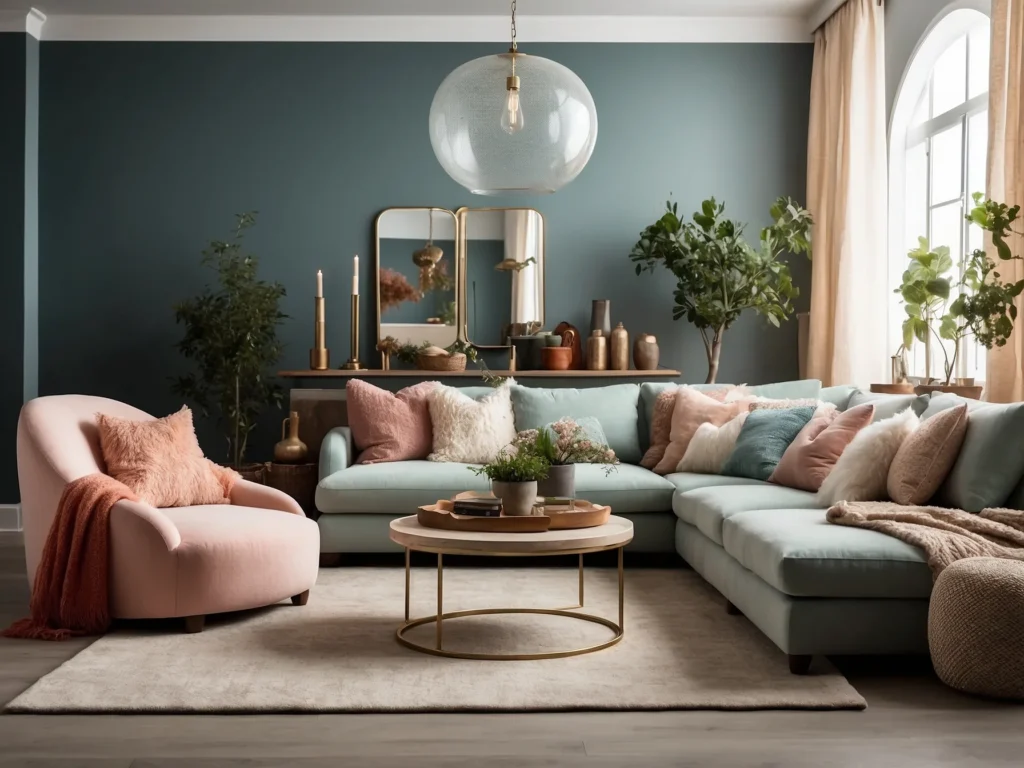 Comfort is key in a cute living room. Cozy, sink-in seating promotes relaxation and quality time together. Prioritize soft, oversized sofas and chairs you can curl up in.
Seating tips:
Choose cushy sectionals and deep sofas for stretching out and cuddling. Flared arms and backs feel more enveloping.
Add plush armchair and ottoman pairs ideal for comfortable reading nooks.
Bench seating provides a cozy spot for multiple people. Choose a padded cushion and toss pillows.
Incorporate round beanbag chairs as casual floor seating for kids and teens.
Arrange multiple cozy chairs around a coffee table to create an intimate conversation area.
Float chairs at an angle rather than lining them up stiffly against walls.
Upholstery should be equally soft, like velvet, chenille or soft linen. Where people sit establishes the overall cozy vibe. prioritize quality over quantity to keep the room feeling airy.
Creating a focal point with Fireplaces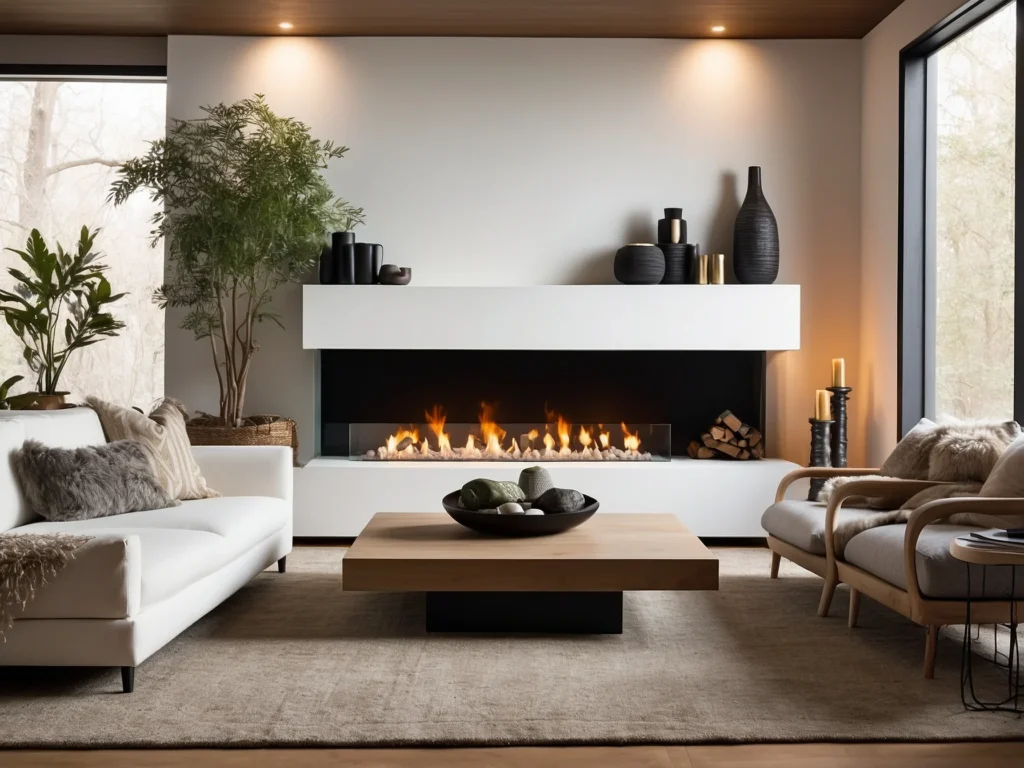 Fireplaces naturally draw the eye and anchor the living room layout. Their warmth and mesmerizing flames instantly cozy up a space.
If your room lacks a fireplace, create the look with:
Faux Fireplaces
Electric fireplaces offer the ambiance of real fire without the mess. Many models feature flames, crackling sounds and heat options.
Ethanol tabletop fireplaces provide portable flickering flames. Some are designed like modern art sculptures.
Focal Points
Build out a statement wall with stone or brick veneers, open shelving and alcoves with cascading lights.
Create a focal feature gallery wall collage using a mix of artwork, mirrors, macrame and decorative objects.
Install a large aquarium or terrarium to provide living focal point. The soothing movement and nature elements enhance the room's cozy feel.
Without a true fireplace, thoughtful focal features infuse a similar sense of warmth. They provide a visual anchor that defines the layout.
Embracing Natural Wood Furnishings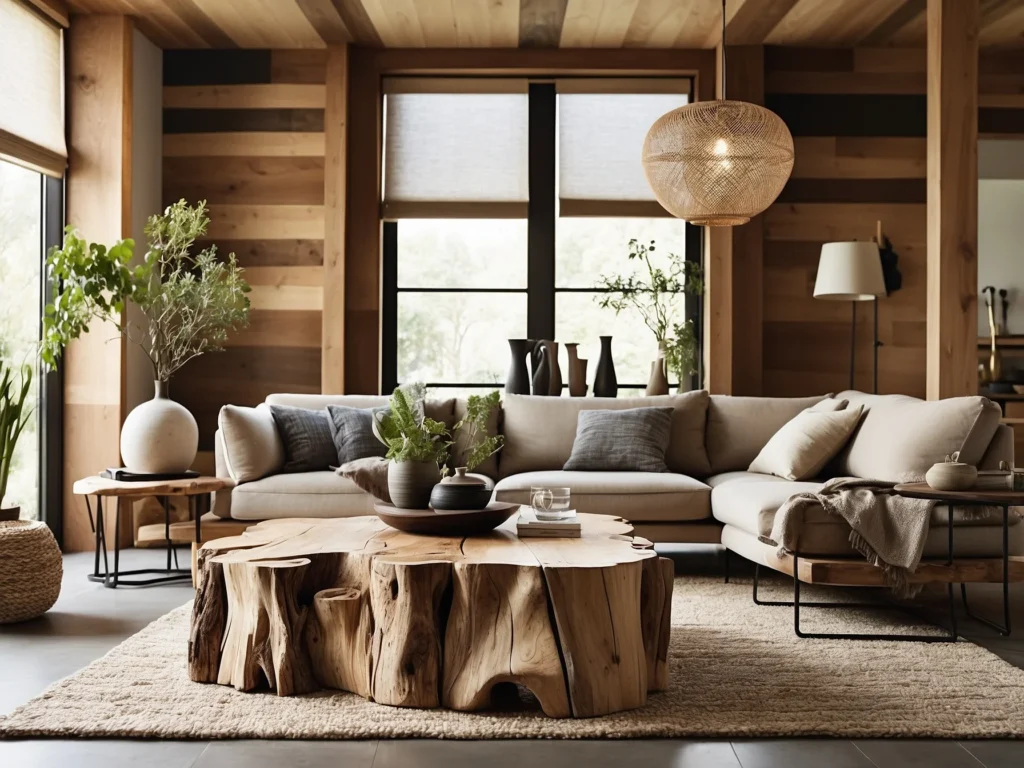 Natural wood introduces organic texture that softens a living room and enhances its coziness. The inherent warmth of wood grain, especially light oak or whitewashed variations, feels calm and inviting.
Ways to incorporate wood furniture and accents:
Select woven rattan or bamboo furniture like chairs, tables and storage cabinets.
Choose a reclaimed wood coffee table with metal hairpin legs for an industrial edge.
Built-in shelving and cabinetry framed with light wood finishes provide a cozy custom look.
Mount circular natural edge wood mirrors or hang driftwood wall art behind furniture groupings.
Opt for hardwood flooring with a soft wide plank pattern and unfinished treatment to feel laidback.
Work in wood slab accent tables, dangling wood bead curtains and ceiling beams for organic texture.
The imperfect knots, grains and natural variations of wood add organic character. It provides a pleasant contrast to sharp lines and sleek materials.
Using Arts and Crafts Style Decor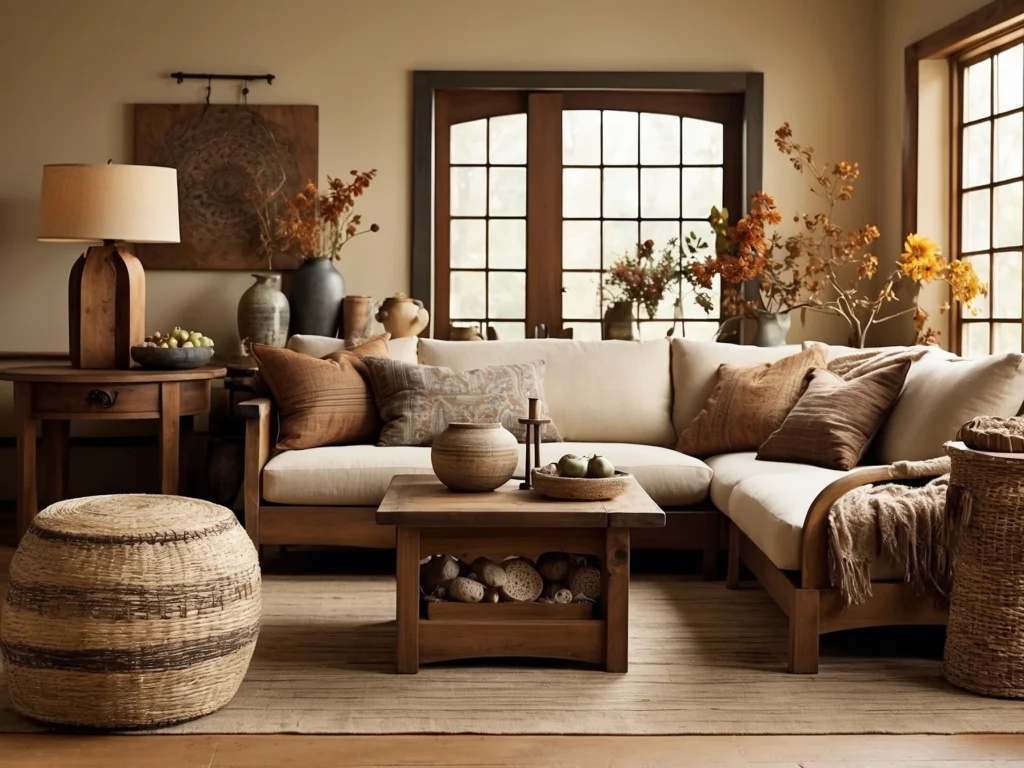 The early 20th century Arts and Crafts movement valued simple handcrafted goods and natural materials. Embracing hallmarks of this style introduces unfussy, artisanal charm into a living room.
Arts and Crafts decor elements:
Furniture – Choose solid oak furnishings with exposed joinery in rectilinear Mission and Stickley styles. Leather upholstery adds coziness.
Textiles – Layer in handmade touches like knit blankets, cotton throws, wool pillows and rag rugs.
Ceramics – Display pottery, vases and tiles featuring earthy hues and hand-painted detailing. Opt for pieces from indie ceramic artists.
Lighting – Warm spaces with decorative stained glass table lamps or hammered metal pendants.
Accessories – Incorporate woven baskets, nature-inspired prints and real dried flowers for organic accents.
The anti-industrial Arts and Crafts aesthetic has an authentic charm. Handmade touches and natural materials cultivate coziness through their inherent imperfection and uniqueness.
Embracing Used and Vintage Furnishings
Fill your cute living room with character by opting for used and vintage furniture sourced from flea markets, estate sales and secondhand stores. Previously owned pieces carry a nostalgic warmth.
Benefits of vintage furnishings:
Cost effective way to get quality solid wood pieces made to last.
Classic silhouettes like mid-century modern styles remain fashionable.
Imperfections like wear and patina add nostalgic design appeal.
Unique conversation-starting pieces you won't find at chain stores.
Environmentally-friendly options that reduce waste.
When searching for secondhand treasures, look for charming features like cane backs, spindle legs, or cabriole arms. Distressed woods, faded upholstery, and visible repairs all enhance old-fashioned allure.
Mixing eras also adds eclectic charm—pair a Victorian fainting couch with 70s swivel barrel chairs, for example. Follow your nostalgic whims when curating.
Incorporating Shabby Chic Elements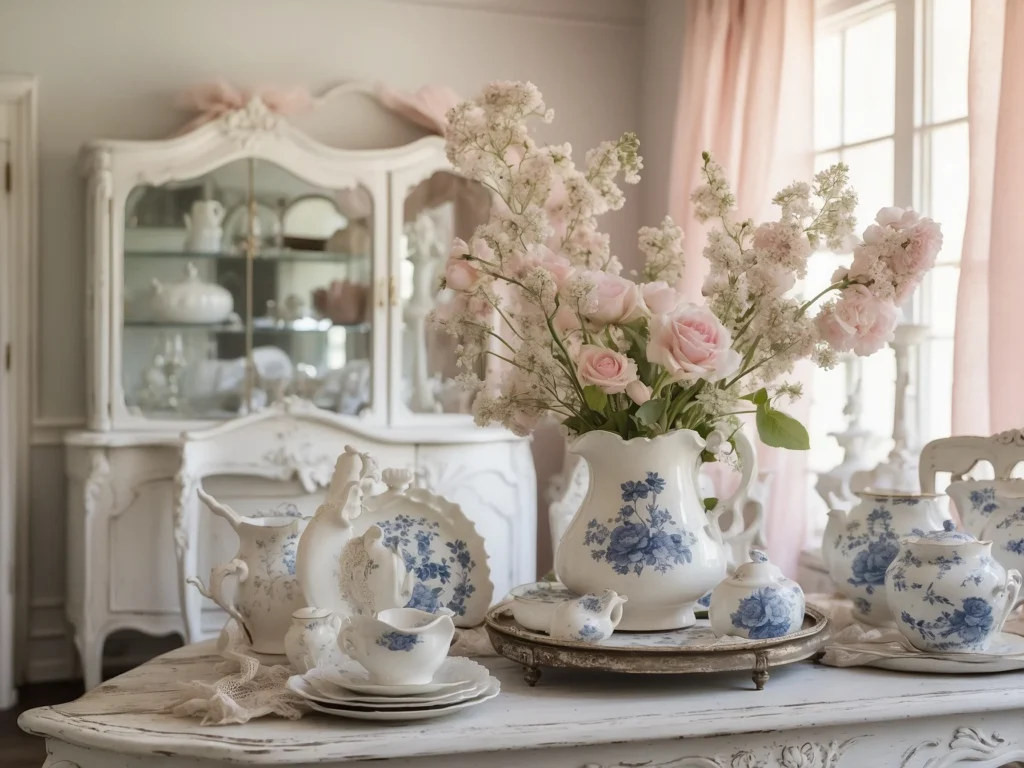 The relaxed ruffled femininity of shabby chic style brings a playful whimsy and vintage allure to living rooms. This decor approach embraces delicate floral patterns, timeworn chips and scratches, and gossamer fabrics.
Shabby chic living room ideas:
Soften hard edges with ruffled slipcovers, lampshades or curtain panels.
Whitewash wooden furnishings to let natural wood grains show through.
Display painted china, milk glass vases and distressed metal accents.
Add French country touches like toile fabrics with pastoral scenes.
Include a faded antique chandelier and mirrored furniture for ornate accents.
Decorate walls with plate collections or display teacups and decanters in a cupboard.
The relaxed imperfections and rosy, feminine accents create a cute, dreamy, welcoming vibe. These romantic details add playful personality.
Incorporating Coastal Style Decor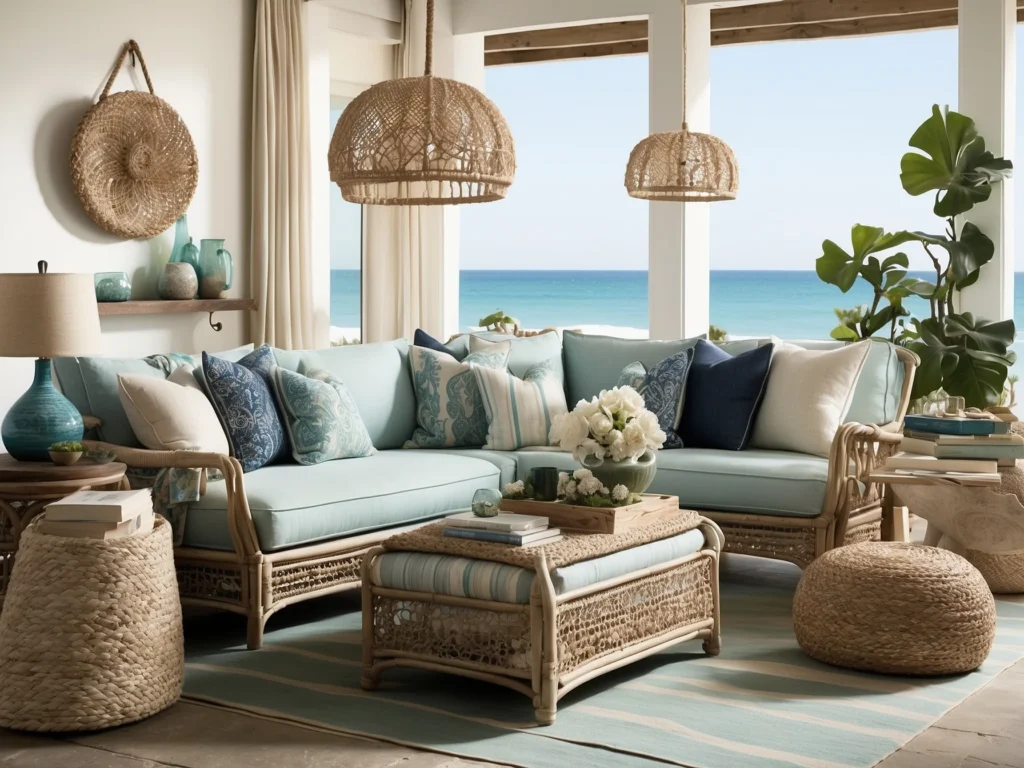 For a beachy living room vibe that whispers carefree days by the shore, embrace coastal decor motifs. Breezy fabrics, weathered details, and ocean-inspired hues create a relaxing oasis.
Coastal decor ideas:
Fabrics – Upholster furniture in textured linen-cotton blends, nubby seagrass and striped ticking.
Furniture – Choose whitewashed rattan or driftwood pieces for casual coastal charm.
Colors – Use hues like sea glass greens, sandy tans, sun-washed blues and seashell pinks.
Textures – Incorporate natural elements like jute rugs, wood plank walls, rope accents and rattan pendant lighting.
Accessories – Decorate with sand dollars, seashells, coral pieces, and driftwood layered on tables or wall-mounted shadowboxes.
Artwork – Hang beach landscape photography, prints of seashells or botanicals, and pieces with inspirational quotes.
Pillows – Embellish sofas and chairs with embroidered anchors, shells, starfish and stripes.
The breezy, relaxed vibe transports you to sunny cottage living by the sea. Easygoing coastal accents cultivate low-key cuteness.
Creating Dignified Elegance with Traditional Style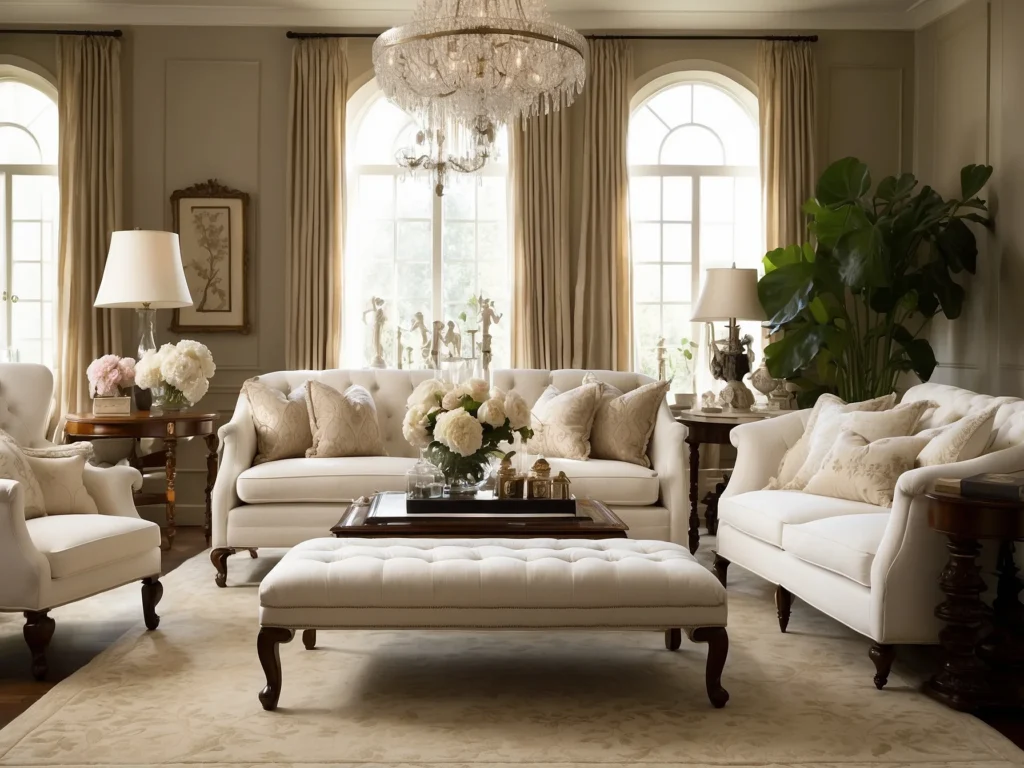 While light and feminine spaces appear cute, traditional living rooms with dignified elegance also impart inviting warmth. Rich woods, layered patterns and classic silhouettes come together for timeless sophistication.
Elegant traditional style ideas:
Furniture – Invest in enduring mahogany, walnut or teak pieces for long-lasting quality, like button-tufted Chesterfield sofas.
Fabrics – Opt for lush details like brocade, damask, velvet and fringe on upholstery and drapes.
Lighting – Illuminate spaces with crystal chandeliers and sconces for refined elegance.
Rugs – Layer ornate Oushak or floral pattern rugs atop hardwoods for visual interest.
Artwork – Display large romantic landscape oil paintings or still life watercolors in gilded frames.
Objects – Add antique books, porcelain collectibles, silver serving pieces, decanters and vases.
While not overtly cute, dignified living rooms exude welcoming sophistication. Time-honored furnishings and refined details create a peaceful, elegant haven.
Embracing Bohemian Style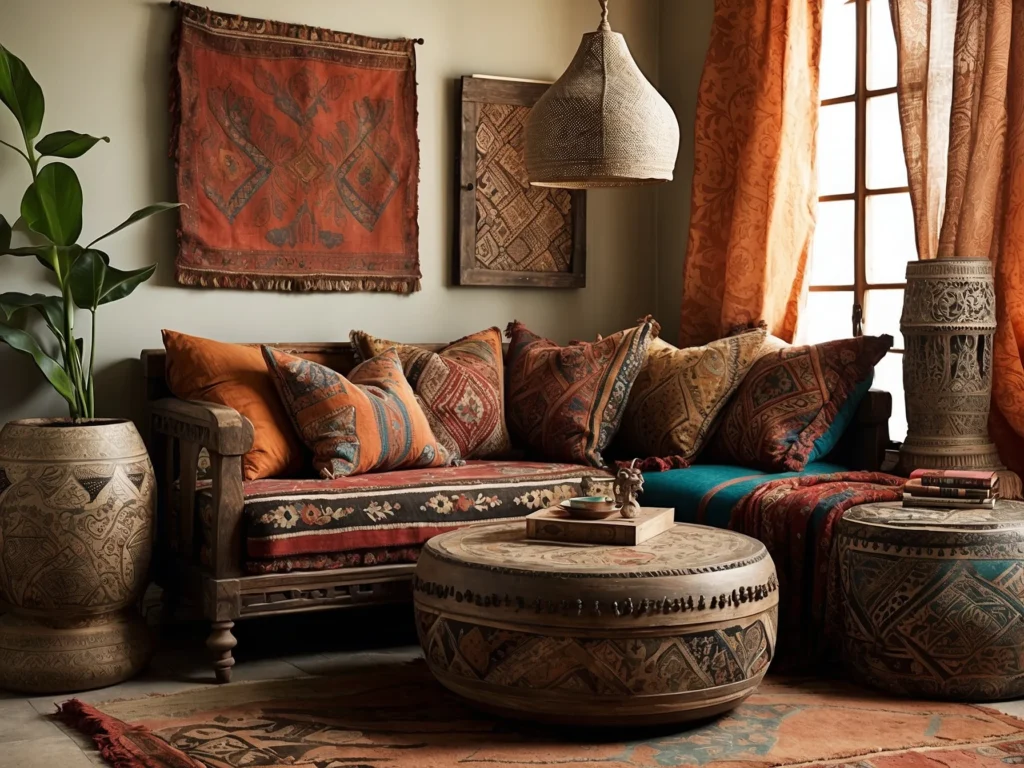 For free-spirited cuteness, take inspiration from Bohemian style. This eclectic approach plays with rich patterns, exotic textiles and vintage finds for a relaxed global feel.
Boho chic living room ideas:
Furniture – Choose varied pieces like a Moroccan pouf, Indian settee and distressed wood trunk used as a coffee table.
Textiles – Layer Turkish kilim pillows, wool Pendleton blankets, silk curtains and cashmere throws.
Lighting – Incorporate ornate figural lamps, wrought iron candelabras and beaded pendants.
Rugs – Use floral Turkish, tribal or patchwork rugs atop each other.
Accessories – Display your collection of world objects – Benin bronze masks, Russian nesting dolls, etc.
Artwork – Create a global gallery wall collage using folk art, batik fabrics and fair trade pieces.
The eclectic mix of vintage, exotic and handcrafted elements creates a cozy, welcoming space with retro allure. Layers of patterns and textures give the room dimension.
Incorporating Vintage Travel Memories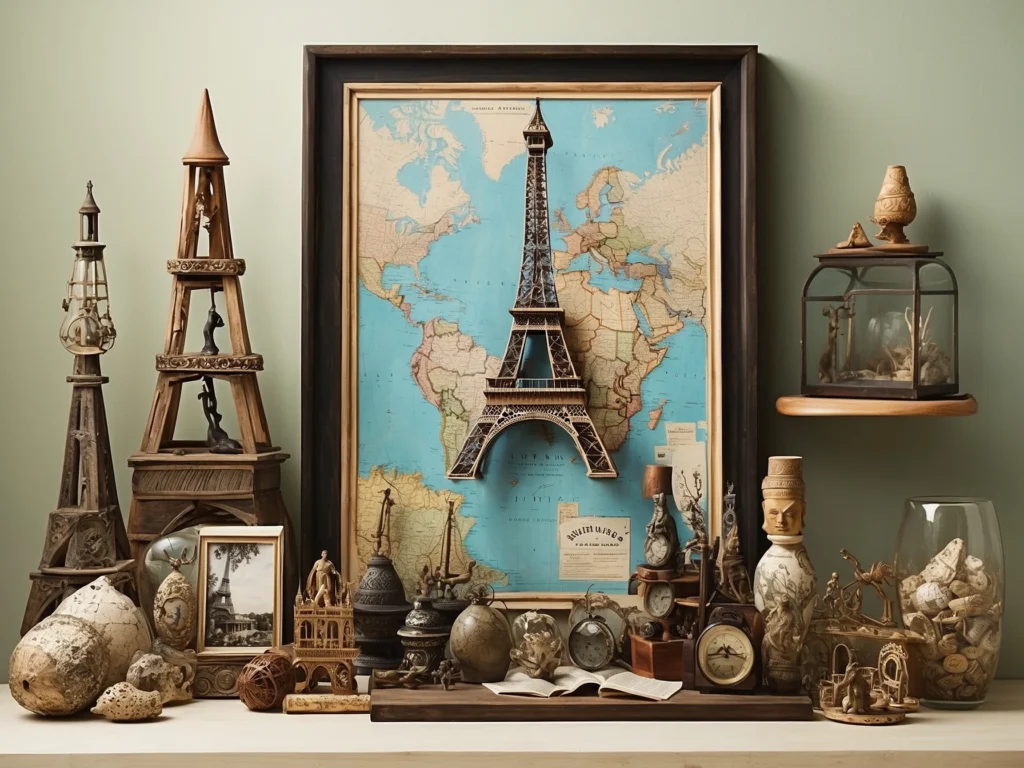 For a cute living room with wanderlust flair, display treasured travel mementos from trips around the world. Souvenirs like vintage maps, collectibles and old photographs act as memory triggers.
Display ideas for travel memories:
Create a travel gallery wall, using framed vintage postcards, ticket stubs, brochures and memorabilia.
Display iconic souvenirs and miniatures, like a petite Eiffel Tower model, Hawaiian hula dancer or Mexican oil painting.
Frame and hang an antique map from the region visited, marking special sites with pins.
Arrange found objects like seashells, stones, and urchins in a glass terrarium or tabletop tray.
Decorate empty bottle from the destination into lamp bases to emit a nostalgic glow.
Group tiny collected items like spoons, thimbles and matryoshka dolls together in a shadowbox.
Seeing beloved travel treasures sparks nostalgia and conveys the well-worn appeal of favorite destinations. Displaying them creatively personalizes the living room.
Embodying Cottagecore Style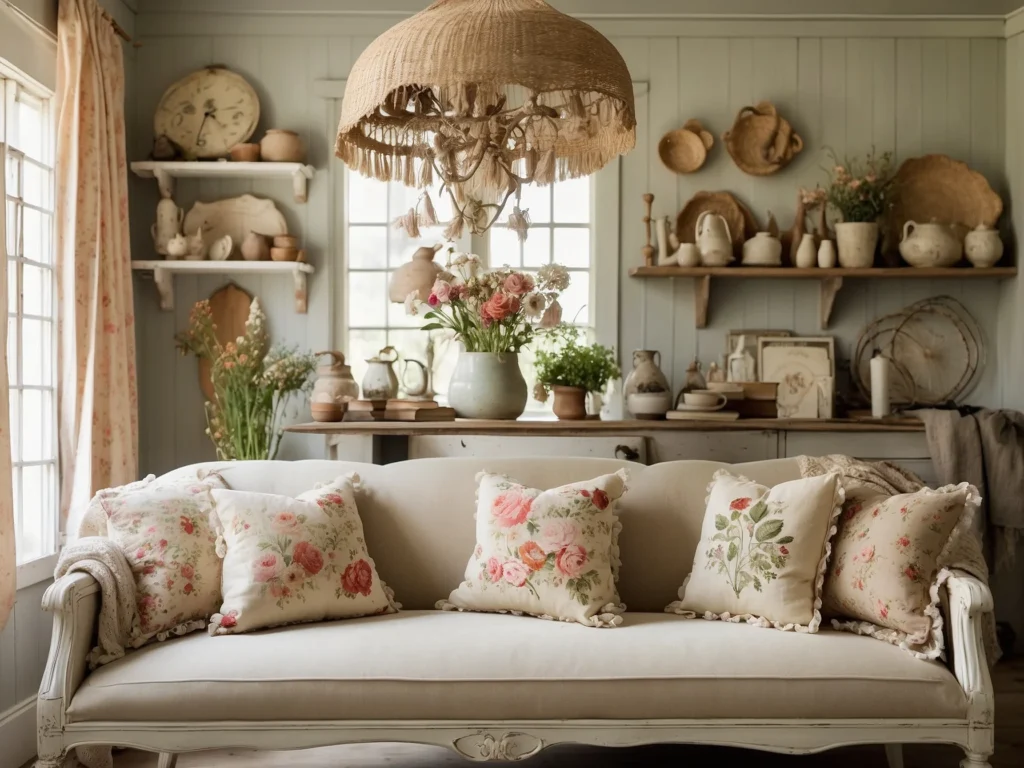 Cottagecore embraces pastoral living with floral prints, woven woods, foraged items and heirloom furnishings. This countryside-inspired style brings idyllic charm to living rooms.
Cottagecore decor approaches:
Fabrics – Incorporate gingham, floral prints and lace trims on upholstery and throw pillows.
Furniture – Include painted distressed wood pieces, like farm tables and cabinets.
Objects – Display vintage curios like enamelware pots, milk glass and books of botanical illustrations.
Lighting – Use enamel pendant lights or crystal chandeliers for old-world character.
Accessories – Add touches of nature with dried flower wreaths, seashell wind chimes, and botanical prints.
Textures – Layer in burlap, linen, wicker and terracotta for organic warmth.
The emphasis on heritage crafts, flowering plants and worn appeal creates a cozy country refuge full of charm. Imperfections add to the homespun personality.
Adding Pops of Playful Color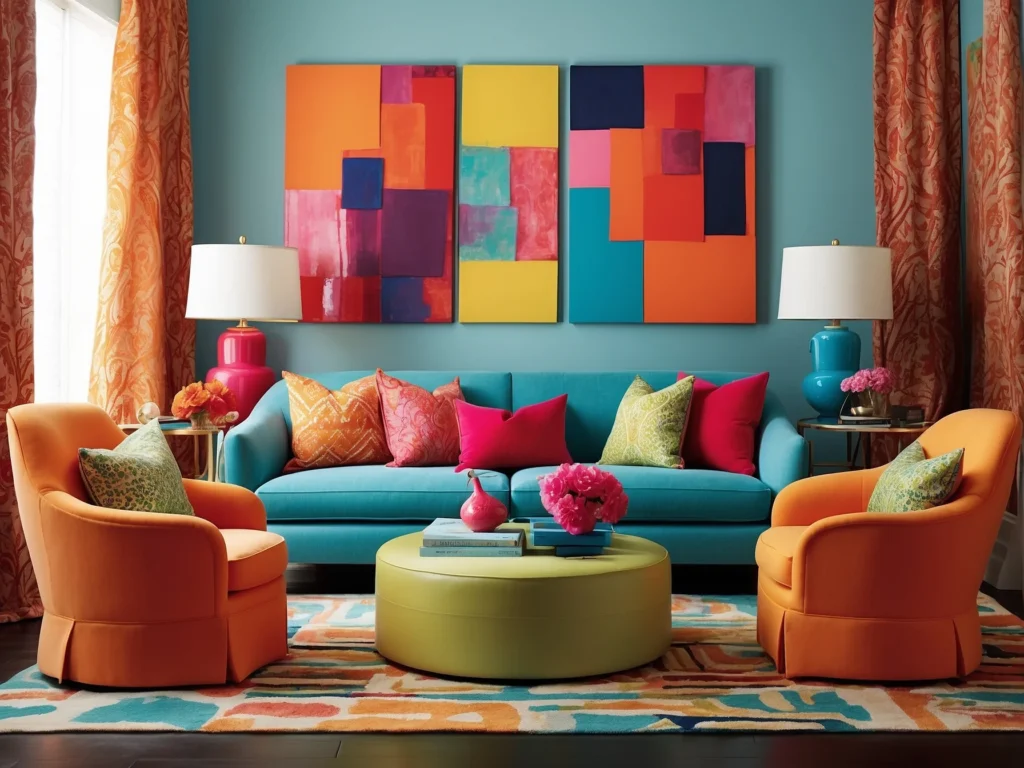 While soft pastels lend themselves to cuteness, bold punches of color also enliven a living room with playful flair. Vibrant furniture, art and accessories pep up neutrals.
Colorful ideas:
Furniture – Incorporate a sapphire blue sofa, golden yellow armchairs or cherry red accent chair as bold focal points.
Rugs – Ground the layout with an energetic patterned carpet in contrasting brights.
Pillows – Energize sofas and chairs with throw pillows in citrus orange, lime green or periwinkle blue.
Art – Hang modern graphic art prints with blocks of pigmented color.
Objects – Display glossy ceramic vases, enameled boxes and glassware in jewel tones and primary hues.
Lighting – Use fabric lampshades in vibrant patterns and colors to illuminate spaces with fun flair.
Pops of playful color enliven a cute living room. They provide an energizing contrast to otherwise neutral spaces for visual interest.
Embracing Laid-back Livability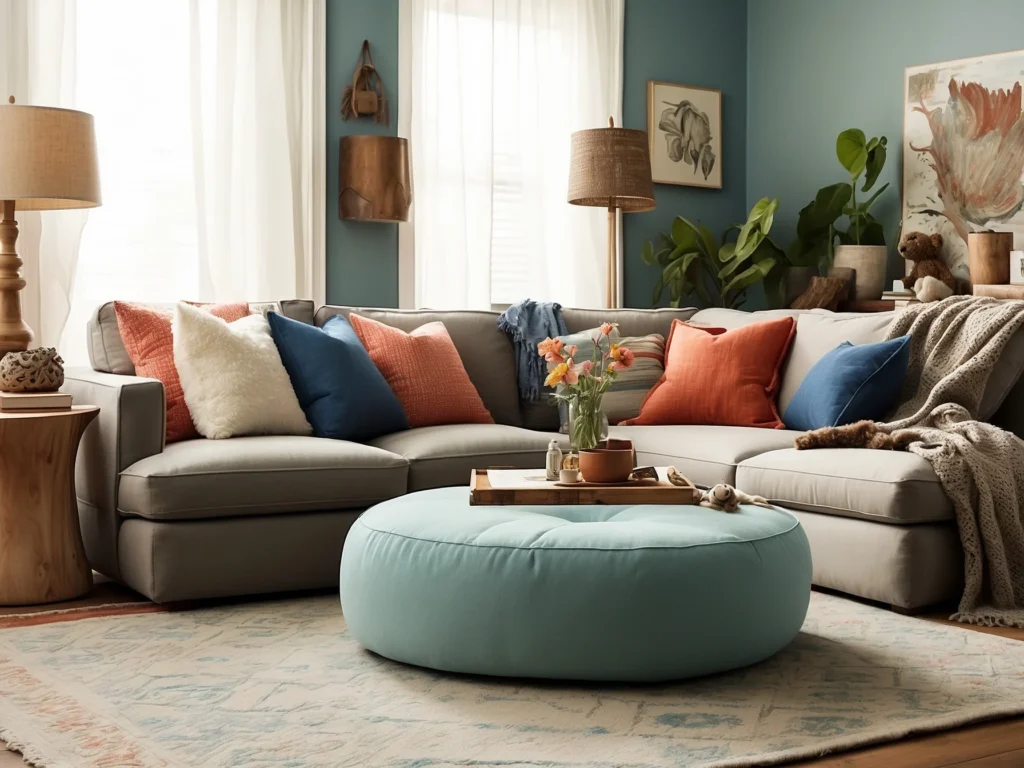 The essence of a cute living room lies in its casual, laid-back feel rather than stiff formality. Comfort and ease take precedence over perfection. Furniture is meant for curling up on.
Tips for creating a livable vibe:
Avoid formal matching furniture suites. Mix cozy thrifted finds instead.
Add floor poufs, ottomans and beanbags for casual flexible seating.
Use furniture slipcovers and washable Sunbrella fabrics to allow worry-free living.
Choose indoor-outdoor rugs that can handle high traffic and are kid-friendly.
Display favorite books, family photos, kids' artwork and quirky flea market finds.
Include plush pet beds and scratching posts to show off furry family members.
Use baskets for loose blanket and toy storage to minimize visual clutter.
Leaning into lived-in charm makes a space feel welcoming to humans and pets. The emphasis on casual comfort over perfection defines a cute living room.
Summary
There are endless ways to infuse cozy charm into a living room. By embracing soft textures, displaying meaningful accents, working in vintage finds, and arranging comfy seating, you can cultivate a space with joyful personality.
Some key cute living room ideas include:
Float plush furniture to form intimate nooks
Add pops of playful pastel hues
Incorporate meaningful memorabilia and photos
Include whimsical accents like mirrors or ceramic animals
Layer sheer and billowy curtain panels
Arrange collections of treasured antiques and heirlooms
Add bohemian flair with ornate textiles and lush layers
Infuse coastal charm using weathered woods and oceanic hues
Embrace imperfection – chips, scratches and loves marks
Opt for vintage and secondhand furnishings
Every decor choice, from ruffled pillows to candlelight, contributes to a space's overall cute factor. You can design a living room with plenty of heart and personality by thoughtfully curating each detail. The result will be a welcoming space that sparks comfort and joy.