Tropical style furniture is more than just a passing design trend – it's a lifestyle choice that brings a beach vacation's relaxed, sunny vibes into your home. With its natural materials, casual shapes, and vibrant pops of color, this style is all about creating a laid-back, vacation-like atmosphere.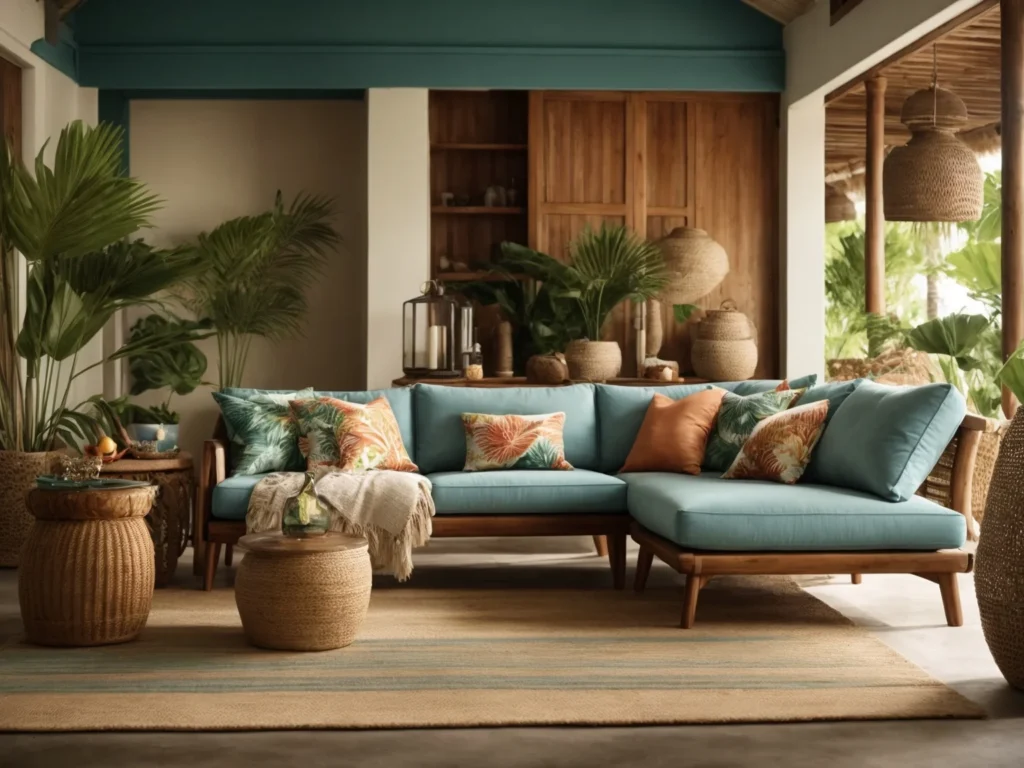 This comprehensive guide'll dive deep into everything that defines the tropical furniture look. You'll learn about the key features that set these pieces apart, get examples of different types of tropical furniture for each room, find out where to shop from high-end and budget-friendly brands, get tips on blending tropical style with other decor, and more.
So grab your floral shirt, mix up a fruity cocktail, and start designing a home oasis with tropical style furniture!
What Defines Tropical Style Furniture?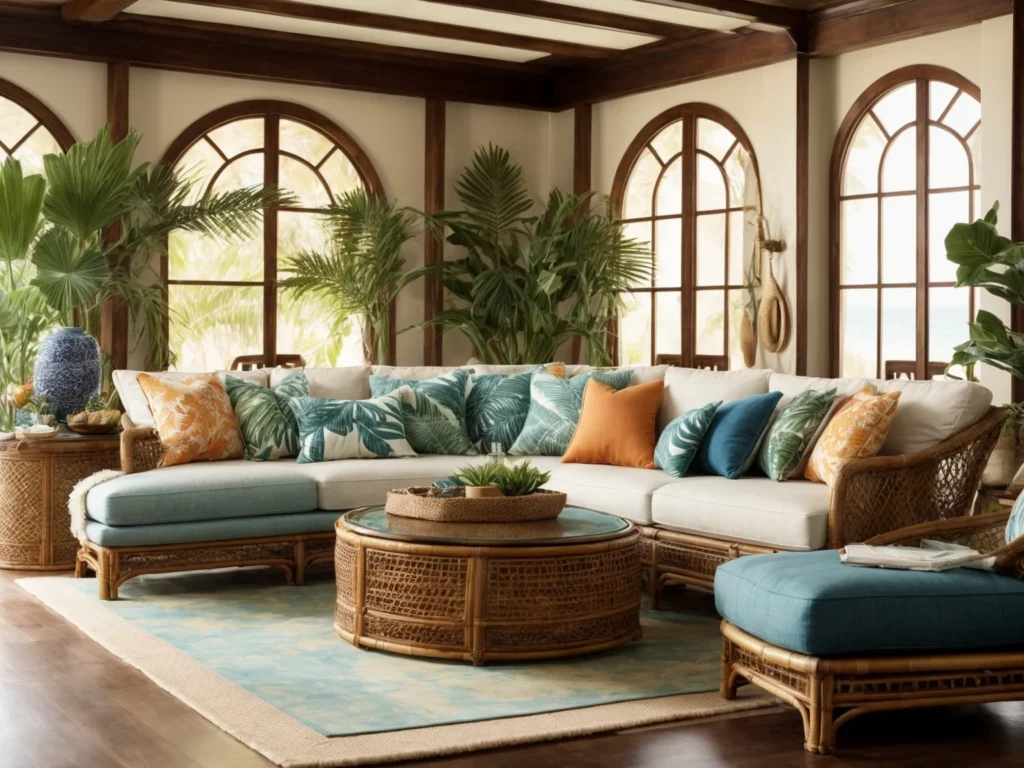 Tropical furniture has a breezy, relaxed aesthetic that evokes sunshine, beaches, and island getaways. Here are some of the defining features of this look:
Key Features
Natural Materials – Rattan, bamboo, banana leaf, abaca, seagrass, and exotic woods like teak, acacia, and mahogany are integral to the tropical look. These natural materials have an organic, handmade quality.
Woven Textures – Many tropical furniture pieces incorporate woven details. This includes woven rattan, abaca textures, banana leaves, palm leaf prints on cushions, and upholstery.
Rattan Accents – Even when made from other materials, tropical pieces will often incorporate touches of rattan in their trim, accents, or decorative details.
Color Palette – Tropical furniture uses a base palette of natural wood tones, cream, and white. Pops of vibrant blues, greens, oranges, yellows, and aquas add festive accent colors reminiscent of ocean waters and tropical flora.
Casual Shapes – These pieces have an easygoing, uncomplicated look. Examples include rounded edges, simple silhouettes, and low-profile seating.
Why Choose Tropical Style?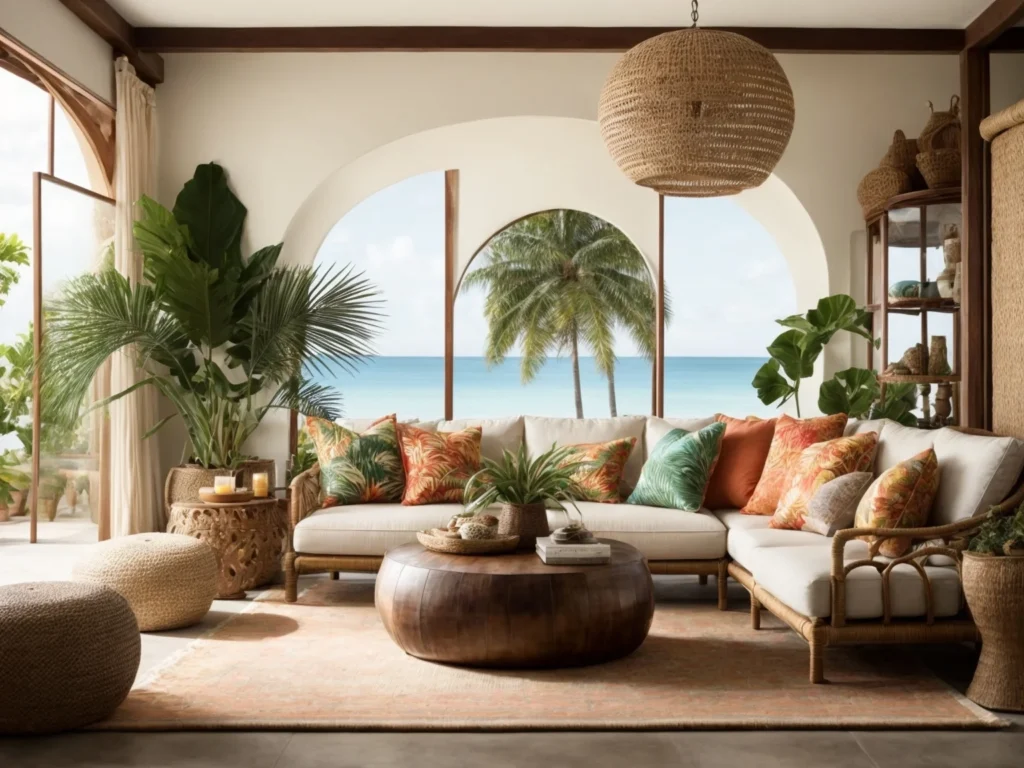 Tropical furniture offers several benefits for your home:
Provides a laidback, welcoming atmosphere for relaxation and casual entertaining
Transports you to warm climates and beachside locales
Infuses sunny colors and natural textures into your rooms
Complements an eclectic, globally-inspired decor theme
Options at many price points to suit any budget
Now that you know this style's key features and advantages, let's look at how to use tropical furniture in each room of your home.
Types of Tropical Style Furniture
Tropical furniture can enhance any room with its casual flair and upbeat energy. Here are some of the most popular types of tropical furniture for each area of your home:
Living Room Furniture
Island Style Living Room Furniture – This furniture has a breezy, relaxed feeling. It may include:
Rattan or bamboo sofas with rounded arms and draped fabric
Backless armchairs and stools with woven details
Lightweight occasional chairs with tropical print or solid cushions
Rattan side tables, trunks, and ottomans as accent furniture
Low coffee tables with woven detailing or banana leaf prints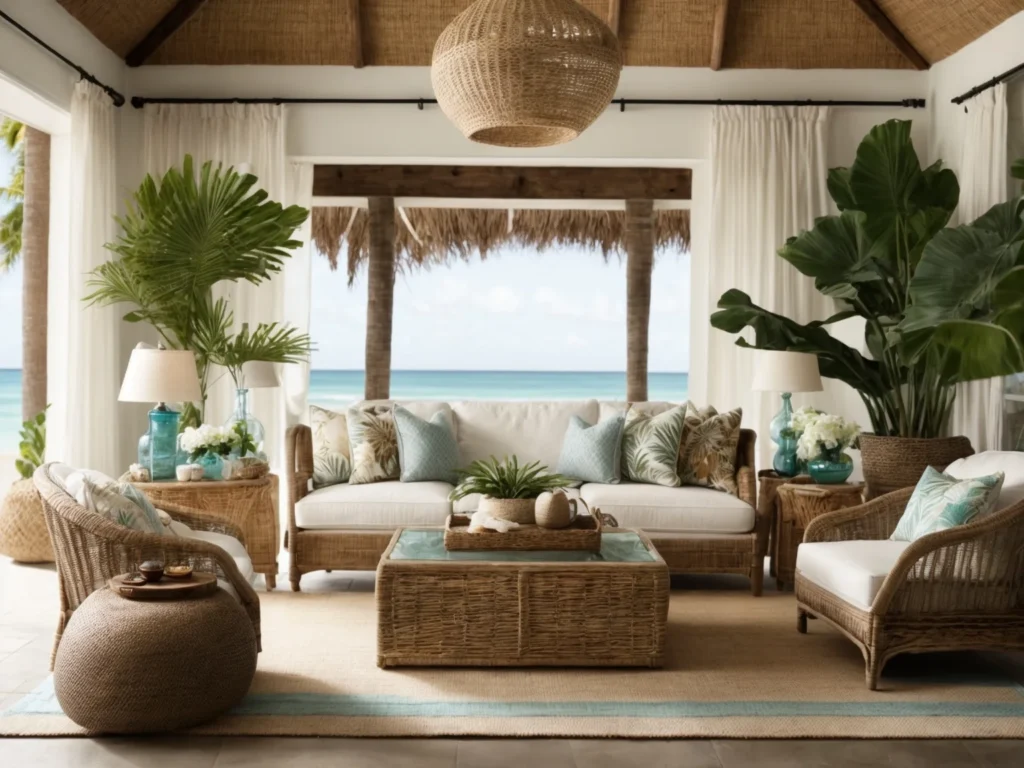 Coastal Tropical Living Rooms – These rooms mix tropical flair with beachy coastal elements. Furniture may include:
Driftwood accent tables
Jute rugs
Linen sofas with palm leaf print pillows
Painted wicker chairs
Shell or starfish decorative accents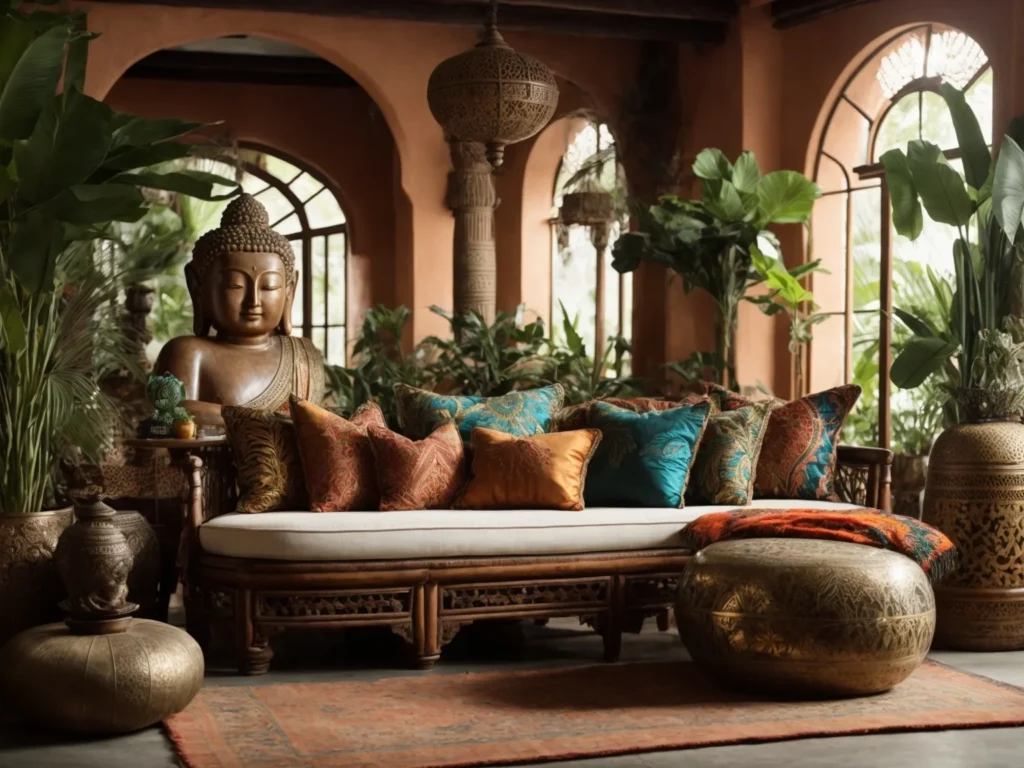 Eclectic Tropical Living Rooms – For a more adventurous vibe, go for an eclectic mix of tropical pieces from different global regions. Examples include:
Moroccan poufs
Indian embroidered pillows
Balinese carved daybed
Buddha statues
Bamboo screens
Safari-inspired animal prints
Bedroom Furniture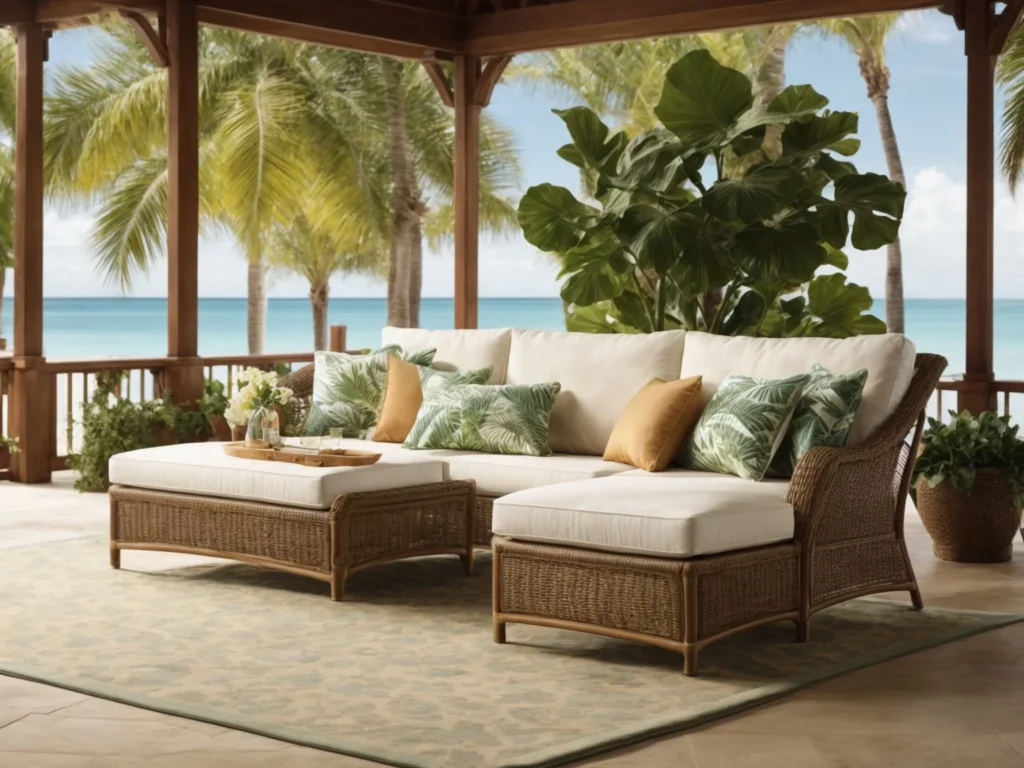 Tropical Island Style Bedroom Furniture – This category includes bedroom sets with a breezy, tropical feel. Key pieces can include:
Rattan or bamboo bed frames
Matching rattan nightstands and dressers
Platform beds with woven headboards
Light wood furniture with carved details
Bench seating at the foot of the bed
Accent mirrors with rattan framing
Four Poster Beds – Four poster beds with mosquito netting are a great choice for a more luxurious island look. Opt for wood frames in dark teak or mahogany. Add netting in white, cream, or aqua blue.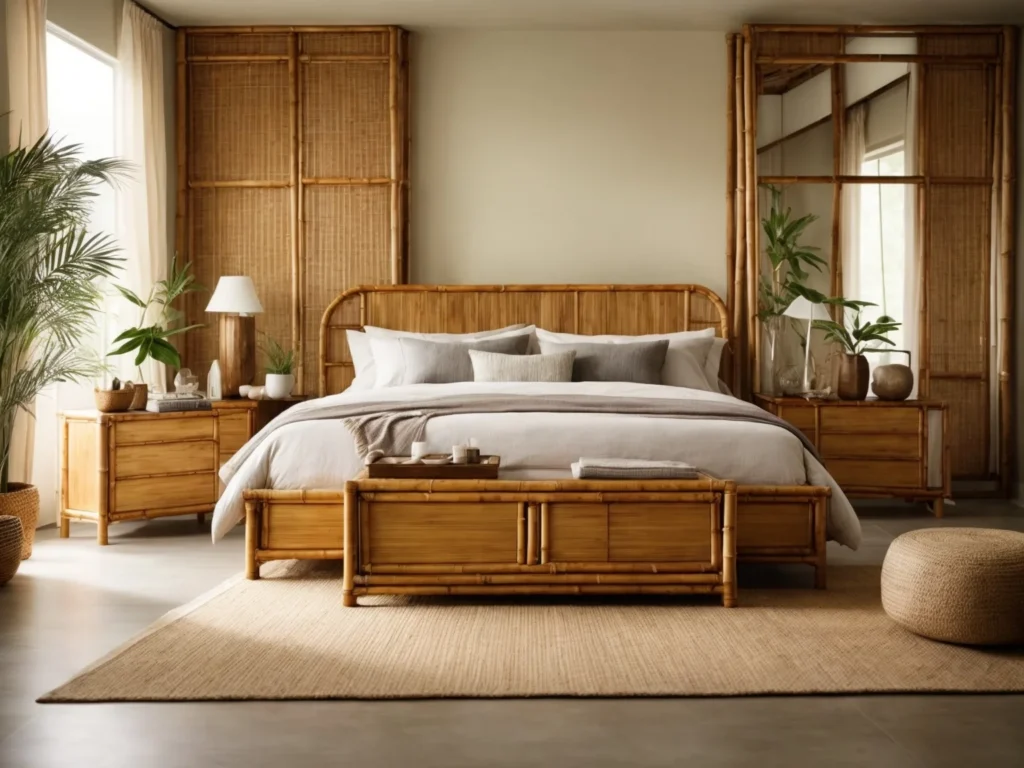 Bamboo Bedroom Furniture – Bamboo gives bedrooms an eco-friendly, modern tropical vibe. Try bamboo framed beds, dressers, desks and bedside tables.
Dining Room and Kitchen Furniture
Pacific Island Style Furniture – The dining room and kitchen are ideal spaces for furniture with a Hawaiian or Polynesian feel. Key pieces can include:
Large dining tables made from koa wood or bamboo
Matching chairs with woven raffia or banana leaf upholstery
Sideboards and hutches with tropical wood accents
Carved tiki statues and masks as wall decor
Bamboo bar stools with woven raffia seats
Rattan pendant lighting over dining table
Bistro Sets – Bistro sets with woven seats and backrests are perfect for casual dining and kitchen nooks. Opt for acrylic or aluminum frames in bright colors like sunshine yellow, seafoam green or navy blue.
Bar Carts – Entertain guests with a rattan or bamboo bar cart stocked with tropical cocktails. Look for two-tiered carts with wheels for easy mobility.
Outdoor Furniture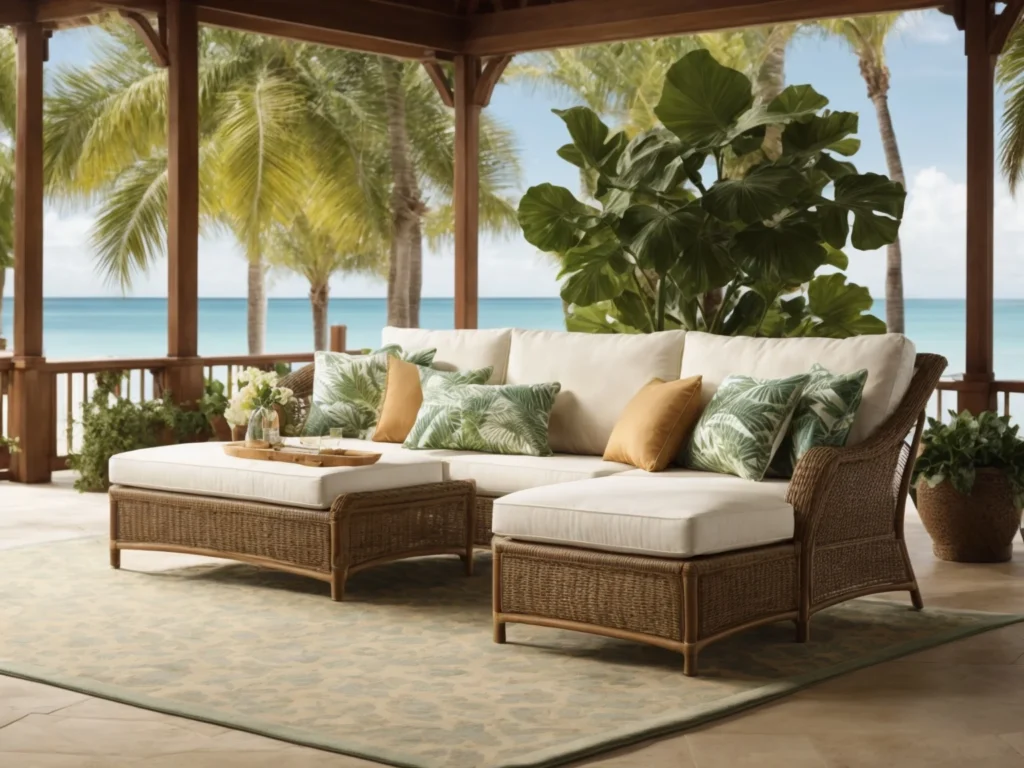 Tropical Furniture Caribbean – Outdoor spaces like patios, poolside areas and balconies are made for tropical flair. Metal and synthetic wicker furniture designed to withstand sun and rain is ideal. Look for:
Wicker sofa sets and dining sets in white or neutral tones
Patio chairs with tropical print cushions
Rattan bar sets for outdoor kitchens
Wooden lounge chairs resembling beach chairs
Hammocks for relaxing in the shade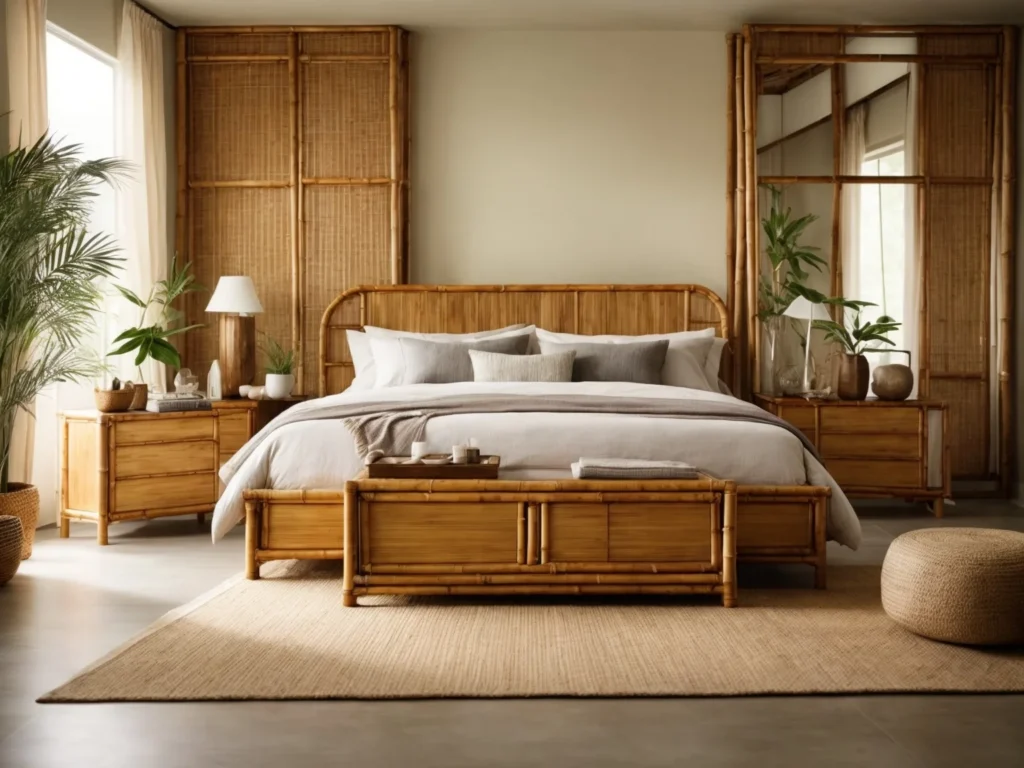 Bamboo Outdoor Furniture – For contemporary tropical style outdoors, bamboo dining sets and chaise lounges add a sleek look. Try combining bamboo with teak for accents.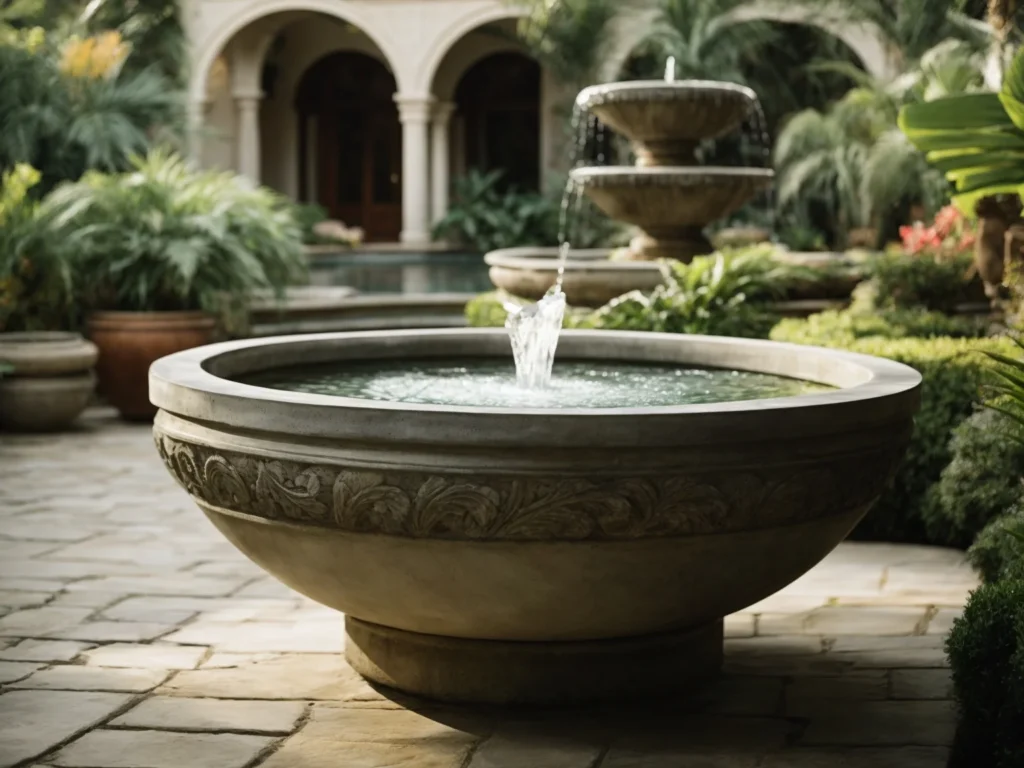 Concrete and Stone – Concrete and stone carving, planters and water features feel right at home in a tropical garden. Opt for fountain shapes like vases, bowls and tiered platters.
Popular Brands and Where to Buy
From budget finds to luxury investments, here are some of the top brands and best places to buy tropical style furniture:
Brands to Consider
Tommy Bahama – This lifestyle brand is famous for high-end tropical furniture with island-inspired detailing. Their pieces work beautifully together but are investment-worthy.
Panama Jack – Focusing on faux rattan and woven wicker constructions, Panama Jack offers quality furniture at accessible prices.
South Sea Rattan – Known for intricately crafted wicker, rattan and abaca furnishings, South Sea Rattan has a wide range from budget to luxury.
Kouboo – Kouboo is a top chic and sustainable tropical style source for contemporary bamboo furniture and furnishings.
Pottery Barn – Though not exclusively tropical, Pottery Barn offers several collections like Indio and Pineapple Isle with breezy tropical flair.
Where to Shop
Big Box Retailers – Stores like Target, Walmart, and IKEA all carry affordable tropical inspired furnishings and decor perfect for a budget makeover.
Specialty Retailers – Check stores like World Market, Pier 1 Imports, and At Home for an eclectic mix of tropical furniture and home accents.
Furniture Stores – Retailers like Raymour & Flanigan, Rooms to Go, and Ashley Furniture have expanded tropical collections at reasonable prices.
Wayfair and Overstock – These online retailers have a vast selection of tropical furniture across every price tier and style. Great for convenience.
Baer's Furniture – With multiple Florida locations, Baer's offers high-quality tropical furniture and decor essentials under one roof.
Estate Sales and Vintage Shops – Look for secondhand steals at estate sales, Facebook Marketplace, thrift stores, and consignment shops.
Budget Considerations
Tropical furniture is available at every price point, which is part of its widespread appeal. Here's what to expect:
Under $100 – You can find small decorative accessories, wall art, cushions, basic rattan chairs, and secondhand scores at the lowest end.
$100-$500 – This range offers more options for accent seating, small tables, storage ottomans, bedroom nightstands, and multifunctional pieces.
$500-$1,000 – Mid-range budgets can enjoy dining sets, woven chaise lounges, platform beds, dressers, and multifunctional entertainment centers.
$1,000-$3,000 – With a generous budget, you can invest in signature living room seating, carved four poster beds, large dining tables, and high-quality wicker patio sets.
Over $3,000 – Luxury tropical furniture includes intricately detailed wood furnishings, sectionals, ornate dining sets, and top-brand patio collections built to last.
Tips for Saving
Seek out sales at major holidays and clearance events
Scope out budget brands like Mainstays and Best Choice Products
Shop thrift stores and online resale sites for secondhand deals
Work with your existing furniture and blend in new tropical pieces
DIY simple upgrades like rattan chair makeovers
Invest in a few splurge foundation pieces then accessorize
Setting a realistic tropical furniture budget helps you allocate funds where they will make the biggest impact while staying on track with your overall decor goals.
Mixing Tropical with Other Styles
Blending this style with coordinating decor aesthetics is a fun way to give your home a tropical edge. Here are some popular ways to mix and match:
Coastal vs. Tropical Decor
Coastal and tropical decor share laidback vibes and natural materials, but differ in colors and textures:
Coastal
Focuses on cool blues, whites, and neutrals
Incorporates weathered woods and distressed finishes
Uses nautical accents like oars, anchors, and rope
Tropical
Favors warm, sunny colors like yellow, orange, green
Spotlights natural rattan, bamboo, and unfinished woods
Accented with greenery, fruit motifs, and global patterns
Shared Elements
Linens and cotton textiles
Jute and seagrass rugs
Driftwood and shell accents
How to Mix Them
Add vibrant tropical throw pillows to a coastal white linen sofa
Hang a macrame wall hanging over a weathered wood buffet
Place a large conch shell on a rattan side table
Bohemian and Tropical
Both bohemian and tropical styles have an earthy, carefree vibe. Here's how they complement each other:
Bohemian
Layers on the pattern with embroidered and embellished textiles
Incorporates dark woods and ornate carved details
Global bazaar inspiration from India, Morocco and beyond
Tropical
Focuses on natural unfinished woods and woven textures
Mostly solid textiles with occasional palm leaf or floral prints
Island vacation sensibility
Shared Elements
Draws inspiration from around the world
Natural materials and textures
Relaxed, casual shapes
How to Mix Them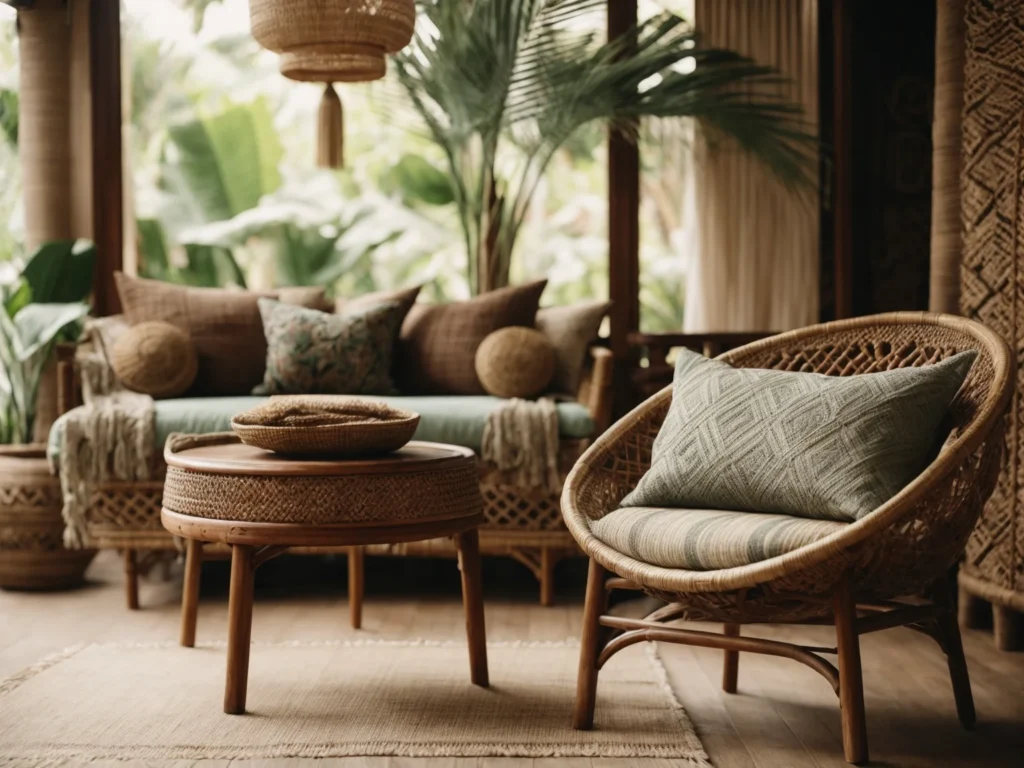 Set a intricately embroidered pillow on a woven banana leaf chair
Hang a macrame wall weaving over a teak wood console table
Place a Balinese statue on a rattan side table
Tips for Making Your Home More Tropical
Looking for easy ways to infuse tropical style into your existing decor? Here are some simple tips:
1. Use Natural Textiles
Swap out heavy fabrics for breezy, beachy textures like linen, cotton, jute, and seagrass. Try updating sofa pillows first, then consider new upholstery.
2. Add Greenery
Plants like palm trees, monstera, philodendron, and fiddle leaf figs can enhance the tropical feel. Add potted palms, hanging ferns, and fresh cut foliage.
3. Incorporate Art and Accessories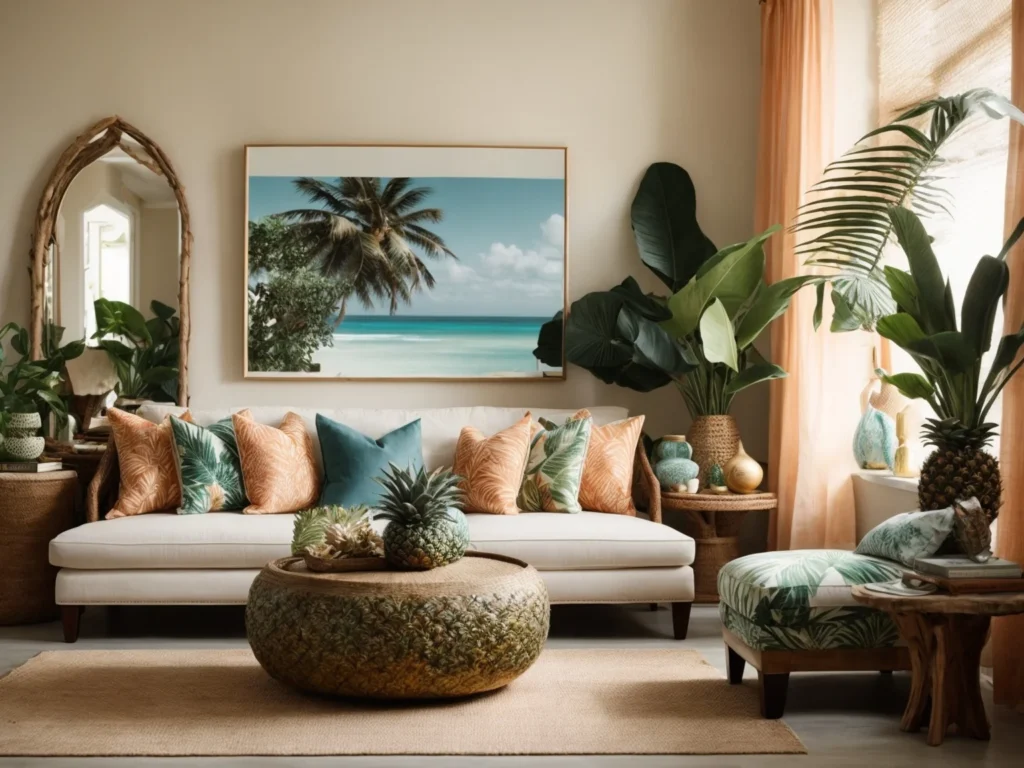 Accent with art, mirrors, vases, and objects featuring tropical motifs. Think palm prints, pineapple graphics, shells, driftwood, and ocean-inspired colors.
4. Update Paint Colors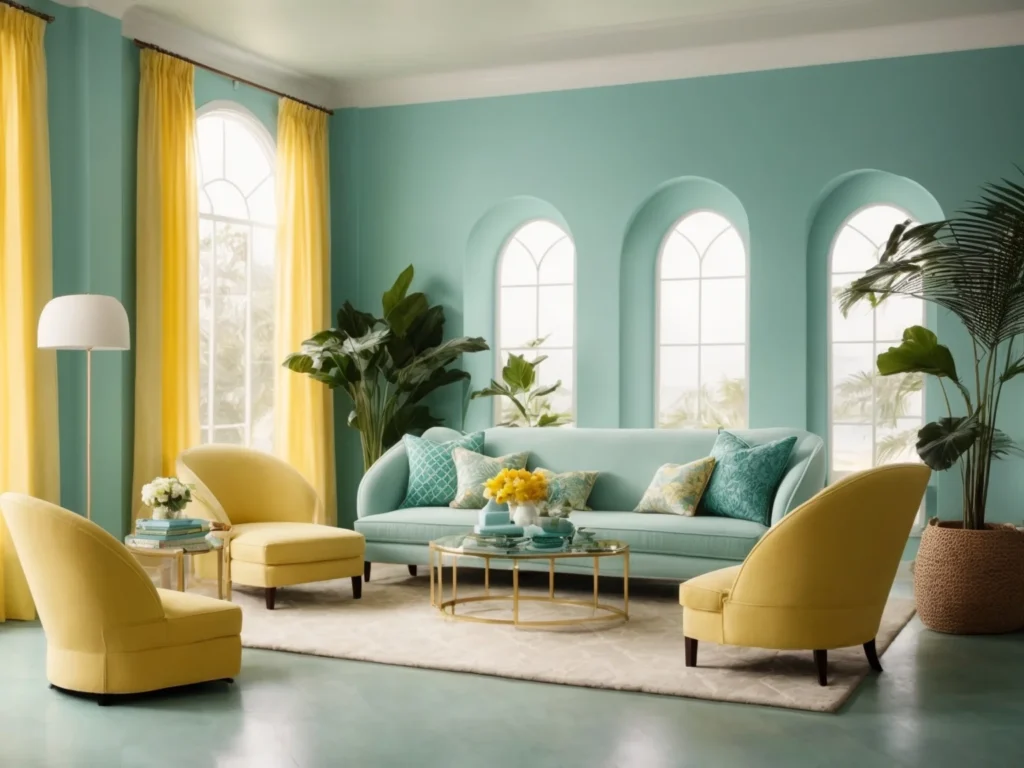 Consider refreshing walls in sunny yellow, aquatic teal, or soothing seafoam green. Crisp white trim keeps things classic.
5. Rattan Refresh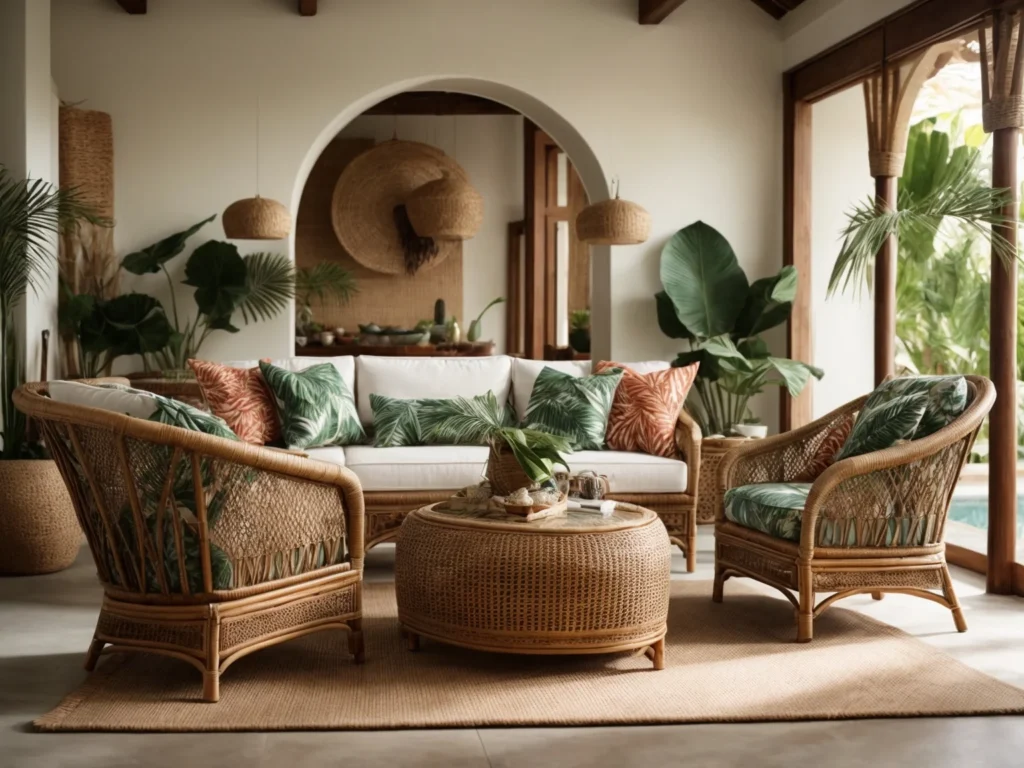 Update existing furniture by swapping out seating, backs, or trim details with woven rattan and bamboo. Try new chair cushions in tropical prints.
6. Bring in Potted Plants
Placing potted palms, ferns, and bromeliads throughout your rooms enhances the tropical ambiance. Groupings create a lively indoor jungle.
7. Add Worldly Accents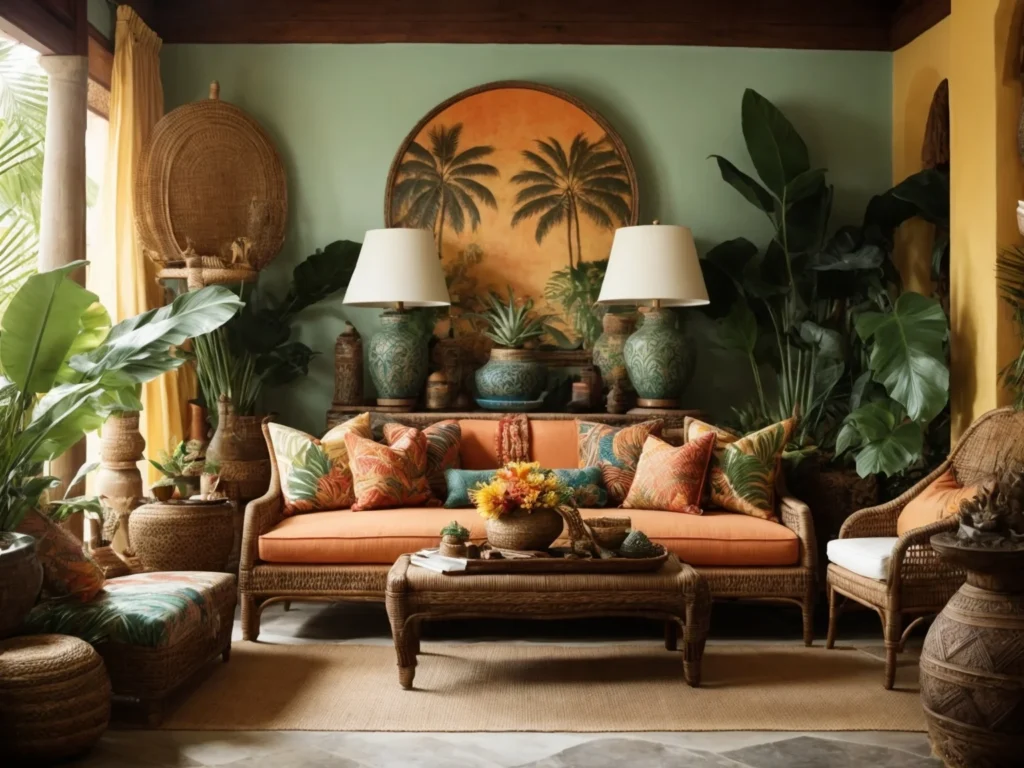 Decorate with globally inspired artifacts, carvings, baskets, and textiles for an eclectic tropical look.
8. Install a Tiki Bar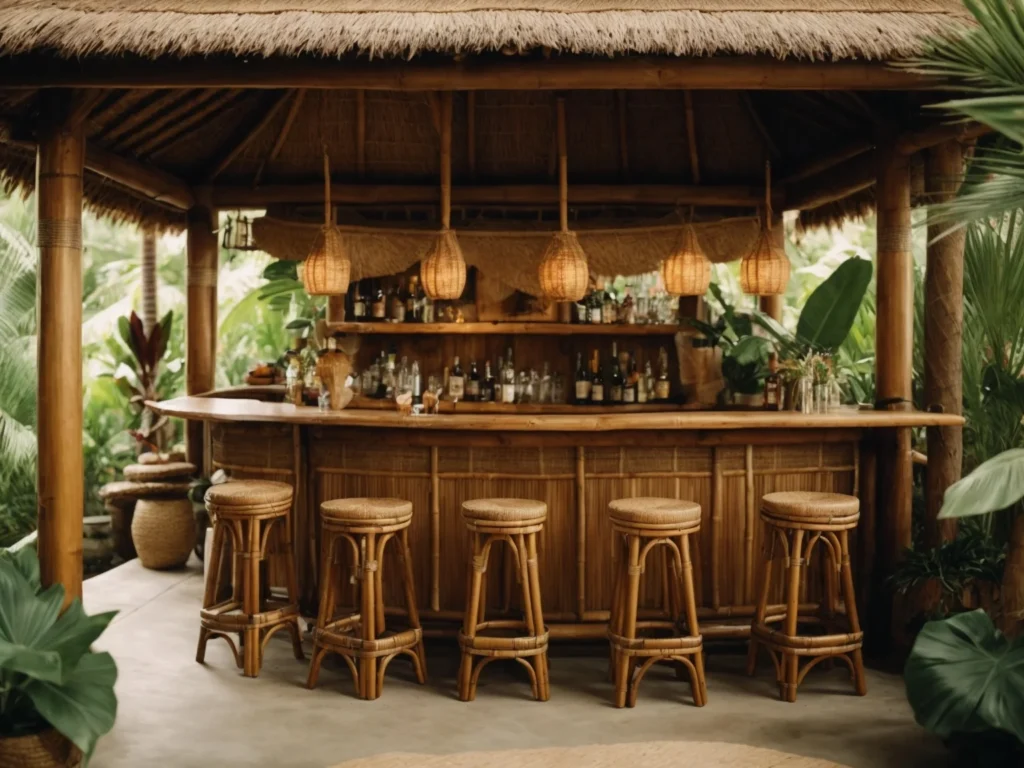 Add a Polynesian-style bar area with bamboo stools, thatched roofing, and decorative masks for tropical entertaining.
Vintage Tropical Style Furniture
For those who appreciate old world charm, investing in quality vintage and antique tropical pieces can add nostalgia and patina. Here's an overview:
History
Mid-century Tiki culture sparked interest in vintage tropical furnishings.
Rattan furniture saw a boom from the 1930s to 1950s.
Exotic hardwood pieces rose to popularity between the 1930s and 1970s.
Key Features
Intricately woven wicker and abaca rattan constructions
Carved mahogany and teak wood furnishings
Aged to perfection vintage bamboo furniture
Evidence of handcraftsmanship and natural imperfections
Rich wood finishes like mahogany and deeper bamboo hues
Where to Find It
Classified ads
Estate sales and auctions
Thrift and consignment shops
Facebook Marketplace and Craigslist
Online vintage boutiques
High-end antique dealers and galleries
Caring for It
Dust regularly with a clean cloth
Use tropical wood polish and conditioners
Re-weave wicker using palm fronds as needed
Test cleaners on inconspicuous spots first
Repair minor damage with wood glue or filler
Add new life with updated cushions
Vintage tropical finds make timeless additions to any home. Their well-loved charm only improves with age.
Frequently Asked Questions
Here are answers to some common questions about incorporating tropical style furniture:
What is the difference between tropical and coastal decor?
Tropical style favors vibrant colors, rattan textures, and exotic wood tones, while coastal gravitates towards neutral palettes, weathered finishes, and nautical accents. But they share a casual, beachy aesthetic.
How can I make my existing furniture more tropical?
Try small updates like swapping chair cushions for ones in tropical prints, draping rattan placemats over tables, or painting wood finishes in ocean blues and greens. Larger updates could include weaving rattan onto cabinet doors or painting a dresser to look like bamboo.
What are some affordable options for tropical-style furniture?
Check budget home stores for patio furniture, woven bistro sets, and decorative accessories under $500. Or opt for DIY projects like painting bright-colored thrifted chairs, wrapping wicker dining seats in patterned fabric, or spray painting secondhand nightstands to look like bamboo.
Should I buy real or faux rattan furniture?
Real rattan has a natural, imperfect look, while faux options like resin wicker are more durable for outdoors. For indoor use, faux rattan is an affordable alternative to the real thing. Look for high-quality synthetic wicker.
How do I maintain my rattan and wicker furniture?
Keep wicker looking its best by cleaning with a damp cloth monthly, treating yearly with natural oils, avoiding harsh chemicals, and touching up fibers as needed. Use sun protection outside.
Conclusion
Tropical-style furniture brings the easygoing spirit of island living into any space. With its focus on natural materials, casual silhouettes, and sunny colors, this look ranges from budget-friendly to luxuriously upscale. Whether you go all in on a tropical theme or blend a few key pieces into your existing decor, this style makes every day feel like a relaxing getaway. The right furnishings can transport you oceanside whenever you desire.