Your bedroom is your sanctuary and should reflect your style and personality. The furniture you choose can completely transform the look and feel of this important space. From modern and minimalist to traditional and ornate, bedroom furniture has endless styles to match your interior design aesthetic.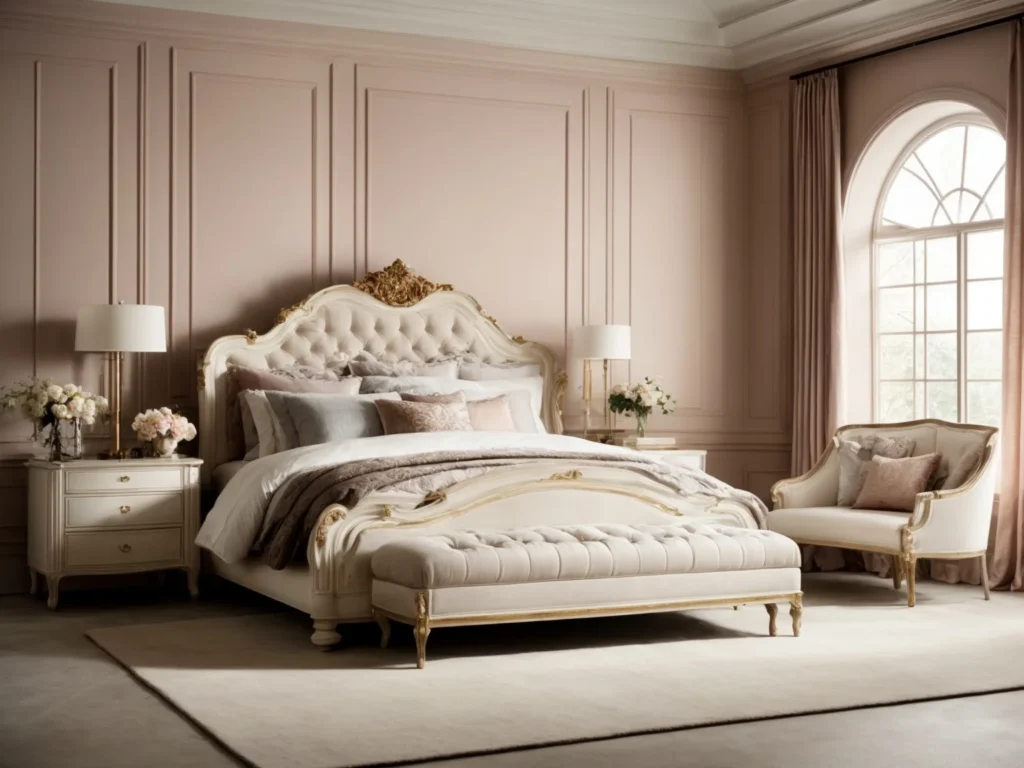 This comprehensive guide will overview the most popular bedroom furniture styles and help you decide which suits your needs and preferences. We'll also provide tips on effortlessly mixing different styles and trends to create a truly unique and inviting bedroom retreat.
Why Your Choice of Bedroom Furniture Matters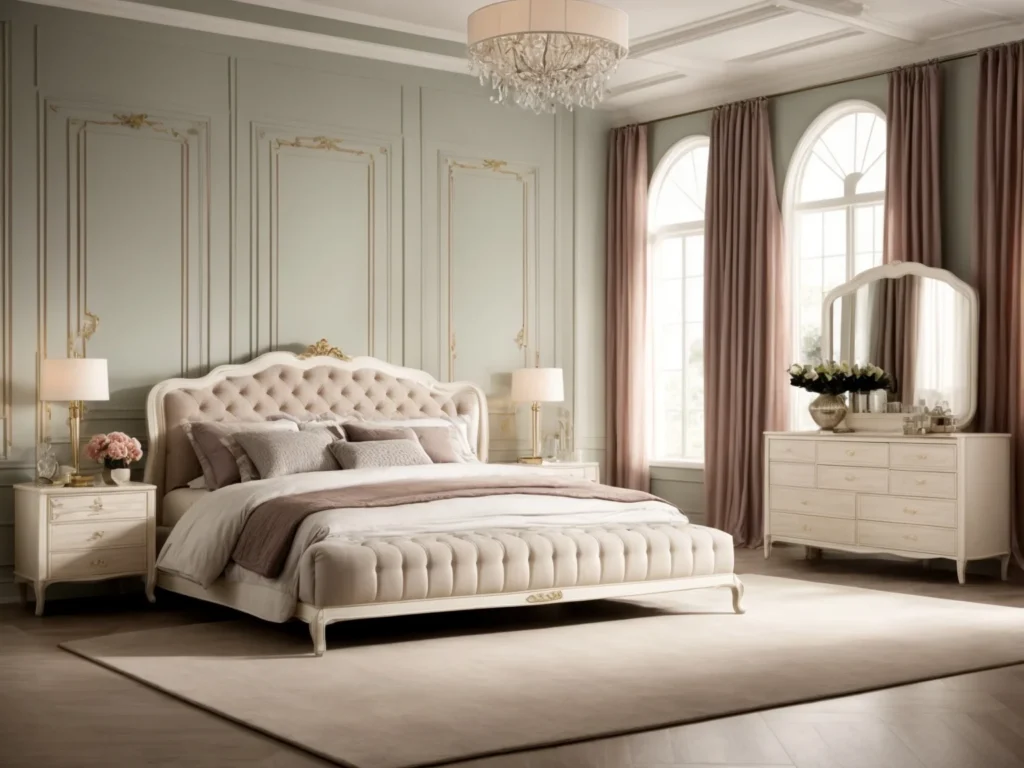 The bedroom is one of your home's most intimate and relaxing spaces. After a long day, you want it to provide a soothing ambiance that puts your mind at ease. Your choice of furniture plays a starring role in creating the space's overall look, feel and functionality.
The style of furniture you select for your bedroom conveys aspects of your personality to guests. It also impacts how you feel when spending time in the room. The right pieces can make your bedroom a more inspiring and rejuvenating personal sanctuary.
Some key reasons why your bedroom furniture choice matters include:
First Impressions – Your bedroom furniture style provides guests clues about your personality and interior design preferences. The pieces you choose make powerful first impressions.
Personalization – Your bedroom furniture allows you to customize your space and make it distinctly yours. The style should reflect your unique aesthetic.
Relaxation – The right bedroom furniture pieces help create a peaceful, comforting environment to relax and recharge.
Aesthetics – Furniture plays a major role in the overall visual appeal of the bedroom. It brings beauty, interest and character to the space.
Functionality – The right bedroom furniture provides ample storage while also being comfortable and conducive to rest.
Modern Bedroom Furniture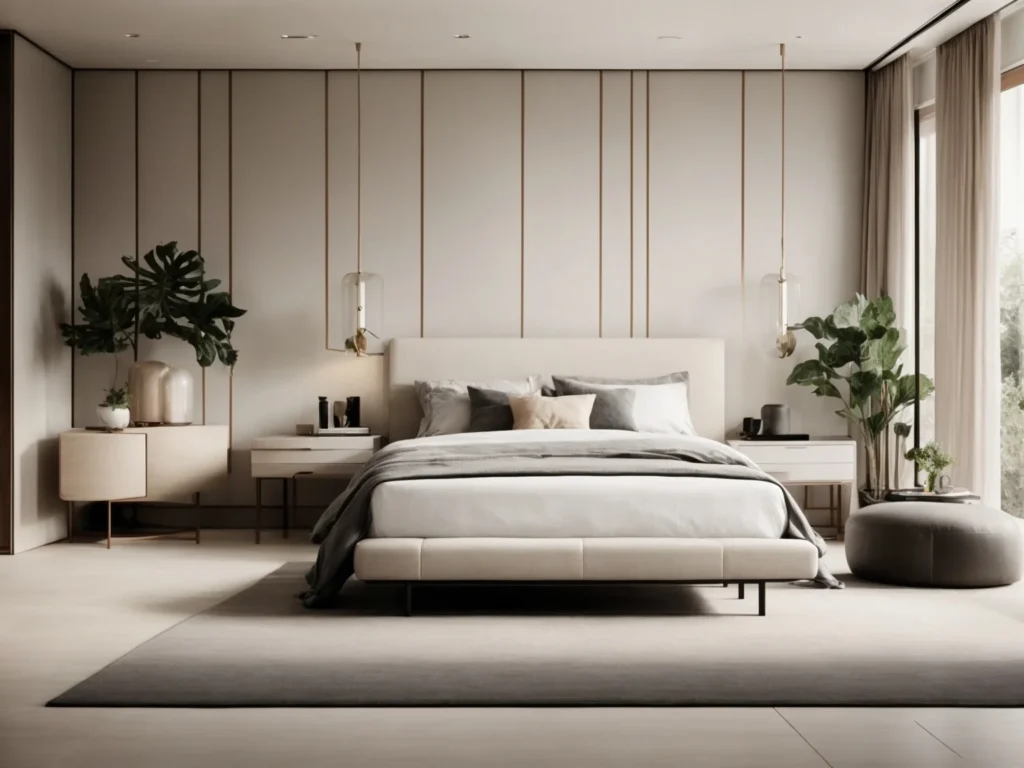 Modern bedroom furniture is characterized by sleek, contemporary design. Simplicity and minimalism take center stage. Neutral colors like white, gray and black dominate the modern furniture palette. The lines and silhouettes are precise and geometric. If you love order, symmetry and minimal clutter, modern style may be ideal for your bedroom sanctuary.
Characteristics of Modern Bedroom Furniture
Clean, straight lines
Geometric shapes and angles
Sleek, polished finishes
Neutral color palette
Asymmetrical balance
Minimal ornamentation
Natural wood tones
Platform beds without footboards
Upholstered headboards
Nightstands with open shelving
Linear dressers and chests
Metal accents and hardware
Glass, acrylic or mirrored surfaces
Popular Modern Bedroom Furniture Pieces
Platform Beds – Platform beds are a modern icon, featuring a mattress resting directly on a solid, low foundation rather than a box spring. This creates a clean, floating effect. Upholstered, tufted headboards provide visual interest.
Minimalist Dressers – Modern dressers have an understated, simplistic look. The silhouette is slim and linear, often with recessed handles. Materials include wood, lacquer and acrylic. Neutral finishes keep the look contemporary.
Open Shelving – Open shelving adds visual lightness and displays treasured objects. Wood or metal étagères and bookcases provide organized storage without doors or panels.
Benches – Modern benches at the foot of the bed provide seating. Choose sleek, low silhouettes with metal legs and neutral upholstered cushions.
Accent Chairs – Complement the bed with slender accent chairs in molded acrylic, fiberglass or soft leather. Chrome legs add polish.
Area Rugs – Solid textured area rugs in wool, cotton or sisal serve as neutral backdrops. Abstract graphic black and white rugs also suit modern style.
Pendant Lights – Suspended pendant lights are modern sculptural accents. Clear glass shades or curved metallic bases suit the clean lines.
Modern Bedroom Style Ideas
Want your bedroom to embody contemporary style? Here are some modern bedroom ideas to inspire you:
Select a low-profile gray upholstered bed and hang geometric prints in black and white above. Add in sleek nightstands and an acrylic dresser.
Choose a wooden platform bed with a winged headboard. Accent with a runner rug and globe pendant lights. Keep bedding and walls white.
Pair a black upholstered bed with glass nightstands and a tall mirrored dresser. Drape fur throws at the foot of the bed for softness.
Opt for a padded fabric headboard and matching upholstered bench at the end of the bed. Add a marble and brass dresser and abstract art prints.
Make a statement with a tufted upholstered bed in vibrant orange, yellow or red. Counter with soft white bedding and gallery wall.
Add sculptural appeal with a carved wood bed framed with built-in shelving. Keep the look airy with a woven bench and jute area rug.
Traditional Bedroom Furniture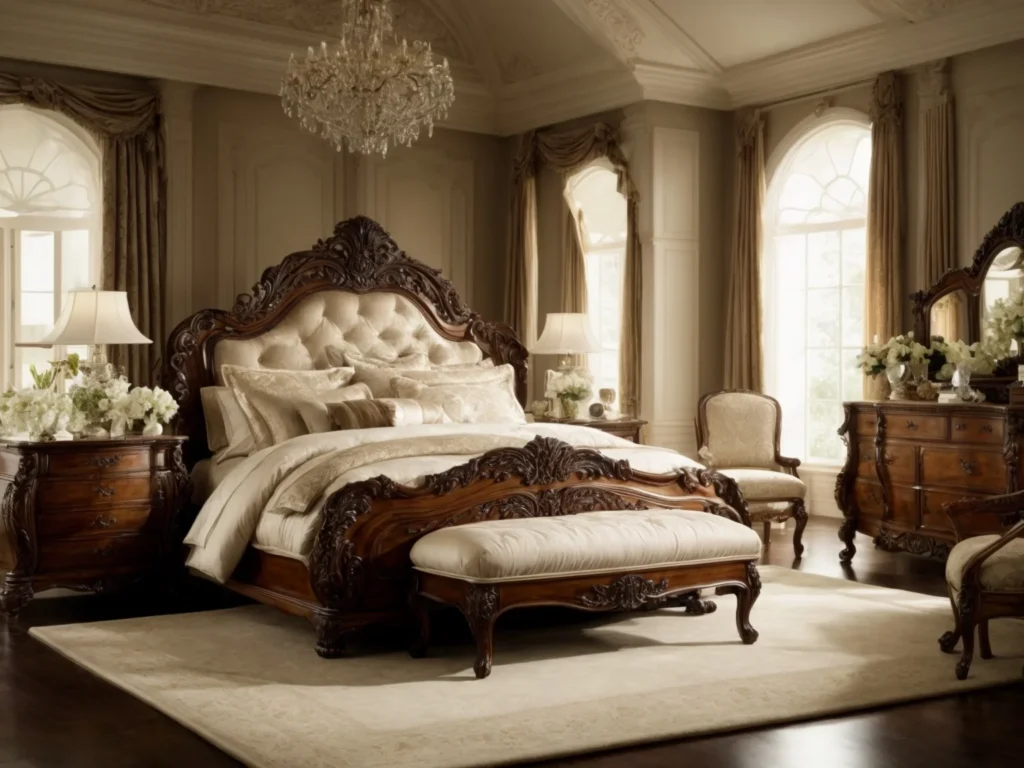 Traditional style furniture has an elegant, timeless appeal. Ornate carved wood, detailed finishes and classic silhouettes hint at opulence. For a bedroom with a formal, sophisticated ambiance, traditional furnishings fit the bill.
Characteristics of Traditional Bedroom Furniture
Elaborate carved wood
Ornate moldings and trim
Turned legs and feet
Distressed or antiqued finishes
Earthy, neutral color palette
Upholstered headboards and footboards
Elegant bedroom bench or chaise
Mirrored dressers and armoires
Porcelain knobs and handles
Crystal, silver or gold accents
Luxe fabric upholstery
Curving silhouettes and shapes
Popular Traditional Bedroom Furniture Pieces
Sleigh Beds – Sleigh beds feature elegant curved headboards and footboards reminiscent of horse-drawn sleighs. The quintessential traditional bedroom centerpiece.
Four Poster Beds – Four vertical posts support an ornate canopy frame in this formal traditional bed style. Drape fabric across the top for added drama.
Highboy Dressers – Towering highboy dressers offer ample storage space behind doors and drawers. The piece adds height to ground the space.
Nightstands – Ornately carved nightstands with cabriole legs and distressed finishes bring traditional charm. A drawer and lower shelf offer bedside storage.
Armoires – Elegant carved armoires provide concealed storage for clothing and linens. Look for crown molding and bun feet for traditional appeal.
Chaise Lounges – Tufted chaise lounges allow for lounging and reading. Roll arm sides and turned feet nod to tradition.
Area Rugs – Intricate medallion pattern rugs in muted palettes elegantly anchor the space. Plush wool or silk add softness.
Traditional Bedroom Style Ideas
Want to infuse timeless traditional elegance into your sleep space? Here are some inspiring ideas:
Select an ornately carved wood sleigh bed as the room's foundation. Pair with a tufted bench and mirrored dresser for glamour. Add framed botanical prints and a chandelier overhead.
Choose a four-poster bed, draping the canopy in soft fabric. Include a patterned area rug, window treatments, and an upholstered chaise lounge for lounging.
Opt for a fabric headboard detailed with nailhead trim and matching nightstands. Display collected treasures on the dresser like jewelry boxes and perfume bottles.
Make a statement with a king-sized canopy bed dressed in embroidered linens. Contrast against the dark wood with a white marble fireplace mantle and pale floral wallpaper.
Add an antique carved dresser and armoire for ample storage. Soften the look with sheer curtains, a quilted bed covering, and painted white end tables.
Infuse character with a weathered wood bed, Persian area rug, and ornate mirror above an electric fireplace. Add heavy drapes at the window for coziness.
Rustic Bedroom Furniture
Rustic furniture embraces natural, unfinished materials and a welcoming, down-to-earth aesthetic. Weathered wood, stone accents and textural fabrics give the space warmth and an earthy vibe. If you envision your bedroom as a cozy cabin retreat, rustic furnishings fit the bill.
Characteristics of Rustic Bedroom Furniture
Distressed, reclaimed wood
Unfinished, raw wood look
Twig, branch or antler accents
Stone and brick elements
Hides, pelts, sheepskin throws
Wrought iron metalwork
Natural fiber textiles like cotton and jute
Neutral color palette with pops of red and blue
Handcrafted quality
Farmhouse and Lodge vibes
Popular Rustic Bedroom Furniture Pieces
Log Beds – Handcrafted log beds from natural tree trunks bring organic texture. Opt for a canopy style draped in linens or a four-poster version.
Barn Door Dressers – Barn door styled dressers nod to rustic farm life. The sliding door fronts reveal ample storage space when opened.
Wooden Nightstands – Nightstands crafted from reclaimed barnwood or hand-hewn logs match the earthy theme. Incorporate baskets for storage.
Benches – Wooden benches at the foot of the bed provide rustic seating. Choose cushioned tops for comfort and hide pillows for texture.
Wingback Chairs – Rustic yet cozy wingback chairs beside the bed are great for reading. Look for exposed wood frames or embroidered upholstery.
Pelt Rugs – Layer cowhide, sheepskin or faux fur pelts on the floor as plush rustic rugs. Opt for natural undyed shades.
Antler Lighting – Chandeliers or wall sconces from antlers or natural branches make striking rustic accents.
Rustic Bedroom Style Ideas
Need inspiration designing your cozy cabin-in-the-woods style bedroom? Here are some ideas:
Start with a reclaimed wood bed frame and matching nightstands. Use touches of plaid, burlap and leather to complete the rustic look. Add a deer antler chandelier overhead.
Select a log canopy bed dressed in cotton bedding. Include a cowhide rug, branch mirror frame, and Edison bulb pendant lights.
Choose a wrought iron bed accented with sheer linen curtains. Display collected antiques like weathered books and vintage lanterns on open shelves.
Opt for romance with a wrought iron bed dressed in lace linens and throw pillows. Add floral touches like dried flower wreaths and rose-printed drapes.
Create a cozy reading nook with a cushioned window seat and wooden ladder-style bookcase. Include a braided wool area rug and cabin quilt on the bed.
Add Southwestern character with a wood-framed bed displaying Navajo-patterned blankets. Include tribal motifs on throw pillows, rug, and wall art.
Farmhouse Bedroom Furniture
Farmhouse style furniture celebrates rural cottage life. Weathered painted wood, vintage charm, and relaxed country aesthetics create a welcoming, homespun look. For a bedroom with effortless appeal, choose farmhouse furnishings.
Characteristics of Farmhouse Bedroom Furniture
Painted, distressed wood
Vintage charm and patina
Weathered, chippy finishes
Wire baskets for storage
Floral and gingham prints
Rustic, reclaimed materials
White, cream and pale blue palette
Textural bedding like cotton quilts
Relaxed, casual silhouettes
Spindle bed frames
Vintage-inspired dressers
Popular Farmhouse Bedroom Furniture Pieces
Spindle Beds – Wood spindle-style beds with vertical posts suit the cottage theme. Opt for vintage painted finishes and matching nightstands.
Weathered Dressers – Cottage dressers with chippy paint finishes and timeworn distressing add character to the space.
Woven Nightstands – Nightstands with woven wicker fronts and tops offer weathered farmhouse appeal. White paint adds versatility.
Ladder Bookcases – Repurposed vintage ladder bookcases showcase books and collected treasures. Lean against the wall or use bedside.
Storage Ottomans – Painted ottomans at the foot of the bed provide extra seating and clever concealed storage for linens.
Textured Rugs – Natural fiber rugs like jute, cotton and braided rag rugs complement the relaxed look.
Pendant Lights – Galvanized metal pendant lights lend industrial farmhouse flair. Vintage mason jar pendant fixtures also suit the aesthetic.
Farmhouse Bedroom Style Ideas
If you're aiming for timeworn farmhouse charm, consider these bedroom style ideas:
Start with a painted wood spindle bed dressed in a quilt. Include lattice window panels, a woven rug, and gingham curtains for a cottage look.
Select a rustic reclaimed wood bed with matching dresser and vintage ladder bookcase. Embrace well-loved charm with distressed finishes.
Layer in texture with a linen-upholstered bed, cozy woven throw blanket, and cotton bedding. Add painted nightstands with antique brass pulls for contrast.
Create a shabby chic look with a carved wood sleigh bed displaying soft floral bedding. Add character with a painted distressed dresser and matching vanity mirror.
Opt for relaxed Scandinavian style with a white washed bed frame and wood plank accent wall. Accessorize with natural fiber rugs, rattan basket nightstands, and foliage.
Make a cottage statement with a chippy turquoise painted bed and matching side tables. Infuse farm charm with burlap drapes and a galvanized metal chandelier.
Mid-Century Modern Bedroom Furniture
Mid-century modern style celebrates retro 1950s and 60s furniture design. Simple and functional yet never dull, mid-century pieces feature refined silhouettes with tapered legs and rounded edges. This nostalgic style blends seamlessly in modern and eclectic spaces.
Characteristics of Mid-Century Modern Bedroom Furniture
Iconic retro design
Low-profile, horizontal silhouettes
Tapered or spindly wood legs
Rounded edges and corners
Muted earth tone palette
Organic Modern shapes
Lucite and acrylic accents
Tufted leather or vinyl
Polished wood like teak and walnut
Subtle patterns and geometric prints
Upholstered headboards
Popular Mid-Century Bedroom Furniture Pieces
Platform Beds – Low-profile platform beds with sparse geometric details embody mid-century style. Pair with a wool throw at the foot.
Tapered Leg Nightstands – Petite tapered leg nightstands allow streamlined bedside storage. Opt for rich woodgrain tops and fronts.
Dressers – Mid-century dressers feature clean, minimalist silhouettes to maintain an airy, uncluttered feel.
Lounge Chairs – Relax in a leather or fabric upholstered lounge chair. Choose a swivel base for added mid-century flair.
Benches – Wood bench seating at the foot of the bed provides a spot to sit when dressing. Select tapered legs to match nightstands.
Globe Pendant Lights – Circular globe or orb pendant lights suit the mid-century aesthetic. Opt for white, chrome or brass fixtures.
Abstract Art Prints – Display bold graphic art prints above the bed to enhance the modern retro vibe.
Mid-Century Modern Bedroom Style Ideas
Looking to infuse your sleep space with mid-century charm? Here are some inspiring ideas:
Select a wooden bed with sleek tapered legs and simple headboard. Include molded side chairs and abstract art prints.
Choose an upholstered bed with button-tufted headboard in muted gray-green velvet. Add acrylic end tables and pendant lamps.
Opt for retro appeal with a tufted vinyl headboard, patterned shag rug, and arched floor lamp. Finish with vibrant art prints.
Create a reading nook with an oversized leather chair beside a shelving wall. Display collectible mid-century ceramic pieces.
Accentuate the retro vibe with orange faux fur pillows and vibrant patterned drapes. Include a Lucite side table and round mirror.
Blend mid-century and modern with a walnut platform bed, nubby wool throw, and marble pedestal accent table. Keep walls white.
Industrial Bedroom Furniture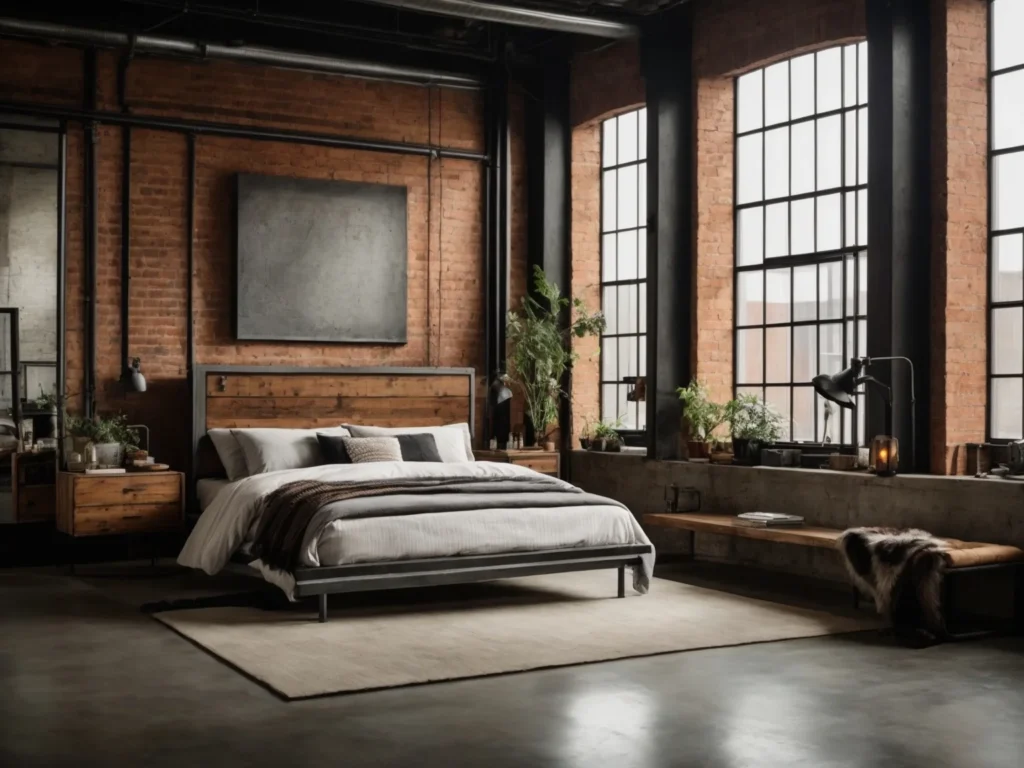 The industrial style embraces edgy, urban warehouse living. The raw, unfinished look features metal, brick, concrete, and wood elements reminiscent of factories and lofts. If you love exposed beams, metal accents, and an urban vibe, industrial furniture sets the mood.
Characteristics of Industrial Bedroom Furniture
Metal frames and hardware
Exposed brick walls
Concrete, stone tops
Reclaimed or salvaged wood
Galvanized pipe accents
Unfinished, raw wood look
Black, gray and woodsy neutrals
Vintage-style filament bulbs
Tolix metal chairs
Chesterfield leather sofas
Oversized clock accents
Factory carts and trolleys
Popular Industrial Bedroom Furniture Pieces
Iron Beds – Iron or wrought iron canopy beds make a dramatic industrial statement. Look for weathered patinas or black finishes.
Concrete Accents – Concrete nightstands, side tables or dressers add rugged urban edge. The hefty material grounds the space.
Salvaged Wood – Choose a reclaimed wood bed frame and accent with matching rustic wood nightstands with metal accents.
Leather Headboards – Tufted leather headboards lend a hint of luxury. Opt for black or brown leather with metal grommets.
Tolix Chairs – Add metal Tolix chairs or stools at the bedside or reading nook for industrial flair.
Chesterfield Sofas – Relax on a plush classic Chesterfield sofa for a cozy yet edgy vibe.
Marble Topped Dressers – Contrast weathered dressers with sleek white or gray marble tops to temper the industrial edge.
Industrial Bedroom Style Ideas
Want to infuse urban edge into your bedroom oasis? Here are inspiring industrial style ideas:
Expose the brick wall behind the bed. Add a black iron canopy bed, concrete nightstands, and factory cart dresser. Suspend pendant lights.
Create a focal wall with wood pallet planks. Include a salvaged wood bed and black Tolix chair. Add glass globe lights.
Choose a tufted leather headboard bed paired with matching nightstands. Hang a large oversized clock over the bedside.
Accentuate with a Chesterfield sofa, Persian rug, and metal cage pendant light. Choose an unstained wood bed frame.
Opt for an unfinished wood bed and dresser. Contrast against the wood tone with a marble tiled accent wall and concrete bedside tables.
Add a pop of color with a vibrant rug and throw pillows. Include reclaimed wood shelving displaying green plants and books.
Scandinavian Bedroom Furniture
Scandinavian style evokes the relaxed modern aesthetic of Nordic regions. Clean and airy yet warm and welcoming, the look celebrates simplicity, minimalism, and functionality. Neutral hues blend with light wood accents and natural textures. Embrace the hygge lifestyle with Scandinavian furniture.
Characteristics of Scandinavian Bedroom Furniture
Light wood tones like oak, maple and birch
Neutral white, cream and gray palette
Minimal ornamentation
Uncluttered, organized storage
Multifunctional, efficient pieces
Natural fiber and textural fabrics
Sheepskin and fur accents
Woven rattan, jute and seagrass
Handcrafted artisanal quality
Subtle global influences
Popular Scandinavian Bedroom Furniture Pieces
Platform Beds – Platform beds with slim wooden frames keep the look light and airy. Choose natural oak or maple wood tones.
Dressers – Clean-lined dressers offer ample, concealed storage. Built-in drawers maintain a clutter-free feel.
Nightstands – Compact nightstands in light wood tones provide essential bedside storage. Opt for open shelves or a single drawer.
Benches – Wooden benches at the bed's foot provide seating and clever extra storage with lift-up lids.
Pendant Lights – Suspended geometric paper pendant lamps add minimalist flair. Rattan, bamboo and woven pendants also suit the vibe.
Jute Rugs – Natural fiber jute and seagrass rugs add cozy texture underfoot while keeping the palette neutral.
Sheepskin Throws – Luxurious white Icelandic sheepskin throws at the bed's foot inject softness and warmth.
Scandinavian Bedroom Style Ideas
Want to infuse Nordic minimalism into your bedroom? Here are some lovely Scandinavian-inspired ideas:
Select a light wood bed frame and matching slim nightstands. Layer on neutrals with cotton linens and a fluffy sheepskin rug. Add suspended pendant lights.
Choose a maple platform bed dressed in crisp white linens. Include woven nightstands, a rattan pendant lamp, jute rug and driftwood accents.
Opt for a timeless look with an oak bed, dresser and bench. Accent with a round mirror, cozy textiles and printed throw pillows.
Make a statement wall with wood plank paneling. Contrast with a white bed dressed in natural linens and fur throws for texture.
Take a minimalist approach with a low-profile gray bed, glass lamp and single nightstand. Infuse warmth with a sheepskin area rug.
Add global flair with patterned African mudcloth pillows, a macrame wall hanging, and rattan chair. Finish with a woven wool throw.
Cottage and Shabby Chic Bedroom Furniture
Cottage style furniture celebrates vintage charm with painted, distressed woods and romantic fabrics. Soft florals, frills and ruffles capture quaint country charm. Similarly, shabby chic style plays up well-loved finishes. The relaxed femininity creates a bedroom retreat with character.
Characteristics of Cottage and Shabby Chic Bedroom Furniture
Painted and antiqued wood
Distressed finishes
Vintage charm and patina
Frilly, delicate details
Floral and botanical prints
Ruffles, embroidery and lace
Soft pastel color palette
Crystal chandeliers
Carved headboards and footboards
White or brass metal beds
Vintage dressers and armoires
Cottage bench seating
Popular Cottage and Shabby Chic Bedroom Furniture Pieces
Cottage Beds – Ornate carved wood or metal beds suit the romantic charm. Play up softness with lace canopies.
Distressed Dressers – Antiqued cottage dressers with chipped paint finishes and vintage hardware exude charm.
Tufted Headboards – Feminine tufted headboards upholstered in soft gray, pink or linen add cozy elegance.
Crystal Chandeliers – For opulence, hang a mini crystal chandelier over the bedside. Choose an ornate style to suit the theme.
Vintage Benches – Painted and distressed wood benches at the bed's foot provide character. Soft cushions up the comfort factor.
Ruffled Curtains – Add delicate ruffled or lace sheers at windows to filter light gracefully.
Floral Bedding – Embrace romantic charm with cottage quilts and florals in rosy pinks, blues and yellows.
Cottage and Shabby Chic Bedroom Style Ideas
Want to infuse sweet old-world romance into your sleep sanctuary? Here are lovely vintage-style ideas:
Select a carved wood bed dressed in embroidered linens and accent with crystal sconces. Include a tufted chaise lounge and antique dresser.
Choose a Victorian-style iron bed with brass accents. Layer on delicate lace bedding, ruffled pillow shams, and a vintage quilt.
Opt for a white bed frame adorned with feminine florals. Include painted nightstands and dresser with vintage brass pulls.
Make a romantic statement with a canopy bed draped in lace linens and garlands of paper flowers. Display collected silver trays and perfume bottles on a vintage dresser.
Accent a wood sleigh bed with a painted distressed dresser and matching vanity. Hang a crystal chandelier and finish with floral curtains.
Create a coastal cottage look with a white metal bed, weathered wood dresser, and driftwood mirror. Accessorize with seashells and ocean art prints.
How to Mix and Match Furniture Styles
The furniture in your bedroom doesn't have to match perfectly. Mixing different furnishings styles can make your space feel collected and curated over time. The key is ensuring the pieces work in harmony. Use these tips to blend furniture styles with creativity and character effortlessly.
Choose a Central Focus – Select one signature furniture piece to anchor the room like an ornate bed or dresser. This central element helps dictate the overall style. Build around it by layering in complementing pieces.
Repeat Materials – Use cohesive materials like wood, iron, leather or marble to create flow. The repeating elements will tie varied pieces together.
Rely on Neutrals – Neutral foundations unite different furnishings. A light carpet, walls and bedding allow bolder accent pieces to shine.
Incorporate Texture – Vary textures like stone tabletops, velvet chairs, weathered woods and sheepskin rugs for depth and visual interest.
Display Collections – Collections of books, art, or favorite objects with personal meaning display eclectic taste. Group items on open shelving for a curated exhibit.
Add Plants – Greenery is a great way to connect disparate pieces through organic texture and soothing nature themes.
Use Area Rugs – Area rugs in natural fibers can unite furniture groupings with their subtle pattern and color. Choose a size that allows furniture legs to sit atop the rug.
Repeat Shapes – If you have angular, modern furnishings, introduce curves through arched floor lamps or oval mirrors to soften lines. Create cohesion with repeating shapes.
Vary Scale – Alternate large and small scale pieces to add aesthetic interest. A towering bookcase balances a petite chair while a massive bed contrasts slim end tables.
Light It Up – Use fixtures like pendant lamps, sconces and table lamps to illuminate accent furniture and highlight displays.
How to Choose Bedroom Furniture Based on Your Needs
Your bedroom furniture should match your lifestyle and needs as much as your style. Consider these factors when selecting pieces to ensure they work for your space and priorities:
Furniture for Small Bedrooms
If you're working with a compact bedroom, smart furniture choices can maximize every inch:
Low-Profile Beds – Platform beds with shorter footboards allow you to use space underneath efficiently.
Compact Nightstands – Slim bedside tables with just enough space for a lamp and book save space.
Multifunctional Furniture – Ottomans or benches that provide seating and lift-up storage are ideal for smaller rooms.
Wall-Mounted Lights – Sconces or swing arm lamps mounted on walls are space-saving alternatives to table lamps.
Mirrored Furniture – The reflective quality makes pieces seem less bulky while brightening the space.
Vertical Storage – Tall bookcases, stacked bureaus and armoires conserve floor space.
Choosing Furniture Based on Color Scheme
Ensure new furnishings complement your existing color scheme or the palette you want to create.
Neutral toned woods or metals and pale upholstery allow flexibility to switch up colors down the road.
Opt for bolder hues like navy, emerald or mustard on investment pieces you know you'll love long-term.
Add pops of color through changeable accent pillows, throws, art and floral arrangements.
If you want to match specific wall colors, bring swatches when furniture shopping so you can test pairings.
Aim for a cohesive color flow rather than overly matching shades. Complementary or contrasting hues are pleasing.
Choosing Furniture Based on Color Scheme
Focus on practical needs like storage, comfort and layout when selecting bedroom furniture:
Seek ample drawer space for clothing and built-in compartments for organizing.
Test mattresses in-store for right firmness, size and cooling technology if needed.
Ensure nightstands fit your bedside necessities like lamps, chargers, books and alarm clocks with room to spare.
Select seating like benches, chaise lounges and chairs tailored to activities like reading nooks and dressing areas.
Measure furniture dimensions and your room's layout to confirm adequate traffic flow and openings.
Check furniture quality like dovetail joinery in drawers and reinforced frames for long-lasting durability.
2024 Bedroom Furniture Trends
Bedroom style constantly evolves with new trends emerging each year. Get inspired by these top furniture trends predicted for 2024.
Sustainable Design
Eco-conscious consumers increasingly value sustainability. Brands are responding with green designs made from recycled and responsibly-sourced materials.
Reclaimed and upcycled woods
Eco-friendly textiles like organic cotton and linen
Water-based, non-toxic finishes
Renewable and recycled materials for upholstery
Vintage and antique finds
Natural Elements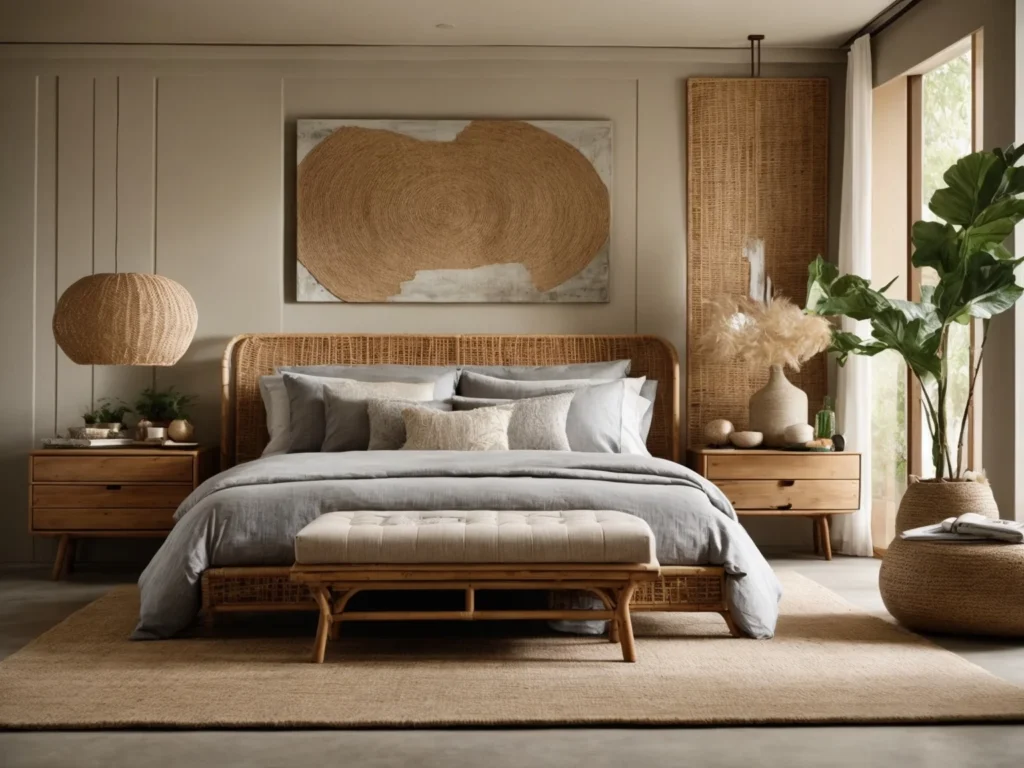 Furnishings will continue embracing natural materials and textures like rattan, jute, seagrass and handcrafted wood. Mixed media pairings with stone, clay and concrete add depth.
Coastal Aesthetic
The coastal grandmother or "coastal granny" trend celebrates vintage nautical charm. Look for weathered woods, woven textures, and subtle blue and white color schemes reminiscent of seaside cottages.
Multifunctional Minimalism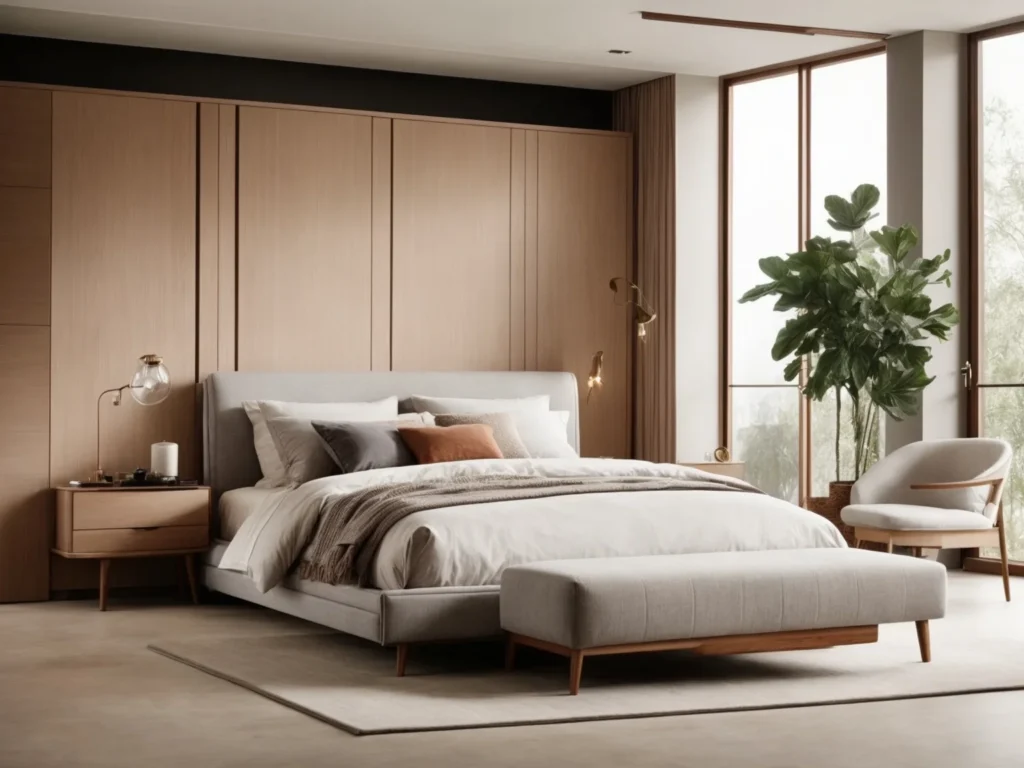 Consumers want fewer, versatile furnishings that serve multiple needs for more flexibility. Expect convertible, multifunctional pieces and decluttered spaces.
Bold Colors and Patterns
Vibrant hues and dynamic global patterns add personality. Punchy primaries, retro color blocking, and African wax prints liven bedrooms.
Customized Storage
Innovative storage solutions that can be personalized to needs will thrive. Examples include modular closets, pull-out drawers, and DIY platforms.
Modern Art Deco
Sleek yet opulent Art Deco style makes a comeback with geometric silhouettes, rich textures, and metallic and black color schemes.
Conclusion
With endless furniture styles, deciding on pieces for your bedroom sanctuary that perfectly suit your needs and design aesthetic can feel overwhelming. By clarifying your priorities, preferred look and sizing considerations, you can narrow down selections tailored just for you.
Whether you gravitate toward ornate traditional furnishings, breezy cottage charm or sleek contemporary aesthetics, there are inspiring options to turn your sleep space into a personal haven. Look for quality craftsmanship and materials that will stand the test of time. Mix and match eras and varies textures for a collected look. Most importantly, embrace pieces that make you feel happy, relaxed and comfortable as you unwind.
With this comprehensive guide detailing popular bedroom furniture styles from modern to mid-century plus expert tips on choosing and blending looks, you now have all the information needed to start designing your dream bedroom retreat. Take your time, have fun furniture shopping and enjoy the process of creating a space that's distinctly yours.