Shelving is an integral part of any living room's storage and style. The right shelving solution can make your space feel curated and complete. From built-ins to freestanding units, shelves keep items organized while displaying your decor.
This in-depth guide covers the most popular shelving options to inspire your living room refresh. We'll explore design styles from industrial to minimalist, materials from natural wood to gleaming metal, and tips to maximize form and function through smart shelving.
Floating Shelves: Modern and Minimalist
Floating shelves make a contemporary statement and are ideal for small living rooms. Mounted directly on the wall, floating shelves create a streamlined look. Follow these tips:
Choose Simple Floating Shelves
Floating shelves span a variety of materials, but simple designs work best. Look for sleek wood, marble, glass, concrete, or metal options. Avoid ornate brackets or edges.
Match shelf finishes to other metals and woods in the space. For example, brass shelves would complement brass light fixtures.
Style with Plants and Decor
Floating shelves are perfectly suited to styling with plants, books, and decor. Try pairing cacti with ceramic vases, coffee table books with a brass object, or a colored glass box with eucalyptus.
Repetition looks cohesive. Stick to a color theme or material pairings. For example, use all white pottery or group green succulents.
Use for Display Only
While floating shelves store lightweight items well, avoid loading them up. A few curated objects look best. Use other solutions like cabinets for concealed storage to prevent clutter.
Leave breathing room between objects. Floating shelves beg negative space. Cluster 3-5 items together, keeping some shelves empty.
Consider Ledge Floating Shelves
Ledge shelves offer extra depth for display. They can hold rows of books, trays of trinkets, or multiple potted succulents. Use longer ledges over seating areas.
Add discreet LED lighting to ledges to spotlight displays. Conceal cords along the back edge or in wall cutouts.
Mix Shelves at Various Heights
Install floating shelves in staggered heights for interest. Place them above eye-level to encourage gazing up.
Try pairing a ledge shelf with two smaller, higher shelves. Or alternate between wall-mounted and ledge shelves.
Built-in Shelves: The Custom Look
For a polished, bespoke aesthetic, built-in shelving is unrivaled. Constructed specifically for your living room, built-ins maximize storage and style.
Flank Fireplaces or Windows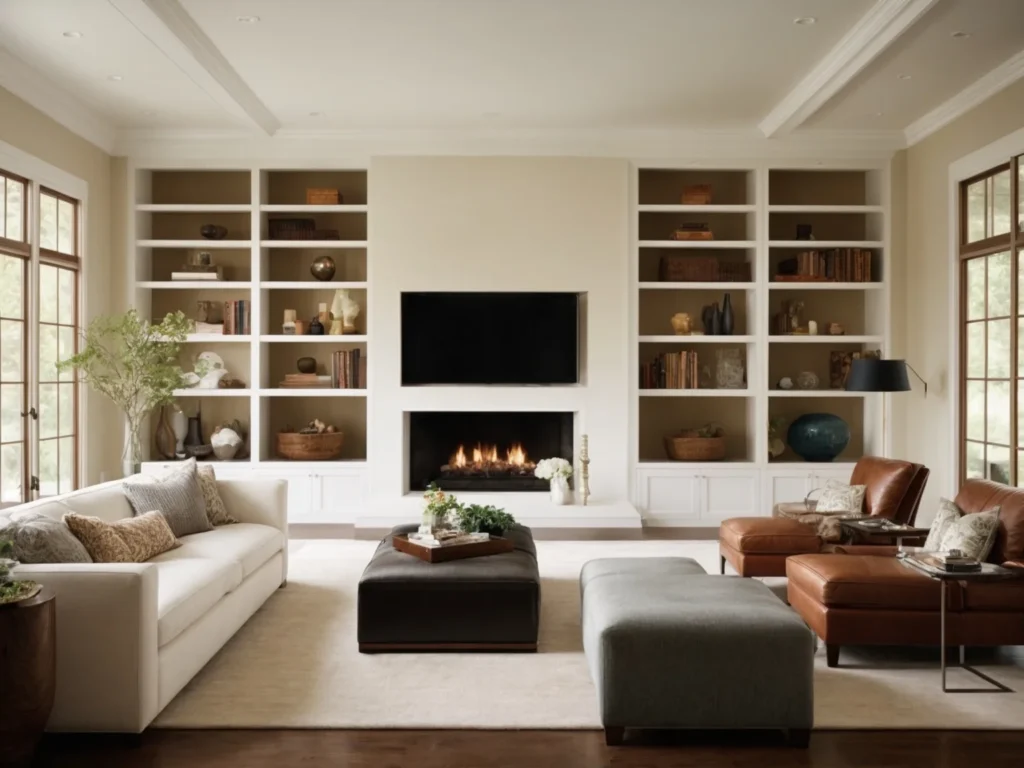 Built-ins classically flank fireplaces, TVs or large windows. The symmetrical look provides balance while defining the space.
Customize the built-ins to fit your wall exactly. Opt for cabinetry on the bottom and open shelving up top to conceal media components.
Choose Custom Materials
While wood is common, built-ins can incorporate marble, metal, glass, and more. Mixing materials adds interest.
For example, try a marble base with wooden or metal shelves atop a wood base. Painted built-ins also lend character through color.
Incorporate Doors and Drawers
While built-ins often have open shelving, incorporating drawers and cabinet doors allows you to hide clutter while displaying favorite items.
Closed storage on the bottom keeps DVDs, board games, and clutter out of sight. Use doors with indented handles for a streamlined look.
Include Specialized Storage
Since built-ins are customizable, you can incorporate specialty storage needs like glass-fronted cabinets for barware, adjustable shelving for media, or divided drawer organizers.
Consider pull-out trays for stowing remotes or outlets and ports for hiding unsightly cords inside the units.
Add Lighting
Sconces, reading lamps, and accent lighting integrated into built-ins make them both functional and atmospheric.
Try install recessed lighting above open shelves to illuminate displays. Or opt for sconces flanking the units for ambient lighting.
Ladder Shelves: Rustic Industrial Charm
Ladder shelves infuse living rooms with urban character. Typically made from salvaged wood, ladder shelves have an imperfect, vintage appeal.
Scour Vintage Shops
True ladder shelves are made from retired wooden ladders. Search antique stores and flea markets for old wooden ladders to repurpose.
Look for well-worn and weathered varieties with character. Vintage finds add authenticity and a sense of history.
Display Large Items
Ladder shelves suit displaying large decorative items given their generous scale. Use them to show off oversized vases, bundles of dried botanicals, or stacked coffee table books.
Angling ladder shelves against the wall at a slight tilt adds extra interest while allowing you to view items from multiple sides.
Add Industrial Pipes
Pair salvaged wood ladders with iron or steel piping for added industrial edge. This mixed material look amps up the rustic warehouse vibe.
Black or galvanized steel pipes can be used horizontally, vertically, or diagonally with wood shelving.
Incorporate Woven Baskets
Soften the hard wood and metal aesthetic by weaving in rattan, wicker, or woven rush baskets for concealed storage.
Baskets keep remotes, blankets and other clutter out of sight while adding organic texture.
Use Rope for Hanging
Opt for versatile jute rope rather than hardware to make your ladder shelf installation a cinch.
Clop rope through the ladder rungs and hang directly from ceiling hooks for an adjustable, casual look.
Wall-Mounted Rail Shelves: The Modern Gallery Wall
Wall-mounted rail shelves create a modern gallery wall effect. The continuous line offers plenty of display space for artful arrangements.
Select a Streamlined Profile
Thin, streamlined rails disappear against the wall and put the focus on objects rather than hardware. For a minimalist look, steer clear of chunky supports.
Floating glass shelves and slender steel rails have an almost invisible edge. Walnut or oak rails add organic texture.
Mix Sizes and Materials
Creating visual interest is key for rail shelves. Mix different sizes, colors, and materials rather than uniform shelves.
For example, combine matte black rails with a rustic wood shelf and a sleek glass shelf in one arrangement. Vary objects too.
Multi-Height Design
Install rails at varying heights for a dynamic look. You can make the shelves ascend diagonally or in a stair-step profile.
Placing rails closer together on one section and farther apart on another adds depth. Incorporate ledges for plants and baskets.
Use Wall Cubbies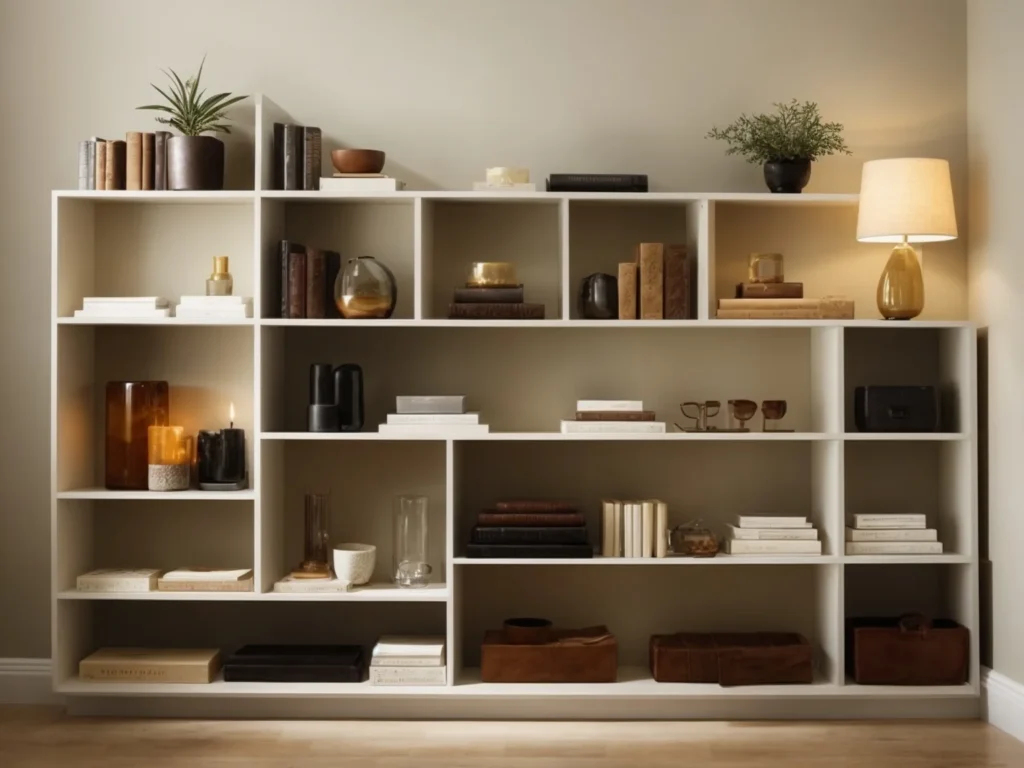 In addition to horizontal shelves, incorporate wall cubbies or vertical dividers to "frame" shelves and objects.
Cubbies create dedicated vignettes for books, candles, or small decor items. Use them to separate shelves into sections.
Add Discreet Lighting
Discreet lighting transforms wall shelves into a focal feature. Try attaching under-cabinet lights beneath ledges or sconces next to cubbies.
Opt for integrated LED strip lighting or low-voltage rail lighting. Dimmer switches allow you to control ambiance.
Colored Shelves: The Accent Wall
Brightly colored shelves create a bold style statement and a focal accent wall. The punch of color spotlights displays.
Complement Your Color Scheme
Pick a vivid hue that complements your living room palette. For a traditional space, try emerald green or sapphire blue. In midcentury rooms, orange and yellow add retro flair.
If you want drama, saturated colors like fuchsia, tomato red and cobalt blue make shelves pop. Or try an energetic color like chartreuse or lime green.
Paint Wood Tone Shelves
For colored built-ins, opt for wood shelving you can paint rather than permanently stained varieties. Poplar, pine, and birch take paint well.
Sand shelves lightly before painting for proper adhesion. Choose a gloss, satin, or matte finish based on your preference.
Stick to One Color Story
While patterned or colorblock shelves may be tempting, one bold color is best. Sticking to a single vibrant hue keeps the look cohesive.
You can subtly vary tones of that color throughout built-ins. For example, use "blush" and "peony" to get light and dark pink shelves.
Style with Neutrals
The key to styling colorful shelves is ensuring displayed items don't compete visually. Keep accessories and objects minimal and neutral.
White vases, natural wood bowls, black and white photography, and greenery give the eye a resting place. Avoid clutter.
Add Contrast with Metallics
Brass, gold, and silver accents complement vibrant shelves beautifully. Try metallic frames, candleholders, vases or decor items.
Aged brass and soft gold provide warmth against cool hues like blue and green. Silver pops against warm shades like red, orange, and yellow.
Small Space Shelving: Clever Solutions for Compact Living Rooms
Don't let a small living room deter you from great shelving. With some creativity, you can still incorporate stylish storage solutions.
Use Shelves Behind Furniture
Take advantage of "dead space" behind sofas, chairs, and sectionals by adding shelving directly on the wall. This hides clutter while utilizing every inch.
Floating shelves mounted just above furniture work well. Opt for slim ledge shelves to avoid a bulky aesthetic.
Install Corner Shelves
Corners become functional space with triangle corner shelves. The angled platforms fit neatly into wasted areas.
Style corner shelves with decor objects like plants, mini vases, candles, or baskets. The triangular shape adds visual interest.
Get Creative with Bookcases
Standard bookcases may overwhelm a compact room, but creative adaptations work beautifully. Consider a ceiling-height ladder-style design or narrow shelving unit.
Install bookshelves horizontally above eye-level to save floor space. You can also recess shelves into the wall for a built-in look.
Use Wall-Mounted Cabinets
Wall cabinets provide enclosed storage without taking up room space. Opt for wall-mounted cabinets above seating areas or media consoles.
Glass-front cabinets maintain the airy look while concealing items. Or try open cabinets with cubbies to corral clutter.
Incorporate Multi-Use Furniture
Tables, cabinets, and media consoles with built-in shelving maximize functionality. Look for a console table with lower cabinets and upper display shelves.
Multi-use furniture consolidates storage to open up floor space. An ottoman or bench with interior shelves adds seating and storage.
Conclusion
With so many options, from minimalist to rustic and built-in to freestanding, shelving can make a stylish statement and provide plenty of function. When selecting shelves, consider your living room's size, style and storage needs.
The finishing touch? Thoughtfully styling shelves to display favourite items, books, art and greenery. Well-designed living room shelving conceals and reveals, keeping rooms clutter-free while offering decor inspiration.