The traditional home office is rapidly becoming a thing of the past. With more people working remotely or running side businesses, the living room has emerged as an appealing place to set up a workspace while still enjoying the comforts of home. Choosing furniture carefully and optimizing the layout can create a productivity powerhouse that doesn't compromise your living room's style or functionality.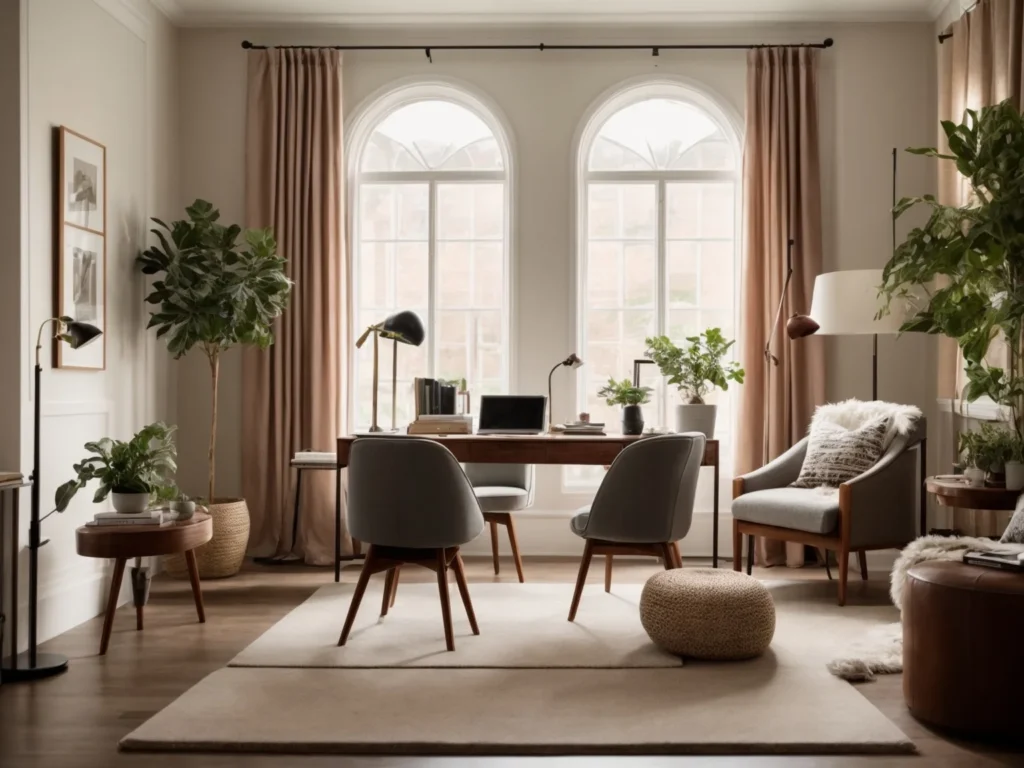 Introducing the Living Room Office
The living room office trend arose in response to changing work dynamics. With remote work becoming more prevalent, people sought to carve out functional workspaces at home without sacrificing living areas or bedrooms to a full-on home office. The living room provides an ideal setting to blend work and personal life comfortably and invitingly.
Unlike more isolating home office spaces, a living room workspace promotes connectivity. It's easier to interact with family members while working and transition to quality time when the workday ends. The central, communal nature of the living room also helps avoid the distraction of working in a bedroom.
Turning part of your living area into an office comes with challenges. Achieving an ideal layout and keeping clutter contained takes strategic planning. But with the right approach, you can create a living room office that seamlessly incorporates work without disrupting the room's original purpose.
Assessing the Feasibility of a Living Room Office
Consider any restrictions or challenges before putting an office area in your living room. Apartment dwellers should review lease terms, condo bylaws, or neighbourhood covenants for any clauses about running a business from home. Specific regulations vary, but many prohibit turning living areas into dedicated home offices.
Zoning laws can also affect home business use in living spaces for single-family homes. If zoning rules in your area limit office use to under 25% of home footage, a living room office may still comply if it occupies a defined section of the room.
Discuss plans to set up a workspace in common areas for shared living situations. Get input from housemates on desk placement and expectations for keeping the office tidy and out of the way when not in use. Setting ground rules upfront prevents problems down the road.
Assuming no restrictions apply, assess the size and layout of your living room. Look for unused spaces conducive to housing a desk and workspace. Near a window works well to take advantage of natural light. Also consider proximity to power outlets and your internet router or modem when choosing a spot.
Selecting the Right Desk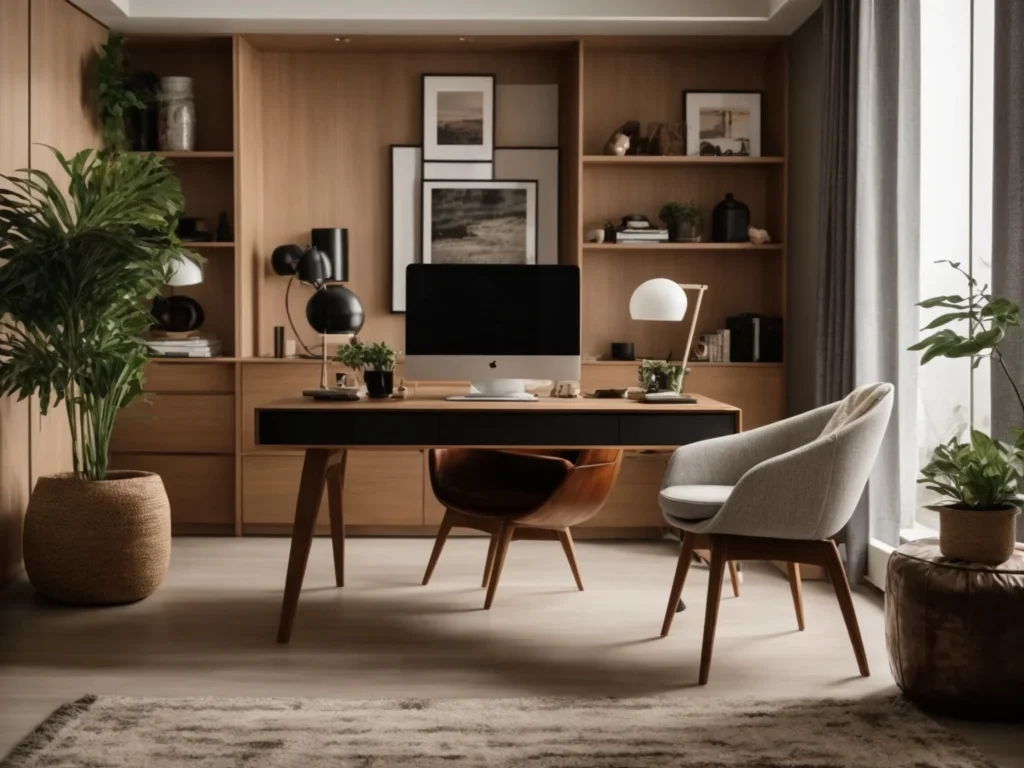 Choosing the right desk is critical for optimizing your living room office. The best options seamlessly integrate into the room when in use but can conveniently fold away or move when necessary.
Opt for a Desk That Can Be Moved or Tucked Away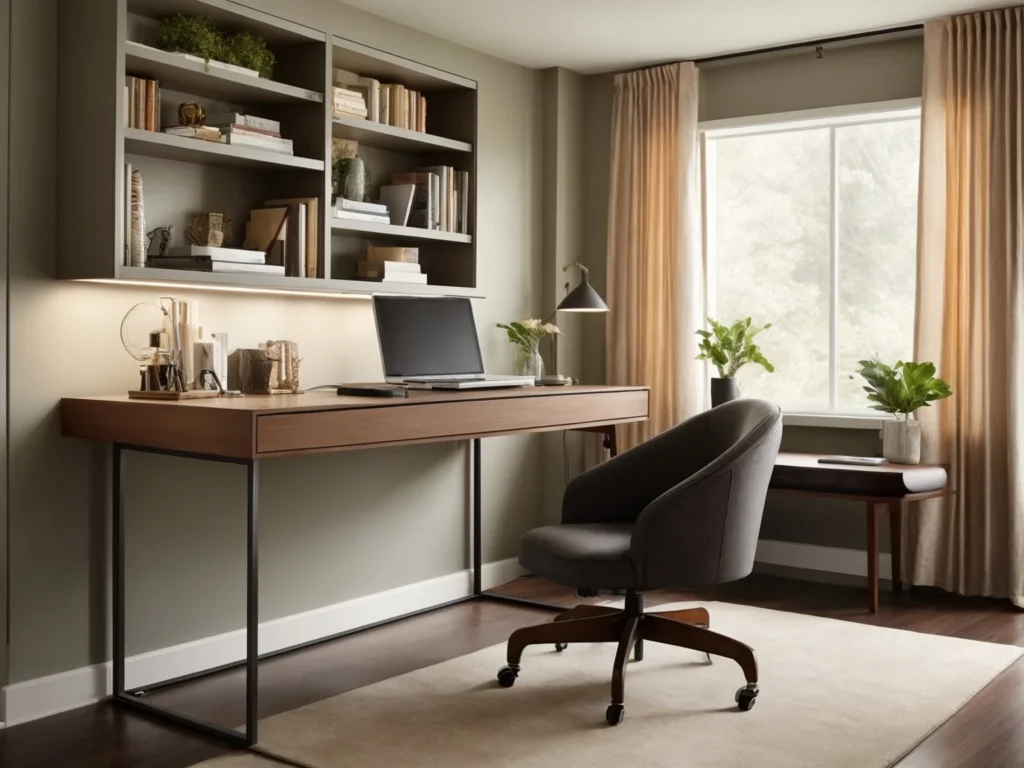 For the most flexibility, consider a lightweight desk or table that can easily roll off to the side or into a closet when unnecessary. A secretary desk on casters lets you reposition your workspace to accommodate conversations, traffic flow, and furniture rearrangements.
When closed up, Murphy desk and wall bed combinations work wonderfully to conceal your office area. They fold down when needed to reveal a work surface and can even integrate shelving and storage. With multiple size options, Murphy desks adapt well to small or large living rooms.
Desk in Living Room vs. Bedroom: Making the Choice
Setting up your workspace in a living room has distinct advantages over using a bedroom:
Living Room
Promotes better work/life balance
Less distracting than a bedroom
Facilitates family interactions
Bedroom
Provides more privacy
Easier to block out noise
Can fully personalize decor
A small desk in a bedroom corner may be the only choice for those with limited space. But for maximum comfort and convenience, the living room reigns supreme for an integrated home office.
Strategic Placement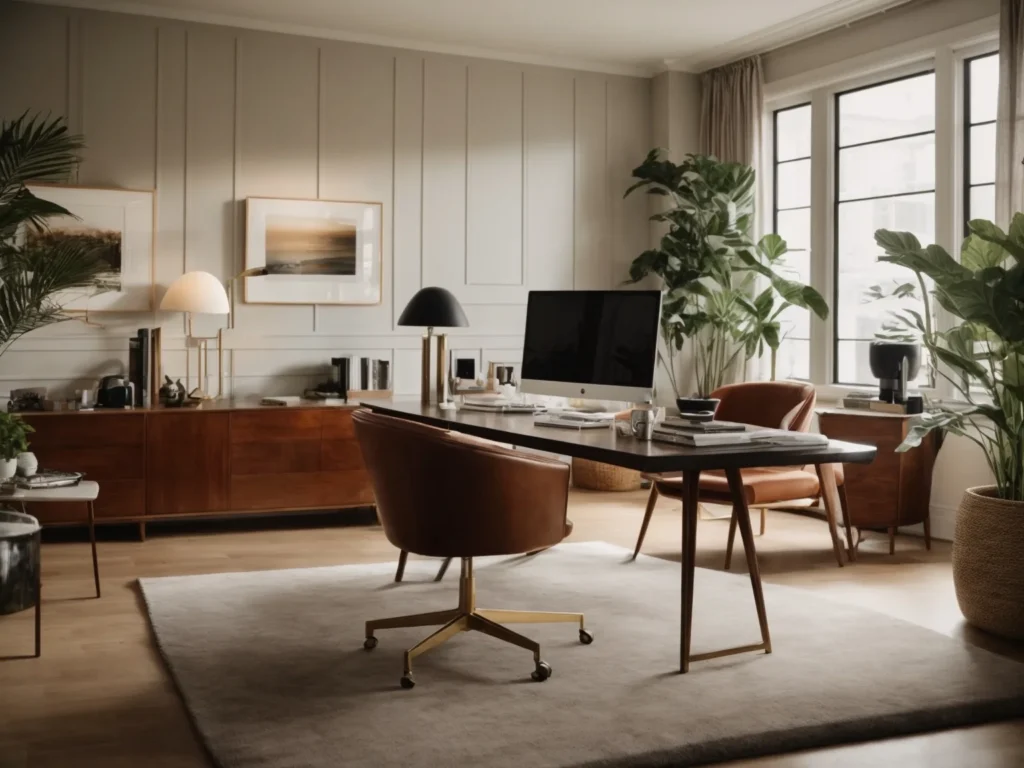 Carefully assessing your living room layout is key to finding the ideal office spot. Look for underutilized spaces and consider lighting, electrical outlets, and furniture arrangements.
Utilize Wasted Space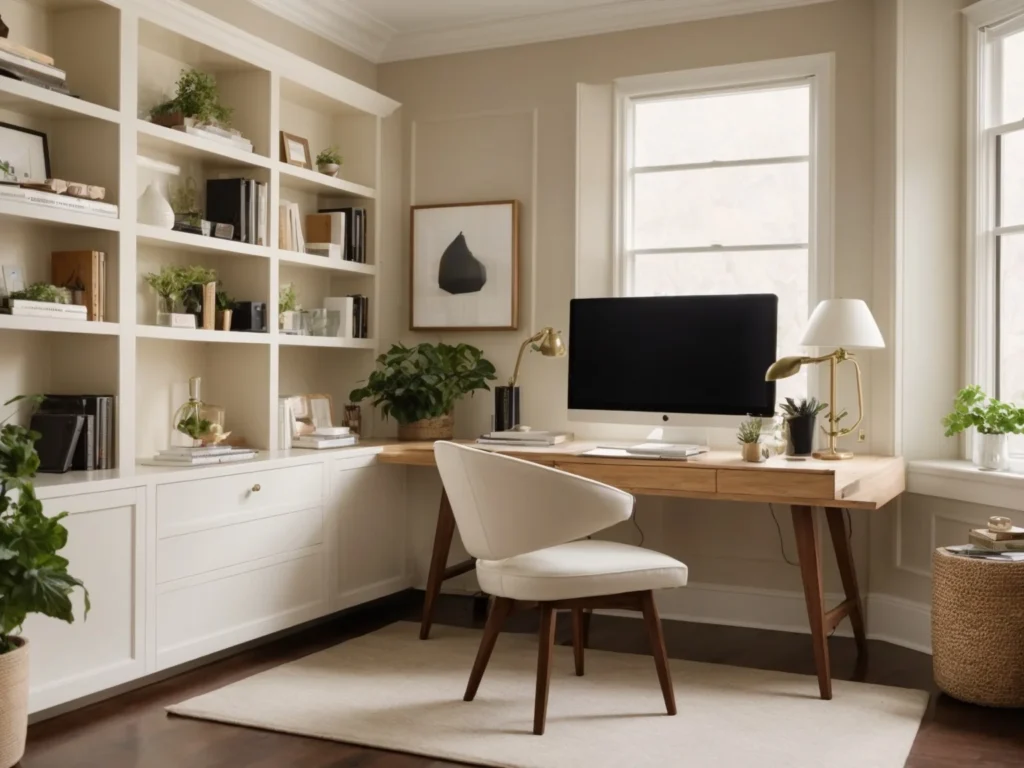 Pay attention to corners, walls, and other areas with little use and could accommodate a modest workstation. A narrow bookcase can often be repurposed as a desk with the addition of a countertop. For larger living rooms, look for a wall with adequate space for a built-in floating desk.
Nooks created by architectural details like bump-outs, columns, and bay windows provide prime real estate for small office spaces. Just be sure to allow proper leg room and clearance from walking paths.
Position Near a Window or Light Source
Natural lighting significantly enhances workspace comfort while reducing eyestrain. Situate your desk near a window, but use blinds or curtains to control glare on computer screens. If no windows are accessible, position near a floor lamp for ample illumination.
Proper lighting also allows you to use a smaller desk. You can push up against a wall without glare, gaining several extra feet of useable floor space. Just be sure to mind electrical outlet locations when choosing a spot.
Furniture and Decor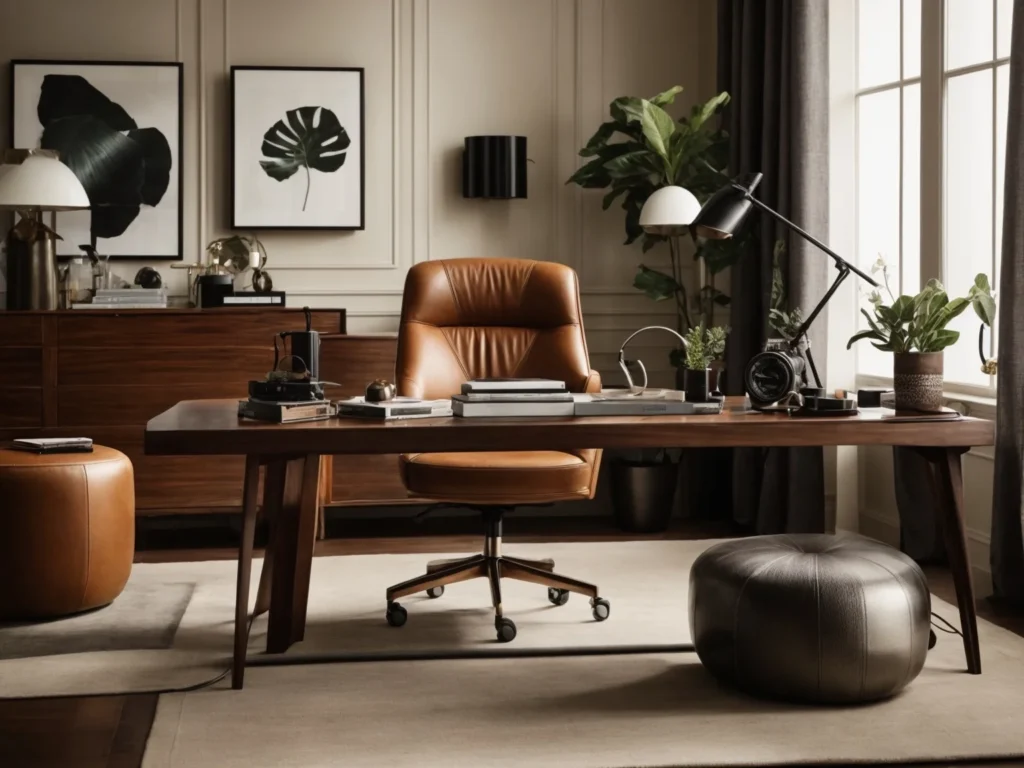 The furnishings and accents you choose will greatly impact the form and function of your living room office. Prioritize multi-functional pieces that complement your decor.
Incorporate Discreet Office Storage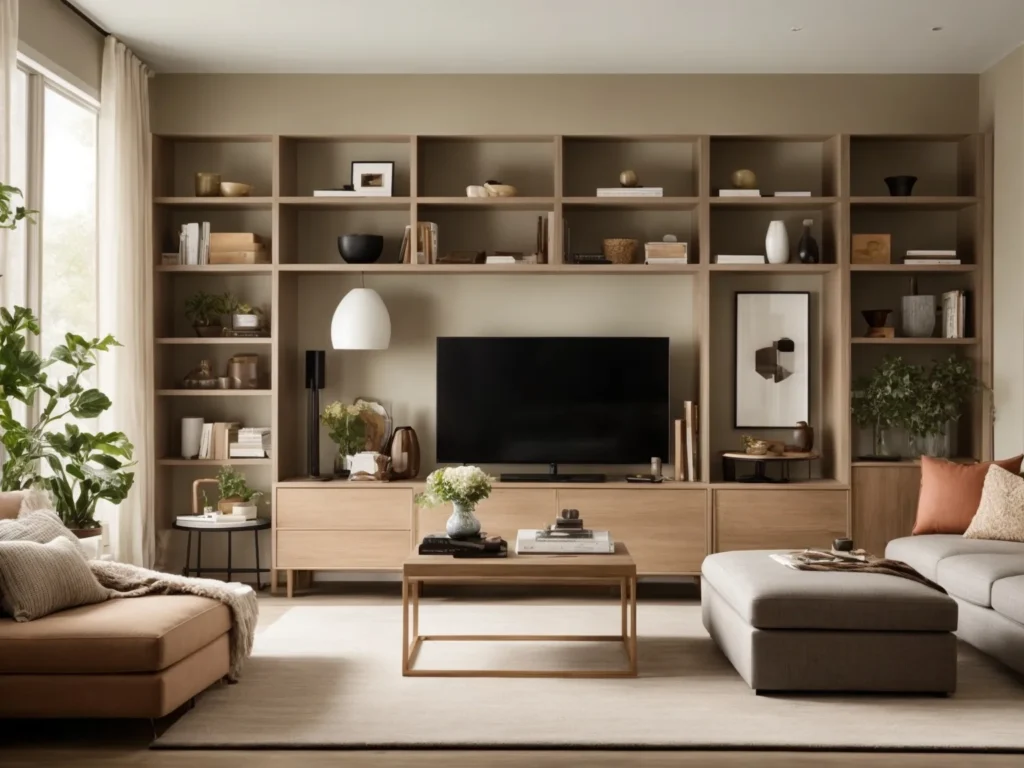 Buy or repurpose living room shelving units and cabinets to stash office supplies out of sight. Seek out storage ottomans and benches that can double as extra seating for guests.
Neutral colors and materials help these functional pieces blend seamlessly into your existing layout and color palette. If space allows, incorporate a matching bookcase to house reference materials within easy reach.
Choose Transparent Furnishings
Translucency is your friend when establishing a living room workspace. Glass or acrylic desks and organizers take up minimal visual real estate so your office area doesn't dominate the room.
A glass-topped desk also makes your work surface disappear, expanding the feel of the room. Pair with acrylic drawers or shelving above to hold office necessities without wrecking the transparent effect.
Choose Transparent Furnishings
Adapting Rental Spaces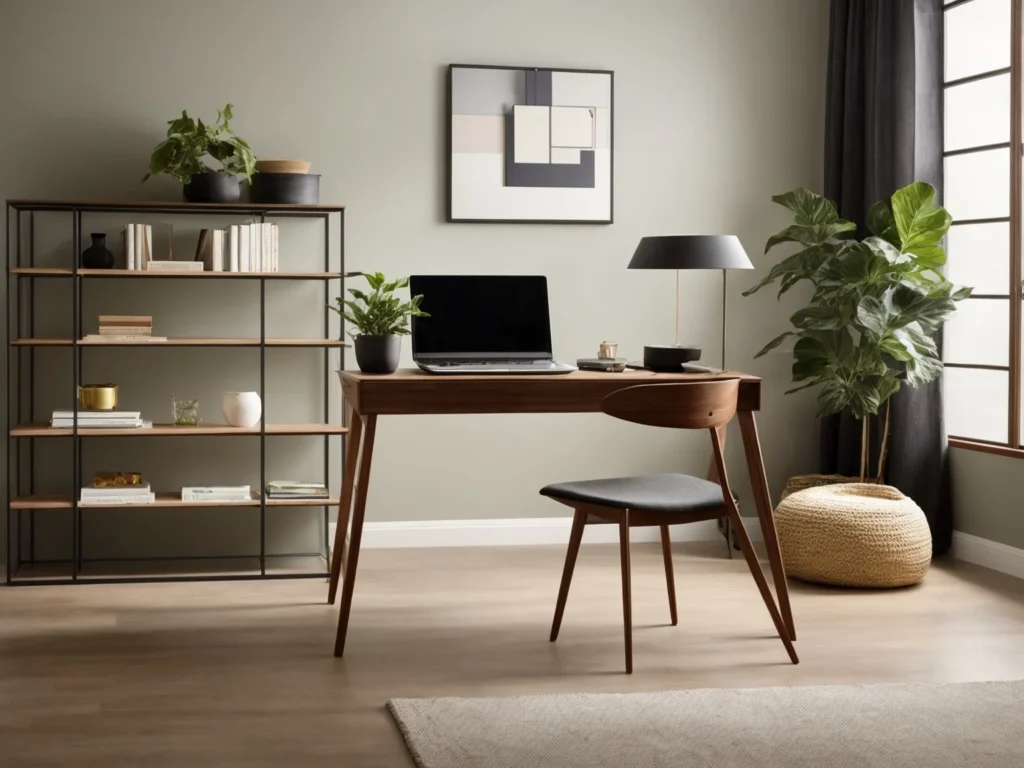 Renters face additional challenges when incorporating a work area into a living room. But with some creativity, you can carve out a productive workspace while adhering to lease terms.
Rental-Friendly Office Furnishings
Some apartments prohibit tenants from painting walls or making permanent changes. In these cases, focus on freestanding pieces that can easily move with you like:
Modular bookcases
Mobile cabinets on casters
A lightweight, folding laptop desk
Multi-functional ottomans and nesting tables
Other rental-friendly options include over-the-door hangars for supplies and floating shelves that don't damage walls. Check with your landlord regarding mounting ceiling hooks strong enough to suspend shelves or workspace lighting.
Use Decor to Delineate Workspaces
Use area rugs, curtains, or screens to define your living room office space without permanent changes. A standing bookshelf or room divider tucked into a corner also helps cordon off work areas in an adaptable way.
Plants, pendant lights, and wall art personalize rental spaces while distinguishing office zones. Ensure any fixtures you install can be easily removed without patching or painting.
Optimizing Comfort and Aesthetics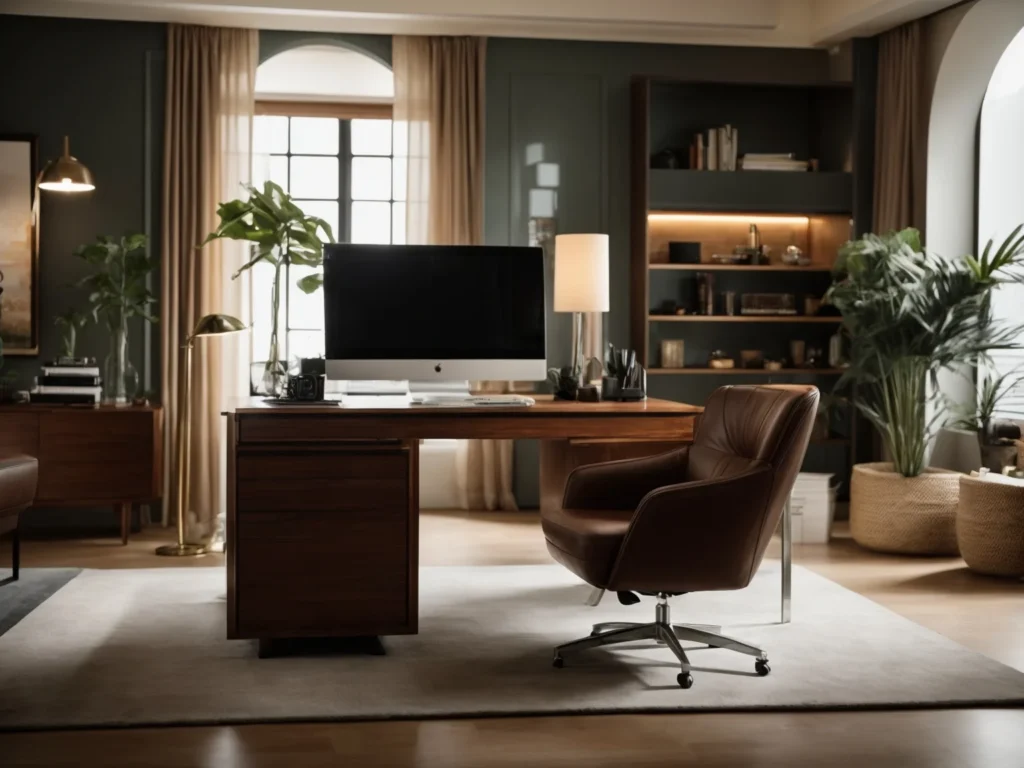 A living room office should feel inviting and comfortable while maintaining the room's intended ambiance. The right lighting, furniture, and organizational approaches help achieve this tricky balance.
Incorporate Soft Furnishings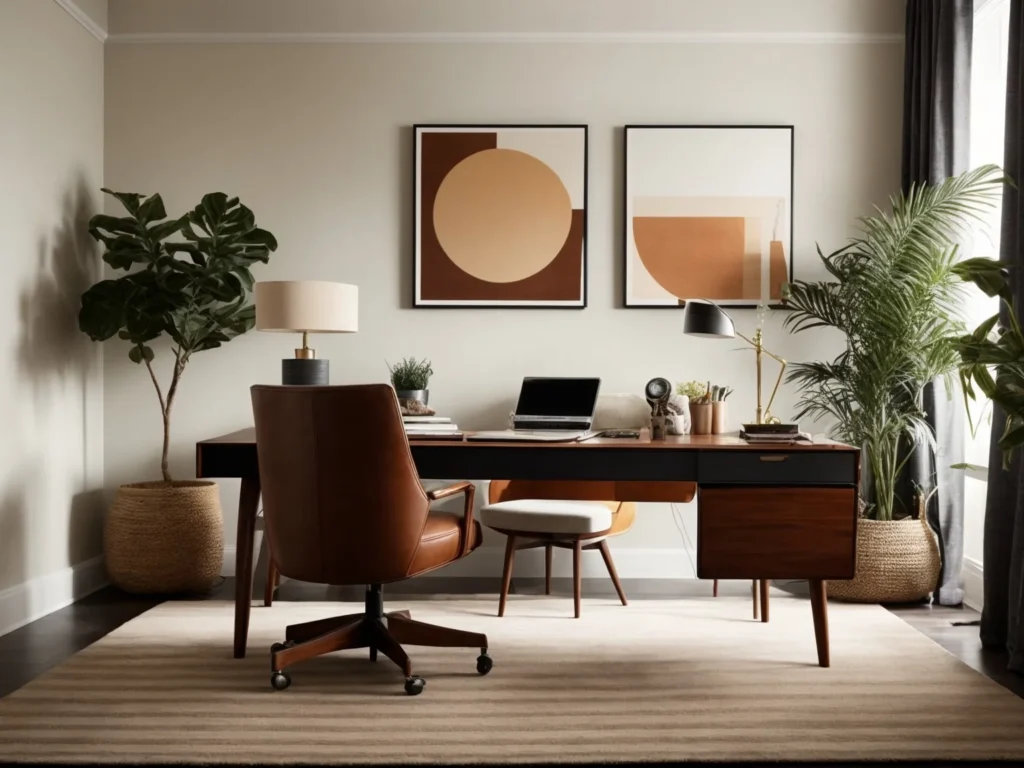 Upholstered desk chairs, pillows, curtains, and area rugs create a warm, residential feel. Incorporate soft textures and fabrics throughout your office to offset hard surfaces like desktops and computer monitors.
Try a leather desk pad or soft placemats for desktop surfaces to help muffle noise and add comfort. A rug underneath pulls the workspace together visually, reducing echoes from typing or calls.
Disguise Your Office When Not in Use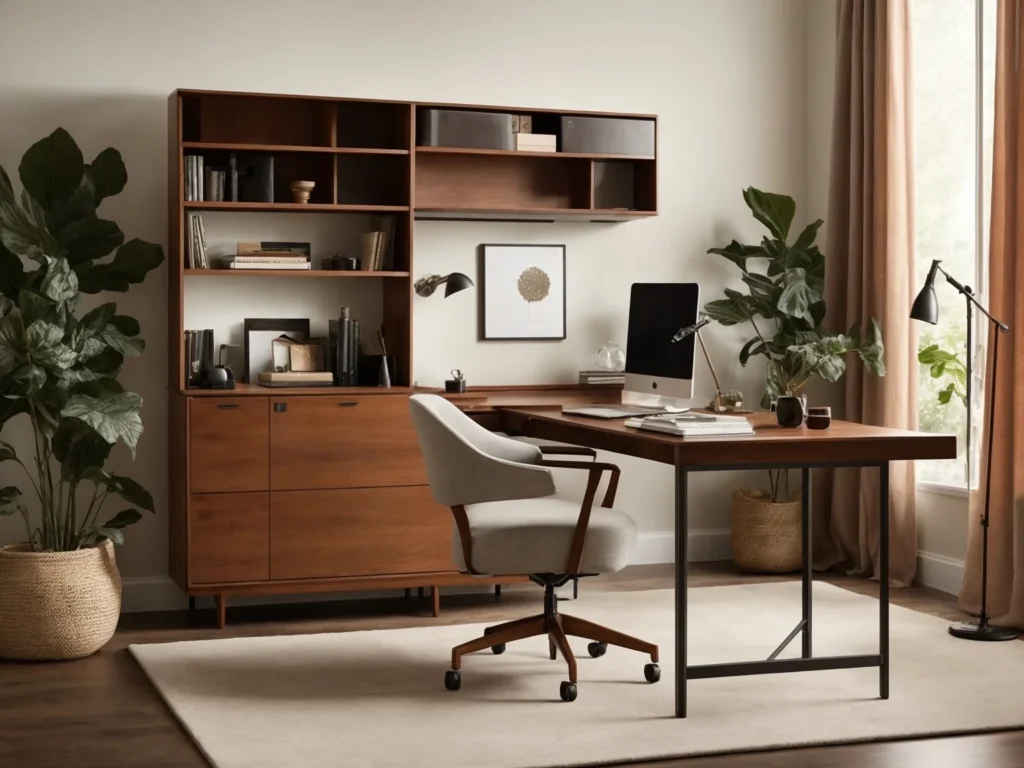 Find ways to discreet your workspace so it doesn't dominate the living room when you're off the clock. Some options include:
A secretary desk with fold-down front panel
A rolling bookcase or file cabinet you can reposition
A folding Murphy desk or drop-leaf table
A low-profile desk you can hide behind a sofa
A desktop on casters that can roll into a closet
Curtains, screens, or sliding panels can also conceal home offices when closed. The easier your setup is to disguise, the better it will blend into your living space.
Optimizing Multifunctionality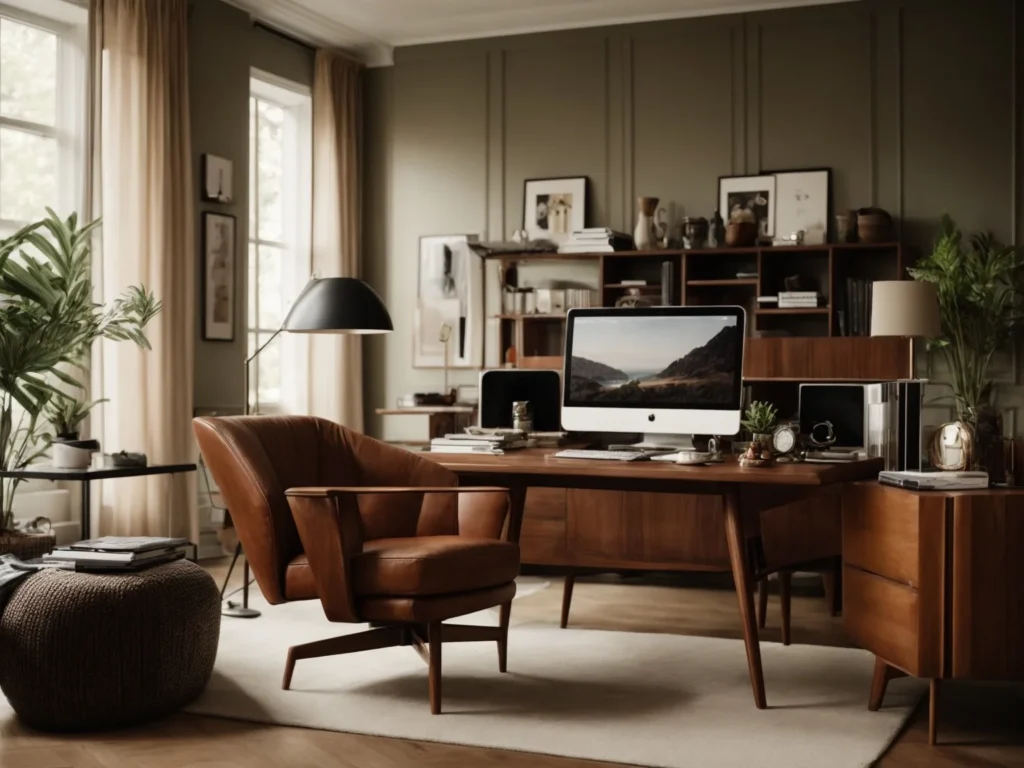 A living room office works best when pieces serve multiple purposes. Seek flexible, adaptable furnishings that allow quick transitions between work and living modes.
Choose Multi-Functional Furnishings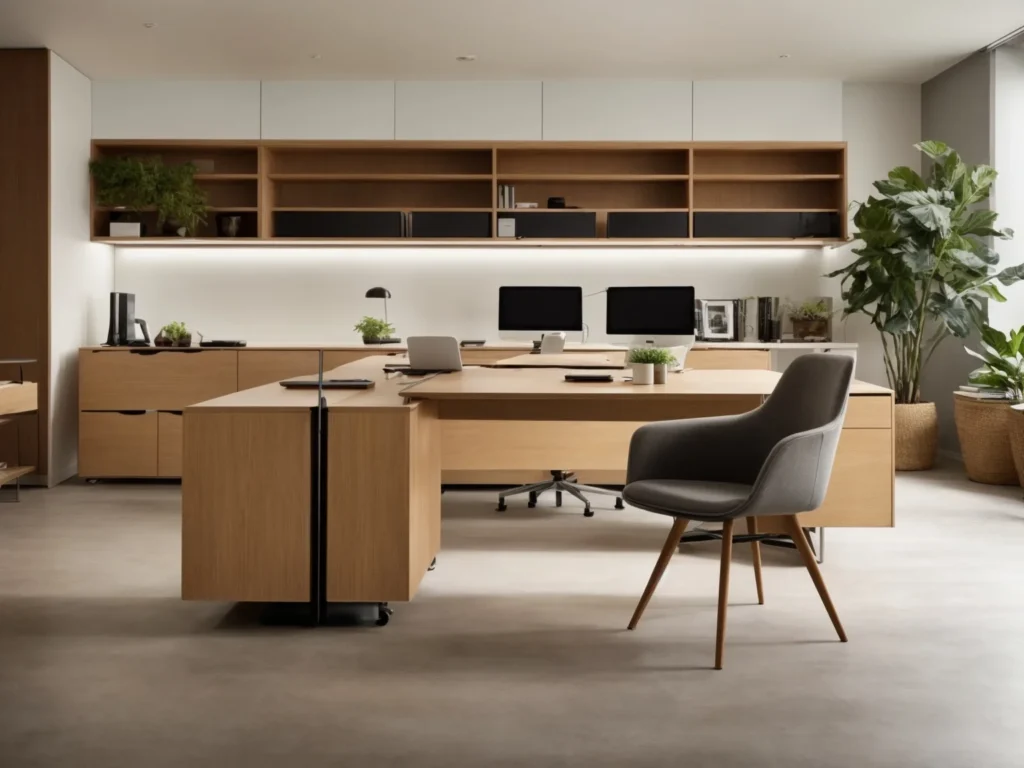 Opt for living room coffee tables and media consoles that double as desks. Many lift up to reveal ample storage for files and supplies. Nesting tables and ottomans with interior storage compartments can pull triple duty as seating, footrests, and concealed office space.
Look for desks and tables with features like drop-leaves, fold-down panels, casters for mobility, and expandable surfaces. The more you can modulate the footprint of your furnishings, the easier it will be to free up living room floor space when the workday ends.
Keep Supplies Organized But Accessible
Organization is essential for keeping a living room office tidy. Use trays, baskets, and desk drawers to corral small office supplies so they don't litter flat surfaces. Hang wall-mounted mail and key holders nearby to stop clutter at the source.
For a larger office, repurposed media cabinets or dedicated file credenzas help organize paperwork while concealing the contents behind doors. If these anchor pieces take up too much space, consider installing shelving or cabinetry into unused nooks or hollows in walls. This built-in storage keeps everything nearby but off your floors and tables.
Special Considerations for Apartment Living Rooms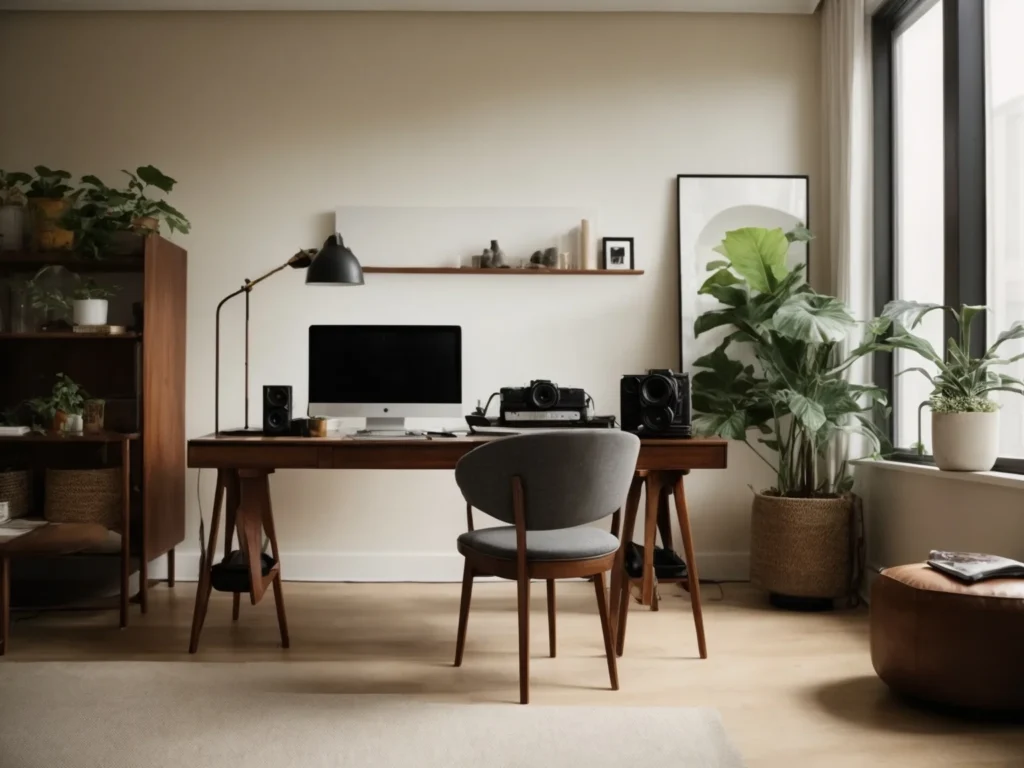 Setting up shop in an apartment living room comes with some unique challenges. Limited space, temporary furnishings, and discretion require creative solutions to create a functional workspace.
Opt for Compact, Multi-Functional Pieces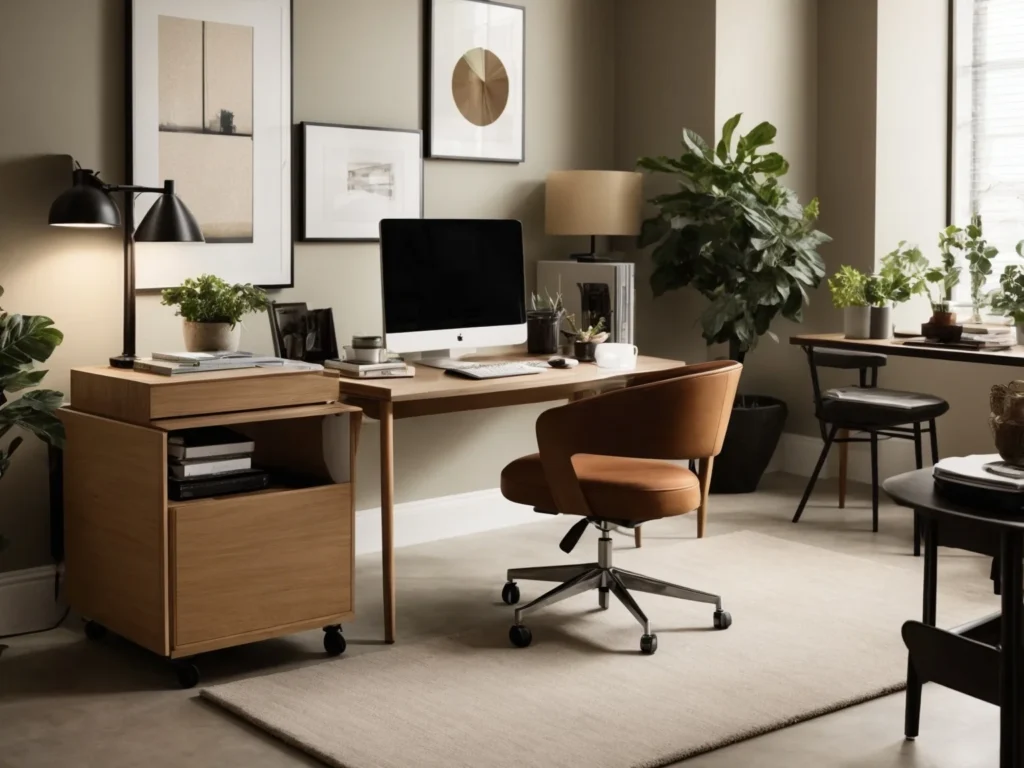 Make the most of your square footage by choosing compact, movable furniture. Nesting tables, mobile pedestal desks on casters, and lightweight folding tray tables take up minimal space when not used.
Many coffee tables and media consoles lift to double as a desk, adding valuable hidden storage. Choose slim task chairs that can roll under your workspace when standing if you need seating.
Use Room Dividers and Curtains to Define Spaces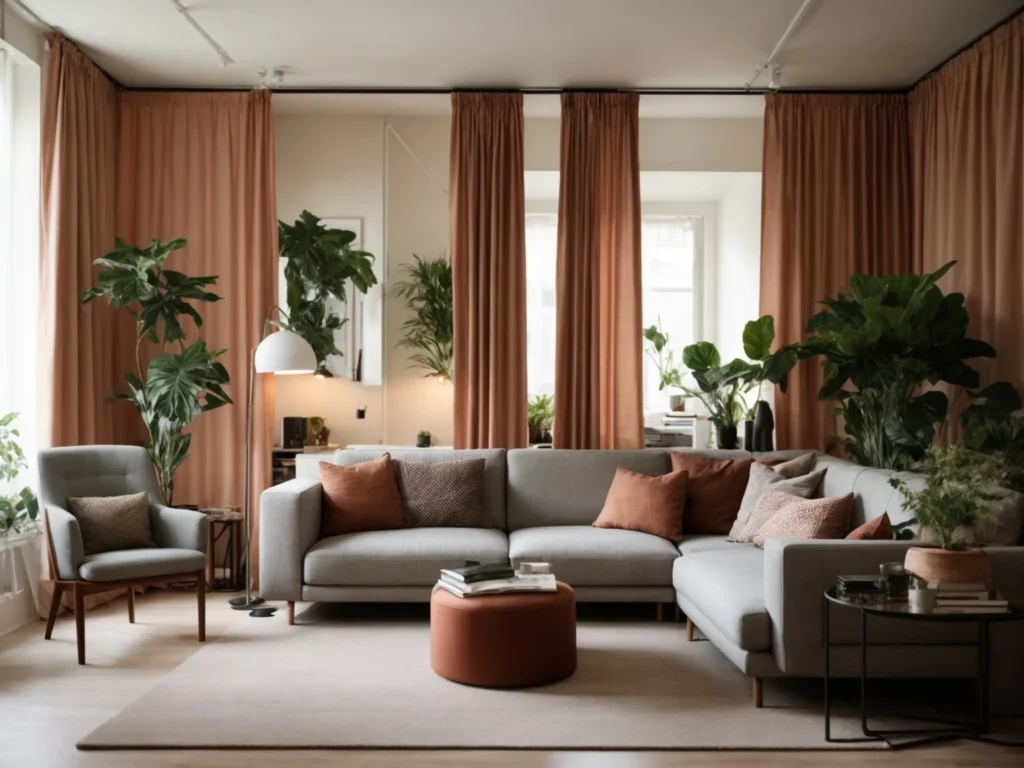 Without permanent changes, use screens, bookcases, and curtains to delineate workspaces from living areas. A folding partition in a corner encloses your desk with a modicum of privacy. Hanging curtains behind sofas or desks also helps define the office portion of your living room.
Plants and floor lamps can further distinguish workspace boundaries in subtle ways. Ensure any additions don't impede movement or traffic flow throughout the room.
Prioritize Discretion and Portability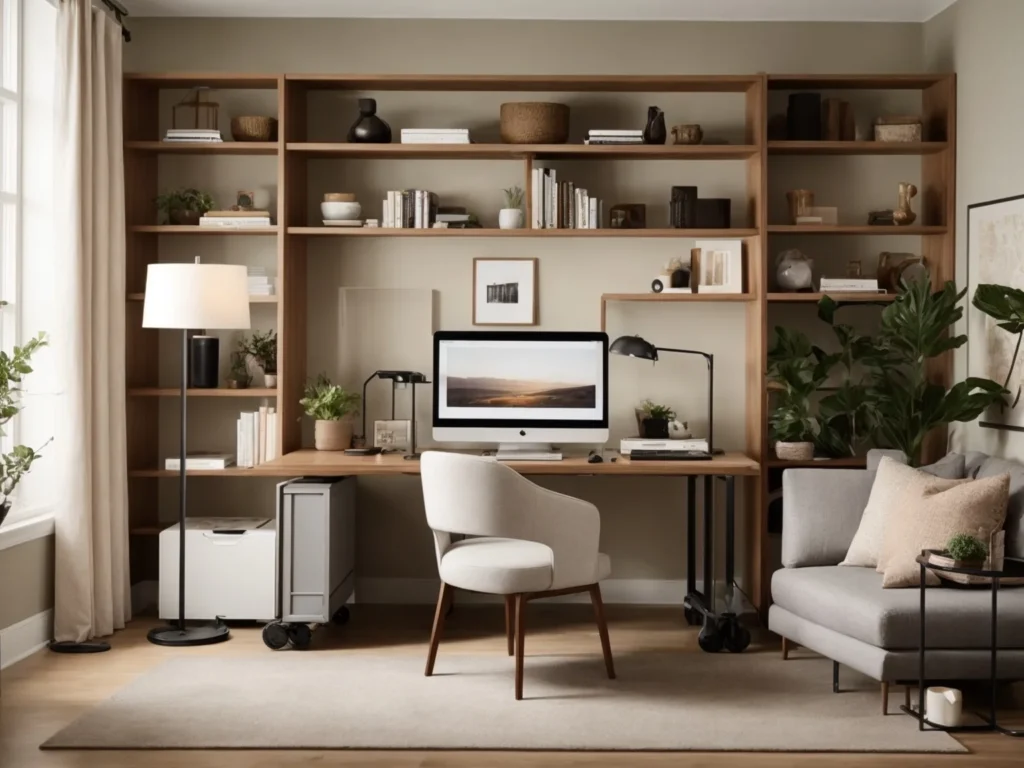 Since apartment living rooms are often shared spaces, choose office furnishings that can easily disappear when not in use. Murphy desk beds, secretary desks, and mobile laptop carts allow you to quickly fold up shop as needed.
Stick to freestanding pieces that don't require installation or use adhesive. This allows you to rearrange and take key pieces when you move out. With some adaptability, you can create a versatile, rental-friendly living room office.
Optimizing Small Living Room Offices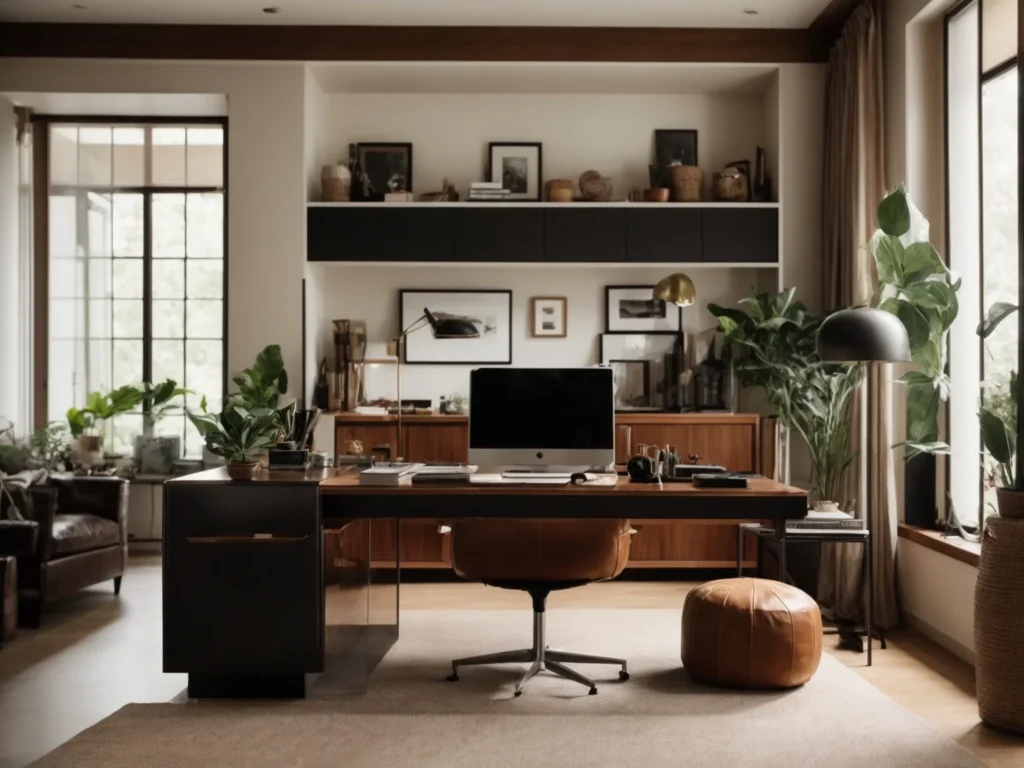 While challenging, a small living room can accommodate a workspace with creative furniture arrangements and compact equipment. Follow these tips to maximize functionality.
Choose a Wall-Mounted Desk or Folding Table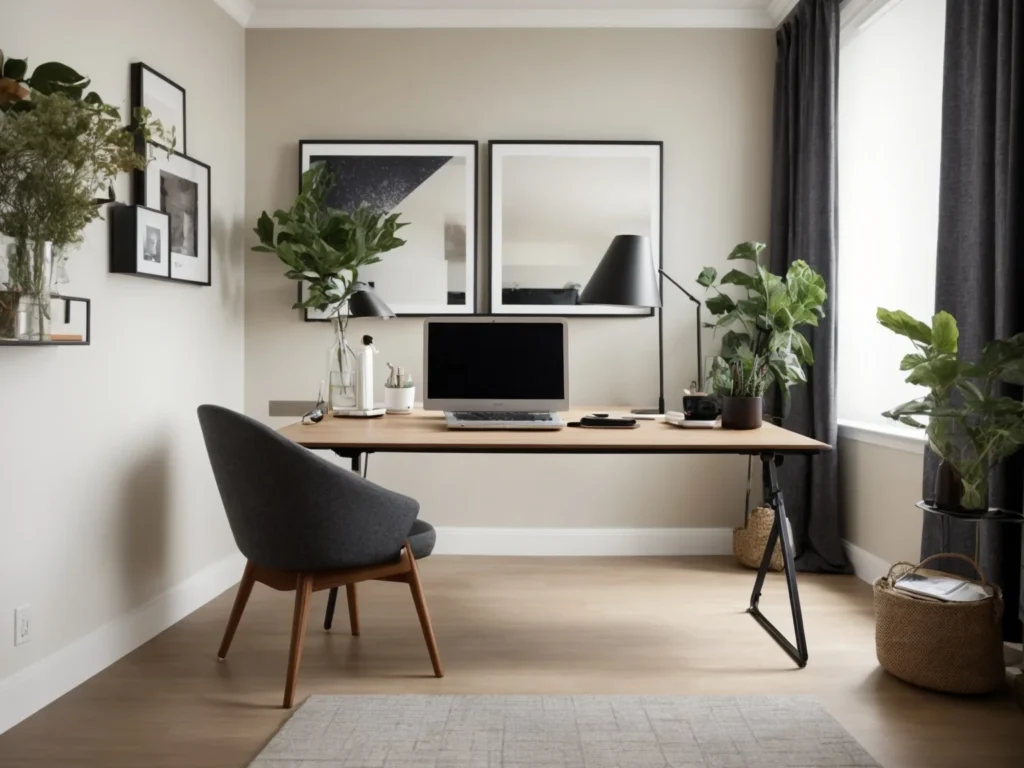 Floor space is premium in tight quarters, so go vertical when possible. Wall-mounted, floating desks free up precious square footage. Fold-down wall desks can conceal your office completely while a floating shelf has a minimal profile.
For more versatility, a foldable tray table or laptop desk takes up minimal space when collapsed. Prioritize mobile, standing desk options to avoid dominating the room with large desks.
Stick to Multi-Functional, Single-Purpose Pieces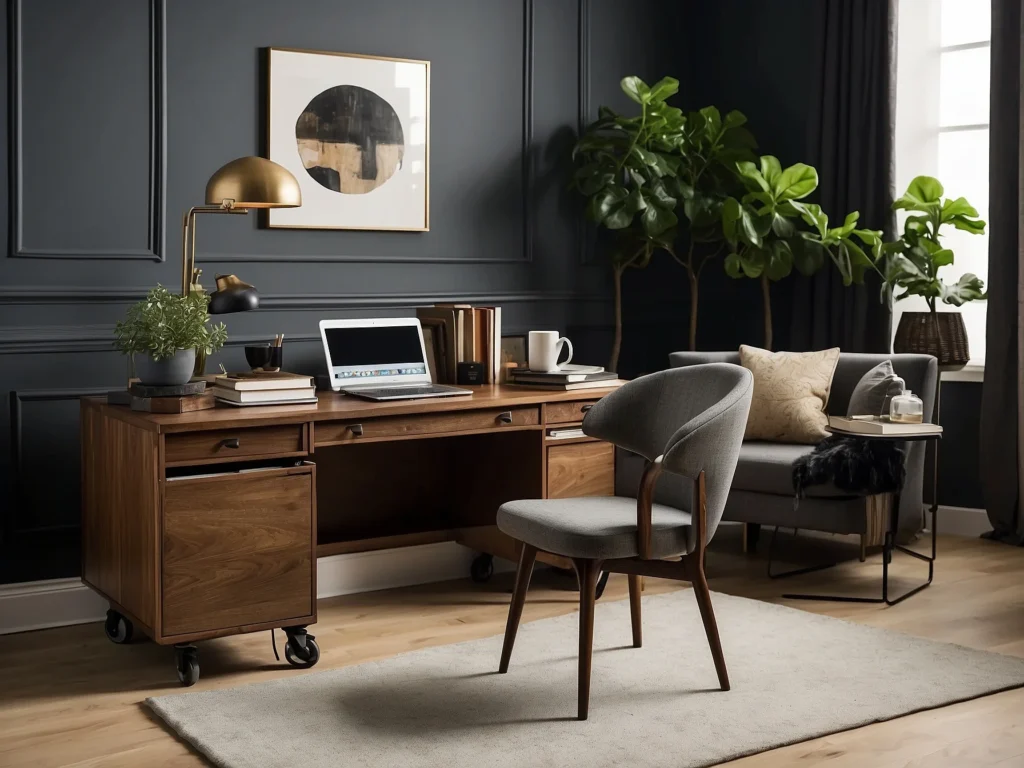 Small living rooms can't accommodate bulky specialized office furniture. Each piece must fulfill multiple roles, like a storage ottoman that serves as a seat, footrest, and concealed file cabinet.
Nesting coffee tables allow you to grab just the size you need while storing office supplies below. A secretary desk offers abundant storage that can be disguised when closed up.
The more compact and adaptable your choice, the better it will fit into a petite living room. Steer clear of oversized file cabinets and bookcases that take up precious real estate.
Organize Vertically with Wall Storage
Mounted shelves, floating cubbies, and wall racks help organize office supplies vertically to preserve floor and table space. Over-the-door hanging racks on the back of entryways provide additional storage that's out of sight.
For small work tools and daily essentials, mounted wall organizers with compartments keep everything visible and within arm's reach. Just be sure to use heavy-duty hooks and anchors to keep mounted storage securely in place.
Stylish Computer Desks for Living Rooms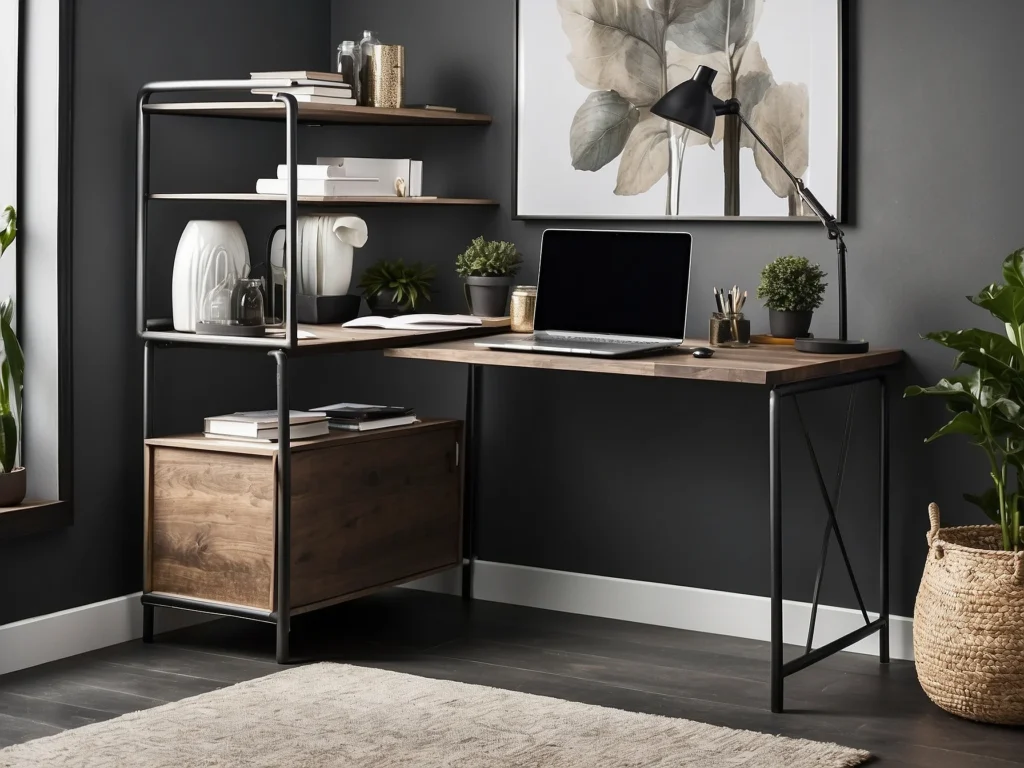 A computer desk lies at the heart of any well-functioning living room workspace. Blending function and style, today's desks range from sleek contemporary designs to charming vintage replicas. Consider these top options:
Floating Glass Desk
This wall-mounted transparent glass design disappears into any decor. Choose from various shapes, sizes, and finishes.
Industrial Metal and Wood Desk
Blending wood and black steel in an H-frame design creates an urban industrial look. Ideal for loft-style living rooms.
Campaign Desk
Reminiscent of portable travel desks, these clever units fold up into a carrying case but provide a sizable work surface.
Secretary Desk
The fold-down front panel conceals your workspace when closed. Choose stand-alone or built-in options with abundant storage.
Lift-Top Coffee Table Desk
Lift the tabletop to reveal a work surface and storage for supplies. Seamlessly blends into living room decor.
Conclusion
With strategic planning, the right furniture choices, and creativity, your living room can pull double duty as a comfortable, inviting home office space. Just be sure to incorporate pieces that serve multiple functions and can adapt to accommodate both work and leisure. Maintaining a sense of style and comfort helps distinguish a true living room workspace from a cold, impersonal home office.