Lighting can make or break the ambiance of a living room. The right fixtures provide both beauty and utility, transforming the space from drab to dramatic. Wall light fixtures are an often overlooked, but extremely versatile option for living rooms. Mounted properly, wall lights provide ambient glow, accent key furniture or artwork, anrd enable tasks like reading.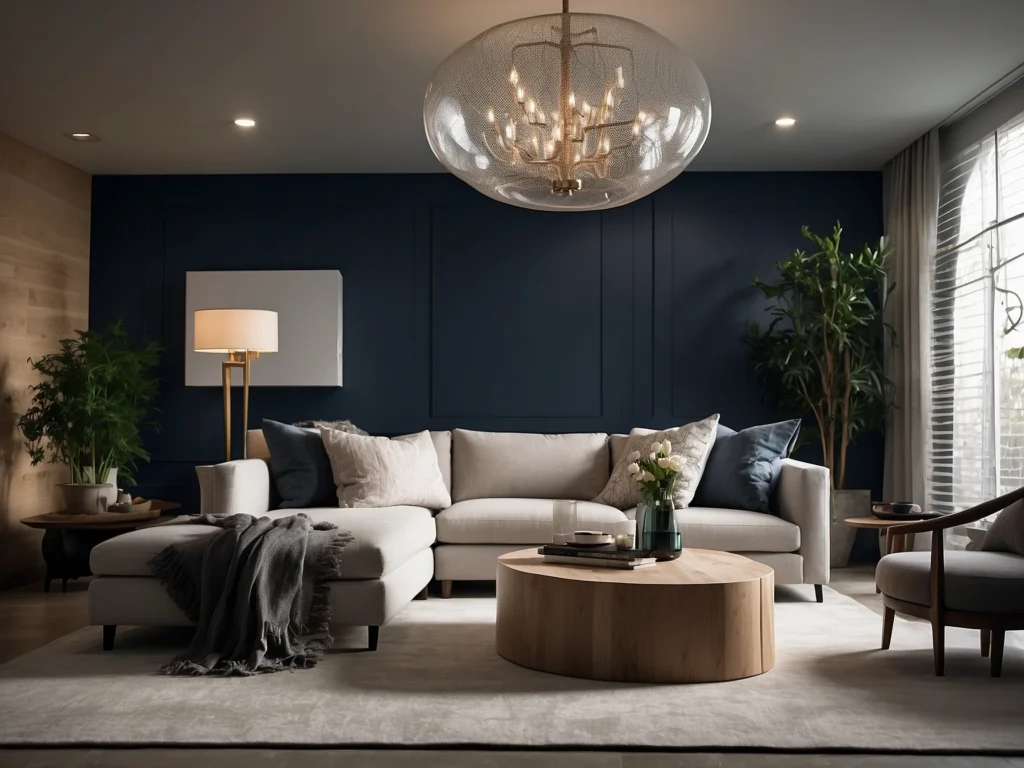 This comprehensive guide will explore choosing the perfect wall light fixtures for your living room. It covers styles that range from traditional to modern, factors to consider like placement and lumens, and the latest trends in materials and smart technology. By the end, you'll be equipped with the knowledge to pick wall lights that align with your style and illuminate your living room in the best possible light.
Why Choose Wall Light Fixtures for the Living Room?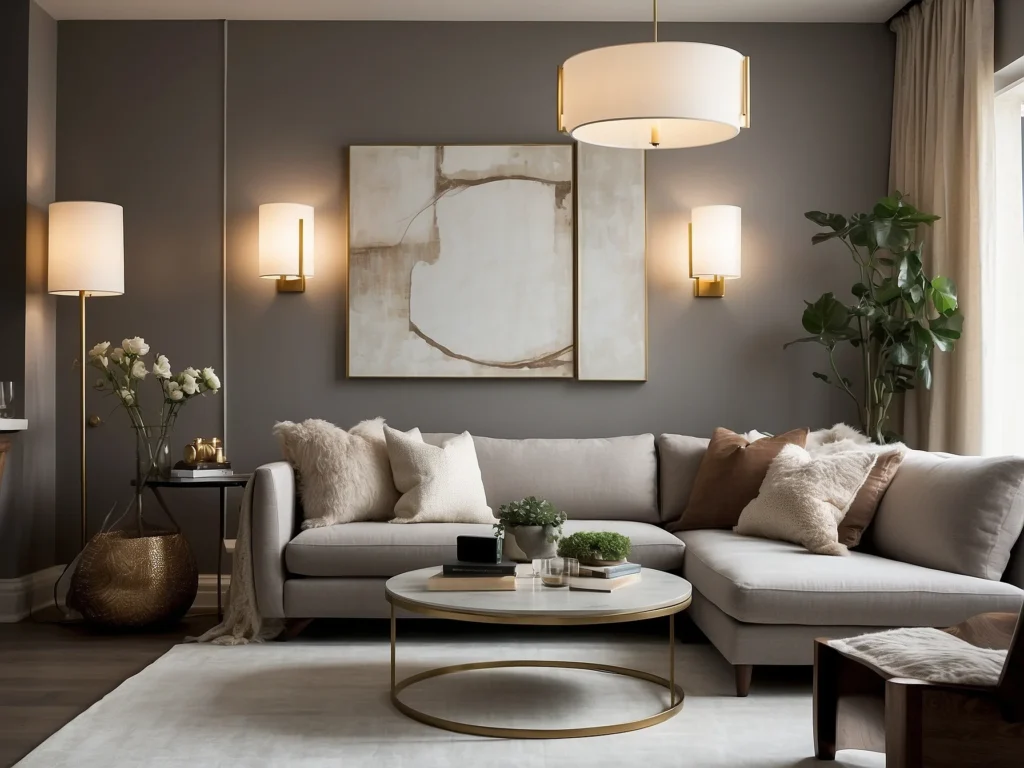 Wall sconces or fixtures have long been popular choices to illuminate living rooms. Here are some of the benefits they provide:
Ambient Lighting: Wall lights, especially those with uplights or downlights, cast a soft glow that fills the living room with ambient light. This prevents the space from feeling dark or cave-like.
Accent Lighting: Properly positioned wall lights can draw attention to specific living room features. For example, wall sconces flanking a mirror accentuates it, while fixtures above artwork spotlight it.
Task Lighting: Swing arm sconces provide direct light that facilitates tasks like reading or puzzling in the living room without the harshness of an overhead fixture.
Layered Lighting: For living rooms, experts recommend layering ambient, accent, and task lighting for visual comfort and utility. Wall fixtures enable this without cluttering a room.
Aesthetic Appeal: Wall lights are available in so many stylish designs that they enhance decor as much as they illuminate the space. They range from modern and minimalist to ornate and antique.
Flexible Placement: Wall sconces can be installed anywhere along the living room's perimeter for focused light right where you need it.
Creates Visual Interest: Thoughtfully placed lighting breaks up flat walls and adds depth to the living room. Wall sconces attract the eye to areas you want highlighted.
Are Wall Lights Still in Style for Living Rooms?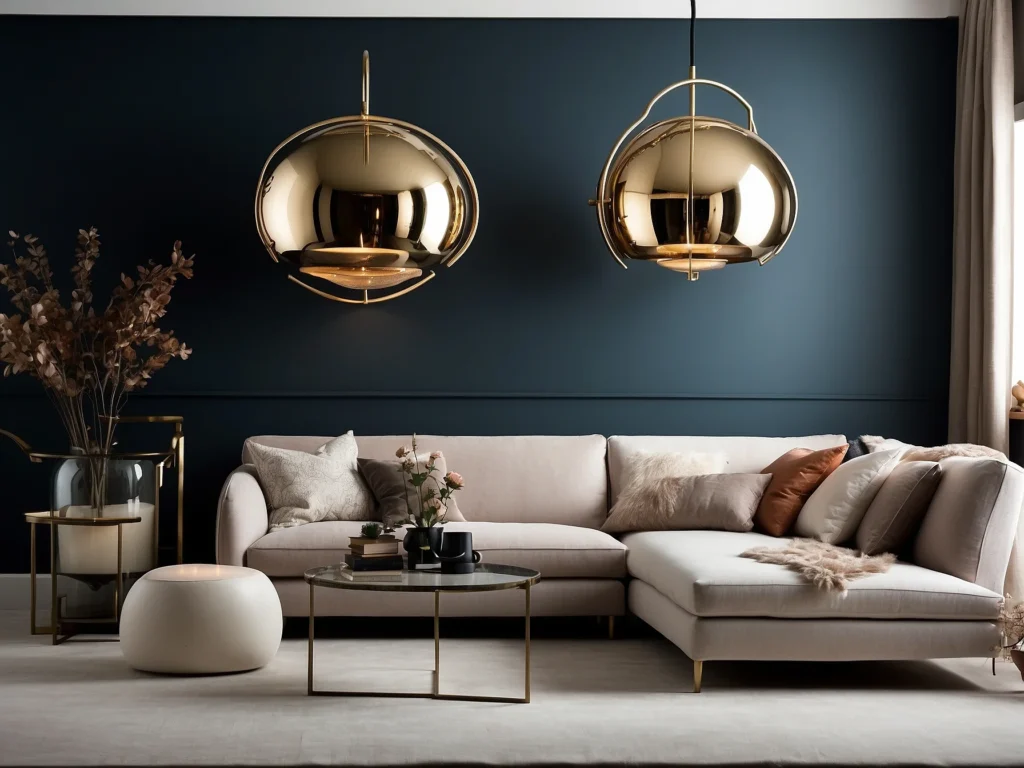 Wall lighting has been popular for centuries, but the options have evolved with time. Once limited mainly to ornate sconces, wall fixtures now include modern, minimalist, industrial, and smart designs. This diversity keeps wall lights highly fashionable for contemporary living rooms.
Linear fixtures, geometric shapes, and matte metallics provide a current, on-trend look. Meanwhile, smart wall lights with ambient color temperatures, dimming, and voice control give a futuristic feel. There are also stylish traditional designs that withstand the test of time. So yes, wall sconces are still very much in vogue!
Where to Install Wall Light Fixtures in the Living Room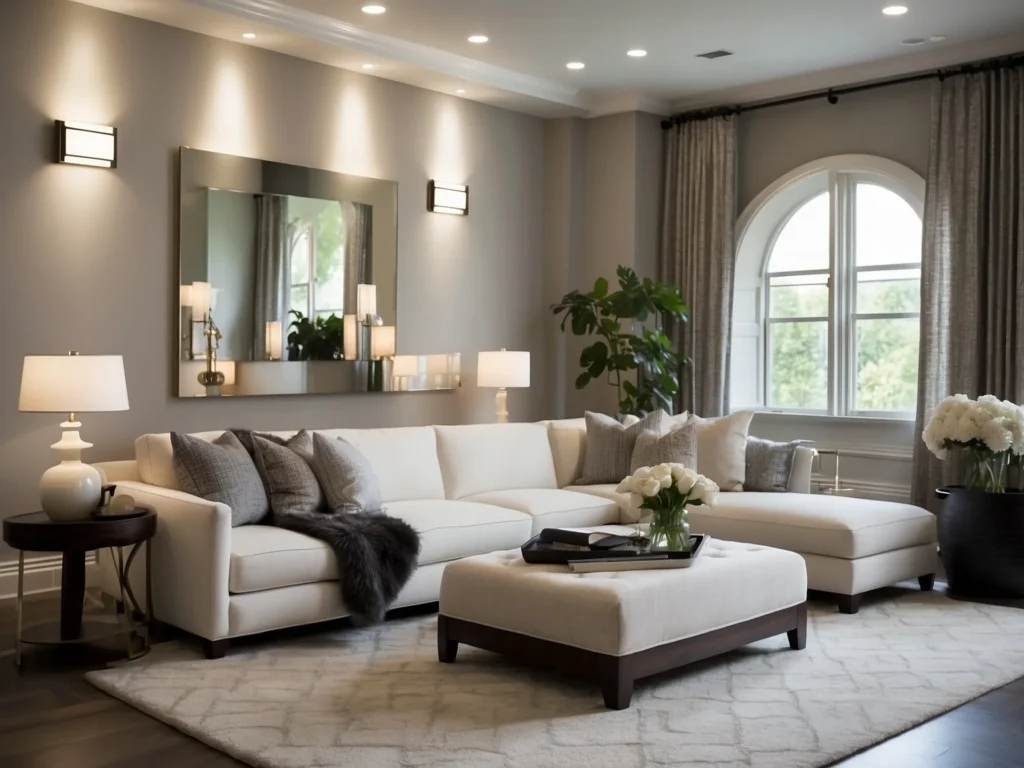 Placement is key to maximizing the form and function of living room wall lighting. For comfortable illumination, fixtures should be installed at average eye level, about 58-66 inches from the floor. However, flexible options like swing arms allow adjusting the direction of light. Here are prime living room spots for wall lights:
Flanking the Sofa: Fixtures on either side of the main seating area provide ambient lighting and eliminate glare from overhead lights.
Above or Beside Artwork: Positioned properly, sconces illuminate and accentuate hanging artwork or wall decor.
Adjacent to Architectural Features: Wall lights beautifully highlight details like niches, columns, and fireplaces.
Along Staircases: Fixtures with uplighting or downlighting enhance visibility and safety on staircases.
Behind Television: Sconces reduce glare and eyestrain from the TV without casting distracting shadows.
Near Entryways: Welcome guests with a softly lit foyer courtesy of wall fixtures.
Flanking Windows: Strategically placed sconces amplify the natural light from windows.
In Corners: Corner wall lights eliminate dark, uninviting corners in the living room.
Above Bookshelves: Focused lighting aids in selecting reading materials from bookshelves.
Considerations for Choosing Living Room Wall Lights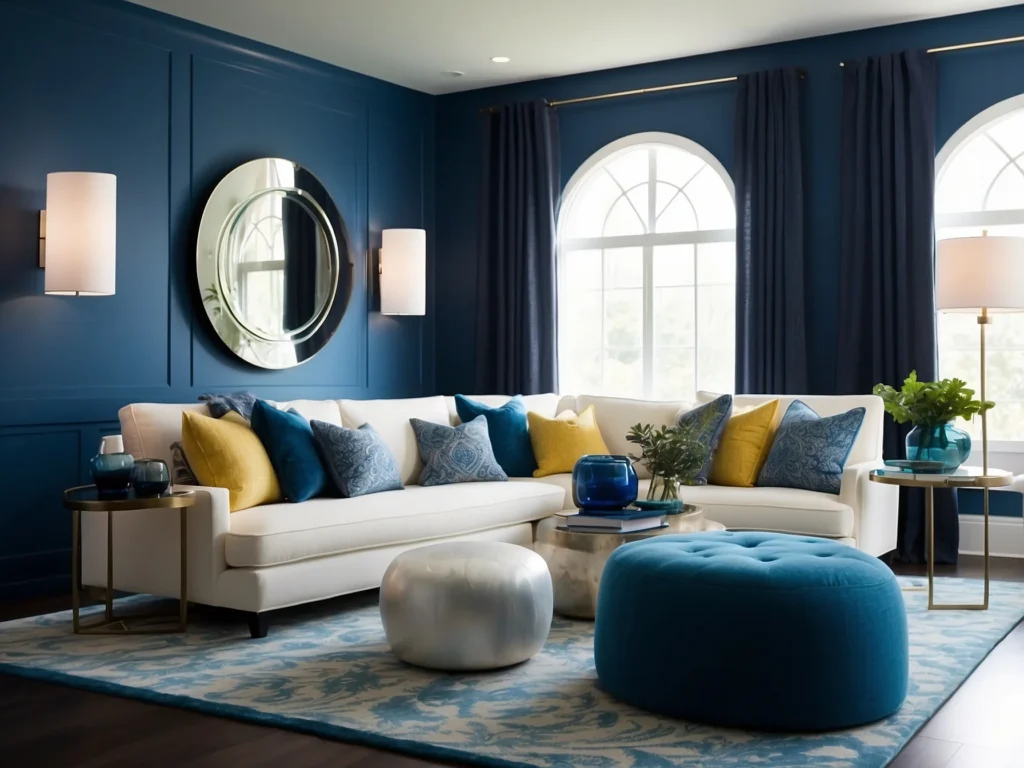 The options for living room wall fixtures span a wide range of designs, sizes, finishes, and functionalities. Keep these factors in mind when selecting lighting:
Room Size and Ceiling Height: Scale lighting to the room's proportions. For high ceilings, opt for larger fixtures. Smaller rooms suit more petite sconces.
Living Room's Existing Lighting: Layer ambient and accent lighting from wall fixtures to complement the main overhead lighting.
Design Style: Match the wall sconces style to your interior design for visual cohesion. Fixtures can have traditional, modern, rustic, industrial, or eclectic appeal.
Purpose: Determine if you need primarily ambient, accent, or task lighting and choose fixtures accordingly.
Light Direction: Uplights cast illumination upwards, downlights direct it downwards, and ambient light radiates outward.
Light Color: Cool, blue-toned light energizes. Warm, yellow-hued lighting promotes relaxation. Opt for adjustable color temperatures.
Brightness: Measure a fixture's brightness in lumens. Wall sconces range from 250-4,000 lumens. Brightness depends on room size and task needs.
Energy Efficiency: Look for wall lights with LED bulbs, which last years longer than incandescent options and use up to 90% less energy.
Hardwired vs. Plug-In: Hardwired fixtures have a polished, built-in look. Plug-in lights offer more flexibility for renters and easier installation.
Materials: Wall sconces come in metals like wrought iron, brass, chrome, nickel, and stainless steel, as well as glass, crystal, and fabric.
Smart Options: Smart wall lights with WiFi and voice activation provide effortless dimming, color temperature tuning, scheduling, and control via apps.
Types of Wall Light Fixtures for Living Rooms
The options for stylish and functional wall lighting are endless, but these categories encompass the most popular choices for illuminating living rooms.
Traditional Wall Sconces
Traditional fixtures have an old-world, ornate appearance perfect for living rooms with a formal, vintage, or romantic flair.
Swing Arm Sconces: Jointed swing arms allow directing light precisely where needed. Often brass, crystal, or glass materials.
Wrought Iron & Candle Wall Sconces feature scrolling metalwork, taper candles, and a European aesthetic.
Crystal Sconces: Dazzling arrays of crystal prisms refract light dramatically for glamorous sparkle against dark walls.
Glass Globe Sconces: Elegant wall fixtures with frosted, colored, or clear glass globe shades for soft, ambient lighting.
Torchiere Sconces: Tall, vertical fixtures that uplight walls. Often gilded or antiqued metal paired with taper candles or tubes.
Vanity Sconces: Characterized by horizontal backplates and lamp arms. Provide focused lighting at seated eye level.
Modern Wall Sconces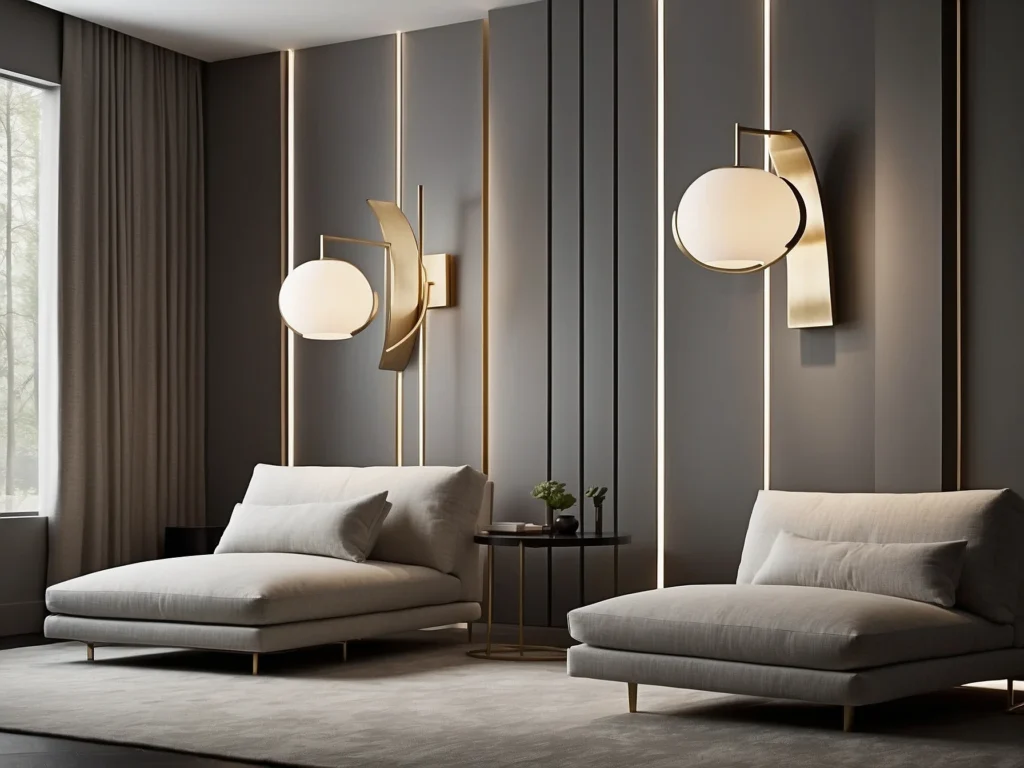 Modern sconces have clean lines, geometric shapes, and an airy, uncluttered look for contemporary living rooms.
Linear Sconces: Ultra-modern fixtures defined by straight, horizontal or vertical light lines. Create brilliant accents.
Globe Sconces: Sleek, spherical glass or metal shades emit diffuse ambient lighting against stark walls.
Arc Sconces: Crescent-shaped fixtures made from metal rods. Add sculptural style with ambient glow.
Flat Panel Sconces: Super slim, rectangle fixtures blend into walls. Border lighting, no glare.
Swing Arm Sconces: A modern take on jointed arms. Often paired with directional spotlights for task lighting.
Picture Light Sconces: Linear fixtures specifically sized to illuminate wall art. Discreet but directional.
Rustic & Farmhouse Wall Sconces
Rustic fixtures add charming accent lighting for cozy, rural, or industrial living rooms.
Antler Sconces: Fixtures adorned with real antlers for an organic, woodsy character. Often accompanied by Edison bulbs.
Mason Jar Sconces: Vintage-style lighting with wire frames topped with transparent glass jars as shades.
Galvanized Metal Sconces: Fixtures from galvanized sheet metal or tin add a weathered, worn aesthetic.
Woven Basket Sconces: Natural woven baskets as shades provide textural intrigue. Especially popular for farmhouse style.
Edison Bulb Fixtures: Filament bulbs are visible through caged frames. Combine with salvaged wood or galvanized metal.
Latest Trends in Materials and Finishes
The finishes and little decorative details of wall sconces greatly impact the overall look. These are some top trends to enliven living room lighting
Here are the latest trends in materials and finishes for living room wall sconces:
Black Metal Fixtures: Blackened steel or iron sconces contrast brightly against light walls, especially with brass accents.
Brass Details: Warm brass offers a classic, luxurious touch, from brass arms or finials to brass-rimmed shades.
Wood Accents: Natural or stained wood adds organic texture. Use reclaimed barnwood for a rustic vibe.
Marble & Stone: Sconces incorporating slabs of marble, quartzite, limestone, or sandstone feel elegantly earthy.
Oversized Shades: Oversized drum, globe, or rectangle shades make a dramatic style statement.
Colored Glass: Bold or pastel colored glass shades lend an artistic flair. Sapphire, emerald, and amber are popular.
Patterned Fabrics: Patterned or textured fabric drum shades provide soft contrast to sleek metal fixtures.
Capiz Shell: The translucent layers of capiz shells covering shades diffuse light beautifully. Coastal chic.
Woven Rattan: Natural woven rattan shade inserts complement rattan and wicker furniture.
Concrete: Mixing sconces with concrete adds modern industrial edge. Works with many styles.
Gold Finishes: Light fixtures with gold or champagne gold finishes feel glamorous and elegant.
Smoked Glass: The moody vibe of darkened gray and bronze smoked glass adds intrigue.
Frameless Shades: Removing the fixture frame creates an ultra-modern, floating effect.
Experts recommend selecting timeless materials like metal, glass, and crystal while adding trendier touches with finishes, colors, or accents. This achieves a balance of style and longevity.
Choosing Light Bulbs for Wall Sconces
The light bulb you choose for a sconce significantly impacts the ambiance. Consider these tips:
Lumens: Select lumens appropriate for lighting tasks. Wall sconces range from 250-4,000 lumens.
Color Temperature: Lower Kelvin (warm white, 2700K-3000K) promotes relaxation. Higher (cool white, 3500K-5000K) energizes.
Dimmable: Dimmable bulbs allow adjusting a sconce's brightness to set the perfect mood.
Bulb Shape: Opt for bulbs that match the fixture. Common shapes are A19, G25, GU10, and T3.
Filament Style: Vintage Edison bulbs showcase striking filaments. Great for industrial, rustic decor.
Flame Tip: Flame tip bulbs mimic antique gas lamps for traditional sconces.
Smart Bulbs: Enable voice-activated, color-changing, dimmable smart bulbs with app control.
Place accent lighting bulbs in the front of sconces to highlight walls or artwork. For softer, ambient fill lighting, use rear-placed bulbs.
Inspiring Living Room Wall Lighting Ideas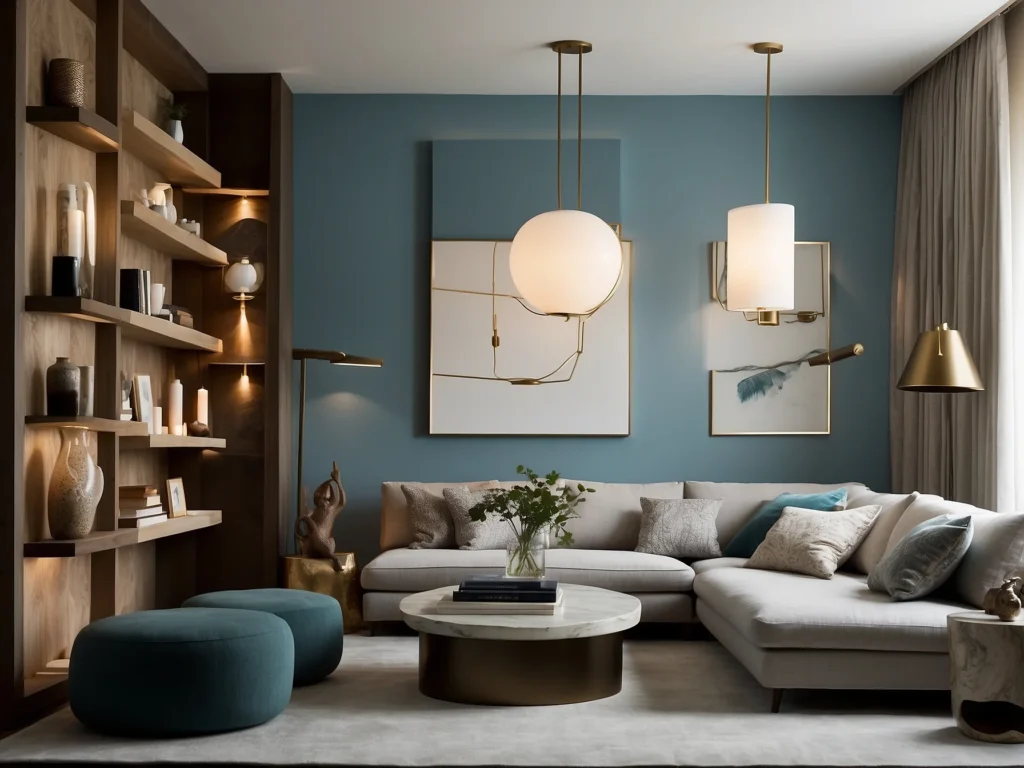 Now that we've covered the fundamentals, here are some living room wall lighting inspirations:
Cove Lighting: Installing fixtures inside cove ceilings transforms recessed nooks into tranquil glowing alcoves.
Double-Height Drama: Gorgeous oversized sconces draw the eye upwards in double-height living rooms.
Focal Point Sconces: Spotlight conversational areas or reading nooks with swing arm fixtures.
Frame the Fireplace: Fixed sconces or candle fixtures provide a gorgeous vertical frame for fireplaces.
Illuminate Bookcases: Install adjustable fixtures above bookshelves for visibility when browsing titles.
Light the Staircase: Line a staircase wall with uplighting sconces for statement-making drama.
Mix & Match: Combine modern picture lights, swing arms, and sleek uplights for eclectic flair.
Shadowbox Effect: Backlight wall recesses or floating shelves to create artistic shadowboxes.
Texture & Color: Introduce capiz shell, marble, or colored glass sconces for added visual depth.
Walkway Lights: Install wall sconces low, at floor level to light a pathway and prevent falls.
By planning placement, style, and purpose thoroughly, living room wall sconces can be an extremely versatile lighting solution. They provide both form and function!
Tips for Installing Wall Light Fixtures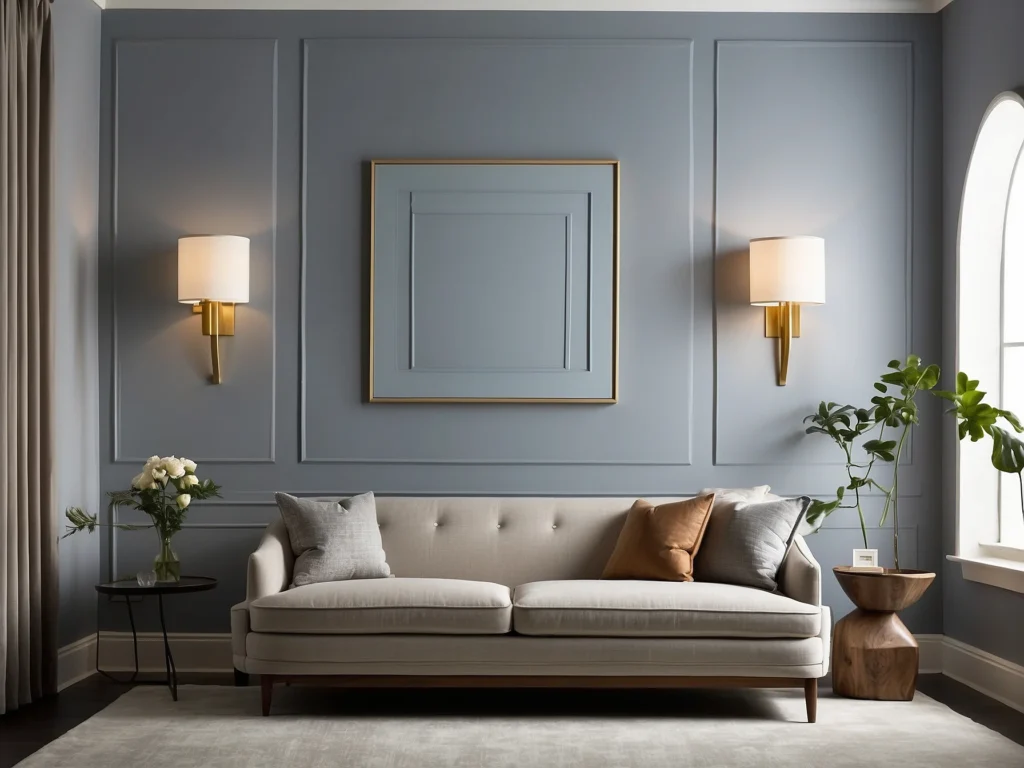 Installing wall sconces properly ensures they are both safe and visually appealing. Follow these tips:
Locate Studs: Attach fixtures directly to studs to support the weight without pulling away from the wall.
Consider Wiring: Hire an electrician if wiring sconces in older homes without electrical boxes placed conveniently.
Account for Shade Size: Leave adequate clearance so shades don't bump walls or furnishings.
Mind Proportions: Scale fixtures appropriately for the wall. Measure the length compared to furniture.
Illuminate Art: Centering sconces 6-12 inches above or beside art provides ideal illumination.
Read the Room: Fixtures should be installed 58-66 inches above the floor unless used as pathway lighting.
Test for Glare: Position sconces thoughtfully to avoid glare. Wall washing diffuses light.
Check for Heat: Ensure shades or bulbs are spaced from surfaces. Heat can damage walls over time.
Use Dimmers: Dimmer switches allow perfectly calibrating a sconce's brightness for any activity.
Consider Plug-Ins: Plug-in sconces offer flexibility for renters. No need for an electrician.
By planning the placement and proportions and recruiting help for wiring, installing living room sconces is very doable. Then simply change out bulbs and shades to refresh the look.
Troubleshooting Common Living Room Wall Light Issues
Wall sconces elevate a living room's style, but minor problems can arise. Here are tips to troubleshoot any issues:
Flickering Lights: This usually indicates a loose bulb or faulty wiring. Try tightening bulbs, checking connections, or replacing worn wiring.
Buzzing Noise: Buzzing generally occurs with faulty electrical connections. Inspect wires for damage and secure all connections.
Dimming Lights: Dirty bulbs cause dimming. Clean bulbs with a soft cloth or replace if worn out. Also check for wiring issues.
Burned Out Bulbs: Most bulbs eventually burn out. Replace promptly with the same type and wattage to prevent damage.
No Power: Check breakers for tripped fuses, then ensure all wiring is connected properly, undamaged, and contacting conductors.
Broken Sockets: Cracked or damaged sockets can cause flickering or no power. Replace the faulty sockets.
Routine bulb replacement prevents most living room wall sconce issues. Contact a licensed electrician immediately for wiring, connections, or buzzing concerns. Safety is paramount.
Shopping Tips for Buying the Best Wall Lights
Whether shopping online or in lighting showrooms, keep these tips in mind when selecting the perfect living room wall fixtures:
Assess Needs: Consider the lighting needs like ambiance, accent, task, and safety. This guides the fixture style.
Determine Style: Choose a style that aligns with your interior design for visual cohesion. Mixing styles can work with proper placement.
Mind the Details: Notice design details like materials and proportions that elevate a basic sconce. Quality materials are worthwhile.
Inspect Shades: Shades should be made of crystal, glass, or fabric free of defects. Check UL safety ratings.
Review Ratings: Opt for well-rated fixtures with many positive customer reviews to ensure reliability and satisfaction.
Confirm Dimensions: Measure the intended installation space and purchase sized accordingly. Scale is important.
Inquire About Returns: Many retailers accept returns on lighting if it arrives damaged or proves unsuitable.
Compare Prices: Fixture styles are available across various price points. Set a budget and stick with it.
With the right sconces that meet your living room's needs, you will find options reasonably priced and returnable if unsatisfactory.
Top Brands for Quality Living Room Wall Lighting
Certain lighting brands reliably produce stunning, innovative, durable fixtures perfect for living room sconces:
Hudson Valley: Known for beautiful, detailed, and historically-inspired lighting. Made in America.
Visual Comfort: Offers an enormous range of contemporary and classic living room fixtures.
Tech Lighting: Specializes in modern sconces with high-quality finishes and smart technology.
Lamps Plus: Extensive living room wall lights across all budgets and designs.
Progress Lighting: Well-rated for attractive, affordable, on-trend modern to traditional lighting.
Sea Gull Lighting: Provides an eclectic mix of living room sconces in various styles.
Hinkley: Gorgeous traditional and transitional lighting with elegant finishes and details.
Golden Lighting: Durable, innovative fixtures for living rooms in popular finishes like antique brass.
Arteriors: Known for unique, sculptural fixtures that double as art. Lots of on-trend options.
Robert Abbey: Contemporary designs with minimalist shapes and beautiful metalwork.
Circa Lighting: Traditional and vintage-style lighting with beautiful details and quality materials.
George Kovacs: Modern, innovative fixtures with an artistic, architectural look. Great for high ceilings.
Cyan Design: Eclectic, globally-inspired lighting with materials like glass, crystal, and iron.
Mitzi by Hudson Valley: Affordable line from Hudson Valley with stylish, transitional sconces.
Crystorama: Glamorous sconces featuring opulent finishes like antique silver and gold.
Troy Lighting: Wide range of living room sconces from industrial to mid-century to rustic.
WAC Lighting: Reliable for modern LED lights with integrated technology and dimming.
Access Lighting: Known for reasonably priced, durable fixtures in all designs and materials.
Eglo: European designed lighting with creative shapes and energy-saving technology.
Feiss: Traditional styles like candle sconces and swing arms with high-end materials.
Quoizel: Well-made transitional to contemporary fixtures at lower price points.
Globe Electric: Trendy, vintage-inspired lights for living rooms in any decor style.
Kuzco Lighting: Unique LED fixtures with colorful, artsy flair for dramatic living room style.
With limitless living room wall sconce options from these top brands, you're sure to find lights that suit your budget and design vision. Consult reviews and purchase from authorized retailers. Happy illuminating!
Conclusion
The proper living room wall lighting sets the ideal ambiance while accentuating your best decor. By following the guidance in this article, you now have the knowledge to select fixtures that align with your interior design preferences, lighting needs, and lifestyle. Remember to layer ambient, task, and accent lighting with a thoughtful blend of stylish sconces. Install them at the optimal placement and proportions for your space. Soon you'll enjoy a living room washed in beautiful, functional light. Turn on those sconces and let your space shine!