The Scandinavian interior design style is renowned for its simplicity, functionality, and connection to nature. This minimalist aesthetic creates living rooms that are both calming and practical. If you want to give your living room a refreshed, modern look, embracing the Scandinavian design principles is an excellent approach.
In this comprehensive guide, we'll explore everything you need to know to create a gorgeous Scandinavian living room, from color schemes and furniture to lighting and textiles. You'll learn how to pull off this look in a way that suits your taste and lifestyle.
The Scandinavian Living Room Color Palette: Light, Bright, and Airy
One of the hallmarks of Scandinavian interiors is the light, neutral color palette. Whites, creams, beiges, light blues, and pale grays create a clean, ethereal look. These cool, muted shades act as a blank canvas that allows other elements in the space to shine.
Here are some tips for selecting a Scandinavian-inspired color scheme:
Embrace Neutral Tones as a Base
Stick to soft, muted versions of whites and grays as the background color of your walls, ceiling, and trims. Avoid stark whites, which can feel cold and sterile. Instead, look for shades with subtle warmth like almond white, oat white, or cloud white.
Neutral walls are a foil for other vibrant accent colors you'll incorporate throughout the space. They keep the room feeling open and airy.
Incorporate Texture Through Natural Materials
Bring visual interest through natural materials like wood, rattan, linen, and wool rather than relying on color alone. These organic surfaces add cozy texture and warmth to the neutral background.
Sandblasted or whitewashed wood wall paneling is a Scandinavian go-to. It softens hard surfaces and makes the space feel connected to nature. Jute rugs and linen drapery also bring natural elegance.
Add Pops of Color Strategically
While a light palette is key, you can infuse personality with pops of brighter color through decor items and accents. Rich blues, vibrant greens, warm yellows, and earthy terracotta shades work beautifully.
Try a colorful art print, a cluster of throw pillows, a patterned area rug, or even a statement wall painted in a deeper tone. Just stick to one or two colors so the room doesn't feel busy.
Incorporate Black for Drama
While predominantly light, Scandinavian rooms often incorporate black through lighting fixtures, furniture frames, and accessories. The bold contrast creates a dramatic, contemporary edge.
Black window frames, bent wood chairs, and modern floor lamps keep the space feeling sleek instead of stark. Use black in moderation as too much can feel dark and heavy.
The Furniture: Simplicity is Key
Regarding furniture, the Scandinavian aesthetic values simplicity, minimalism, and functionality above all else. Follow these guiding principles when selecting pieces for your living room:
Stick to Straight Lines and Simple Silhouettes
Scandinavian furniture typically features straight lines, rectangular shapes, and exposed legs. Steer clear of ornate carved details or heavy molding.
Opt for sleek modern sofas or chairs with legs made from natural wood. Choose a streamlined shape with mid-century style legs if you prefer cushier seating.
Prioritize Multifunctional, Modular Pieces
Since efficient use of space is key in Scandinavian rooms, look for furniture that serves multiple purposes.
Modular sectional sofas that can be arranged in different configurations work beautifully. Nesting coffee tables, credenzas with hidden storage, and ottomans with lift-tops increase functionality.
Incorporate Wood for Warmth
The Scandinavian design balances cool grays with warm natural wood. To add organic texture, add organic texture, add wood furniture, wall paneling, shelving, or flooring.
Blonde wood choices like oak, ash, birch, and beech complement the light color scheme. Aged and whitewashed finishes give wood a modern, coastal feel.
Mix Vintage Finds with New Pieces
Scandinavian interiors strike a casual, collected look by blending antique or vintage furnishings with new, contemporary designs. Flea market finds add character and nostalgia.
Search for gently used leather armchairs, ceramic lamps, or an abstract wood art piece to incorporate into your living room layout. Allow each piece to stand out.
Choose Quality over Quantity
Scandinavian rooms feel serene because they aren't cluttered. Carefully curate a few high-quality, long-lasting furniture pieces rather than filling the space.
Invest in well-made items with clean lines from sustainable materials like FSC-certified wood. This thoughtful approach minimizes waste and visual noise.
Bringing Nature In: Natural Materials & Living Greenery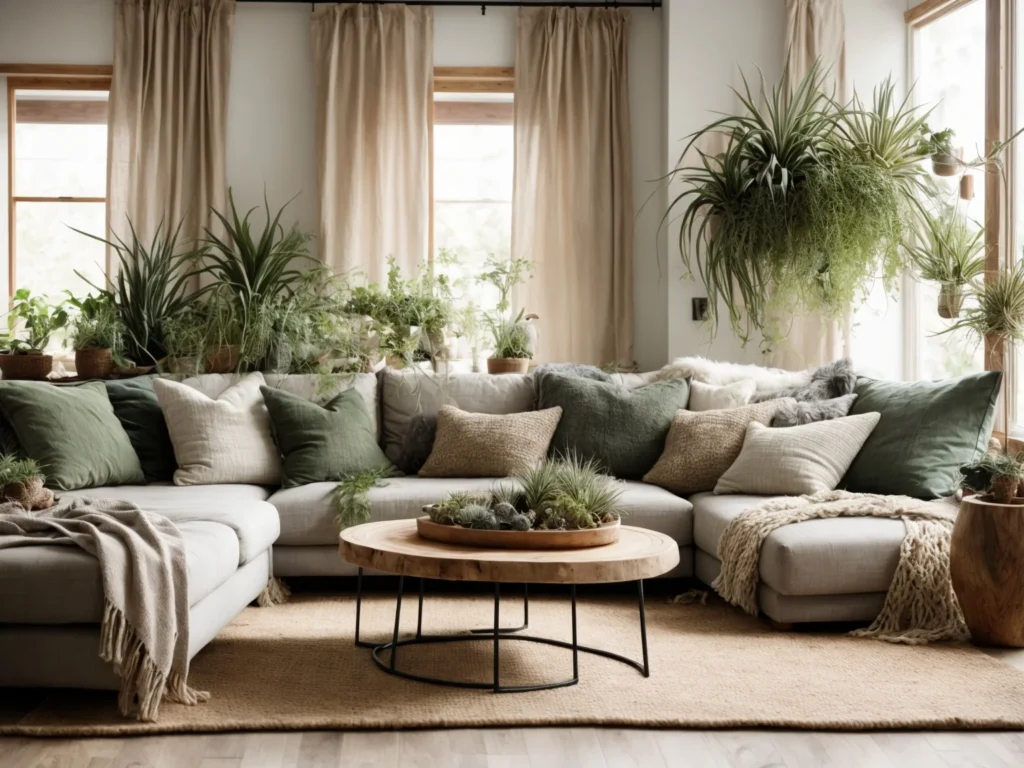 The Scandinavian design approach emphasizes the connection between indoor and outdoor living. Layering natural materials and plants blurs the line between the two.
Incorporate Wood & Natural Fibers
As mentioned, blonde woods add organic texture and warmth to soften cool grays. You can also incorporate natural fibers like jute, cotton, wool, linen, and leather.
Use jute or seagrass on flooring, linen for drapes, and wool for throw blankets. Leather works well for upholstery. Varying textures make the space feel casually elegant.
Add House Plants for Freshness
Potted house plants bring life into the living room while purifying the air. Low-maintenance options include ferns, spider plants, pothos ivy, and succulents.
Group a few plants together on a console table behind the sofa, or hang air plants in the window for an easy pop of green. Just be sure not to overdo it.
Incorporate Dried Botanicals
In addition to live plants, dried botanicals are a Scandinavian go-to. Display eucalyptus, pampas grass, wheat stems, or wildflowers in a simple vase.
Hang a dried wreath above the fireplace or mantel for an organic focal point. Switch out seasonal dried floral arrangements to keep the space feeling fresh.
Let in Natural Light
Abundant natural light is a hallmark of Scandinavian rooms. Maximize sunlight by selecting light wall colors and incorporating large, unobstructed windows.
Layer airy, lightweight linen curtains to filter light without blocking it. Keep window treatments minimal and functional.
Lighting: Simple Yet Sophisticated Fixtures
Though Scandinavian rooms feel airy and bright, they require natural and artificial lighting elements tailored to the aesthetic. Follow these tips:
Spotlight Natural Light
Take full advantage of any natural light your living room gets. Scandinavian windows are substantial in size and left uncovered or minimally dressed so sunshine streams in.
Supplement east or north-facing rooms with skylights or additional windows to combat gloominess. The goal is to avoid needing overhead lighting during the day.
Incorporate Task Lighting
While abundant ambient light is ideal, also incorporate task lighting that focuses illumination precisely where needed.
Scandinavian-style floor and table lamps feature clean lines and natural materials. Position them near seating areas or by the sofa for reading.
Select Black Metal for Fixtures
Though furnishings skew light, black metal finishes on lighting fixtures, fireplace tools, shelves, and accents provide contrast.
Opt for pendant lights, sconces, and matte black or gunmetal floor lamps. Brass offers a warmer alternative if black feels too stark.
Use Plenty of Candles
Candlelight adds a warm glow and sense of coziness to balance cool daylight. Group slim taper candles in black metal holders on console tables, mantels, and shelves.
Opt for unscented white or cream candles to complement the neutral palette. LED flameless varieties are a safe choice. Just avoid strongly scented options.
Textiles: Layering for Coziness and Character
While the Scandinavian foundation is sleek and minimalist, textiles add personality. Incorporate tactile, natural fiber fabrics to make the living room feel collected and inviting.
Incorporate Wool & Leather
Wool and leather integrate beautifully into Scandinavian sofas, chairs, and ottomans. Look for muted solids or subtle patterns like herringbone in beige, gray, or cream.
Leather wears beautifully over time, while wool offers unmatched comfort and sophistication. Both remain go-to upholstery choices.
Add Handcrafted Textures
Scandinavian rooms incorporate textiles crafted by hand using traditional techniques. Try bringing in handwoven rugs, blankets, and pillows.
Search Etsy or local craft fairs for one-of-a-kind wool throws, embroidered linen cushions, or rag rugs to add rustic texture in natural hues.
Layer in Sheepskins & Throws
Sheepskin and faux fur throws add cozy softness when draped over chairs, sofas, and ottomans. They also work well layered on top of jute rugs.
Use Rugs to Define Spaces
Large jute, wool, or braided rugs help delineate living room seating arrangements or zones. Layer smaller cotton dhurries in front of sofas for extra visual interest.
Scandinavian rugs feature simple geometric patterns or stripes in light, muted palettes that complement your base colors. Size them generously for the space.
Incorporate Tactile Accents
Add character through small textile accents like lumbar pillows, macrame wall hangings, cotton curtains, and linen dish towels.
Display collected vintage kitchen towels on open shelving for an effortless pop of pattern and color. Change them out seasonally for a fresh look.
Storage: Hidden Spaces to Minimize Clutter
The minimalist Scandinavian aesthetic relies on smart storage to keep rooms clutter-free. Maximize every inch of your living room with these ideas:
Incorporate Concealed Storage
Opt for sofas, ottomans, benches, and coffee tables with hidden storage space inside to tuck away odds and ends.
Look for clean-lined cabinets to house TV components and display items behind closed doors. Scandinavian style prioritizes concealment.
Use Baskets for Organic Storage
Woven baskets offer an aesthetically pleasing storage solution for items like throws, pillows, and firewood while adding natural texture.
Opt for baskets made of rattan, seagrass, jute, or wood. Style them in tandem with decor for an integrated look.
Add Open Bookcases or Shelving
While closed storage conceals clutter, open shelving can beautifully display cherished items. Books and decorative objects gain purpose.
Paint bookshelves the same neutral shade as the walls so they blend in. Style collections in small groupings for minimal visual noise.
Install a Coat Rack Near Entryways
Pegs or hooks beside the front door provide a designated spot for coats, bags, scarves, and keys so clutter doesn't migrate into the living room.
Opt for a stripped down wood or black metal coat rack that complements your color palette without making a statement.
Final Touches: Personal Touches & Decor
Once the foundation of your Scandinavian living room is in place, inject personality through considered decorative accents and styling.
Add Pops of Color Strategically
As mentioned earlier, lively accent colors perfectly contrast neutral walls and furnishings. Introduce color through floral arrangements, art, pillows, andAccessorize with intention, always keeping the overall minimalist aesthetic in mind. Each item should contribute to the look meaningfully.
Incorporate Meaningful Art
Scandinavian rooms often incorporate art and photography depicting serene nature scenes, like forests, lakes, fields, and night skies.
Black and white photographs make a particularly striking contrast. Display special pieces above seating areas or on the mantle.
Style Collections Mindfully
Gathered collections of items like pottery, wooden bowls, glassware, candles, or houseplants are lovely styled together.
Edit ruthlessly and display like items together in odd numbers like trio or quintets. Keep surfaces minimally accessorized for balance.
Add Finishing Touches
Consider an antique woven rug as an heirloom focal point in your layout. Fresh-cut blooms and a scented candle make a space feel curated.
Conclusion
The Scandinavian interior design style cultivates living rooms that are minimalist yet warm, casual yet sophisticated. By following the guiding principles around light, materials, furniture, and storage, you can craft a space uniquely suited to your needs.
Prioritize quality over quantity, focus on natural elements, and don't be afraid to add personality through thoughtful decorative accents. With an edited, intentional approach you'll end up with a living room that's equal parts practical and beautiful.