Scandinavian design and wood furniture have become globally influential styles, known for their minimalist forms, functional details, and natural materials. The clean lines and pale, untreated woods create a sense of airy lightness and space. Scandinavian furniture represents some of the most iconic and enduring designs of the 20th century.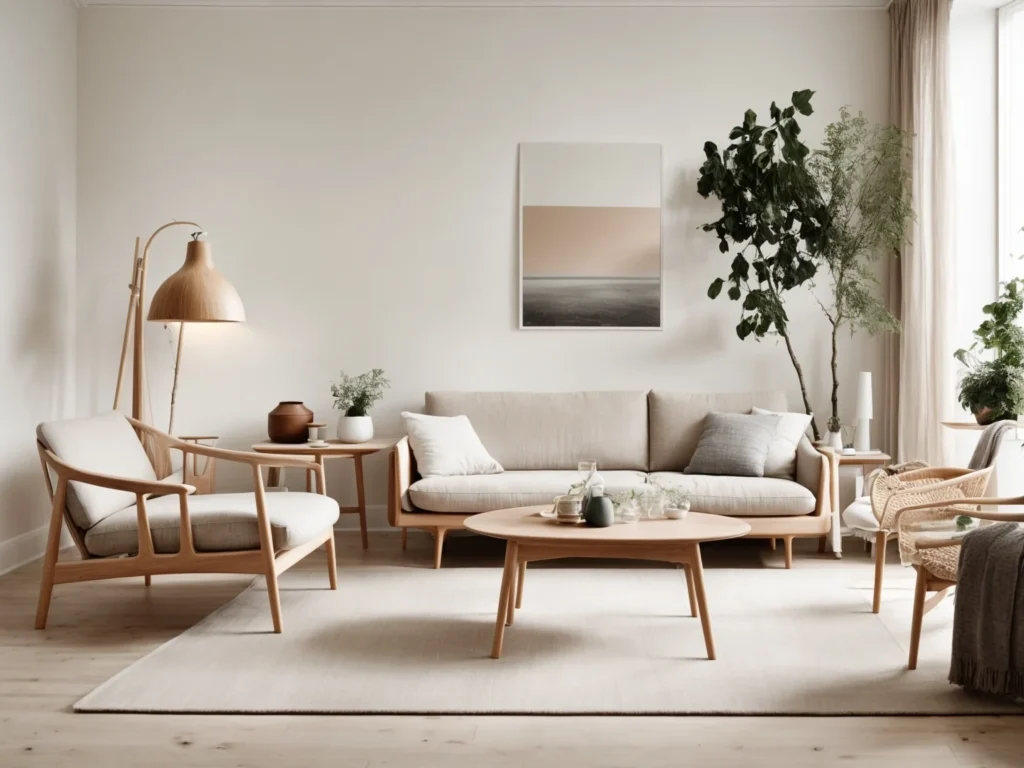 Scandinavian design emerged in Nordic countries like Sweden, Denmark, and Finland in the early 20th century as artists and designers sought to create aesthetic yet functional household goods. The style embraces simplicity, minimalism, and functionality with an organic sensibility. Scandinavian interior design utilizes light colors, blonde woods, and natural textiles to cultivate a sense of coziness and warmth. Scandinavian style has been applied to furniture, lighting, home accessories, and more.
The Essence of Scandinavian Design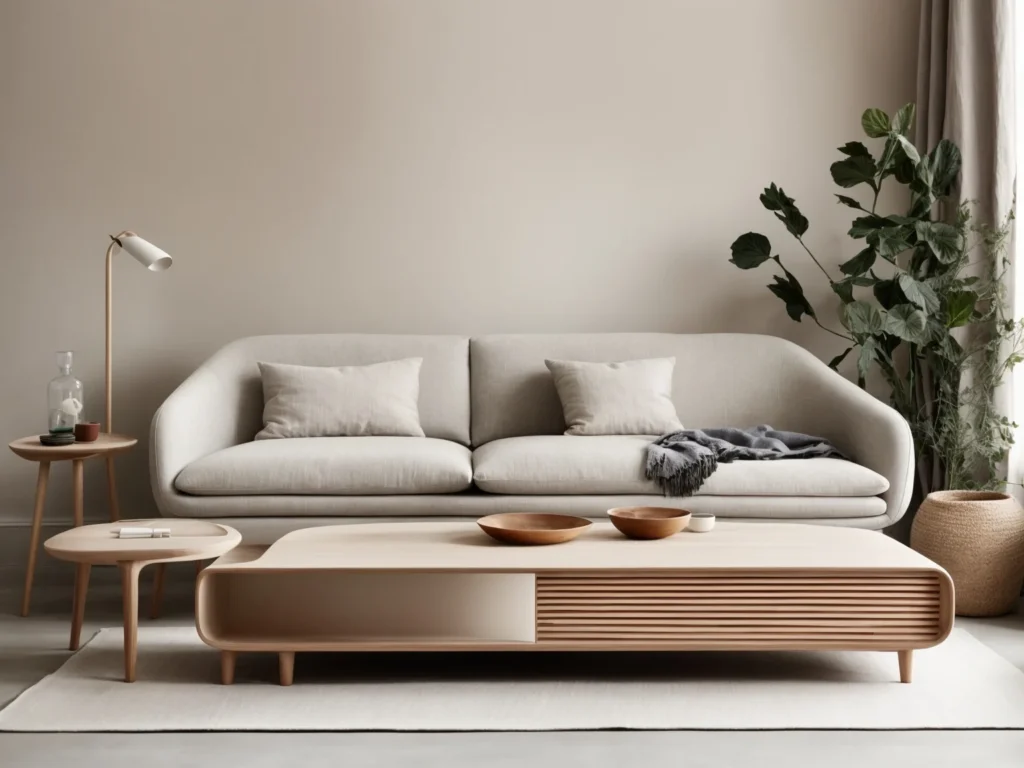 Principles of simplicity, minimalism, functionality, and connection to nature characterize Scandinavian design. The style emerged from Nordic design ideals that took root in the early 20th century.
Simplicity and Minimalism
A core tenet of Scandinavian design is simplicity of form. The furniture typically features clean, geometric lines and an absence of ornamentation. Scandinavian style opts for a pared down aesthetic, stripping away anything excessive to create furniture with a lightweight, airy appearance. The designs exhibit refinement and reduce the form to its most essential elements.
Scandinavian furniture aims for minimalism, favoring a restrained material and color palette. The materials are left untreated or finished with pale stains and paints to maintain a sense of bare wood. The neutral, often light color scheme adheres to a "less is more" approach.
Functionality
Scandinavian furniture emphasizes functionality and practicality. The designs showcase an elegant union of form and function. While the shapes are simplified, the pieces offer smart details oriented around daily use. For example, chairs incorporate ergonomic shapes for comfort and storage units are crafted to maximize space. The minimalist forms highlight utility.
Connection to Nature
Scandinavian design evokes organic shapes and a sense of the natural world. The blonde woods and pale colors are reminiscent of the Nordic landscape. Scandinavian furniture draws inspiration from nature, exuding a familiar, down-to-earth quality amid the modern forms. Textural elements like woven textiles and natural fibers reinforce the natural aesthetic.
Scandinavian style cultivates simplicity in decor through its connection to nature. Using plants, light woods, and textural accents creates a welcoming warmth. Overall, Scandinavian design seamlessly merges modern sensibilities with natural elements.
Types of Wood Used
Scandinavian furniture favors domestic light-colored woods native to Nordic forests. Using local materials allows the pieces to harmonize with the surrounding environment. Light bleaching and pickling processes often produce blonde, muted wood tones while still revealing the natural grain.
Birch
Birch is among the most popular woods used in Scandinavian furniture. Birch trees are abundant in Nordic forests, providing an excellent local source. The fine-grained pale wood creates a light, airy impression suited to the Scandinavian aesthetic. Birch offers durability and workability, making it a wood of choice for furniture crafting.
Ash
Ash wood is another prominent Scandinavian furniture hardwood. The blonde to light brown wood has an attractive straight grain. Ash has a flexible strength that lends itself well to bending, ideal for the curved forms of various chairs and tables. Its hardness makes it suitable for furniture that endures daily use.
Pine
Pine wood imparts a mellow, muted blondish hue. The versatile softwood can be stained, painted, or pickled while retaining its rustic character. Pine offers a lightweight yet strong wood perfect for delicate looking but durable Scandinavian furniture. Pine stands as an affordable, readily available option.
Oak
Oak introduces darker tones yet still fits within the neutral Scandinavian palette. Quarter sawn white oak is often used, yielding a straight, uniform grain with a light-reflecting sheen. The attractive figuring of oak adds subtle visual interest and warmth. Oak contributes durability and solidity to Scandinavian furniture frames.
Beech
Beech wood provides another alternative, imparting pale cream hues ranging to light reddish browns. The fine, consistent grain has an attractive figuring. The strong, bendable hardwood can be manipulated into curved shapes. Beech develops a smooth polished finish, showcasing refined Scandinavian furniture forms.
These light Scandinavian woods, often gently bleached, pickled, or stained, create a harmonious cohesive material palette tailored to the essence of Scandinavian design. While the range of woods provides variety, the blonde and neutral tones unite the pieces with a sense of lightness.
Iconic Designers and Pieces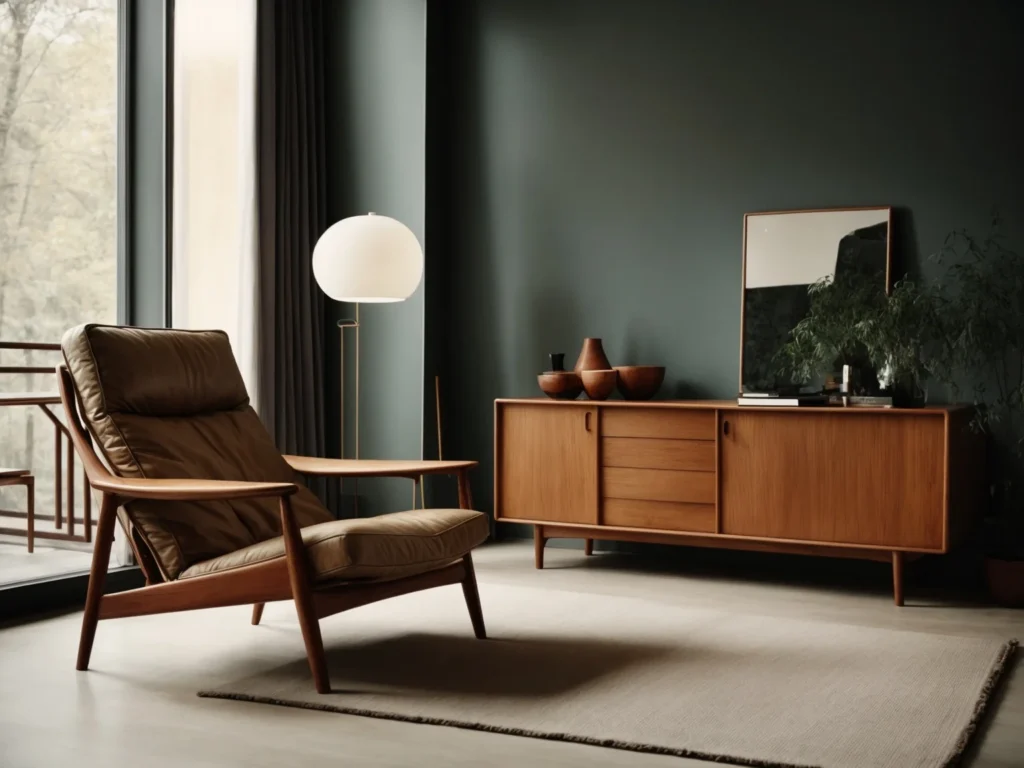 Scandinavian furniture design reached an artistic zenith during a "golden age" spanning 1930 to 1960. The period produced globally influential furniture that has stood the test of time as design classics. A set of distinct designers helped pioneer and refine the Scandinavian design aesthetic through their iconic works.
Alvar Aalto
The Finnish architect Alvar Aalto created signature bentwood furniture, including his seminal three-legged Stool 60. His wood pieces' lyrical curves and organic shapes epitomized natural modern forms. Aalto introduced warmth to the geometric Modernist style through fluid, undulating lines inspired by nature.
Arne Jacobsen
Danish architect Arne Jacobsen designed the Egg Chair, Swan Chair, and Drop Chair, embodying the essential forms of mid-century modern furniture. He used new bending and molding techniques to sculpt swooping, fluid shapes. Jacobsen merged form and function in ergonomic yet sculptural seats. His wood frames supported organically shaped, enveloping upholstery.
Hans Wegner
Danish cabinetmaker Hans Wegner produced refined and functional wood seating that became synonymous with Danish design. Nicknamed the "Master of the Chair", he created over 500 chairs during his career including the iconic Wishbone Chair. His use of quality woods and inspired joinery resulted in statuesque yet understated chairs.
Eero Saarinen
Finnish American Eero Saarinen designed furniture with a curvaceous sculptural expression like his famous Tulip chairs and tables. His pedestal designs introduced a sense of lightness, with the tabletop or chair seat visually hovering above the floor. Saarinen merged sculptural presence with functional seating.
Poul Kjærholm
Danish designer Poul Kjærholm exemplified Scandinavian modernism in spare, efficient forms with excellent craftsmanship. His PK80 Daybed encapsulated sophisticated, unadorned luxury. Kjærholm combined steel, leather, and wood in rigorous yet elegant furnishings.
These designers all contributed to the Scandinavian design aesthetic through their distinctive takes on purposeful and graceful furniture. Their thoughtful designs withstand shifting tastes and continue to furnish contemporary homes.
Where to Buy Scandinavian Furniture Online
The internet has made Scandinavian furniture more accessible than ever. You can now buy directly from Scandinavia and have pieces shipped worldwide. Here are some of the best online stores for authentic Scandinavian furniture and home decor:
Finnish Design Shop
This online shop is a go-to destination for modern and contemporary Scandinavian furniture. Finnish Design Shop stocks iconic brands like Marimekko, Iittala, Artek, Muuto, and Vitra. You'll also find housewares, lighting, and accessories from leading Nordic designers. The modern pieces carry on Scandinavia's legacy of functional and minimalist design. Finnish Design Shop ships worldwide from Finland.
Article
Article offers their own direct-to-consumer Scandinavian-inspired furniture. The brand's streamlined modern aesthetic and focus on versatility reflects Scandinavia's design values. Article's wide selection includes sofas, chairs, tables, storage and accessories in various styles. The online-only model allows for lower pricing. Article ships within the US and Canada.
Hem
Hem curates tasteful Scandinavian furniture and home decor from young Nordic designers alongside established brands. The product range includes furniture, lighting, rugs, accents and textiles with a crisp, contemporary Scandinavian feel. Hem collaborates directly with their Scandinavian artists and designers and produces exclusive pieces. They ship worldwide from Sweden.
Danish Design Store
This UK-based shop lives up to its name with an extensive selection of authentic Danish furniture and homeware. You'll find iconic mid-century Scandinavian pieces alongside newer designs from today's top Danish designers. Danish Design Store has everything from chairs and sofas to clocks and trays carefully curated to represent the best of Danish style. They ship worldwide directly from Denmark.
Skandium
Skandium showcases the breadth of Scandinavian design from Denmark, Sweden, Norway and Finland. They stock some of the most established and prestigious Scandinavian brands alongside up-and-coming designers. You can shop their collection of furniture, lighting, home accessories and gifts online or in person at their London and Southampton showrooms. Shipping is available worldwide.
Scandinavia Standard
This Brooklyn-based shop celebrates a clean and cozy Scandinavian lifestyle. Their curated collection of modern furniture and accessories spotlights quality craftsmanship and natural materials. You can shop their unique assortment of relaxed minimalist pieces online or visit their showroom in New York. They offer nationwide shipping in the US.
Danish Design Online
As another UK Scandinavian furniture specialist, Danish Design Online lives up to its name with an extensive selection of authentic, Danish-made furniture from classic mid-century pieces to current designs. Categories include seating, tables, storage, lighting, rugs and accents. They also offer free shipping within the UK.
Made in Design
This France-based online shop covers all the top names in Scandinavian furniture alongside other European designers. You can find pieces by Finn Juhl, Hans Wegner, Arne Jacobsen and other mid-century masters. With worldwide shipping, Made in Design makes Scandinavian design accessible.
Norwegian Life
Representing Norway, Norwegian Life sells curated Norwegian and Scandinavian designed furniture and homewares. You can shop their collection for everything from seating to lighting to accents with a distinctly Nordic aesthetic. Most products ship worldwide, spreading Norwegian minimalism globally.
Trendland
Trendland is an online design magazine that operates as an online shop for Scandinavian and Nordic design. Their shop has a tightly curated selection of furniture, lighting and accents from leading contemporary Scandinavian designers and brands embodying form and function.
Horne
This high-end retailer sells a refined Scandinavian furniture collection from their stores in California and online to worldwide shipping. Horne carries exclusive lines from designers like Morten & Jonas, Eske Rex, and other imported Scandinavian brands. The pieces mix warm minimalism with eclectic global accents.
Danish Design Store
This UK-based shop lives up to its name with an extensive selection of authentic Danish furniture and homeware. You'll find iconic mid-century Scandinavian pieces alongside newer designs from today's top Danish designers. Danish Design Store has everything from chairs and sofas to clocks and trays carefully curated to represent the best of Danish style. They ship worldwide directly from Denmark.
Lex Modern
Lex Modern is a Germany-based online shop specializing in Scandinavian mid-century modern furniture from all Nordic countries. They restore and reproduce vintage designs alongside showcasing curated pieces by contemporary brands. The collection represents the most iconic and influential mid-century Scandinavian designers.
Hay
This trend-setting Danish design brand operates webstores in 30 countries delivering their Scandinavian-inspired furniture and homewares worldwide. Hay reinterprets Scandinavian traditions into contemporary forms and colors. They work with emerging designers and established names like Jørgen Bækmark and OeO Studio.
By Nord
With a boutique feel, By Nord offers a tightly curated and continuously updated collection of Scandinavia furniture, lighting and accessories. The selection spotlights vintage and current pieces from Denmark, Sweden, Norway, Finland and Iceland with worldwide delivery.
So whether you are looking for an iconic Arne Jacobsen Egg Chair, a minimalist Danish sofa, or modern Swedish lighting, these online Scandinavian furniture specialists ship worldwide, making the Nordic style more accessible than ever.
Shopping for Scandinavian Furniture in Stores
Beyond online shopping, there are brick-and-mortar stores where you can see quality Scandinavian furniture and decor in person. Here are some of the top retail stores across North America and Europe to buy authentic Scandinavian style furniture:
IKEA
The iconic Swedish furniture giant needs no introduction. IKEA popularized affordable and minimalist Scandinavian design starting in the 1950s. Today every IKEA location worldwide carries furniture, decor and housewares with clear Scandinavian lineage. While not all products are made in Scandinavia, IKEA's vision is deeply rooted in Swedish and Nordic design principles. They offer mass-produced pieces and high-quality solid wood furniture representing excellent value for the Scandinavian style.
Design Within Reach
This upscale furniture retailer carries iconic Scandinavian brands alongside other modern furnishings. You can shop classic mid-century pieces from Danish designers like Hans Wegner and Børge Mogensen. Design Within Reach spots modern Scandinavian furniture trends and makes these high-quality designs accessible through stores across America, online ordering, and shipping.
Scandinavian Designs
With three showrooms and several outlet locations mainly in the Midwest, Scandinavian Designs has specialized in imported Scandinavian furniture since 1967. They carry over 50 Scandinavian brands from classics like Carl Hansen & Søn to modern designers. Scandinavian Designs continues to represent the heritage of quality Nordic craftsmanship.
Danish Design Store Showroom
The physical Danish Design Store showroom in London allows closer inspection of their curated collection of Danish and wider Scandinavian furniture alongside the online store. The helpful staff can assist you in finding the perfect piece to complete your Scandinavian-inspired decor.
Skandium
Skandium's physical locations in London and Southampton complement their online selection of Scandinavian design. At these beautifully designed showrooms, you can see iconic and emerging brands across Scandinavia. Their team can also help with custom furniture requests.
Fønix Scandinavian Design
This San Francisco Bay Area showroom sells curated vintage and contemporary Scandinavian furniture sourced directly from dealers in Scandinavia. The collection includes iconic mid-century pieces and newer Scandinavian makers' designs. Beyond furniture, you'll find Scandinavian lighting, rugs, and decor items.
Scandinavian Grace
With a showroom in New Hampshire, Scandinavian Grace sells a refined Scandinavian furniture and decor collection from primarily Danish brands. You can view their selection combining new designs and mid-century Danish pieces. They will also source hard-to-find Scandinavian items.
Scandinavian Shop
This London-based retail store and studio takes a modern approach to Scandinavian design. Alongside iconic mid-century furniture reproductions, they sell contemporary furniture, lighting, and homeware with a clean Nordic aesthetic from new designers. You can find emerging brands and fresh interpretations of Scandinavian style.
Denmark on King
Canada's largest importer of Danish designs operates this retail location in Toronto. You'll find classic mid-century furniture reproductions alongside modern pieces from current Danish designers. It's the place for authentic Danish style in Canada.
Danish Modern Los Angeles
As one of the top destinations in the US for mid-century Scandinavian furniture, Danish Modern in Los Angeles sells curated vintage pieces by designers like Hans Wegner and Finn Juhl. Beyond the showroom, they create custom Scandinavian-inspired designs.
Nordic Knots
With a newly opened showroom in New York, Nordic Knots sells curated lines of Scandinavian and Nordic-American designed furniture and homewares. The selection combines clean and minimalist Scandinavian design with the textures and materials of the American North. You can see how the two styles intersect.
Bunglo
This Scandinavian design shop located in Seattle Imports furniture, lighting, and home decor directly from Scandinavian designers. You can find the essentials for a calming, minimalist Nordic home from their physical shop and online catalog.
Mjölk
This Toronto design boutique carries and produces Canadian-made furniture and home goods with clear Scandinavian influence. Their offerings combine a light and natural Scandinavian aesthetic with Canadian craftsmanship and materials.
Muuto Showroom
In your home countries of Scandinavia like Denmark, Sweden and Norway, you can visit flagship showrooms of iconic Scandinavian brands like Muuto to see their latest collections in person. Their furniture and lighting embodies the traditions of Scandinavian design in modern forms.
Key Tips for Buying Authentic Scandinavian Furniture
Here are some top tips for recognizing and choosing authentic, true-to-form Scandinavian furniture as you shop:
Look for established Scandinavian design brands
Seeking out furniture from classic Scandinavian designers and manufacturers like Hans Wegner, Arne Jacobsen, Fritz Hansen, Carl Hansen & Søn, and Ib Kofod-Larsen is a good starting point for guaranteeing authenticity. Even reissued vintage pieces from authorized dealers preserve the Scandinavian design tradition.
Choose natural, high-quality materials
Authentic Scandinavian furniture utilizes natural materials like solid wood, leather, and organic textiles. Pine, ash, oak and beech woods feature heavily. Look for quality craftsmanship and joinery. Scandinavian furniture invests in materials built to last.
Seek simple, functional forms
Clean, rational lines with little ornamentation embody quintessential Scandinavian design. Pieces should have a minimalist, uncluttered look and emphasize usability – like multi-functional sofas and storage units. Function guides form.
Look for mid-century "Danish Modern" or "Swedish Modern" styles
For vintage Scandinavian furniture, keywords like "Danish Modern" or "Swedish Modern" will yield results in the distinctive midcentury style pioneered by those countries. Note popular decades like the 1950s-70s.
Consider color palette
Scandinavian style embraces light, neutral colors like white and natural wood tones and muted grey, black and blue hues. Pops of warmth like sage green, rust orange and yellow highlight accent pieces.
Look for the "Made in" label
Scandinavian-made furniture offers reliable geographical origin. But respected dealers also produce quality furniture in Denmark, Sweden and Finland – so don't rule out imported Scandinavian furniture made elsewhere.
Seek out specialized Scandinavian shops
Retailers dedicated specifically to Scandinavian furniture and design like Danish Design Store and Scandinavian Grace curate products that embody Scandinavian aesthetics and craftsmanship.
Read product descriptions
Reliable Scandinavian furniture sellers describe material origins, designer background, and manufacturing processes evidencing a piece's Scandinavian style roots – whether mid-century or modern.
Scandinavian Design in Different Styles
While distinctly Nordic in origin, the Scandinavian design approach of simplicity, functionality, and natural materials melds fluidly with many decorative styles. Scandinavian wood furniture introduces a lightweight, airy quality to a space. The versatility allows intermixing with numerous aesthetics.
Mid-Century Modern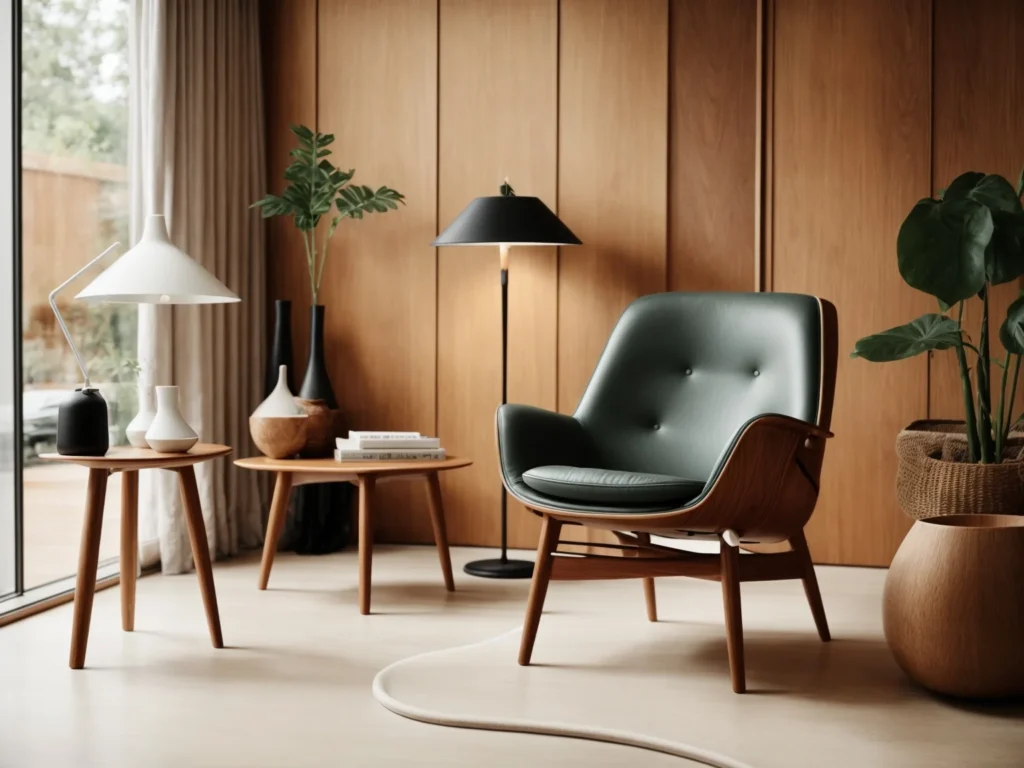 Scandinavian and mid-century modern styles naturally complement each other as contemporary design movements. Both embrace clean lines, organic shapes, minimal ornamentation, and natural wood tones. Iconic Scandinavian pieces like Egg Chairs or Wishbone Chairs blend seamlessly with Eames lounge chairs.
Industrial
The utilitarian nature of Scandinavian furniture pairs well with industrial decor. The blonde wood tones soften the boldness of black steel and exposed brick while retaining sleek lines. Scandinavian designs add warmth and texture to offset the hardness of industrial materials.storage units and consoles provide streamlined surfaces for displaying industrial accents.
Boho
Scandinavian pieces add lightness to the lavish layers of boho style. Airy rattan, woven textures, and unadorned wood balance the vitality of patterned fabrics and abundant accessories. Scandinavian swivel chairs and cushioned daybeds bring in soft curves while remaining unfussy. The two styles unite in their embrace of natural materials and global influence.
Eclectic
Scandinavian furniture imparts simplicity in eclectic interiors to anchor the bold mash-up of colors, patterns, and varied periods. The familiar forms and pale hues provide breathing room from the visual liveliness. Scandinavian designs also stand out as unique additions to the decorative diversity. Their minimalist profiles prevent them from blending into eclecticism.
How to Incorporate Scandinavian Design
Scandinavian style cultivates tranquility through its light, bright simplicity. Integrating those qualities into any interior gives residents a sense of peaceful order. The pared-back aesthetic maximizes openness and natural light. Homeowners can weave Scandinavian elements into their personal decor vision by following a few principles.
Select a Neutral Palette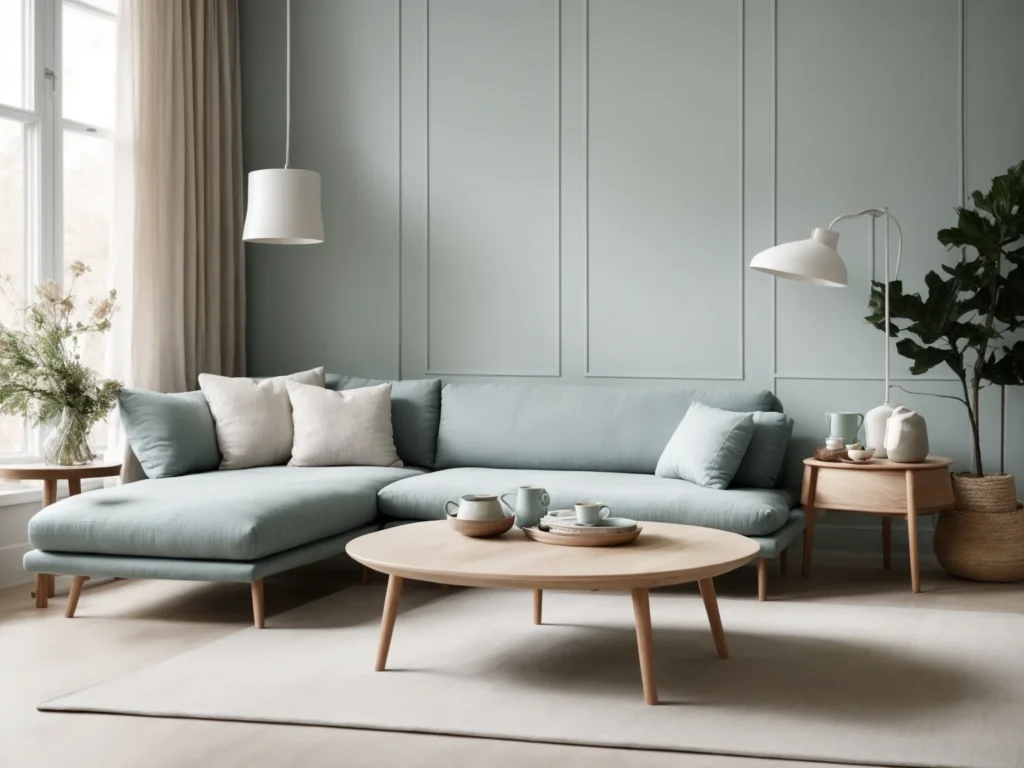 Embrace a light, neutral color scheme of whites, pale wood tones, and soft muted shades like gray-blue green. Seek out furnishings like sofas or beds in subtle hues instead of bold patterns. Choose light-reflecting flooring such as bleached oak. Let walls serve as a quiet backdrop through white or barely-there pastels.
Choose Blonde Wood Tones
Incorporate blonde-hued woods through Scandinavian-style furniture or wood accents. Bleached, pickled, or natural ash, birch, oak, pine, and other Nordic woods exude Scandinavian flair. Consider sanding it down for a soft whitewashed patina if existing furniture has a dark wood tone. Blonde wood introduces ethereal lightness.
Opt for Minimalist Shapes
Furnish with spare, streamlined silhouettes devoid of excessive ornamentation. Seek out clean-lined furniture with gently rounded or angled shapes for sculptural appeal. Use large floor lamps or pendant lights to illuminate the minimalist forms. Choose unadorned wood or rattan accessories to continue the simplicity.
Layer Natural Textures
Create cozy textural dimension through tactile linens, sheepskins, woven throws, and nubby area rugs. Introduce greenery and dried botanicals for organic flair. Floating wood or rattan shelving adds warmth. A textural approach breathes life into strict minimalism.
Let in Light and Fresh Air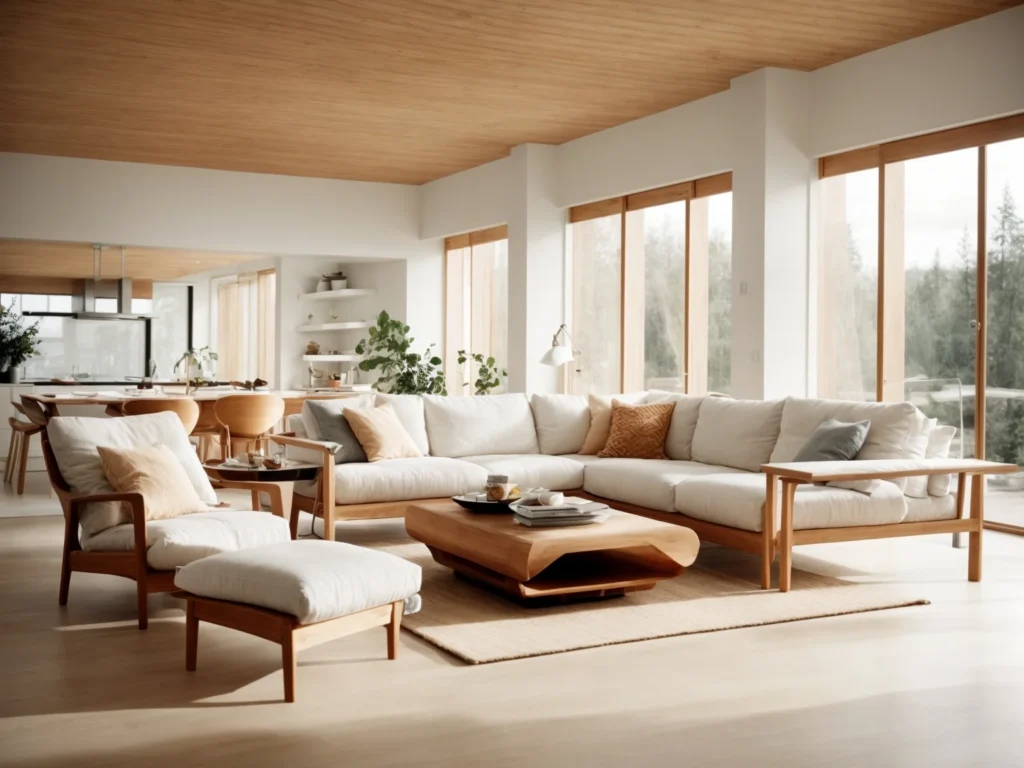 Maximize natural light through large windows, glass doors, and translucent furnishings. Sheer linen window treatments gently filter sunlight. Vented skylights enhance ventilation and brightness. Opening windows widely frequently circulates fresh air. Bright, airy ambience lifts the spirit.
FAQ
What are the characteristic wood tones used in Scandinavian furniture?
Beyond blonde, common light wood tones in Scandinavian furniture include birch, ash, pine, oak, and beech. These pale neutrals align with the Scandinavian aesthetic.
What is famous Swedish furniture?
Sweden is home to many iconic Scandinavian furniture brands, most notably IKEA. Swedish brands like IKEA brought Scandinavian style to the global stage and made it widely accessible.
What types of wood are commonly used in Scandinavian furniture?
Scandinavian furniture frequently showcases local Nordic woods like birch, beech, ash, oak, and pine. These woods impart a regional character that aligns with Scandinavian design values.
How can you explore the origins and evolution of Scandinavian wood furniture?
Tracing the historical origins of Scandinavian design provides insight into how the style developed. Following its evolution through the modern era reveals how Scandinavian furniture adapted yet retained its core identity.
What are some ethical factors to consider with Scandinavian furniture?
Sourcing sustainably harvested Scandinavian woods and supporting brands prioritising ethical production are key considerations for eco-conscious consumers.
How has Scandinavian furniture influenced the global design landscape?
Scandinavian furniture has impacted modern design by emphasising simplicity, minimalism, functionality, and connection to nature. These principles changed the trajectory of modern style.
What layers of meaning can be uncovered through Scandinavian furniture?
Beyond aesthetic appeal, Scandinavian furniture embodies deeper cultural values of Scandinavian societies like connection to the natural landscape, elegant practicality, and restrained beauty.
Conclusion
Scandinavian design has carved out a distinct niche in the pantheon of furniture styles. The Nordic principles of simplicity, minimalism, functionality, and connection to nature that crystallized in the early 20th century still feel fresh and modern today. Scandinavian furniture influences mainstream and avant-garde designs through its quiet elegance and enduring utility.
Beyond the classics of its mid-century golden age, Scandinavian design also evolves organically, reinterpreting traditional wood materials into new forms. The environmental ethos and respect for craft endow Scandinavian furniture with authenticity and sustainability. These thoughtful designs stand the test of shifting tastes and trends.
Scandinavian pieces harmonize elegantly amidst both modern and traditional interiors. The pale hues and blonde woods infuse light without overwhelming. Their refined profiles integrate into myriad aesthetics, from industrial to bohemian. Scandinavian elements enhance any space with an uncomplicated elegance and hint of Nordic soul. In a fast-paced era, the Scandinavian legacy offers tranquility through its reverence for the elemental and sublime in good design.