Having kids means having toys. And while we want our children to have access to stimulating and fun playthings, we also want to maintain a grown-up feel in shared living spaces. The living room poses a particular challenge when it comes to toy storage. Unlike bedrooms and playrooms tailored to kids, the living room should feel sophisticated and serene. The trick is finding storage solutions that keep clutter contained while keeping favorite toys within reach.
With a mix of built-in furnishings, baskets, organizational hacks, and specialized storage, you can conquer the toy invasion in your living room. Read on for tips and inspiration for maximizing your space while minimizing mess.
Built-In Furniture that Multitasks as Storage
Built-in and freestanding furniture with double duty for toy storage and home decor offer the perfect solution. These pieces blend seamlessly into living room style while tucking away toys when company comes over.
Ottomans Pull Double Time
Ottomans instantly provide extra seating for guests, but lift the lid and voilà—instant storage. Round, square, or rectangular ottomans offer style and function when upholstered in on-trend fabrics. Choose an ottoman that complements your color scheme or patterned accent pillows for a custom look.
Add felt or acrylic organizers to corral small toys, books, and craft supplies inside. Use a cushioned top tray for games and puzzles that can take some impact. Large ottomans can accommodate bigger toys, stuffed animals, and blankets. Look for ottomans at least 36-48 inches wide to hold multiple baskets and trays.
Tricky Toy-Hiding Benches
Benches are often found in home entryways but deserve a spot in living rooms. Opt for a padded bench with hinged lids that lift to reveal ample storage for board games, learning toys, and larger play sets.
Look for a low-profile bench to tuck under windows or use as a coffee table. Upholster the top in stain-resistant fabric or leather for an upscale look. Add a tray on top for remote controls and coasters. Cubby bench seats have the bonus of toy storage in each compartment.
Coffee Tables with Secret Storage
Coffee tables are living room staples—now many designed specifically with concealed storage for families. Look for lift-top coffee tables with felt-lined drawers for board games, coloring books, and tablets. Nesting tables are another smart solution, with one hollow table tucking inside another for a layered look and bonus storage.
Try a weathered oak trunk as a rustic chic coffee table for a farmhouse vibe. The vintage look blends beautifully in family spaces while hiding toys inside. No matter your style, a storage coffee table keeps toys handy but out of sight.
Baskets and Bins Camouflage Clutter
Baskets offer a budget-friendly storage option that blends into any room. Use baskets piled in corners, tucked under tables, and stacked on shelves to corral toys of all sizes. Mix woven baskets with fabric bins and painted crates for whimsical, eclectic style.
Choose the Right Basket for the Job
Large oversized baskets work well for bulky toy storage. Use canvas bins, seagrass hampers, or rope baskets to hold stuffed animals, balls, play kitchens, and ride-on toys. Add baskets in fun colors or patterns to liven up neutral spaces.
For smaller toys, try fabric-lined bins that add texture and color. Soft bins of cotton, chenille, or velvet nestle neatly on shelves. Divide toys into baskets by type—one for cars, one for blocks, etc.
Woven baskets offer breathable storage for summertime activities like sidewalk chalk, bubbles, and pool toys. Look for baskets with lids to keep contents contained.
Strategic Basket Placement
Get clever with basket placement to make toys accessible and part of the decor. Here are tips for working baskets seamlessly into living room design:
Stack baskets of varying heights and textures under coffee tables, side tables, and consoles. Use them as anchoring pieces for additional decor.
Line media cabinets and built-in bookcases with baskets to corral electronics, movies, video games, and books.
Place lidded baskets on the lowest living room shelves for a pretty way to store toys kids can access.
Tuck colorful baskets under bench seating or ottomans to coordinate with your color scheme.
Add corner baskets for a boho look that provides toy storage and style.
Labeling Prevents Clutter
The key to maintaining order is easy cleanup. Help kids help themselves by labeling baskets clearly. Use words, pictures, or a combination to set expectations. Some fun label ideas include:
Printed words in coordinating font and colors
Handwritten chalkboard or whiteboard labels
Custom nameplates for each child
Photos of basket contents glued to the outside
Removable vinyl labels from craft stores
Rotate toys from baskets into play and back again for an organized system that lets kids self-manage.
Repurpose Existing Furniture
Before buying new storage furniture, look around at pieces you already own. Bookcases, cabinets, dressers, and closets may work perfectly for toy storage with simple tweaking. Adapt what you have for custom built-in style at a fraction of the cost.
Bookcases for Building and Blocks
Bookcases have adjustable shelves, making them ideal for toys. Consider the height and depth of shelving needed and customize your bookcase accordingly.
Make shelves tall and deep enough for building toys so structures can be kept intact. Add doors to contain mess but still allow air circulation. For blocks and other small toys, use short shelves spaced closely together. Add fabric bins and baskets to corral loose pieces.
Have toys kids use most frequently within reach on lower shelves. Display toys aesthetically for a beautiful, functional bookcase.
Dressers Store Toy Chest Treasures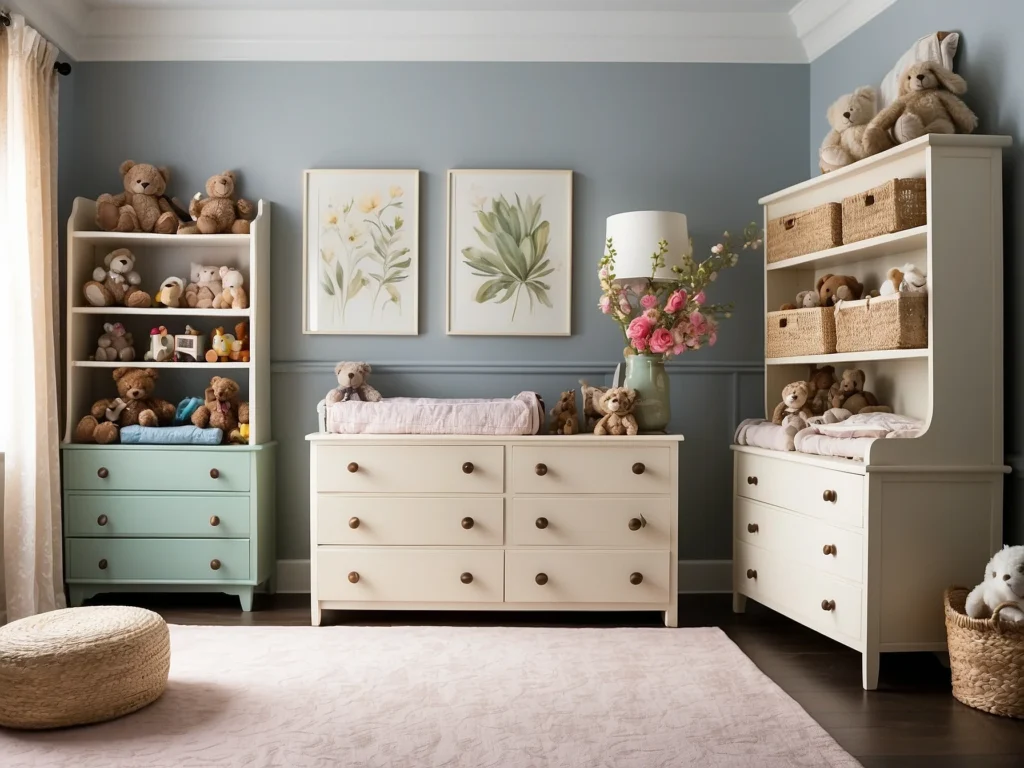 That extra dresser tucked away in a spare bedroom will get a new purpose. Dresser drawers are perfectly sized to sort small toys, figures, cars, dolls, and more.
Use drawer organizers to neatly separate toys. Consider standing the dresser vertically for a slimmer footprint. Paint or stencil the dresser to match your living room. Add baskets on top to conceal toys in plain sight.
For an extra organizing bonus, attach a dresser to the wall and mount it over a base cabinet or bookcase to maximize vertical storage. Add doors or curtains to keep the dresser toy storage hidden.
Closets as Custom Storage
Don't overlook closet spaces adjacent to living rooms as prime real estate for toy storage. Use closet organization systems to optimize the space.
Install shelving sized to fit larger toys, games, and sporting equipment. Try tension rods and hanging storage for puzzles, arts supplies, and backpacks. Mount a closet rod low for dress-up clothes. Use decorative containers or baskets to organize loose toys.
Bi-fold doors or curtains can conceal the toys when needed. And having an organized closet means tidier shared living spaces.
Wall Storage Opens Up Space
Mounting shelves, racks, and cubbies directly on living room walls utilizes vertical real estate while keeping floors clear. Wall storage displays beautifully and puts toys within easy access.
Shelving Styles
Wall-mounted shelving comes in varied materials like wood, metal, or glass to fit design schemes rustic to modern. Floating ledges create useful space for bins and baskets.
Corner shelves utilize awkward angled walls. Ladder shelves provide toy display and storage. Mount shelves above seating, at kids' height, or scaled to fit large toys. Add hooks for backpacks, hats, and bags.
Cubbies for Separated Storage
Cubbies lend a mudroom vibe while establishing spaces for each child's toys. From simple DIY designs to wall units with multiple cubbies, options abound. Open cubbies allow quick toy access and airflow while closed cubbies conceal mess.
Cubbies between 10-14 inches wide work well for individual toy storage. Include felt or bins inside cubbies to hold small loose parts. Deep cubbies accommodate oversized toys. Place cubbies within reach for kids to utilize independently.
Utilize Vertical Space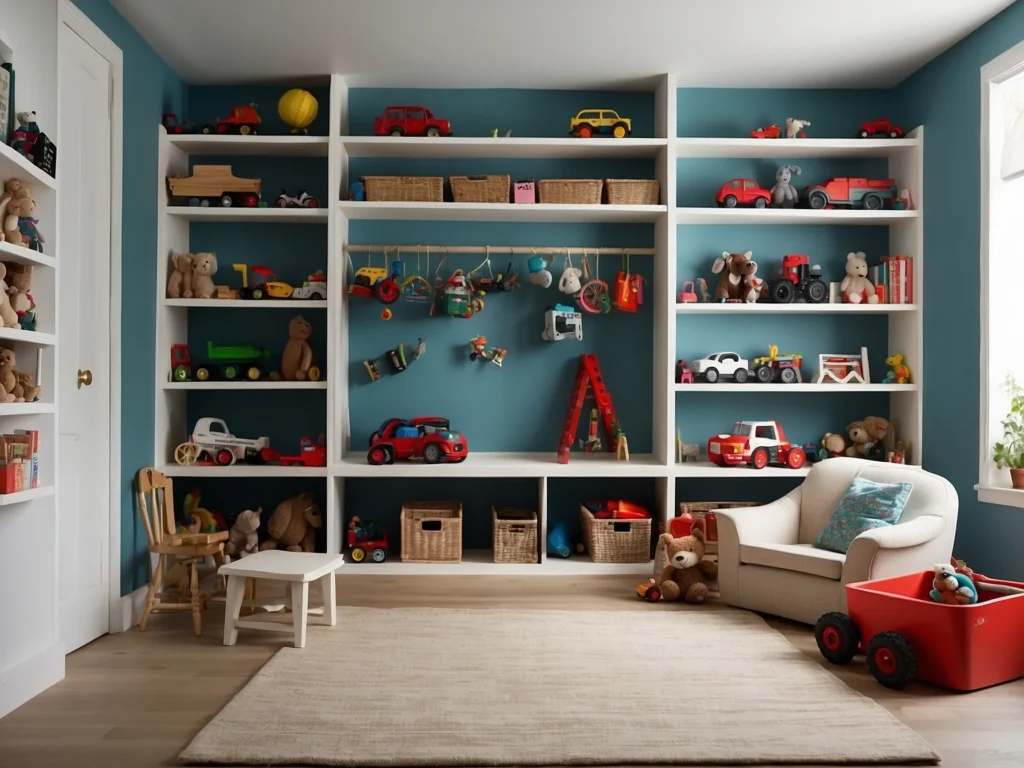 Children naturally look up, so use walls from floor to ceiling for toy storage opportunities. Mount shelves just below ceiling height for toys not used daily. Racks hung above doorway archways corral toys attractively.
Floor-to-ceiling bookcases make use of vertical space while defining room zones. Add ladders on wheeled tracks to access toys up high. Think outside the box by mounting storage on the backs of doors or under staircases and lofts.
Rotate and Accessorize for Continued Order
The way you store toys will evolve as children grow and interests change. Maintaining organization requires editing and refreshing storage solutions. Some tips for an ever-orderly system:
Rotate Toys Strategically
Rotate toys in and out of storage to refresh play and keep clutter at bay. Make rotation a seasonal activity or change toys monthly or weekly. Store lesser used toys up high or down low. Keep favorite toys within reach in baskets, shelves, or cubbies.
Age-Appropriate Accessibility
As kids grow, adjust storage locations accordingly. Preschoolers need toys within easy access at their eye level. School-aged kids can reach a bit higher, but make favorite toys handy. Store toys preteens use less often the highest.
Hidden Yet Accessible
Conceal toys behind doors kids can open, like closets or cabinets with child-safe hinges. Use rolling storage carts kids can access independently. Try lift-top ottomans or sliding baskets under coffee tables in sneaky spots.
Specialized Storage Adds Flair
Beyond basic shelves and baskets, specialized storage designed for toys can add flair to your living room. From personalized pieces to colorful kid-friendly designs, let your imagination run wild.
Fun Finds on Wheels
Wheeled carts offer portable storage that can roll from room to room. Try a craft cart with DIY supplies or an art cart with paper, markers, and paint. Use wheeled cabinets to hold larger play sets.
Multitiered trolleys organize toys neatly and double as playtime fun. Label or color-code each cart drawer or bin. Wheeled storage adds mobility so kids can follow you around the house!
Personalize with Custom Crates
Wooden storage crates lend a vintage vibe while corralling toys. Stencil names or decorate crates with wall decals or chalkboard paint to designate each child's storage. Use crates of different sizes stacked vertially. Leave them unfinished for rustic charm.
Add cushions on top of crates for extra seating. Under-crate storage provides even more options to organize toys. Crates on casters easily roll room to room.
Fun and Functional Toy Cabinets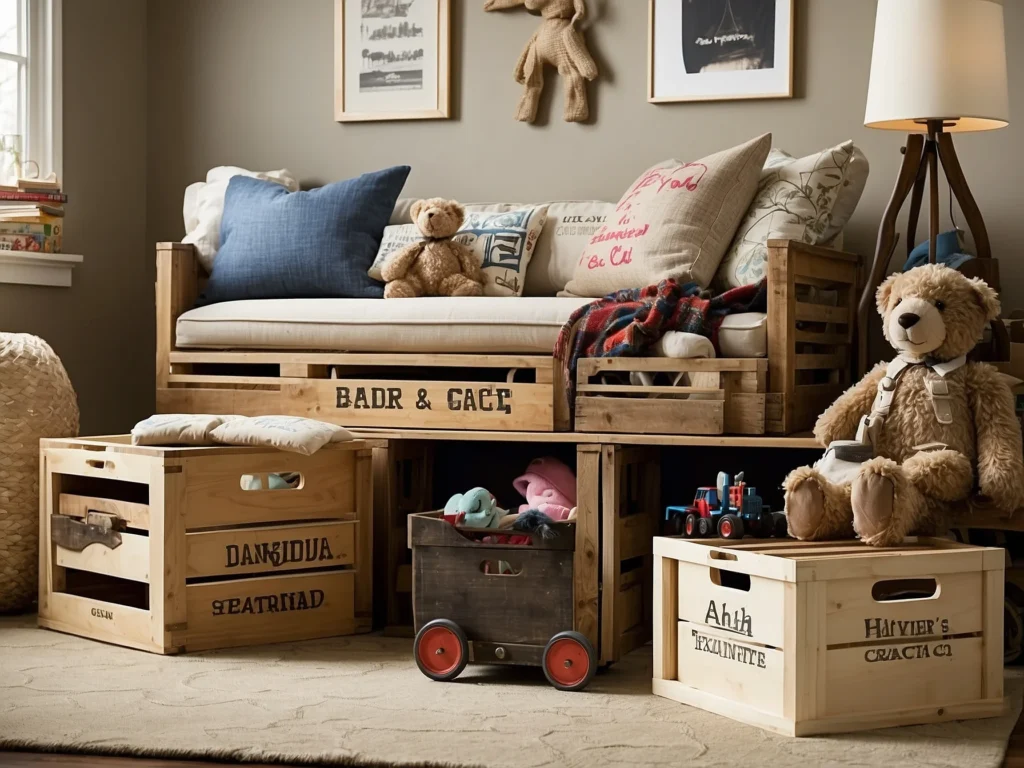 For serious toy storage needs, customized cabinetry creates a space just for kids. Built-in or standalone cabinets maximize space with shelves, drawers, and compartments sized for all your toys.
Choose furniture with safety in mind—avoid sharp corners, use safety hinges, and anchor furniture to walls. Add color and style with paint, patterns, or decals. Label cabinets or use images so kids can put toys away. Toy-sized cabinets train young ones to organize.
Frequently Asked Questions About Toy Storage
Toy storage doesn't have to be a losing battle. You can find a functional, stylish solution for your family with some strategic planning. Here are some of the most common questions about keeping toys organized.
How do you organize a lot of toys in a small living room?
Focus first on maximizing vertical storage space with wall-mounted shelves or cubbies. Stack baskets under tables and tuck storage benches and ottomans around the room periphery. Use lidded baskets and storage trunks to conceal loose toys. Rotate toys between spaces to keep volume contained.
Where can you hide toys in a living room without looking cluttered?
Look for stealth storage like lift-top ottomans and coffee tables, under-bench cubbies, built-in bookcase cabinets, and storage chests that can double as side tables. Put toys inside closets and drawers. The key is to utilize hidden space.
What do you put in living room cabinets with small children?
Lower cabinets secured to walls can house toys for young kids. Use unbreakable plastic bins and baskets to corral toys. Mount safety latches out of reach. Consider placing soft toys, board books, rattling toys, and blocks in low cabinets for baby to explore safely.
How can you organize toy storage and seating in a small living room?
Combine storage and seating using ottomans, benches, and lift trunks to reveal toy storage. Nesting coffee tables allow you to tuck one inside the other. Underneath couch storage drawers are another space-saving option. Dual-purpose furniture maximizes room function.
How do you hide a toy box or basket in a living room?
Baskets and toy boxes can be disguised by the company they keep. Tuck them under tables surrounded by decor, slipped beneath bench cushions, or grouped with larger baskets for a collected look. Lidded baskets help contain messy toys. Use neutral colors to help them blend in.
Pulling It All Together for a Parent and Kid-Friendly Living Room
The living room sits at the heart of the home, where families gather to unwind, connect, and play. The space should accommodate both kids and adults through all stages of life. Finding places to tuck away toys helps maintain order after playtime without sacrificing style.
Make storage multipurpose by choosing furniture that stashes toys while serving other functions. Opt for organizational solutions in natural tones and materials that complement your decor. Labeling bins helps teach young ones cleanup habits. Edit toys seasonally to refresh interest and maintain order.
Most importantly, don't stress about a lived-in look. The best living rooms have a comfortable feel that welcomes both play and conversation. With places established for toys, clutter is contained and adults can relax. A family-friendly space accepts that shared rooms will reflect diverse interests. The key is balance through smart storage. May your living room memories center around meaningful connections, with toys tucked away until the next playtime.