When done right, white living rooms can feel fresh, airy, and spacious. But they can also veer into sterile or cold territory if you're not careful. This comprehensive guide will provide ideas, tips, and inspirations to create a cosy, inviting, white living room.
The Appeal of the White Living Room
All-white rooms have enjoyed enduring popularity for good reason. White reflects light, making spaces feel more open and airy. It provides a fresh backdrop that allows other furniture and accents to stand out. An all-white palette has a lightweight, ethereal quality that feels relaxing and peaceful. Rooms feel larger and less cluttered visually when walls, trim, and ceilings fade into the background.
White is incredibly versatile too. It works with any style from traditional to modern, coastal, farmhouse, minimalist, and more. White can be dressed up with luxe accents or pared down for casual family spaces. It pairs beautifully with both light and dark wood tones. And it provides the perfect neutral base for adding pops of color through art, pillows, flowers, and accessories.
The Basics of Designing an All-White Living Room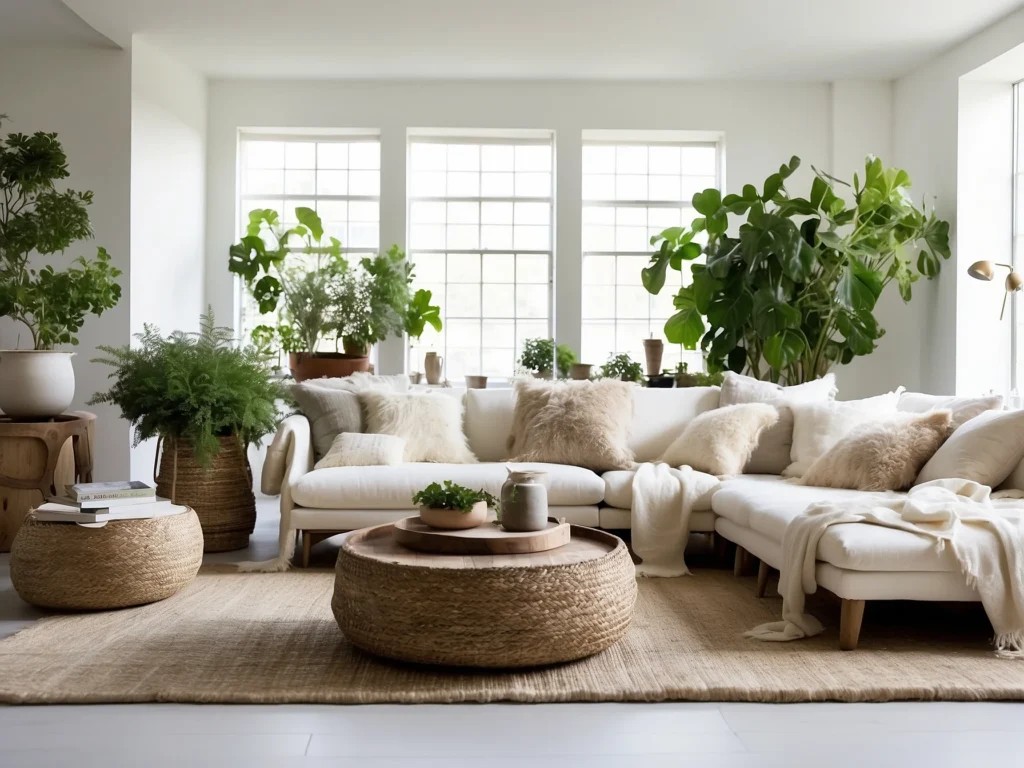 Before diving into specific ideas, let's review some fundamental design basics for all-white living rooms:
Choose the Right White Tones
Not all whites are created equal. Stark bright whites can feel sterile and cold. Opt for warmer off-whites like cream, ivory, or soft white linen. Mix multiple whites for subtle depth and interest.
Key Takeaway: Softer white tones feel more inviting than stark bright whites.
Add Warmth with Wood Tones and Textures
Natural wood furniture and décor additions add essential warmth. Think oak, walnut, rattan, seagrass, jute, wood ceiling beams, and more. Layer in cosy textures with nubby throws, sheepskins, woven baskets, and plush rugs.
Key Takeaway: Wood and natural textures offset an all-white palette.
Incorporate Greenery
Plants and fresh flowers inject life into white rooms. Display leafy green plants in white pots on shelves, side tables, and the floor. Add pops of color with bright blooms like peonies, roses, or ranunculus.
Key Takeaway: Greenery prevents white rooms from feeling lifeless or clinical.
Direct Sightlines Upwards
Drawing the eye upwards makes rooms feel larger and airier. Hang long linen curtains, add tall bookshelves, use slender floor lamps, and arrange wall art in vertical shapes.
Key Takeaway: Vertical elements make white rooms feel expansive and light-filled.
Layer Lighting
Wash an all-white space in flattering light by incorporating lighting at various levels: overhead, task, and accent lighting. Avoid a washed-out look with dimmable fixtures.
Key Takeaway: Proper lighting prevents white rooms from feeling flat or gloomy.
Add Pops of Color
Punctuate all that white with bright, deep, or bold pops of color. Try a vibrant blue sofa or accent chair, a patterned area rug, colorful throw pillows, or artwork.
Key Takeaway: Thoughtful color accents keep white rooms from feeling flat or monotonous.
Ideas for Warm, Inviting White Living Rooms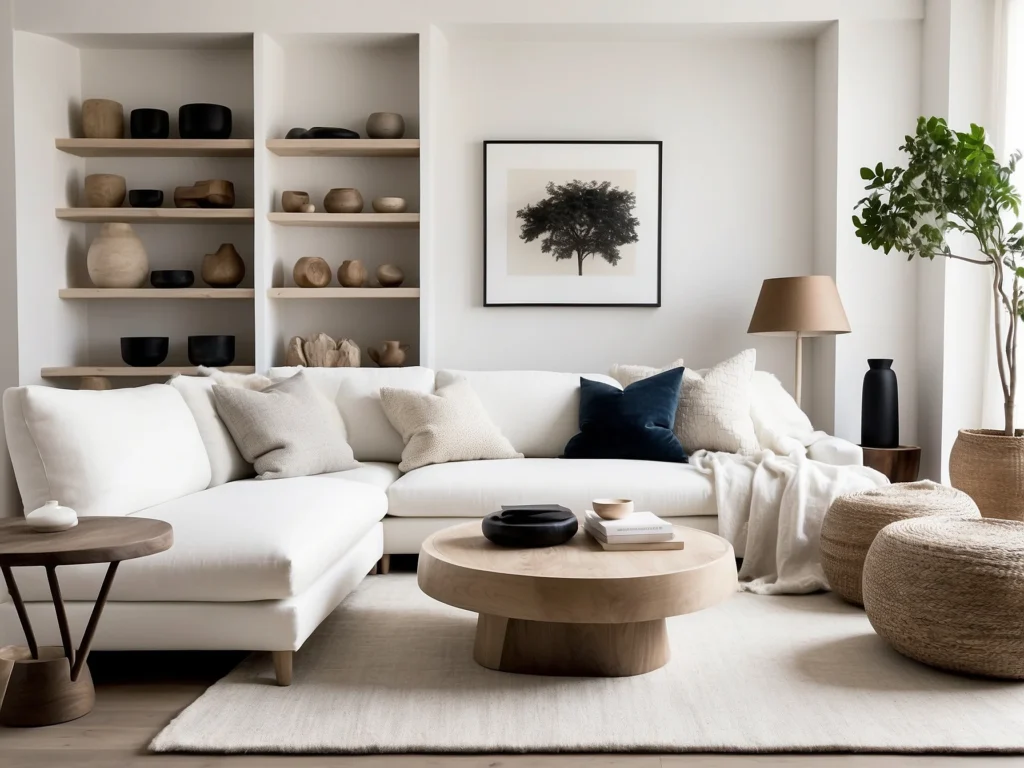 Now let's explore specific ideas to create white living rooms with timeless appeal that still feel welcoming:
Creamy White with Pale Wood
Creamy whites paired with light wood tones create a soft, elegant look. Bleached oak or driftwood side tables and shelving add warmth without overpowering the white backdrop. Incorporate textural interest with cable knit throws, linen curtains, cozy wool rugs, and sheer panels.
Key Takeaway: Creamy white and pale wood is a timeless, sophisticated combo.
Crisp White with Dark Contrasts
Pair bright white walls with dark wood furniture and accents for modern flair. Charcoal grey velvet sofas, black metal light fixtures, and espresso bookshelves pop against super white walls. Sculptural greenery and contemporary artwork keep the mood relaxed.
Key Takeaway: Crisp white energized by deep hues feels fresh and current.
White on White Layering
Build all-white rooms with dimension by mixing white paint finishes, furniture shades, and textures. Try a high-gloss lacquer coffee table, matte linen sofa, nubby throw pillows, and a cowhide rug for subtle contrast. Keep the look grounded with light wood flooring.
Key Takeaway: Layering white-on-white adds depth and keeps the palette from feeling flat.
White with Pops of Sunny Yellow
Cheerful yellow accents enliven white backdrops. Try a vintage yellow club chair, floral pillows, a sunburst mirror, or abstract art. Keep the rest of the furnishings light and airy.
Key Takeaway: Sunny yellow injects happiness into white rooms.
White with Muted Blue and Green Accents
Cool blues and greens beautifully complement white for a serene look. Try a pale blue velvet sofa, soft green and blue throw pillows, or botanical prints. Navy or forest green accents provide pleasing contrast.
Key Takeaway: Soft greens and blues are soothing counterparts to white.
White with Punches of Black
For dramatic effect, punctuate white with black accents like matte black light fixtures, black and white photography, or a black grand piano. Mirrored surfaces and metallics balance the bold black tones.
Key Takeaway: Black accents make white pop for a bold, elegant look.
Soft Rustic White
A white palette doesn't have to feel overly precious. Use white with natural unfinished woods, vintage rugs, galvanized metal urns, and farmhouse accents like shutters for casual charm.
Key Takeaway: Rustic layers make white feel comfortably charming.
White Coastal
White and navy perfectly capture the seaside. Use weathered wood, jute rugs, driftwood tables, and navy accents for breezy style. Incorporate sand hues, touches of coral, and natural textures like rattan, linen, and seagrass.
Key Takeaway: White with nautical navy and sand evokes relaxed seaside charm.
Traditional White with Black and Ivory
For timeless elegance, pair white walls with classic black and white accents. Try a black lacquer coffee table, white shiplap built-ins, graphic black and white rug, and ivory velvet chairs. Crystal chandeliers and gilded mirrors finish the elegant look.
Key Takeaway: Black, white, and ivory is a forever classic, elegant combination.
Minimalist White
Embrace minimalism with stark white paired with light wood and just a few carefully chosen accents. Uncluttered floating shelves, an iconic mid-century sofa, and abstract art keep the look airy and refined.
Key Takeaway: Less is more with a minimalist white palette.
Contemporary Glam White and Gold
Make white rooms shine with metallic and mirrored accents. Try a mirrored coffee table, gold velvet sofa, sculptural floor lamp, and abstract gold art for glamorous flair. Faux fur pillows add cozy contrast.
Key Takeaway: Metallic and mirrored accents lend white a dash of glamour.
Design Considerations for All-White Living Rooms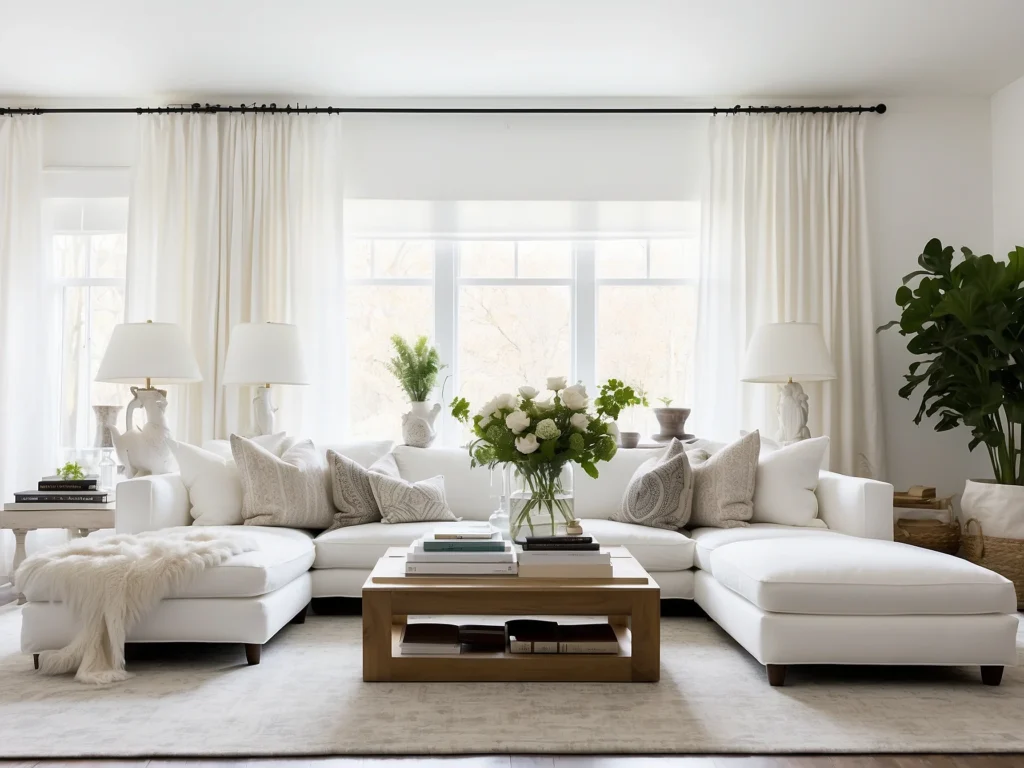 Keep these additional design tips in mind when planning your dreamy white living room:
Incorporate architectural interest. Highlight beautiful details like fireplaces, built-ins, trimwork, and ceiling beams. Painting these white can make them stand out.
Use large-scale art and mirrors. Oversized art and mirrors enlarge the sense of space.
Allow light to flow. Sheer curtains, large windows with white frames, and open layouts keep things bright and airy.
Choose multifunctional furniture. Ottomans with storage, sofa tables with shelves, and nesting coffee tables prevent clutter.
Add personal touches. Photos, treasured collections, antiques, and family heirlooms make white rooms feel lived-in.
Mind the layout. Arrange seating to promote conversation, and allow room for traffic flow.
Consider pets and kids. Washable slipcovers and stain resistant rugs make white livable for families.
Modern White Living Room Ideas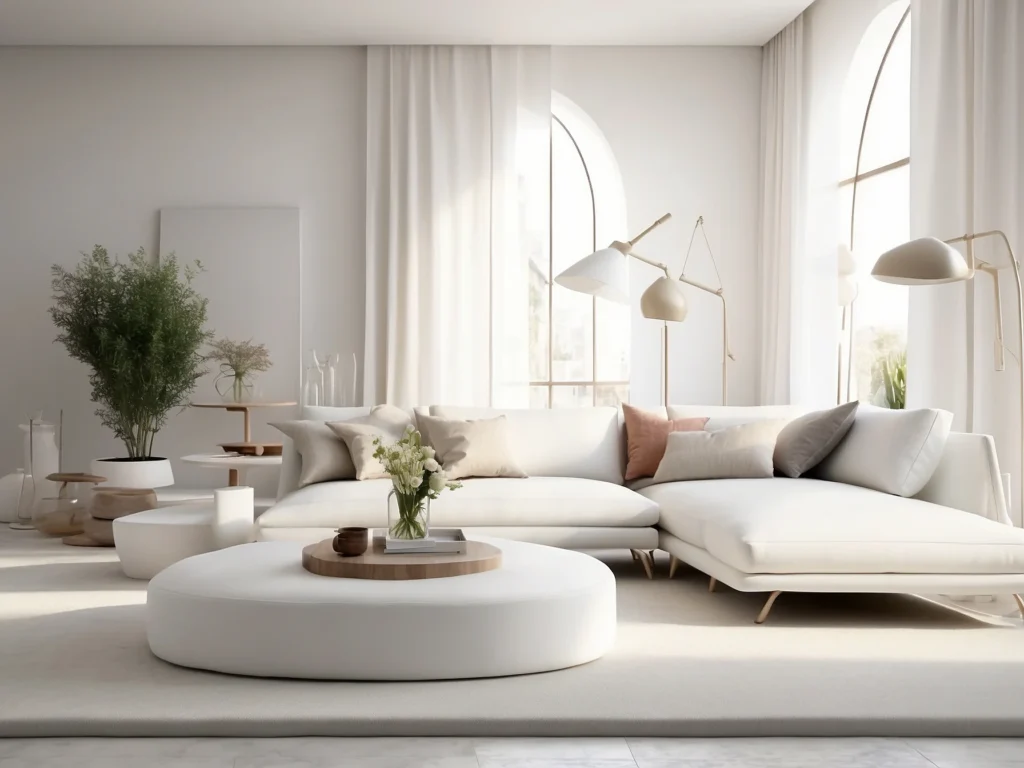 A bright, airy white living room can be the perfect blank canvas for layering bold colors, textures, and contemporary designs. White provides a fresh, neutral backdrop that allows other elements to shine. White can be adapted to any style from sleek modern spaces to cozy bohemian-inspired retreats.
Incorporating Modern Elements
There are many routes to design a fashion-forward modern white living room. Clean lines, geometric shapes, metallic accents, and asymmetrical balance create an edgy, contemporary vibe.
Low-Profile Furniture
Choose low-slung sofas and chairs to maintain an open, uncluttered look. Low, linear silhouettes help draw the eye horizontally, creating the illusion of more space. Nest a slender chaise or bench beneath picture windows to take advantage of the natural light.
Float sofas and chairs away from the walls to reinforce the airy, minimalist aesthetic. Position furniture at angles rather than flush against the perimeter. The negative space around each piece makes the room feel more expansive.
Metallic Accents
Incorporate metal elements to add sleek industrial edge. A stainless steel or chrome coffee table lends a modern, streamlined look. Or try a bold gold sofa table behind the couch as an unexpected pop of shine.
Metallic finishes also introduce eye-catching texture and dimension. Choose a hammered metal end table or riveted storage trunk as sculptural accent pieces. Use metal frames, legs, or bases on cabinets, consoles, and shelving for subtle metallic details.
Leather Furniture
Leather is another classic contemporary material that pairs beautifully with white. The rich texture and solid color ground the light, ethereal walls. A white leather sofa or set of chairs makes a sophisticated anchor piece. Or mix in leather poufs, stools or ottomans as accents.
Combine leather with lighter linens, wool blankets, and sheepskin throws to soften leather's harder edges. The contrast showcases both textures while promoting coziness.
Graphic Art Pieces
Abstract art is a perfect complement to minimalist decor. Seek out graphic prints, modern photography, canvas paintings, or graphic metal wall sculptures in brilliant colors. These striking focal points draw the eye while reinforcing the sleek aesthetic.
Black and white geometric artwork makes a particularly bold statement against white walls. Try clustering three to five smaller prints in asymmetrical arrangements for maximum impact.
Pops of Color
Painted accent walls, brightly colored furniture, and vivid objets d'art enliven the clean white backdrop. Opt for intense shade like crimson, cobalt, chartreuse or coral to make the color pop. Lucite and colored glass accessories also add translucent depth.
Use an unexpected pop of neon pink or lime green on a throw pillow or ceramic vase for playful contrast. Or paint one wall a dramatic saturated hue like inky navy or emerald green. The deep color frames the lighter space beautifully.
Floating Furniture Layout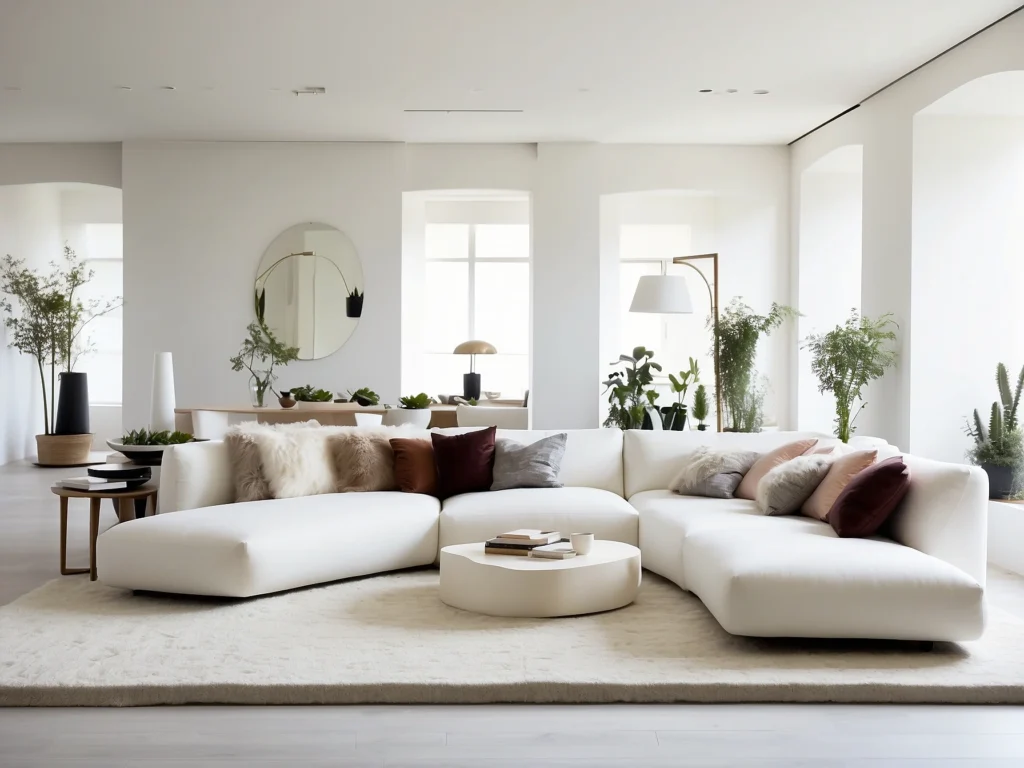 Avoid wall-hugging furniture arrangements in favor of floating layouts. Pull all seating, shelving, and tables away from the perimeter to cultivate an open, airy environment. The negative space around each piece invites movement and conversation.
Place the rug in the center of the room, then arrange furniture in balanced groupings. Leave ample floor space between each seating area or conversation circle to maintain an easy flow.
Have at least 18 inches between the rug and walls. More spacious rooms can accommodate up to 36 inches of breathing room. The expansive floor acts as a visual palette cleanser, keeping the space light and relaxed.
Unexpected Shapes and Angles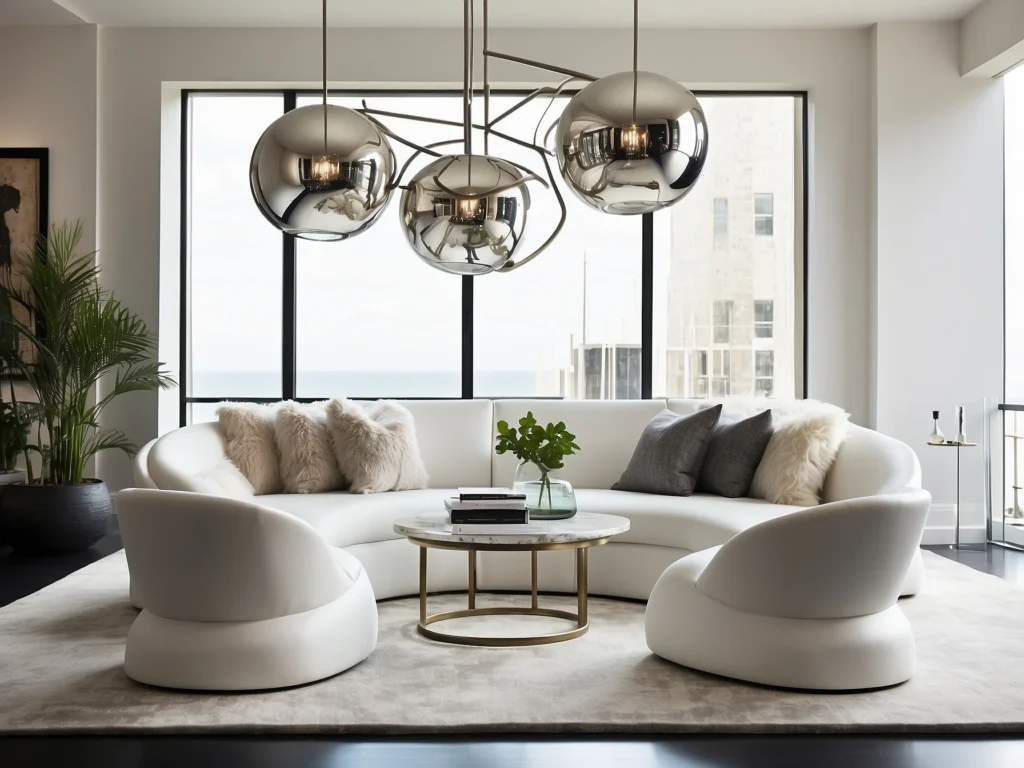 Incorporate unexpected shapes and asymmetric lines for visual punch. These unconventional silhouettes catch the eye amid minimalist surroundings.
Unique Coffee Tables
Coffee tables anchor seating arrangements while making a style statement. Choose a bold, unusual shape like a trapezoid, oval, crescent, or amoeba. Play with angles by placing the table diagonally across the rug.
An oversized round marble table provides an organic shape and gorgeous veining. For an industrial modern look, try a sleek glass parsons table. Or use concentric metal circles nested together instead of a traditional rectangle.
Sculptural Lighting
Make a sculptural statement with modern pendant lighting. Suspended bulb cages, sputnik chandeliers, and curved metal fixtures make artful centerpieces. Stagger different shapes at varying heights for an abstract installation.
Keep the fixtures streamlined and geometric to complement the contemporary style. Let them take center stage by leaving the surrounding walls and ceiling unadorned.
Angled Shelving
Linear wall-mounted shelving adds eye-catching asymmetry when arranged at an angle. The diagonal lines and staggered shelves make a sculptural display for books, objets d'art, and photos.
Mix different depths, ledge sizes, and materials like wood planks, glass, metal piping, or concrete blocks. The eclectic vignettes reinforce the modern aesthetic.
Concrete, Marble and Glass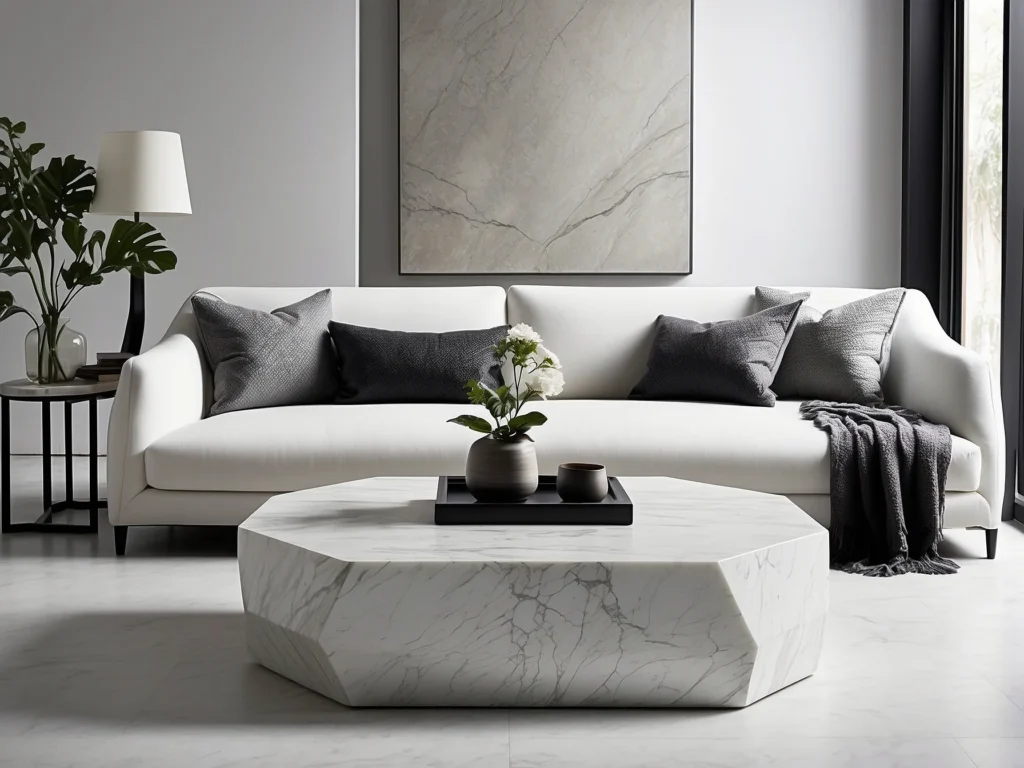 Hard surfaces like concrete, marble, and glass add gorgeous gray tones and distinctive veining. Their solid presence provides an earthy contrast to light white walls.
Concrete Coffee Tables
Concrete surfaces lend an organic, weathered look. Try a stained concrete rectangle coffee table with metal legs. Use a thick concrete slab on a metal trestle base for a bold industrial statement.
Cast concrete into organic freeform shapes or geometric cubes. The hefty sculptural pieces become focal points in their own right.
Marble Accents
Marble's distinctive veining provides depth and visual interest. Use marble on coffee and side tables, tray tops, vases, and objets d'art. Pair white Carrara marble with gray veining or dramatic black marble for striking contrast.
Subtle marble hexagon tiles make exquisite backsplashes behind sofa groupings. Or frame the fireplace with large marble tiles or slabs. The stone's innate elegance elevates any space.
Glass Lighting and Tables
Glass introduces invisible, transparent beauty. Hang bubble glass pendant lights for soft illumination and spherical interest. Use clear glass table tops to maintain an ethereal openness.
Cluster glass vases, candle holders, and objets d'art atop console tables and shelving. The transparent surfaces amplify light and reflections, making the room bright and airy.
Off-White Accents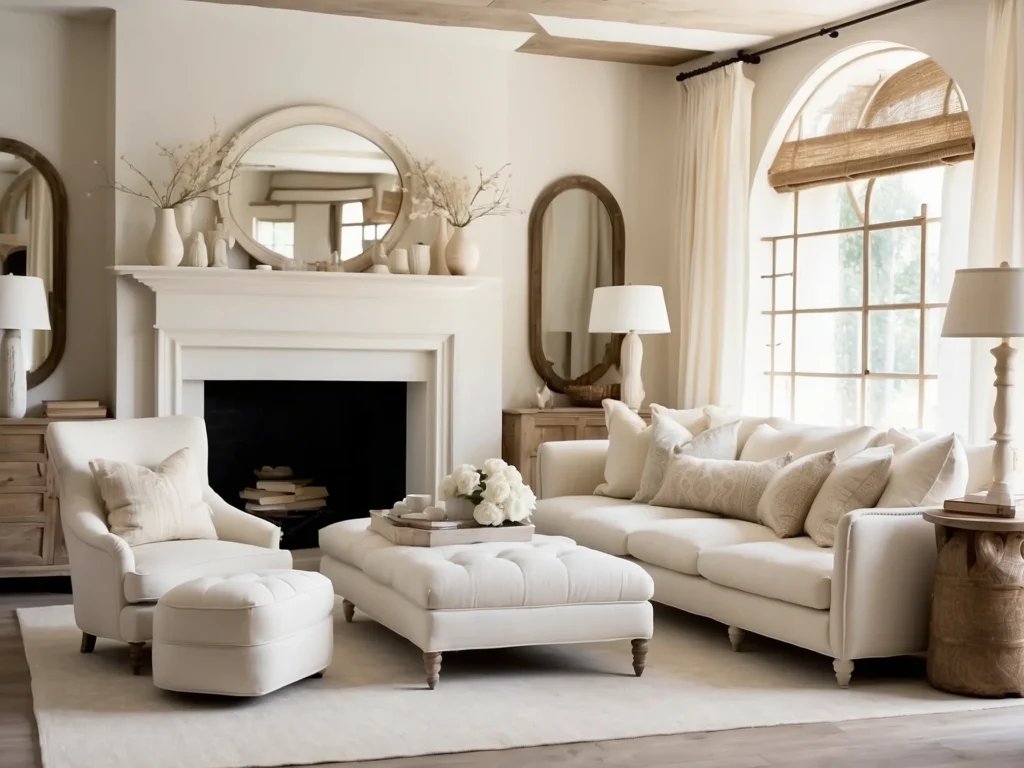 White walls don't have to mean stark bright white. Warm up the space by layering creams, ivories, buttermilk, and oatmeal accents. The natural off-white tones soften the backdrop for a cozy yet elegant look.
Mix Whites
Choose soft off-white paint colors like Swiss coffee or whisper white for the walls and ceiling. Then incorporate linen slipcovers, nubby throw pillows, and cosy area rugs in complementary ivory and cream tones.
Different shades of white add subtle depth and texture. But keep them within the same color family to maintain a coherent backdrop.
Pale Wood Tones
Pair off-white walls with light wood flooring and furniture to cultivate elegance. The porcelain and wood tones play off each other beautifully. Select a lightly stained oak floor or whitewashed pine planks to complement the walls.
Incorporate cream painted or pickled wood furnishings like sideboards, shelving, and four-poster beds. Accent with antique wood pieces for patina. The worn finish adds character next to creamy painted millwork.
Natural Textiles
Use textiles to establish a relaxed yet refined look. Adorn linen slipcovered sofas with embroidered ivory and cream throw pillows. Hang sheer champagne-colored curtains for softness and light control.
Layer natural fiber sisal or jute rugs for warm neutrals underfoot. Try a braided seagrass rug topped with sheepskin for cozy texture.
Vintage and Antique Finds
Aged elements embody timeworn charm. Display vintage botanical prints in antique frames atop whitewashed shelving. Roll out an antique Oushak rug with faded ivory patina.
Arrange collections of antique china on open shelving to showcase timeless beauty against a creamy backdrop. Allow the treasures' aged finishes to shine.
Incorporating Pops of Color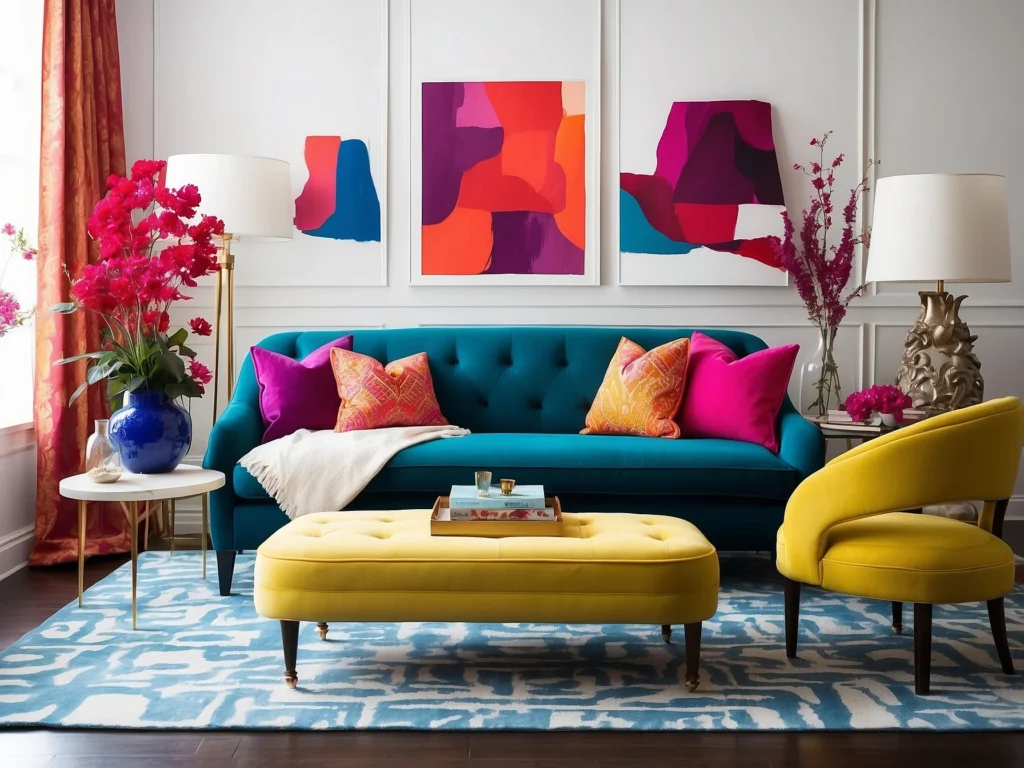 Pops of vivid color enliven an all-white scheme. Bold hues provide exciting contrast that makes the color and white backdrop "pop". Almost any vivid shade pairs beautifully with white, from deep jewel tones to bright neon accents.
Painted Furniture
Make a colorful statement by painting a single piece in a saturated hue. Try a sapphire blue velvet armchair, golden yellow leather bench, or glossy cherry red side table. Let the eye-catching accent be the room's focal point.
Or paint a console, hutch or buffet in a dramatic color like emerald or violet. Use it to anchor one wall and establish the color palette.
Vibrant Artwork
Abstract paintings, murals, and glass sculptures become artful focal points against white walls. Seek out brilliant jewel tones, vibrant florals, and colorful landscapes to establish a refreshing ambiance.
For playful whimsy, hang three to five brightly colored prints in a salon-style gallery wall. The eclectic art display pops against clean white walls.
Vases and Objets d'Art
Glass vases, ceramics, and decorative bowls provide small pops of color. Display them atop console tables, bookcases, mantels, or shelving nooks. Choose lacquered boxes, nature-inspired objets, or hand-thrown pottery in vivid gemstone hues.
Group items in odd numbers for visual interest. Keep them at varying heights and sizes while repeating color themes. The coordinated vignettes let colors shine.
Bright Rugs and Pillows
Anchoring rugs and plush pillows let you weave colors throughout the space. Try a Moroccan-style rug with brilliant jewel-tone motifs. Or use a graphic black-and-white printed rug for bold contrast.
Toss vivid throw pillows in persimmon orange, sapphire blue, or chartreuse green onto neutral sofas and chairs. Mix colors and patterns for a playful pop.
Fresh Flower Arrangements
Nothing enlivens a space like fresh blooms. Display vibrant bouquets of peonies, dahlias, roses, or exotic orchids as organic sculpture. The saturated petals heighten the senses.
Alternate blooms in glass vases and ceramic vessels on the coffee table, sideboard, and console. Coordinate colors for a cohesive sensory experience.
Incorporating Woods and Natural Elements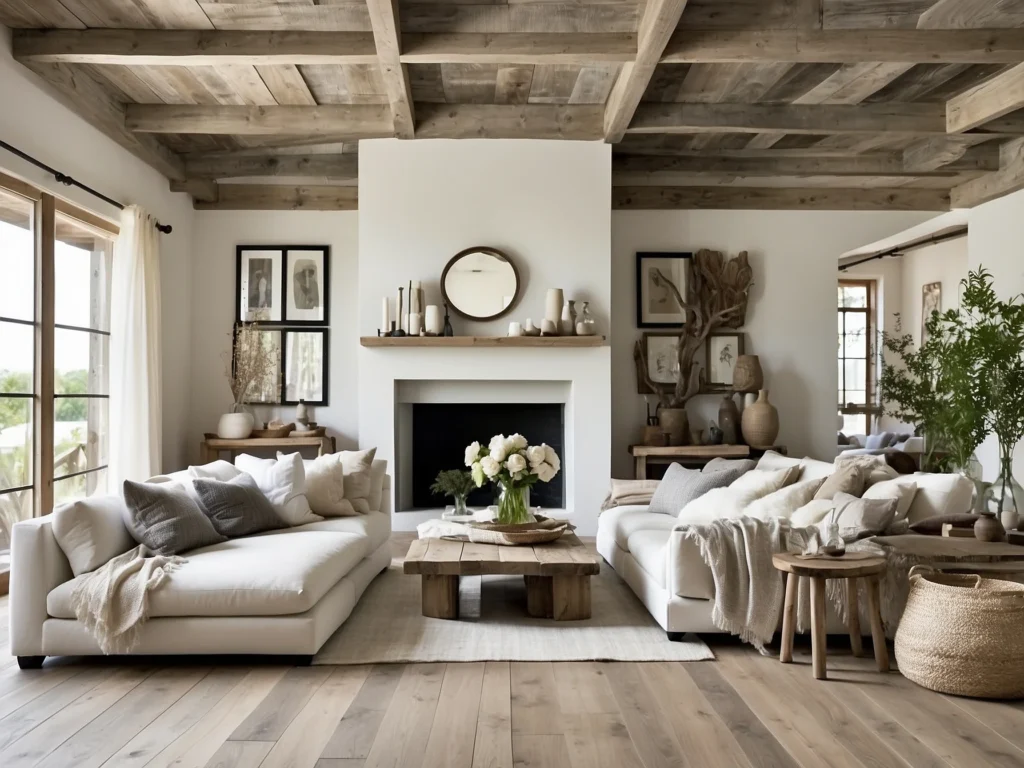 Wood furnishings, beams, and organic accents infuse warmth into an all-white scheme. Natural materials like cotton, linen, jute, and wool also provide cozy textures.
Wood Flooring
Wood or whitewashed wood flooring establishes cozy appeal underfoot. The planks' organic graining balances the smooth white walls. Try medium-toned European oak or bleached pine floors with subtle graining. The soft grayish brown tones complement both warm and cool whites.
For a beachy aesthetic, use weathered grey driftwood planks. The coastal ambiance keeps the look relaxed.
Wood Beams and Plank Ceilings
Exposed wood beams instantly provide organic texture overhead. Stained oak or pine rafters reinforce the rustic charm. For a chic industrial touch, paint beams black for drama.
Plank ceilings create the same warm, textural effect. Nail reclaimed barnwood boards horizontally across the ceiling, leaving them unfinished for a naturally weathered look.
Slipcovered Furniture
Cover sofas and lounge chairs in natural linen or cotton for laidback refinement. The slipcovers' crumpled texture feels approachable and inviting.
Choose sturdy linen in ecru, oatmeal or cream. Solid shades show off natural fibers' subtle color variations. For contrast, add throw pillows in nubby wool or woven textures.
Textural Rugs
Layer natural fiber rugs for earthy appeal underfoot. Try jute's golden-brown hue or sisal's nubby beige texture. Top with a plush wool rug and add sheepskins for cozy warmth.
Incorporate faded antique Oushak rugs for patina. The worn patterns and aged colors provide depth. Let the rug establish the color palette with its muted jewel-tone motifs.
Woven Accents
Use woven accents and textural ceramics to cultivate cozy ambiance. Display woven baskets beside chairs to hold blankets and books. Drape woven roman shades on windows for softness.
Add hand thrown pottery, carved wood bowls, and hammered metal vases for organic contrast. The combination celebrates natural materials.
Creating an Intimate Feel in a Small Space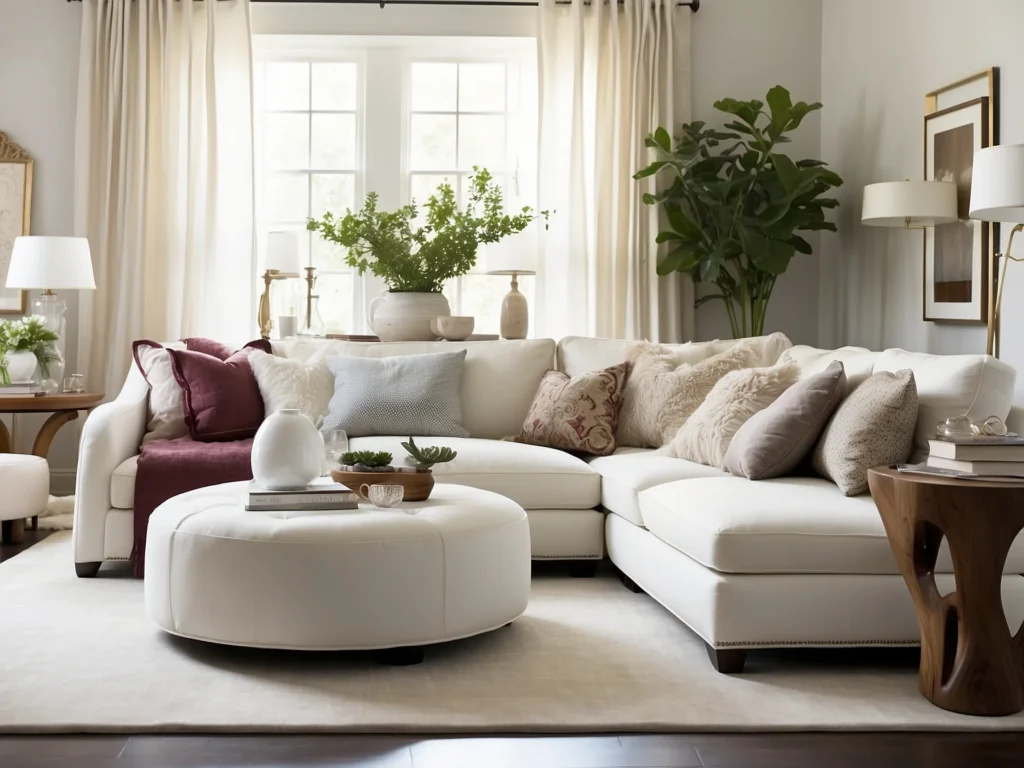 White can make a small room feel sterile and cold. Warm up a compact area using smart space planning and cozy layers. Clever furniture arrangements, multi-purpose pieces, and plush textures help a petite white living room feel welcoming.
Arrange Furniture Creatively
Avoid bulky pieces and slim silhouettes to maintain an open feel. Place chairs and sofas on angles rather than flush against walls. Float all furniture away from the perimeter.
Nestle a narrow slipper chair beside a slim armchair. Use a small-scale settee or loveseat instead of a bulky sofa. The lighter, airier pieces keep sightlines open.
Add Multifunctional Elements
Opt for furniture that serves double duty. Round ottomans offer extra seating and hidden storage. Nesting coffee tables provide surface space then tuck away when not in use.
Try a storage bench or trunk that doubles as coffee table seating. Use dual-purpose media cabinets with shelving above. Every piece should maximize the compact space.
Incorporate Mirrored Furniture
Strategically placed mirrors visually expand the room's dimensions. Use a mirrored console behind a sofa to double the perceived space. Hang an oversized mirror above the fireplace for added depth.
Mirrored furniture also lightens the look. Try a mirrored side table that reflects its surroundings, a glamorous Art Deco drinks trolley, or a lucite and glass coffee table. The transparent surfaces keep rooms feeling airy.
Add Sheer Curtains
Floor-to-ceiling sheers soften hard edges and let in natural light. Ivory linen or cream colored curtains diffuse harsh shadows and make rooms feel airier. Ripple the panels dramatically or keep them streamlined.
Hang sheers wider than the window frame to exaggerate the perception of height. Extend rods past the edges of the window trim. The billowing fabric helps expand the proportions.
Use One Rug
Anchor the seating area with one central rug. Choose a narrow vintage rug sized to just fit under the furniture's front legs. The limited rug coverage makes the room feel more spacious.
Or place a round braided rug beneath a circular coffee table. The contained footprint keeps floor space open around the perimeter.
Avoid Clutter
Pare down decor to the essentials. Use sleek storage ottomans and baskets to contain clutter out of sight. Keep surfaces and walls minimalist.
Display a curated art collection and accessories like vases, bowls and candles. Group in threes for visual impact without clutter.
Creating a Relaxed Bohemian Aesthetic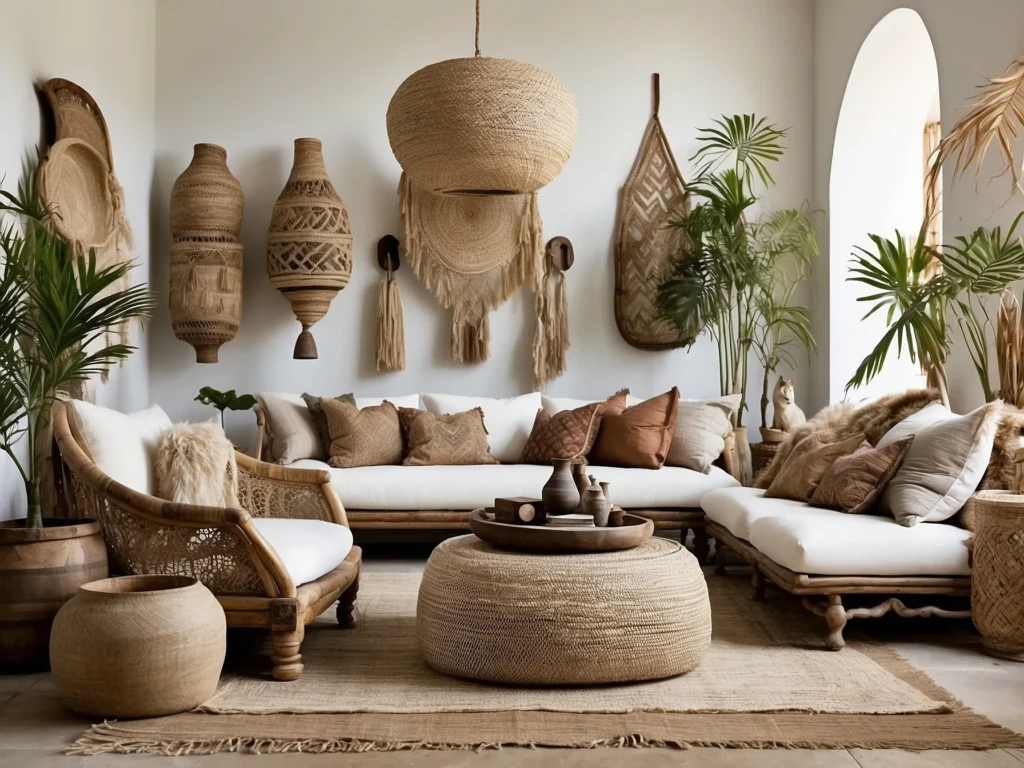 A white backdrop provides the perfect neutral canvas for bohemian style. Layer rugs, pillows, drapes and macrame in soft off-whites. Then weave in woods, rattans, Global textiles and indoor plants for laidback romance.
Mix Natural Materials
Choose furnishings and accents that highlight raw, organic textures. Jute rugs, linen drapes, seagrass chairs, wooden stools, and rattan tables blend beautifully against white walls.
Allow wood finishes to weather naturally for a patina that echoes vintage finds. Top with sheepskins and mohair throws in cream and ivory for cozy tactile layers.
Add Global Accents
Incorporate accents and artifacts from around the world that celebrate cultural traditions. Try Turkish water pipes, Moroccan wedding blankets, Indian embroidered pillows, Balinese baskets, and tribal African masks.
Arrange collections of handicrafts from your travels to exhibit their well-worn elegance. Allow their colours and patinas to shine against clean white walls.
Macramé Wall Hangings
Display macrame wall hangings and plant holders to establish laidback bohemian flair. Grouped together, the woven wall sculptures create an organic focal point without cluttering the space.
Choose natural cotton and jute fiber hangings in soft ecru and cream tones. The neutral earthy textures complement the white walls beautifully.
Woven Rugs
Layer vintage Moroccan Beni Ourain rugs for sophisticated depth underfoot. The muted whites and ivories interweave beautifully against the floors. Top with fuzzy sheepskins for the ultimate bohemian floor covering.
A rag rug's faded colors embody relaxed charm. Roll it out beneath a rough-hewn wooden coffee table to define the space.
Draped Curtains
Soft, billowing curtains cultivate a carefree vibe. Choose breezy linen or cotton panels in off-white. For an exotic flair, use embroidered Indian cotton swags above windows.
Ripple sheers behind the curtains to filter light elegantly. Keep the panels long and draping for a relaxed, romantic silhouette.
Infusing Laidback Coastal Charm
Crisp white establishes the perfect beach house backdrop. Natural weathered woods, billowing linens, and hints of oceanic blues embody breezy seaside style. The casual combination feels relaxed yet refined.
Whitewashed Wood Furnishings
Whitewashed furnishings like consoles, sideboards and dining sets evoke sun-bleached driftwood. Pair distressed white finishes with natural wood tones to cultivate coastal ease.
Leave some surfaces salt-washed and unfinished for a weatherworn look. The soft patina ties into vintage nautical elements like worn ropes, nets, and shells.
Natural Linens
Linen slipcovers, pillows, and drapes epitomize coastal living. The natural fibers breathe easy in humid weather and acquire a rumpled texture that screams vacation.
Stick to solid ivories, creams, and oatmeals. Weave in stripes and colorful ikat patterns on accent pillows and ceramic garden stools for contrast.
Woven Accents
Incorporate woven baskets, rattan settees, and wicker trunks for natural beachside texture. Use seagrass and abaca rugs layered over driftwood floors.
Hang woven roman shades high above windows for an unfussy look. Display coiled rope bowls and baskets for nautical flair.
Weathered Patinas
Allow wood furnishings to acquire a weathered gray patina over time. The rubbed, whitewashed finishes evoke coastal cottages. Try a reclaimed elm wood coffee table or antique whitewashed cabinet.
Or recreate the look with new pieces. Gently sand paint and finish off chairs, tables and consoles to mimic timeworn charm. Imperfections tell the most compelling stories.
Soothing Blues and Greens
Pale aqua, sky blue, and seafoam green are the quintessential beach house colors. Use them sparingly to evoke ocean and beach hues. Try throw pillows in airy linens, ceramic table lamps, or printed curtains.
Look for watercolor paintings, driftwood wall sculptures, or nature photography in these soothing tones. The colors relax and refresh.
Natural Elements
Finally, fill the space with natural details that celebrate the sea. Display weathered shells, coral, sea glass, and driftwood sculpture.
Incorporate sand tones and textures with jute rugs, linen drapes, rattan furniture, and ceramic garden stools. The organic layers create a comfortable seaside retreat.
Sophisticated Glamour with Black and White
For dramatic flair, pair crisp white with inky black accents. The classic color combination exudes chic sophistication. Varying textures and patterns keep the look intriguing. Mirrored surfaces and metallics add glitzy allure.
Black and White Photography
Collection of black-and-white photography establishes an artistic foundation. The high-contrast images make a graphic statement against white walls. Try black-framed prints for added punch.
Salon-style gallery walls create captivating focal points. Cluster a mix of black-framed prints across large expanses for artistic ambiance. The coordinated arrangement makes a bold impact.
Bold Black Furnishings
Paint a glossy black console, sideboard, or dining hutch for drama. The deep hue pops against the white backdrop. Or try black upholstered armchairs and sofas with chrome legs.
Industrial chic coffee and side tables with black iron bases bring commanding presence. Mix with lighter wood and lucite to soften the look.
Graphic Rugs
Incorporate a stark graphic rug to anchor the space. Black-and-white zigzag, chevron, or buffalo check rugs establish an eye-catching foundation.
For a playful twist, try a polka dot or harlequin-patterned rug. The whimsical prints infuse cheer into the color scheme.
Mirrored Furniture
Mirrored furniture instantly illuminates and expands any black-and-white scheme. Use a glamorous mirrored drinks trolley, acrylic coffee table, or lucite dining chairs.
Place a mirrored console behind the sofa to double the light and dimensions. Hang an oversized beveled mirror to amplify the effect. Mirrored surfaces let black and white shine.
Metallic Accents
Metallics add illuminating accents and much-needed warmth. Try gold candlesticks, a brass floor lamp, copper tableware, and silver trays. Hammered metal side tables provide artisanal texture.
A bold gold sofa table or geometric metal wall sculpture becomes the third element that ties black and white together elegantly. Metallics balance the contrasting scheme.
Creating a Unified Look with Walls, Trim and Ceilings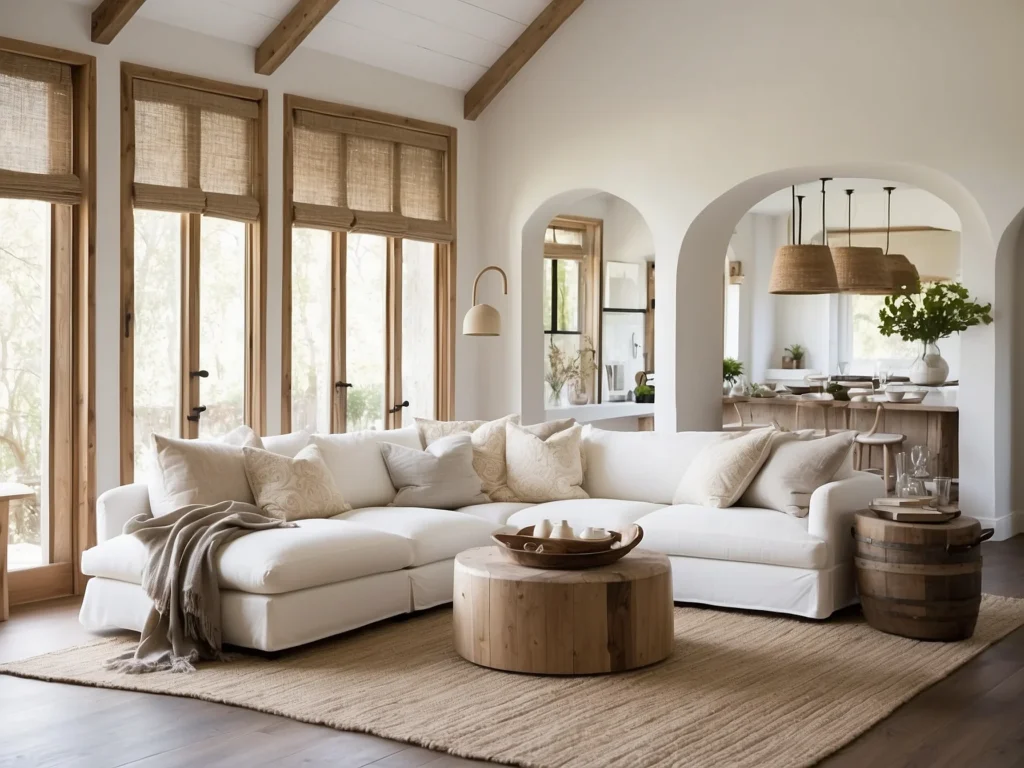 Painting walls, trim, and ceilings the same crisp white can make a room feel stark and ungrounded. Warm up an all-white scheme with natural wood accents, plenty of texture, and pops of color.
Choose Warmer White Hues
Bright white walls read as flat and clinical. Opt for warmer off-whites like Swiss coffee, bamboo, or ivory instead. The soft tones feel more welcoming.
Pair walls with creamy crown molding and ceiling for sophisticated cohesion. Trim framed in the same white provides clean lines.
Incorporate Wood Elements
Add wood accents to infuse warmth and texture into all-white interiors. Wood paneling, beams, ceiling planks, and floors provide organic contrast.
Try stained oak tones or weathered driftwood finishes. The natural grain grounds the space in coziness and comfort.
Use Plenty of Texture
Rough-hewn woods, nubby rugs, billowing linens, and woven accents prevent an all-white interior from feeling flat. Natural tactile layers create depth and dimension.
Incorporate ceramic vessels, rattan baskets, concrete coffee tables, and leather ottomans. The mix of materials adds rich contrast.
Add Pops of Color
Vivid art, pillows, throws, and fresh flowers liven up white-on-white interiors. Jewel-toned persimmon, cobalt, and chartreuse make the backdrop "pop".
Paint one accent wall in a dramatic color like navy or emerald green. The moody hue spotlights the lighter walls and ceilings beautifully.
Incorporate Greenery
Plants instantly provide fresh color in an all-white scheme. Display succulents, snake plants, philodendrons, and palms in ceramic pots on consoles, mantels, and tabletops.
Floor plants like fiddle leaf figs and bird of paradise make striking vertical statements. The sculptural greenery enlivens the space.
Frequently Asked Questions
How do you make a white living room feel cozy?
Incorporate soft, natural textures with nubby throws, sheepskins, shag rugs, and linen curtains.
Add warm metallic accents like brass, gold, and nickel.
Use warm white paint colors with a hint of cream or yellow rather than stark brights.
Place furniture in intimate groupings around a focal point like a fireplace.
Add shelving and layered lighting for ambiance.
How do you style an all-white living room?
Choose furniture with subtle contrasting finishes like a white lacquered coffee table and linen upholstered sofa.
Incorporate light natural wood tones for warmth.
Add plenty of textural elements like woven baskets, ceramic vases, velvet pillows.
Display greenery in white planters for pops of life.
Use a large colorful area rug as an anchor.
Arrange furniture to promote conversation like facing sofas or chairs.
Include personal mementos and layers of lighting.
Is a white living room a good idea?
White living rooms offer many benefits but require awareness to prevent them from feeling overly stark or clinical.
Pros of a white living room:
Feels clean, fresh, and spacious
Bright and light-filled ambiance
Provides a neutral backdrop for decorating
Pairs beautifully with any color scheme
Suits any style from modern to traditional
Cons to be aware of:
Can feel cold or sterile without warm textures
Dirt and stains show up easily
Needs proper lighting to avoid a washed-out look
Can feel bland without thoughtful pops of color
With careful attention to lighting, textures, wood tones, colors and personal layers a white living room can feel welcoming, cozy and timeless.
Summary
A white living room provides a gorgeous neutral backdrop that transitions seamlessly between styles. The light airy walls let you layer in color, texture, and personality. From sleek contemporary spaces to cozy bohemian retreats, white adapts beautifully.
Keep white interiors warm and welcoming using natural woods, billowing linens, and vivid pops of color. Sculptural lighting, bold artwork, and unexpected shapes add modern edge. Global textiles and vintage rugs bring relaxed elegance.
Whatever your aesthetic, a white living room lets you put your stamp on a light, airy canvas. Follow these tips and ideas to create a uniquely you space filled with the colors, finishes, and furnishings you love. Let your style shine against a white backdrop that cultivates beauty, serenity and you.