Window valances are decorative fabric treatments for aesthetic and practical purposes in home decor. Usually made of cloth, valances are placed above curtains or drapes to conceal unattractive hardware and window framework. Valances are an integral part of window treatments and can greatly enhance the look and feel of any living room.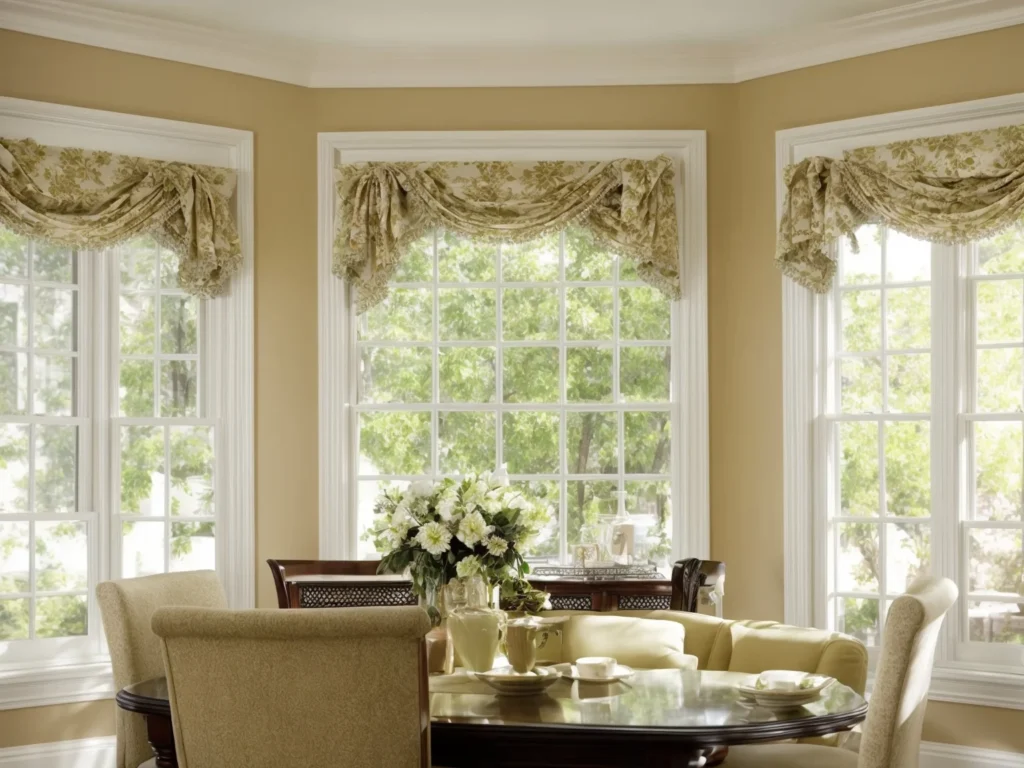 In recent years, valances have evolved from their traditional role as merely "window dressing" into an essential decorative element that adds warmth, depth and character to a space. With the wide range of styles and designs available today, valances are no longer relegated to formal living rooms but can lend a stylish touch to casual spaces.
This article will provide an in-depth look at valances – their history, evolution, types, aesthetics, functions, and how to choose the right valances for your living room decor. We'll also explore the timeless debate between traditional versus modern valances and offer tips on creatively mixing valances with other window treatments.
The Evolution of Window Valances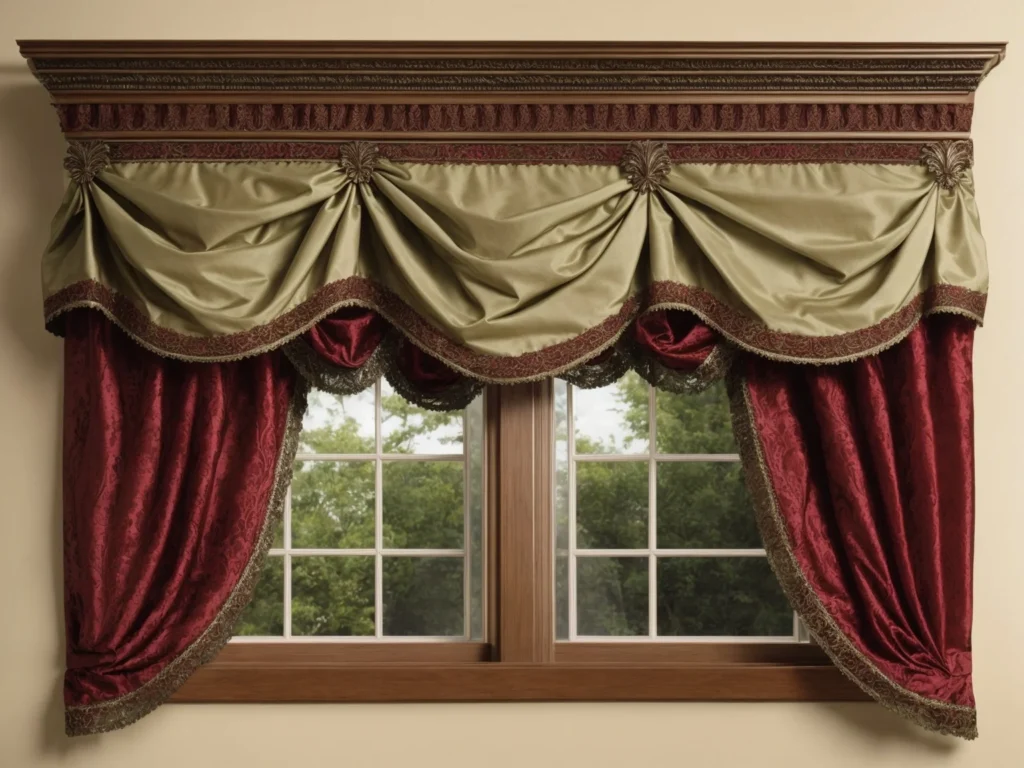 Valances have been used in home decor for centuries, but their styles and designs have evolved.
A Brief History
The earliest valances can be traced back to Ancient Rome where heavy, elaborately draped fabric was hung above windows and entranceways as symbols of dignity and sophistication.
In Medieval Europe, practical fabric canopies evolved into more decorative wooden cornices adorned with carvings and molding. Luxurious brocade valances became popular during the Renaissance era as ornate displays of wealth.
In the 18th century, swagged and jabotted valances were fashionable additions to windows, blending well with the Rococo and Neoclassical styles of the time. During the Victorian period, decorative wooden pelmets and heavily layered, opulent valances were used alongside equally embellished curtains.
After World War II, minimalism and functionality became the priority. Simple, tailored valances gained favor over their more ornamental predecessors.
The Modern Valance
Today's valances are often sleek and understated. The over-the-top Victorian aesthetic has given way to a preference for clean, contemporary lines.
That said, valances can still reflect traditional elegance or follow modern trends, based on personal taste and decor style. The variety of colors, patterns, and fabrics available means there's a valance to complement almost any living room.
Types of Valances
Valances can be broadly categorized into tailored and decorative styles. Tailored valances have crisp, structured shaping while decorative valances employ soft fabrics and ornate effects.
Here are some of the most popular valance styles:
Swag Valances
Swag valances feature a graceful, draped effect created by fabric gathered and fixed at regular intervals. The swagged fabric can be left free-hanging or connected to a lambrequin decorative rod. Swags impart a soft, romantic vibe.
Cascade Valances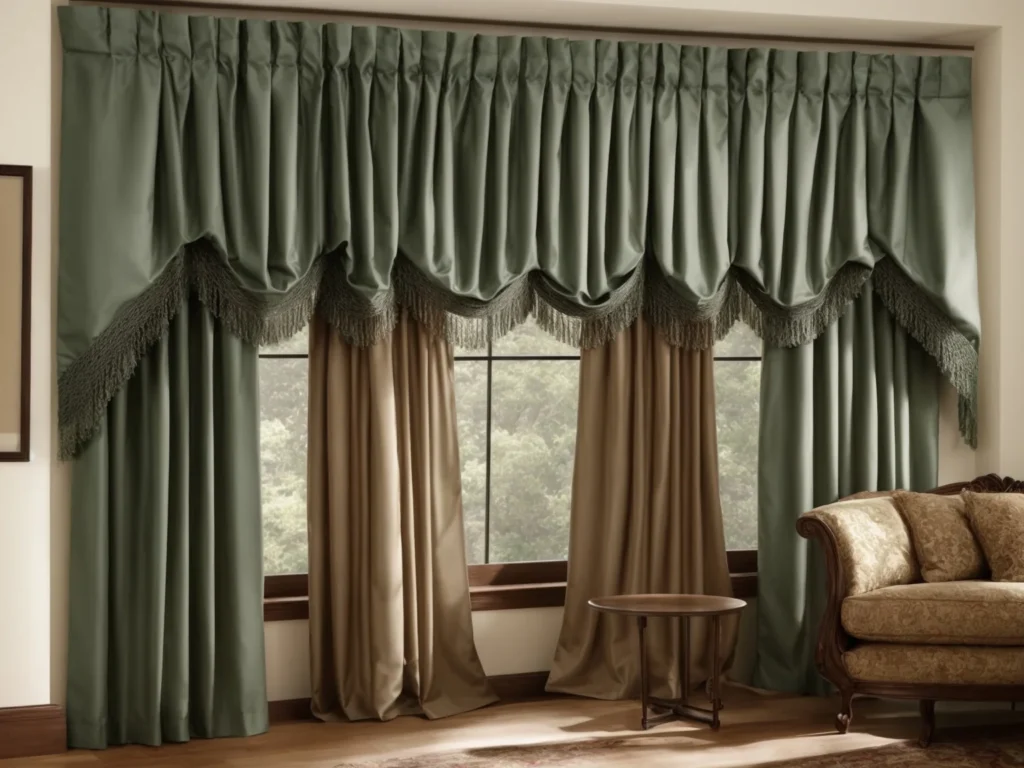 Cascade valances are a variant of swags, with one end left loose to cascade down in a series of vertical folds. The cascades can be different lengths and widths to create an asymmetrical look. They work especially well for large windows in modern spaces.
Jabot Valances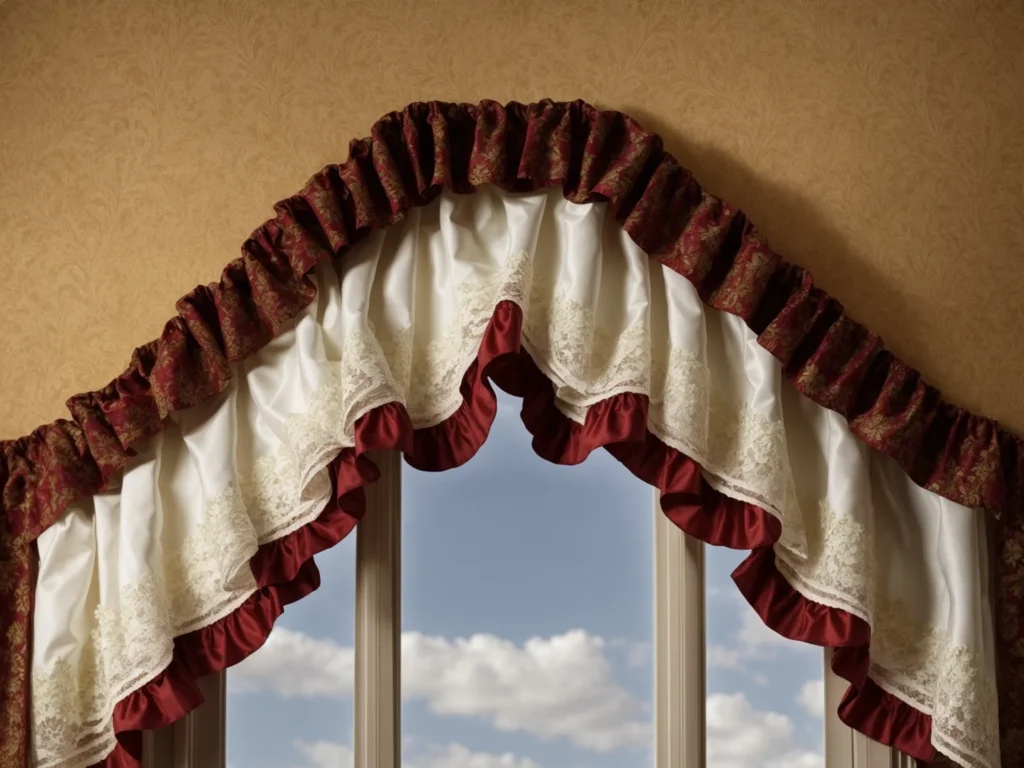 Jabots are ruffled trims along the edges of a valance that create a delicate, lacy effect. They can be short or long, uniform or irregular. Jabots impart old-world charm and go well with cottage-style decor.
Tailored Valances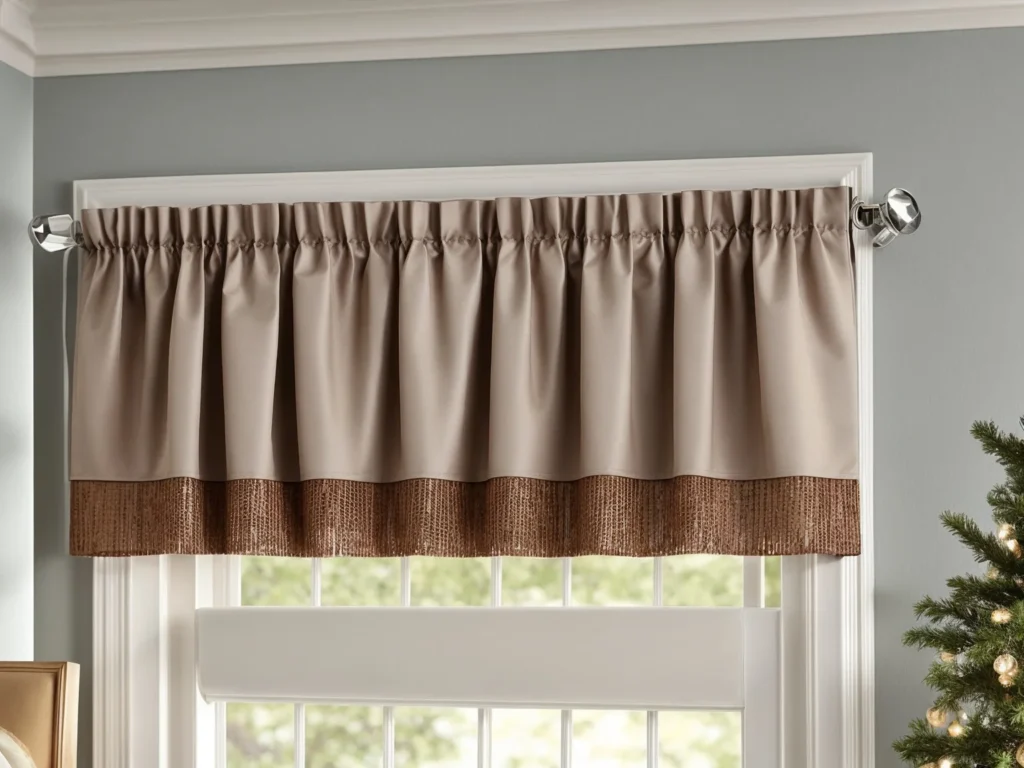 These are crisp, structured valances with well-defined shaping. Common styles include the pencil pleat, inverted pleat, and shaped valances. They have a neat, polished look that complements traditional and modern spaces.
Balloon Valances
Balloon valances are gathered at intervals to create a pouf effect. They are formed using stiff interlining so the poufs maintain their shape. Balloons can be dramatic accents at the top of a window or used as soft pelmets.
The Aesthetic Appeal of Valances
One of the primary roles of window valances is to serve as decorative focal points that enhance the visual appeal of any living room.
Adding Color, Texture, and Pattern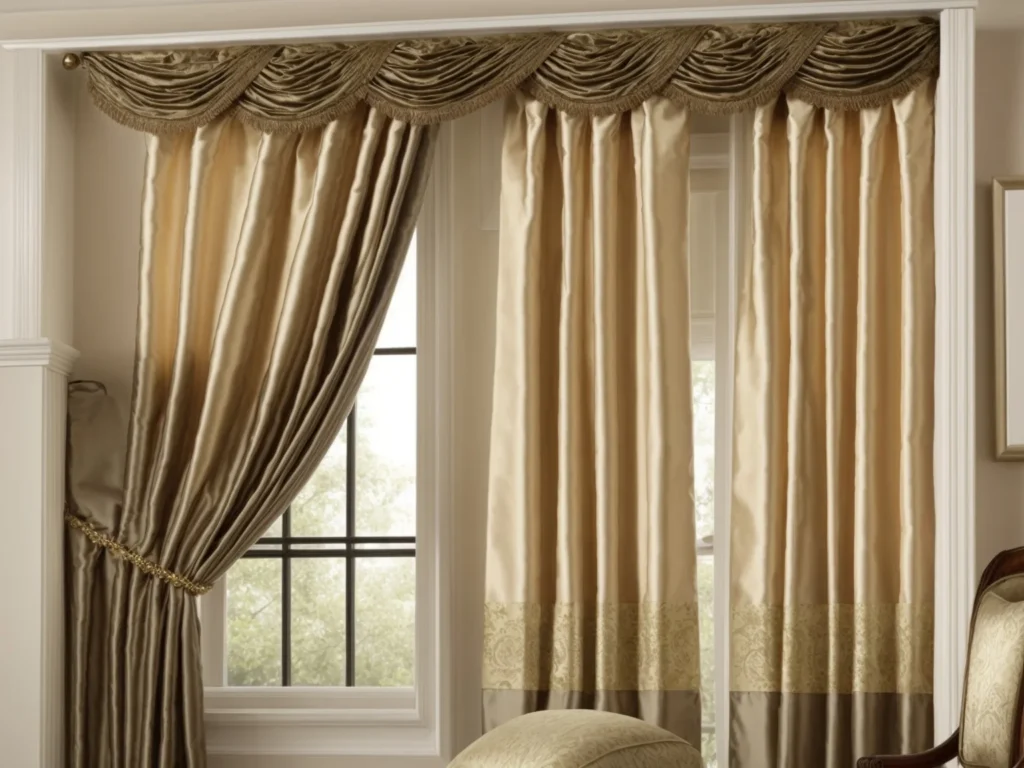 Valances allow you to integrate beautiful fabrics like silks, velvets or sheers into your decor. Luxurious textures and eye-catching patterns on valances can elevate mundane windows into works of art.
Vibrant solid colors or dramatic prints on valances can also set the color palette for the rest of the room. Match or complement existing furnishings for a cohesive look.
Framing the View Beyond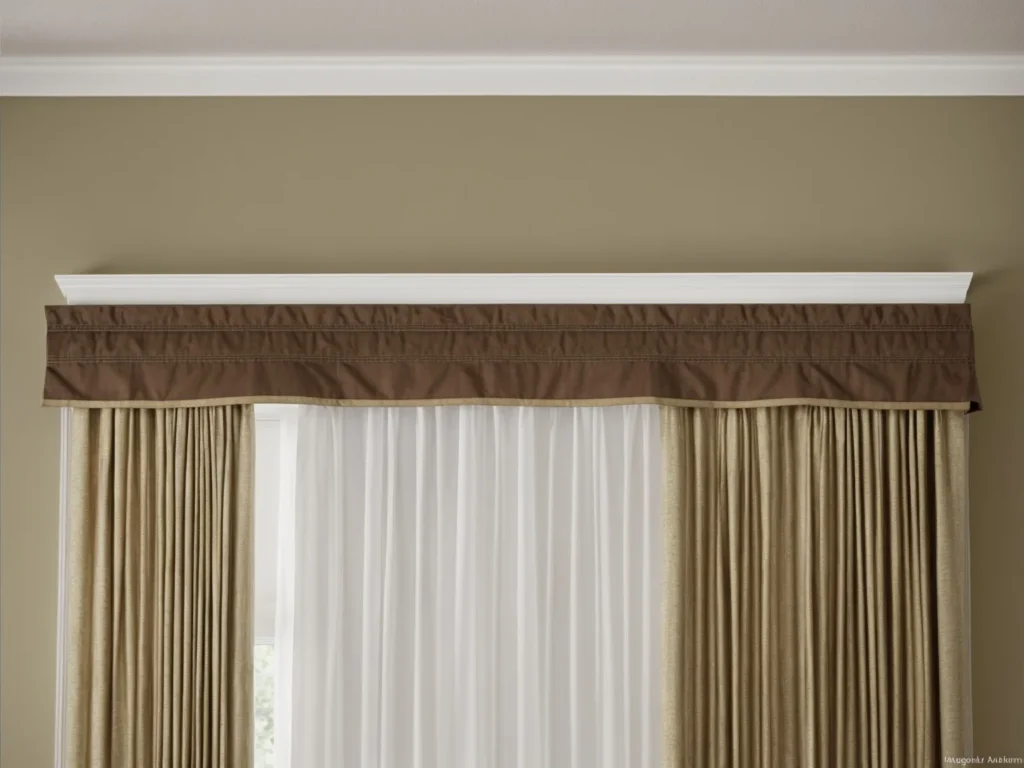 Well-designed valances beautifully frame your window space. Drawing the eye upwards, valances provide a visual stopping point before the view outside. This gives the windows a polished, finished look.
You can also use valances to alter the height or width of a window, making it appear more balanced and proportional to the room. Extending valances past the window frame makes the window seem wider.
Adding Architectural Interest
Valances add architectural depth and detail to windows. Tailored valances with crisp lines and shapely silhouettes contrast nicely with a typical window's horizontal and vertical lines.
Soft, draped valances impart a touch of neoclassical grandeur. Jabots, swags and cascades create undulating, asymmetrical interest. Valances lend windows almost any architectural style desired.
Reflecting Your Decor Personality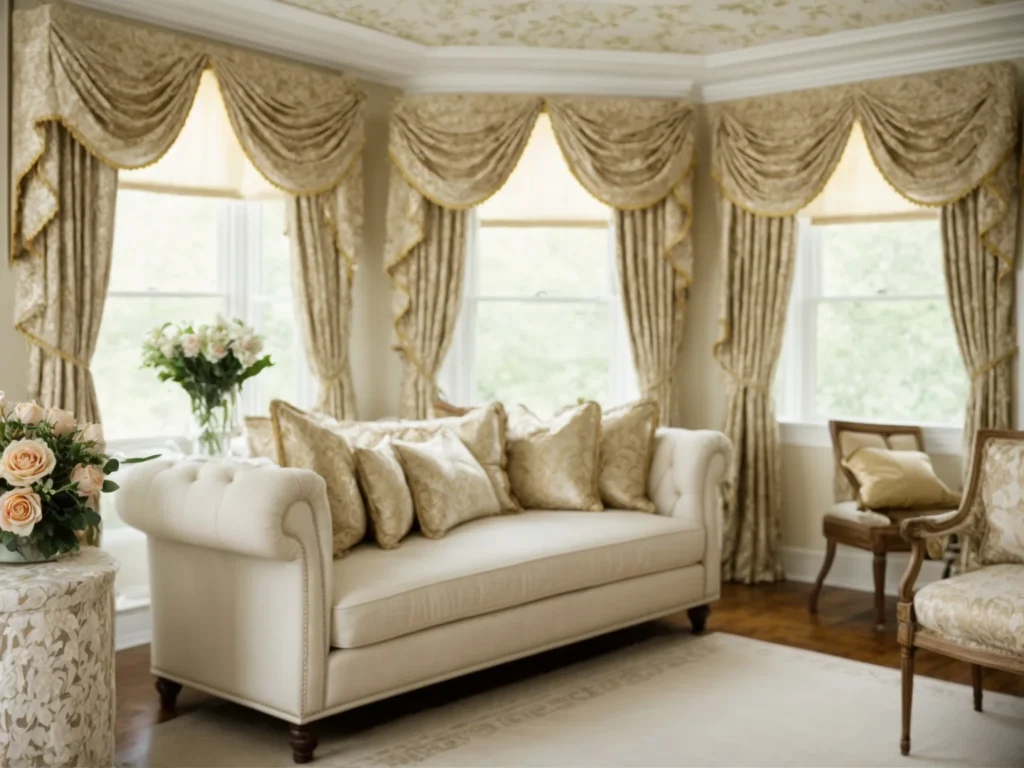 Valances ultimately allow you to imprint your unique decorating sensibility onto a space. Traditional rooms can sport ornate, opulent valances while contemporary spaces may feature sleek, geometric designs.
Cottage-chic rooms could have breezy, casual swags and romantic florals. The options are endless for making valances a true reflection of you.
Practical Uses of Valances
While valances serve an aesthetic purpose, they also have some practical functions.
Concealing Hardware and Framework
One of the most useful aspects of valances is their ability to cover up unattractive window elements like hardware, brackets, and framework. Valances provide a tidy, streamlined look by hiding fixed overhead blinds, curtain rods and messy hanging mechanisms.
Insulation and Light Control
Valances from lined or interlined fabric can provide extra insulation around drafty windows. This helps retain heat in winter and block sunlight in summer.
When layered with blinds or curtains, valances improve light control by preventing harsh direct sun from entering a room. Blackout valance fabrics also completely block out light for bedrooms.
Noise Reduction
Heavy valances made from thick fabrics can reduce outside noise in rooms facing busy streets. Valances absorb sound better than plain windows or blinds.
Enhancing Window Treatments
Valances complement and enhance the effect of other window treatments like curtains, blinds and shutters. They frame and bring together the look, imparting a polished finish.
Valances also protect curtains and shades from sunlight damage. And they streamline the visual clutter of layered treatments.
Modern vs Traditional Valances: Are Valances Still in Style?
A perennial debate among decor enthusiasts is whether valances are outdated and old-fashioned or still trendy and modern. The truth is, valances can be either, depending on personal taste and the style selected.
The Case for Traditional Valances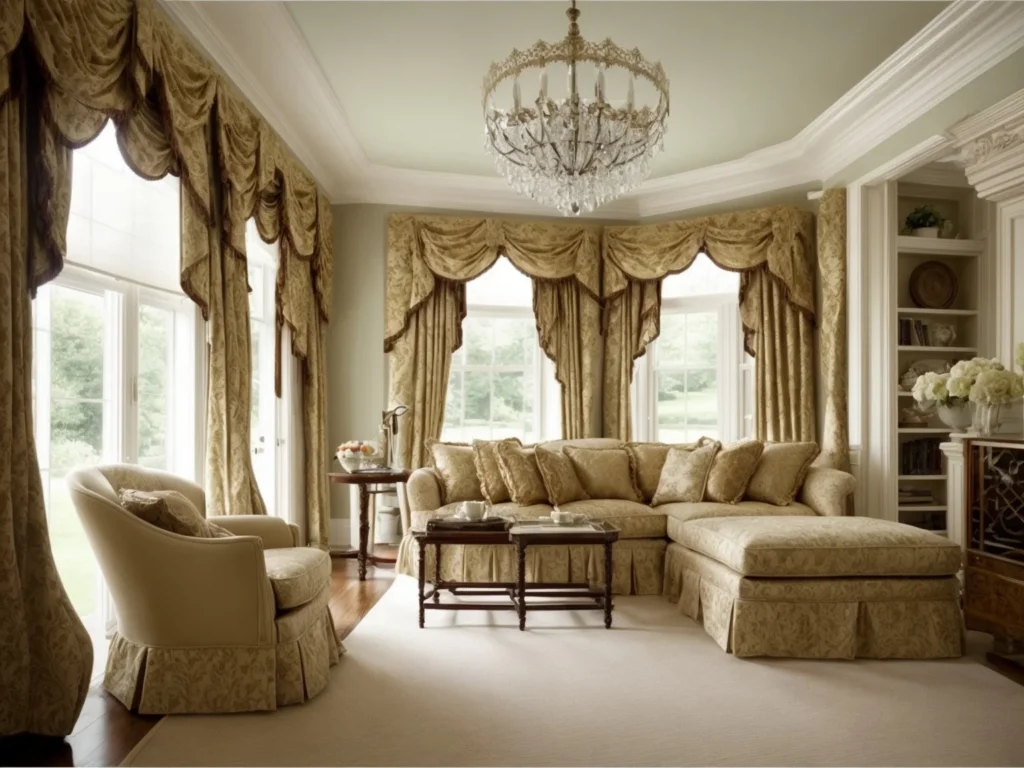 Those who consider valances dated often picture frilly, overdone Victorian or Laura Ashley-style valances that epitomize "granny chic". Such valances may indeed appear stuffy and old-fashioned in a contemporary setting.
However, more streamlined traditional styles with classic clean lines can exude timeless elegance. For period homes, ornately detailed valances in rich fabrics maintain historical architectural integrity.
Ultimately, rooms decorated in traditional or vintage styles can achieve a refined, not fuddy-duddy look with the right valances.
The Case for Modern Valances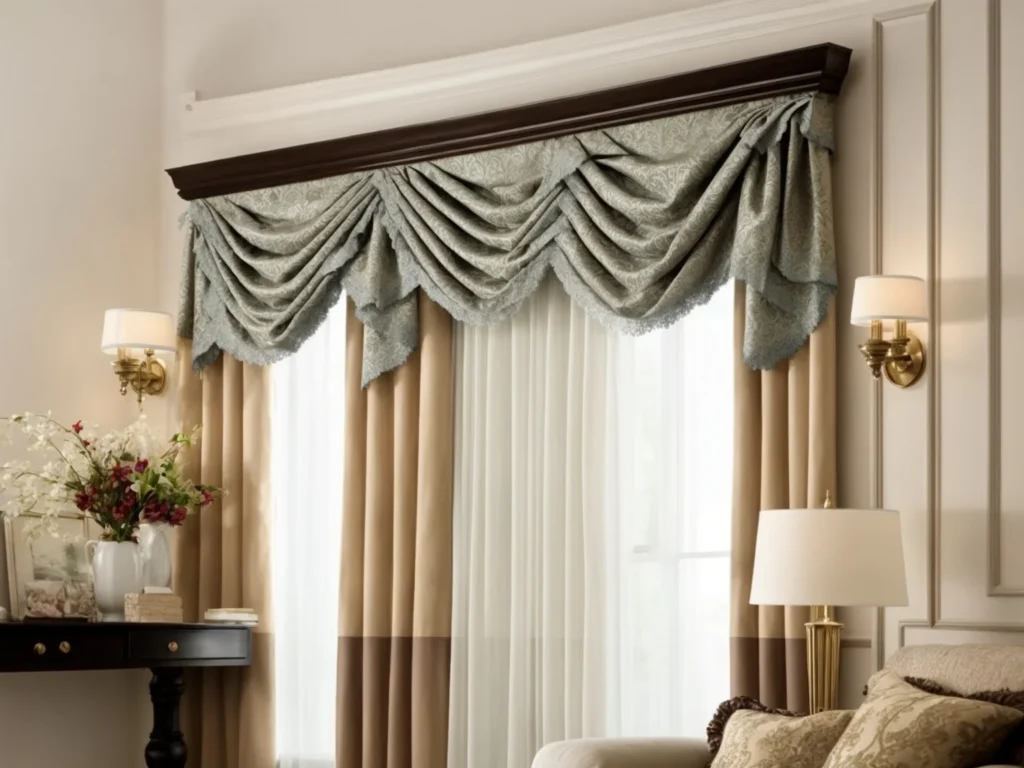 While lavish theatrical valances may be passe, the minimalist tailored valances dominating today's interiors prove the modern relevance of this accessory.
Sleek contemporary valances complement mid-century or industrial spaces beautifully. New innovative styles like graphic-print valances and edgy cascades update the look.
When combined with unadorned curtains or roman shades, the valance imparts an understated elegance, not old-world ornamentation.
Valances need not be restricted to chintz and ruffles. With imaginative contemporary iterations, they remain an easy way to inject style into a room.
Blending Old and New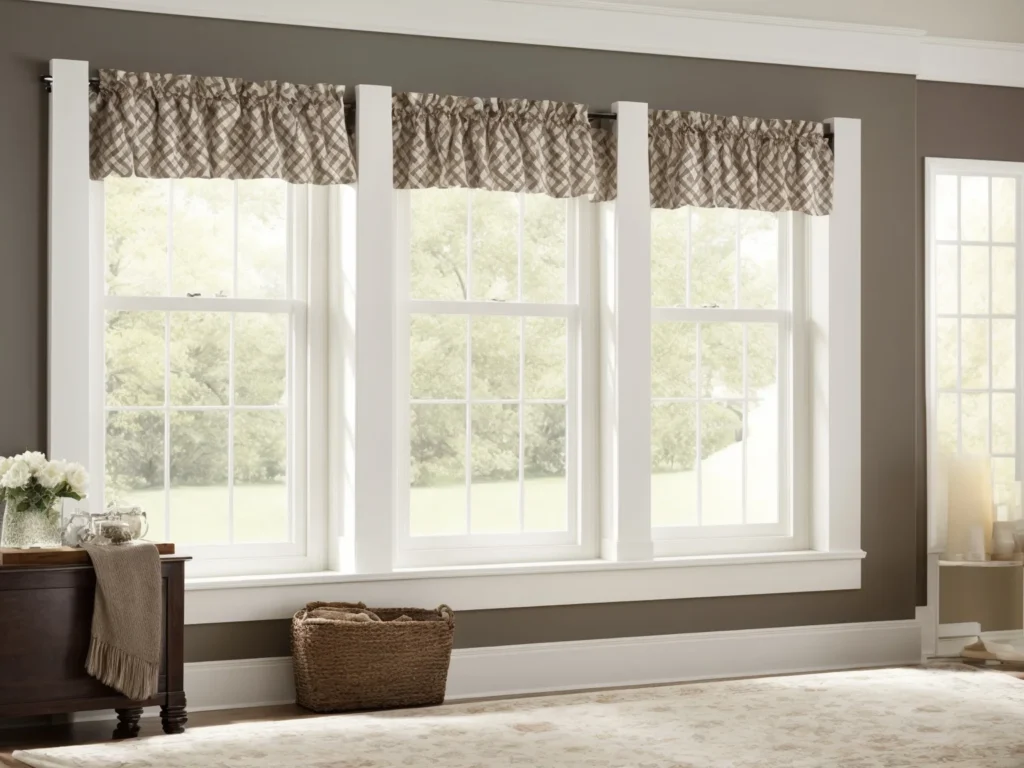 The lines between old and new are often blurred in interior design. While you may aspire toward a sleek modern aesthetic, you might still crave the warmth and softness of traditional accents.
The great thing about valances is their ability to bridge this gap. A tailored valance with clean lines adapts well to modern rooms. While touches like jabot trim or subtle swagging add a note of classic charm.
You can also blend historical and contemporary valance styles within a room for an eclectic dynamic feel. There are no hard and fast rules.
Choosing between traditional and modern valances depends on your sensibility and the mood you wish to create. Valances are so versatile they can fit right in anywhere.
Layering Window Treatments with Valances
While valances look fabulous, designers often layer them with other window treatments like curtains, shades or shutters. Layering allows you to combine the practical and decorative strengths of different treatments.
Curtains and Valances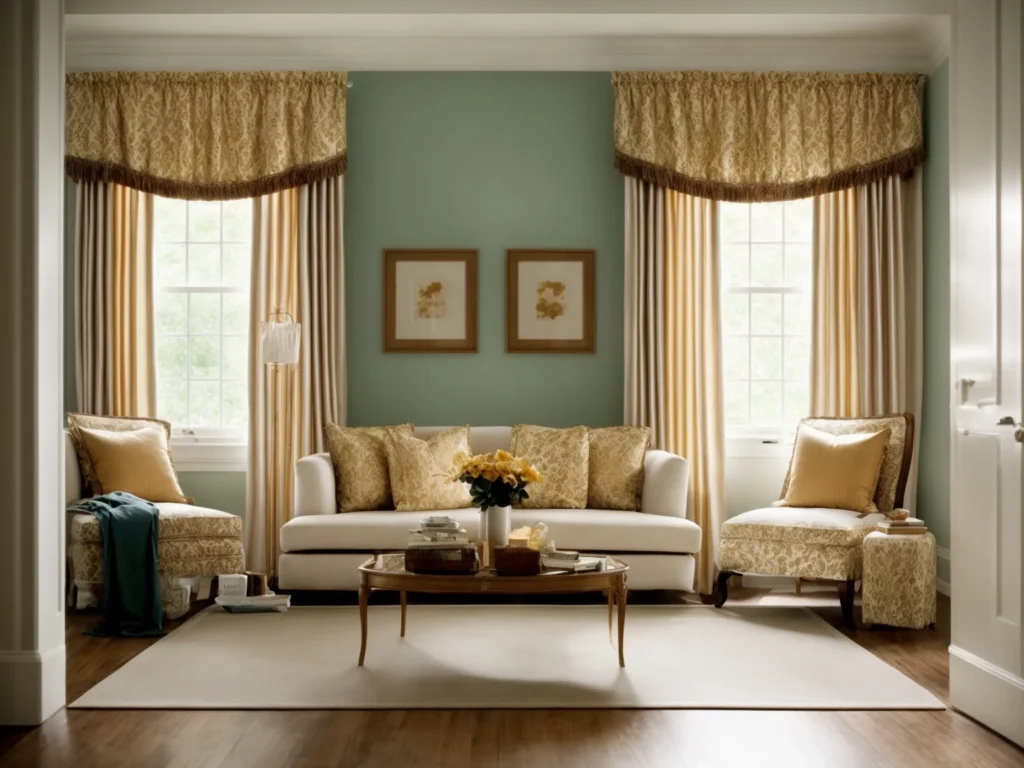 This is a classic combination for good reason. A curtain or drape's horizontal line contrasts beautifully with a valance's vertical shape.
Floor-length curtains add softness and warmth while the valance frames the window crisply. Choose sheer curtains to allow daylight oropaque drapes for total privacy.
Make sure the valance fabric complements but doesn't match the curtains exactly. Coordinate colors and patterns instead.
Blinds and Valances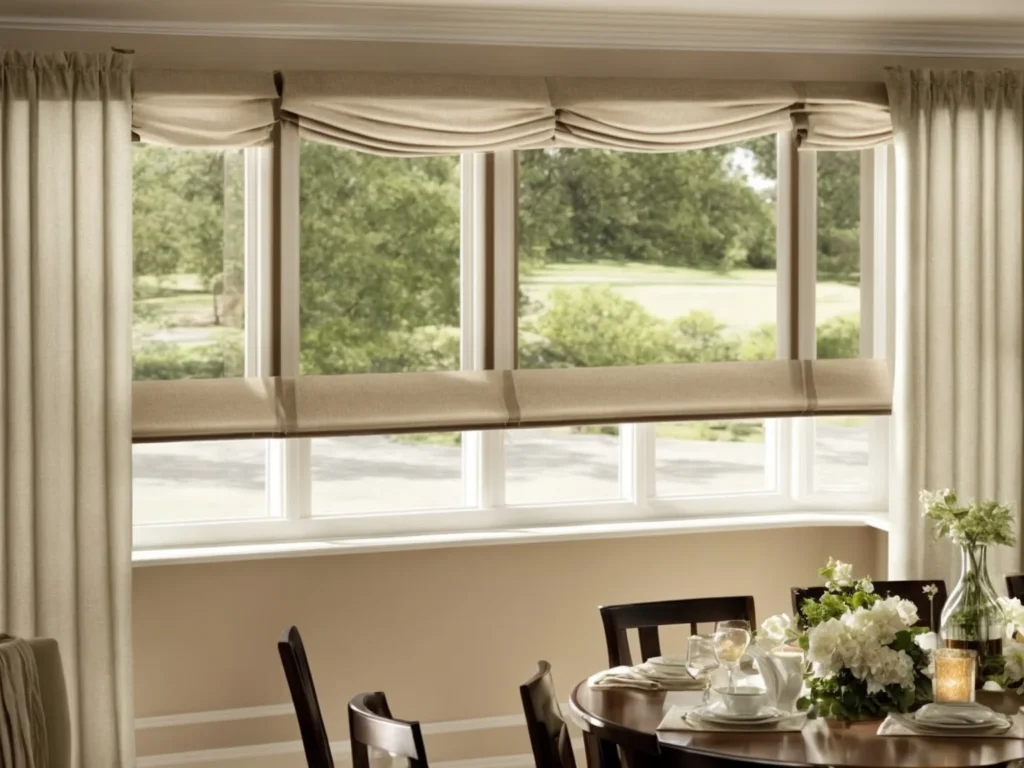 Blinds offer adjustable light control and privacy along with sleek minimalist appeal. Add a valance on top to conceal the blind hardware and soften the linear look.
Tailored or balloon valances work best with standard roller shades. To match fancier wood or faux-wood blinds, consider swagged or jabot-edged valances.
Shutters and Valances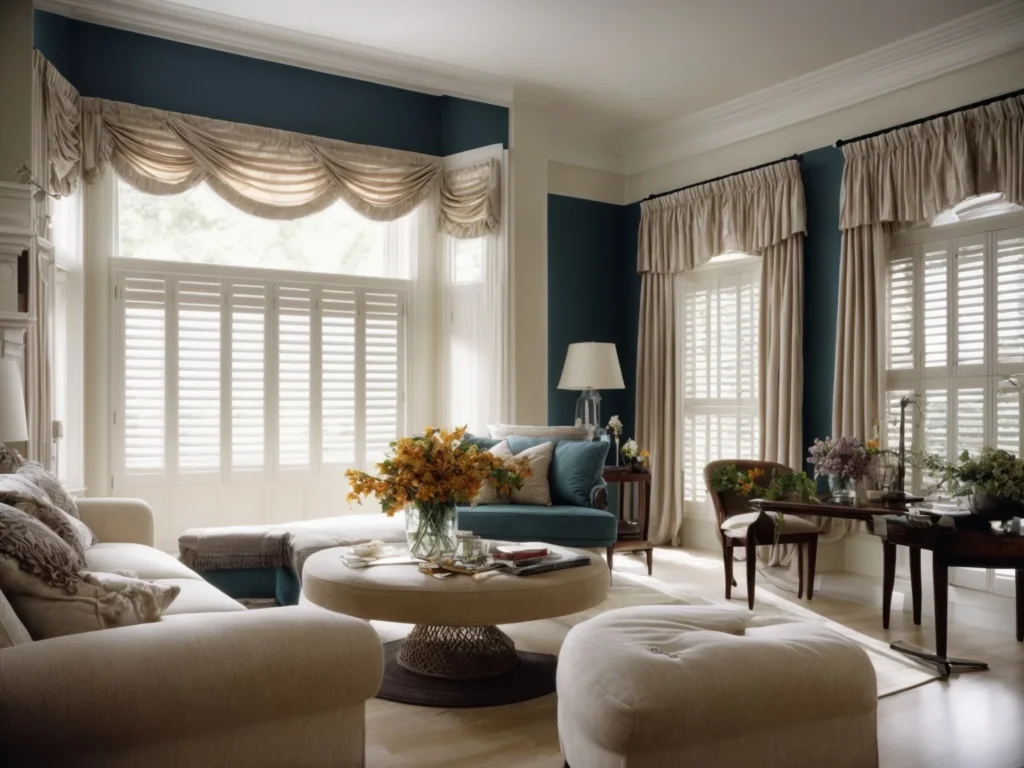 Interior shutters are popular for their architectural elegance. But the slatted design leaves the top portion of windows exposed. A valance neatly finishes off the look.
Choose a shaped valance that echoes the shutters' clean lines. Add drapery side panels for a stately plantation window effect.
Valances for Different Window Sizes
The size and shape of your living room windows should guide your choice of valances. While almost any style can be adapted to fit, some options are better suited to small or large windows.
Valances for Small Windows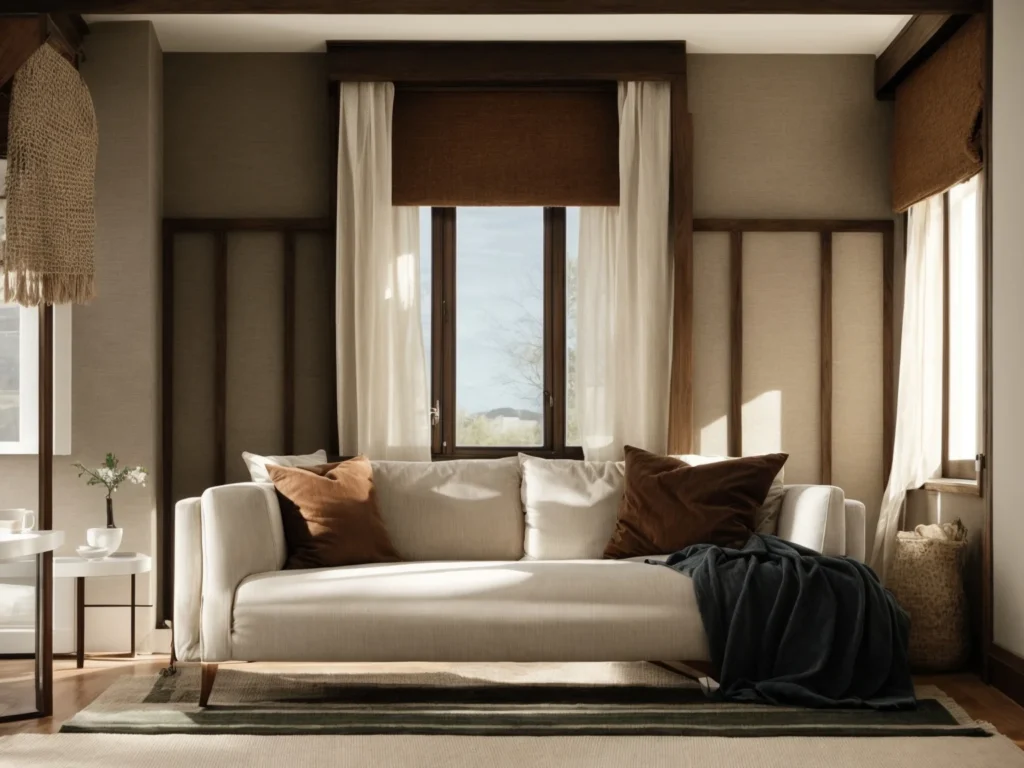 Avoid massive, oversized valances on small windows as this could make them seem dwarfed. Opt for discreet tailored valances or mini swag valances.
Add width with side panels or layer sheer curtains underneath. Use lighter, brighter hues to give the illusion of larger windows.
Valances for Large Windows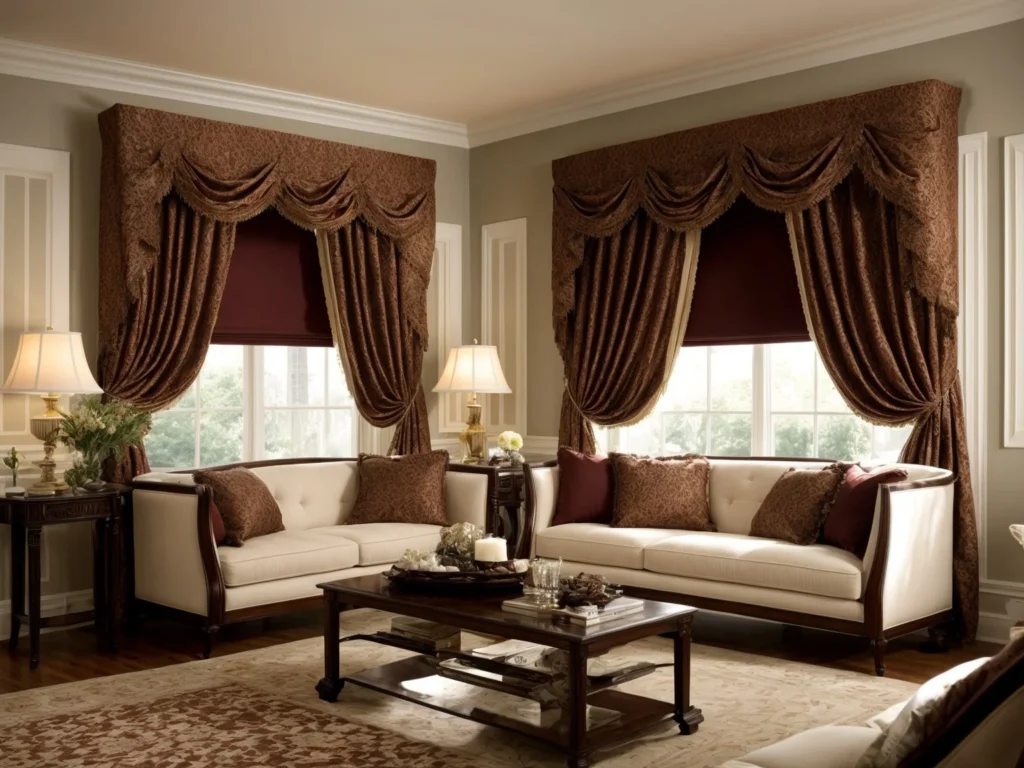 Large windows require bolder valances that adequately fill the space without looking undersized.
Tailored valances with stacked headers add architectural interest. Pair them with floor-length curtains for drama.
For a soft look, full swag valances with cascades or jabots suit the grand scale. Wide jabots down the sides of the window also widen the appearance.
Large spaces can handle dark or intensely patterned valances while small windows look best with lighter colors and designs. Proportion is key.
Valances for Bay Windows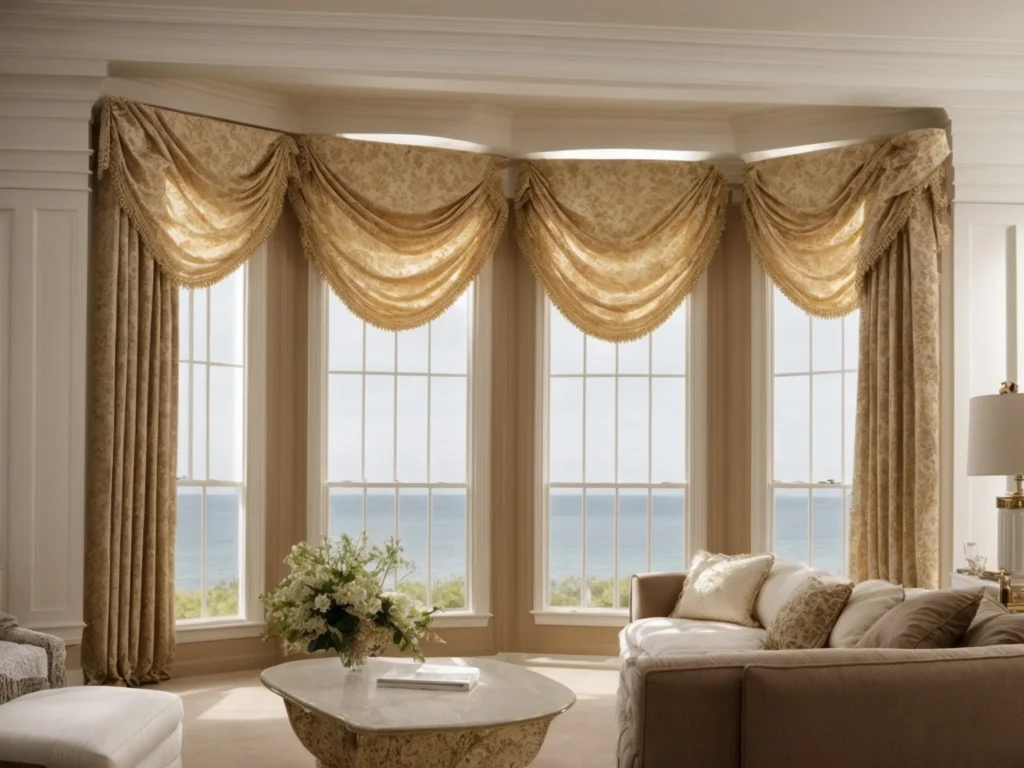 Bay windows with their sloped sides and angular shaping require creatively adapted valances. Combine tailored valances across the three sections to maintain continuity.
Make the middle valance wider and more eye-catching. For a cohesive look, repeat the same fabric across the bay.
You can also treat each bay window section separately like three distinct windows. Doing one swag, one jabot and one tailored valance could work beautifully.
Valances for Arched Windows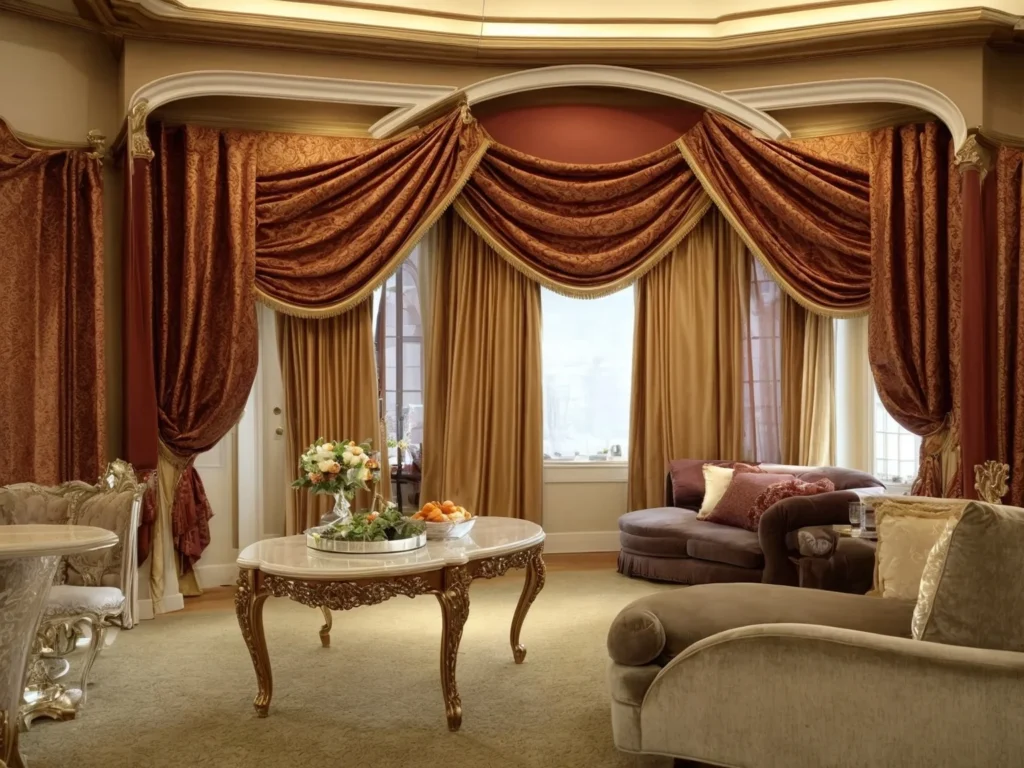 Using a shaped valance that curves up towards the center accentuates the arched form. Soft swagged designs also complement arched windows nicely.
Avoid boxy, angular valances that clash with the arched shape. Tailored valances could look out of place unless their headers are molded into subtle arches.
Match the valance's width to the window's width so it fully fits within the arched opening. Extending a straight valance beyond the curve destroys the aesthetic.
Installation Tips for Hanging Valances
Once you've selected the perfect valances for your living room windows, you must install them properly for the desired visual effect. Follow these tips:
Measure Carefully
Take extremely precise measurements of your windows including width, height and irregularities like arched tops or angled bays. Add a few extra inches to the width and length to account for the headings and returns.
Mount Correctly
Mount the valance above the window molding or any existing hardware you wish to conceal. For floor-length curtains underneath, mount the valance so the bottom hem falls at least 3 inches above the curtain rod.
Create Proper Returns
Returns are the side pieces of a valance that give it a tailored, finished look. Returns should extend past the window frame by 2-3 inches on each side.
Allow Proper Header Space
The header is the upper part of the valance above the fabric area. A 3-4 inch header ensures the top of the drapery doesn't get crushed into the mounting brackets.
Anchor Securely
Reinforce mounting brackets with anchors for heavier ceiling-mounted valances. High-quality double-sided mounting tape often suffices for lighter rod-mounted valances if applied properly.
Achieve the Right Volume
Use proper interlining and heading techniques to create the desired softness or crispness. Softer valances may need extra gathering and fullness in the fabric.
Check Proportions
Stand back and evaluate if the valance proportions suit the window and room size. Re-adjust and re-hang if needed.
You can easily install custom, professional-looking valances with the right skills and practice. Referring to online resources and tutorials will also help immensely.
Conclusion
Window valances have come far from their practical beginnings as fabric canopies for ancient Romans. Today, they play an integral role in interior design – framing windows, beautifying rooms and reflecting personal style.
When chosen carefully and tailored to your windows, valances can transform any living space from mundane to magnificent. They needn't be restricted to only formal parlors or chintzy traditional rooms.
With some creativity, they can lend character equally well to family rooms, sunrooms or bachelor pads too. The effectiveness of valances lies in ensuring the style and proportions are harmonious with the overall space.
So don't relegate valances to the decorating dust heap just yet. Reimagined with a contemporary twist, these classic accents are still indispensable in modern interiors. Let your imagination run free with the incredible options available today. Your living room windows will thank you for it!