Cherry wood is a gorgeous, warm-toned wood that can add a rich, elegant feel to a bedroom. With reddish-brown hues ranging from golden honey tones to deep mahogany, cherry wood has become an increasingly popular choice for bedroom furniture.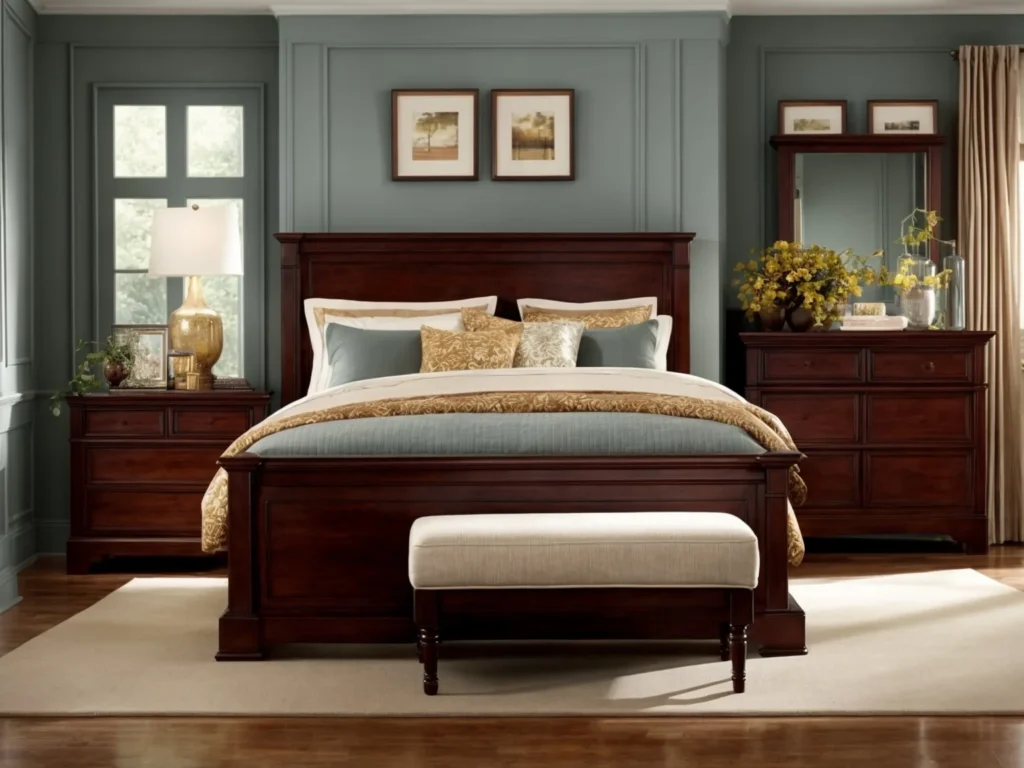 When decorating a bedroom with cherry wood furniture, it's important to choose colors that will complement and enhance the beauty of the wood. The wrong color choices can clash with the undertones of the cherry wood and leave the space feeling too bold, busy, or dated.
The right colors will allow the beauty of the cherry wood to shine while still creating a cohesive and welcoming bedroom retreat. Whether you prefer muted neutrals or crisp brights, here are the best color pairings to consider for your cherry wood bedroom furniture:
Soothing Neutrals That Complement Cherry Wood
White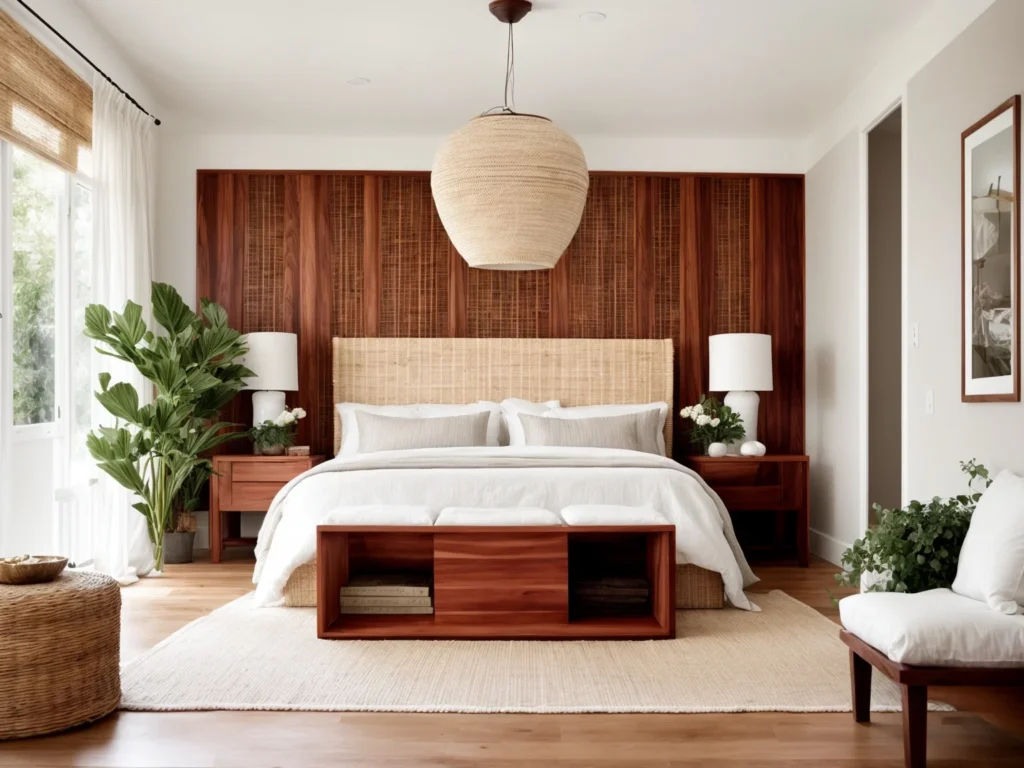 A crisp and clean white is one of the most versatile pairings for cherry wood bedroom furniture. White has a brightness that contrasts beautifully with the warm, reddish tones of the cherry wood. This contrast helps highlight the wood's rich color while keeping the space open and airy.
All-white bedding looks elegant against cherry wood headboards. White walls also focus on the beautiful cherry wood furniture rather than competing with it. For a bit of visual interest, look for white bedding or accents with subtle patterns and textures, like a woven throw blanket or embroidered sheets.
To keep an all-white scheme from feeling too sterile or stark, introduce other natural materials like rattan, jute, and linen to add organic texture. Potted plants and fresh flowers also help soften and complement an all-white cherry wood bedroom.
Light Gray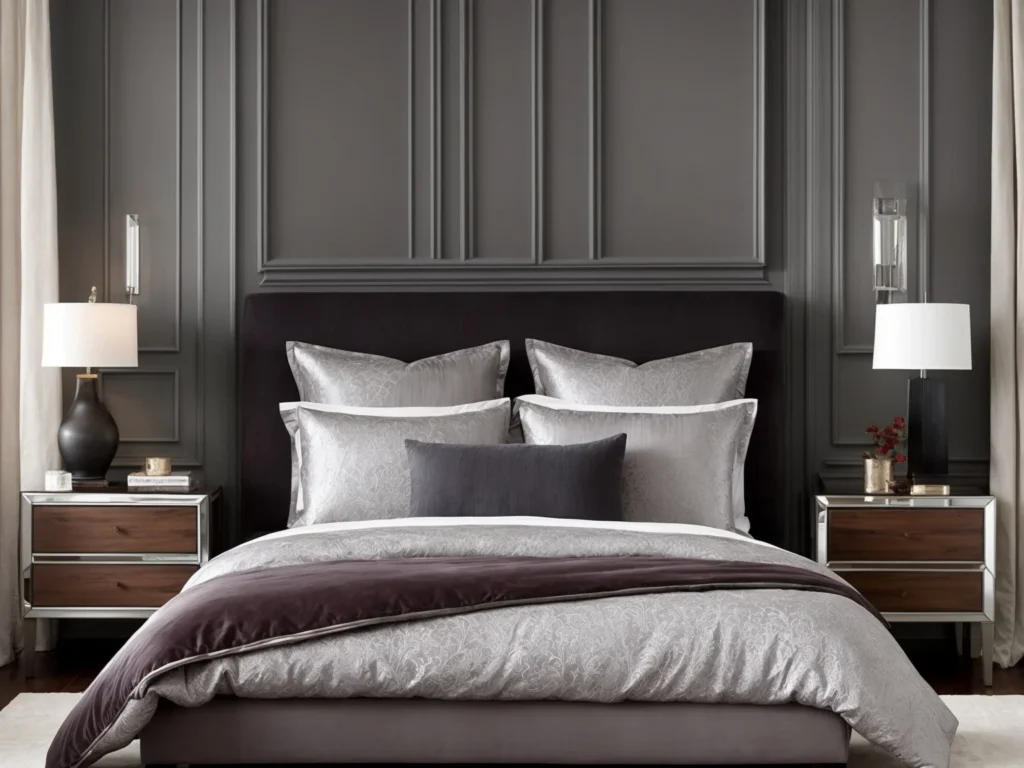 From soft dove grays to sleek charcoal grays, light gray is a versatile neutral that pairs beautifully with cherry wood bedroom furniture. The muted gray tone complements the reddish wood, adding a sophisticated, relaxed vibe.
Light gray walls serve as a stunning backdrop for cherry wood furniture, letting the beauty of the woodwork pop while keeping the space calm and serene. Look for cool-toned grays with blue or lavender undertones, which work especially well.
You can also introduce light gray through bedding and accessories. A light gray duvet cover or shams add subtle contrast while maintaining a cozy, neutral palette. Mirrored furniture and lustrous silver and pewter accents complement a light gray and cherry wood color scheme.
Navy Blue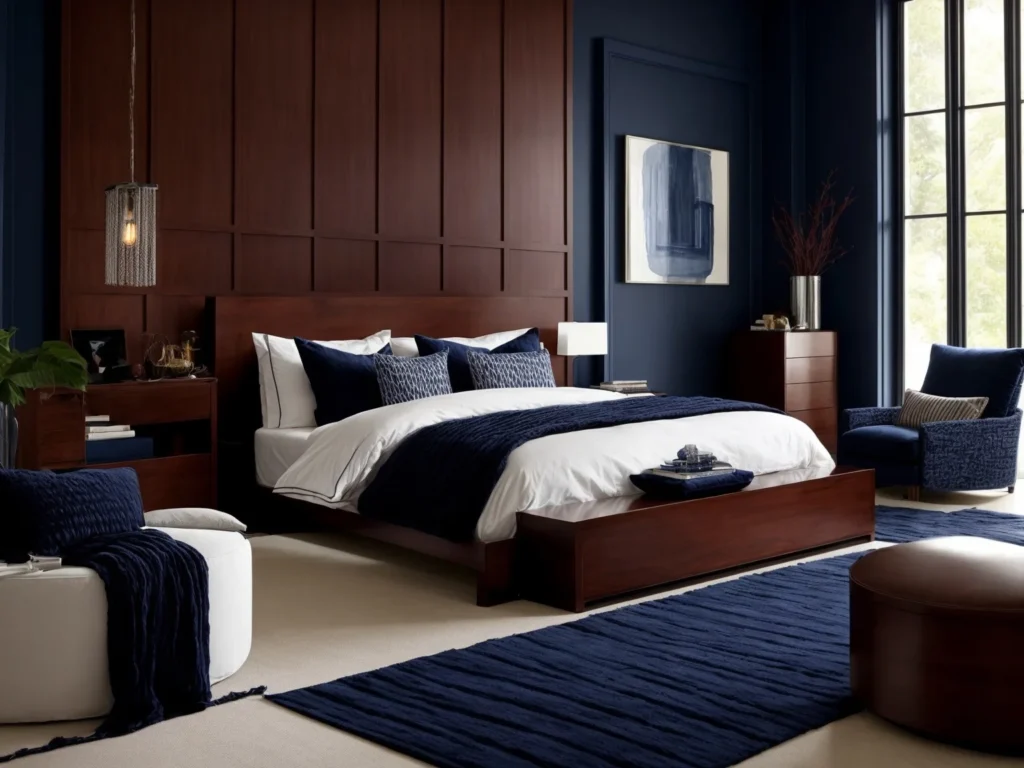 While white and gray pale compared to rich cherry wood, navy blue makes a dramatic impact. Navy adds a bold pop of color that beautifully complements the warm, reddish tones of the cherry. Since navy can be quite intense, use it sparingly in a cherry wood bedroom.
Try a feature wall in a deep navy behind the bed to create an eye-catching focal point. Navy blue bedding also makes a gorgeous statement against cherry wood furniture. For something more subtle, use navy on lamp shades, cushions, curtains or area rugs for pops of contrasting color.
Navy also pairs nicely with other colors like crisp white, light gray and muted metallics. It also complements polished chrome or nickel hardware and lighting fixtures nicely in a cherry wood bedroom.
Taupe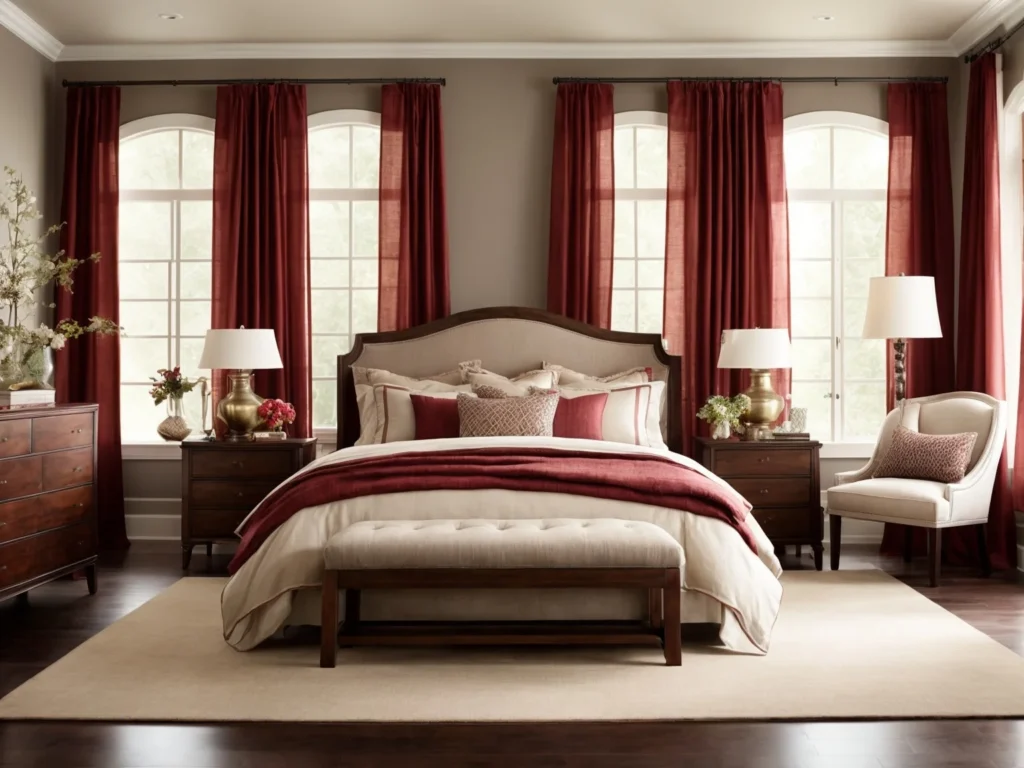 For a warm, cozy, elegant bedroom, taupe is an ideal neutral pair with cherry wood furniture. With reddish-brown and gray undertones, the muted taupe tone complements and softens the rich color of the cherry beautifully.
Try taupe colored walls, bedding, curtains or area rugs for a soothing backdrop that lets the beauty of the cherry wood furniture shine. Natural fiber accents like jute, linen and cotton blend seamlessly with the taupe and cherry color scheme.
Add creamy ivory and white bedding or metallics like oil-rubbed bronze, pewter and antique brass lighting and hardware for a bit of contrast. Taupe and cherry is a classic color combination that will never go out of style.
Vibrant Accent Colors That Pop Against Cherry Wood
Blush Pink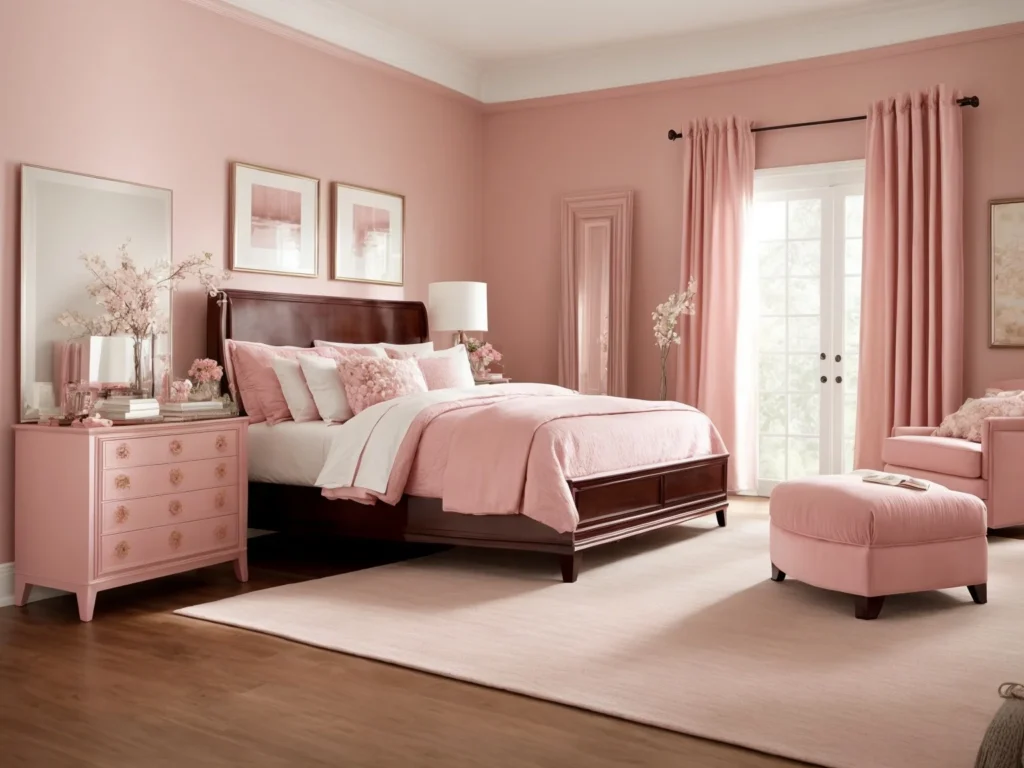 While neutrals provide an elegant and soothing backdrop for cherry wood, blush pink offers a fun pop of color that creates a warm, romantic look. The soft pink tone complements the reddish-brown color of cherry wood without competing with it.
Use blush pink sparingly in a cherry wood bedroom to keep the space feeling sophisticated. Try a pink statement pillow, pink upholstered headboard, or pink velvet stool or chair. Pink art, flowers and other feminine accents also give just the right amount of color.
For large furniture pieces like a dresser or nightstands, look for a cherry wood piece with blush pink drawer fronts or legs for a more subtle touch of color. Keep the walls, bedding and other decor neutral to let the pink and wood tones sing.
Sky Blue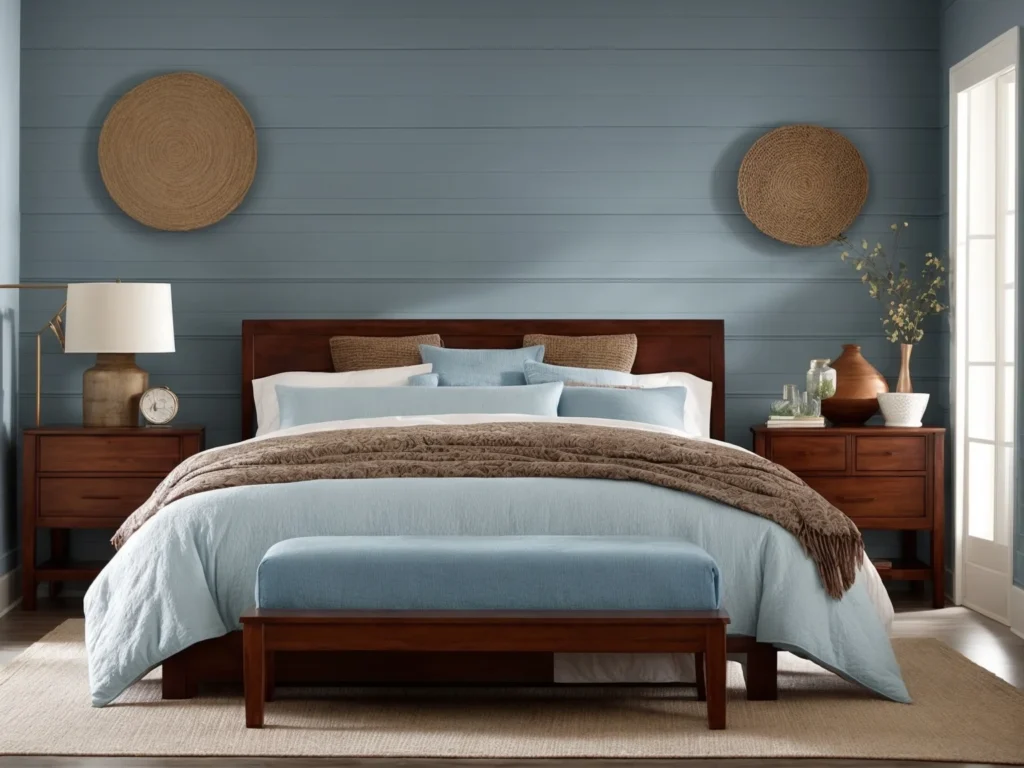 From bright and cheery sky blue to deeper, more dramatic navy blue, blue is an easy match for cherry wood bedroom furniture. It complements the warm reddish tones while adding an airy, refreshing pop of color.
Soft powder blue walls feel refreshing and soothing in a bedroom anchored by cherry wood furniture. The contrast between the cool blue wall and warm wood furniture is striking. Or try energetic sky blue bedding for a more casual, playful look.
Use blue sparingly in accents like throw pillows, area rugs, artwork and decorative objects for a wood-centric space. Vintage-inspired accessories in muted blues work especially well for a cherry wood bedroom in traditional or farmhouse style.
Sage Green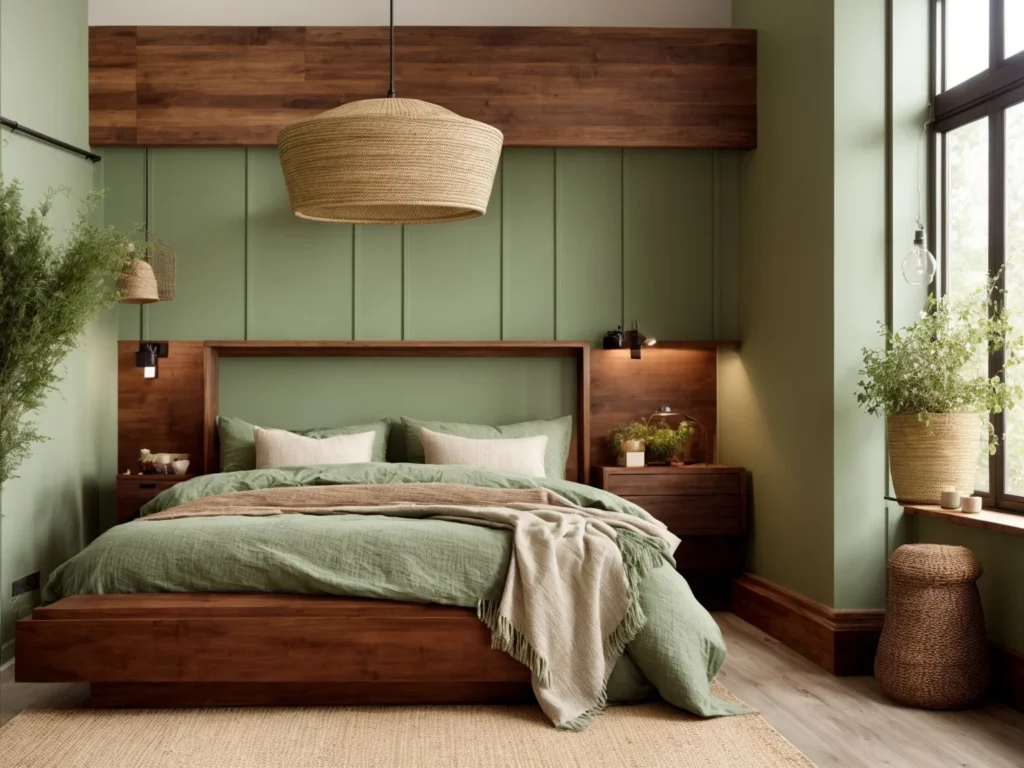 Earthy, soothing sage green makes another lovely pairing with warm cherry wood furniture. The muted green has yellow undertones that pick up on the golden highlights in cherry wood, making the two colors complement each other perfectly.
Try sage green walls or bedding to add a relaxing vibe to your cherry wood bedroom retreat. Layer in natural textures like linen, jute, and cotton for an organic look. Wood tone accessories in bamboo, rattan or unfinished wood accent a cherry and sage green color palette nicely.
For furniture like a dresser or nightstand in this color scheme, look for cherry wood pieces with greenish accents like decorative painted trim or green drawer fronts. Sage green and cherry is an unexpected but beautiful color combination.
Timeless Color Combinations with Cherry Wood Furniture
Below are some additional tried-and-true color palettes that suit cherry wood bedroom furniture beautifully:
Cream + Cherry Wood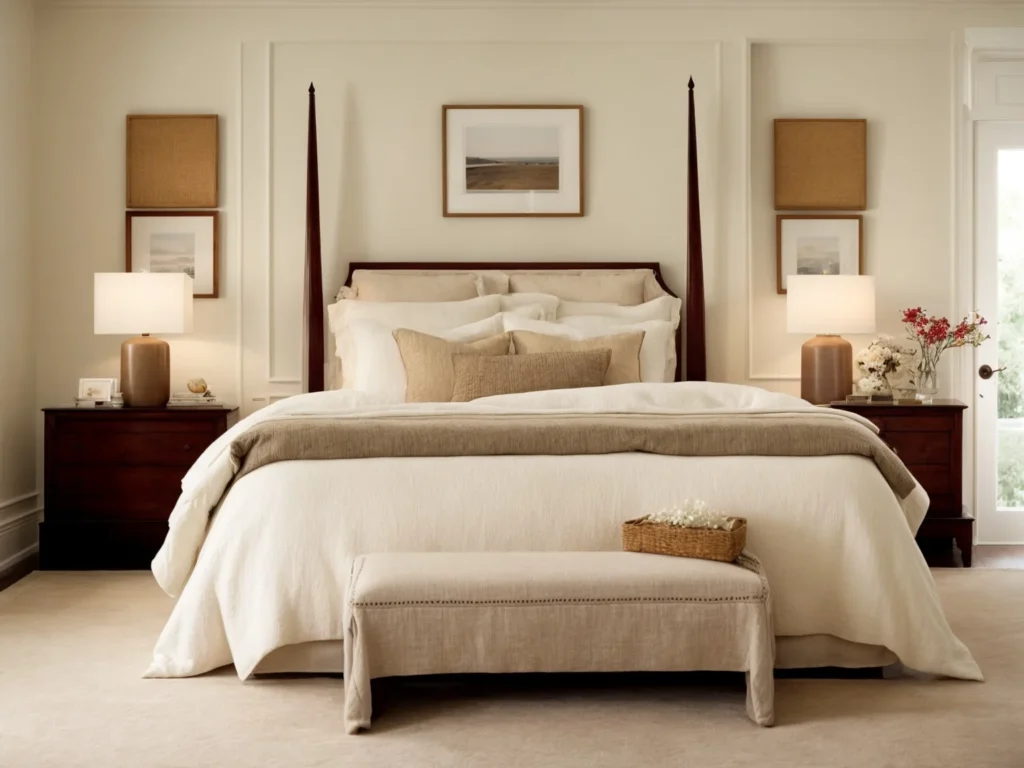 Cream has a soft, welcoming feel that pairs perfectly with rich cherry wood furniture. Try creamy ivory or off-white walls and bedding for a light, airy look. Natural linen, cotton and wool textiles complement this classic, neutral color scheme.
Olive Green + Cherry Wood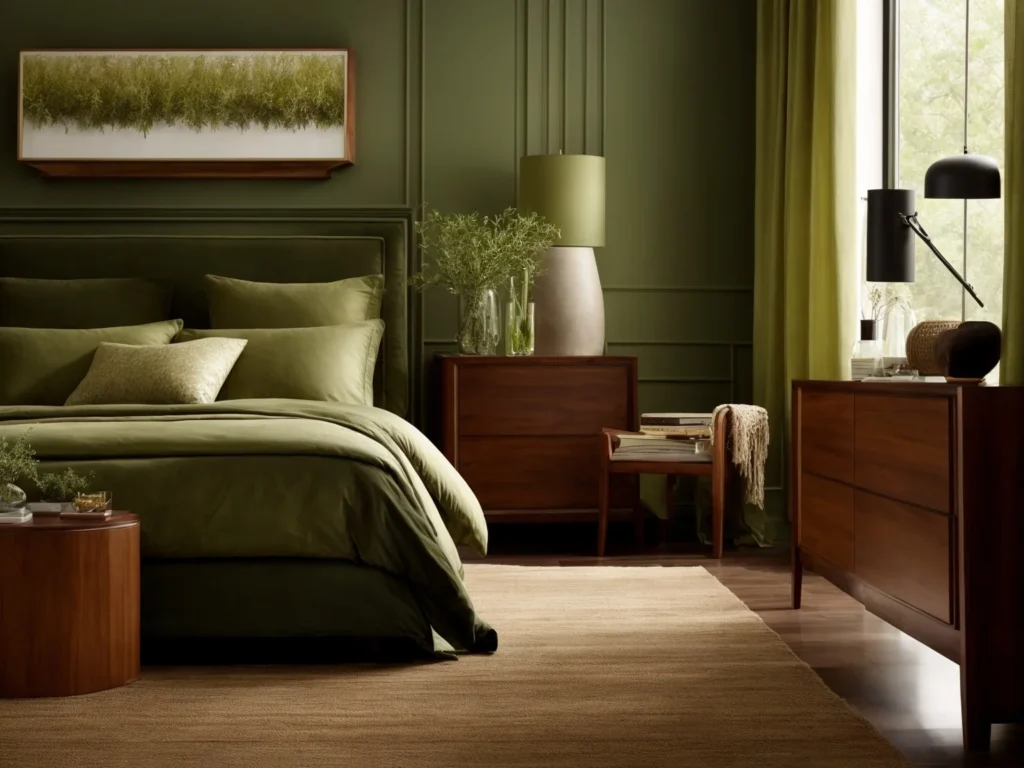 Earthy olive green has a relaxing, organic vibe that accentuates the warm tones of cherry wood. Use olive drapes or area rugs to tie in green hues subtly.
Yellow + Cherry Wood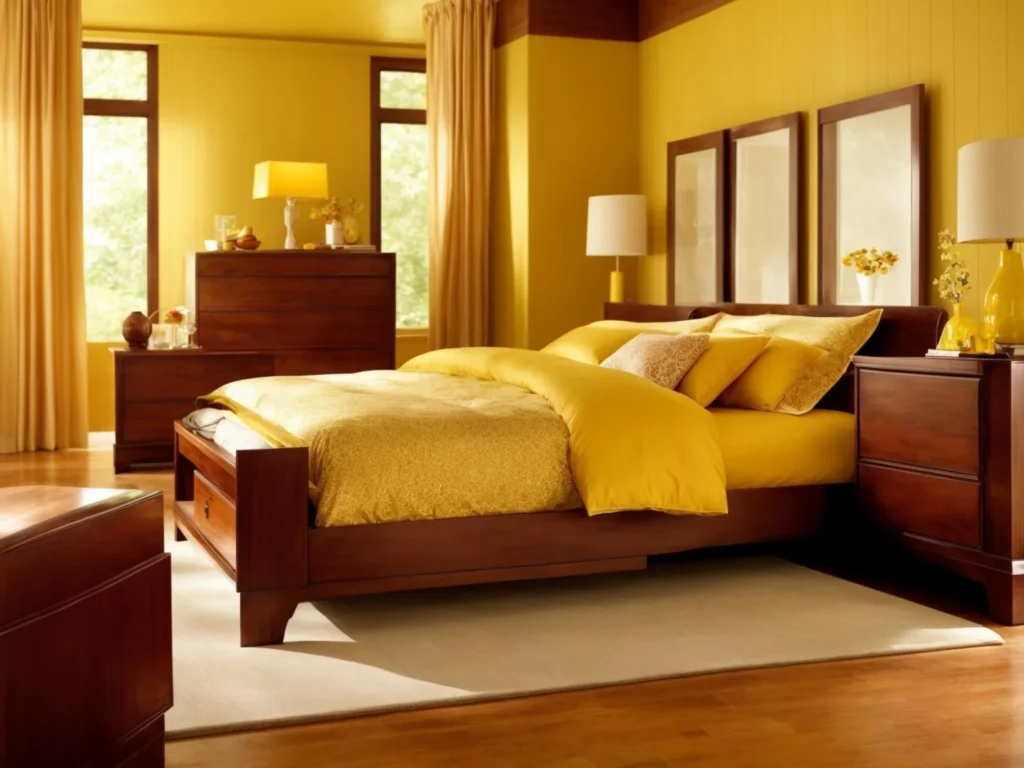 Cheerful yet mellow yellow brings out the golden highlights in cherry wood furniture. Use sunshiny yellow in small doses – like throw pillows or a painted accent wall – for a welcoming bedroom retreat.
Lavender + Cherry Wood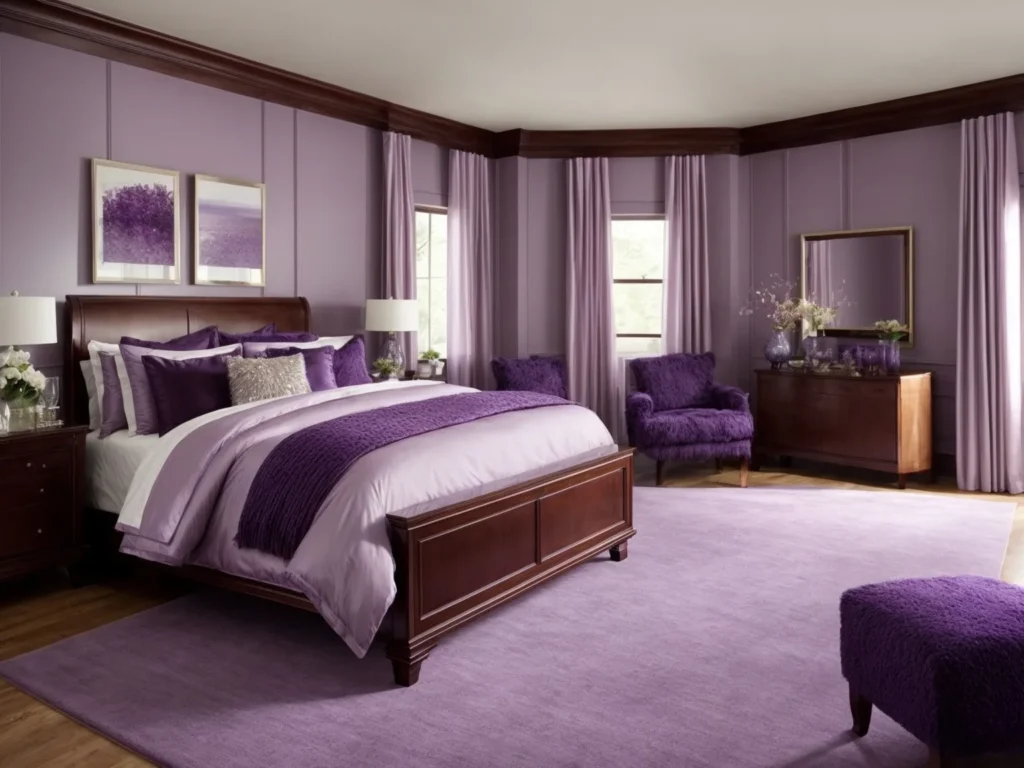 Soft, elegant lavender makes for a pretty and unique pairing with cherry wood. Use metallic lavender accents or deep purple area rugs for a sophisticated look.
Rustic Teal + Cherry Wood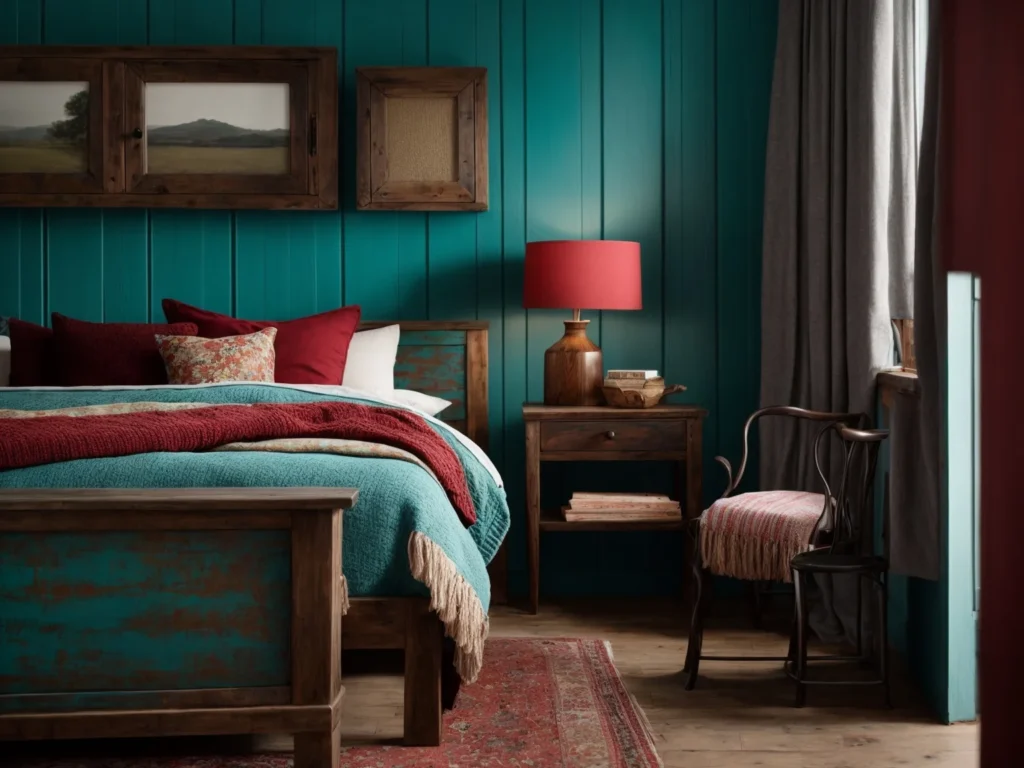 Try a rustic teal blue accent wall or bedding with distressed cherry wood furniture for farmhouse character. Weathered wood accents and vintage-style patterns add charming style.
Design Elements to Consider with Cherry Wood Furniture
Beyond just wall colors, also consider how other elements like flooring, window treatments, and lighting interact with your cherry wood furniture:
Flooring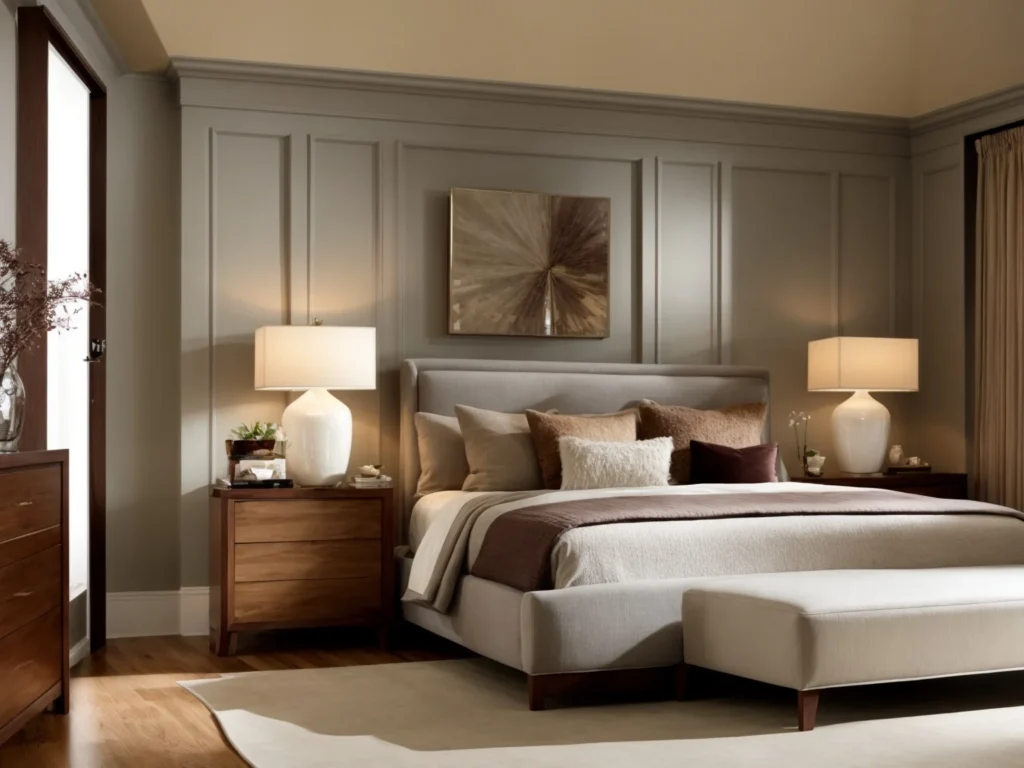 Your flooring should complement the cherry wood furniture without competing with it. Go for muted and natural tones. Light oak or maple hardwood floors are a classic choice. For softer contrast, consider wool carpeting in a neutral gray, beige or taupe.
Window Treatments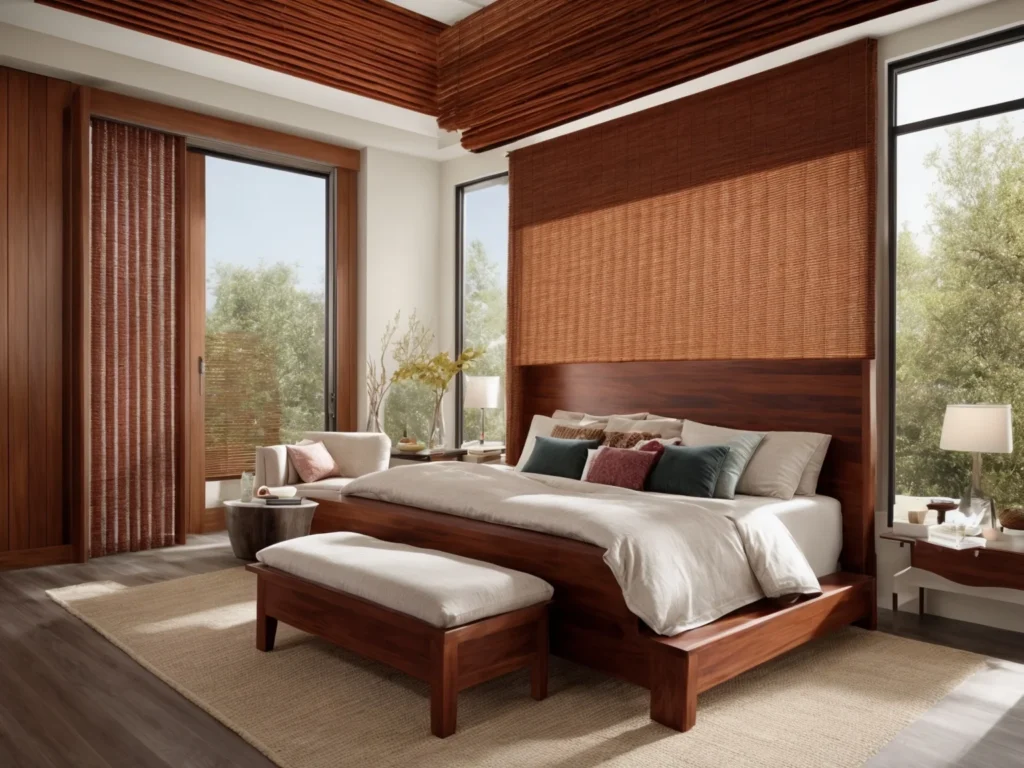 Use window treatments to frame your cherry wood bedroom furniture and tie in your color scheme. For a clean and classic look, try white or off-white linen curtains. Or pick a color from your palette like navy, olive or lavender. For texture, woven wood blinds also look striking against cherry.
Lighting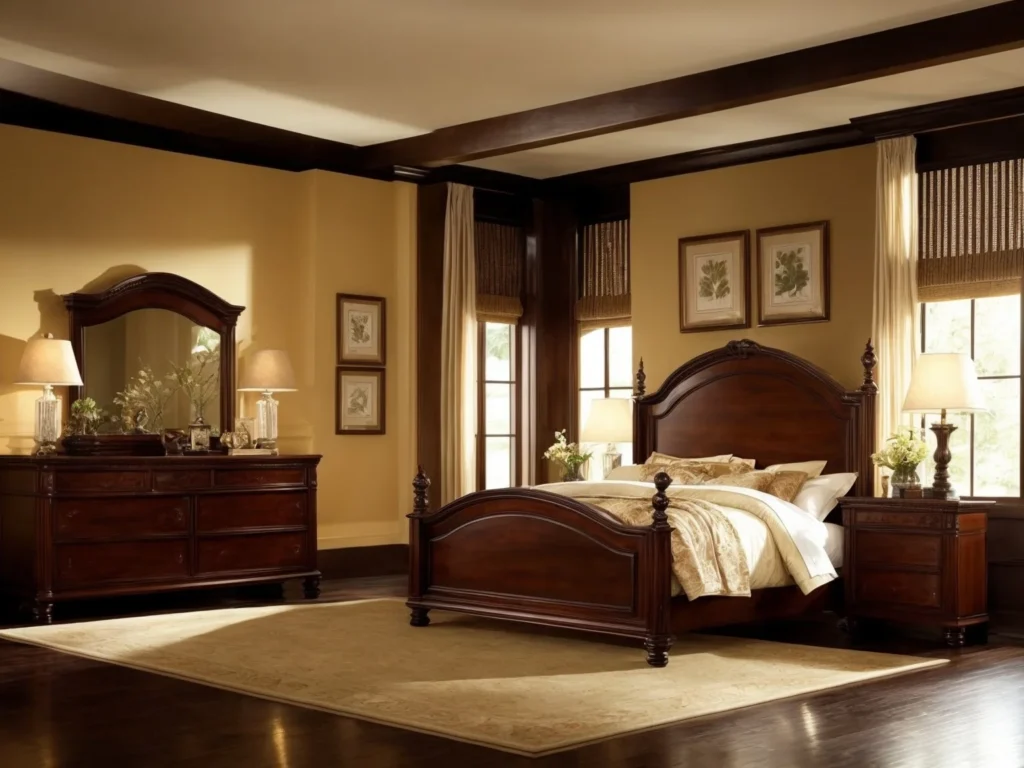 The right lighting can make the warm tones of cherry wood furniture glow. Chandeliers, sconces and lamps in an antique brass, oil-rubbed bronze or unlacquered brass finish will accent the wood's undertones beautifully.
Bedroom Color Scheme Ideas With Cherry Wood Furniture
Pulling all these ideas together, here are some full bedroom color schemes to consider with your cherry wood furniture:
Elegant Taupe and Cream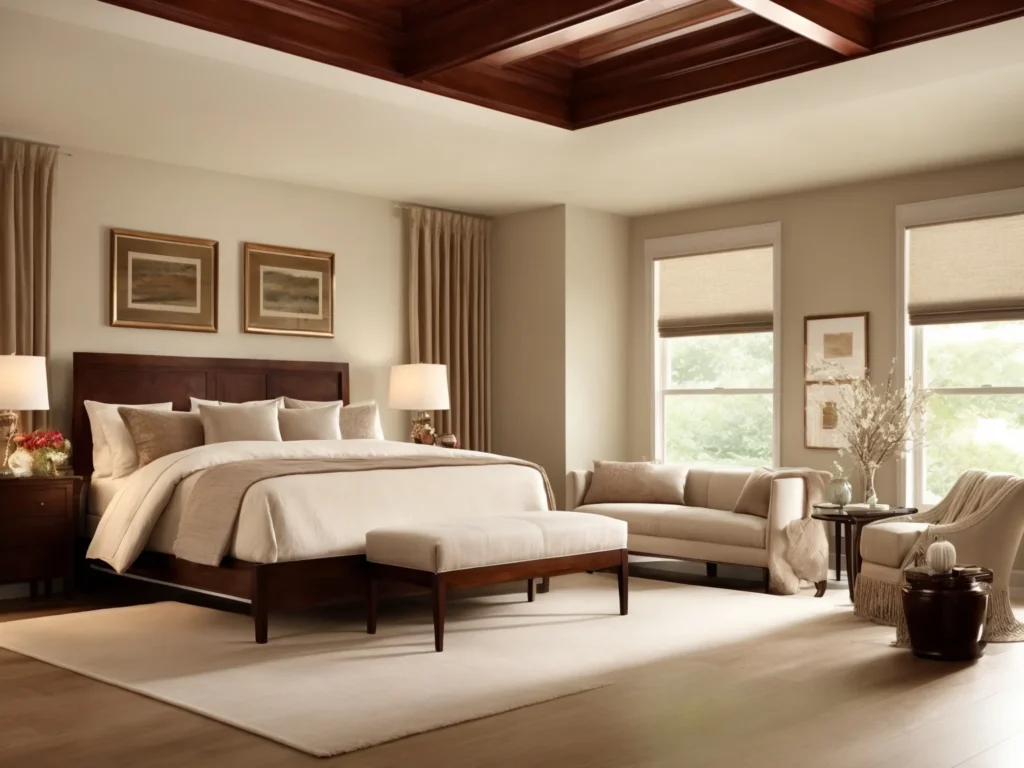 A taupe and cream color palette oozes refined elegance. The soothing, earthy neutrals allow the beauty of the cherry wood to take center stage. Decorate with:
Taupe walls – A warm grayish-brown taupe hue on the walls provides a soothing, welcoming backdrop. Benjamin Moore's Edgecomb Gray is a perfect match with cherry.
Ivory and cream bedding – Opt for subtle textured ivory or cream bedding. A cozy linen or cotton duvet cover with sham pairs nicely. Include a creamy chenille throw at the foot of the bed.
Antique brass light fixtures – Look for wall sconces or pendant lights with an antique brass finish. The soft metallic glow complements both the taupe walls and rich cherry wood.
Light oak hardwood floors – Hardwood floors ground the space and complement the cherry wood pieces. A lightly stained oak with reddish undertones works beautifully.
Bamboo roman shades – Natural bamboo woven shades let light filter into the room while adding texture and style. Choose a light cream color.
Vintage Blue and Wood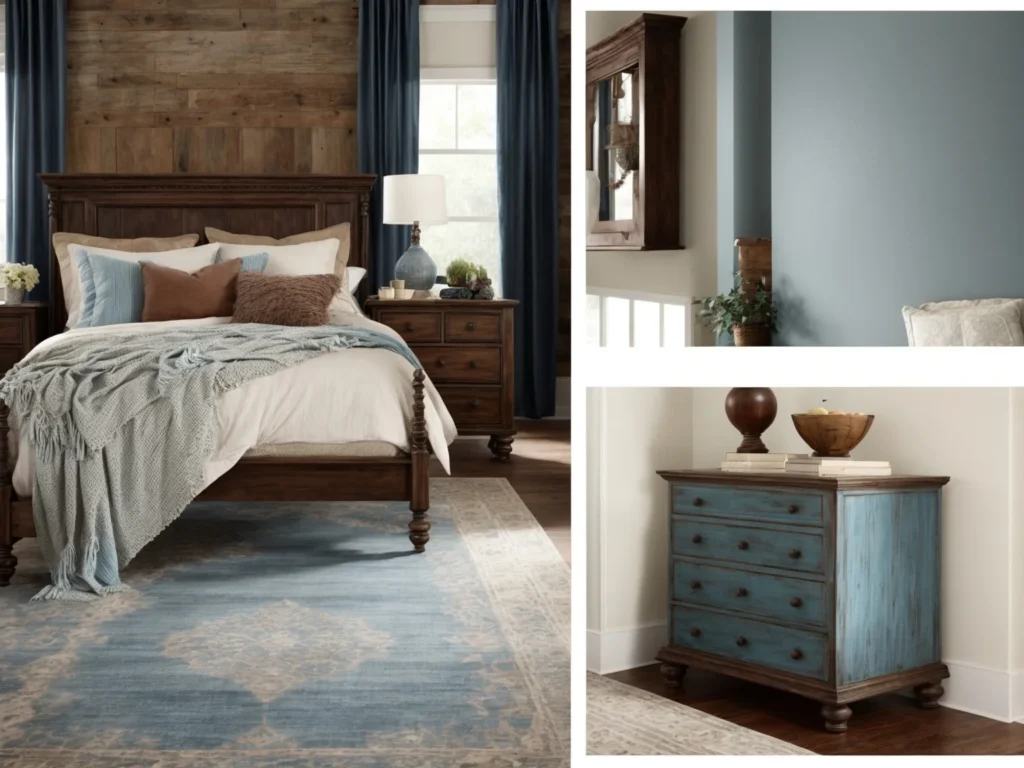 A powder blue and distressed wood color scheme emerges from a bygone era. Accentuate the vintage charm with:
Powder blue walls – A soft dusty blue like Valspar's Starry Night envelops you in a dreamy hug. The cool blue tone looks ravishing with warm cherry wood.
Distressed cherry wood nightstands – Nightstands with a weathered distressed finish add visual interest and an antiqued touch. Sherwin-Williams' Roycroft Brass handles play up the vintage style.
Unfinished wood bed frame – An unfussy unfinished pine bed frame contrasts the polished cherry pieces. Look for naturally knotty wood for added character.
White and blue antique area rug – Pull in hints of the wall color with a muted blue and white antique Persian rug in floral or geometric patterns.
Oil-rubbed bronze lighting – The dark, antiqued look of oil-rubbed bronze light fixtures pairs perfectly with distressed and unfinished woods.
Relaxing Gray and Olive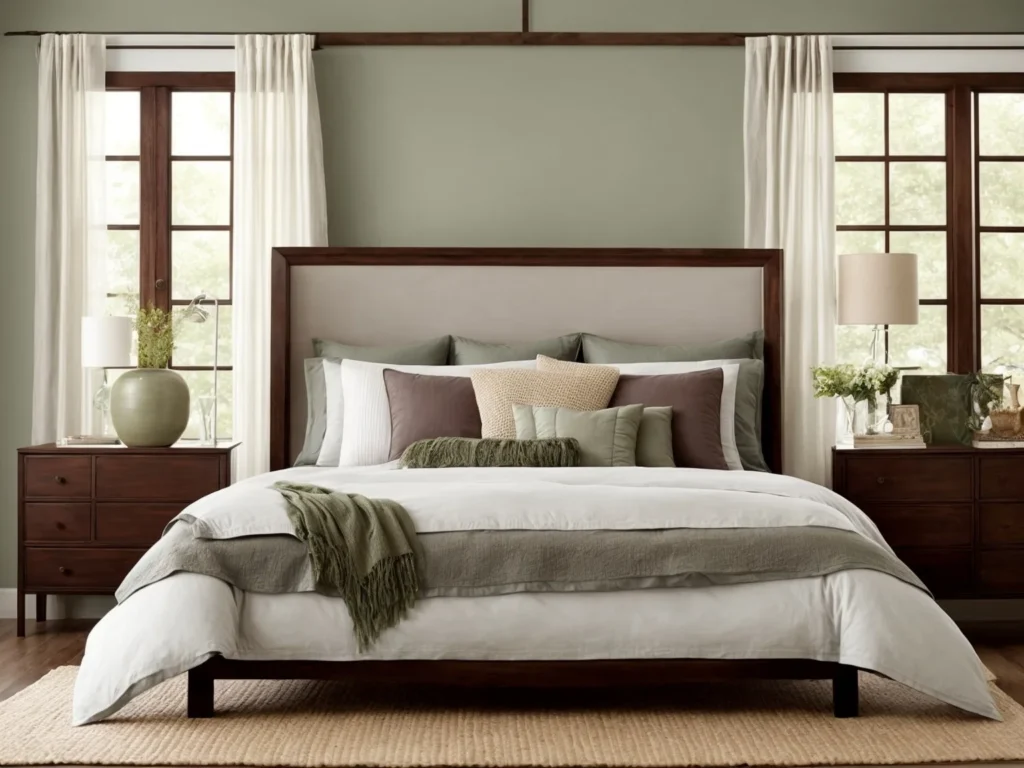 There's something so serene about cool gray and olive green. This color combination encourages relaxation in the bedroom. Incorporate:
Light gray walls – A pale, misty gray like Benjamin Moore's Silver Lake evokes a Zen-like ambiance. The cool tone beautifully complements warm cherry wood pieces.
Olive green bedding – Layer serene olive green hues on the bed. Start with linen sheets, an olive duvet, and a trio of decorative pillows in olive and gray.
Rattan and jute accents – Natural fibers like rattan and jute complement the wood furniture. Try a rattan bench or jute area rug.
White sheer curtains – Hang breezy white linen curtains to add an airy element. Keep the sheers minimal and unobtrusive.
Dark cherry wood headboard – Anchor the bed with a statement-making dark stained cherry wood headboard. Its rich hue grounds the space.
Rustic Navy and Wood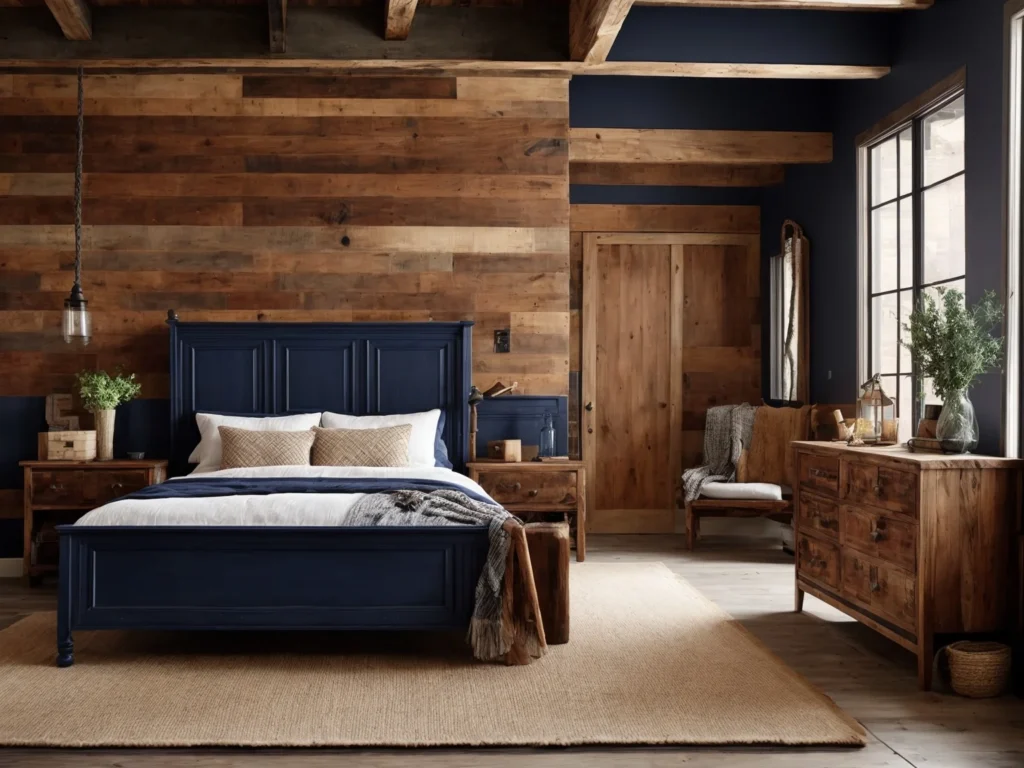 Are you looking for something a bit bolder? A navy blue accent wall pairs dramatically with reclaimed wood and antique cherry. Embrace the rustic charm with:
Navy accent wall – Make the headboard wall navy to create an instant mood. Behr's Blueprint S470-5 is navy with just a hint of warmth to complement the cherry wood.
Reclaimed wood nightstands – Bring in reclaimed wood pieces with knots, nail holes, and variegated stains. Salvaged barnwood nightstands add striking contrast and rustic texture.
Antique cherry wood dresser – A traditional cherry wood dresser with vintage charm adds polished sophistication. Look for inset drawers and antique brass handles.
Cream and navy striped bedding – Nautical cream and navy stripes evoke casual cottage style. Add a striped duvet, accent pillows, and a cozy throw at the foot of the bed.
Exposed wood beam ceiling – Take the rustic vibe up with salvaged wood beams running across the ceiling. It'll tie the reclaimed and antique woods together beautifully.
Blush and Brass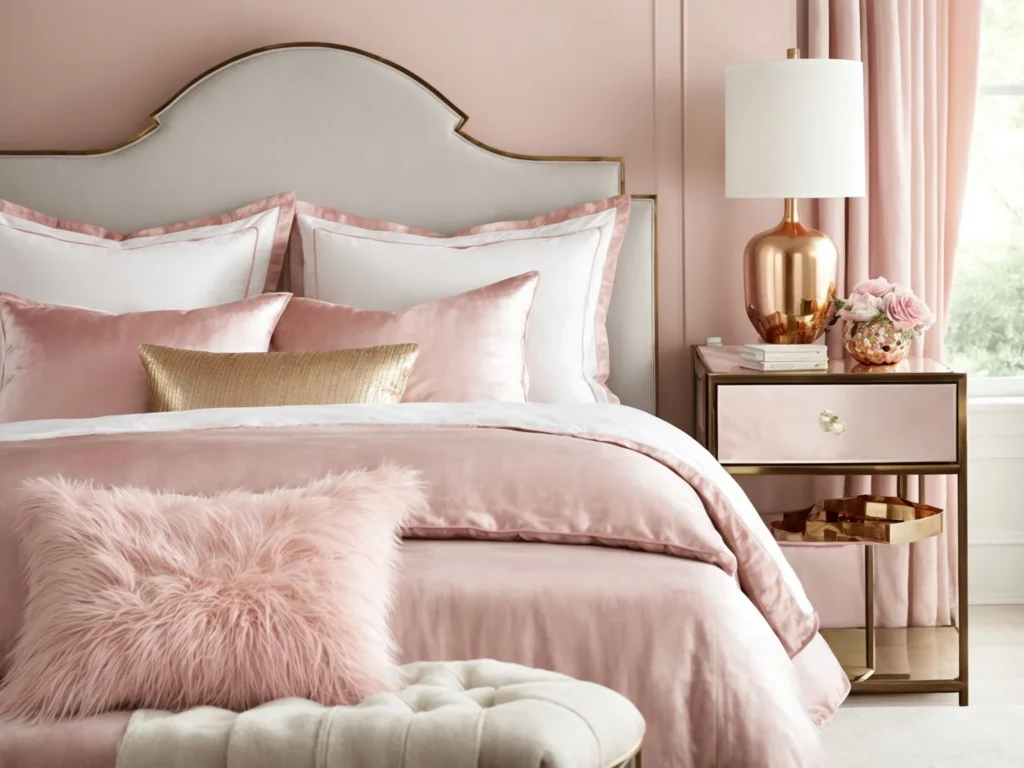 Feminine blush pink is having a moment. Paired with rich cherry wood and glimmering metallics, it creates a glamorous yet cozy vibe. Incorporate:
Blush pink upholstered headboard – Make a statement with a button-tufted headboard in soft pink velvet or linen. It'll pop beautifully against cherry nightstands.
Light gray walls – Balanced out the pink with light gray walls in a warm greige tone like Benjamin Moore's Revere Pewter. The gray adds just enough contrast without overpowering.
Rose gold and brass accents – Metallics like rose gold and brass add a glitzy touch. Try brass sconces, rose gold throw pillows, and a mirrored nightstand.
White bedding with pink trim – Keep bedding light and neutral with a white duvet cover and sham set. Add pretty blush pink trim for just a hint of color.
Cherry wood dresser – Ground the space with a classic cherry wood dresser. Consider a triple dresser with storage galore.
Cheerful Yellow and White
Make mornings bright and cheerful with a vibrant yellow and white color palette. This fresh, casual look pairs perfectly with classic cherry furniture. Include:
Sunny yellow accent wall – Liven up with a bold yellow accent wall behind the headboard. Behr's Sunburst HDC-MD-19 is a golden yellow that plays beautifully with cherry wood.
White shiplap walls – Crisp white shiplap on the remaining walls keeps things light and airy. The contrast between the white wood and cherry is striking.
Bright white bedding – Continue the white and yellow theme with a snowy white duvet, euro shams, and pile of decorative pillows. Add a fluffy white throw blanket for extra coziness.
Distressed cherry wood furniture – Distressing gives the cherry wood a relaxed cottage vibe that jives with the casual color scheme. A distressed dresser and nightstands fit right in.
Yellow and white floral rug – Pull in the accent wall color with a floral area rug in yellow on white. A vintage style Persian rug adds a graphic punch.
Chic Black and White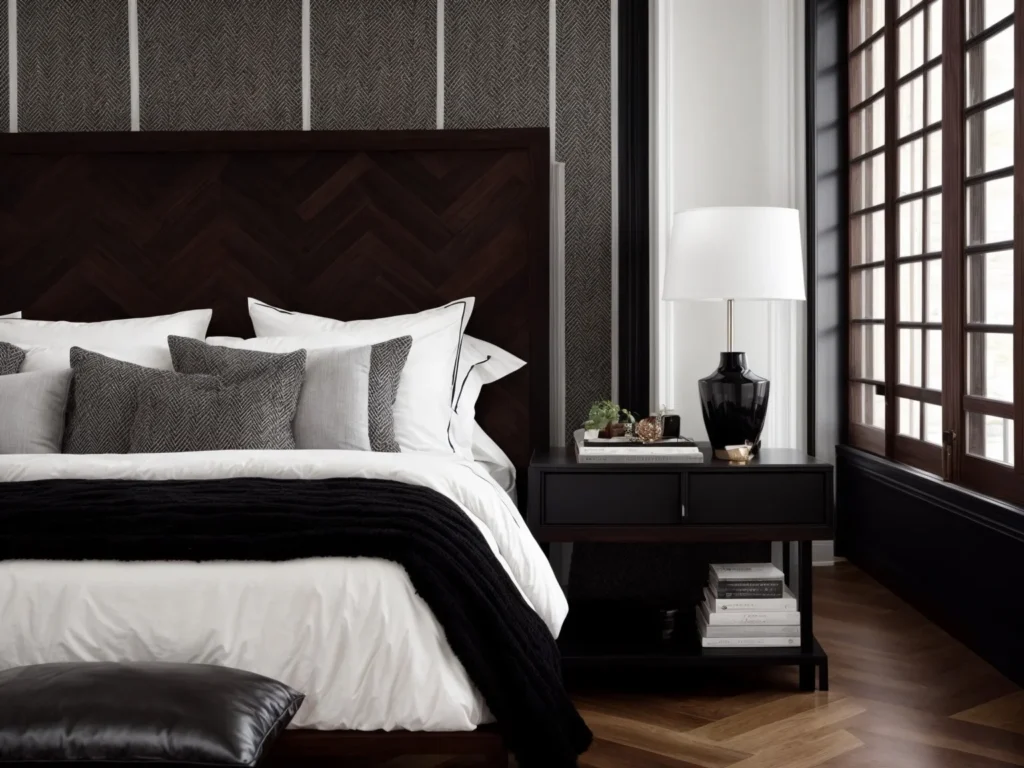 For a bold, dramatic look, pair jet black accents with clean white walls and bedding. The contrast makes the rich cherry wood pop. Incorporate:
Crisp white walls and bedding – Stark white walls create a chic, contemporary vibe. Add plenty of plush white pillows, shams, and cozy throw blankets.
Black painted cherry wood headboard – Make the headboard the star with bold black painted wood. Try Behr's Carbon Copy PPU18-15 for an intense true black. Consider a padded upholstered headboard.
Black and white abstract art – Display large-scale black and white abstract art to reinforce the color scheme. Choose pieces with high contrast for maximum impact.
Herringbone wood floors – Add visual interest underfoot with a graphic herringbone oak floor.
Vibrant Red and Cherry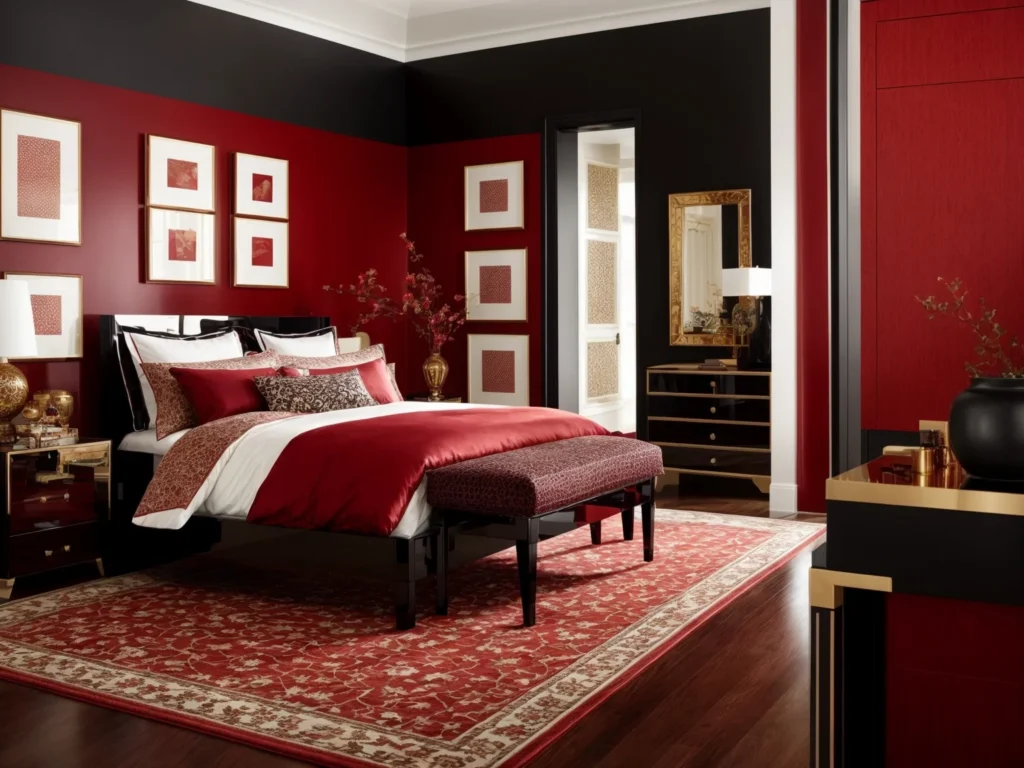 Bold cherry red walls – Envelop the space in the same delicious hue as your cherry wood furniture with Benjamin Moore's Sweet Cherry or Behr's Scarlet Kiss.
Black and white bedding – Popping red walls call for classic black and white bedding. A black and white buffalo check duvet cover adds lively contrast.
Glossy cherry wood nightstands – Opt for mirror-like high-gloss cherry wood nightstands to complement the walls. Lacquered cherry furniture reflects light beautifully.
Patterned area rug – Introduce another color with a Persian-style red, navy, and ivory rug. The busy pattern energizes the space.
Gold accents – Warm metallic accents like gold sconces, hardware, and decor make the red and cherry wood sing. Brushed gold looks especially sleek.
Vibey Jewel Tones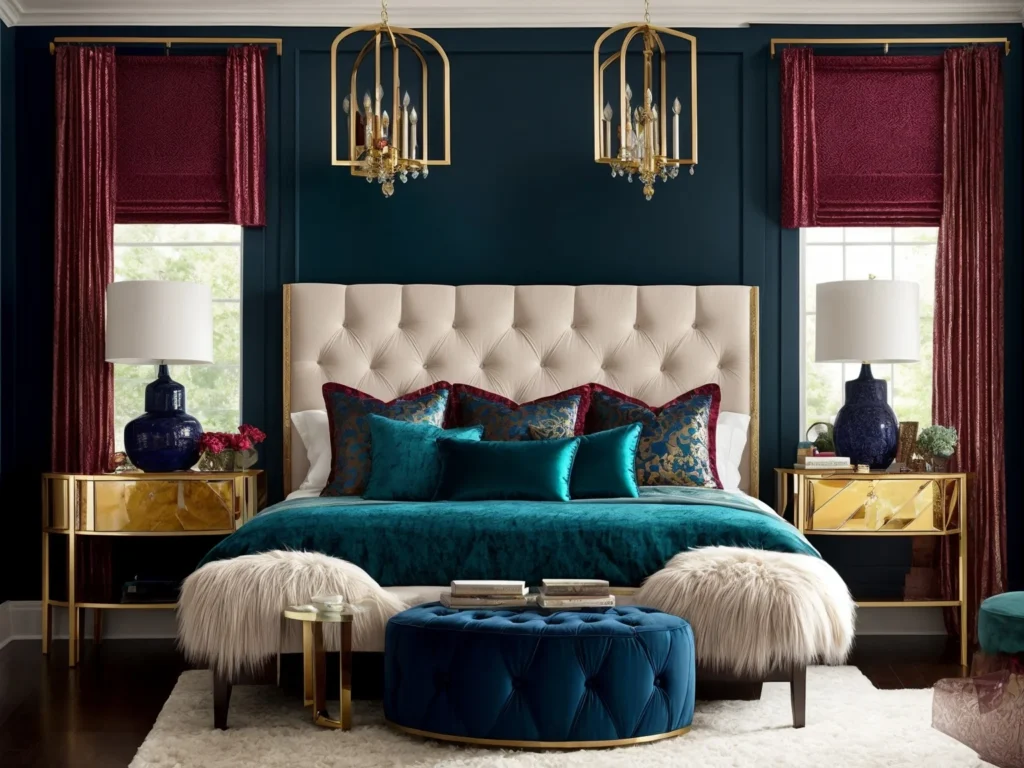 Sapphire blue accent wall – An electric sapphire blue accent wall makes a serious style statement. Try Behr's Blue Print S470-5 or Sherwin-Williams' Naval.
Emerald and plum bedding – Layer on jewel-toned bedding in emerald green, plum, and ruby red. Mix patterns and textures like velvet, silk, and chenille.
Gold mirror and sconces – Glam it up with an oversized round mirror in a gold frame above the dresser. Flank it with curved gold sconces.
Distressed white nightstands – Crisp white distressed nightstands prevent jewel tones from feeling too heavy. An antique white finish looks dreamy with the cherry dresser.
Abstract area rug – Pull the color scheme together with an abstract area rug featuring accent wall color, bedding hues, white, and metallics.
Retro Teal and Cherry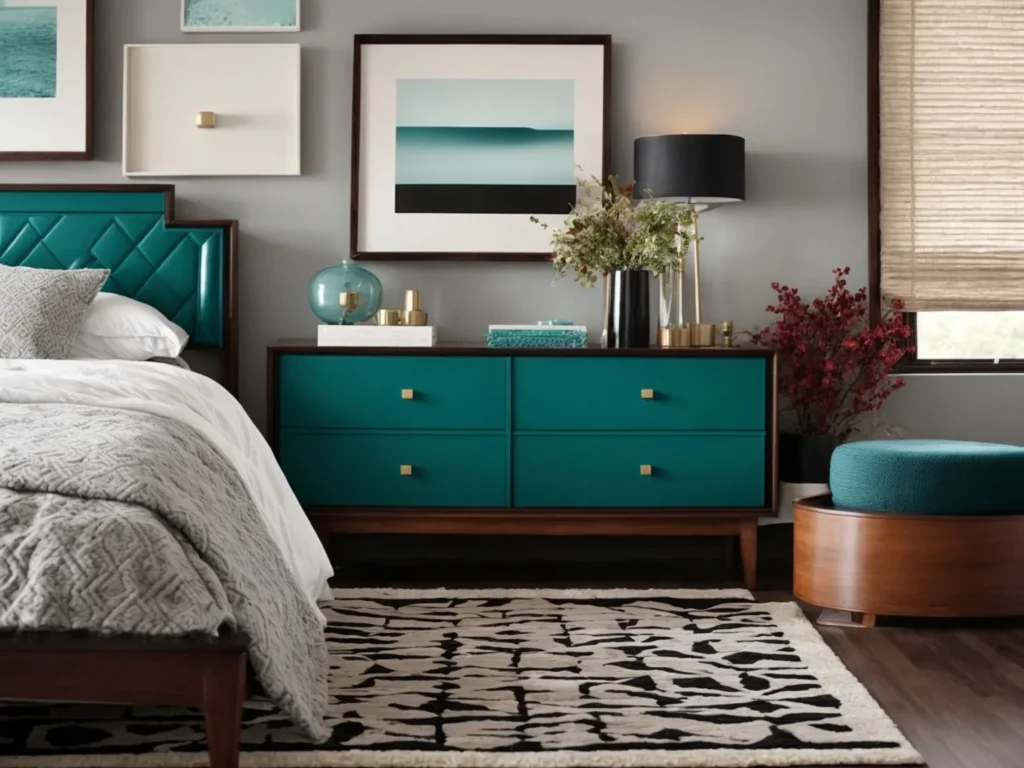 Vivid teal walls – A splashy teal like Behr's Ocean Depths instantly transports you back to the 50s. The retro color looks hip and lively against rich cherry wood.
Midcentury modern bed – Lean into the retro vibe with a midcentury-style bed like a tufted gray linen headboard. Add tapered elliptical nightstands.
Patterned cherry wood dresser – Seek out a cherry wood dresser in a retro starburst, zigzag, or geometric pattern. Midcentury Danish or American styles are ideal finds.
Black and white photographs – Frame vintage-looking black and white cityscape or landscape photographs in crisp white frames. Repeat the color combo throughout.
Gray, white and teal rugs – Pull everything together with an abstract or mod geometric area rug in gray, white, and teal. Vintage Moroccan rugs also work beautifully.
Tips for Decorating With Cherry Wood Bedroom Furniture
Cherry wood furniture exudes warmth and elegance. When decorating your bedroom around these statement pieces, keep these tips in mind:
Spotlight the Wood Grain
Let the beauty of the cherry wood grain shine by keeping wall colors and competing patterns subtle and neutral. Avoid busy wallpaper and overly intricate textiles.
Mix Textures
Weave in cozy textures that play off the smooth cherry wood finish. Try wool, linen, cotton, jute and velvet for variety.
Accent With Metallics
Polished metals make cherry wood pop. Brass, gold, nickel and silver finishes on lighting fixtures, hardware and decorative accessories glimmer against the wood's richness.
Add Natural Greenery
Plants bring life and freshness to a cherry wood bedroom. Potted palms, ferns and succulents complement the woodsy color palette.
Use Area Rugs to Define Spaces
Anchor seating areas with area rugs in colors and patterns pulled from your color scheme. Layered rugs add depth and coziness.
Light Properly
A mix of top and ambient lighting makes a cherry wood bedroom bright and inviting. Use lamps, sconces and chandeliers.
The Timeless Warmth and Beauty of Cherry Wood
Known for its sought-after warm reddish-brown tones and distinctive grain, cherry wood furniture never goes out of style. By choosing colors and decor that complement rather than compete with the rich beauty of this wood, you can create a bedroom retreat with lasting character and sophistication.
Whether you prefer your cherry wood bedroom soothing and neutral or punctuated with vibrant, energetic hues, trust in the enduring charm of this classic wood. Paired with the right colors and textures, your cherry wood furniture will add timeless beauty and comfort to your most personal space.