Your living room is often the heart of your home. It's where you relax, entertain guests, and spend quality time with your family. Getting the styling right is important to create a space that reflects your personality and lifestyle. You can transform your living room into a stylish, functional, inviting oasis with strategic design choices. This comprehensive guide covers the key elements for styling a living room you'll love.
How to Style a Living Room?
Your living room decor and layout directly impact how you experience the space day-to-day. The right styling choices can make your living room look beautiful and serve its intended functions seamlessly. All design decisions contribute to a cohesive, livable room, from establishing functional zones to adding personal touches.
Approaching living room styling thoughtfully allows you to highlight your taste while ensuring guests feel comfortable and at home. Your design can incorporate on-trend elements like bold colors, organic textures, or modern silhouettes while still feeling uniquely "you." The living room is also one of the few spaces where you can comfortably blend styles like traditional and modern based on the home's architecture.
Don't be afraid to think outside the box when dreaming up your ideal living room aesthetic. Look to your favorite boutique hotels, coffee shops, or other inspirational spaces and take note of details you love. Work within your home's existing footprint while incorporating pieces that excite you. You can strike the perfect balance between fashionable and timeless with an open mind.
Creating Functional Zones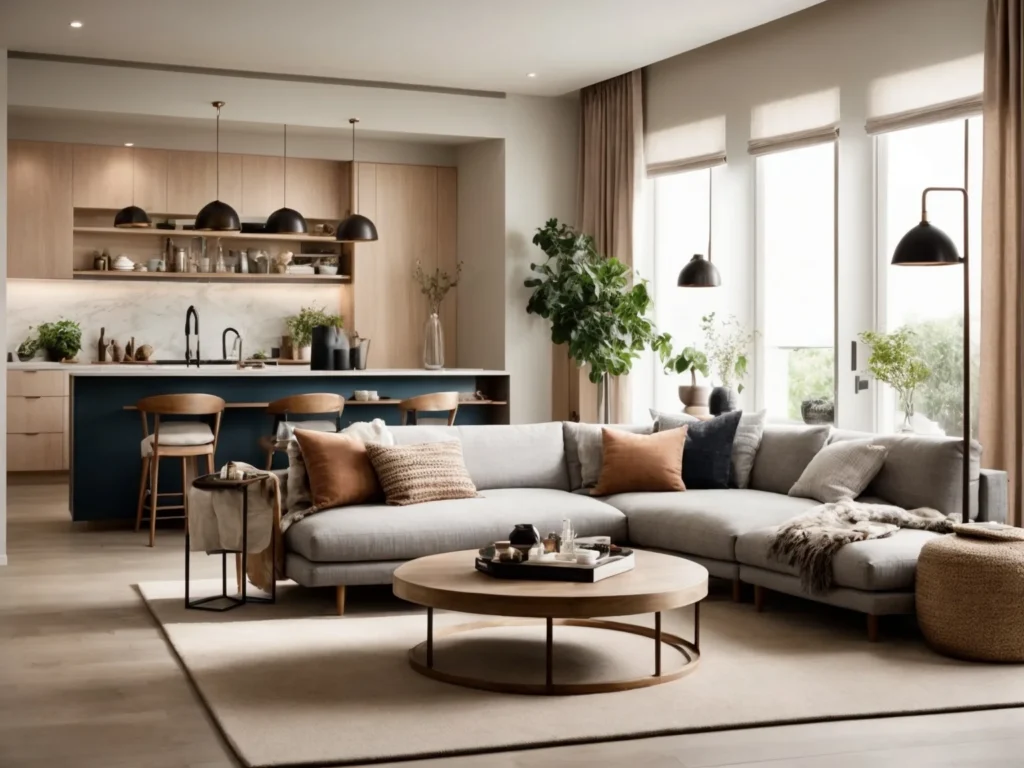 One of the keys to great living room design is dividing the space into functional zones. Each area should support an intended activity: conversation, reading, watching TV, or dining. You can use furniture placement, lighting, rugs, and styling accessories to define each zone.
Some typical living room zones include:
Seating/conversation: Comfortable chairs and sofas in arrangements that promote interaction. Side tables for drinks. It styled coffee table.
Media/entertainment: TV, media console or shelving, and seating oriented toward viewing. Consider concealed cables.
Dining: Dining table and chairs, buffet, styled dining console. Near kitchen if possible.
Reading nook: Comfy chair, floor lamp, bookshelves. Near window if possible.
Desk area: Desk, chair, task lighting. For home office overflow or kids' homework.
Don't limit yourself to traditional zone formats. Maybe a crafts zone with a table, storage and great lighting inspires you. Or repurpose a corner as a plant nook. Thoughtful zoning gives every family member a tailored spot to relax.
When deciding on zones, pay attention to traffic flow. Allow ample pathways between each area and to entryways. You don't want cramped zones that are frustrating to move between. Use a space-planning app or experiment with painter's tape to find the optimal layout before purchasing or moving furniture.
Incorporating Layers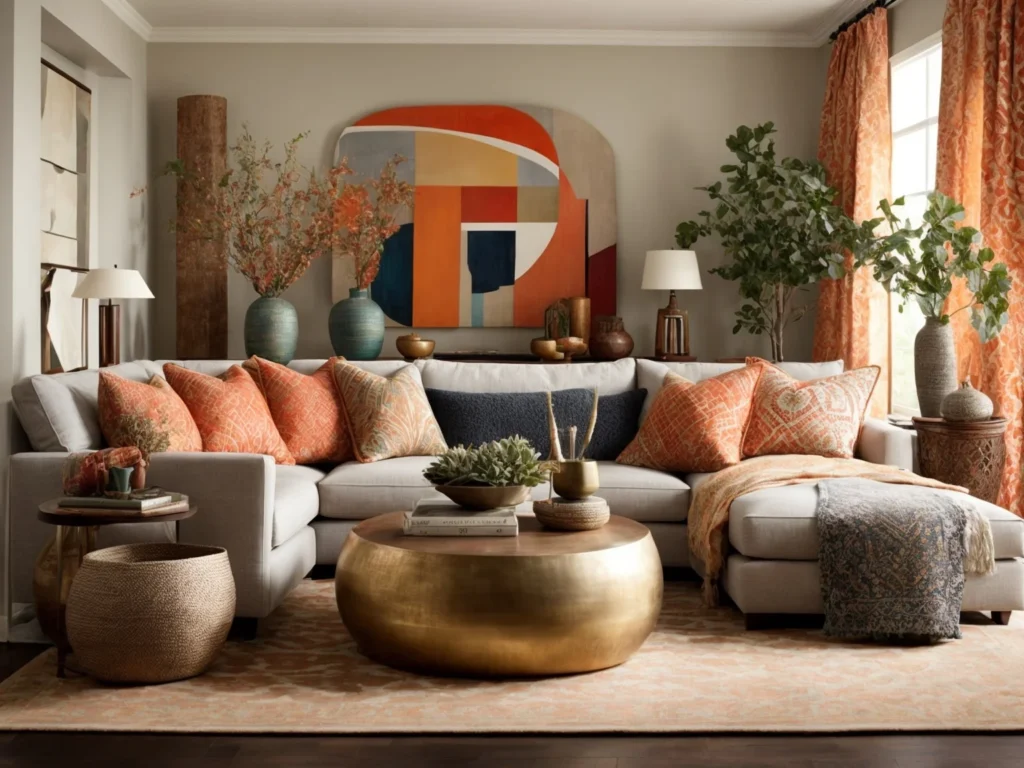 An artfully layered interior adds visual richness and depth to your living room. Moving beyond furniture placement, incorporate layers of light, color, texture, and patterns. This blending creates a welcoming space with sophistication.
Textiles: Layer rugs over carpeting or wood floors. Choose pillows in different prints, textures and shapes to adorn sofas. Add throws and blankets for coziness. Consider drapes or sheers on windows.
Artwork: Incorporate art in mediums like canvas prints, photography, metal or wood. Hang them at various heights and orientations. Lean or prop large pieces against walls.
Accessories: Display cherished items like plants, vases, sculptures or baskets. Place them on tables, shelves, floor and wall ledges. Rotate accessories seasonally.
Patterns: Introduce patterns subtly on pillows, rugs, drapes and other accessories. Choose patterns like florals, geometrics and abstracts in the same color family. Start with small doses and build as you get comfortable.
Textures: Consider nubby throw blankets, sheepskins, woven poufs or rattan furniture. Contrast sleek items like metal lamps or marble accents with soft, tactile surfaces.
A multi-layered living room pleases the senses and keeps the eye engaged. Don't be afraid to experiment with eclectic combinations until you discover your perfect blend.
Establishing a Focal Point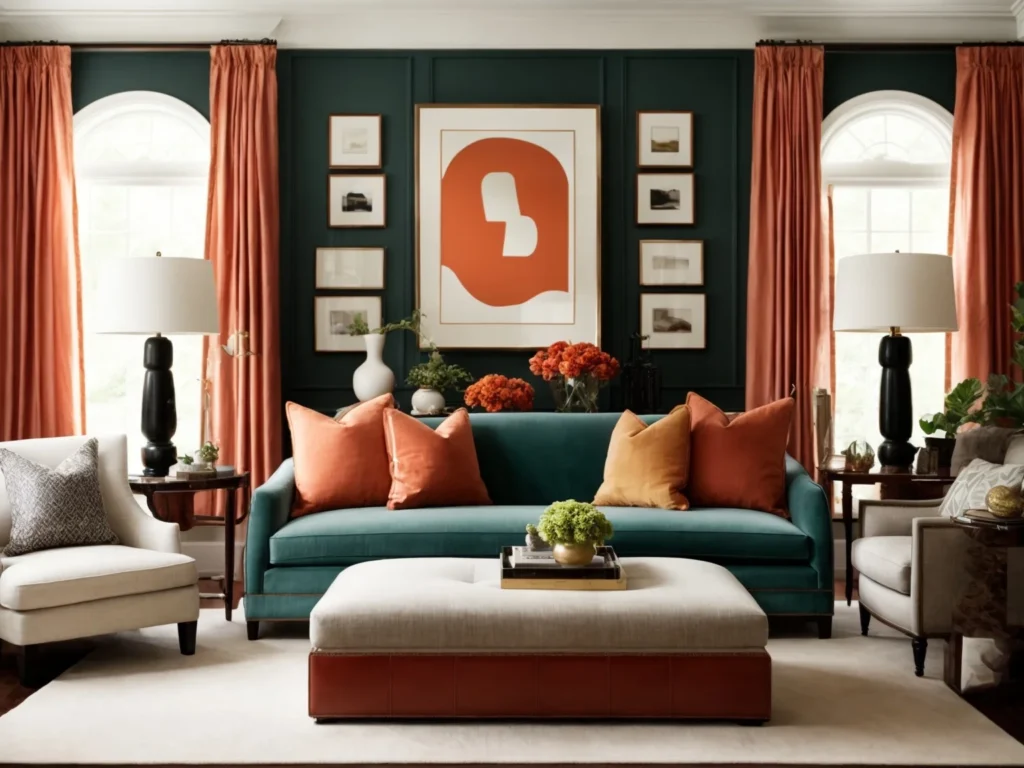 Every living room needs a focal point—an anchor that grounds the space and immediately draws the eye. Strategically choosing and styling a striking focal point makes a major impact.
Common focal points include:
Fireplace: Style the mantel with art, mirrors, greenery and objects in similar heights. Paint the surround a bold color. Add framed family photos to the hearth.
Media unit: Choose a substantial cabinet in a rich wood tone or with architectural detailing. Style with accessories, art objects and books. Add ambient lighting.
Statement furniture: A striking sofa, armchair or sideboard commands attention. Choose a vibrant color, unique silhouette or oversized piece.
Gallery wall: Cluster art and mirrors above a sofa or console in an asymmetrical arrangement unified by color scheme and framing.
Architectural detail: Draw the eye to a space's existing crown molding, palladium window or brick accent wall with proper lighting.
Position other furniture to face or orbit the focal point. Limit competing items in this zone that may divert attention. The focal point should ground the room without overpowering—keep secondary furnishings and styling relaxed. A bit of mystery adds interest.
Cohesive Color Scheme and Style
A cohesive color palette and style elevates a living room from chaotic to curated. Repeating color themes and design elements creates harmony. Start by choosing an overarching style and color scheme.
Color scheme: Limit your palette to 3-5 core colors. Look at paint chips for inspiration. Consider neutrals like cream paired with shades of blue or green for timeless style. Or go bold with rich magentas, emeralds and golds.
Style: If possible, match your living room's style to your home's architecture. Play up modern ranch homes with mid-century silhouettes. Embrace ornate moldings in a traditional space with tufted leather and Persian rugs.
Once you have a base color scheme and style direction, maintain continuity through:
Paint colors: Use your core palette on walls, moldings, ceilings and doors.
Patterns: Stick to patterns featuring your chosen colors. Florals, geometrics and paisleys offer variety.
Furniture: Choose similar wood tones and fabrics that complement your colors. Having a mix of metal finishes is fine.
Accessories: Vary accessories like pillows, throws, vases and sculptural objects in your color scheme. At least 60-70% of items should coordinate.
A unified palette and style minimizes visual clutter. But don't be afraid to personalize with treasured pieces outside the core scheme—a well-placed contrasting item can make your design pop.
The Role of Lighting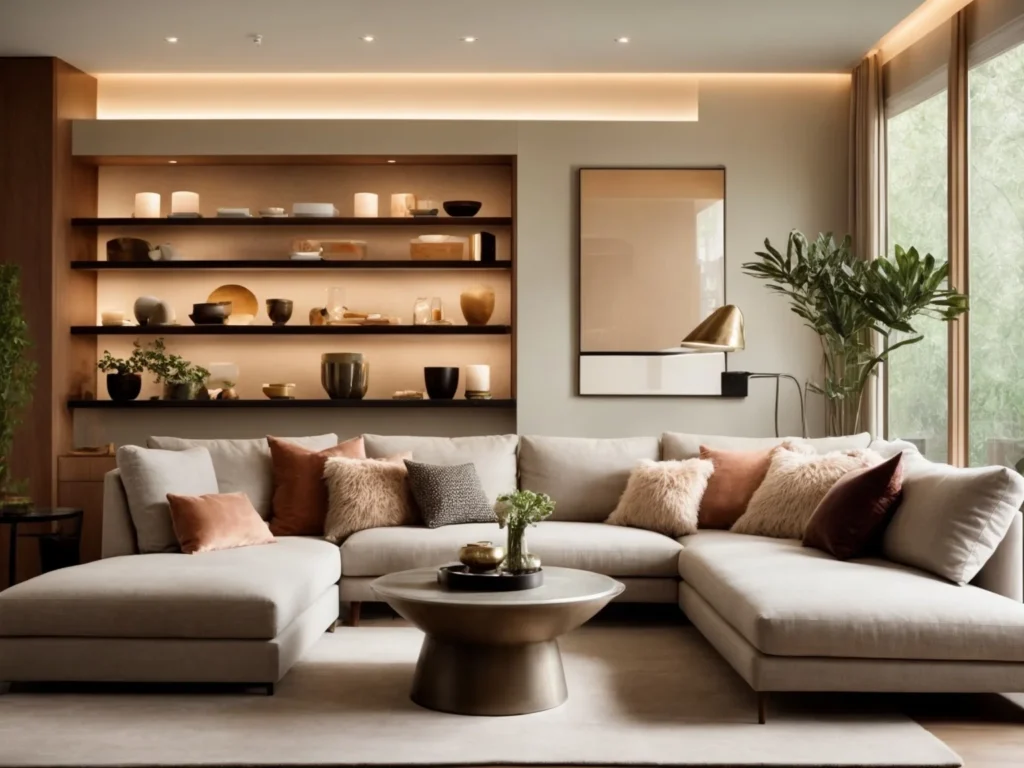 Lighting sets the entire mood for a living room. Masterfully blending ambient, task and accent lighting makes the space functional and inviting.
Ambient: Overhead lighting washes the room in a soft glow. Try pendant lights, chandeliers or recessed cans on dimmers. Wall sconces also add ambiance.
Task: Reading lamps, under-cabinet lights and other focused lighting aids activities without glare. Opt for adjustable gooseneck lamps.
Accent: Spotlights, track lighting and directional bulbs spotlight focal points, artwork or architectural details. Uplights behind shelving create a glow.
Control: Install dimmers and timers to control all lighting. Smart bulbs add app and voice control. Automate sunrise/sunset lighting for a spa-like feel.
Layering light: Combine light sources at various heights and intensities. Ambient lighting should cast a warm glow throughout the space. Supplement with task lighting as needed and use accents judiciously to avoid a stark feel.
Also consider the living room's natural light. Maximize sunlight with sheer curtains. Dim evening light with blackout drapes. Add mirrors to reflect and amplify light.
Adding Life with Greenery
Bringing nature indoors instantly livens up your living room. Greenery adds fresh air while complementing almost any design style from modern to bohemian. Something as simple as a fiddle leaf fig or snake plant makes a big impact.
When incorporating plants:
Choose low-maintenance varieties that thrive indoors. Succulents and pothos do well in low light and with minimal watering.
Use planters that complement your decor. Woven baskets or concrete pots add natural texture. Metallics modernize.
Scale plants appropriately for their location. A petite succulent works on a side table. A substantial palm tree suits a corner.
Add height with floor plants, wall-mounted planters or multi-level plant stands.
Greenery also introduces appealing scents like eucalyptus, jasmine, or lavender. Use mini trees or live plants instead of toxic air fresheners.
Go beyond potted plants to work greenery into your design. Hang air plants in macrame holders, or add a living wall.
Incorporate organic textures with bouquets of dried grasses or a wreath above the fireplace.
Change out seasonal botanicals to keep the space feeling fresh. Try orchids and poinsettias in winter, then peach blossoms and tulips for spring.
Greenery brings life and vibrance to any living room style. Take care not to overdo it—a few well-placed plants or floral accents go a long way. Rotate blooms to keep your living room feeling fresh and inviting year-round.
Allowing Breathing Room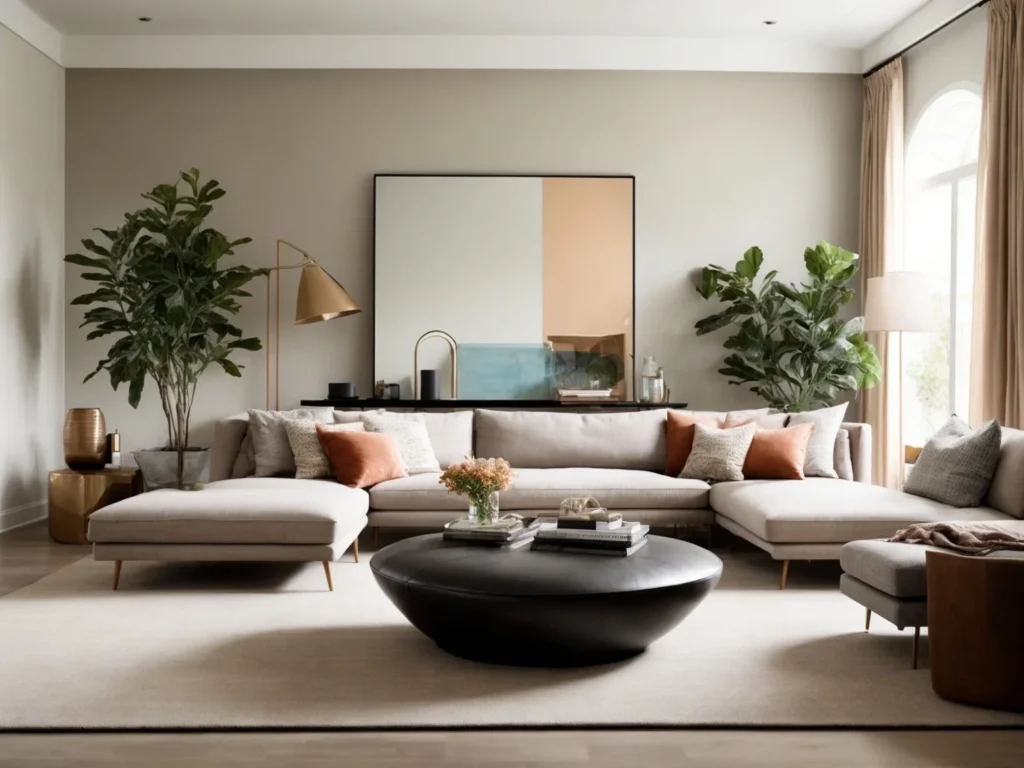 While you want your living room furniture and accents to feel cohesive, allowing breathing room is also important. Avoid overcrowding that makes the space feel claustrophobic and chaotic. Apply the "less is more" philosophy to find balance.
Leave a minimum 18-24 inches between furniture pieces and the room perimeter. More is even better to enable easy flow.
If your living room shares an open floor plan with a kitchen or dining room, ensure each zone has literal and visual space.
Scale furniture appropriately to your room. Oversized items shrink the space. Measure carefully before purchases.
Edit out decor that no longer brings you joy. Donate or trash overly sentimental accessories that clutter surfaces.
Arrange furniture to promote conversation. Face chairs and seating arrangements toward one another with room to mingle.
Float furniture away from walls rather than pushing items flush against the perimeter which can close off flow.
Use multifunctional furniture like ottomans and nesting tables to add surfaces without clutter.
Limit furniture legs and undersides that block views and make cleaning tough in favor of open, airy silhouettes.
Breathing room allows you to inhabit your living room truly. Follow your instincts, and remove anything that impedes movement or sightlines throughout the space.
Personalization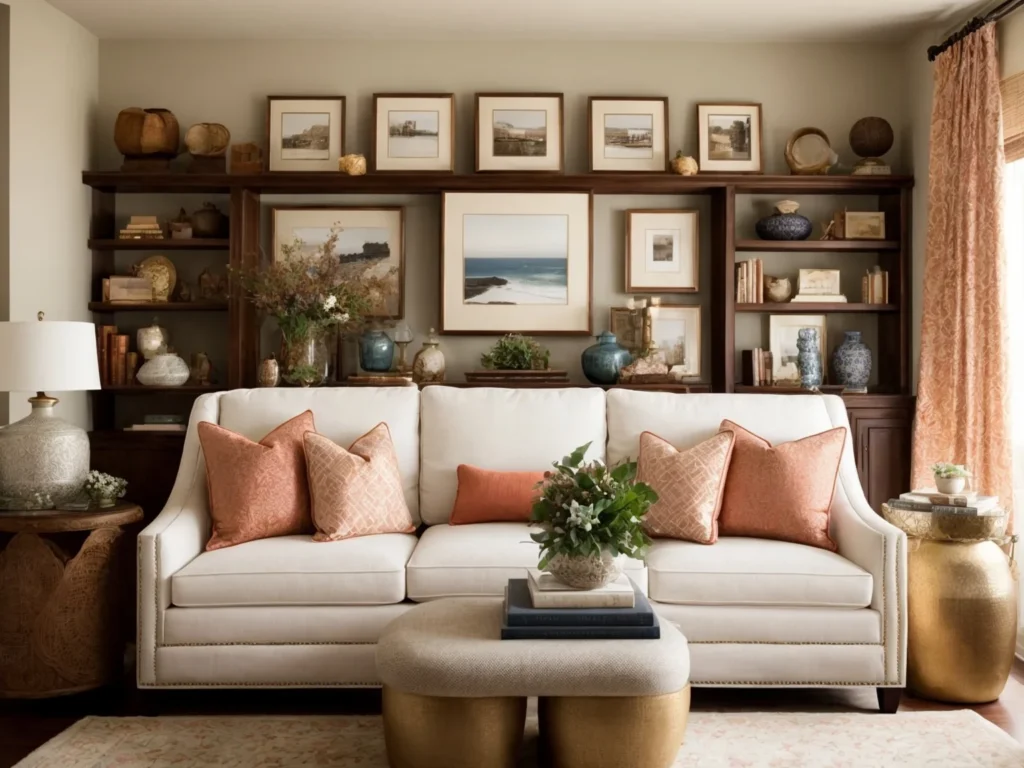 Your living room should tell your story. Incorporate meaningful pieces that show off what makes your style unique. Personal touches turn a room into a home.
Warm up an impersonal rental with:
Framed family photos on console tables, bookshelves and walls
Artworks from vacations to favorite destinations
A gallery wall showcasing cherished mementos
Throws embroidered with your monogram
Initial pillows on each family member's favorite seat
For owned homes, display:
Family heirlooms like paintings, silver or china handed down
Your own artwork, crafts or collections
Souvenirs from special occasions like weddings or graduations
Meaningful gifts honoring achievements and milestones
Collections that reveal hobbies, like favorite books grouped by genre
Don't be intimidated to hang art salon-style or prop quirky flea market finds. The "rules" don't apply when showcasing objects you love. Let your living room narrate your life story.
Furniture Placement and Flow
Finding the right furniture layout for your living room is key to form and function. Optimize flow for comfort and conversation with strategic placement.
Map out zones on paper first. Position each grouping around focal points like a TV or fireplace.
Maintain space between furnishings and room borders. At minimum, allow 18-24 inches from walls or openings.
Float furniture away from walls rather than pushing flush against them. This keeps the space feeling airy.
Avoid blocking windows, doors or opening views. Leave a sightline path through the room.
Angle furniture to promote conversation and interaction. Avoid pieces all facing the TV, which isolates people.
Place armchairs and side chairs perpendicular to sofas for a cozy reading nook/conversation area.
Position coffee and side tables within reach of seating areas. Make sure lamps and décor are accessible.
Use an area rug to define a zone while leaving floor space to move between groupings. Size appropriately.
Incorporate multifunctional pieces like ottomans and nesting tables to maximize flexibility.
Experiment with configurations, allowing ample pathways. Measure carefully, as furniture always feels larger in situ. Above all, ensure your layout supports your living room activities.
Multifunctional Furniture
Choosing furniture for multiple purposes is a savvy strategy for smaller living rooms. Multifunctional pieces maximize every square foot stylishly.
Ottomans easily pull double duty by providing flexible seating, surfaces and storage. Options like tufted cubes, upholstered benches or leather poufs stow extras while serving as coffeetable substitutes. Nesting ottomans can rearrange configurations or create more floor space as needed.
Look for coffee, console and sofa tables with bottom shelves perfect for stowing baskets, trays and storage bins out of sight. Some even incorporate cabinet or drawer storage within the table itself.
Benches and upholstered stools slide under console tables when not in use. Repurpose them as extra seating for parties or movie nights. Small stools also allow you to tuck an extra seat by bookshelves or other unused corners.
Don't overlook furniture's hidden talents. Can that trunk serve as both rustic cocktail table and blanket chest? Use the top of a console to display art while stashing remotes in drawers below. With a bit of creativity, you can make every piece multitask.
Attention to Detail
Finishing touches elevate a living room from blah to beautiful. Thoughtfully styled accessories make a space feel welcoming and complete. Add layers of texture, color and interest with:
Throw pillows: Choose various pillow sizes, colors and textures that complement your decor. Mix patterns and solids for interest.
Throws and blankets: Drape textured throws over chair backs and fold colorful quilts at couch armrests for a cozy feel.
Trays: Corral remotes, candles and other items on decorative trays keep necessities at hand without cluttering up tables.
Sculptures and bookends: Display treasured pieces and organize book collections with handsome objets. Match metals and wood tones.
Framed photos and art: Showcase cherished memories and favorite works throughout the space to add a personal element.
Greenery: Bring life with potted plants, wreaths, garlands, and floral arrangements. Choose plants that thrive indoors.
Bowls and boxes: Corral loose items like remote controls and game pieces in decorative vessels. Hide unsightly but necessary tech cords and gear.
Candles and diffusers: Add ambiance and welcoming scents with a mix of pillar, taper and votive candles. Arrange by color or size for interest.
Take time styling and editing accessories until each feels intentional. Avoid simply scattering tchotchkes everywhere. Thoughtful details lend a collected, curated feel.
Conclusion
Creating a living room you love takes careful thought and attention to details big and small. Start by defining functional zones tailored to your lifestyle and activities. Select a cohesive color palette and style that complements your home's architecture. Choose furnishings with purpose, allowing ample breathing room. Then make the space truly yours with meaningful accessories, artwork and greenery.
The payoff for thoughtfully styling your living room is immense. This multifunctional space will easily adapt as your needs change over time. More importantly, it will feel warm, welcoming and uniquely you. Follow your instincts to shape a living room that seamlessly blends style, comfort and personal expression. Before long, you'll have a space to savor for years.