Eucalyptus wood: Uses for outdoor furniture, Maintenance, Pros, and Cons
Comfortable outdoor furniture is part of the end of the day. They provide the necessary relaxation to end the day in peace.
There are various garden furniture that round off the atmosphere and at the same time provide a high level of comfort. This article will discuss all eucalyptus wood used for outdoor furniture, maintenance, and their disadvantages.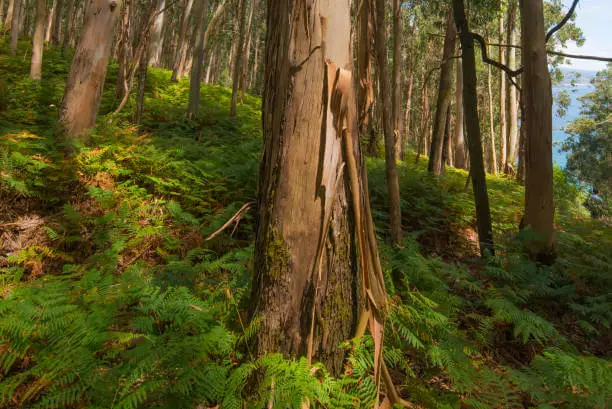 Outdoor furniture made of eucalyptus wood
Eucalyptus wood is a hardwood species native to Australia but is now grown all over the world.
Eucalyptus wood lends itself very well to making outdoor furniture, grows quickly, and is cheaper than teak.
Eucalyptus wood is also hardwood, which is why it works so well as an outdoor table, garden chair, or legs for your new garden bench.
Sustainable Eucalyptus for outdoor furniture
Outdoor furniture made from eucalyptus wood is stylish, durable, and beautifully finished.
To help the environment, make sure you buy eucalyptus furniture from a manufacturer that sells furniture from FSC certified plantations.
FSC Eucalyptus hardwood (durability grade 1-2). This makes them durable, and they have a nice natural look.
Make sure that the wood is treated with a protective oil which gives the wood a rough color.
Initially, the furniture is light brown, red, or yellow/orange, but under the influence of the UV rays of the sun, it will discolor a light silver-grey over time.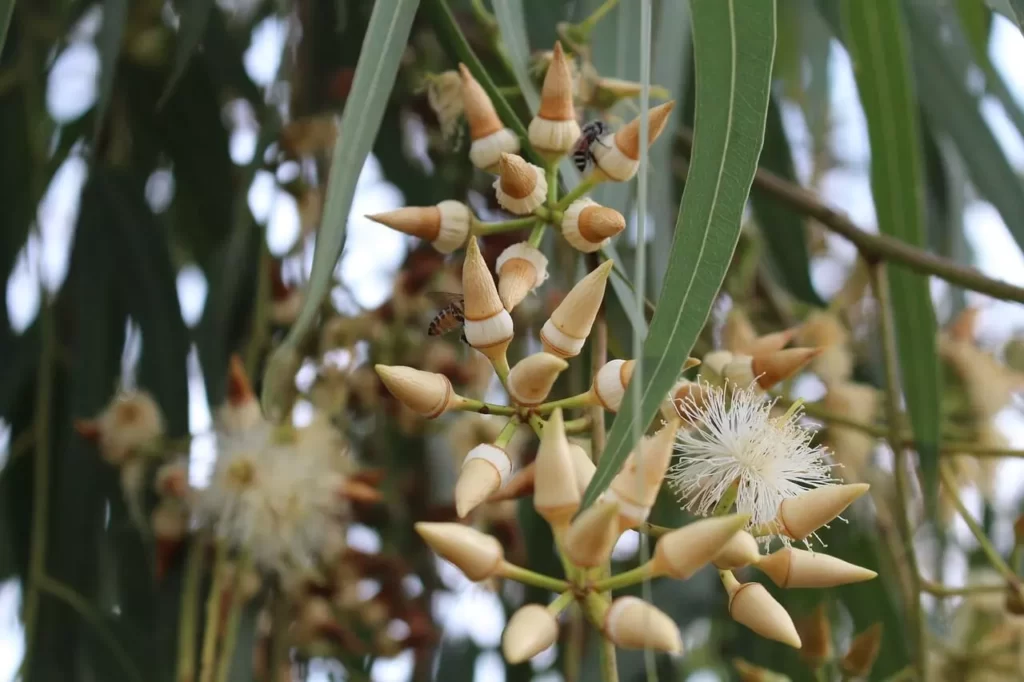 What determines Eucalyptus as hardwood?
The following properties determine the quality and type of hardwood:
Structure of the wood. Does the wood have a fine or coarse grain?
Color of the wood. It ranges from yellowish to blackish brown but is generally reddish-brown.
Voluminous mass that indicates the weight and density of the wood.
Durability class. Is it resistant to rot and to attack by insects, for example? Durability class 1 is preferred.
Eucalyptus wood Care
Eucalyptus is a natural product. Various weather influences can cause stains and hairline cracks in the wood.
This does not affect the construction of the product. In addition, the wood may discolor. This is inherent in eucalyptus wood.
Because Eucalyptus has a lower oil content than teak, this type of wood requires more maintenance.
We, therefore, recommend that this type of wood be properly maintained. The warm color is preserved by treating it regularly with Hardwood oil, and the lifespan is extended.
Cleaning eucalyptus wood can be done with a teak hardwood cleaner.
This cleaning agent is made for all hardwood types of furniture and ensures that dirt comes off quickly and kills mold, making it less likely to come back. You can treat eucalyptus wood with any hardwood protector.
We advise you to cover your table set with a cover in bad weather for an extra-long lifespan. Make sure the set is dry when you cover it and take the cushions inside.
Eucalyptus furniture Maintenance Details
When you buy a eucalyptus outdoor table, the impregnation of the oil can vary so that some residue may remain on the wood.
In this case, you can remove it with a cloth before use. Wait until the end of summer before applying a new coat of oil to the wood.
Eucalyptus wood is a material that will change its appearance over time; some cracks may also become visible.
However, it is this natural aging that gives the material its authentic charm. Although it is a robust and resistant wood, some maintenance is required to extend the delivery time.
Daily maintenance consists of:
removing leaves, standing water, and dust. Any food residues can be removed with a sponge and soapy water. You can use a hard brush for stubborn dirt.
Major cleaning of eucalyptus furniture in the spring and late summer.
Clean the furniture and then let it dry thoroughly. When it is completely dried, you can apply a thin layer of oil.
Note: The wood mustn't get wet in the 24 hours after applying the oil!
If the garden furniture is exposed to a lot of rain, it is possible that the fibers on the surface appear swollen and that they feel rougher.
You can remedy this by sanding the surface with fine sandpaper until you get a smooth result. After sanding, apply a layer of oil to restore the original color of the garden furniture.
The oil protects the wood against stains, dirt, weather conditions, and fungi.
You can choose to age the wood without applying the oil twice a year. Your furniture will have a beautiful silver color but will no longer be protected.
Precautions
– It is essential to protect the eucalyptus furniture in winter. Store it in a dry ventilated area, away from moisture.
– If you choose to protect your furniture with a protective cover, choose one made of PVC over one made of polyester.
– Avoid direct contact with a heat source or excessive heat
– Do not leave a wet cloth or sponge on the wood for too long; otherwise, the surface will become rough.
Do you have to paint a eucalyptus wood outdoor that has been oiled?
No, you don't have to paint it. Please put it back in the oil at least twice a year. Then the chance that the wood will weather is slightest. Scrub the bench well before oiling it, then let it dry well and sand it lightly with fine sandpaper.
Remove the dust and then put it in the oil. In the winter months, put it under dry land or cover it if possible; this will benefit the wood.
The biggest enemy of the wood is the sun, so put it in the oil in time to prevent the wood from graying as quickly.
Wood that has been oiled is therefore greasy, and you will never be able to paint it that way, which would also not be so wise because when you close the wood, it can start to weather or become ugly.
Soak oil in your furniture at least once a month, especially during the spring and summer months.
It is also an excellent nail polish for your eucalyptus patio furniture, which is perfect for enhancing the look of your patio for guests.
An effective way to protect your furniture from the elements is to waterproof it.
You can use teak oil in combination with a commercially available protective chemical that will seal your furniture and prevent the water from damaging it without damaging the surface of your table.
To go along with waterproofing is to buy protective covers that go on your furniture while outside.
Ideally, you want to keep your furniture when not in use. However, this isn't always practical, so it's best to use waterproof covers that block UV rays.
Your table legs and chair legs are especially vulnerable because they rest on surfaces that get wet.
Outdoor furniture can be treated with lacquer, stain, or oil
Lacquer forms a layer over the wood. As a result, the wood is better protected, but the lacquer can also crack or crumble, which does not look good. In addition, most paints contain a solvent, often white spirit, harmful to the environment.
Stain largely absorbs into the wood so that the grain remains more visible, and the stain is less likely to crack than a lacquer. Most stains use chemical solvents, but there are also water-based stains.
The oil absorbs completely into the wood, keeping it the most natural look. Because there is no layer around the wood, you quickly have a dent or scratch in the wood itself. But the damage can also be quickly and easily repaired with oil.
Treating eucalyptus outdoor furniture with oil instead of stain or lacquer: does it work?
Is water-based oil a suitable environmentally friendly alternative to turpentine-based paint or stain for eucalyptus outdoor furniture?
The oil took some getting used to, but I got the hang of it after a few minutes. The processing is fine and perhaps even easier than lacquer because the oil penetrates the wood and obscures minor caress.
The environment is, in any case, well-protected with this solution because there is hardly any solvent in it.
The color is, of course, taste. But if you like wooden outdoor furniture with a natural look, this oil succeeds very well.
The wood structure comes out nicely, and the garden furniture looks fresh and good again.
Almost a year has now passed. The furniture was outside in the sun and rain in the spring, summer, and autumn.
In the winter, I put them in the shed. But of course, just a little later than is good for them. They have been on the terrace for a month now.
After a year, I still like the oil color, and the garden furniture still looks healthy and well protected. Of course, the table was slightly less reddish-brown than in last year.
But I don't immediately feel the urge to grab a brush and put them back in the oil. I estimate that I will do that once every two or maybe even three years. It just still looks good. So wood oil has done its job well and protected the garden furniture well!
Whether your outdoor furniture will last for a long time depends a lot on the wood it is made. In general, conifers are not as durable as hardwoods.
That is why you will first have to pre-treat furniture made from conifers with special wood protection. On the other hand, hardwoods are more resistant to pests due to their higher density and ease of maintenance.
Do you want to know what properties different types of wood have? We write an article about the most popular types of wood for outdoor furniture.
Main Types of Eucalyptus
Eucalyptus camaldulensis: red Eucalyptus; it is native and the icon of Australia, especially its hot deserts. It grows up to 60 meters in height, with thick and spongy bark, with reddish, gray, greenish, and whitish shades.
Eucalyptus deglupta: Known as rainbow eucalyptus, it is undoubtedly one of the species—if not the most—to draw attention. It is native to Mindanao (the Philippines) and Sulawesi (Indonesia). It grows to a height of 75 meters, with a multicolored bark.
Eucalyptus gunnii: Gunn's Eucalyptus; gunni or cider Eucalyptus, an endemic tree in Tasmania that grows to about 37 meters in height.
Globulus of the Eucalyptus: It is the common Eucalyptus, white Eucalyptus, or blue Eucalyptus. Native to southeastern Australia and Tasmania, it is a tree reaching 40 meters in height. See file.
Eucalyptus wood vs. teak and Acacia
Wooden garden furniture has a similar natural style. Teak, Acacia, and Eucalyptus are especially popular.
Teak is extremely durable and requires little maintenance. It can stand outside in all weathers, but this changes color, of course. The special robustness is also noticeable in the price.
Here, teak furniture is almost undisputedly at the top of the price scale. Acacia is also convinced with a unique design and a lively structure.
Not only the appearance but also the robust character convince many buyers. Acacia outdoor furniture is suitable for anyone who likes the hustle and bustle of the garden.
Eucalyptus is not only popular with koalas: it is ideal for anyone who does not want to impregnate their garden furniture.
Due to the high content of oils in teak wood, they are well protected against moisture and dirt. The mostly light red to light brown color goes well with flowering plants and colorful shrubs.
Whether teak, Acacia, or Eucalyptus: wooden garden furniture is robust and fits almost every balcony and garden thanks to its natural design.
With the exception of teak wooden furniture, the following applies:
Protect your wooden garden furniture against moisture. Even if the wooden furniture is glazed, long showers can damage the material. So if you don't have storage space, buy suitable protective covers when purchasing.
Teak wood is often compared to eucalyptus wood and is particularly notable because it grows faster. This makes eucalyptus wood much cheaper than teak wood
Eucalyptus wood is an alternative to teak wood and can therefore not be directly compared, the density of eucalyptus wood is slightly lower, and that also has to do with the fact that this wood grows faster.
Eucalyptus wood is beautiful and excellent to maintain, in exactly the same way as teak wood.
Occasionally maintenance oil should be applied, and you can choose whether the wood becomes dark or light by applying more or less maintenance oil.
What differentiates in storing in winter is that eucalyptus wood can be covered but not with teak wood. Read more to find out maintain outdoor furniture for winter.
What is the difference between Eucalyptus with teak wood?
The biggest difference is that Eucalyptus grows much faster than teak; it also contains less oil and discolors faster.
Teak wood has the great advantage that it is very durable due to its slow growth (the annual rings are closer together). Eucalyptus wood is a hardwood, just like teak.
Teak wood is the most durable wood you can use for garden furniture, but it is also the most expensive. That is why eucalyptus wood is a very good alternative.
Advantages of eucalyptus wood for outdoor in summary:
1. Eucalyptus timber is immune to degeneration and rot.
2. You could obtain the exact very same advantages with Eucalyptus that include teak wood.
3. You could anticipate 20-25 years of solution from your Eucalyptus furnishings.
4. It offers a gorgeous red shade that dims with age.
5. You do not have to stress over the grading choices with Eucalyptus.
6. The furnishings are soft to the touch, despite its grain variant.
7. Eucalyptus timber is exceptionally lasting.
8. The timber grain of Eucalyptus is incredibly constant.
9. Eucalyptus wood is typically less expensive compared to other wood types for outdoor furniture
Disadvantages of eucalyptus wood for garden furniture in summary:
1. Eucalyptus wood doesn't deal with winter very well.
2. Teak wood has more resilience compared to Eucalyptus.
3. The Eucalyptus wood easy to crack to temperature change
4. Eucalyptus wood is still vulnerable to some insects.
5. Eucalyptus wood in your garden will shade without treatment.
6. Some individuals might be allergic to oil that found in Eucalyptus wood.