So you've got a classic red brick house but want to give it a modern facelift. How do you update the look without losing the charm of the red brick? Transforming a traditional red brick exterior to reflect a more contemporary style is possible with strategic renovations. This comprehensive guide covers all the ways to modernize a red brick house from paint colors to finishes to details. Read on for tips and inspiration!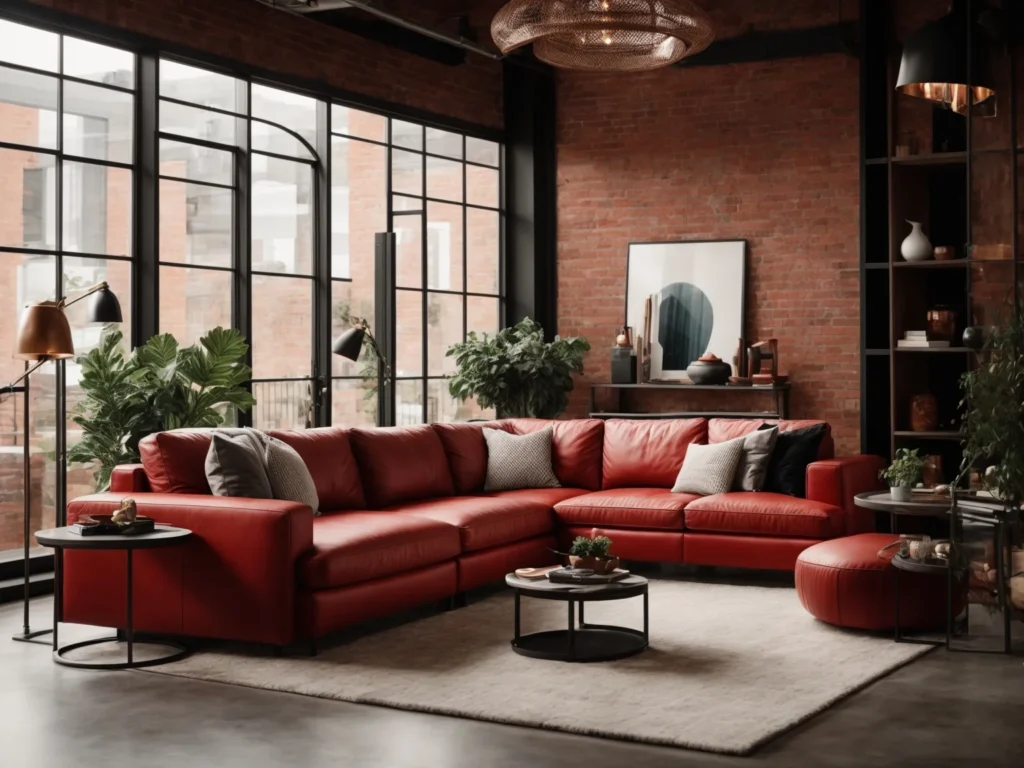 The Allure of Red Brick
Red brick houses represent classic American architecture. The red clay bricks are an iconic building material, known for their rich, warm hue. Red brick exterior walls can lend homes a stately, traditional look. However, red brick can seem dated as trends shift towards more modern simplicity. The good news is you don't have to lose the charm of red brick to achieve a modern aesthetic. With careful renovations, it's possible to transform these homes into light-filled, contemporary spaces.
The Power of Paint
One of the most dramatic ways to modernize a red brick house is to paint the brick. While painting brick is controversial to some, a fresh coat of paint can instantly update the look. If you choose to paint, use high-quality exterior masonry paint. Opt for a neutral shade like gray, taupe, or white for a modern feel. Black is another trendy brick color choice. Painting the brick black makes a bold, dramatic statement.
Consider your home's architectural style when selecting a paint color. For example, soft gray tones work well for stately colonial or Tudor style houses. A stark white paint color helps create a more streamlined, modern aesthetic. Make sure to prep and prime the brick before painting properly. This helps ensure the paint adheres and lasts.
Painting the exterior window trim, shutters, doors, and other contrasting accents to the brick adds visual interest. Black window frames make a striking statement against white washed brick. Or go for white trim against black painted brick for high contrast.
Limewashing Brick
Another way to update traditional red brick is to limewash it instead of paint. Limewash has a chalky, matte finish that allows some of the underlying brick color to show through. This gives brick a softer, more organic look than opaque paint. Limewashing brick has experienced a resurgence in popularity for achieving a modern, coastal vibe.
Limewash comes in a range of tinted hues like white, cream, oyster gray, and pale blue. For a beachy look, select a white or gray-blue limewash. Combining limewashed brick with white siding and black window trim creates a chic, nautical-inspired color scheme. Hire a professional specializing in limewashing brick to complete the look properly.
Incorporate Modern Design Elements
Beyond surface changes like paint, incorporating modern exterior design elements can help transform traditional red brick into a contemporary home.
Windows
Installing new windows is one of the most impactful upgrades. Large, floor-to-ceiling windows lend a light, airy feel. Casement or awning style windows with sleek black or white frames look especially sharp against red brick. If your budget doesn't allow replacing all the windows, start updating the front windows for maximum curb appeal.
Entryways
Swapping classic features like crown molding and ornate columns for simple, clean lines helps modernize traditional homes. For the entry, pick a modern style front door in a bold color like black for drama. Flank it with sleek exterior sconces. Top with a simple awning for an architectural detail.
Opt for a geometric, minimalist design for the porch, stoop or portico rather than intricate woodwork. And skip heavy drapery or valances on windows in favor of simple, tailored window treatments.
Architectural Detailing
Adding modern architectural accents lends style. Corrugated metal siding makes an industrial-chic statement. Concrete paneling in cool gray tones works well with red brick. Standing seam metal roofing gives a modern, minimalist look compared to shingles.
Other contemporary details include metal awnings, sleek steel beams, and large overhangs. Avoid unnecessary exterior ornamentation to keep the look streamlined.
Landscaping
The landscape design greatly impacts curb appeal. So take a minimalist approach to plantings and hardscaping. For a modern look, opt for simple rows of boxwood hedges or ornamental grasses versus intricate garden beds. Gravel pathways make a crisp alternative to winding brick walkways.
Concrete pavers in streamlined shapes and patterns add modern flair. Retaining walls faced in stone or concrete lend a clean-lined look. Focus on texture and color over complexity. And potted plants in matching modern planters give a cohesive feel.
Modern Color Palettes for Red Brick
Color plays a pivotal role in creating a modern red brick exterior. Avoid bright, bold hues in favor of neutral, muted palettes. Monochromatic color schemes look sharp and contemporary. Here are some chic, modern color combinations for red brick houses.
Black and White
Nothing says modern like clean, classic black and white. For drama, paint the brick black and use crisp white for the siding, trim, windows and railings. Or make the brick white and use black on the windows and accents. Varying textures between the brick, siding, stone, and metal creates visual interest.
Red Brick and Gray
Gray is the ultimate neutral for modern, minimalist style. For a relaxed look, paint the siding and trim a light warm gray and leave the brick its natural red tone. Charcoal gray metal awnings pop against red brick. Use the same gray inside on walls and furnishings for a cohesive feel.
Soft Whites
An all-white exterior with red brick is a light, airy choice. Stick to soft white versus stark brights. Creamy white washed brick has a beachy vibe. Pair with oyster gray trim and pearl white siding. Add navy blue accents for contrast. Crisp white windows and railings keep the look light and contemporary.
Mixed Metals
Combining metals in finishes like brass, black steel and brushed aluminum for railings, beams, lighting and hardware makes a modern statement. Allow the red brick to stand out against these metallic tones. For a sleek industrial edge, incorporate corrugated metal siding.
Bold Pops of Color
Make the red brick the star and choose bold, contrasting colors for accents. A vibrant teal door against reddish brick catches the eye. Use citron yellow sconces and window boxes for punches of color. Paint the window trim crimson red for an energetic boost. Let the brick shape the palette.
Design Considerations
There are a few important factors to weigh when renovating a red brick home to look updated and modern.
Historic Architecture
Research your home's architecture and age, especially if it's historic. There may be restrictions on changing certain original exterior features like brick facades. Look into preservation regulations for your area if the house is a recognized historic structure.
HOA Rules
For properties in communities overseen by a homeowners association, ensure any exterior home renovations meet HOA guidelines. Painting the brick a bold color or using non-approved building materials may be prohibited. Always check before starting major remodeling.
Climate Conditions
Consider your region's climate and weather patterns. For example, painting brick in wet climates could seal in moisture and cause damage if the brick is not properly prepped. A limewash finish may hold up better. Research how exterior materials like metal roofing fare in snow, high heat and humidity before installing.
Budget
What's your renovation budget? Prioritize high impact changes like installing new windows or a modern front door over lower cost upgrades like house numbers or exterior lighting. Look for ways to get the most transformation for your dollar through strategic renovations and finishes.
Combining Old and New
The goal is marrying modern and traditional. Find ways to honor the existing architecture while introducing fresh, contemporary elements. For instance, keep traditional shingle roofing but paint the brick black. Or add large modern windows but preserve the original siding. Blend old and new design for the perfect balance.
Curb Appeal
Even small inexpensive tweaks can make a noticeable difference in curb appeal. Something as simple as house numbers in a sleek modern font or a new steel entry door can modernize the look. Focus changes on the street facing facade for maximum visual impact.
Do It Yourself vs. Hiring a Contractor
Some red brick house renovations like painting or limewashing can be DIY-friendly. But significant changes like installing new windows, siding or finishes may require professional expertise. Consider how comfortable you are taking on the project scope. Here are pros and cons of each option:
DIY
Pros
More affordable option
Creative control over details
Learn new skills doing renovations yourself
Cons
Very time and labor intensive
Steep learning curve with new techniques
Mistakes can get costly to fix
Hiring a Contractor
Pros
Jobs get done much faster
Higher quality workmanship
Licensed and insured
Access to equipment and materials at better prices
Cons
More expensive upfront cost
Communicator and timeline issues can happen
May still need to oversee some decisions
Evaluate whether you have the time, skills, and perseverance for DIY or if hiring a pro is the best route for such an extensive project. Some homeowners opt to tackle the painting then have contractors install large additions like window walls or metal roofing. Assess your abilities and resources. Read online tutorials and watch training videos to gain DIY skills. And research qualified local contractors experienced in exterior home renovations.
Modernizing Brick Step-By-Step
Ready to transform the exterior of your red brick house? Follow these steps for a stunning modern makeover:
Plan the Design
Research design ideas and color schemes. Create inspiration boards.
Decide on a modern style: contemporary, industrial, midcentury modern, etc.
Determine which parts of the exterior to update vs. keep original.
Sketch layouts of proposed changes like new windows.
Prepare the Surface
Power wash the brick to remove dirt, mildew and loose paint.
Repair any damaged brick, loose mortar, or cracked caulk.
Apply masonry sealer if painting or limewashing.
Modernize the Brick
Prime brick before painting if needed.
Paint, limewash or install new siding over brick.
Paint window sills, lintels, porch columns and trim.
Update Details
Install new windows, exterior lighting, outdoor ceiling fans.
Add modern shutters, railings, and exterior hardware if needed.
Finish with Landscaping
Remove overgrown plants, outdated garden structures.
Install hardscaping like gravel pathways, concrete pavers.
Plant boxwood hedges, ornamental grasses, and pots with minimalist plantings.
Curb Appeal Tweaks
Paint or replace front door.
Install modern house numbers.
Add colorful modern outdoor furniture and planters.
Take it step-by-step for a seamless transformation. Proper prep work and planning makes all the difference. And pay attention to finishes for a clean, contemporary look. With strategic renovations, you can maintain the character of your classic red brick house while giving it a fresh modern edge.
Transforming a Traditional Red Brick Home: Inspiring Ideas
Need more visualization about how to blend contemporary and traditional architecture seamlessly? Here are some stunning red brick houses modernized through creative renovations and finishes:
Modern Meets Traditional
This renovated 1925 red brick colonial has a chic, contemporary look thanks to the black window frames, white pillars, beige limewashed brick, and minimal landscaping. The lighter brick brightens the home while the black accents and large windows give it a modern edge.
Sleek Industrial
Exposed steel beams, metal awning, concrete accents, and black window frames lend an urban industrial vibe to this traditional red brick house. The beige limewash brick and simple greenery soften the look.
Sophisticated Contrast
Check out the dramatic transformation of this dated red brick ranch into a stately modern home. The light gray paint adds texture while the black windows and doors boldly contrast with the brick. Manicured boxwood hedges complete the elegant look.
Urban Modern
This updated brick row house gets a breath of fresh air with a bright white exterior, slate gray porch, and eye-catching teal door. The colorful accent makes the red brick pop. Black window boxes and trim add striking contrast.
Beach Chic
This seaside home combines whitewashed brick, pale blue trim, and a matching blue front door to achieve a gorgeous beach-inspired aesthetic. The painted brick gives off an airy, coastal vibe.
FAQs: Modernizing a Red Brick House
Still have questions about updating your home's classic red brick exterior? Here are answers to some frequently asked questions:
Does painting brick damage it?
Painting brick does not damage it as long as it is properly cleaned, primed and sealed first. Be sure to use high-quality exterior masonry paint. Avoid inexpensive paints which can trap moisture and cause issues.
Can you remove paint from brick?
Yes, paint can be removed from brick using a chemical paint stripper or sandblasting. However, this is an extensive process. It's best to be sure you want to paint the brick before proceeding.
What happens if you don't prep brick before painting?
Failing to clean properly and prime brick before painting can lead to problems like trapped moisture, bubbling or peeling paint, efflorescence, and poor adherence. Always prep!
How much does it cost to modernize a red brick house?
Costs vary based on the scope of work. Simple DIY upgrades may range from $2,000-$5,000. More significant renovations like installing new architectural elements can be $50,000 or more.
Should I paint my red brick house gray or white?
This comes down to personal preference! Gray gives off a more subtle, neutral vibe while white makes a bolder statement. Choose a shade that complements your home's features and surrounding landscape.
What colors go well with red brick?
Classic color pairings like black, white, gray, and blue beautifully complement red brick. But feel free to get creative! Accent your red brick home with shades like sage green, rich navy, burnt orange, pale yellow, and even soft pink.
Achieve a Modern Red Brick Exterior
With strategic design choices and keen attention to detail, you can revamp a traditional red brick house to feel fresh and contemporary. From bold black accents to sleek finishes and modern elements, many creative ways exist to update the exterior aesthetic. Use this guide to inspire ideas for your own red brick home makeover. Soon you'll have the modern house of your dreams while still celebrating the striking red brick architecture.