Painting over stained wood without sanding may seem daunting, but with the right preparation and products, you can achieve a beautiful, long-lasting finish. Proper cleaning, using a bonding primer, choosing the right paint and topcoat, and understanding the expected results will ensure success.
This comprehensive guide covers all the steps and provides product recommendations so you can transform stained wood surfaces without the hassle of sanding. Read on to learn why avoiding sanding is beneficial, how to thoroughly prep and clean the wood, the importance of using a bonding primer, top paint and clear coat options, and a step-by-step process for painting over stained wood.
With some time and care to follow best practices, you can give stained wood a new look with a fresh coat of durable paint.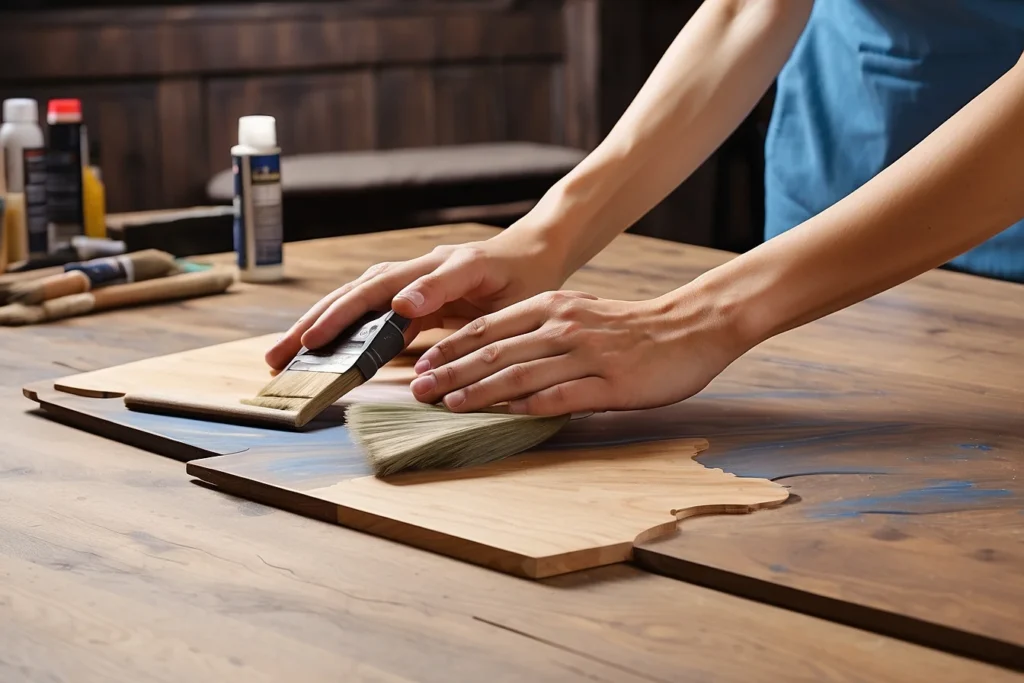 Why Avoid Sanding?
Sanding stained wood before painting can be time-consuming, messy, and labor-intensive. It also risks damaging the existing finish or wood surface. The goal of painting over stained wood is to avoid removing the original finish and prep the surface for optimal paint adhesion.
With the right chemical cleaners, primer, paint, and preparation, sanding is unnecessary to achieve a quality, long-lasting finish. The key is using products designed for painted wood and properly cleaning and degreasing the surface.
Benefits of Avoiding Sanding
Saves significant time and labor
Less messy than sanding which creates fine dust
Avoids damage to existing finish and wood surface
Allows you to build up layers for maximum durability
Produces similar results to sanding when done properly
Using the techniques outlined in this guide, you can avoid the hassle of sanding and still get great results painting over stained wood.
Thorough Cleaning is Crucial
Before painting, it's essential to thoroughly clean and degrease the wood. Over time, surfaces accumulate oils, wax, dirt, and grime that can interfere with proper paint adhesion. Using the right chemical cleaner removes this residue so the paint can properly bond.
Why Cleaning is Important
Removes grease, wax, dirt, and grime buildup
Improves paint adhesion so it bonds tightly
Allows primer and paint to penetrate the surface
Helps avoid chipping, peeling, or flaking of the new paint
Prepares the surface for optimal finish results
Proper cleaning is the first critical step in ensuring the new paint job lasts. Cleaning thoroughly makes a big difference in how well the paint adheres.
Recommended Cleaners
Deglossers: Formulated to remove glossy residue and lightly etch the surface. Great for cabinets and wood with an existing glossy finish.
TSP substitute: An all-purpose cleaner and degreaser perfect for walls, trim, furniture, and more.
Ammonia: Cuts through grease and dirt. Good for surfaces with heavy grime accumulation.
Chemical wipes: Convenient pre-soaked wipes provide an easy cleaning option.
No matter what cleaner you use, rinse thoroughly after cleaning and allow the surface to dry before priming or painting fully. Taking this crucial step will result in a finish that stays adhered.
The Key Role of Bonding Primer
After thorough cleaning, applying a bonding primer designed for painted wood is the most critical step. Bonding primer adheres tightly to surfaces and provides a strong foundation for paint. It stops stains from bleeding through and bonds layers together.
How Bonding Primers Work
Bonding primers contain adhesion-promoting ingredients that help the primer grip tightly to slick surfaces like stained wood. This allows successive layers of paint to bond securely to the surface.
Advantages of Bonding Primer
Stops stain bleed-through
Creates a rough surface for paint to adhere to
Bonds paint tightly to the surface
Seals in existing stains
Prevents chipping or peeling of the painted finish
Using a bonding primer is vital for getting paint to properly adhere to stained wood without sanding. It provides the strong grip needed to bond the new paint to the surface.
Top Bonding Primer Brands
Zinsser B-I-N Primer: The most popular shellac-based primer for stained wood. Provides excellent stain blocking.
Valspar Bonding Primer: A favorite for painting cabinets and furniture without sanding. Bonds well and dries fast.
Kilz Adhesion Primer: A trusted brand known for strong adhesion and sealing properties. Ideal for stained and slick surfaces.
XIM UMA Universal Metallic Primer: Bonds to glossy finishes and metals. Useful for metal furniture and fixtures.
Rust-Oleum Painter's Touch: An affordable general-purpose bonding primer suitable for wood, plaster, metal, and more.
These are some of the best bonding primer options for painted wood. Consider the surface you're painting and choose a brand for optimal adhesion.
What to Expect with Bonding Primer
When applied, bonding primers have a rough, blotchy appearance on stained wood. This is normal and desirable, as it creates an uneven surface for paint to grip. Be sure to apply the recommended coat thickness for best results.
Paint and Topcoat Recommendations
Once properly bonded and primed the surface, you can choose a compatible paint and optional protective clear topcoat.
Paint Options
Latex/acrylic paint: Ideal for most furniture, cabinets, trim, and walls. Available in various sheens.
Enamel paint: Provides a durable, glossy finish. Useful for high-traffic surfaces.
Chalk paint: Goes on smoothly with minimal prep. Popular for furniture and creating a distressed look.
Milk paint: An eco-friendly, non-toxic paint made from milk proteins and natural pigments. Ideal for kids' items.
Consider the surface you're painting and desired results when selecting paint. Latex and enamel paints are good all-purpose options.
Clear Protective Topcoats
Adding a clear finish protective topcoat is recommended for longevity. Consider options like:
Polyurethane
Lacquer
Polycrylic
Paste wax
Shellac
These clear coats protect the painted finish from scratches, spills, and wear and tear. They provide an extra layer of durable protection.
Step-by-Step Painting Guide
Now let's walk through the full process of painting stained wood without sanding:
Supplies Needed
Chemical wood cleaner
Sanding sponge (optional)
Tack cloth
Bonding primer
Foam paintbrushes
Paint tray
Paint of your choice
Clear coat (optional)
Instructions
Clean surface thoroughly with degreasing wood cleaner using a rag. Let dry fully.
Lightly sand glossy surfaces with a fine sanding sponge (optional).
Wipe away any dust with a tack cloth.
Apply a generous coat of bonding primer according to manufacturer instructions. Let dry fully.
Apply a second coat of primer if stain bleed-through is still visible.
Once primer is fully dry, use a foam brush to apply two coats of paint, allowing proper dry time between coats.
If desired, apply 1-2 coats of a clear protective topcoat like polyurethane.
Allow painted surface to cure for at least 2 weeks before heavy use.
Tips for Success
Follow these tips to ensure your painted finish comes out smooth and durable:
Thoroughly clean and degrease the wood first
Don't skimp on primer coats – it's the key to success
Use high-quality primer and paint
Allow proper dry time between coats
Lightly sand painted surface before applying topcoat
Be patient – allow painted finish to cure before heavy use fully
Following each step properly results in a painted finish over stained wood that will last. Rushing the process can lead to chipping, peeling, or other adhesion issues.
Transforming Stained Wood Examples
Painting over stained wood can give furniture, cabinets, trim, and more an entirely new and modern look. Here are some real examples of the dramatic transformations possible:
Stained Cabinets to White Kitchen
Painting over stained kitchen cabinets is a popular way to give the space a fresh, updated look without the cost of brand new cabinets. The transformation is often remarkable. The white painted cabinets look crisp and clean, and reflect more light to brighten the whole kitchen.
Stained Furniture to Trendy Upcycle
Furniture pieces often have beautiful wood stain that goes out of style. With some paint and new hardware, you can remake them into trendy shabby chic or distressed pieces. The possibilities are endless, giving new life to stained furniture.
Dated Trim to Modern White
Stained wood trim and molding can date a room. A fresh coat of white paint makes the trim pop and feel more current. It also contrasts beautifully with painted wall colors. Dark stained trim absorbs light, whereas white trim reflects light and makes the whole room feel brighter.
Final Thoughts
Transforming stained wood by painting over it without sanding comes down to proper prep and using the right products. Thoroughly cleaning and degreasing the wood, applying a bonding primer, and choosing compatible paint and a protective topcoat results in a surface that looks professionally painted.
With some time and care taken to follow best practices, you can paint over stained wood for a durable, quality finish. The transformation can give furniture, cabinets, trim, and more an entirely updated and fresh new look.
Summary of Key Steps
Clean completely with degreaser
Apply bonding primer generously
Paint with latex/acrylic paint
Consider adding protective clear topcoat
Allow proper cure time before use
With the right approach and products, it's entirely possible to paint over stained wood without tedious sanding. Follow these best practices for beautiful results. The before and after transformation will be striking.
Properly prepping and priming stained wood prior to painting allows you to refresh the look without damaging the existing finish or having to sand. While it requires diligence, the rewards are well worth it.
Painting over stained wood opens up endless possibilities for giving furniture, cabinets, molding, and other surfaces a modern facelift. With some cleaning supplies, primer, paint, and topcoat, you can easily transform the look of stained wood.
So don't let outdated stained wood stop you from giving surfaces a fresh new look. With this comprehensive guide, you can paint over stained wood without sanding for a durable finish that looks like new. The dramatic difference proper prep and paint can make is amazing.
Follow these best practices for preparing, priming, and painting stained wood and you'll love the beautiful outcome. In no time, you can transform the look without tedious sanding or damage. Give your stained wood surfaces a stunning makeover with a fresh coat of paint applied the right way.