What is Polyurethane coating?
Next to epoxy coating, polyurethane coating is the most commonly used coating in the industrial, commercial and residential sectors.
It is a versatile coating whose main properties are flexibility and liquid-tightness. Strong yet flexible; the effect of polyurethane coating.
Professor Dr. Otto Bayer invented polyurethane coating (short for PU or PUR coating) in the 1930s.
It is a plastic polymer made of small three-dimensional structures (also called monomers) based on carbon, hydrogen, oxygen, and nitrogen.
These structures polymerize or hook together, forming a repeating chain reaction. This ensures a strong layer that still remains a bit flexible.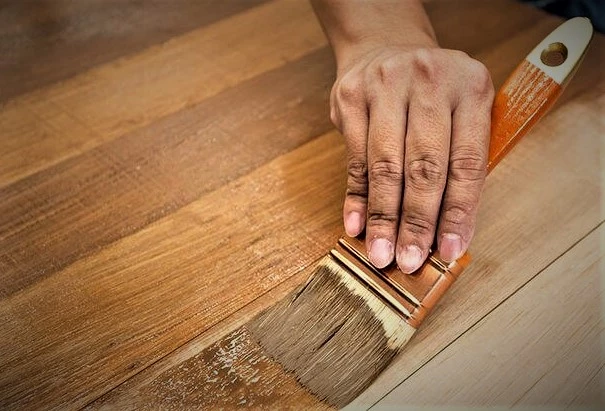 Polyurethane coating consists of two components:
A hard component: hardener
A soft component: polyurethane resin
The final layer is strong, flexible, and wear-resistant. In addition, the mutual relationship between the two components can be adjusted.
This allows you to compose a polyurethane coating so that it has the optimum properties for your intended application.
Advantages and disadvantages of polyurethane coating
Over the years, many different types of coatings with the polyurethane component have been developed.
For example, depending on the purpose of coating something, polyurethane may contain additional ingredients such as blowing agents, catalysts, and flame retardants.
This makes it difficult to name general advantages and disadvantages. Nevertheless, some good and bad properties always apply when using polyurethane coating:
Advantages       
It gives a seamless and tight result                          
Waterproof and therefore easy to clean               
Flexible and does not tear easily               
Feels comfortable                          
Absorbs the impact sound          
Disadvantages
The application can take 4 or 5 days
The coating dries quickly, the quick application is required
During application/casting, the coating is not odorless
Because the coating is not rock hard, scratches can occur
Not suitable for heavy mechanical loads
Waterproof and durable: polyurethane lacquer and paint
PU lacquer or PU paint is a polyurethane reinforced lacquer or paint.
The reinforcing effect of polyurethane provides a very good covering, strongly adhering and above all protective layer with a high surface hardness in lacquer and paint.
Polyurethane lacquer is ideal for the lasting protection of wood and metal. Polyurethane paint is also a good solution for waterproofing concrete and hard PVC, both indoors and outdoors.
The lacquer and paint are easy to apply, dry very quickly, and clean after curing. Polyurethane lacquer can be used for countless purposes.
A selection of the possibilities:
| | |
| --- | --- |
| Pipelines | Wet coating systems       |
| Swimming Pools and Spas            | Wood    |
| Furniture and consumer objects | Boat and yacht |
| Machines and parts         | Agricultural implements |
| Steel structures  | Plastics  |
| Art objects   | The seamless finish of walls and ceilings |
| Automotive parts               | Offshore constructions   |
Polyurethane coating for floors
A PU cast floor – also known as polyurethane cast floor – is a type of floor in the category of the liquid-tight floor.
The floor coating can be applied over an existing floor without any problems. The floor is resilient and easy to maintain.
This floor type is very popular as a residential floor, office floor, and shop floor because of the excellent heat conduction combined with underfloor heating, the resilience that feels comfortable, sound-damping properties, and the beautiful seamless and industrial look.
Perfect for spaces where comfort is just as important as practicality.
Polyurethaan or epoxy?
Are you looking for a floor for use in industrial or heavily loaded commercial areas?
Then an epoxy floor can be a good option instead of a polyurethane floor. An epoxy floor is rock hard and resistant to chemicals, heavy loads on machinery, etc. 
Please note: epoxy is not suitable in combination with underfloor heating. Polyurethane coating is.
Modern colors: from concrete look to RAL
The PU cast floor concrete look is very popular, probably because of the sturdy and timeless look.
The effect is achieved by mixing at least two colors of polyurethane. During the leveling, accents are applied, creating the timeless PU cast floor concrete look.
In addition to the concrete look, a PU floor coating is also available in all RAL and NCS colors, in both matt and high-gloss versions.
Design finishes
Company logo or house style on the floor:  a beautiful logo, inspiring quote, or brand elements on the floor? The possibilities are endless!
Colored zones: not only useful for classifying product categories, for example, or for indicating the location of pedestrian routes or emergency exits, It is also beautiful in design.
3D floor art: need a PU floor with a wow factor? This is guaranteed to work with 3D art on your floor. For example, with beautiful stones, photos, clocks, or natural elements incorporated, Your imagination is the limit!
Lines:  special offer, walking route, or points of interest in your commercial space? With smart lines, you draw attention to what you want.
Security options
Anti-slip: barely noticeable, but very effective, Prevent slipping in rainy weather, liquids on the shop floor, or just slippery shoes.
Walkways: you should not think about it, but it is very important to guide your customers and employees safely to an emergency exit in the event of an emergency.
Clear walking routes in the form of arrows, lines, or glow-in-the-dark walking routes can contribute to this.
Matte topcoat: do you sell products that do not benefit from annoying reflection or light reflection? Then you can ask for a matte topcoat that mattifies the surface.
Polyurethane wall coating
A polyurethane-based wall coating can finish walls elastic, waterproof, and seamless.
For this reason, the coating is often applied to walls in damp areas such as swimming pools, shower, and toilet areas, changing rooms, gyms, and saunas.
Extra hygienic
But polyurethane wall coating is also a good choice in areas where hygiene is of paramount importance.
In combination with a floor coating, the coating can continue seamlessly on the wall. So there are no cracks or corners where dirt or liquids can accumulate.
Therefore, it is a very suitable choice in hospitals, operating rooms, doctor's practices, dental practices, nursing homes, schools, and restaurants.
Finishes
Polyurethane wall coating is available in a matt and satin finish. The matte variant is the most used because it gives a calmer image than the other finishes.
Any stains on the wall can be easily cleaned with most cleaning agents.
Seamlessly over an existing surface
A polyurethane coating can be applied very easily to different types of surfaces.
Some require more preparation than others, but (almost) nothing is impossible. The surface must be stable and level.
Is the surface not level? Ask a coating specialist about the options for leveling the substrate. The following surfaces are most common and are suitable for PU floors:
PU cast floor over concrete
With the right pre-treatment, a PU coating can easily be poured over concrete or tiles.
PU cast floor over tiles.
If the tiles are flat, it is certainly suitable as a substrate for a polyurethane floor. Sometimes a leveling layer needs to be applied. The floor can be seamlessly extended on tiled walls.
A surface of a concrete
Concrete is extremely suitable as a surface for a polyurethane coating. A specialist can roughen the concrete, allowing good adhesion.
Polyurethane coating on a cement layer (screed)
A cement layer is often used as a subfloor for floor coverings, parquet, laminate, etc., and is also called a screed. Chape is ideally suited for a PU cast floor.
A polyurethane coating on wood
Wood is not always stable and leveled, but if the substrate is solid, then wood is also suitable. Often at extra cost, because in many cases, it is necessary to apply an extra intermediate layer to limit the expansion of the wood to a minimum.
Natural stone
When there are natural stone tiles on the floor or wall, an extra leveling layer is often chosen. This makes the stone surface an excellent underlayer for a polyurethane coating.