Showcase display cabinet: Shopping Guide and Recommendations
Whether antique, modern, rustic, or vintage, display cabinets are popular pieces of furniture for storing and displaying glasses, bottles, cups, models, and figurines.
Like a chest of drawers or sideboards, they are often part of the permanent decor of the dining room or living room, but they also make good wall furniture in the kitchen.
A glass wall on one or often both sides offers a view of the interior of the display case, giving it an extra decorative factor.
Depending on the requirements, the style and appearance of the showcase display cabinet are of decisive importance and the height, width, and depth.
We have put together a selection of display cabinets for our product comparison and compared the different designs.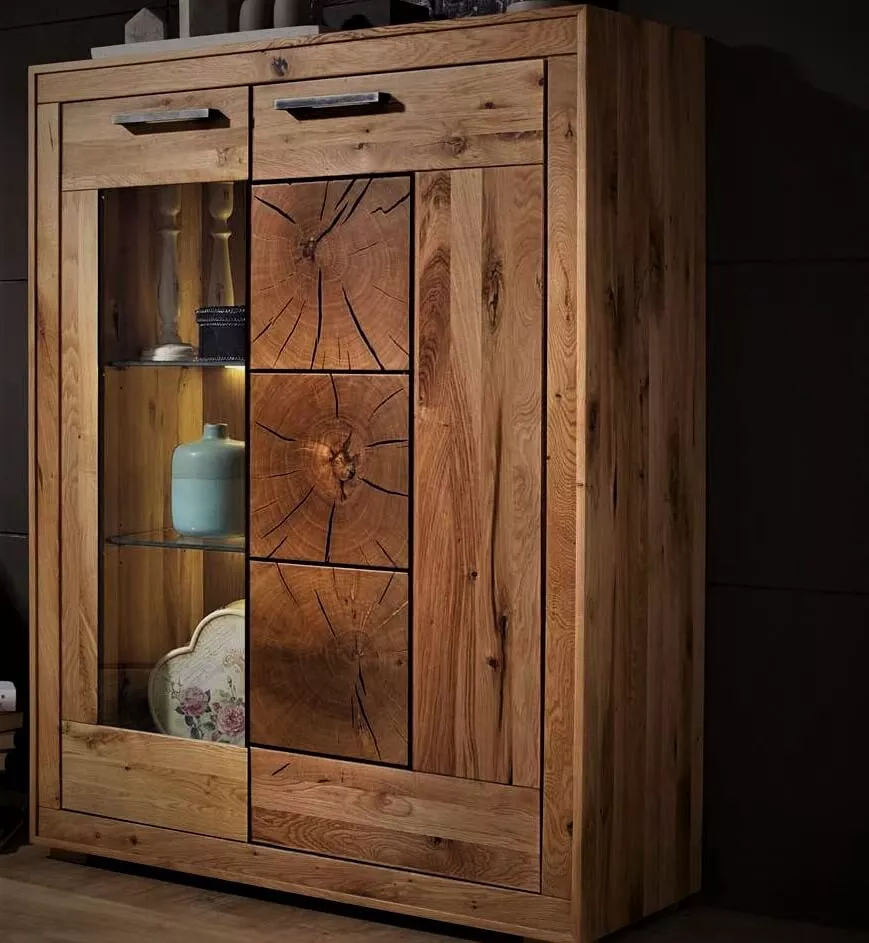 The most important facts in brief
When buying a display case, it is essential to consider which material, texture, properties, and design you prefer for your interior.
Depending on the material used and the design, there are major differences in quality and practicality between the different models of display cabinets.
The quality and characteristics of a display case provide important information about the different price ranges.
The right products for you depend on the characteristics you want your display case to have.
Buying and rating criteria for display cases
To find the perfect display case for decorating your home, you should consider some buying criteria when making your decision.
It should make it easier to compare the individual models to choose according to your wishes and ideas. The criteria you can use to compare the different showcases are:
Advantages Glass / plexiglass
The material your display case is made of is particularly important. Here you can distinguish between quality and practical use.
Display cabinets are usually made of a combination of wood and glass, but depending on the design, they can also be made of different metals or have a concrete look.
A difference in quality can be found here in the use of glass and Plexiglas. Plexiglass is less fragile, but the material often gets a matte and dull haze after a longer period.
On the other hand, glass is scratch-resistant and much more stable than the plastic in Plexiglas. Nevertheless, glass cabinets should be handled with care, as real glass can break easily.
The difference in quality manufactured wood vs. solid wood
The type of wood can also make statements about the quality of your display cabinet.
Some display cabinets are made of solid wood or real wood, making them more stable on the one hand and much heavier in combination with glass.
Real wood is considered particularly high-quality wood because it consists of naturally grown pieces of wood and must not show any defects.
Solid wood is also made entirely from real wood, with individual pieces glued together and made into one piece.
Lighter and more open design showcases, such as wall showcases, are often formed from thin metal brackets or fitted with less expensive chipboard.
Particleboard is a board of wood chips pressed together and glued, usually covered with colored varnish.
Particleboard furniture is significantly cheaper than the solid wood version, but it is also less stable. In addition, the paint can wear quickly and show small cracks or flake off the chipboard.
Condition and maintenance
Do you want your chest of drawers to be more robust or to serve as a chic piece of furniture? Depending on the location and use, you should pay attention to how much care your cabinet needs.
It would be best to remember that natural wood and real sensitive wood often need to be handled with care and that such surfaces should be oiled regularly.
Smooth and painted surfaces, on the other hand, are easy to wipe clean and maintain.
When working with Plexiglas display cases, avoid harsh cleaning agents containing alcohol and solvents, which can damage the plastic.
Real glass is much more practical here and much superior to scratch-sensitive plexiglass.
Equipment
In addition to using different materials, the equipment of doors, drawers, and compartments can also vary.
Consider whether you prefer classic drawers and doors with hinges or sliding doors and open compartments.
Sliding doors have the advantage of saving space in smaller rooms. Some display cabinets also offer the option to lock the doors and drawers.
Valuable objects can be safely stored behind lockable glass doors and still be displayed decoratively.
Relief
Some showcases are also equipped with LED lighting. This way, you can not only see the furniture behind the glass better, but you can also extend the use of your display cabinet.
The interior lighting of the display case can, for example, be used as indirect lighting in your living room and replace an ordinary lamp.
Such lighting can also be retrofitted in the form of wireless lamps without a power connection. Pluggable or self-adhesive LED strips can be easily mounted in the cabinet.
Design
Display cabinets are not only considered practical pieces of furniture but should also serve as decorative objects in your interior design.
For the usefulness of your display cabinet, you should also think about which designs can be combined well with each other. Do you want the cabinet to consciously stand out or harmonize with the rest of the interior?
Not every style and design can be optimally combined, and you should make sure to choose similar color tones for a uniform look or specifically look for a matching contrast.
Showcases with lots of glass and glass shelves and light colors look much friendlier and more open, while dark wooden showcases create a darker mood. Built-in mirrors can also make the room appear larger.
Frequently asked questions about showcases answered in detail
In the following, we answer the most important questions about display cases. This way, we can ensure that you understand the subject and that you are well prepared for your purchase.
In what sizes are display cases available?
Showcases can be placed as spacious display cabinets in the living or dining room but are also available as narrow shelves and wide or square sideboards and as highboard.
You can also buy wall cabinets in a delicate glass-wood or glass-metal combination. The smallest model is a display case to put on the wall.
Such display cabinets or small hanging display cases are suitable for displaying figurines and collectibles and are usually made of glass or acrylic.
There are also corner display cases that can be set up as display cabinets or mounted on the wall as wall display cases. To make the range of available display cabinets suitable for any interior
In the following, we have classified the individual models and listed them in the corresponding dimensions to provide a comprehensive overview of the sizes of display cabinets.
| | | | |
| --- | --- | --- | --- |
| Types | Height | Width | Depth |
| Small display cabinets | 20 – 50 cm | 10 – 35 cm |   |
| Hanging display cabinets | 45 – 160 cm | 50 – 135 cm | 10 – 40 cm |
| Sideboards, Chests of drawers | 80 – 100 cm | 90 – 200 cm | 35 – 45 cm |
| high boards | 120 – 160 cm | 80 – 180 cm | 35 – 40 cm |
| Narrow display cabinets               | 160 – 209 cm | 30 – 60 cm | 20 – 45 cm |
| Corner display cabinets | 88 – 209 cm | 68 – 100 cm | 23 – 70 cm |
| Display cabinets | 160 – 209 cm | 60 – 150 cm | 39 – 45 cm |
As the respective models are available in different shapes, this table only indicates the minimum and maximum possible dimensions.
Display cabinets, for example, differ from sideboards or chests of drawers by a minimum height of 160 cm.
What is a display case suitable for?
There are many possible uses for a display case. Small glass display cases and wall cabinets are often used to display collectibles.
Display cabinets that combine glass and wooden doors can also be used to store everyday items.
With this, you can, for example, store your crockery practically and decoratively. Before buying, you should consider what you want to use the furniture for.
Compared to regular chests of drawers, sideboards, TV cabinets, or shelving, a display cabinet often combines closed storage space with visible storage space behind glass.
From an optical point of view, a large closed cabinet takes up more space than a display cabinet.
The open design of a display cabinet can make a room appear larger, depending on the decor, while still providing the same storage space as the closed cabinet.
Moreover, the advantage of a glass wall is clear: the glass protects displayed figurines, models, dishes, or other collectibles and household objects from dust and intense light.
Everything that is displayed behind glass is well and safely stored yet decoratively presented. Here is saying goodbye to tedious dusting and the constant moving of small statues.
What types of showcases are there?
In addition to the distinction made by the material and structure of a display case, there are countless designs and styles of display cases.
However, none of the models mentioned is always based on a particular design. Depending on taste and preference, display cases can have various shapes, colors, and decorations.
Following is a list of the common styles of different showcases
Antique display case
Antique display cases are usually made of solid wood and real wood and, with their detailed decorations on the wood, are based on the Baroque and Rococo style or stems from the Art Nouveau style.
Showcase in industrial design
Showcases in industrial or loft design are usually made of a glass-metal combination. When wooden parts are included, they usually have a partially wooden appearance.
Colonial Style Display Case
Colonial-style display cases are usually made of very dark wood. On the one hand, they are characterized by filigree details in the form of edges or elaborate carvings, and on the other, they have very simple, straight, and almost geometric shapes.
Display cabinet in country style
The rustic country style refers to display cabinets that use natural materials, such as real wood or solid wood, to create a cozy and homely atmosphere and are reminiscent of a more rural interior.
Modern showcase
Angular edges, simple frames, and lots of glass are the hallmarks of the modern showcase. Modern showcases are usually convincing with their elegant yet simple appearance.
Scandinavian showcase
The Scandinavian style is characterized by light and neutral colors, natural materials, and ergonomic shapes. The emphasis is on the practical use of the piece of furniture.
A special feature is the simple and high wooden legs on which the Scandinavian display cabinet stands.
Vintage Display Cabinet
Vintage display cabinets include used pieces from the 1920s to 1970s that have been refurbished or restored and new furniture pieces that have been appropriately designed with signs of use, such as scratches or faded colors.
Conclusion
Thanks to the wide variety of finishes, designs, and sizes, display cabinets can be combined with almost any interior. When buying a display cabinet, you should consider which aspects you value most.
Important points here are the material and the associated maintenance instructions, the fittings, and special features, such as lighting for the interior. But the type and design of the display case are also necessary.
The price is determined depending on which of these purchase criteria is of the utmost importance to you and what dimensions the display case should have.
As we have shown, a higher quality of material also comes with a higher cost. However, the most common display cases are predominantly made of wood material and real glass.
This means that you can buy a good and stable display case in the average price range. Of course, the price can always be increased.