What types of living Room cabinets are there?
Living room cabinets offer you a lot of storage space. Your things can be neatly stored here if you don't need them at the time. And your living room can improve visually.
Living room cabinets can distinguish between wall cabinets, chest of drawers, sideboards, high boards, low boards, and display cabinets.
What you want to store in your new living room closet, one or the other type of cabinet is more suitable for you, depending on how much space you have at home. Because you have a wide choice here, you are sure to find what you are looking for.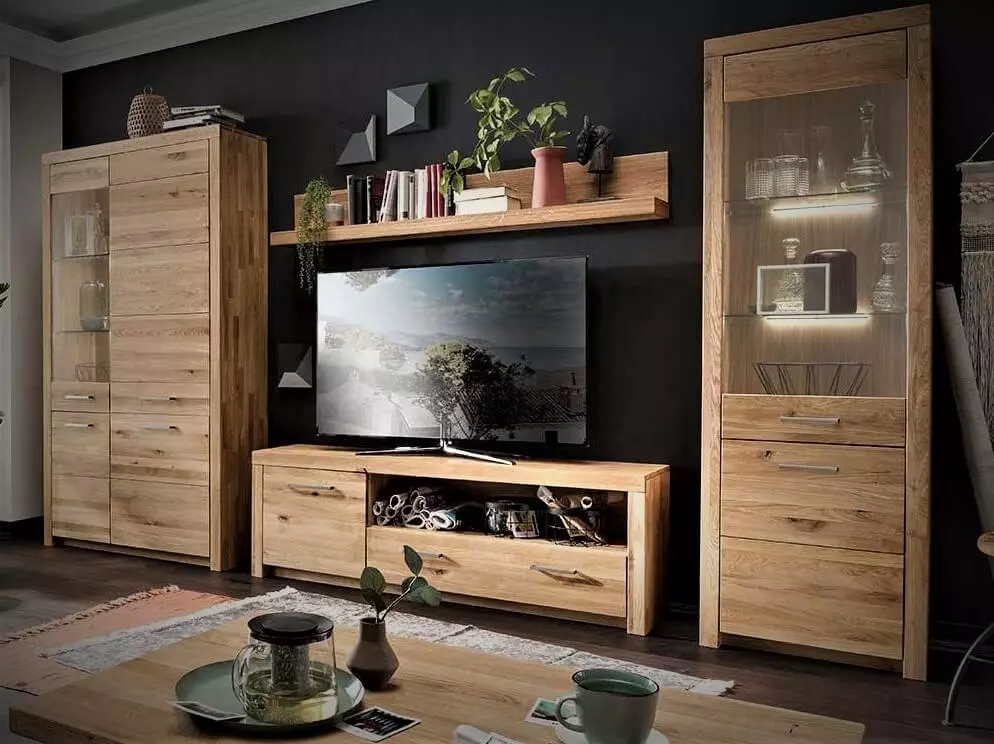 What is a living room cabinet?
In simple terms, a living room cabinet is a living room cabinet where you can store things such as dishes, tablecloths, children's toys, and much more.
Unlike a shelf, you can close the cabinet. Whether it has drawers, flap doors, or sliding doors is just a matter of taste.
A living room cabinet can be high and narrow but also deep and wide. Most importantly, it provides additional storage space in the living room. And you can hide its contents from prying eyes if necessary.
What types of living room cabinets are there, and which one is right for you?
If you want to buy a living room cabinet, there are the following alternatives to choose from
Many different types of living room cabinets, which are not always easy to distinguish from each other, The terms living room wall and wall unit are often used synonymously. Still, there are differences between the two and thus different advantages and disadvantages.
It is the same with the terms chest of drawers, dresser, highboard, and low board. These also differ, and each has its advantages and disadvantages.
Usually, the differences are not that big. But if you know what your new piece of furniture is called, you can search for it and save time.
Wall unit
It is often used synonymously with the wall unit; however, it can be combined more freely, unlike the wall cabinet. Combining load-bearing and hanging elements in the same style creates additional storage space in even the smallest living room.
Wall Cabinet
This is a wall-filling cabinet that often reaches up to the ceiling. The wall unit can be composed of deep drawers, cupboard elements, shelf elements, and display elements. In addition, it usually has a recess for the television.
A chest of drawers
This is a semi-high piece of furniture for storing all kinds of things. The classic chest of drawers consists only of drawers. Sub-types of the commode are sideboards, high boards, and low boards.
Sideboard
This is a subtype of a dresser that is noticeably wider than it is high. It is usually fitted with drawers, doors, or a combination of both.
Highboard
It is a half-height cabinet that is noticeably higher than wide but not as high as a wardrobe. The internal layout of this chest of drawers can vary greatly and has doors made of solid material or with glass inserts, flaps, shelves, and drawers.
Lowboard
This is a type of chest of drawers that is mainly low. Lowboards are also often referred to as TV boards. They can be fitted with doors, flaps, shelves, and drawers.
Showcase
This is a cabinet designed to present decorative items, collectibles, or other items skillfully. To this end, the display case has at least one side of the glass. Some showcases also have their interior lighting or a mirrored back wall.
The following living room cabinet alternatives are available:
Storage stool
It offers extra storage space under the seat and can be used as usual from a stool. As a storage place for magazines, put your feet on, get to the top book on the shelf, or just sit on it.
Basket
The bin, usually open at the top, can store small to medium-sized toys, magazines, or pillows.
Chest
This is a box-shaped piece of furniture with a hinged lid. Some chests of drawers not only offer extra storage space but can also be used as seating furniture if they are cut straight at the top and are sturdy enough.
Shelf
Here, the content is presented openly and cannot be hidden when needed. In contrast to a display case, the contents of a rack can be consulted more quickly. However, the items on the shelf are more quickly exposed to dust and other external influences.
Trolley
It is easy to move around the room and offers a storage surface for dishes, coasters, magazines, or other items on one or more levels.
What distinguishes a wall unit, and what are the advantages and disadvantages?
A wall unit consists of several separate cabinets or shelves. They all have the same design and the same material and thus form a uniform overall picture.
The wall unit is the modern version of the wall cabinet. It offers almost as much storage space but can be used more individually because you can decide where you put the individual pieces of furniture.
Many residential walls are characterized by their mix of glass, bright colors, and special lighting. This makes the space visually looser, but many living walls lack the cozy look of massive wall cabinets.
You can use the terms living wall, TV wall, and TV wall unit synonymously.
Advantages
Plenty of storage space, even on a small budget
Individual room design possible
Wide choice of different styles, colors, and materials
Cons
Less storage space than with a wall unit
Furniture in a different style quickly stands out
Less cozy atmosphere than with a wall furniture
What distinguishes a wall cabinet, and what are the advantages and disadvantages?
Wall furniture was trendy in the fifties to eighties of the last century. But you can still make use of the advantages that people saw in wall furniture back then.
A wall unit is usually a space-saving alternative to many individual pieces of furniture. It offers you maximum storage space and makes your living room look tidy.
Modern wall cabinets are no longer exclusively made of solid wood as in the past but also wood veneer. This allows a wider choice of different designs.
Closet walls are not for small rooms and can often look unwieldy due to their closed design.
Advantages
Maximum storage space
Cozy look mostly rustic country house style
Space-saving compared to many loose furniture
Cons
No flexibility of individual elements
Furniture in a different style quickly stands out
Not suitable for small rooms
What distinguishes a chest of drawers as a living room cupboard, and what are the advantages and disadvantages?
There are different versions of the chest of drawers, but the classic version is characterized by the fact that it contains only drawers and no doors or shelves.
Chests of drawers quickly and easily accommodate all kinds of items, such as bedspreads, pillows, toys, or other items.
With additional drawer systems, you can organize the inside of the drawers and thus get the best possible overview of your stored items.
Advantages
Flexibility thanks to a wide choice of sizes
Wide selection of different colors and designs
The stored items are quickly and easily at hand.
Cons
Items that are too large for the drawers cannot be stored
Without extra drawers, clutter can quickly arise
Chests of drawers that offer a lot of storage space also take up a lot of space.
What distinguishes a sideboard as a living room cabinet, and what are its advantages and disadvantages?
The sideboard is a kind of chest of drawers that is much wider than it is high. Unlike the classic chest of drawers, the sideboard can have doors, drawers, or a combination of both.
Sideboards can be mounted on legs or float on the wall. They have a narrow design and can therefore be particularly space-saving.
Advantages
Space-saving due to the narrow design
Ability to also store things that don't fit in the drawers
It also serves as a room divider
Cons
Compared to chests of drawers, you pay a little more for good quality
Not optimal for use with high walls
The wider the chest of drawers, the more outlets it can cover
What distinguishes a high board as a living room cabinet, and what are its advantages and disadvantages?
A highboard has more height than width. However, it is not as high as a wardrobe. This type of chest of drawers can also be called a half-height cupboard.
The interiors of highboard can vary widely, and they can have doors made of solid material or glass inserts, contain shelving, drawers, and flaps.
There are, therefore, countless variants of highboard. You have a wide choice of interior design, materials, colors, and styles.
Advantages
Numerous storage options
More storage space than with regular sideboards or regular chests of drawers
Wide choice of colors, materials, and styles
Cons
Entirely unsuitable for sloping ceilings
It takes up a lot of space
Looks clumsy in small rooms
What distinguishes a low board as a living room cabinet, and what are the advantages and disadvantages?
Lowboards are much deeper than chests of drawers, dressers, and highboard. That's why you can use a low board wonderfully for media storage and store TVs, receivers, consoles, and other things in it.
That is why the low board is often referred to as a TV board and provides sufficient space for the cabling. Low boards are usually designed without a back wall.
This chest of drawers can provide additional storage space with doors, flaps, drawers, or shelf elements.
Advantages
space saving
Use of all sockets possible due to open back
Wide choice of colors, materials, and styles
Cons
Less storage space than with sideboards, highboard, or classic chests of drawers
Not optimal use of high walls
High consoles are less able to get a place
What distinguishes a display cabinet as a living room cabinet, and what are its advantages and disadvantages?
You can display fine crockery, collectible figurines, or other objects professionally with a display cabinet.
To this end, the display cabinet has at least one side of the glass. Some showcases also have a mirrored back wall or interior lighting.
There are also display cabinets glazed at the top and drawers or flaps at the bottom that serves as storage space for the things you don't want to display.
Advantages
space saving
Protection of exhibits from dust
Extra decorative element in the room
Cons
Little storage space
High-cost factor
Must always be tidy
Factors to compare and evaluate living room cabinets
Following, criteria you can use to choose between a variety of possible living room cabinets.
Size of living room cabinets
The size of your new living room cabinet will, of course, depend on the conditions at home. This means that a wall unit will probably not fit in an attic flat. And a single low board will probably look quite lost in an old high-ceilinged flat.
Therefore, you should think in advance about how much storage space you will need, i.e., whether you want to store more or less stuff and how big the things you want to keep are.
If you are looking for a living room cabinet for fine crockery and glasses, a highboard with a glass cabinet section for the glasses and a drawer section for the plates is a good choice.
While living room walls and wall units take up a relatively large amount of space, chests of drawers and display cabinets are usually space-saving alternatives.
Roughly speaking, sideboards are between 120 and 200 cm wide and 70 – 100 cm long.
Highboard is approximately 110 – 130 cm high and has a correspondingly smaller width.
The height of low boards is only about 25 – 50 cm. However, TV shelves are usually quite wide.
The height and width of showcases are quite variable.
Deviations from the standard sizes are, of course, always possible<
Have trouble finding the right size living room cabinet for you? Don't worry; many websites already offer custom wardrobes tailored to your needs.
The layout of living room cabinets
The layout of your new furniture depends on you and your circumstances. Depending on how large or bulky the items you want to store, you will need larger compartments, drawers, etc.
Living room furniture and wall units offer different combinations of doors, flaps, drawers, and shelves.
Therefore, they provide the most storage space for many of your belongings. For what won't fit in a small drawer, you may want to put it on one of the shelves.
Strictly speaking, classic chests of drawers consist only of drawers. Thanks to the extra organizational elements, this has the advantage of keeping a good overview of your belongings.
However, a disadvantage of classic chests of drawers is that not everything fits in the drawers. For example, if you want to store large sofa cushions, a classic chest of drawers won't get you very far.
Sideboards and highboard, on the other hand, give you more flexibility in their internal layout. They can be equipped not only with drawers but also with flaps, doors, and shelves.
Lowboards can also offer various internal storage options but are more limited in accommodating larger items due to their lower height.
As mentioned, display cases come in countless sizes. The layout is usually quite similar. A classic display case has several shelves on which the exhibits can be presented protected from glass. Some display cases also have extra compartments or drawers that provide storage space for everything not everyone needs to see.
Material of living room cabinets
Living room cabinets are almost always made of wood. How the wood is processed and what kind it is, that is what makes the difference between the furniture. A solid wood cabinet is not only of better quality than one made of veneered chipboard; it also looks different.
That's not to say you can't love a veneered cabinet because, unlike solid wood furniture, veneered furniture can visually boast a continuous grain.
Unfortunately, because the wood properties have to be taken more into account in solid wood furniture production, they cannot be produced with an even grain.
Moreover, the quality of veneered furniture strongly depends on the carrier material. For example, veneered cabinets with a plywood base can be more dimensionally stable than solid wood furniture.
Here's an overview of the materials and processing methods you can choose from
Solid wood
Veneered chipboard
Veneered MDF board
Veneered plywood/strip plywood
Part fixed processing
Lacquered material
If you are a living room cabinet of solid wood like you little deeper to dig into pockets, Solid wood furniture is made of pure wood.
It has an exceptionally natural look and is durable. The signs of use that a solid wooden piece of furniture acquires over the years give it character. Another advantage of solid wood is that it is very easy to maintain.
If you want to get rid of unsightly scratches, you can sand the wood and then varnish, wax, or oil it.
The disadvantages of solid wood cabinets are that they can warp as the temperature or humidity changes. In addition, the color of the wood may change over time, and small cracks may appear.
It is glued together specifically to keep your new solid wood furniture in good shape. This interrupts the grain in the cabinet and gives an uneven appearance.
Whether you like this or prefer an even grain like with veneered furniture is a matter of taste.
Veneered furniture can have different underlays on which thin sheets of wood are glued. Because the wooden plates are so thin, they cannot warp on the carrier plate.
This makes it possible to create a surface with a continuous grain that does not change over time.
The quality of a veneered cabinet depends on which substrate material was used. A veneered piece of furniture can have even better dimensional stability than one made of solid wood.
Veneered chipboard is very cheap. Natural wood resources are conserved because wood chips that cannot be used to produce solid wood furniture are used for particleboard production.
Particleboard furniture is lighter than solid wood, but it is also less sturdy
Living room cabinets made of veneered MDF board, on the other hand, are more stable than those made of chipboard because they are made of finely machined wood fibers. This results in a particularly high bending strength and breaking strength of the MDF board.
Veneer plywood or stick plywood are the best carriers for veneer panels. They are made of sheets of wood or wooden rods that are glued together to keep their shape. That is why this type of veneer is found in many high-quality furniture pieces.
Living room cabinets with partly solid finish are characterized by the fact that some parts are made of solid wood and others of veneer or lacquered or laminated wood material.
With partially solid furniture, you should pay attention to how much of the cabinet is made of solid wood and what other materials are used.
Materials such as chipboard or MDF are often lacquered. The lacquer protects such cabinets against external influences and makes them easy to clean.
Here you should pay particular attention to whether all parts of the living room cabinet are covered with lacquer, whether the lacquer feels smooth everywhere and whether unsightly drips have formed.
Style of living room cabinets
When you've decided how big you want your new piece of furniture and what type of living room cabinet suits you best, you can then choose a particular style. Which one you choose will, of course, depend on your taste.
Here's a selection of styles others often look for
Country style
Rustic Style
Antique Style/Vintage Style
Industrial style
Modern style
Country-style furniture is meant to evoke country life and old farmhouses.
Living room cabinets made of natural wood with brass fittings are often found here. If you are looking for country-style furniture, you will probably find many wall units, highboard, and chests of drawers that have a cozy look.
Many natural materials characterize the rustic style.
The difference with the country house style is that the materials here are much coarser. Bare stone walls and exposed beams are characteristic of the country house style.
A country house-style living room cabinet is characterized by its solid finish of untreated pine or oak.
The more the wood is aged, the cozier the room looks in terms of the rustic style. The antique furniture style or vintage style can be very versatile.
The factory halls of early industrialization inspire Industrial-style living room cabinets.
Open architecture predominates here. This means that living room cabinets, in particular, fit well into the industrial style.
Here you will find functional and uncomplicated cabinets that impress with their simple design.
If you are looking for a modern-style living room cabinet, you have many options to choose from.
Grade low boards and wall cabinets can perfectly embody this style. Straight shapes characterize them, strong colors, stylish material mixes, LED lighting, or innovative suspension systems.
Color of living room cabinets
As with style, the color of your new living room cabinet is, of course, a matter of taste.
If your new furniture is lacquered, foiled, or glazed (slightly pigmented lacquer in which the grain shows through), it's easy to find the right color.
However, if you want a living room cabinet with a wooden look, be it solid wood or veneered wood, you need to know ​​what wood looks like.
Popular types of wood and their appearance for living room cabinets
Maple: Can have different colors: almost white, light brown, red-grey. It has an even, unobtrusive grain.
Beech:  Has a light yellow to pinkish brown color and a tongue-like vein. The older the beech, the darker the wood. It slightly darkens when exposed to light.
Oak Wood: Is gray-yellow to yellow-brown. It has an even grain depending on how the wood is cut, and it is tongue-shaped.
Ashwood: Is pale gray, yellowish-white, or reddish-white. As it darkens, the wood may turn a light brown. The ash wood grain consists of narrow dark stripes or tongue pattern
spruce: Spruce wood is yellow-white to reddish-white. As it darkens, it may turn yellow-brown. The grain in spruce is either finely striped or tongue-shaped. Sometimes knots can also be seen in spruce.
Douglas Fir: Is reddish to yellowish white and may have a grey-purple undertone. The grain of spruce can be striped or figured (a pattern that can resemble flowers).
Cherry wood: Can be yellow to reddish-brown, but also rust-brown. When the wood comes into contact with light, it darkens. Cherry wood has a grain made up of many smaller rays.
Mahogany: Can be different colors between reddish-brown and light brown. If the wood is not protected correctly, it can turn gray due to environmental influences. The grain of mahogany can be striped, mottled, flame, or veined.
Teak: Is medium brown to a golden brown. If teak is not regularly oiled or waxed, it can develop a silver or gray patina. The vein is striated or tongue-like.
Walnut: Is light brown to blackish brown and may have a red or lilac sheen. The sun makes the walnut wood a lot darker. The grain may be cloudy, streaked, or mottled. Walnut Can be light gray-brown, dark brown, or blackish brown and has a striped or irregular cloudy grain.
Set up my living room cupboard
There are many ways to organize your living room closet. One option is wall tattoos, which come in a wide variety of designs for little money.
If you want to give your new living room cabinet that certain something, you can stick a blackboard foil on it to write down groceries for your loved one or to-do lists for yourself.
For example, if you paint the door of your new wardrobe with magnetic paint, you have created a practical magnetic wall.
Mirror elements that are attached to the outside of the wardrobe are a special eye-catcher. But you can also attach them to the inside of the wardrobe, especially for you, e.g., to quickly and unobtrusively check your appearance during a date.
How do I disassemble my living room cabinet?
Who has not experienced it: you move, and you know that your new wardrobe does not fit through the door. So you have to take it apart, preferably so that you can put it back together in the new flat.
The best way to do this is by following the steps below
You should label the individual parts of your wardrobe with masking tape so that you can distinguish between a floor panel and a ceiling panel, for example.
Remove anything that is not screwed down (shelves, drawers, etc.). It will also be easier for you to mark the places where the planks were attached when assembling.
In this step, you unscrew the doors, get help from a second person. One person holds the door while the other loosens the screws. Work from bottom to top.
It is best to put down your living room cupboard (of course, you will also need help here). Now disassemble the cabinet from top to bottom. That means you start with the top panel. You can carefully remove the nails on the back with pliers.
How do I properly organize my living room cabinet?
Because you often use your living room closet to store and find things, it can quickly become a mess.
The following tips can help you clean up.
Set yourself small goals and clean up a little every day, so you don't lose motivation.
Start clearing out what makes the most sense, such as what looks the least laborious.
Don't forget to put everything back where you found it.
Set a certain time each day to do a little tidying up. Ten minutes a day may be enough.
If you throw some things away now and then, you create extra storage space.