Decorating with mirrors is a great way to add functionality and style to your space. Not only do they reflect light and make a room feel larger, but they also serve as a decorative statement.
Arranging your mirrors creatively and uniquely can make a huge difference. Instead of simply hanging them in a straight line, try arranging them in different shapes or patterns.
Decorating with mirrors is about creating a unique look that reflects your style. So don't be afraid to experiment and try new things.
If you're planning on hanging some mirrors, here are some tips to ensure they look their best.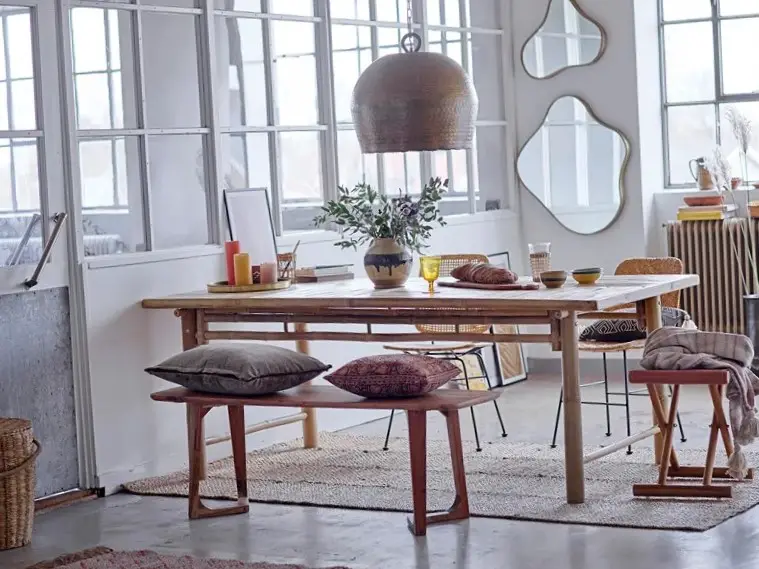 Basic rules to create beautiful mirror compositions
Making your mirrors look amazing is all about getting the right strategy and following some simple rules. Firstly, ensure the mirror reflects something you adore because you don't want to be stuck staring at something you don't like.
And secondly, don't go crazy and put mirrors on every wall in the room – this can get confusing and create a bad reflection that goes on forever.
When it comes to size, you've got to keep things balanced. Don't put a bunch of itty-bitty mirrors on a giant couch – that looks goofy. Make sure you keep things in proportion, and your mirrors will look fantastic!
In which rooms can I create mirror compositions?
Decorators often place mirrors in the living room and dining room to illuminate the space and improve the natural lighting. However, you can include a set of mirrors in any room of your home, like the bedroom, bathroom, hallway, or walkway. For instance, you can consider adding two mirrors to your living room to create a brighter and more spacious atmosphere.
When it comes to the design, make sure you keep things proportional. Please don't go overboard and make it look gaudy or too understated. Find a happy medium that works for you and your space.
Take a look at this fun dining room, for example. It combines different seating options – chairs, stools, and benches – and the mirrors have abstract, irregular shapes and different sizes. This adds visual interest and ties the whole room together. And who doesn't love a good mirror composition, right?
wall gallery
Just like with wall art, grouping a bunch of mirrors can be a fun and creative project.
Get inspired by an interior designer who combined different frames in different colors, finishes, and thicknesses to create a stunning mirror composition.
Enhance your space by decorating the walls with mirrors. Incorporating an aged finish on the mirrors can unify the entire look and add a touch of creativity to your decor.
A well-composed mirror arrangement can bring great interest and style to your space. So, unleash your creativity and have fun designing your mirror display!
What if we don't hang the mirrors?
If you're looking for a unique and original alternative to hanging mirrors on the wall, why not try placing them on the floor? Full-length mirrors of a decent size work best for this look, as seen in this proposal by an interior designer.
In this case, the designer had the mirrors custom-made to size and even added a mirrored edge for an extra touch of style.
Why did the designer choose to position the mirrors towards the windows? Simple – this way, you can enjoy the views of the lovely tree-lined street.
It's a great way to bring the outdoors in and add natural beauty to your space. So, if you're feeling adventurous, give floor mirrors a try and see how they can transform your room!
Symmetry or dynamism?
Whether you go for symmetrical placement or mix-up the sizes, both options are valid and offer different effects.
The symmetrical placement gives a clean, orderly, and harmonious look while playing with sizes creates a fresher, more playful, informal vibe.
For example, in this distributor space, the designer chose a symmetrical placement to create the artistic effect of a hanging sculpture.
They did this because the space has a very "clean" feel, and they didn't want it to be too cluttered. The iron mirror frames contrast the other materials in the space, like the wooden floor and table.
So, whether you prefer a more orderly and harmonious look or a playful and informal vibe, the choice is yours! Experiment with both options and see what works best for your space.
A union creates power
Forget sticking with a wall full of mirrors; let's get creative and make a stunning composition with pieces that complement each other! This handmade furniture and accessories maker knows what's up.
They've put together a gorgeous display with a bamboo framed mirror and two more with fringes and palm tree pendants; all topped off with a touch of natural fiber ethnic decor.
The key to this look is not making everything matchy-matchy but finding pieces that work well together. And if you're an art lover, throw in some prints or paintings for an extra pop! Trust me, you won't regret it.
Reflections with personality
Say goodbye to boring bedroom decor and hello to a unique touch with a mirror composition above your bed! Opt for symmetrical arrangements for a calming environment.
Using mirrors to decorate your home is a great way to improve the Feng Shui of your living space0. To ensure optimal energy flow, it's important to position mirrors in the right places. One Feng Shui principle to follow is to avoid placing mirrors directly facing doors, as it can disrupt positive energy flow.
When it comes to the bedroom, a simple but impactful addition you can make is to forego the traditional headboard and instead opt for a mirror composition. This can elevate the aesthetic of your space and bring personality and peace to your sleeping area.
Serial repetition
Check out this bedroom! It's got three identical round mirrors hanging at the same height, giving off a chill vibe. And you know what's cool? The round mirrors break up the usual linear look of furniture like headboards and bedside tables.
The architects behind the project say they wanted to give the nod to the sea with these round mirrors. And that's not all, folks!
These mirrors can be a lifesaver if you're not into too much color on the walls. They're a great alternative to colorful wallpapers or picture frames.
So, what do you say? Are you ready to upgrade your bedroom with some round mirrors?
Set of great visual impact
Mirrors can transform any room in your home, and when it comes to the bathroom, they're essential for practical reasons – you know, when you're cleaning yourself up and getting ready for the day.
If you're sharing a bathroom with someone, why not install two mirrors instead of just one? It's a great decorative idea, especially if you cover the wall in front of the sinks with a mural. Trust me; it'll make your bathroom look amazing!
It's important to ensure the bathroom is spacious enough to accommodate large mirrors without making it feel cramped. Suppose you have a wide enough counter and a high ceiling. When it comes to putting mirrors in the bathroom, measuring is key. You want to ensure the mirror has the right dimensions to reflect your head and torso.
Choosing the right model is also vital, especially if you want it to match your sink. Mirrors are one of the most important elements in a bathroom, so choosing carefully is important. The larger the mirror, the more lighting and spaciousness it will bring, which is especially helpful for small spaces.
For a minimalist look, you can opt for frameless mirrors that won't overload the decoration but still add a touch of elegance.