Oak floors finish: brushed, fumed, aged, and treatments
With an oak floor, a finishing layer is always necessary to protect the wooden floor. Many treatments and finishes are possible for oakwood, such as oil, lacquer, hard wax, or wax.
This means you always have the finish that suits you! In addition, finishes such as aging, smoking, or brushing are also possible.
The treatment and finish you choose largely determine the color and appearance of the floor, also the character.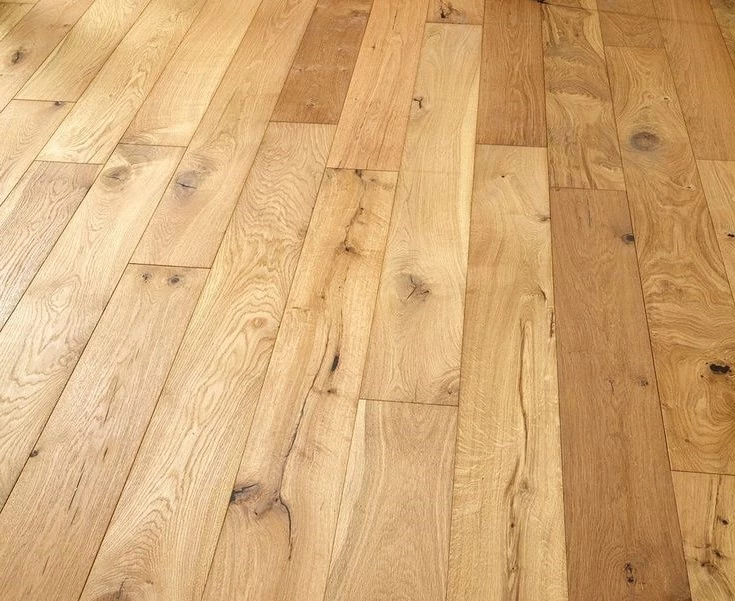 Brushed oak floor
A brushed oak floor gives your floor a unique character. When brushing, softwood is beaten away between the hard grains by wire brushes.
This makes the grain of the wood more visible. More structure is created, which can be felt on the floor.
Brush vigorously and gently
There are several ways to brush; fierce and calm. With vigorous brushing, the process is carried out with more weight.
This will draw the color oil even more towards the veins. When brushed lightly, the floor will appear more matte than standard oiled floors.
Finish brushed oak floor
Brushed oak floors can be beautifully finished with, for example, a white oil. The color pigments of oil pull a little more towards the grain; this creates a different look.
When you have a brushed oak floor as well as a smoked oak floor, clear contrasts arise.
The wood grains then stand out firmly white against the dark smoked wood. This ensures a beautiful appearance.
Do you want a brushed floor, but not that the wood grains stand out? You can then choose a natural oil or hard wax.
Many possibilities for a brushed oak floor
Due to the different types of brushing and possible combinations with other finishes, many different looks are possible. It is also possible to combine a brushed oak floor with underfloor heating. Moreover, this floor can be installed in various homes, from detached and semi-detached to terraced houses and apartments.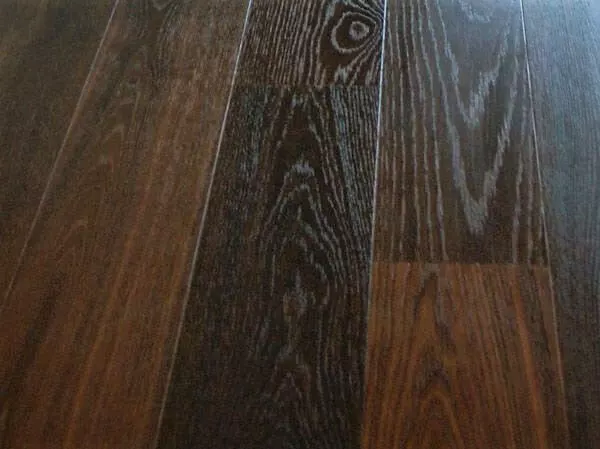 Smoked/fumed oak flooring
A smoked oak floor is a new oak floor with an aged effect as decades old.
This is possible by treating the planks with ammonia liquid. This is also known as 'smoking'. The wood is treated with ammonia in a special, closed smoking chamber.
This causes discoloration due to a chemical reaction between the tannin (also called 'tannic acid') in the wood and the ammonia vapor.
Oakwood is one of the few types of wood that can be smoked because oak contains tannic acid.
Smoking oak plank floors creates increased color nuances between the plank.
Each plank contains a different amount of tannic acid. This is due to various natural conditions to which the oak tree is exposed.
Examples are sun, wind, and rain. As a result, one plank turns lighter or darker when smoked than another plank. This gives a unique effect so that the floor will never get boring.
The advantages of a fumed oak floor are:
a smoked oak floor (or fumed oak flooring) provides an outdated look, which fits into various interior styles;
Fuming an oak floor gives a unique look; An additional effect of smoking is that smoked oak floors will yellow less or not at all.
They become lighter over time under the influence of UV radiation from sunlight.
Single or double-smoked
The intensity and duration of smoking determine how dark the floor becomes.
There is often talk of single-smoked and double-smoked. The heavier the floor is smoked, the darker and greater color nuances are created.
Smoking a floor can also be combined with other treatments, such as brushing or aging.
Smoked oak floor treatment
A fuming wooden floor must be finished with oil. A natural oil provides a brown, black, and gray appearance.
If you opt for a white or gray oil, the dark parts in the wood will be strengthened, and the wood's drawing will come out very clearly.
It then seems as if there is a thin layer of white or gray oil on the floor.
A smoked oak floor is ideal for people who like a busy, lively floor with many color differences between the planks. Is a smoked oak floor for you?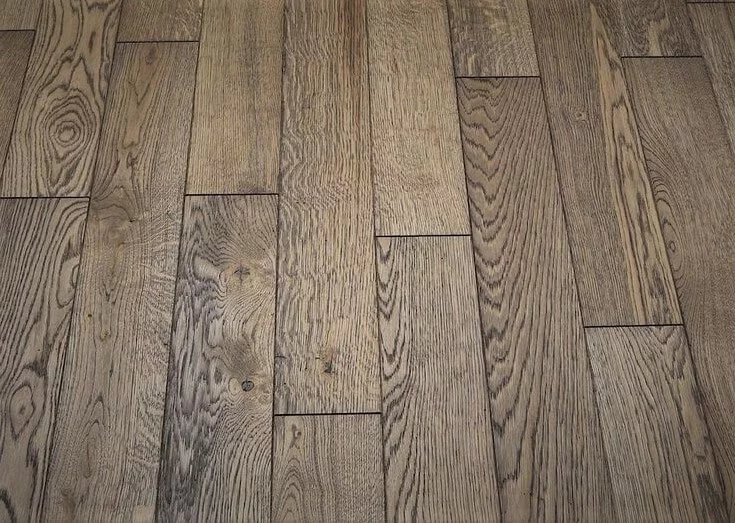 Aged oak flooring
Oak-aged floors give your home a lived-in character.
These floors are popular and therefore sought after.
The floor is new, but due to aging, it looks like a worn floor.
Various aging processes are possible.
Each has its own unique properties and appearance.
Wood aging processes
There are several methods for aging a floor.
Different tools can be used to give the planks a lived-in look. An example is drumming the floor.
This means that the planks are put in a drum with hard materials such as nuts and bolts.
These provide the floor with extra dents to make the effect of aging even stronger.
The floor can get a weathered, gray color with a lye stain or by smoking the planks. Finally, brushing the planks is one way to make the wood grain more visible.
This means that a color applied later remains in the open brushed wood structure uniquely.
Interior oak-aged floor
An outdated floor fits into any interior, from modern to classic.
In short: aged oak floors can be used in a wide variety of interior styles.
An additional advantage of aged oak floors, because they are outdated, the damage is less visible.
Aged oak floor with underfloor heating
Underfloor heating in combination with an aged oak floor is also an option. The oak duo shelf is perfect for aging due to its minimal effect.
Are you looking for a new floor, but do you like an authentic look? Then an aged oak floor is an interesting option for you. Contact us for the possibilities.
Oak floor oils
An oak wooden floor should always be treated with a finishing layer as protection.
You can choose from among others lacquer or oil. Lacquer and natural oil give the floor virtually no color; in most cases, the floor becomes slightly yellower.
Think of basic colors such as black, white, and gray, and colors such as walnut, antique oak, and sand. With a color oil, there are many possibilities.
Light and dark floors
In addition to the many color oils, the Bal Tussen Parquet range also offers the option of illuminating the floor or giving it a dark appearance.
For example, a white or natural oil provides a light floor with a fresh and modern look, while dark oils create a warm and attractive appearance.
The advantages of an oiled floor include:
a wide range of colors;
the possibility to give an oak floor a completely different look;
easy to maintain.
Color oil also on an existing wooden floor
Not only new parquet floors can be treated with color oil. A wooden floor that you have had for years can also be restyled with color oil.
The floor is first sanded bare during this treatment. After this, any color oil can be applied to your floor.
Color oil really cannot be combined with every type of wood. The most suitable type of wood to treat with color oil is oak.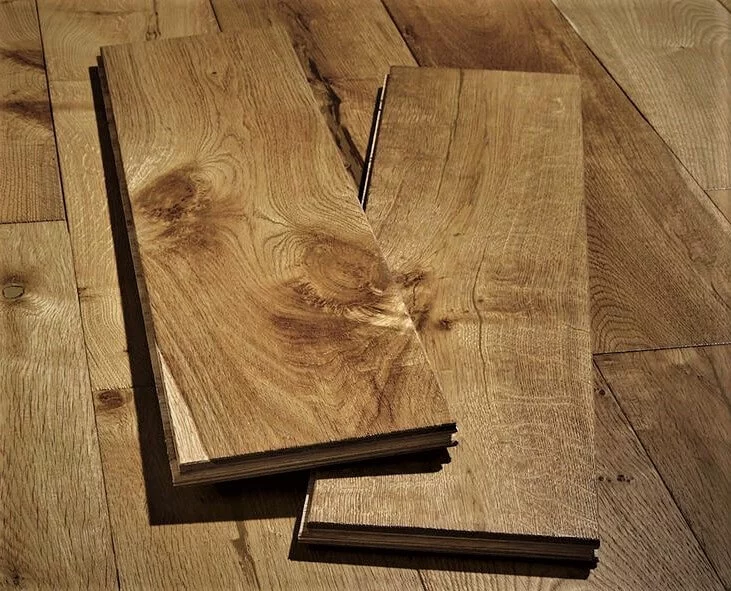 Oak floor lacquering
An oak wooden floor should always be treated with a finishing layer as protection.
You can choose from among others lacquer or oil. Lacquer and natural oil give the floor virtually no color; in most cases, the floor becomes slightly yellower.
A lacquered oak floor requires little maintenance. You apply the lacquer to the oak wooden floor and completely seal the floor.
Read: Types of wood finishes
This layer on the wood is strong protection and can also withstand water.
The maintenance required is easy to do with, for example, a broom or vacuum cleaner. Major care is, on average, only necessary after 10 to 15 years.
A lacquered oak floor is available with different gloss levels: satin, matt, and extremely matt. The gloss level largely determines the appearance of your floor.
The advantages of a varnished floor include:
low maintenance;
different gloss levels possible;
good protection.
Oak hard wax floors
Oak hard wax floors combine the positive properties of lacquer and oil. Hardwax is a mixture of oil and lacquer.
Hardwax protects the wood against moisture; the hard wax saturates the wood so that it becomes water-repellent.
You can choose between the gloss levels with oak hard wax floors: gloss, silk matt, or matt. In addition, different color variations are also possible.
The daily maintenance of an oak hard wax floor consists of wiping, sweeping, or vacuuming your floor.
You must remove dirt as quickly as possible. The floor needs intensive maintenance once every five years. This can be done without premature sanding.
In short, with an oak hard wax floor, you get a floor that is resistant to moisture, attracts dirt less easily, and is, therefore, easier to clean.
In addition, hard wax can be touched up locally (unless you opt for a colored hard wax, then this is more difficult).