What is Ceramic Countertops: Properties, Pros, Cons, Price, and Maintenance
A ceramic countertop is composed of clay, porcelain, dyes, and unique ceramic binders.
The result is a solid countertop that retains its color for life and can be completely customized. Ceramic is also non-porous, making these countertops very hygienic to use.
Since it is a manufactured material, a ceramic top can be made in various shapes and colors. For example, ceramic countertops resemble natural stone or concrete or have a uniform color.
It is even possible to make ceramics look like slightly oxidized metal.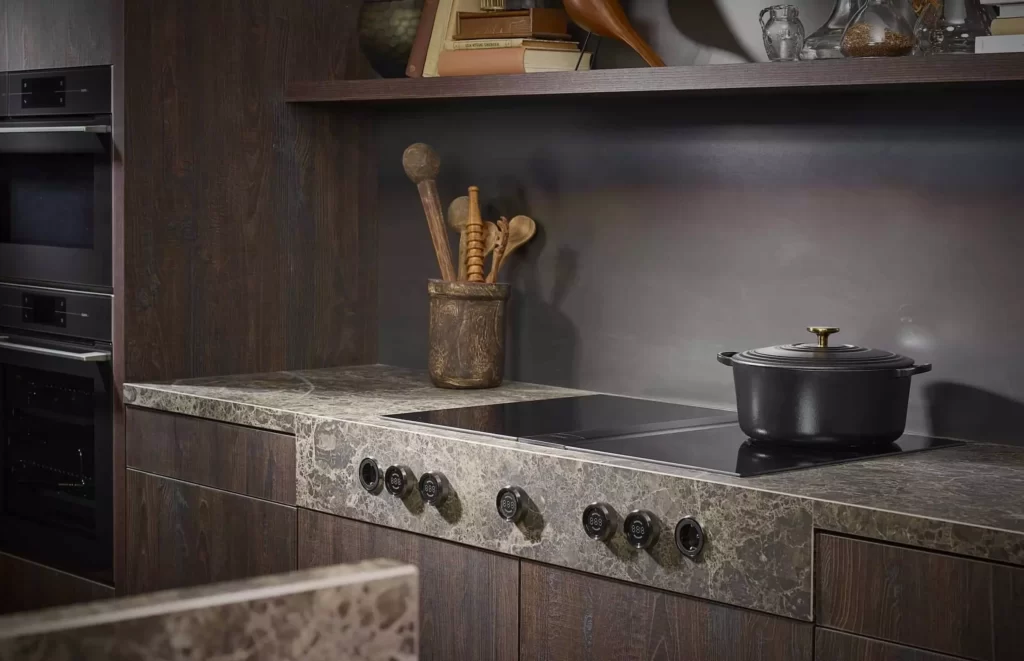 Properties of ceramic countertops
Material
The countertops are made of a mixture that has been baked and pressed under high pressure. A ceramic worktop consists mainly of porcelain and clay. Because it is baked under high pressure, the material is very hard.
Colour
Ceramics are produced in different colors. In practice, ceramic countertops are mainly provided with shades of gray towards black, there are all kinds of earthenware shades between red and brown, and there is very light or white ceramic.
The ceramic colors are somewhat comparable to the color schemes of granite, although granite is often very black or dark.
Lifespan
Ceramic kitchen countertops have a long life. Because the material is very hard, the blade can easily last 15 to 20 years without changing color and hardness. The surface is also resistant to UV radiation from the sun.
Moisture resistance
A ceramic kitchen countertop is moisture resistant because no humidity can penetrate the countertop. So water is no problem at all.
Heat resistance
With a ceramic kitchen countertop, it is possible to place a hot pan on the worktop. The leaf can withstand heat up to about 250 degrees Celsius.
Stain sensitivity
A ceramic kitchen countertop is stain-resistant. Most stains are therefore easy to remove with an all-purpose cleaner.
Scratching
Hardly any scratches will occur on a ceramic kitchen countertop. It is even possible to cut on this type of kitchen countertop, which will ensure that your knives become blunt faster.
Hygiene
A ceramic kitchen countertop is very hygienic. No dirt can penetrate the leaf so that no bacteria or fungus can develop in the leaf.
Appearance
The natural design of a ceramic kitchen countertop provides a sleek look. It is just a little tighter than a granite top which is a natural product.
Difference Between Ceramic and Composite
A ceramic kitchen top is heat, stain, and scratch-resistant, and completely maintenance-free. We do recommend that you always use a cutting board when cutting and a trivet for hot pans.
A composite kitchen countertop is heat-sensitive; this can cause discoloration when placing a hot pan on the kitchen worktop.
You can remove stains with a ceramic kitchen top; this is impossible with a composite kitchen countertop. These slowly penetrate the kitchen top.
A composite kitchen countertop requires more maintenance than a ceramic kitchen top.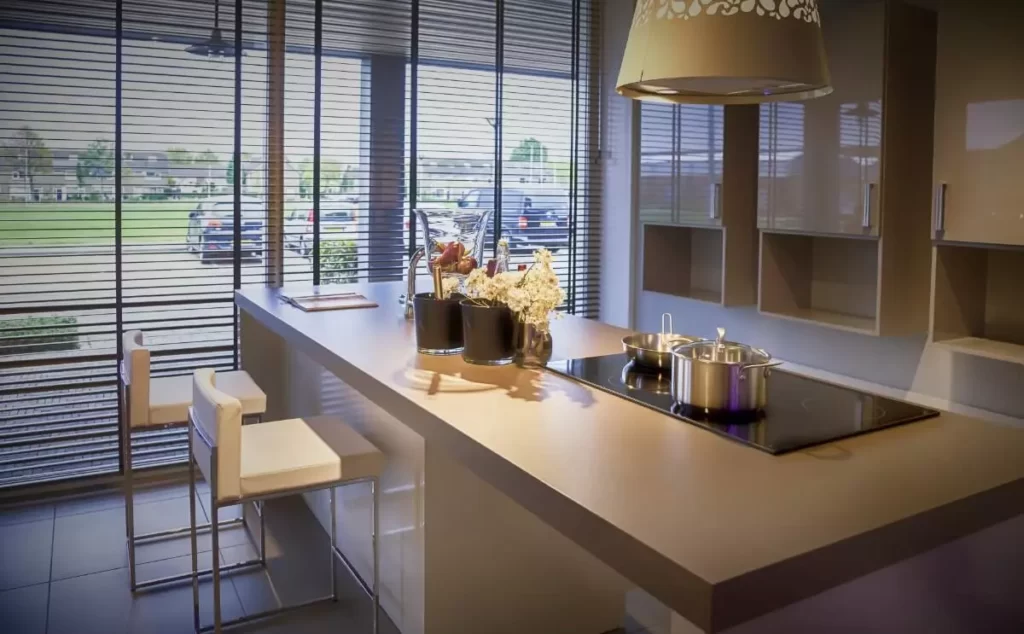 Difference Between Ceramic and Dekton
Like a ceramic kitchen top, a Dekton kitchen top is entirely maintenance-free because it is heat, stain, and scratch-resistant.
The difference lies in the composition of the products. Ceramics are fired with clay and Dekton with glass.
In addition, a Dekton kitchen countertop is relatively more expensive than a ceramic kitchen top.
Would you please read other types of material for kitchen countertops?
Applications of a ceramic kitchen worktop
A ceramic countertop comes into its own as a kitchen countertop due to its beneficial properties.
If you want a matching stole, a vertical top that can be fully supported or attached to the side of your kitchen countertop in ceramic so that your kitchen island has that sleek and modern look.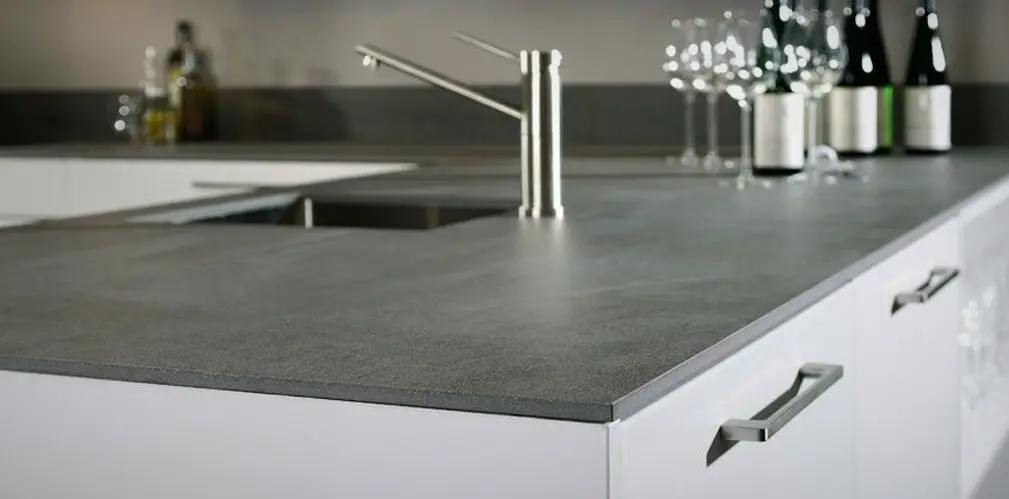 Benefits of ceramic countertops
Ceramic has many beneficial properties. We have listed these advantages of a ceramic countertop for you below:
Many designs:  since the material is composed of a mixture of porcelain, clay, dyes, and other ceramic binders, many different designs are possible.
The colors of ceramic countertops are developed according to the wishes of the customer.
Ceramic is available in uni colors, a marble look, granite look, and concrete look. There are even finishes with the effect of oxidized metal.
Stain Resistant:  Ceramic kitchen worktops are more stain-resistant than composite or granite countertops. Ceramic is light in weight, making the worktop easier to transport.
Very strong. Ceramics are very strong because porcelain, clay, dyes, and other ceramic binders are fired and pressed together under high pressure.
Hygienic due to the homogeneous top layer. Ceramic is hard, even harder than granite. The sink can be integrated almost seamlessly into a ceramic worktop, which improves hygiene.
The same applies to the high stain resistance of a ceramic countertop.
Maintenance-free:  Ceramic is maintenance-free and remains beautiful thanks to its scratch resistance and water resistance.
The material is not porous, so it is not affected by moisture, and food residues do not penetrate. You only need to wipe ceramics with a cloth, after which the countertop is ready for use again.
Ceramic is scratch-resistant, dimensionally stable, and heat-resistant.  It is no problem to place a hot pan on the top with ceramics: nothing happens to the top.
In addition, a ceramic countertop is particularly scratch-resistant. To prevent blunt knives, we recommend that you use a cutting board.
In conclusion, we can say that a ceramic countertop is one of the best materials that you can use in your kitchen due to these good properties.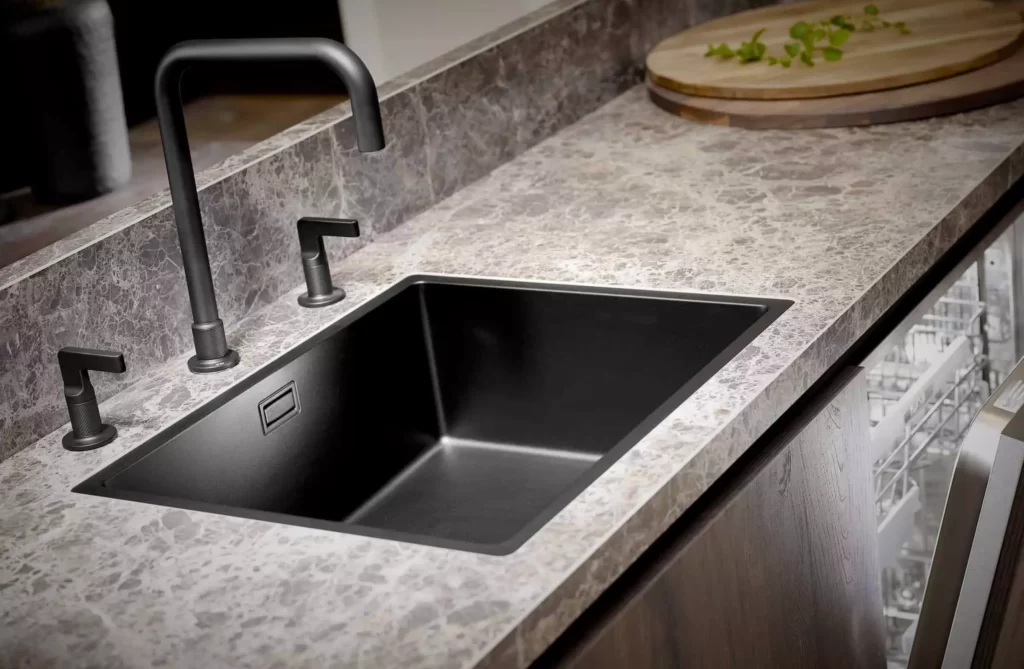 Disadvantages ceramic countertops
Although ceramic is a top material and has excellent properties, there are some drawbacks when using this material. Below you will find these:
Ceramic is not indestructible. The material is very sturdy and flexible but not 100% impact-resistant, just like with all types of materials.
In particular, the top edges always remain vulnerable if a plate, pan, or bowl should fall on it.
The price of a ceramic countertop is relatively high. Ceramic is one of the best materials for a kitchen countertop. Because the production process of a ceramic top is pervasive, the square meter price is higher.
Ceramics are built from multi-layered material. We therefore always recommend using a  flush-mounted sink.
Although an under-mount sink is also an option, the finish of this type of sink shows that the top consists of several layers.
We think this is less attractive, but this is not a disadvantage if you do not find this important.
Ceramic worktop + stainless steel sink: The sink is a vulnerable element because you continuously work with pans and other materials in the sink.
That is why we often recommend the combination: ceramic countertop + stainless steel sink. In this way, you protect the weak edges of the sinks with stainless steel (stainless steel)
Stainless steel sink lined with ceramic: There are also stainless steel sinks lined with ceramic on the inside. The flange of the sink is then recessed into the top.
The bottom of the sink is also made of and has a drain (slants). This does not have a ceramic sink.
Thickening a ceramic kitchen countertop: ceramics are naturally very thin. With an under-mount sink, the rim above the sink is often skinny.
This also usually applies to things like blackout frames, back walls, and window sills. It is possible to thicken the material, but this does come with a price.
All in all, we can say that if you are careful with bumping heavy sharp objects, ceramics can be used effortlessly in the kitchen.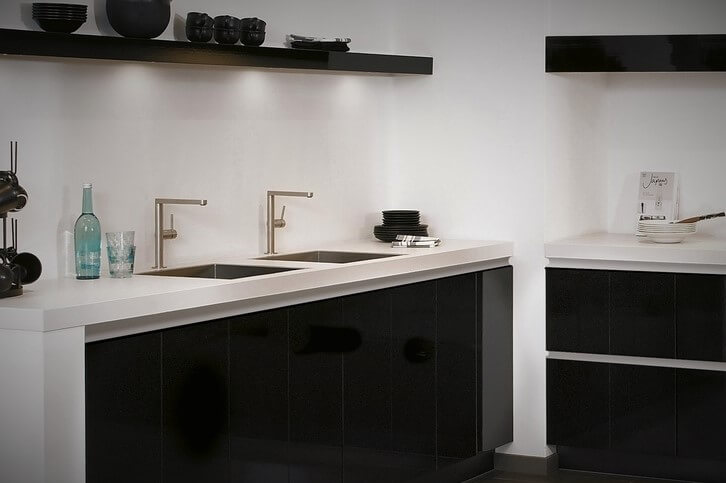 Maintenance of ceramic kitchen countertops
Ceramic is very easy to maintain. The material is straightforward to keep clean with the known cleaning agents and a wet cloth.
Be careful with a scouring pad and abrasive. Ceramic is also not very resistant to chemical products and strong acids.
If you spill these agents on the surface, you will need to remove them immediately to avoid irreparable damage.
Points to consider in ceramic maintenance
Slight color and nuance differences cannot be ruled out with ceramics.
Despite heat resistance, always use a coaster because of possible thermal shock.
Ceramic countertops up to and including 20 mm thick must be fully supported; Other thicknesses need extra support at the recesses.
Ceramics are sensitive to breakage and damage, especially when subjected to point loads or impacts.
Do not leave acidic products such as lemon or orange on the worktop.
Undercounter sinks are possible. However, we recommend flush mounting due to impact sensitivity.
Pressure from above can cause breaks or tears.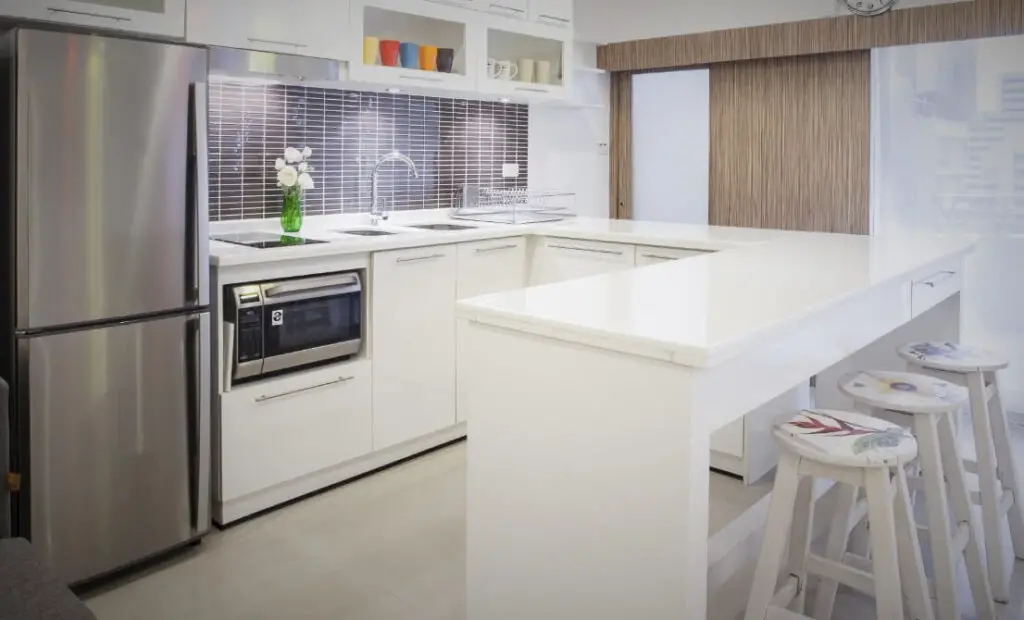 Ceramic countertops price
The price of ceramic countertops is difficult to determine because a lot depends on the exact wishes.
The size of the ceramic countertops, the thickness, skirting boards, rear walls, necessary recesses, and facilities such as a sink (ceramic), taps, etc., will influence the final cost price of a ceramic kitchen countertop.
Keep in mind that the installation of kitchen countertops also entails costs.
Combine a ceramic kitchen top with other colors and materials
Whatever your style, a ceramic worktop is always possible. We see ceramic kitchen countertops in various kitchen styles.
From modern to rural or classic: ceramics look amazing. In addition, you can choose from different stylish colors with a ceramic kitchen top. How about chic black, or do you prefer a warm brown shade?
As you notice, you can go in various directions with a ceramic countertop. This way, you can perfectly match the ceramic countertop with the rest of your interior.
Do you want to go for a unique look? Then a combination of a red kitchen with a black ceramic countertop is a good choice.
In this way, you create a designer kitchen that you will enjoy for years to come. Place kitchen accessories that go well with your ceramic countertop for a luxurious and complete look.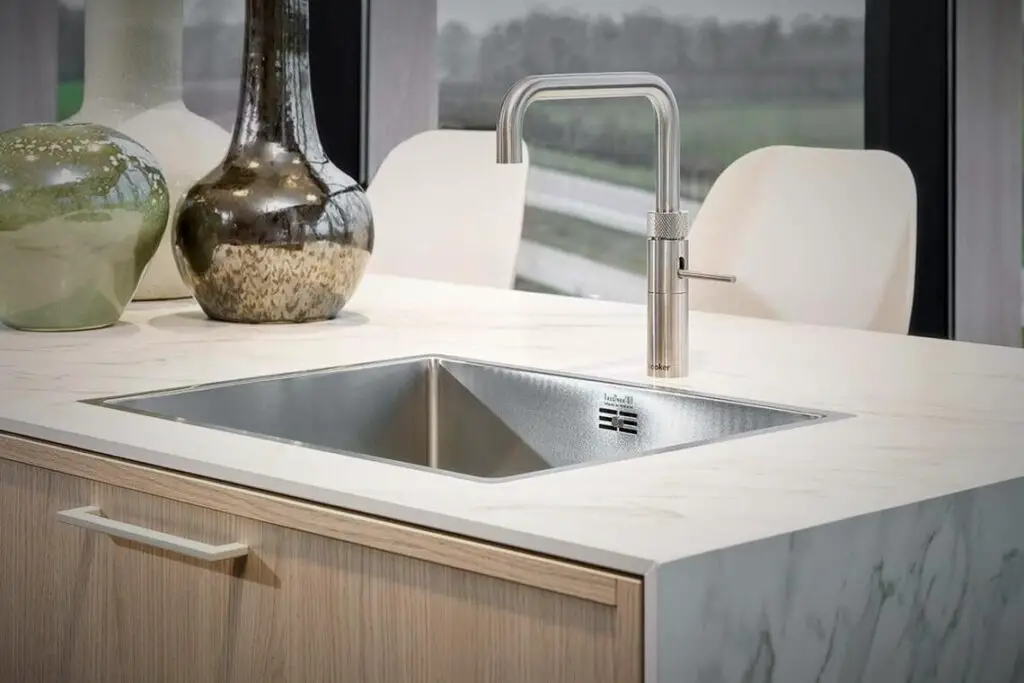 Better Alternative to Ceramics? The Quartztop Composite Countertop!
A composite countertop is made of recycled natural stone, namely pieces of granite and quartz. These materials are then mixed and combined with strong resins.
A composite countertop looks like a stone countertop and also has a comparable hardness but fewer drawbacks! Read more about the Quartz composite kitchen countertop.