Corian countertops: Properties, Pros, Cons, Price, and Maintenance
Are you looking for a Corian countertop for your kitchen?
With a Corian kitchen countertop, you bring elegance to your kitchen, and it can be molded into any shape imaginable, from round to tight or even organic shapes. Ideal for designer kitchens.
Corian is a versatile material used for various kitchen applications such as countertops, backsplash, and sinks.
Due to the great interest of interior designers and interior architects, Corian has become an integral part of contemporary interior design.
Corian Solid Surface is a soft-touch material and is seamless due to how the product is molded for an extra sleek and simplistic look.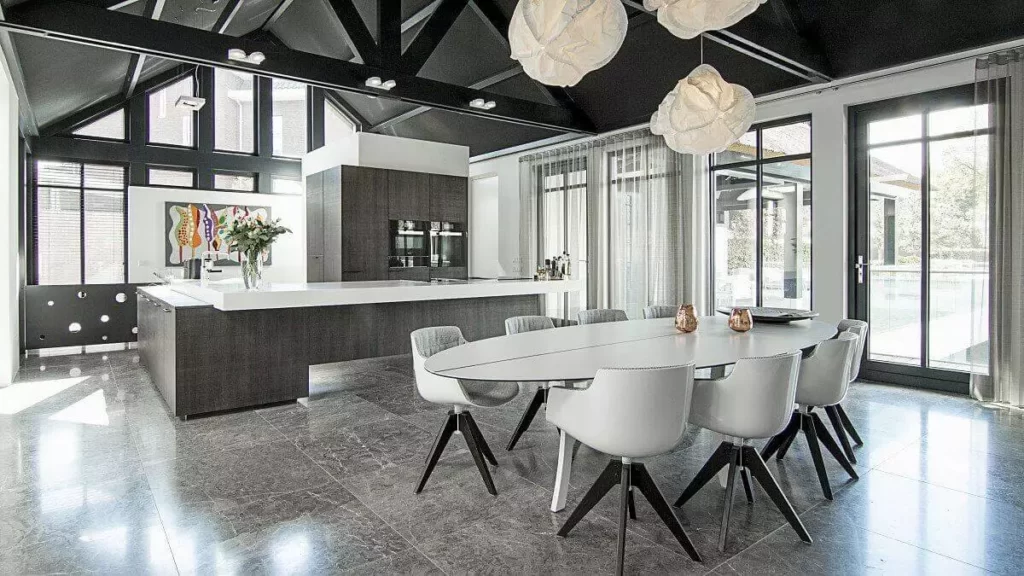 What is the Corian countertop?
Corian is the brand name of DuPont's plastic countertops. Because Corian was the first to make such plastic countertops, the name was often used as a product or material.
Many people, therefore, think that Corian is a type of material that is used for countertops. You could compare it a bit with the brand name Luxaflex, which is often used as a Venetian blind.
So when people indicate that they want a Corian kitchen countertop, there is a good chance they mean a plastic kitchen countertop.
In addition to the Corian brand, many other brands have similar plastic kitchen tops, such as Staron, Swanstone, Avonite, Wilsonart/Gibraltar, Formica, LG, Hanex, and Meganite.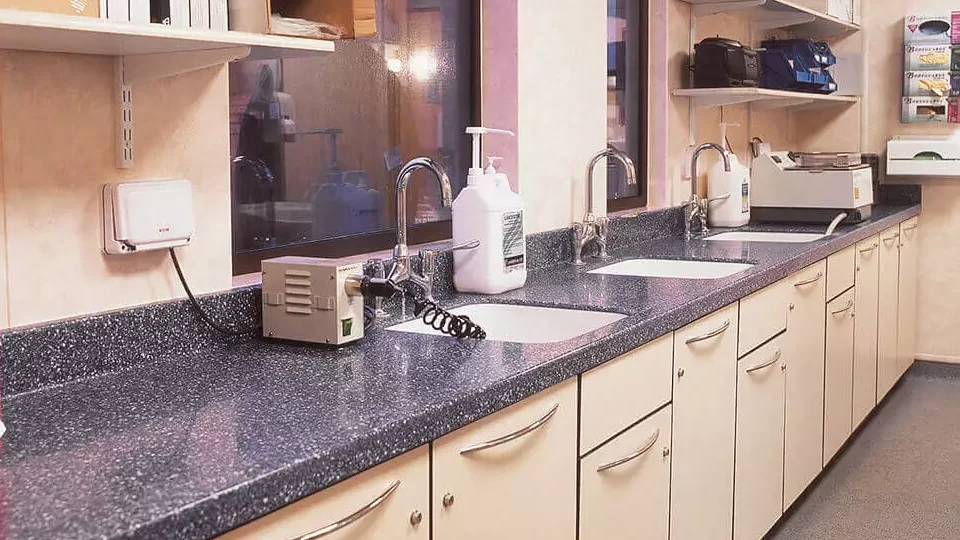 Corian properties
Corian Solid Surface is a high-quality solid plastic invented and produced by Du Pont. In addition to Corian, this leading plastics manufacturer also developed other materials, including Nylon.
What is extraordinary is that the material can be thermally deformed so that Corian can be cast into all kinds of shapes using a mold. In this way, even sinks can be made.
The material can also be polished, ground, cut, and processed. In addition, it can also be glued invisibly.
Furthermore, it is a very durable, solid, and hygienic material because it contains no pores so that bacteria do not have a chance.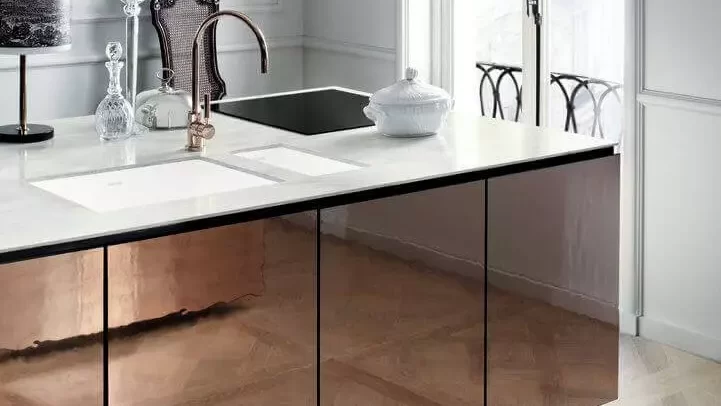 What is Corian made of?
Plastic Corian countertops are made by mixing acrylic polymers with other minerals and stone-derived materials. This mixture is poured into molds to make plates.
The composition is entirely consistent; in other words, it is solid and is the same inside and out.
This mix provides some essential features and advantages over other types of countertop materials.
There are differences in the recipe between the different brands and manufacturers, but the result is essentially the same.
Corian countertops are durable and have specific advantages, and as with all types of countertop materials, also some disadvantages.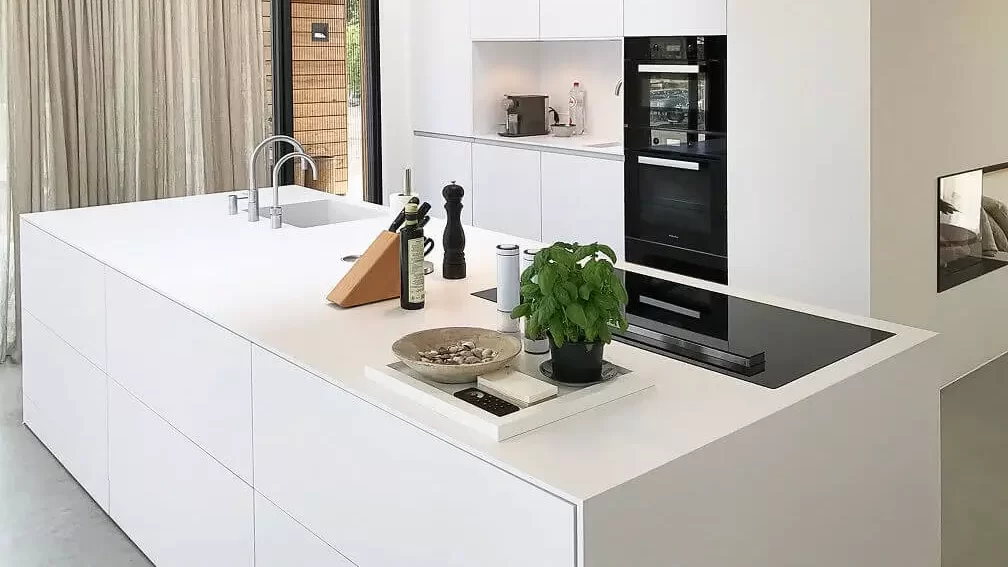 Corian offers many possibilities for your kitchen
Corian is a strong material made of bauxite; bauxite is a material that, for example, is also made of aluminum.
It is highly resistant to wear and does not flake, which is a tremendous advantage because kitchen countertops are often used intensively.
It offers resistance to most bumps and scratches so that the blade still looks new even after years of intensive use.
In the unlikely event that the countertop is damaged, it is often easy to restore it to its original state.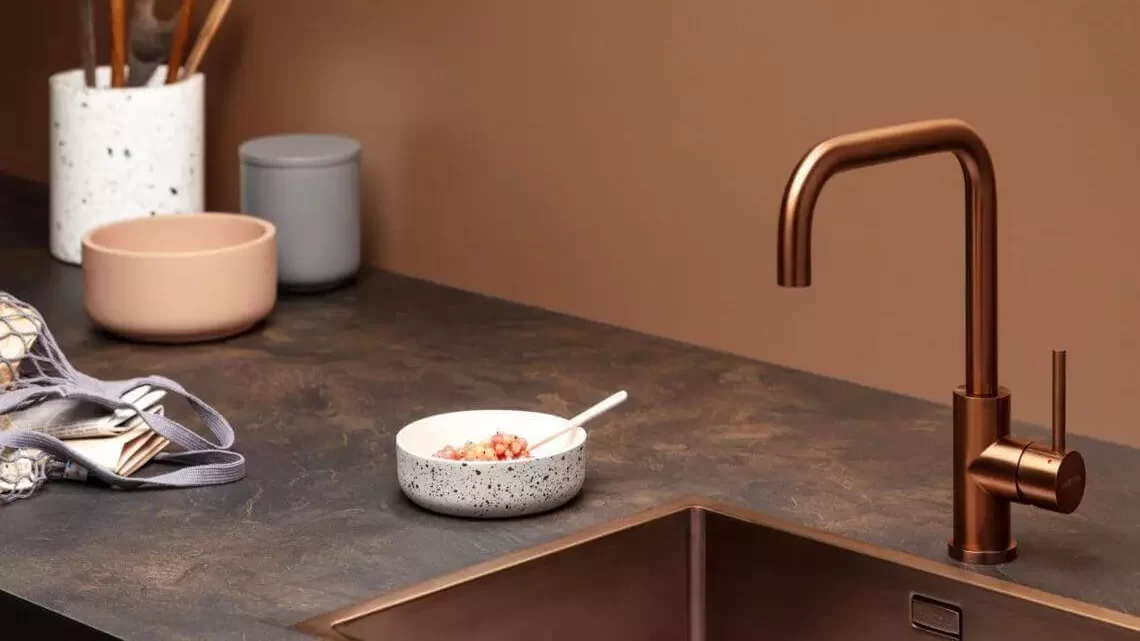 Corian can be molded into almost any shape or curve via thermoforming, making a lot of possibilities.
That's a great feature if you want an unusual shape, for example, or if your space has an unconventional form.
Concrete and glass countertops can also be formed into complex shapes or molds, but that flexibility cannot be compared to Corian.
This flexibility also allows for integrated sinks, seamless backs, and inlays, only possible with Corian.
Corian is not only useful in the kitchen. It is possibly the most versatile and adaptable material used for bathroom countertops, bathtubs and showers, tabletops, wall coverings, furniture, boats, and RVs.
What colors are available?
In the past, Corian countertops were only available in a limited number of colors. Although some people liked those colors, you had a lot more choice with other materials. Today it is a very different story.
Corian countertops were available in over 100 different colors, textures, and looks.
Grain shapes and sizes range from sand to pebble and even recycled glass. Stripes, veining, mottled hues, and movement are now seen throughout the collection for a much more natural look that is very appealing.
Many rhythmic patterns mimic marble, travertine, and granite very well. In short, a suitable Corian worktop is available for every style of kitchen.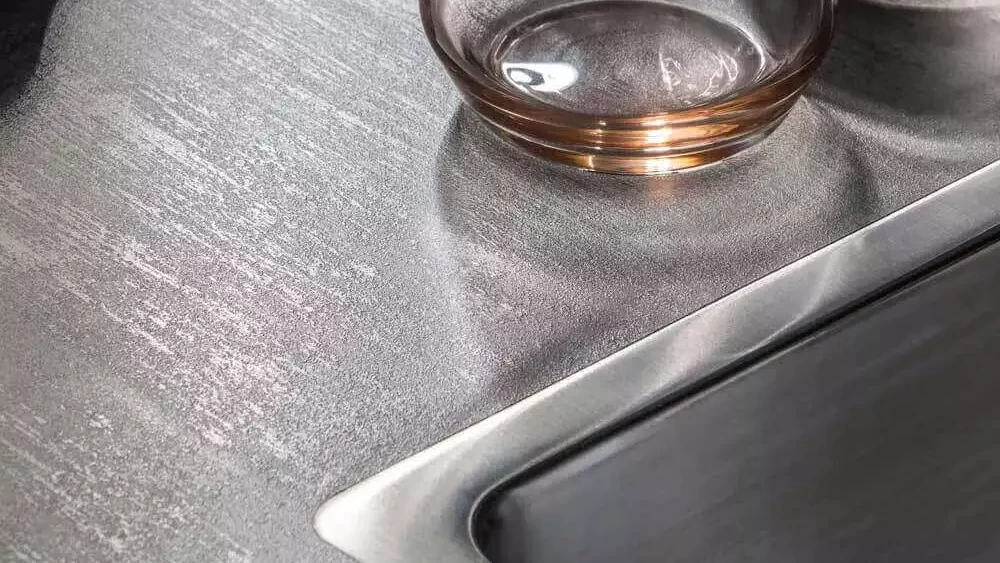 Advantages of a Corian Countertop
Highly editable material, This allows it to be ground, cut and glued seamlessly.
With a Corian kitchen countertop, minor scratches can be sanded off with a scouring pad.
Sink and backsplash can be made of the same material.
Durable material and Requires very little maintenance.
Homogeneous material. As a result, no dust can penetrate the top, making a Corian kitchen top very hygienic.
With the help of a mold, Corian can be cast in almost any shape imaginable
Corian kitchen countertops can be completely customized
Choose from many different colors and patterns
Corian is not porous and does not require sealing
The surface can be illuminated so that the countertop glows
Damage can usually be repaired
Generally cheaper than quartz or granite countertops
Disadvantages of a Corian Countertop
Corian is not heat resistant, so hot pots and pans should not be placed on the worktop.
It is also a material that is sensitive to certain acids. So tomatoes or lemons are better cut on a cutting board.
Furthermore, like most alternatives, Corian is also sensitive to scratches.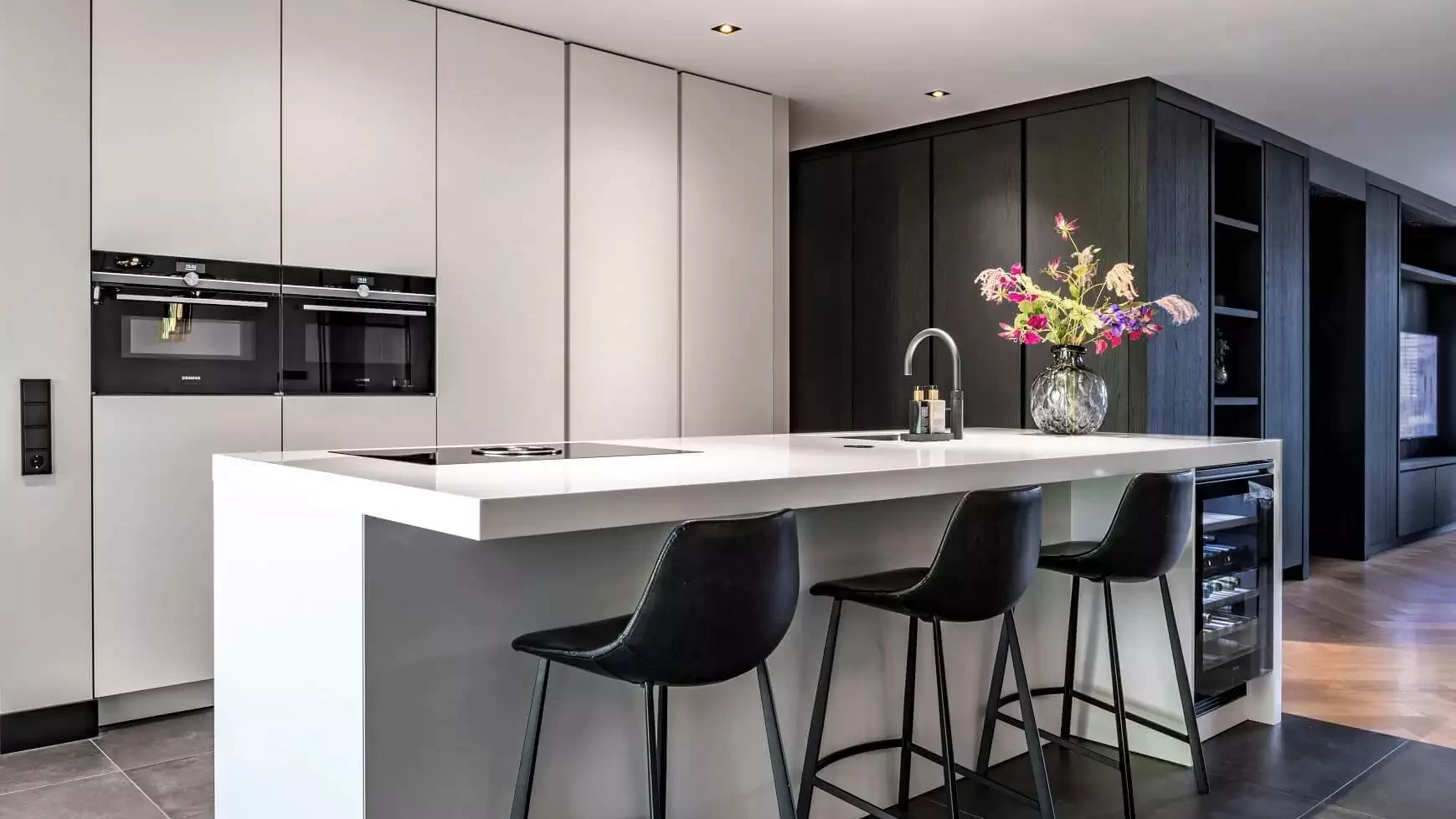 What are the prices of Corian worktops?
Plastic Corian countertops are not cheap. You have to take into account a square meter price between $50 and $75.
The price variation is mainly dependent on the color selected (colors are usually grouped into different price ranges).
Another factor influencing the price is manufacturing. Some manufacturers require the final product to be manufactured by licensed and trained manufacturers (meaning you can't get your own, more affordable option).
In the case of Corian, the advantage is that a 10-year warranty covers the product and installation.
Maintenance & Cleaning Corian countertops
Cleaning Corian countertops is easy. Soapy water is fine; However, keep in mind that soapy water can leave a dull layer on the counter over time.
You can also use scouring pads. Regular kitchen and household countertop cleaners are safe to use with regular use, which means that when you spray the cleaner on it, then wipe it off as well.
Everyday household products such as bleach can discolor the surface of a Corian countertop. It also leaves a waxy film and should not be used when cleaning a Corian worktop.
Keep in mind that while Corian is highly resistant to chemical damage, it's best to use pH-neutral cleaners, such as granite cleaners.
High heat and hot pans should not be placed on a Corian countertop. Unlike granite countertops or composite kitchen countertops, Corian is not very heat resistant.
Placing pots and pans directly on the kitchen counter, hot or not, is generally not a good idea with plastic countertops.
Even with composite or granite countertops, it is possible that grit trapped under the pot can damage the surface or cause the surface to undergo thermal shock and subsequently crack. It's rare but possible.
However, Corian countertops do not withstand heat for long that is placed directly on the surface. So always use a coaster.
Stains on Corian are rare, but no material is 100% stain resistant. Usually, Corian stains are the result of chemical damage.
Scratches are also typical, as Corian countertops are relatively soft, although scratches can be sanded off in most cases.
However, dents are not as common as scratches, but they occur when a heavy object falls on the surface.
When comparing Corian to granite or composite countertops, Corian falls short in terms of durability.