Wooden kitchens Elements: Properties, Cleaning, and Maintenance
A wooden kitchen provides a lot of warmth and atmosphere in your interior. Thanks to the natural material, you are always provided with a unique design and a wood kitchen.
A wooden kitchen is increasingly being chosen these days. Because wood combines beautifully with modern built-in appliances, concrete, and stainless steel, wooden kitchens are increasingly getting a modern look.
Read everything about the wooden kitchen on this page.
What is a wooden kitchen?
To avoid confusion, we mean a model with wooden kitchen doors, usually fitted with a plastic or granite worktop.
Are you buying a kitchen with, for example, plastic doors but a worktop made of wood? Then we are not talking about a wooden kitchen.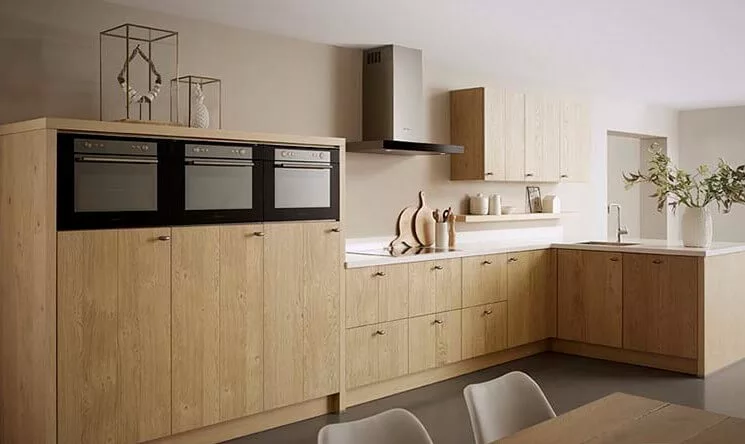 Why do you want a wooden kitchen?
Today's super-sleek efficient kitchen is beautiful and sleek – but it's not 'alive.' That's why people want wood.
This warmth is reflected in the modern kitchen. And if it's not in a solid wood kitchen, then something else will come in.
More than 68 percent of the kitchens have some wood in the kitchen. It is mainly used as an extra accent, such as a sidewall, front door, cabinet, and worktop.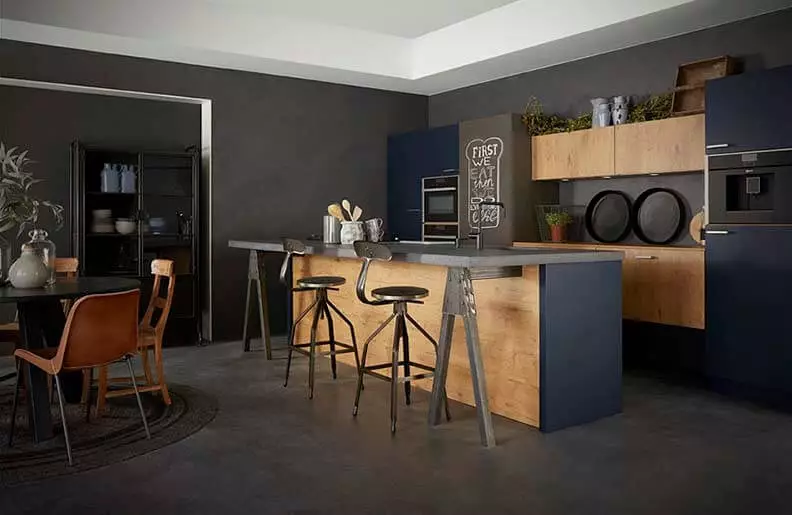 What types of wood do you see in the kitchen
Wood, therefore, radiates heat and is easy to maintain. But not every type of wood can be seen in the kitchens.
In the kitchen sector, the structure and color of the wood are significant – how should it match with all other materials in the future? You have different types and colors.
The wood used in the kitchen – the same types are used in kitchen doors and the worktops. Of course, each color also has a plastic version – both on top and door.
Also, read Types of wood for kitchen.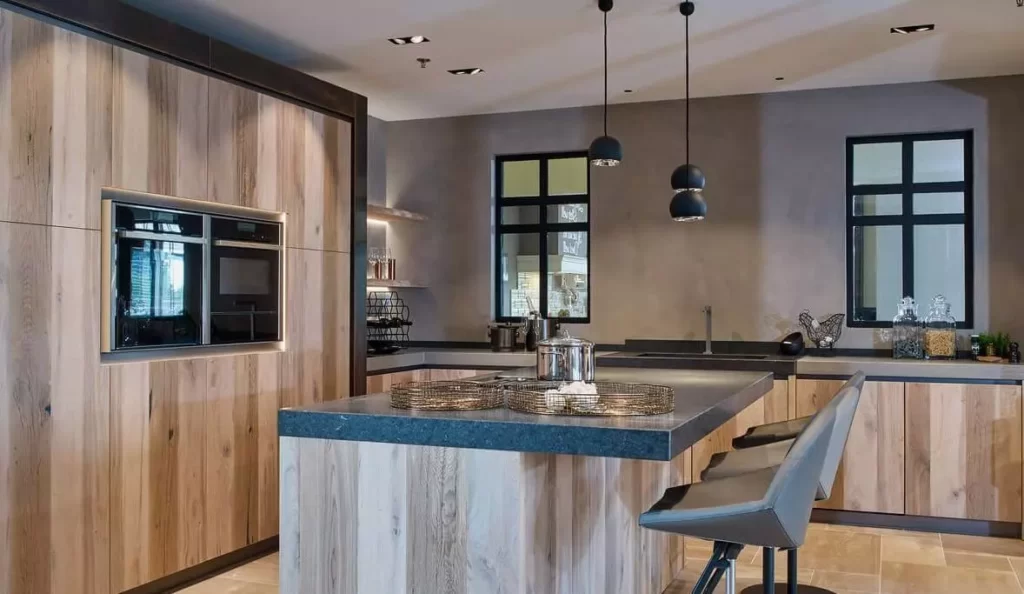 The most common types of wood in the kitchen
You can choose from many more types of wood, including beech, pine, maple, larch, walnut, and spruce. Of these types of wood, walnut and larch (because of their beautiful wood grains) are often used within the modern and design kitchen style.
Other types of wood used for wooden kitchens are Ashwood, Alder wood, Birchwood, Cherry wood, Oakwood, Wenge wood. Many types of wood are usually used in a wooden kitchen.
Also, read Types of softwood & Types of hardwood.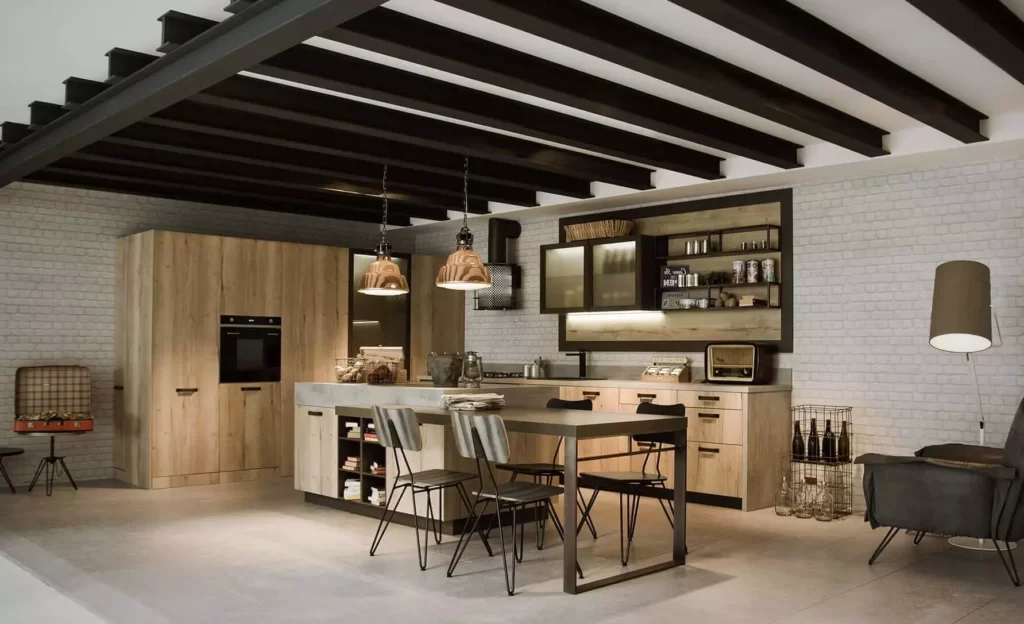 Wood elements in the kitchen
Do you not want a complete wooden kitchen, but would you like to use this attractive material in your kitchen?
We have listed for you which elements shine in a wooden version and emphasize the warm atmosphere.
Solid wood kitchen
With a kitchen made of solid wood, you can choose from many different types of wood.
Do you like a luxurious look? Then the solid wood kitchen is perfect for you.
In a kitchen with solid wood, the panels consist almost entirely of one piece of wood.
This creates a beautiful and exclusive whole.
Solid wood kitchens are usually a bit more expensive than other wooden kitchens.
If you opt for a solid wooden kitchen, you can be sure that you are purchasing a kitchen that you will enjoy for your lifespan. Using natural wood for your kitchen is a sustainable option.
Solid wooden kitchen front
Wooden kitchen fronts can be combined particularly well with other kitchen styles, depending on the type of wood.
A front made of wood is timeless and can be used in modern, classic, and robust kitchens. A wooden front can be designed in different ways.
The solid wood front, where the entire front consists of a solid type of wood, and the wood is processed in all kinds of ways by lacquering, plastering, or sandblasting.
A solid wood front cannot always be used because there is a risk of the door warping otherwise. It happens much more often than a wooden front consists of a solid wood framework, and the inside is made of veneer.
Why not so many kitchen stores sell solid wood for a kitchen?
Have you ever noticed that most kitchen stores don't sell solid wood kitchens at all? And that everyone asks about this.
We'll explain why: it's the dream of almost every wood lover, Just a kitchen made of solid wood. Oak kitchen doors are by far the most popular.
In a solid wooden kitchen, the doors are entirely made of real wood. No plastic is involved.
With this door, you have an enormous risk of expansion or contraction, with all the consequences that entail.
Kitchen cabinets from wood.
The kitchen cabinets, the most eye-catching elements in the kitchen, and we admit it, look beautiful for a moment.
Because of woodworks, just as your parquet floor will creak, so will your kitchen doors expand considerably.
They are resulting in rows of complaints about a kitchen store. That way, the kitchen shops don't burn their fingers anymore.
But even though they know the risks, there are still people who want a complete wooden kitchen made to measure. Such a craftsman has sweated a lot.
We leave these sturdy wooden kitchens to the interior builder, and then we immediately come to the misplaced term "tailor-made kitchen."
Kitchen wood look
If you are looking for a maintenance-friendly and cheaper alternative, the wood-look kitchen is an excellent choice.
Thanks to innovative techniques, a kitchen with a wood look is almost indistinguishable from a real wooden kitchen.
The essential difference is that a wood-look kitchen does not feel like real wood.
A wooden kitchen top fits particularly well with the country kitchen style.
The great thing about a wooden countertop in the kitchen is that it can be made in many variations.
As a result, you always create a kitchen with a wooden top to your liking.
Wooden kitchen accessories
By adding wooden kitchen accessories, you already create a lot of atmospheres.
Bread or cutting boards, kitchen utensils, or trays are perfect wooden accessories for your kitchen.
These accessories add warmth and give you a more rural atmosphere
Wooden kitchen floor
Are you afraid that it will be too much of a good thing when you go for a wooden kitchen with a wooden floor? A simple solution is to combine with other materials.
Color in the wooden kitchen
A wooden kitchen is ideal for combining with other colors. That is why we also briefly tell you about the best color combinations with a kitchen made of wood.
If you already have an old oak kitchen, you can refresh it with a layer of colored stain and a finishing layer of varnish.
White kitchen with wood
A kitchen in white with wood: a timeless combination that creates an open and cozy atmosphere simultaneously.
For example, go for a sleek, white kitchen with wooden elements. In addition to combining white with wood color, you can also go for a white wooden kitchen.
Wood is simple and easy to work with, which is why a kitchen with white wood is easy to realize. The white, wooden kitchen fits perfectly with a country style.
Black wooden kitchen
For a somewhat tougher and more robust appearance, go for a black, wooden kitchen.
The same applies here; for example, combine a black, natural stone worktop with wooden cabinets for an industrial style.
A kitchen with black wood is also one of the very stylish options. A kitchen made of wood entirely in black provides a unique, solid appearance in which you feel wonderfully at home.
Your choice of course entirely depends on your taste, and luckily the possibilities with a wooden kitchen are endless.
Wooden kitchen pros and cons
A wooden kitchen often costs a little more than an MDF or plastic kitchen. Nevertheless, a wooden kitchen has many advantages compared to other types of kitchens.
Suppose you damage the plastic kitchen worktop, and then it isn't easy to repair it. Wood is easier to work with, and damage can therefore be easily removed.
In addition, wood is material from nature. As you know, trees have to deal with all kinds of extreme natural conditions, such as hail, rain, wind, and lightning.
Yet trees do not immediately fall after one breath of wind. Wood is flexible and strong.
Wooden kitchens are beautiful not only today but also in five, ten, or fifteen years. A nice thought!
Wood is highly workable, and this makes it possible to fulfill all wishes for a wooden kitchen.
If you want the wood to be finished in an elegant way, that is possible. If you want the wood to be worked very gracefully, that is also possible.
Wooden Kitchen Styles
Wooden kitchens come in all shapes, sizes, and kitchen styles, including rural, modern, design, industrial, and combinations.
Due to the warm appearance of wood, you will find solid wooden kitchens, especially within the country kitchen style.
Due to its natural appearance, wood is also often combined with other colors. In combination with (high-gloss) white and sleek fronts, you can quickly create a special effect.
Especially in combination with a special type of wood, this gives a very exclusive design look. Also, play with the amount of wood you use in your kitchen.
For example, you can opt for only a wooden cupboard wall, bar top, or wooden worktop with some extra wood accents.
Scaffolding wooden kitchen
The kitchen made of scaffolding wood is gaining in popularity, and for a good reason. A scaffolding wooden kitchen has a robust and sturdy appearance.
As a result, a kitchen made of scaffolding wood combines particularly well with, for example, the industrial kitchen style.
You can also choose to integrate the scaffolding wood in the kitchen partially, for example, through a scaffolding wood kitchen unit.
Scaffolding wooden kitchens are available in different colors and designs, so there is always a version that matches your taste.
With or without a wooden kitchen?
In summary: there are a huge number of suppliers of wooden kitchens in the market. Whether you use plastic or veneer, the grain runs vertically on all kitchen fronts.
Are you going for a plastic wooden front? Then you first need to know which print is lifelike – which door resembles a real wooden front as closely as possible?
Then try to find out about the quality of the door by finding information on the internet. Look for reviews and experiences from households that have had a kitchen for some time.
Choosing the right type of wood will be less difficult – the range in kitchen stores is becoming smaller and smaller.
We think that by 2040 only ash, oak and walnut will be sold. If you want to make a good comparison, you have to compare the quality with a plastic front.
Whether you can buy the hidden gem or not, most wooden kitchens are of good quality.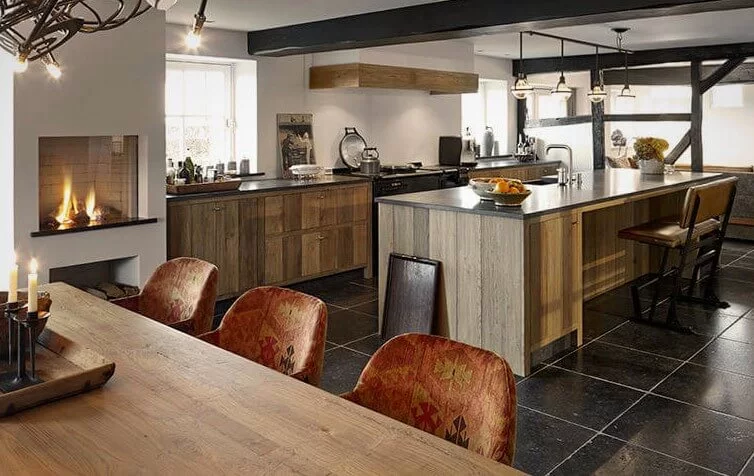 Cleaning and maintaining wooden kitchen
A wooden kitchen needs special care, a natural product that makes it more sensitive than produced materials.
Wood, for example, cannot withstand chemical cleaning agents, excessive moisture, or large temperature fluctuations.
Would you like your wooden kitchen to be spic and span for years to come? Then follow the advice below when cleaning and maintaining your wooden kitchen!
Wooden kitchen Cleaning
Wood veneer (real wood) and wood look (plastic resembling wood) have different cleaning and maintenance requirements. Plastic wood-look fronts can have much more than parts with wood veneer.
Clean wood look kitchen
You can treat a kitchen with plastic wood-look fronts in the same way as a 'normal' plastic kitchen.
Mild soapy water with a bit of all-purpose cleaner is often sufficient. Wipe the kitchen with a cloth and soapy water, and then wipe with a clean, dry cloth.
In terms of maintenance, wood-look requires little to nothing. Make sure – especially with plastic countertops – that no water remains. Clean stains immediately to prevent them from drying out.
Wood veneer kitchen cleaning
Doors with wood veneer are finished with a lacquer layer, protecting the wood against external influences. The paint layer must remain intact to maintain this protection.
Therefore, when cleaning wood veneer, always use mild cleaning agents and sponges that do not chafe.
Remove stains immediately
Wood is porous, allowing liquids, stains, or food residues to penetrate. Even the protective coating cannot always prevent this.
So be quick with stains. Take them off right away, and don't let them dry out. This is especially important with dark stains on a light type of wood – such as a knocked-over glass of red wine.
Also, be careful with bottles. For example, a drop of red wine may slide down an open bottle and form a not immediately visible circle. The longer it stays on, the harder the stain will be to remove.
Also, be careful with hot pans – they can also leave (burning) rings. Therefore, use coasters or felt pads where necessary.
Wood cleaner
To clean your wood veneer kitchen, use mild soapy water and a soft, lint-free cloth. Soft cloths can (as the description already reveals) leave behind fluff in the wood veneer.
Choose a cleaning agent without (heavy) chemical components, and that is suitable for wood. It also pays to test the product on a small (invisible) part of the kitchen first.
Wooden kitchen maintenance
Maintaining a wooden kitchen mainly has to do with the environment in which the kitchen is located. A wooden kitchen needs to be in a (relatively) stable environment.
Significant differences in humidity and temperature can cause the wood to work, which means that the wood will expand, causing tiny cracks in the wood veneer.
To prevent this, a stable environment is essential. Keep the temperature of the kitchen between 16º and 25º C and make sure that the relative humidity is between 40% and 55%.
Do you have unprocessed wood? Then you can impregnate the wood once in a while with special oil. Get advice from an expert or follow the instructions of the supplier.