Many Types Of Wood For Kitchen & Wooden Kitchen Tips
Kitchen brands that offer wood kitchens work with a wide variety of wood types. The character chooses the suitable wood for the kitchen.
But practical aspects also play a role in choosing the right type of wood for a kitchen because your kitchen must withstand humidity, heat, light, chemicals, abrasive and scratching objects day in and day out.
That is why sufficiently hard, insensitive, and high-quality woods with the proper density are considered to manufacture high-quality wooden kitchens.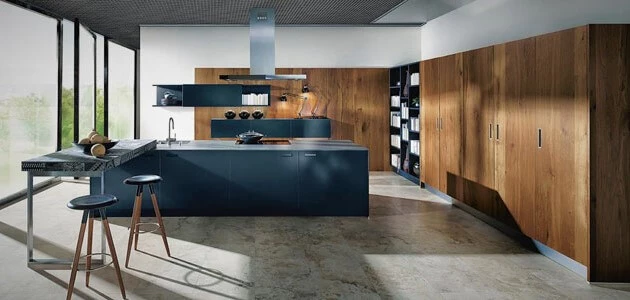 The best types of wood for kitchen and properties
You can make a kitchen out of almost any type of wood whether that is hardwood or softwood.
Oakwood is the most common type used. This is because it can be worked in many ways and it lasts a long time.
In addition to oak, you can also opt for walnut (beautiful brown color and fine striped pattern), ash wood (light color), recycled wood, or solid wood.
In a solid wood kitchen, the panels are (almost) entirely made of wood. This gives your kitchen a luxurious look. Furniture board or plywood is often used for the back wall and drawer bottoms.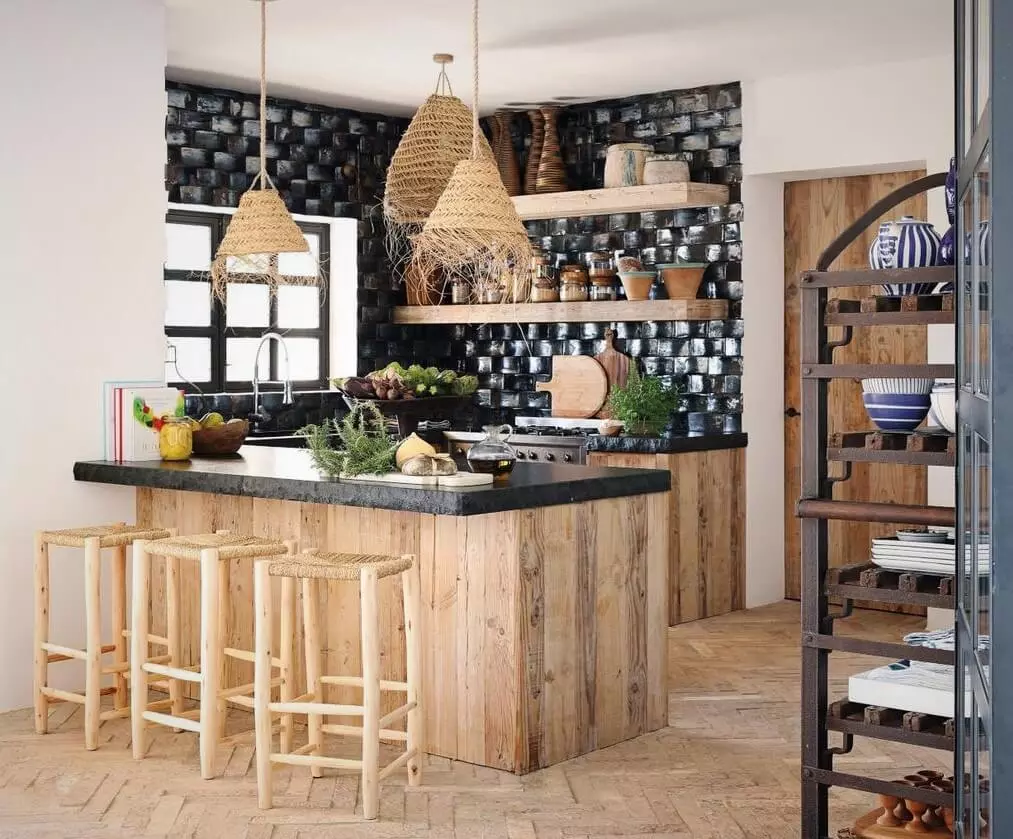 Solid wood kitchens have a natural yet robust appearance. They are somewhat more expensive than a kitchen made of plastic or other materials.
Here you will find a summary of common types of wood of the wooden kitchen industry, their appearance, and characteristic properties.
The wood of the maple tree has delicate pores, a light shade, and a homogeneous structure.
Because it is easy to work with, it belongs to the classic woods in furniture production and is traditionally used to manufacture wooden kitchens. Which often creates a somewhat dated impression.
Maple wood can be treated exceptionally well and is available in various finishes. Maple wood lends itself particularly well to surface treatments such as staining, coloring, and polishing.
The wood is also regularly used as a contrast for kitchens made from dark woods.
But nowadays, it is also used in design kitchens as a contrasting wood with trendy dark woods such as walnut.
Birchwood has very fine pores, and the light colors range from white to golden yellow, with the silk gloss and different light nuances characteristic.
Birch wood is a classic type of wood for the manufacture of wooden kitchens.
It is not very hard, flexible but easy to work with. It has good resistance to surface treatments such as staining.
Beech wood has a light yellow-red color and develops a particular pore and vein structure. This one is even and quiet.
Beech is the hardest and heaviest wood among the hardwoods and is therefore particularly strong and easy to work with.
The wood can be worked quite easily, does not splinter, and is versatile and robust. It is easy to combine with other materials and types of wood.
Thanks to its calm and natural appearance, beech wood can be combined very well in the kitchen with other, more striking types of wood.
Beechwood commonly used type of wood in the kitchen industry – but not exactly the most beautiful. Beech looks cheap and has an orange glow. The material does not splinter but can easily warp.
In its natural state, the color spectrum of oak ranges from yellowish-white via honey yellow to grey-brown.
In addition to these natural color tones, it is also a type of wood that can easily be changed color with stain or lacquer.
The structure of the annual rings is magnificent and gives a homogeneous surface structure and a facet-rich drawing.
Oak as a classic and rustic wood in the manufacture of wooden kitchens conveys originality and tranquility; it is therefore often used in the production of noble country kitchens.
Oak Wood is one of the most popular woods in kitchens. Hugely strong.
It can be used as an indoor and outdoor kitchen, provided it is under a shelter. It is so strong that the outdoor kitchen will last an average of 25 years.
Despite its strength, this strain is easy to work with. Over time, the oak kitchen will gradually become grayer – often only after 20 years.
The wood of American origin, like beech, can be easily processed and is suitable for applications in various types of joinery.
The light deciduous wood of the alder is reddish-brown and inconspicuous, with a regular pattern.
The alder wood well tolerates polishing and staining; that is why it is also often used as a replacement or base layer for more expensive types of wood.
Solid wooden kitchens made of alder wood exude high quality, warmth, and naturalness.
The spruce wood is exceptionally soft and elastic, colored yellowish-white to reddish-white, and has a strong resin smell.
The lively structure of the wood is created by the visible growth rings, which come into their own on the light and friendly wood surface.
Cherry wood is precious and is therefore mainly used in the higher segment of wooden kitchens.
Refined grains, high hardness coupled with firmness, silky and elegant shine are the characteristics of cherry wood.
The reddish-yellow to reddish-brown color resembles the maple's; it is often used as a cheaper alternative to the cherry wood.
The walnut tree  Wood is very decorative and noble. Depending on the country of origin, the color varies from gray-brown to chocolate brown.
Walnut wood impresses with a detailed drawing created by prominent annual rings and a delicate striped pattern.
The wood has a smooth, silky touch and works very representative and high quality. That is why it is often used in the higher price segment of the natural wood kitchen.
Walnut wood is relatively soft and easy to work with. It is often chosen because of its warm color. Walnut wood has the property of being damaged more quickly because it is quite soft.
Today, a walnut veneer is widely used, especially for wooden fronts in designer kitchens.
Solid walnut wood is especially suitable for the interior of wooden kitchens and gives the kitchen a specific style.
The warm color and pattern of the wood harmonize with many colors. In addition, an exciting contrast can also be achieved in modern kitchens, for example, with white fronts.
Nevertheless, this remains one of the nicer types of wood in the kitchen in terms of appearance. This also includes the Walnut and American Walnut.
Teak is a hardwood that is available in several color variants.
The wood is mainly imported from Asia, and the color primarily depends on the region where the trees are harvested.
Teak can be light, but also dark brown to black or gray.
Teak .'s greatest asset is strong, hard, can handle moisture well, and is also just very beautiful to look at. The type of wood has many applications and guarantees quality.
This is quite elastic wood, and you can use it well as a kitchen door. The type of wood is also used for gymnastics sticks and other materials that require considerable strength.
The color? White – yellowish to light brown wood.
Wenge Wood
Tropical, solid hardwood from Africa and Japan is used more as a worktop than kitchen doors. You will see the plastic variant in kitchen cupboards.
The dark brown to black color is often interrupted by brown stripes that are slightly lighter in color.
Wenge wood is a wood with a particularly warm appearance; in principle, the wood does not need a finish to shine optimally.
This African wood is hard and strong but comes with a slightly heftier price tag than other wood varieties.
Wenge wood has now become rare and endangered. That is why it will become increasingly difficult to obtain this type of wood.
Helpful kitchen tips for wooden kitchen
A solid wood kitchen is durable because it will last for years. Unlike kitchen cabinets that are finished with a wooden top layer or a veneer with a wood look, solid wooden kitchens can withstand a beating.
Unprocessed wooden kitchens are the most popular because of their robust and natural look. This material is almost indispensable in a country kitchen.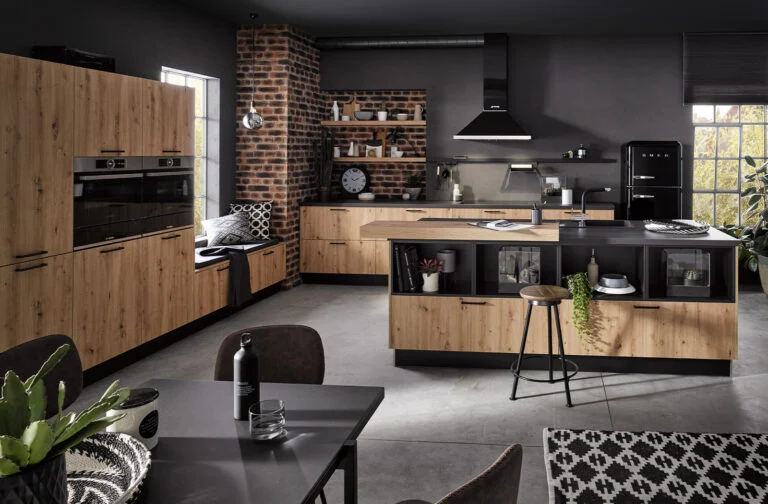 Keep in mind that the raw wood is vulnerable to scratches and stains.
A greasy stain is difficult to remove. And although, for example, solid oak is very sturdy, once there is a dent in the wood, you can only get it out by sanding the material.
Enthusiasts say that this is just part of it and that a lived kitchen has charm. But if you don't share that opinion, you might want to opt for an oiled, painted, or varnished wooden kitchen.
Scratches in solid wood are more accessible to repair than with, for example, a laminated or wood veneer kitchen cabinet. When you varnish the wood, it will start to shine a bit.
The advantage of lacquered wood is that you can easily wipe the kitchen cabinets with a damp cloth, and stains will not adhere to the material. Your wooden kitchen is then maintenance-friendly.
With a lick of paint, you can give your wooden kitchen cabinets a completely different look.
Kitchens painted black are very trendy, but colors like green, blue, and even pink are becoming more and more common. Are you tired of the color? Then paint them over with your favorite color.
Wood can also be oiled, and it can be colorless, but also with a gray wash or whitewash; this will protect the wood better.
It would be best if you repeated the oiling once every few years. A disadvantage is that oiled wood is not easy to paint over.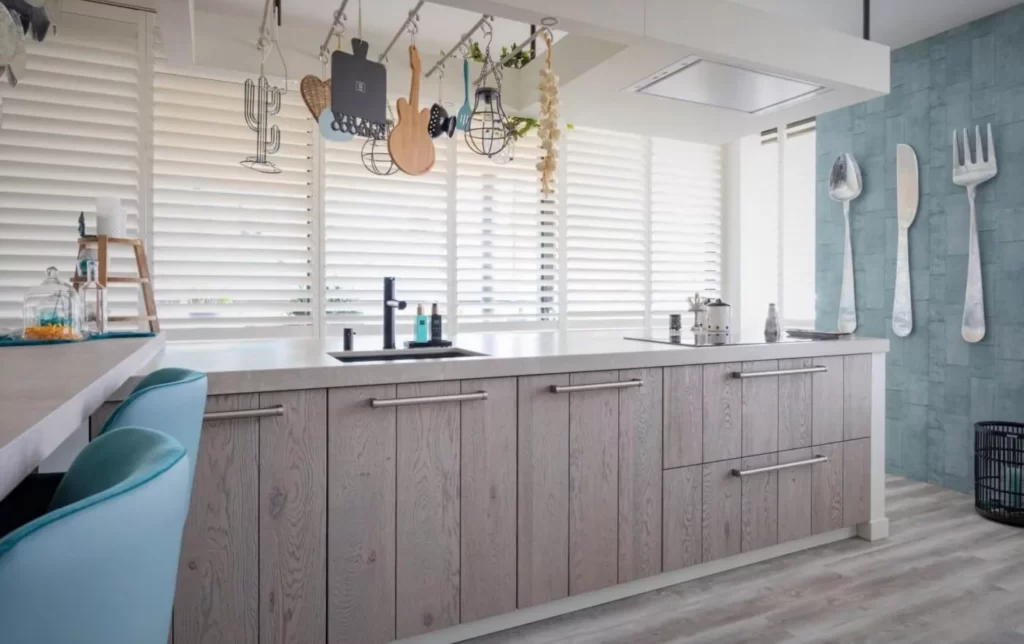 Also, keep in mind that a real wooden kitchen is more sensitive to temperature changes.
The material remains best with good humidity; this is also healthier for us, so preventive measures such as some extra plants and good ventilation in the kitchen area are recommended.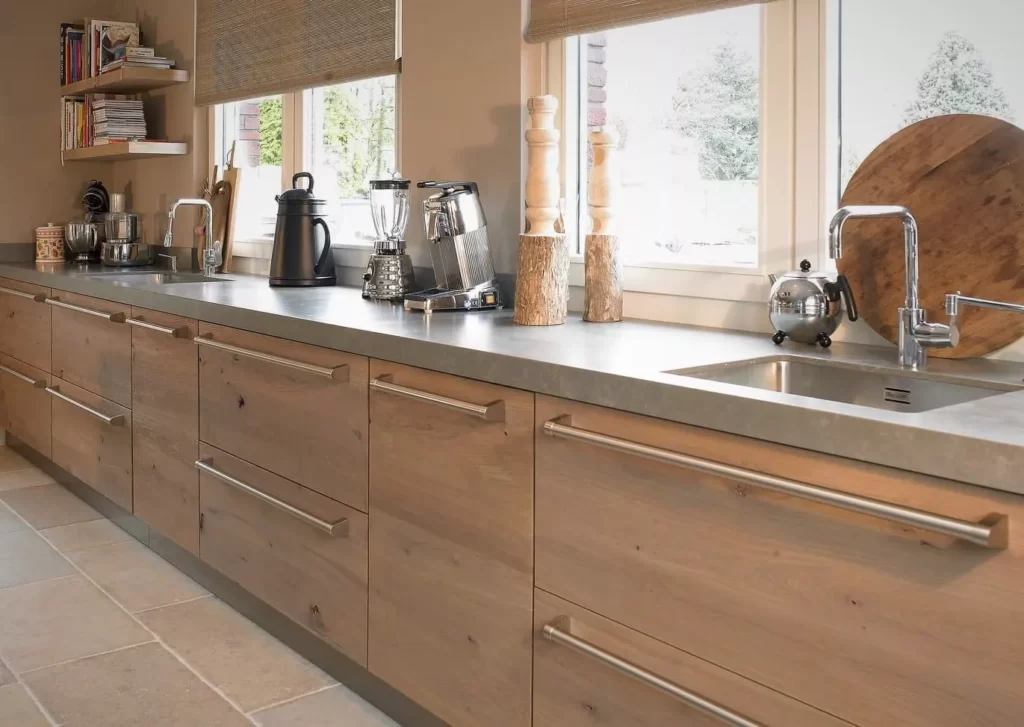 Solid Wood or wood look kitchen
In terms of appearance, there is little difference between a kitchen made of solid wood and kitchen furniture with a layer of wood (veneer).
It is also good to know that almost every type of wood is available in veneer.
If you want the wood look at an entry-level price, you can opt for laminate or melamine with a wood look and relief.