An old wooden floor: Installment and Maintenace
An old wooden floor, everyone has an opinion about it.
Call it hip(star), clumsy, beautiful, or 'not quite my taste.'
One likes wood and the other likes carpet or tiles.
One thing is sure: a wooden floor becomes more beautiful as the wood ages.
However, this does require some love and patience. It is essential to realize that a wooden floor requires maintenance.
What are the best ways to lay an old wooden floor?
And how do I best treat an old wooden floor?
Is it nice to paint a wooden floor?
These are questions that we answer in this article.
Of course, we also conclude with some interior tips with which an old wooden floor can best be combined.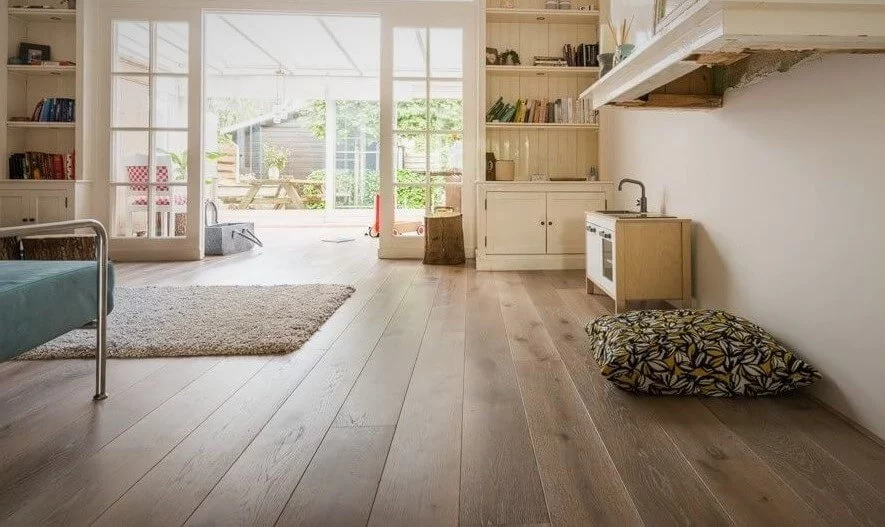 Tips for laying a wooden floor
Before you start laying the original wooden planks, there are some preparatory tasks.
First of all, the subfloor is very important.
Always opt for an insulating subfloor, and this can be both subfloor plates and insulation foil.
Never nail a subfloor into the ground, but lay it loose or stick the foil on a few pieces.
Always make sure that the subfloor does not fold in half.
1) Subfloor Sound insulating
2) Subfloor Alufoam
3) Thermosound underlay
4) Subfloor Quick and Quiet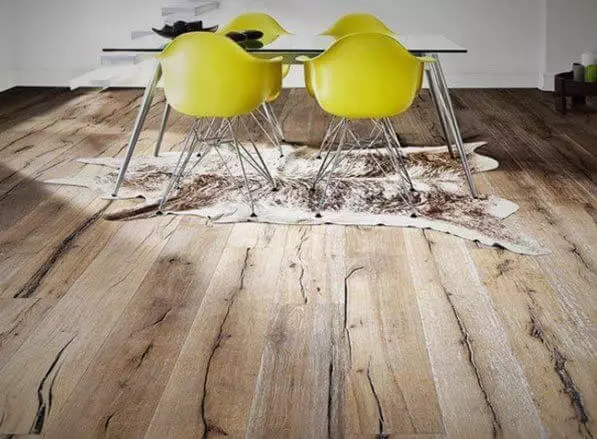 Old wood, new wood, or old wood look
The next choice you have to make is whether you want to lay real old wooden planks or whether you prefer to go for 'new' old wood. Also, read our article about types of hardwood.
Natural old planks are authentic and can be your preference, but they also require a little more preparation and maintenance.
Nowadays you also have many wooden floors with an old look. Just as beautiful, but easier and faster to lay.
If you prefer to go for real old wooden planks, plan some extra time on your schedule. In the end, it produces a beautiful result, but realize when installing a used old wooden floor that each plank must be cleaned, sanded, and sawn separately.
A third option that you can choose is to lay new pine floorboards. You can then sand and paint these pine floorboards.
This is how you get a wooden floor. Be aware that installing a new pine floor will not give you an old wood look. On the other hand, Painted can produce almost the same result as you can get with painted old wooden floorboards.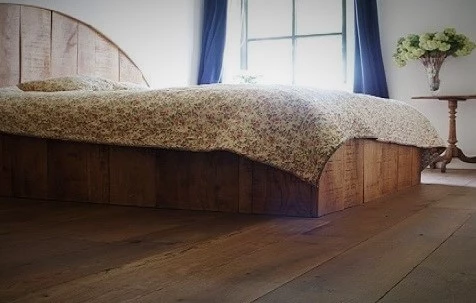 Buying and installing old wooden floorboards
In connection with purchasing the amount of wood, it is useful to realize how you want the planks laid in the room.
It is good to lay the planks lengthwise with a wide room: this gives a longer room optically. On the other hand, it is good to lay the planks in width with a long room: this gives a broader room optically.
When installing old wooden floorboards, it is also good to choose the length of the planks and the number of seams between the wood.
You can choose to show the entire length of the planks. However, we prefer wild bandages. With fantastic bonds, wooden floorboards of all sizes are mixed.
When laying in a random bond, make sure that the seams of different floor parts do not connect. You can read more about black locust floor decking, for wood floor comparison.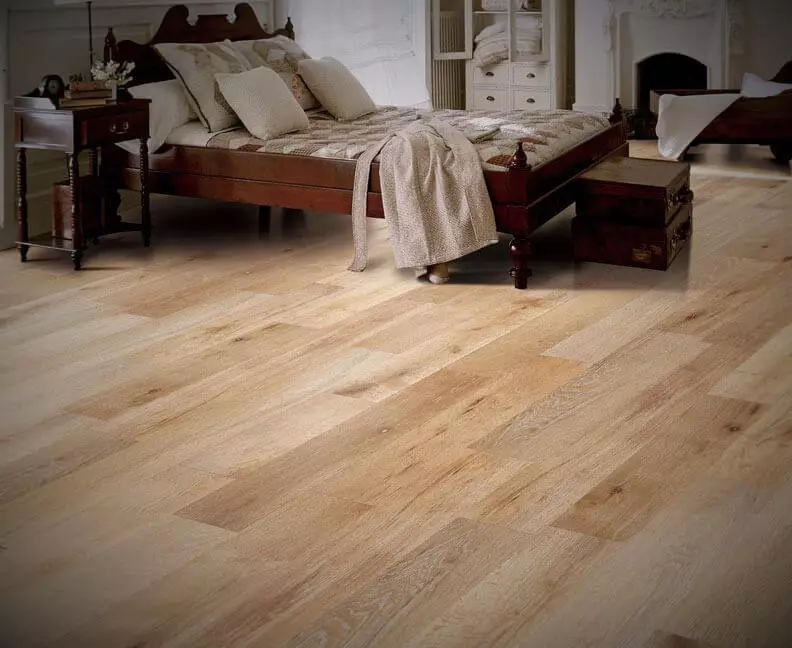 Calculation of the number of wooden planks required
The exact number of wooden floorboards required depends on several factors. You also always have to deal with a few pieces of wooden floor that are lost when sawing.
This sawing loss is usually 10% of the total area. So always keep this in mind when buying old wooden floorboards.
Among other things, the length and width of the room, the type of wood, the dimensions of the planks themselves, and the type of floor determine how much wood should be purchased.
In summary, the first four choices you need to make before you can start installing an old wooden floor are:
1. Old wood, new wood, or planks with an old wood look?
2. Fixed subfloor or insulating floor foil?
3. Do I lay the planks in length or width?
4. How much wood do I need? (Think of sawing residues)
A wooden floor is often laid by specialists. If you are planning to install the wooden floor yourself, find a specialist.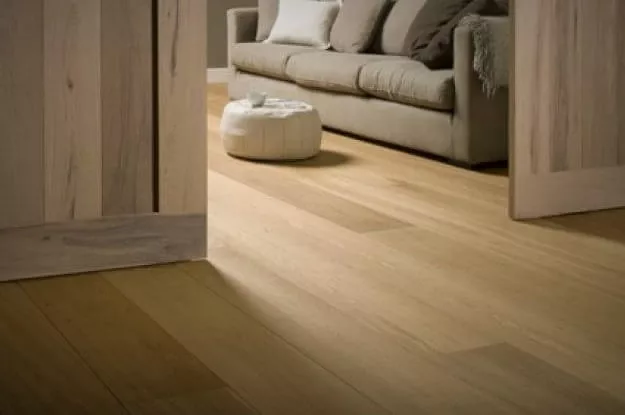 How do I treat an old wooden floor?
If the wooden floor is 'new' old wood, there will probably no longer be a need to finish.
Then a single consideration is whether skirting boards are installed or not. Whether you install a skirting board depends on taste and the size of the seam with the wall.
Often there is about an inch of space between the floor and the wall. This has to do with working the wooden floor.
A used old wooden floor often hardly works or does not work, but it is still good to leave some space between the floor and the wall. Placing a plinth is so nice here.
You can choose to place a skirting board from old used wood or make a new board against the wall. Again, this is a matter of taste, and there is nothing wrong with it. Are you going for the total wood look or finished with a plinth made of white wood?
If you have not installed a 'new' old wooden floor, but a used old wooden floor in the room, it is essential to finish it properly.
There are several methods for treating an old wooden floor. A first step is always that the floor must be well sanded and degreased. Sanding can be done by hand, but a light grit sander is the best way.
After the floor has been sanded, the wood should be vacuumed thoroughly. You can degrease, for example, by wiping the wooden floorboards with a slightly damp cloth and a little floor degreaser.
Make sure that you do not get the cloth too wet. You do not want the old wooden floorboards to get too wet, as they can warp.
With old wooden floorboards, it is not necessarily necessary to treat the underside. New floorboards, on the other hand, are better treated at the bottom as well. This is to prevent warping of the wooden floorboards.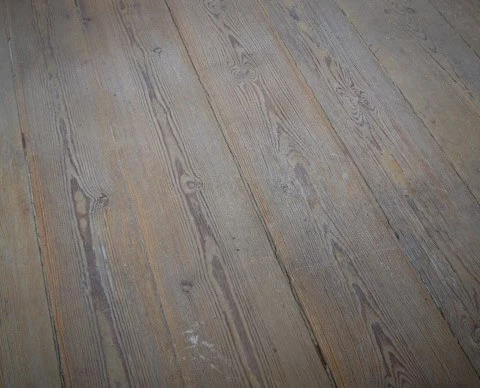 Floor stain, wood paint, floor oil, or wood wax
How the floor is finished has many consequences for the final result. The best effect with an old wooden floor is that you can see that it has been used.
The wood must be well maintained and clean. That is why there are several options for finishing the old wooden floor. Are you going for the aged wood look or a white wooden floor?
Option 1: Floor stain or floor lacquer
Our preference is for the varnishing of the old wooden floorboards. With this, you maintain the wood look, but the floor is well protected against dirt and dust.
You have the choice between lacquer in high gloss or satin gloss. It is a matter of taste whether you want the floor shiny or a little duller.
Nowadays, there is almost no difference between floor stain or floor lacquer. Ask the store what is best for the floor you have installed. Preferably take a piece of wood with you so that the store employee can give optimal advice.
You can also choose a floor lacquer with color. A commonly seen treatment of a wooden floor is to paint the old wooden floorboards white.
Extra tip when painting an old wooden floor: You save a lot of time and apply the paint evenly by painting the floor with a block brush (also known as a wallpaper brush).
Do not apply the varnish too thick the first time, and make sure you immediately smear any spilled drops.
You can't just update a varnished wooden floor. Often you have to completely sand down and repaint the entire plank or a large part of the floor.
Option 2: Wood paint
We can be brief here. Don't just use the first best wood paint or wood varnish you see in the do-it-yourself store. An 'ordinary' wood lacquer is not a sustainable choice.
This type of lacquer is used for surfaces that are not walked on and therefore do not offer sufficient protection for an old wooden floor. It is a waste of work and paint because you will run it off again in a short time.
Option 3: Floor oil
The oil penetrates a few millimeters into the wood to protect the used old wooden planks well by oiling the floor with a cloth, sponge, or possibly with a brush.
You can no longer get the oil layer off the wooden planks, but you have to sand the top layer completely.
The significant advantage of finishing the old wooden floor with oil is that it is easy to update.
A wooden plank that has been treated with lacquer or stain must be sanded entirely for the best result, but if the wooden plank has been treated with oil, you can efficiently work on it by applying some oil again.
In addition, applying floor oil is a lot less time-consuming than applying floor lacquer or floor stain.
Therefore, the use of oil or lacquer is the best option for large spaces where there are many wooden floorboards.
Option 4: Wood wax or waxing
Waxing (or waxing) old wooden floorboards involves a bit more than with the previous 3 options for treating a wooden floor.
Waxing wooden floorboards should be done by a specialist.
A waxed wooden floor means that the floor parts have been treated with impregnation and are then maintained and updated with a wax every so often.
When impregnating the old wooden floor, it is important that every piece is included.
Then, depending on the amount of wear, the floor must be updated every year with wood lacquer or wood wax. This can typically be done with a washcloth.
When several layers of wax have been applied and stains have developed in the wooden floor over time that is disruptive to the view, the planks must be impregnated again.
It is a matter of taste for which finish you choose from the old wooden floorboards. In our opinion, floor oil or floor lacquer are the best options if you place used wooden floorboards in the room. This is a choice based on taste, ease of application, and ease of maintenance. also read how to treat wood.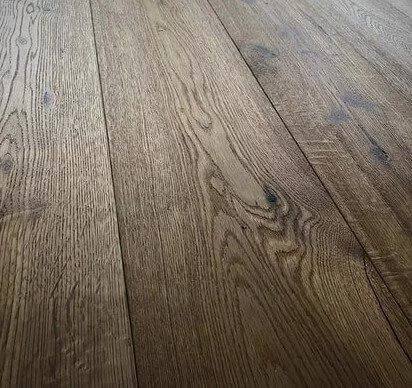 What is the best combination with an old wooden floor?
We believe that an old wooden floor can be used anywhere and at any time. It is only good to make well-considered choices when purchasing furniture and home accessories.
Too much wood or wood-look can cause an overkill of wood in the house.
Nice if you go on winter sports, but not everyone wants the feeling of a winter chalet all year round. It is also good to consider whether you want to paint the wooden floor in a certain color.
A completely white, green, or yellow house can be beautiful, resulting in an unintended effect.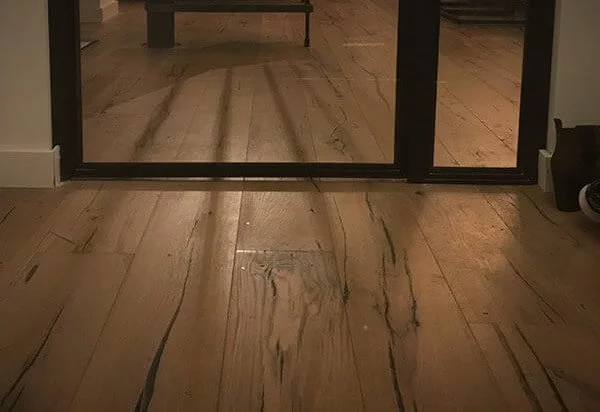 4 tips for combining a used old wooden floor:
1. The combination of a used wooden floor with a Danish design is currently completely in.
Do you already see the white-painted wooden floor in your home combined with this Essen media furniture? We do! Or, for example, combine the wooden floor with a Mahogany wooden sideboard.
2. Bring the feeling of nature into your home with these green curtains with a forest print. The color combination of an old wooden floor and this fresh green cannot go wrong.
3. When selecting new furniture, ensure that you do not bring an overkill of wood into your home. Are you looking for a unique dining table bench?
Then choose a metal table bench instead of a standard wooden dining table bench. Small details, but good to keep in mind when shopping for furniture.
4. And of course, the wooden floor needs to be well lit after you've worked so hard on it. For example, choose a beautiful tripod floor lamp for a fantastic result!