How to Maintain Your Outdoor Wooden Furniture to Stay Durable for Years to Come
Outdoor wooden furniture in your garden can make your garden looks beautiful; however, they need regular maintenance to keep them stay durable and long-lasting. 
It would be best to treat your outdoor furniture with stains at least every year to keep the furniture look great. 
You keep your garden furniture outdoor because they are made to be put outside, but if you want to protect them from harsh conditions such as the winter season, it is best to keep them inside your house or in a hut.
Wooden garden furniture is made of wood, and they need treatment to protect them from a recession and being worn out due to weather conditions. 
In this article, you will learn the answer to the question about the best treatment for wooden garden furniture. By doing proper care to your wooden garden furniture, you can make them last for few years.
Here are the best tips about the best treatments for wooden gardens and furniture you can do to protect your garden furniture from drying and cracking as well as keep them in good condition for a long time.
1. Choose a right and safe place to put your wooden garden furniture
Wooden outdoor garden furniture can easily be damaged since it is located outside of your house. It would help if you chose a proper place to put your wooden garden furniture carefully. 
The safe place for your wooden garden furniture is with shade and not in an area with direct sun. 
You can choose a place such as under the trees in your garden. You can also move your furniture to a sunny spot to get little sunlight.
2. Put your furniture inside during harsh seasons
You should take your outdoor garden furniture and move it inside your house or shed in the winter season. 
If you prefer to keep them outside, you should use a wrap with a fabric cover to wrap and protect them. Other weather conditions such as wind and rain can also damage your wooden garden furniture. 
The rainwater can cause the wooden element of your furniture to dilate. The cold wind air can make the wooden table crack easily.
3. Clean your wooden garden furniture regularly
To maintain the durability and aesthetic of your wooden garden furniture, you need to clean them regularly. You can do so at least two times every year. 
The more you clean it, the better it will look. You can mix soap and warm water and use soft towels to clean the furniture stains and discoloration on your wooden garden furniture surface. 
If you can't clean the stubborn stains, you can use a brush to clean them off. After you are done cleaning, wipe the surface using a soft towel until it dries off.
4. Brighten your furniture color
Your wooden garden furniture colors can fade from time to time. You can make your wooden garden furniture color bright again with this trick. 
The first thing you should do is to use sandpaper. The sandpaper will be used to peel the old paint off your wooden furniture. 
After that, you can add a new varnish finishing layer. When you clean the wood, you can add a little bleach mixed with quarters of soap to clean it. 
This maintenance will make your wooden garden furniture stronger and more durable. This kind of treatment will also destroy mold in the wood that can cause corrosion effects.
5. Treat your furniture with oil before use
After you purchase your wooden outdoor garden furniture, after unpacking and doing assembly processes, it is a good idea to re-apply oil on your wooden furniture immediately. 
The furniture may have already been polished with oil before, but we advise you to wipe it again since the oiling treatment can take some time before you purchase them.
6. Do systematic cleaning
For the sake of your furniture, make sure you always clean your outdoor garden furniture regularly. Don't wait until the damages become irreparable. 
You can do systematic cleaning by using a pressure washer gently before using oil for polishing.
7. Do habitual oil treatment
Your wooden furniture needs to be completed in a dry condition before you can apply oil treatment. 
You may also need to make sure that the oil you use is suitable for the type of wood for your wooden garden furniture. 
It is recommended to apply oil treatment two or four times throughout the season and before moving your furniture away in the winter season.
If your wooden furniture is made of teak wood, you do not need to apply oil treatment on it since the teak is already the type of oily wood. 
Eventually, the teak garden furniture will create a natural white hue or tint that you can remove by using teak oil.
8. Protect your wooden garden furniture from fungus and mold attack
Cleaning your outdoor furniture using oil alone is not enough to protect it from fungus and mold attacks. 
You can tell if your furniture suffers from mold and fungus hit by looking at the furniture part. 
If it becomes dark or it turns almost black, then you can be sure that the fungus and mold are attacking it. You can address the problem by doing these tips:
You need to wash your wooden garden furniture carefully with a wood cleaner. You are advised to follow the instruction about how to maintain your furniture on the packet. If your furniture looks dirty, you can repeat this instruction.
If your furniture still looks dark even after you have washed it using a wood cleaner, you can try the second method. Wash the affected areas on your furniture with liquid chlorine and rinse it thoroughly with water.
If the chlorine cleaning method still does not work, try to use sandpaper and elbow grease by using them to polish the attacked area until you can reach the fresh wood. You can also use a pressure washer to clean it.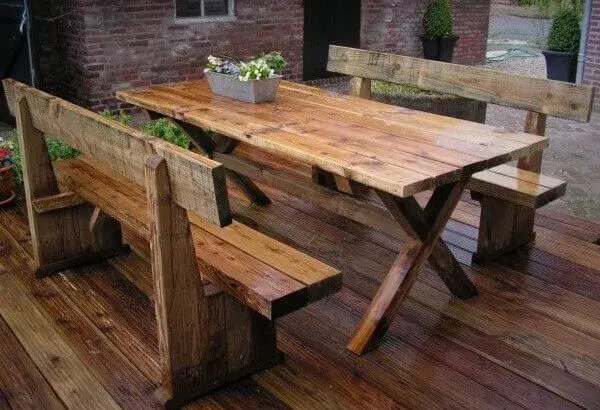 Choosing the right type of wood in a garden: what wood is used?
What could be more fun than dreaming about a beautiful summer garden in winter? You have started working, and you have your design in your hands. Spring is finally in sight, and the sun is beginning to shine more and more.
You are looking for wood for your beautiful garden house with decking, and oh yes, a new garden partition would also look nice! Finding the ideal wood is a difficult choice.
There are many types of wood available; where do you start? We are happy to help you on your way to your dream garden!
Of course, you want a type of wood that fits well with your home and your garden. But in addition to the appearance, the following parts are also essential to keep in mind:
Application: What do I want to use the wood for?
Sustainability: How can I enjoy my summer house/deck/garden partition/roof for as long as possible?
What is your budget: How much do I want to spend on my garden?
For what application do you want to use the wood?
Depending on the application, you can choose the right type of wood.
Wood for Façade and wall cladding
For your summer house, you should look for a type of wood suitable for facade cladding. You can clad your garden house with Tropical Hardwood, European Oak, Douglas, and Pine, as well as Western Red Cedar.
Western Red Cedar hardly contains knots due to our sorting. Add to this a high stability, and you have a type of wood with a chic look.
Also, tropical hardwoods contain few knots. If you want to go for a rural atmosphere, choose Oak, Douglas, or walnut. These woods are rustic and have knots.
Thermally modified wood has undergone a specific process, which means that the wood is almost entirely worked out (which gives a sleek result) and is also very durable.
Add some color to your garden house? Then choose Douglas; this is a well impregnable type of wood, which can be stained well for coloring.
Wood for garden fence
If you want to place a new garden fence, Douglas is a prevalent type of wood, and In recent years you have seen more and more Douglas firs in gardens.
Douglas radiates warmth through its reddish hue, which immediately gives your garden a beautiful atmosphere.
You can also order Douglas planks (and Swedish coniferous wood) for your garden partition directly from us in color.
Wood Gate
To properly close off your garden, it is wise to place a gate. Several types of wood are suitable for choosing a gate, such as Douglas, Western Red Cedar, Siberian Larch, and Oak. Look for the look that best suits your garden partition.
Platform and floor decking
Decking can give your garden a cozy atmosphere. If you are going for decking with a luxurious and sleek look, it is best to choose Tropical Hardwood.
If you want to make multiple uses of wood in the garden, it is nice to use the same type of wood. You, therefore, see more and more that the wood types Oak, Siberian Larch, and Douglas are used as outdoor flooring. you also can try to use black locust for the outdoor floor decking
Wood for canopy
If you want to add a covered terrace to your house, it is wise to support the roof construction with sturdy posts. A suitable type of wood for this is Oak.
It has an authentic look and is a solid type of wood. You can also make the roof construction well with Oak.
Also, Douglas is a suitable type of wood for a roof.
Constructions on the waterfront
Do you have a garden on the water, and do you want to construct a sheet pile? Then choose tropical hardwood such as Azobé, Angelim Rajado, and Cumaru.
These are types of wood that are very durable and therefore highly suitable for direct ground contact.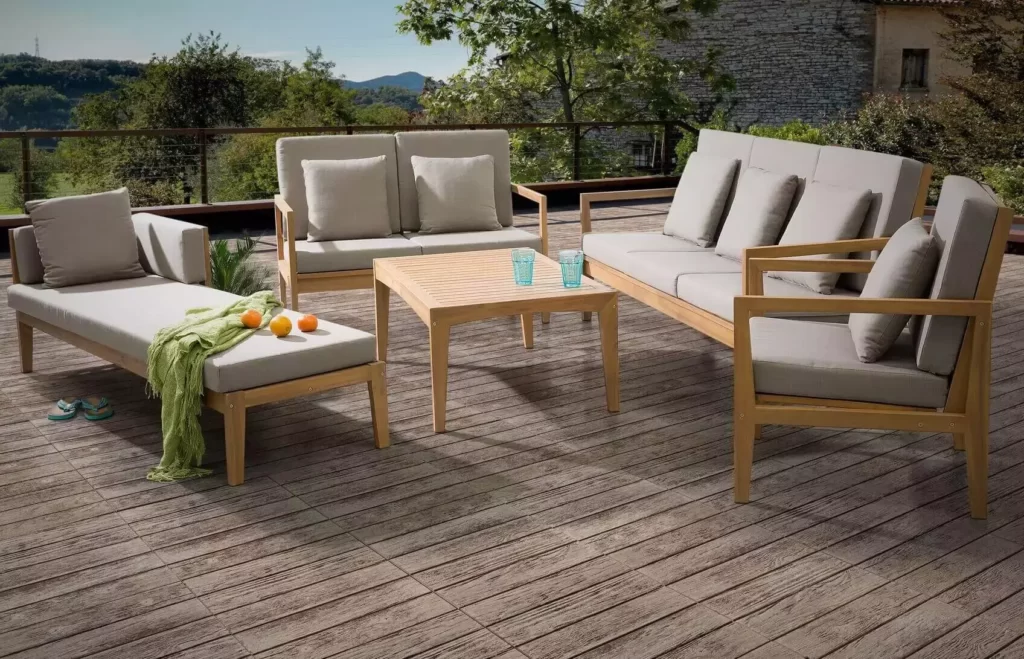 How can you extend the durability of wood?
The wood has to endure a lot due to outdoor use. From rain showers to bright sun rays in the summer, the wood must withstand it.
Of course, wood is a natural product, but you can also give the wood a helping hand to protect it from the weather, and You can do this with oil or stain.
If you don't like the graying of the wood, you can also choose a color directly. We offer Douglas and chestnut wood in a rustic black color.
What budget do you have to spend?
When designing your garden, you naturally also take your budget into account.
Do you choose a relatively cheap type of wood or go for a kind of wood with a more luxurious look and a slightly higher price?